Tryon International Equestrian Center (TIEC) is honored to host world-class Eventing competitions. From the incredible horse and rider athletes to the manicured courses and state-of-the art arenas, the experience brings a wow factor to fans and spectators every time. But, there is one very key component to every Eventing competition and without it, the recipe for a successful Eventing competition falls flat – volunteers. 
It might surprise you just how many volunteers are needed to adequately host a horse trials, like the Tryon Fall Horse Trials on September 10-12. From jump judges and scribes to timers, score runners and so many more roles, much of the operations around an Eventing competition is dependent upon volunteers generously giving their time to make the event happen. 
And just how many are needed for the Tryon Fall Horse Trials? 141!
While several people have signed up to assist, there are still many open shifts to fill. Whether you have volunteered for an equestrian competition before or this is completely new, there is a role for you. TIEC has been fortunate to have volunteers return regularly to participate in our competitions and they are always happy to help others learn the ropes.
Brian and Darlene Tribby have volunteered at TIEC for years and are always eager to sign up for a shift, particularly in Eventing.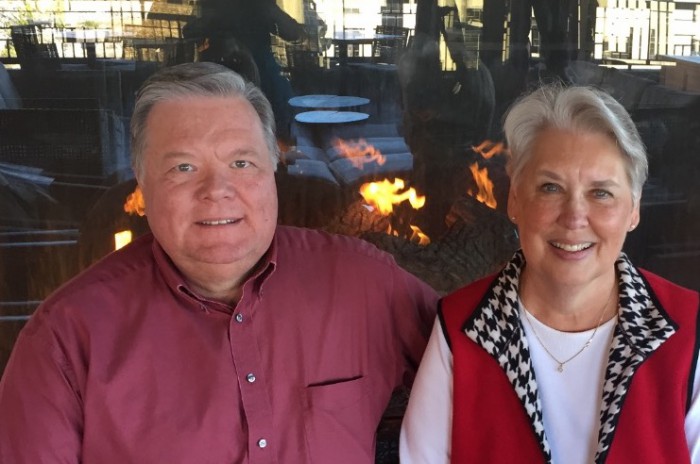 TIEC Volunteers Brian and Darlene Tribby
"Darlene and I started volunteering at TIEC for the World Equestrian Games in 2018. Since then, we have considered TIEC to be our home away from home. Being able to watch the world's best riders and horses is a dream come true. Eventing is so amazing. Just to think that one rider and horse can participate in three separate disciplines; Show Jumping, Dressage, and Cross Country is awesome!" explained Brian.
Suzanne Lindley has volunteered at TIEC since the beginning and recently returned from volunteering for Eventing at the Tokyo 2020 Olympics! (More on that soon!) She loves Eventing and is looking forward to joining us for the Tryon Fall Horse Trials next weekend.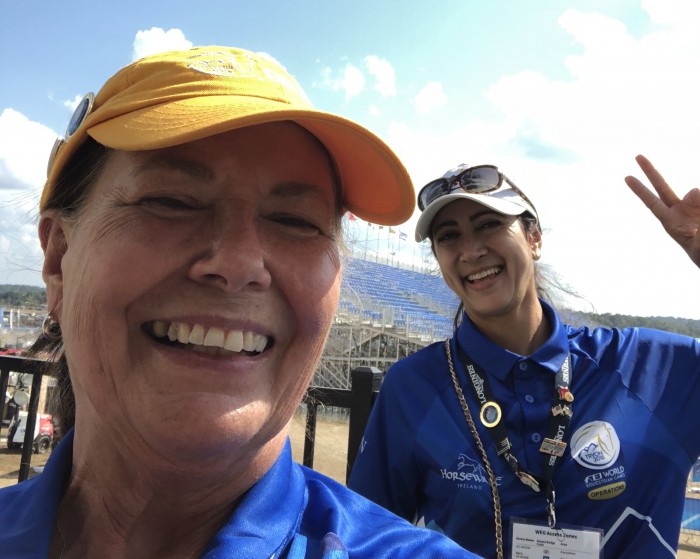 Suzanne Lindley (left) volunteering at the FEI World Equestrian Games Tryon 2018
"I have been volunteering for Eventing since TIEC started running events, beginning with the AECs [American Eventing Championships]. The White Oak Course now in use is one of the best and prettiest in the world and we are privileged to get to work events at such a world-class facility. It is also special that all levels, even Beginner Novice, get to do their cross country phase on the same course with the "big boys"… that is not true in most places!" said Lindley. 
As an active volunteer at TIEC, Lindley understands the importance of having enough volunteers for Eventing competitions and how grateful the competitors are for their help.
"There is no nicer group of people in the horse show world than Eventers … they thank the volunteers all the time and really appreciate that their competitions can't happen without us!"
Llyn Shook, another seasoned volunteer at TIEC, agrees and finds great reward in her service.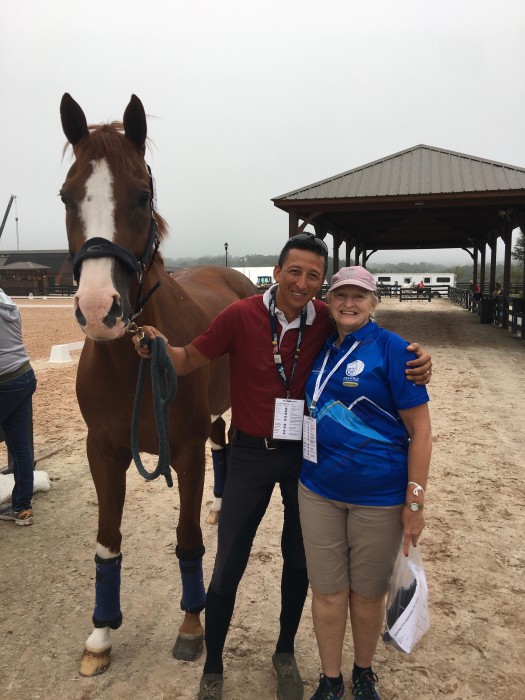 TIEC Volunteer Llyn Shook at the FEI World Equestrian Games Tryon 2018 standing with Dressage competitor Julio Mendoza Loor
"Volunteering at TIEC has enriched my life with learning experiences through involvement in vital support roles in a variety of USEF, FEI and USEA competitions," said Shook. "What a delight to see up close the exquisite equine athletes with exceptionally skilled riders. My love of horses and enjoyment of being around others who love horses makes volunteering at TIEC awesome."
With the Tryon International Three-Day Event returning to TIEC this November 10-14, the Tryon Fall Horse Trials in September is a great way for volunteers to practice and gain experience for the larger competition. 
"We are honored that the National Eventing Championship will be held here in Mill Spring this November and we look forward to helping out in any way that we can," said Brian.
Lindley encourages anyone with an interest in horses or Eventing to sign up to volunteer at TIEC.
"I guarantee that anyone who loves horses would get hooked if they joined the TIEC Eventing volunteer crew! TIEC takes great care of us, including being sure we are properly trained, equipped, and well fed, too!" 
To sign up as a volunteer of the Tryon Fall Horse Trials on September 10-12 and get an up close and personal view of the action, click here or visit Tryon.com/Eventing.