Our next TIEC rider spotlight features Mia Rodier-Dawallo, a Para Dressage athlete. She competes her own horse, Jayden (whom she affectionately calls Pudding), an 8-year-old Dutch Warmblood gelding, and Bailiwick House, Inc.'s Cato, a 15-year-old Dutch Warmblood gelding, at the Grade II level. Currently, she is 13th on the FEI Para Dressage World Individual Ranking for Grade II. As a first generation American and child of a refugee, Mia is no stranger to adversity. As a survivor of a brutal assault that left her with PTSD and a severe brain injury, she was later involved in a car accident that caused her to become a wheelchair user.
Despite her hardships, she has been able to achieve great success in Para Dressage, including winning the inaugural 2022 USEF Para Dressage National Championship at the Festival of Champions. Mia is adept at making things work for her: when she attended the Team USA Selection Trials at TIEC back in June, she and her husband made the cross-country trip in her trailer as an alternative to the cost of flying two horses from California. Her first horse she has ever owned, Jayden, is hers due to a massive community fundraising effort. Mia was recently one of four nominees for the prestigious FEI Against All Odds Award for 2022. Read below to learn more about how she has been able to achieve so much success.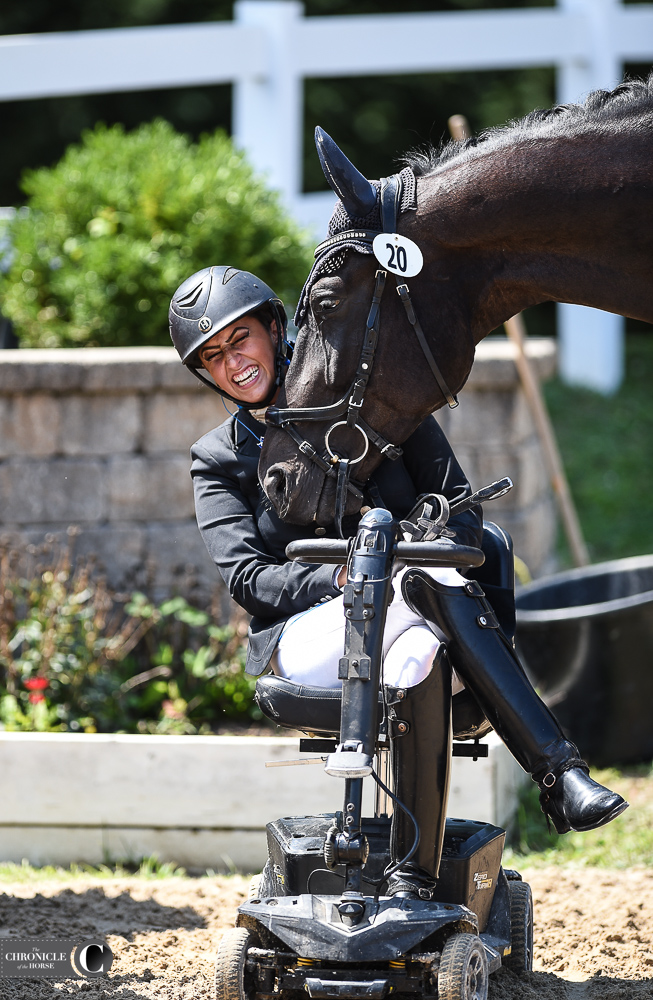 ©Chronicle of the Horse
How have you been able to make it to the top of the sport?
In general, being a person of color in a prohibitively expensive sport, is a massive mountain to climb. Because it's true that when you're a person of color, generationally, the odds are stacked against you financially. The concept of upward social mobility is kind of a myth: you see these people, which has to be .0001% of the population, that say "I grew up poor, and now I made it," but that concept is such a myth, and it's one that is hard from which to disassociate. It's easy to say, if you work hard, you'll be successful, and that you're just not trying hard enough.
I think a more accurate concept is that, in different times of your life, you may have different levels of success, especially compared to your peers and people that have different levels of income, or support system, or health status. I think it's really important to not compare yourself to others, because financially I live on the poverty line, and it is such a difficult task to compete in a sport that is so expensive. But one amazing thing that has happened is that this amazing community of people has come together and made this a possibility for me, which otherwise wouldn't be. It's a very grassroots effort, so everyone pitches in a little bit to make the dream come true. Without their support, I would have nothing. 
What has made you and your horses so successful?
I feel like the most important thing is building the connection with my horses. And, we want to show what [Jayden] can do. I've only owned him since February, and we've been building a relationship, and then I've been riding Cato for about two years. The three of us are the best of friends. I think that's so important for a strategy.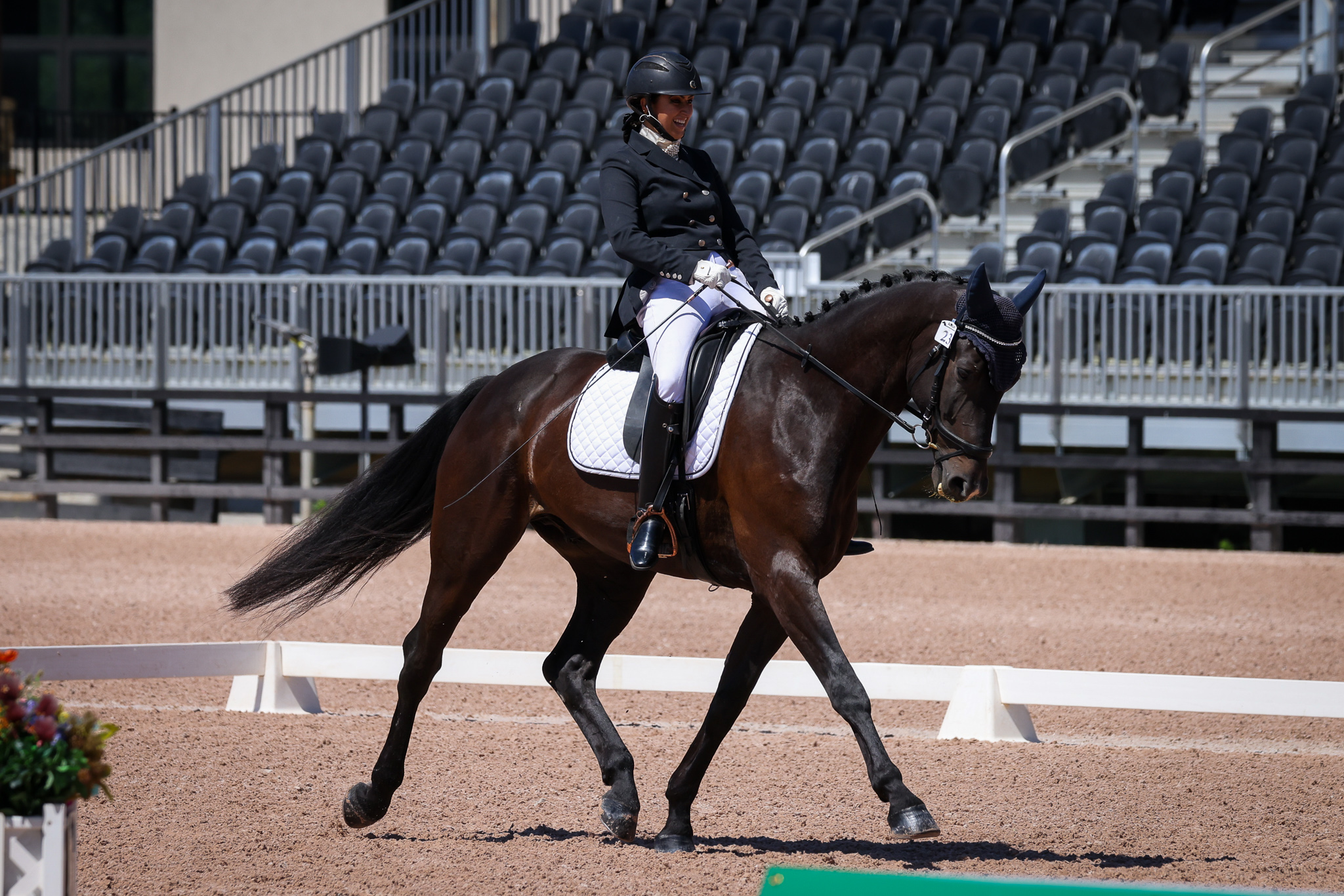 ©Leslie Potter/US Equestrian
How did your husband get involved with horses?
I converted him. It was like a "convert or die" situation! Fortunately, he came willingly to the "dark side." I've been riding since I was two, so naturally, it runs through my veins. We've been together for 12 years, so I think like a year or two in, I was kind of like," there's the horse thing, and it's kind of crazy; why don't you come check it out, and just see if you like it." And fortunately, willingly, excitedly, enthusiastically he fell in love with the sport and he's such an amazing rider, horseman, and groom. I trust him more than anyone else to lunge the horses. When we have two horses, it's a lot for just my husband and I and Patty to deal with, so we've had to hire additional people in the past to help. But, he's the only one I trust to to lunge the horses, because he's so in tune with them.
He is a whole support team himself. He'll take the boots on and off and then give me a pep talk while he's doing it. He will sponge down the horse and give me water at the same time. He will check in with me mentally and make sure my mental health is in the right place.  He does everything, and he is my everything. He's so amazing at what he does and 10 years later, he's working on his medals.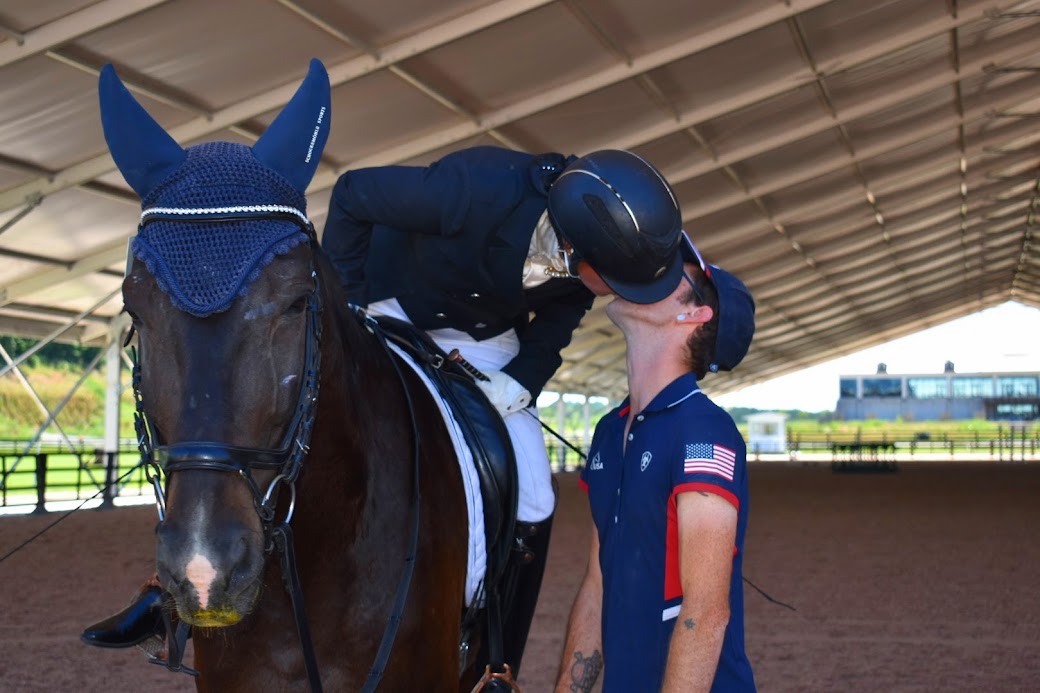 Photo courtesy of Mia Rodier-Dawallo
What are your goals for the future?
The mountain we're climbing I would describe as a mountain that has plateaus, peaks, and canyons. I don't think that climbing a mountain is a "one way up" sort of situation, and if you think that way, I think you're setting yourself up for failure. We expect the canyons, we expect the plateaus, but the upward climb when you get them is just so satisfying. It's a very dichotomous sort of goal system that I have for myself where, yes, there's WEG, and yes, there's Paris, and there's LA, and there's all the WEGs in between all of these things. And we sort of have like the next 10 years up to the Brisbane Olympics in 2032 mapped out.
But, on a more basic daily level I'd say my goals are: mental health, getting out of bed in the morning, and brushing my hair… those kinds of things. I think it's good to have goals for your mental health and your physical well-being, like exercising gratitude, showering regularly, or practicing self-care. I don't know what other people do, but that's what works for me. And everyone knows what works for them. I don't think anyone should tell anybody else "you're doing it wrong," or say "my way is right and your way is wrong. "It's all a journey that we're all on together, as well as independently, and it's good to know your boundaries and all those sorts of things.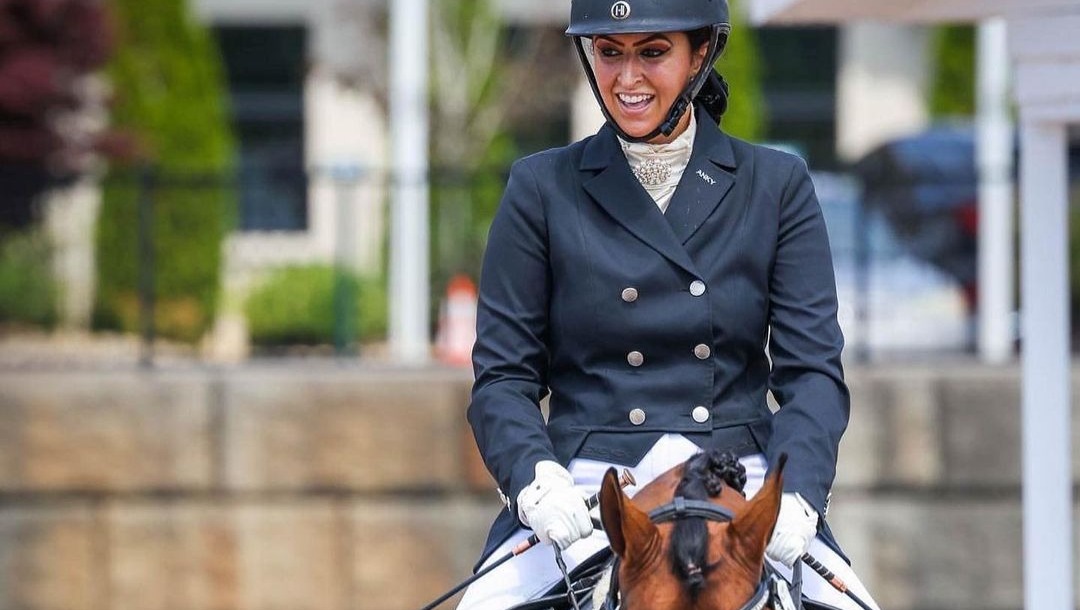 Photo courtesy of Mia Rodier-Dawallo
Is there anything else we need to know about your equestrian journey?
I'd like to talk about where I came from. I started in a therapeutic riding program called Ride On Therapeutic Horsemanship in Thousand Oaks, CA. They took me from a place of minimal executive functioning, talking and speaking, reading and writing, and going through a lot of neurological and physiological difficulties. And they put me in their Hippotherapy Program, which is amazing. I had more progress with them in a month of hippotherapy than I had in months of traditional clinical therapy. Not only that, they made me the person I am today as a competitor and as a functioning human being. They're where I came from, and I think it's important to remember where you came from.
In the soles of your shoes, you always have the sand of where you came from, and I'm sure I have California sand in the soles of my shoes right now. And I think you should always keep the sand of where you come from in the soles of your shoes, wherever you go. To quote Naomi Osaka, who says "when the blood of your ancestors runs through your veins, you're reminded you can accomplish anything". I think that's 100% true. Never forget where you came from. And like I said, I know it's cheesy, but it's it's true because it's easy to feel ungrounded and uncentered at these sorts of places, but if you if you have somewhere to ground yourself, then it's it's a lot easier to get through the physical and mental tasks of a competition.
Thank you, Mia, for taking the time to speak with us! We wish you the best of luck for the rest of your 2022 show season, and hope to see you back at TIEC soon! 
Please Note: The 2022 FEI Against All Odds Award will be announced on November 13th, 2022 at the prestigious FEI Awards Gala presented by Longines in Cape Town, South Africa. Stay tuned to the results, and stay tuned to see what Mia accomplishes next! To support Mia in her athletic endeavors, visit her online fundraiser here.
Tryon Fall Dressage 3 will be hosted at TIEC October 28-30 and features national and international competition, including CPEDI Para Dressage competition. To learn more, visit www.Tryon.com/Dressage.