Meet our next TIEC Rider Spotlight, Katherine Hyndman! Katherine is a 17-year-old, up-and-coming eventer based in Texas. She recently competed at the USEF Eventing Young Rider Championships presented by USEA in the 2*-L division here at the Dutta Corp Tryon International Three-Day Event, where we met up with her. She placed 4th both as an individual and with her team for Area V, in her last competition with her longtime partner, Sir Oberon. She is now producing a young Thoroughbred with hopes to be back again next year. Keep reading to learn her biggest riding accomplishments, her goals for the future, and more!
How did you start riding?
My mom rides, so I've been riding since I was born. My mom actually found out she was pregnant from falling off a horse. I got put on a horse at about two months old. I started eventing about four years ago in Michigan. I recently moved to Texas and with connections from Michigan I found Ellen [Doughty-Hume]. It's been a wild ride from there with [Sir Oberon], and I just got a new horse, so hopefully big things will come!
Tell us about your horses:
The horse I'm competing this weekend is Sir Oberon. He's a former 5* horse and a packer. He's one of the sweetest horses I've ever met. He's super calm and super chill. I trust him more than I've ever trusted anyone. I know he's going to take care of me out there. My new horse is an eight year old off the track thoroughbred who raced over 40 times. He is a cool little guy who has been off the track for a year and a half now. He has done two training events with my trainer, Ellen, and then I'm going to see where he goes. I've done one show with him so far, and he's turned out to be pretty cool.
What does it mean for you to be competing at the Young Riders Championships?
It's a huge deal for me to be here. To me, it's also going to be my last show with Sir Oberon, so it's a little bit bittersweet. I'm really going to miss him. Our lease ends soon and he is actually 20 years old, so my trainer is going to lease him out to do Dressage now. I really want to get back here next year with my new guy, so we'll see where it goes. This is my first big FEI show, so I'm excited to get my name out there and meet some new people.
What has been your biggest riding accomplishment so far?
Probably, actually getting here. It's just a huge deal for me. I'd also say making it into the EA21 (Emerging Athletes Program] clinic. That was really big for me, because I really didn't expect to get in out of all the riders. I made it there, and I made new connections and got to meet a lot of new people in my area, so that was awesome.
What are your goals for the future?
I plan to move up the levels. I would love to start a small business in a couple years, once I get out of college. In the meantime, I plan on working at a bunch of big barns. I've worked for Bobby Meyerhoff and his wonderful wife, Danica. I want to experience new things and see how everyone runs things, and maybe start at my own program, and then move up the levels at the same time. 
How are you liking competing at TIEC?
I love it here at TIEC. It's really beautiful. I love that there are all the shops in the cabins and restaurants onsite. I don't have to go anywhere, and it makes it really easy. My mom broke her knee last weekend, and I was kind of stressed out that I wasn't going to make it here. It's been really great for her and for me that everything's so close.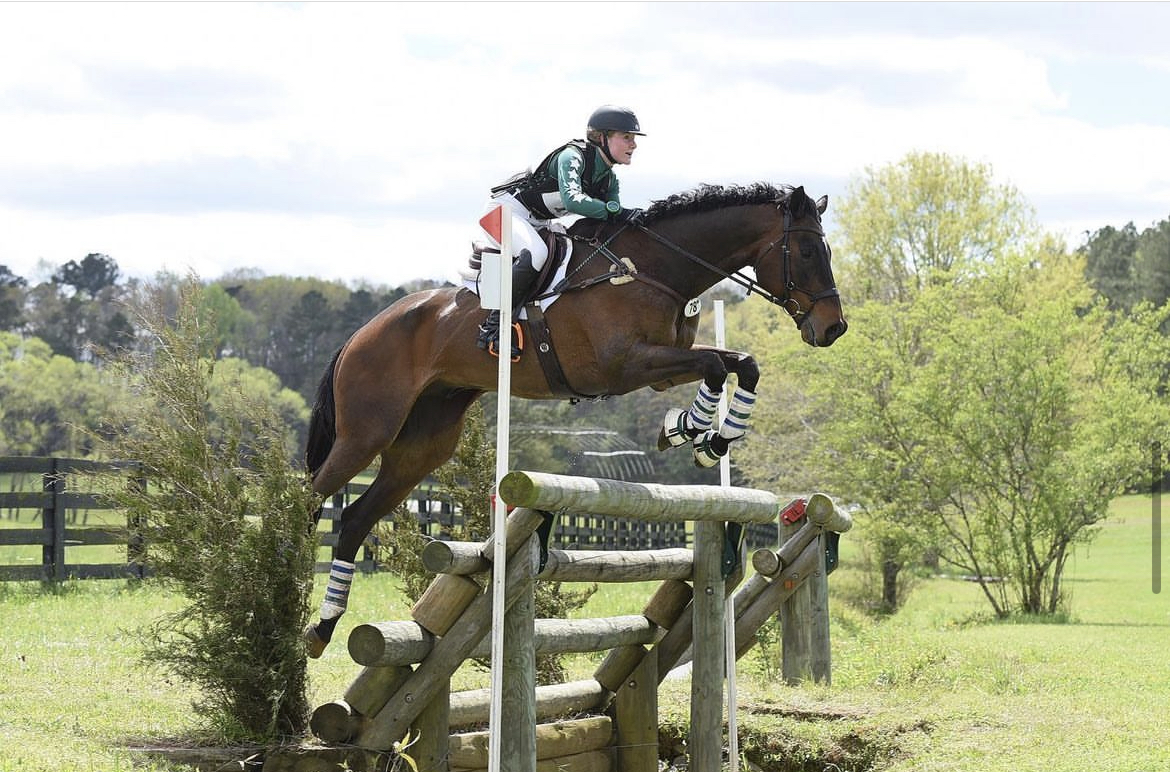 ©Liz Crawley Photography
Is there anything else you'd like to add?
I'm so thankful for my amazing parents who've been so great and helped me get here. I'm also thankful to my trainer Ellen, as well as Emily Ballard, who I started Eventing with back in Michigan. She gave me love for the sport and I'm so thankful for that. And to Ellen of course for Sir Oberon and as well as my new horse. I bought him from her and she has taught me so, so much.
Thank you so much for speaking with us Katherine, and we hope to see you back at the championship next year!