The next Amateur Hour Spotlight presented by Coca-Cola® athlete is Kristina Spellman. Kristina works for Grand Prix Showjumper Sarah Hubbard, taking care of Hubbard Horses, LLC's string of horses. She won the Groom's Award presented by Clement Farm & Barn during Tryon Fall 2 for her care of Latino Van De Looise Heide, the horse Sarah Hubbard rode to win the $30,000 ProElite Grand Prix. She is currently competing in the High Adult Jumper Division aboard her young horse Low Key. Continue reading to learn her future goals, her favorite horse she grooms, and more!
How did you start riding?
My mom rode horses, and when I was little, I cried basically until they put me on a horse. I've been riding horses ever since.
Tell us about your horse!
Her name is Low Key. I actually got her last year here [at TIEC] in the fall. She's seven years old and she's just very cool and careful. We currently show in the High Adult Jumpers together.
How do you manage your time grooming and competing?
It's pretty nice, because we only have a few horses. We try to space them out pretty well so we don't show too many on one day.
What are your goals for the future?
I'd like to start my own business eventually. I'd like to focus on the young ones. I think it's really cool to watch them grow and compete. In the future, I'd also like to jump some Grand Prixs.
 How has grooming changed your perspective as a competitor?
I think all the behind the scenes stuff is almost more important than showing. How you get them to the ring and how they're prepared is overlooked a bit, sometimes. It's really nice to see how they're prepared because you know what you can change… because you can always change something. If it goes well, then you keep it. If it doesn't go super, you can always change their preparation or tack.
Why do you like coming to TIEC?
It's a beautiful show. The footing is always great, and there's a lot of different classes. It's also nice when you're not showing, that you can go out on the fields or out on the trail. So that's nice to be able to get them out of the ring.

©Karli Dannewitz for TIEC
Besides your own, who is your favorite horse to take care of in the barn?
I'd have to say Lantino Van De Looise Heide, Sarah's Grand Prix horse. He's super. He's just really fast and really careful. He likes to win. He likes to make some grumpy faces in the barn, but he's actually really sweet. He's really fun to work with.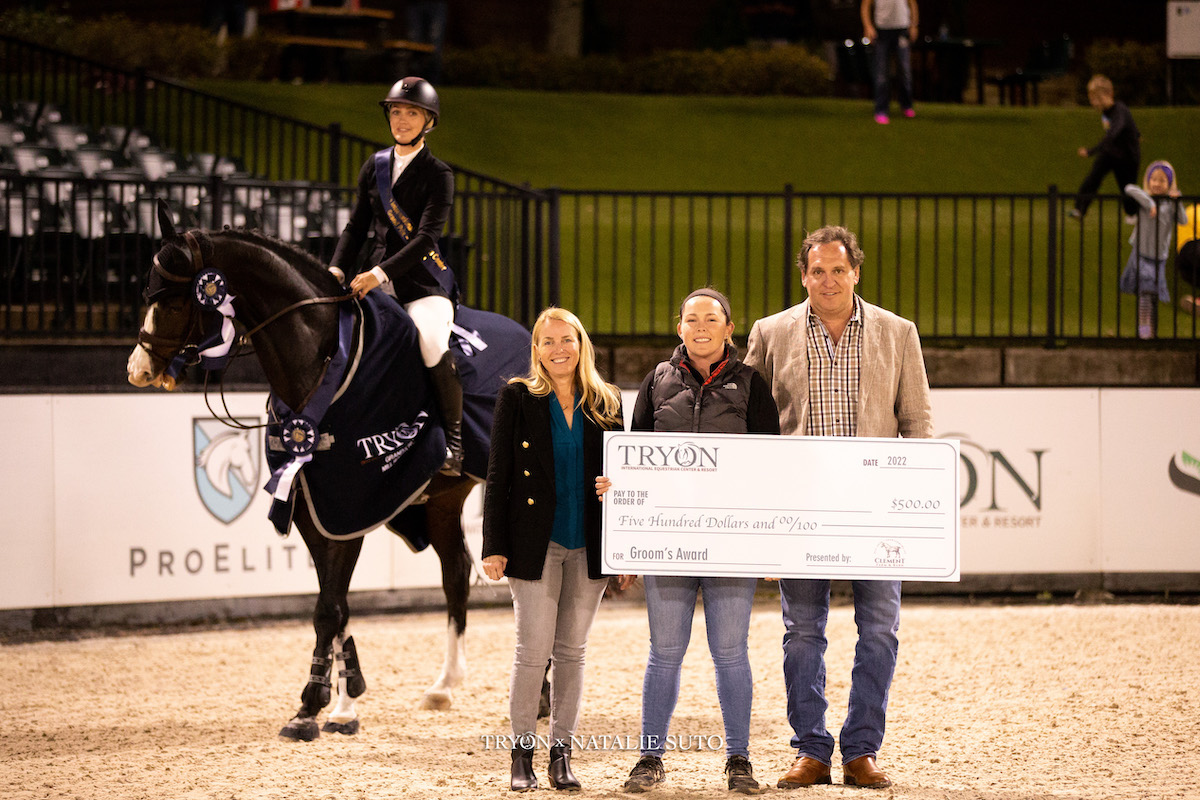 ©Natalie Suto for TIEC
Anything else you'd like to add?
I just want to thank Sarah [Hubbard]. She's great. I also want to say thanks to our farrier, Max Feldman, who has been very supportive of everything and a huge help.  My family has always been super supportive of my riding journey, so I want to thank them as well.
Thanks for speaking with us Kristina! We hope to see you back at TIEC in the spring!