Meet our next TIEC Rider Spotlight, Jordan Riske. Jordan is a 20-year-old Eventer who recently won team and individual gold at the USEF Young Riders CCI3*-L Championship presented by USEA. She has big dreams to represent the USA at the Olympics one day. As the daughter of a trainer, Jordan has been riding since she was born, and is currently competing at the Intermediate and CCI 3* level. Keep reading to learn about her riding journey, how being a cancer survivor changed her outlook on life, her future goals, and more!
Tell us about your riding journey:
My mom had grown up riding herself, so I kind of followed in her footsteps. She actually bought a horse farm with my dad when they were in their late 20s, so I grew up with horses at my family farm, Misty Meadows. My mom got me my first pony when I was two. Her name was Tinkerbell, and Tinkerbell was the absolute, most amazing pony anybody could ever have. She ended up taking me to my first Pony Club event rally when I was about seven, and so that was my start to Eventing. I just loved it. 
My mom has a lesson program and does horse camps. She does pretty much everything herself, including all the training, so I was lucky to have horses all the time to ride. My next horse was named Cheerio, and he was a little 15.3 Palomino, and I took him through Novice. I really loved it, and I just wanted to keep going up the levels. At that time, my mom had been bringing up a horse that we got as a five-month-old named Lucky. She took him up to the Preliminary level, and I ended up taking over the ride a few years later. I did a year of Training Level and he was great, so we moved up to Preliminary that fall. It was just so fun, and I was hooked. 
That following year, I ended up getting Breezy, or Redemption Song. I knew how to restart horses as I had already helped my mom restart a bunch, so I was able to train Breezy on my own. In the meantime, I had quite a few horses that I took through the levels. I had my horse, Roxy, that my mom took up to the Preliminary level and then handed over to me. I took her to a few Prelims, and then I moved her up to Intermediate level. I took her and Breezy to their first Intermediate competitions at the same time, and it was also my first Intermediate, so that was pretty cool. Since then, I have traveled all over with my horses, and it's just been absolutely amazing. I ended up graduating high school early in 2019 so that I could go down to Ocala, Florida to be a working student with Bobby Meyerhoff for the winter. I took Breezy with me and it was awesome. I got to ride a bunch of different horses and learn a lot. 
When I came back home, I started working for Robin Walker. He lives close to my home base in Michigan, so it worked really well. I started working for him in the spring of 2020, and I've been working with him ever since. He's been a really key part in helping me get my training better and getting my horse super confident in all three of the phases. Breezy ended up having to be rehabbed the winter of 2021, so I ended up going down to Aiken, South Carolina with Kristen Rozycki as her assistant rider. I helped her ride all their horses and I showed some of her babies for her. I learned a lot. Once I was done there, Breezy was pretty much back to normal, so then we got back home and we moved back up the levels. I moved ran my first CCI 3* that fall. That takes us into this year, where we have been successfully competing Intermediate.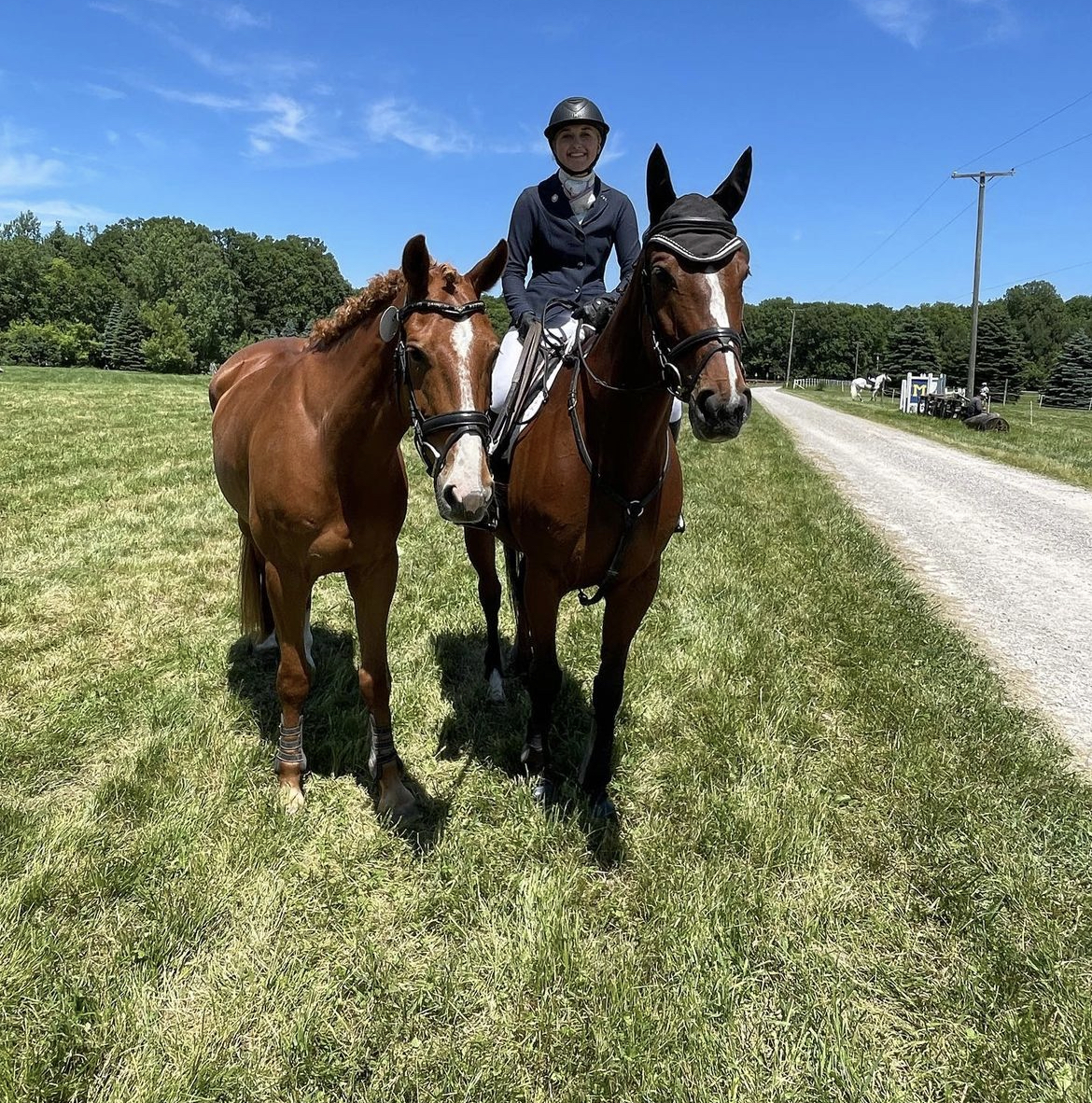 Photo courtesy of Jordan Riske
Tell us about your horses:
So currently, I have Redemption Song or "Breezy." She's my 10-year-old off the track Thoroughbred that I got six years ago. We're going Intermediate level right now. I also have my young horse, MM Irish Clover, also known as Liam, and he is a seven-year-old Irish Sport Horse. We're currently moving up to Training. I have another horse back at home that is for sale named Match Play Jojo. We also have quite a few babies coming up. We have a two-year-old, a yearling, and then a baby that was just born this year.
What made you choose Eventing as your discipline?
My mom did Eventing, so kind of like led me right to it. I tried it and thought it was awesome. I love the community, and I love the sport itself. I love that you have to have a really good partnership with your horse to be successful.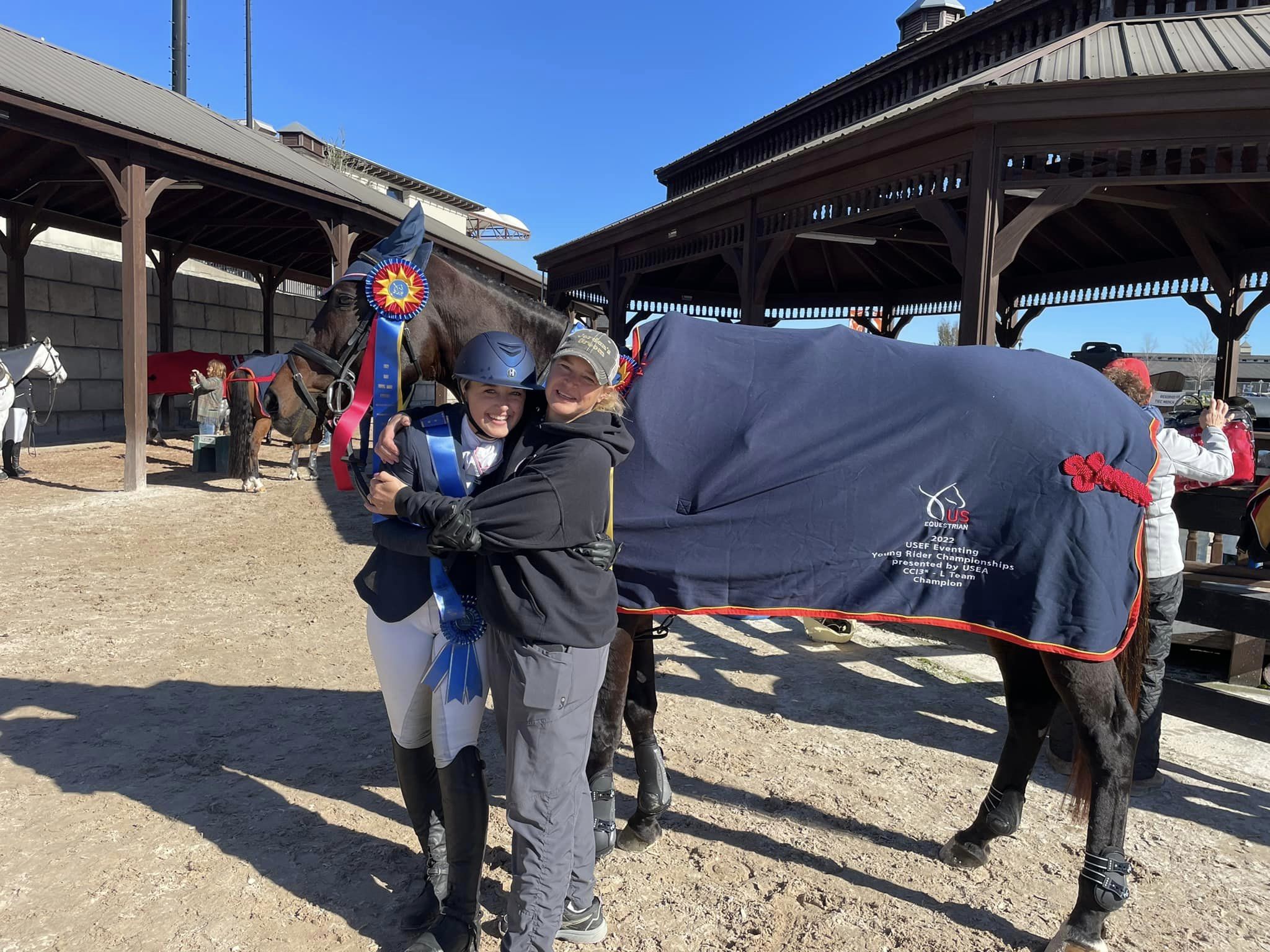 Photo courtesy of Jordan Riske
How has being a cancer survivor changed your outlook on the sport and life in general?
It's changed my outlook on life a lot. I was really fortunate to have such a supportive family and friends when I was going through everything. When I started chemo, my mindset was always that I would get through it. I thought "this is going to suck. Going through chemo and these treatments are going to be really, really hard, and they're gonna be tough." But I always had this voice in the back of my head saying "you're going to be okay: it's going to be hard, but you're going to get through this no matter what." You just need to live your life. You're going to have these hard things in your life, and you just can't let them stop you from wanting to do stuff. You just have to live your life and do the things that you like to do, and not just sit there and feel sorry for yourself. That's okay sometimes, but you can't live your life like that.
I had that outlook I had the whole time through, which I'm really, really lucky to have. Not a lot of people have that positive outlook, but my family just has ingrained that into me growing up. I've always had that outlook on life, thankfully, so that was a key factor. I did learn how to be positive in hard times. I think that's really helpful when you relate it back to Eventing, because you're gonna have really, really tough times. You're going to fall off at shows, you're going to have stops at shows, things aren't always going to go right, and it's going to be really hard. You have to be able to come through that and be resilient, which I think is a hard thing for people to learn how to do. For me to have learned that at such a young age is amazing. I feel like now I can show people it's going to be okay, no matter what. No matter what happens at a horse show, you have to pick yourself back up, go back home and figure out what you are going to fix at home in your training.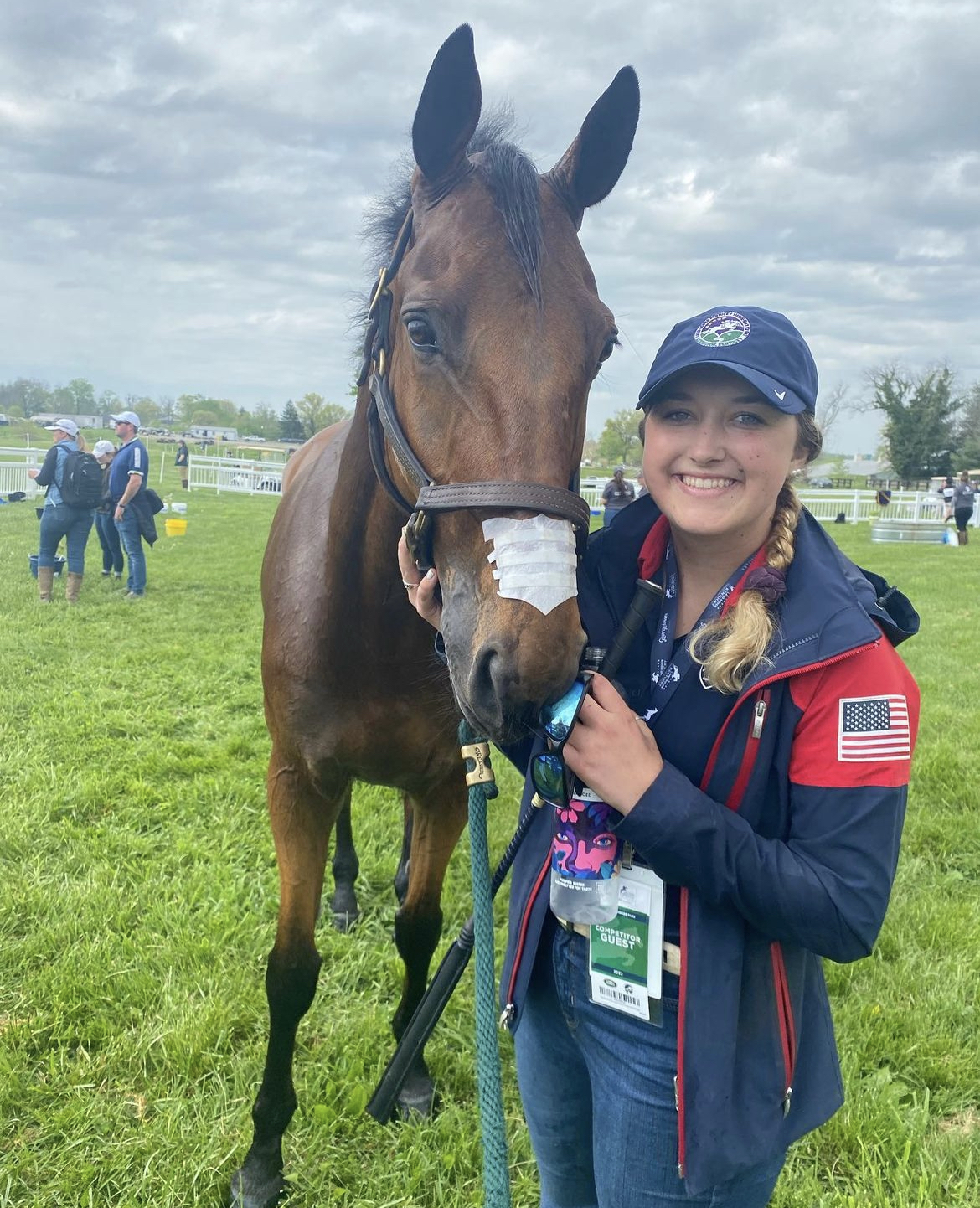 Photo courtesy of Jordan Riske
What are your goals for the future?
I would really love to run an Advanced with my horse Breezy, and take her all the way up the levels as far as she'll go. Only time will really tell how far she can go. I would love to run a five star at Kentucky. I'd like to one day run all the five stars in the world, because I think that'd be just so cool. I'd also love to travel the world with my horses, and I really want to represent the United States on a team at the Pan American Games, the World Equestrian Games, and then of course, the Olympics, because I think that would be a really, really cool experience.
How did you like competing at TIEC?
I just loved everything about it. I've been to so many different venues where the horses just aren't happy there. That's really hard when you're trying to get your horse to be relaxed and calm to go do Dressage, as well as the other two phases. When I came to TIEC, my horse was so good about the atmosphere, the venue itself, and she was just really chill. She honestly loved it there. I think a key factor is how all the barns are placed around the arenas. I think that really helps. The horses feel a lot more secure that they're not off by themselves, because some places have the arenas set far away. I also absolutely loved all the arenas and the footing. It was perfect everywhere. I was so amazed with the footing for the Cross-Country, too. I have never seen a Cross-Country track where you can literally have torrential downpour the day before, and then you go and walk the course the next day and it's perfect. You couldn't even tell it rained. There are not very many places in the whole country, or even the world, that have that. I think that was really cool that I was able to run the track and be able to trust the ground running my horse, especially at the CCI3*-L level. It was our first time at that level, and it made it a very confidence-building experience.
What advice would you give to young riders looking to move up the levels?
The first thing is, you need to make sure this is what you like and want to do. If this isn't something you love doing, don't do it. But if this is what you really like to do, just continue doing it. You need to be able to find a good trainer that believes in you, and you need to have a horse that trusts you. You also need your trainer to believe in you and your horse as a partnership. I'm really fortunate that all the trainers I have are just absolutely great for me and my horse, which is so important. 
I also think riders need to realize it's going to take a lot of time to get to where you want to go, so don't be in such a hurry to move up. Enjoy your time at each level, and have fun. If your horse is going to be a five-star horse, it doesn't matter if you wait another year, it's still going to be there. I think people, including myself sometimes, can be in such a rush, so sometimes you just have to take a step back and consider what's going to help keep you confident and keep your horse confident. You don't want to rush up the levels and then have something bad happen and wreck all your confidence. Then you have to go back and sit back down a level to work back up. That's really hard. I've had that experience, and it is not very fun. 
Is there anything you'd like to add?
I want to thank my mom, Amy Riske, because she has been so influential to my riding career. When I was diagnosed with cancer, I reached out to a young lady named Jessica Halliday who was also a cancer fighter. Sadly, she did not make it and passed last year. I had contacted her because I listened to the Major League Eventing Podcast and heard her on there, so I reached out and she just gave me so much inspiration. Her big key thing was that you live in the moment and live your life. When she passed, I thought "I'm going to do this for you, Jessica." I just want to give her a shout-out and say thank you, because she was so helpful when I was going into treatment. Lastly, I want to thank Kristen Rozycki for taking Breezy in while I was going through my chemo treatments and radiation therapy. She kept her going for me, and I wouldn't have been able to be at the Young Rider Championships if it wasn't for Kristen taking her in over the winter, so I just want to give her a huge shout-out. 
Thank you for speaking with us Jordan, and we hope to see you back at TIEC next year!