Suzanne Lindley is stepping back under our spotlight to give us a recap of her experience in Tokyo for the 2020 Olympics! Suzanne is one of our most decorated volunteers at TIEC and was selected to be one of fifty volunteers at the Equestrian Olympics. We caught up with her before she embarked on this thrilling journey to hear about how she was preparing and what she was looking forward to most. Of course, we were thrilled to catch up with her upon her return from this once-in-a-lifetime event. Continue reading for an inside look at what volunteering for the Olympics entails, hear about her phenomenal highlights, get an update on her upcoming volunteer plans, and more!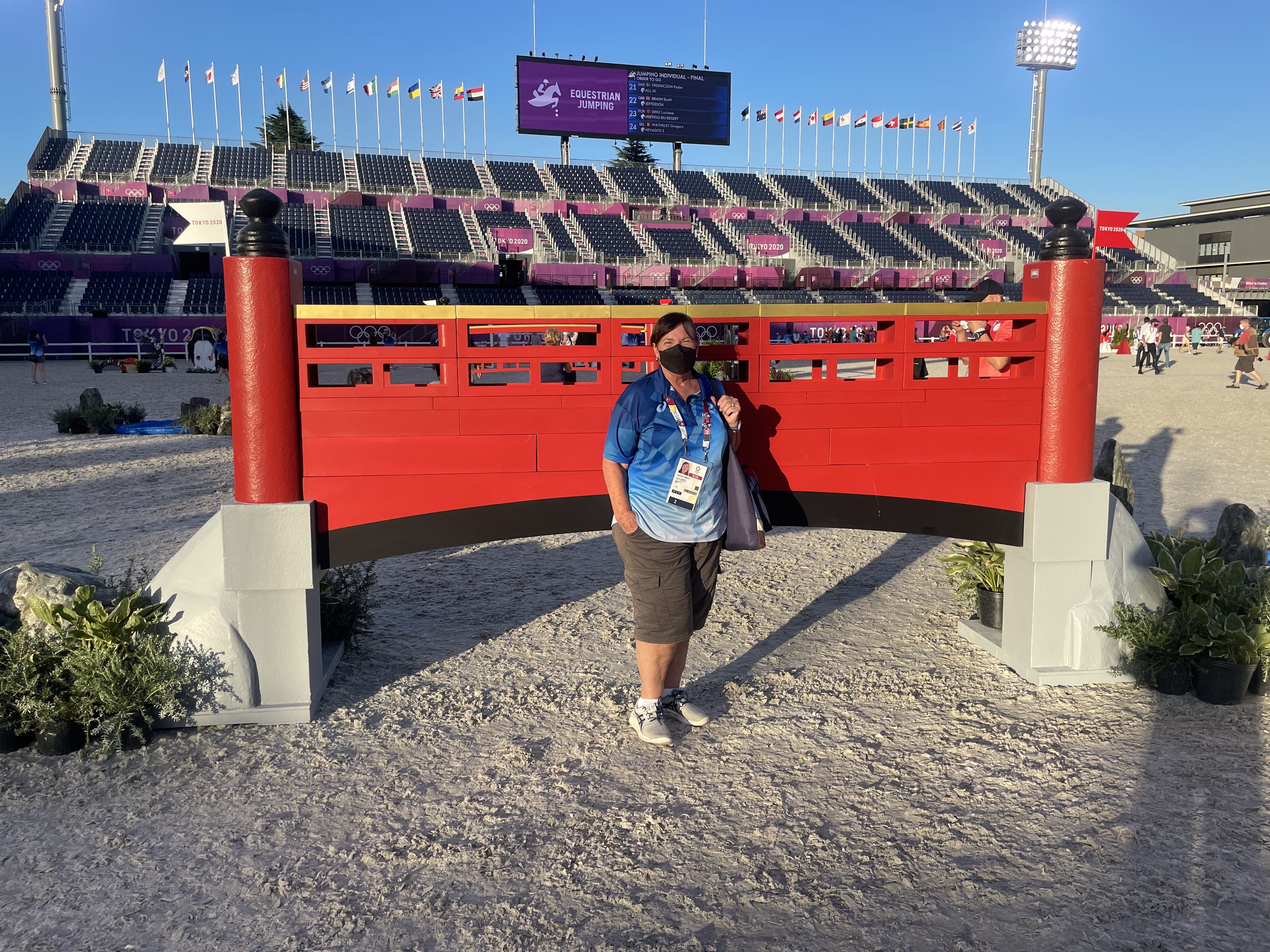 Photo courtesy of Suzanne Lindley. 
We're so excited to hear about your Tokyo experience! How did your journey begin?
Traveling was pretty uneventful thanks to American Airlines. They did a really good job! The flight from Charlotte to Dallas was packed, but my flight to Tokyo was so empty that we all got rows to ourselves. It was an overnight flight, and the weird thing is that you lose a day. Right before you get to Japan, you cross the international dateline. Thirty minutes from Tokyo, it goes from one day to the next day.
Everything was fine once I got there. The airport I flew into wasn't terribly busy. There was a small group of athletes and journalists – I think I was the only volunteer there. They herded us through all of these stations where you had to pull out all of your paperwork, then you'd go to another little table and pull out the same paperwork. You had to jump through a lot of hoops and be tested there. The medical people were just fabulous. As I was waiting on my results, they helped me get into the health application. The National Health Service there has an application where you register your condition everyday, such as your temperature and whether you have any symptoms. My last day there, I finally got cleared and got to go out for my first unsupervised walk on the streets before I had to leave for the airport. 
I flew into an airport that was a lot further from the center, which I didn't realize when I booked it. I had a long taxi drive in, but it was great because I got to see a lot of Tokyo. It's a beautiful and absolutely huge city. I had never been there before, and the architecture was just spectacular. The hotel that they put us in was gorgeous, too. We were in three different hotels, but they were all within walking distance of each other. I was in a really nice hotel on the 23rd floor facing Mt. Fuji.
What was your schedule like?
We were very busy! I would say that all of the rules with the hotel weren't much of an issue because we really weren't there much. For the first couple of days, we were getting ready for cross-country. We had to be up and on the shuttle at about 5AM and they bussed us to Sea Forest. They started working on Sea Forest back in 2015 and got it ready for the test event which ran in 2019 to get ready for 2020. They actually had it tested before COVID hit. It was such a gorgeously manicured cross-country course. I went out and walked the course after, and you couldn't even tell a horse had been on the galloping lanes after 60-something horses pounded across it. It was so durable and deep-rooted because it hadn't had any traffic [in two years]. It was funny because there was a Tokyo log that looked like a knock-off of our Tryon log. They had 'Tokyo' carved into it similar to ours at White Oak. Just like on our course where we have Chimney Rock, the squirrels and things like that, they had all Japanese jumps.
The first day we were there, they put us on teams. I found out I was going to be a fence judge when I got there. There were about 20 of us fence judging. We were put in sectors with an FEI steward. Ours came from Australia, and I think a lot of them did because when they did the test event, they had a lot of Australians compete. They were expecting all of these Australians to come back for the Olympics, but because of Australia's very strict quarantine, a lot of them bailed. That's a big reason why they needed people. The Australians who did go needed to quarantine for two weeks once they got back after being quarantined in Tokyo for weeks. That would've been a deal breaker for me! They will have spent almost two months in quarantine.
We had Japanese volunteers, too. We got merged once we got there to be put on teams together. When the group of us were standing around, I asked them to put their hands up if they had been to Tryon before. About 20 people put their hands up, and a lot of them were international. Melanie and Robert and I were put on the same team during the second week, and I said, 'I remember you guys!' I checked them in at Sandy Plains. It was kind of fun that there were so many people in Tokyo who were at WEG as well.
There were 50 of us volunteers for equestrian sports as a whole. We kept seeing each other on the bus, at the hotel or at the venue. It was a lot of fun! There were also a number of people who actually live in Japan, but are international. There was a couple from Australia, but they weren't considered international volunteers because they live in Tokyo. Apparently, a lot of people are moving to Tokyo for jobs and things like that. I met someone else from North Carolina, so I recruited her and told her she needed to come back and sign up to volunteer at Tryon. She was super sweet!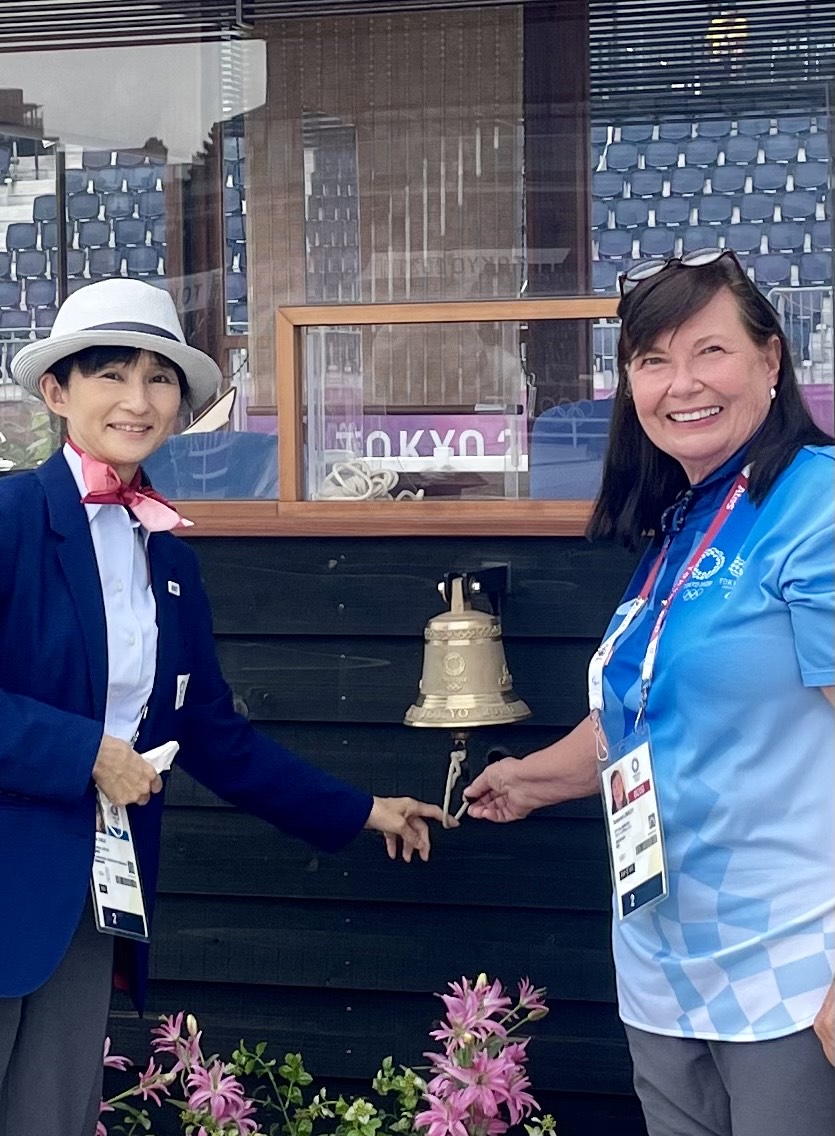 What was a major highlight for you?
The fence judging was really cool to do. We were actually a little short on experienced fence judges, but everybody did great. They gave those of us with more experience the more complex jumps. I was sitting near Dragonfly Bay. They came down the hill, jumped a skinny, went through the water, and then jumped another skinny in the water. It actually had six jumps, with three different routes. There were a lot of moving parts to it, but I'd say 85% of them went through and finished fine. It was actually a pretty easy day! The other beautiful thing was that we had a Jumbotron up on the hill.  It was cool to see everyone come through and get to cheer the American riders on. Doug Payne came through first, then Boyd Martin, and then Philip Dutton was our last rider through. The first day, we had sort of a practice day. We went through all of the motions. People came by on golf carts pretending to be horses to act out different scenarios. We had to practice in case a rider or a horse went down.
We had a typhoon threaten the cross-country, but it went somewhere else. It wasn't just Tryon with the hurricane! We had some rain, but it never interfered with the competition, so we were lucky. One morning, there was a 5.8 strength earthquake. It woke me up at 4 o'clock in the morning!
The most surreal thing that happened was I walked in one day not knowing what I was going to do, and they grabbed me by the arm and said, 'You're on team omega.' I didn't know what that meant, but it turns out that Omega was doing all of the electronic scoring. We were going to be trained to do the electronic scribing for the Eventing Dressage. We were put on teams of three or four, so we put ourselves on rotation and got all organized. The first session of Eventing Dressage, I ended up in box C with Nick Burton from Great Britain who was the head of the ground jury. I was entering all of his scores electronically for the Olympics! I told him afterwards, 'I never could've dreamed of this.' I never thought I'd be scribing at the Olympics for the head of the ground jury. So many people asked how I got to do it, but I think I was just in the right place at the right time.
The last night of Tokyo just absolutely made the trip worth it, especially with Team USA in the jump-off final. Dressage was beautiful, Eventing was great, but that night of Jumping was just what you go for. It was as exciting as it could be.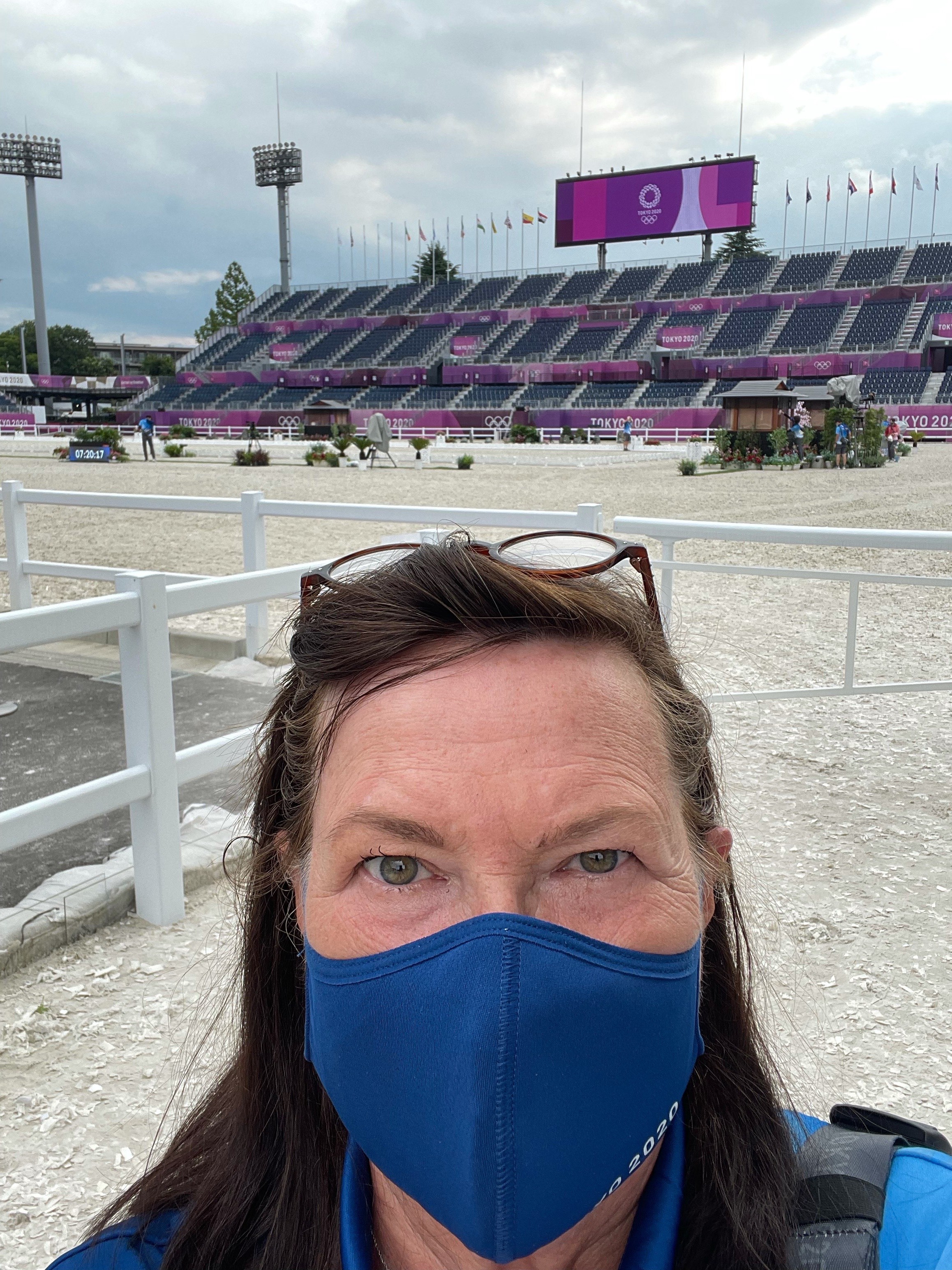 Photo courtesy of Suzanne Lindley 
What was a challenging yet rewarding experience?
People were reading my last interview and laughed saying, 'You were so right!' Like I said, you can plan as much as you want to, but you still have to be able to adapt. Most days, I just showed up and asked where they needed me. I think there were other people who had come earlier than me who pretty much had the same job the whole time, but I felt a bit more like a floater. The main thing was being prepared for almost anything. One person said, 'I didn't come all this way to scoop manure.' I said, 'But it's Olympic horse manure!' I scooped American horses' manure out of the warm-up ring by their barn one day and got to watch them warm up their horses and everything. 
As I always said, we were just going [to Tokyo] to put on a horse show. That's really what it felt like! It was certainly an important horse show, but it was like we had been at Tryon. It was very intimate and family-like. You could actually talk to the competitors and things. We didn't bother them during the competition, but after they finished, people were just going around, getting pictures and congratulating them. It was nice because we were really the only audience they had. It was really cool how we got to have an up-close experience with the competition. The competition was just fabulous, too. They took it very seriously, and you could tell how hungry they were. They had to wait a year, so they really came to play. The competition was just amazing. 
The last thing I'd say is just how amazing and wonderful the Japanese people were. They were just so kind. We found ourselves feeling so zen.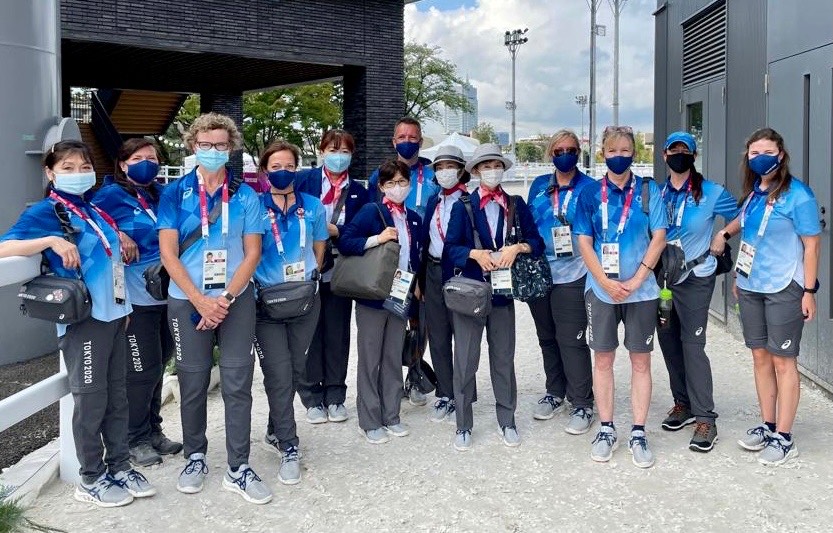 What was a major takeaway?
That the horses are getting more and more amazing! The Swedish jumping team went all week until they finally dropped a rail. That was just amazing. Also, just the camaraderie between the competitors. It had the same feel that Tryon has. Everybody was just hanging out and getting along. The spirit overall was just so great even despite the circumstances.
Next summer, Denmark will have the World Championships for Jumping, Dressage, Para-Dressage and Vaulting. A lot of us jumped to sign up, so I'm working on that. In Italy, they'll have Driving and Eventing. That's on my bucket list! Of course, we're looking forward to Paris in three years, too.
What's next on your calendar?
It'll be the Tryon Fall Horse Trials! I'm already signed up to judge on the cross-country course. I'll do the Tryon International Three-Day Event, too. In Tokyo, I talked to some people who live nearby and told them to come out and volunteer for our big events, too!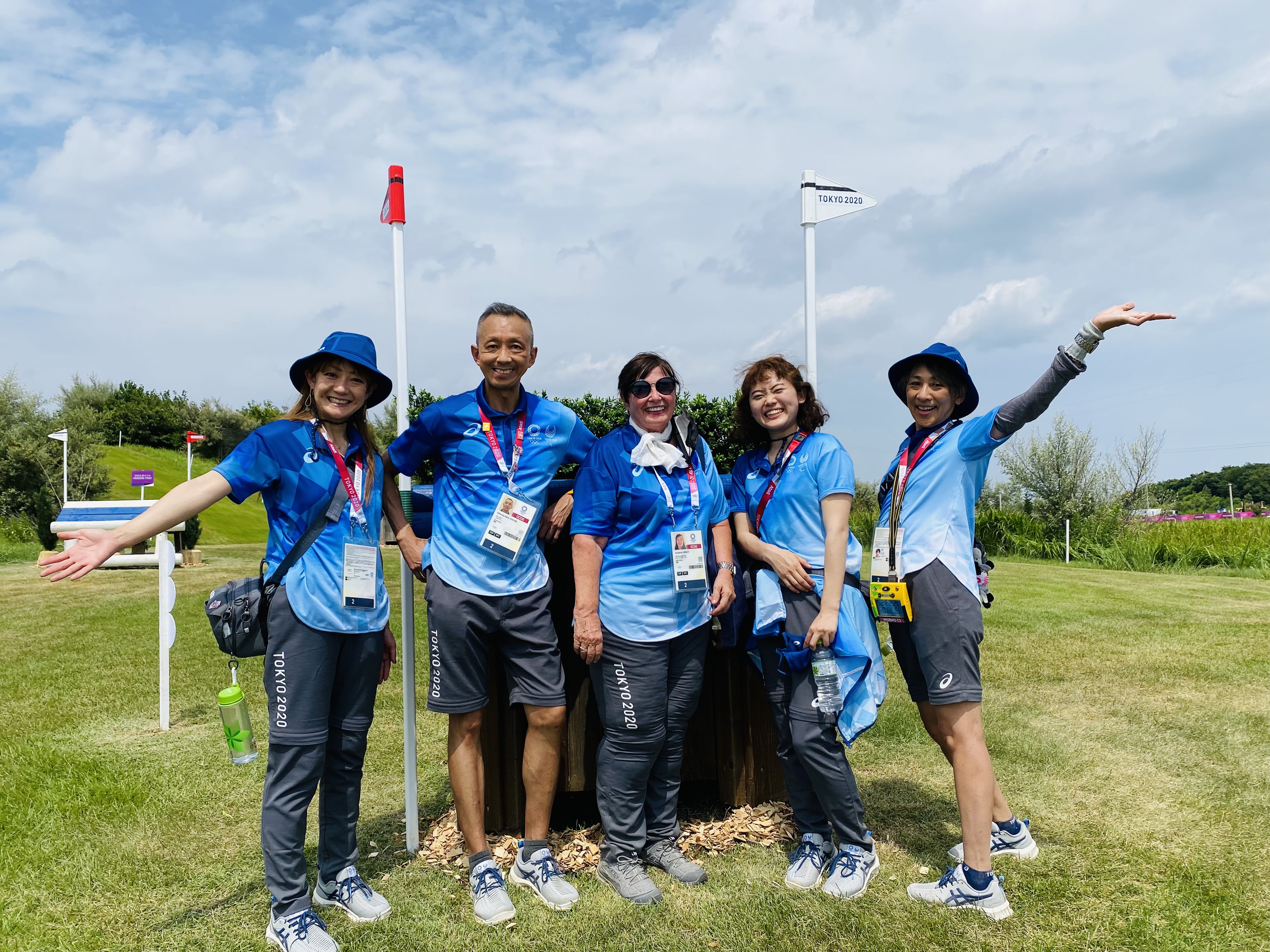 What would you say to someone who's interested in volunteering at TIEC?
I would say absolutely go for it, because the experience you gain there can carry you a long way. It could carry you all the way to Japan, scribing for Nick Burton or judging cross-country! I felt perfectly comfortable doing it because I've judged the lighthouse complex at Tryon. It was really needed there, too. I really felt like I made a real contribution at the Olympics based on my experience at Tryon. You just learn so much even beyond the competition. You learn skills that will help if you ever do want to go to a major show like this.
Thank you so much for catching up with us and congratulations on a fantastic Tokyo experience, Suzanne! We can't wait to see you back at TIEC soon.