Meet Suzanne Lindley, one of our top volunteers at TIEC for both our equestrian and non-equestrian events! Suzanne is one of our most decorated volunteers with experience at the highest levels of multiple FEI disciplines from World Championships to the Olympics. She began volunteering with us in 2018 ahead of the World Equestrian Games™ Tryon 2018 (WEG), including many of the Test Events leading up to WEG. 
Being the incredible volunteer and horsewoman that she is, Suzanne was selected to be one of 50 volunteers for the Tokyo 2020 Eventing competition! We are elated for her as she embarks on this once-in-a-lifetime adventure, and can't wait to hear all about it upon her return. Continue reading to learn more about how she got involved with horses and the sport, her highlights from WEG, what she's looking forward to about Tokyo, and more. Stay tuned to hear from her again once Tokyo concludes, too!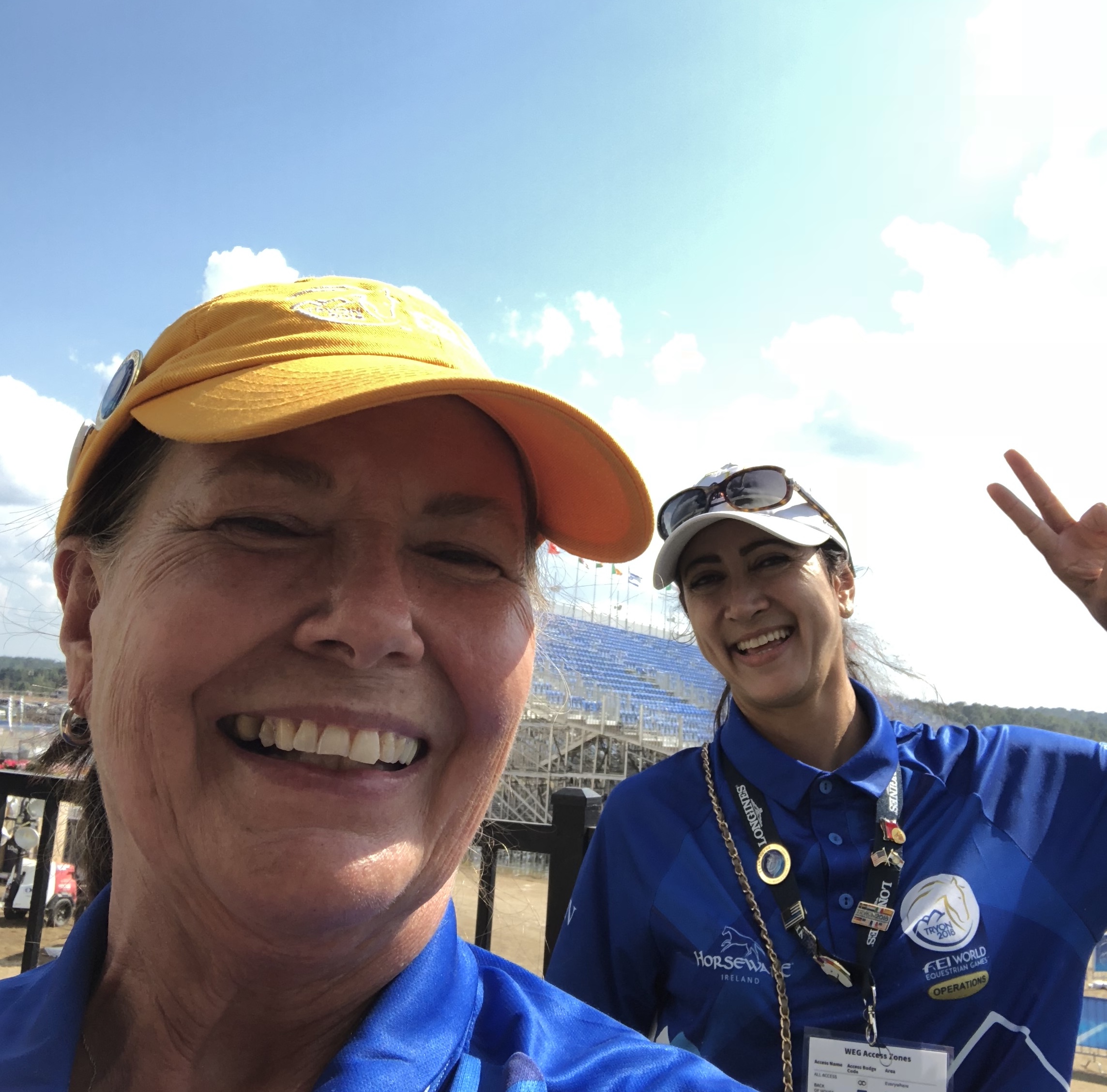 What sparked your interest in volunteering for equestrian sports?
Interestingly, it was a pretty bad time of my life. My marriage ended the first of 2018, so it was a new year in a different way. Since I was on my own then, I started looking for things to do. We had always come over [to TIEC] and watched things like Saturday Night Lights. My husband was not a horse person per se, but he could be talked into coming over for Blue Ginger Sushi and watch the horses jump. So, I had been to a lot of things there, but not as many as I would've liked. During that summer, I started volunteering ahead of WEG [FEI World Equestrian Games™ Tryon 2018]. They took on WEG with a really short timeline to get ready for it, so I started volunteering for the Test Events. I signed up pretty much all the way through the Games. I had been to the Olympics a couple of times as a spectator primarily. We went to all of the equestrian sports in Atlanta. My daughter was really into riding, and was doing pretty well with the horse she had at the time. She was about 14 when we went to the Olympics and we watched all of the equestrian sports, as well as a few other things like softball and volleyball. We did the Atlanta Olympics in a big way, and really enjoyed watching all of the riders that you read and hear about. 
What is your background with horses?
My equestrian career started when I was young, and I've always loved horses. I don't know why, but by the time I could walk I wanted a horse. I don't ride as much now, and most of my horses are just large pets. I can ride, though, and do it a lot when I travel. I went to a wedding in Pennsylvania and you could ride all over the battlefields up there. I signed up for those kinds of things. I've ridden in the waters of the Caribbean and up the side of Half Dome in Yosemite. I do have a horse that I can ride, but don't very much. I just like to feed and look at them! I have two old retirees who can't be ridden. One of them looks as sound as a dollar in the pasture, but when you get on him, he develops a lameness. I do have a younger horse who I can ride, and he's like a puppy in a horse's body. He follows my grandkids around like a dog. I also have a couple horses boarding at the farm I lease.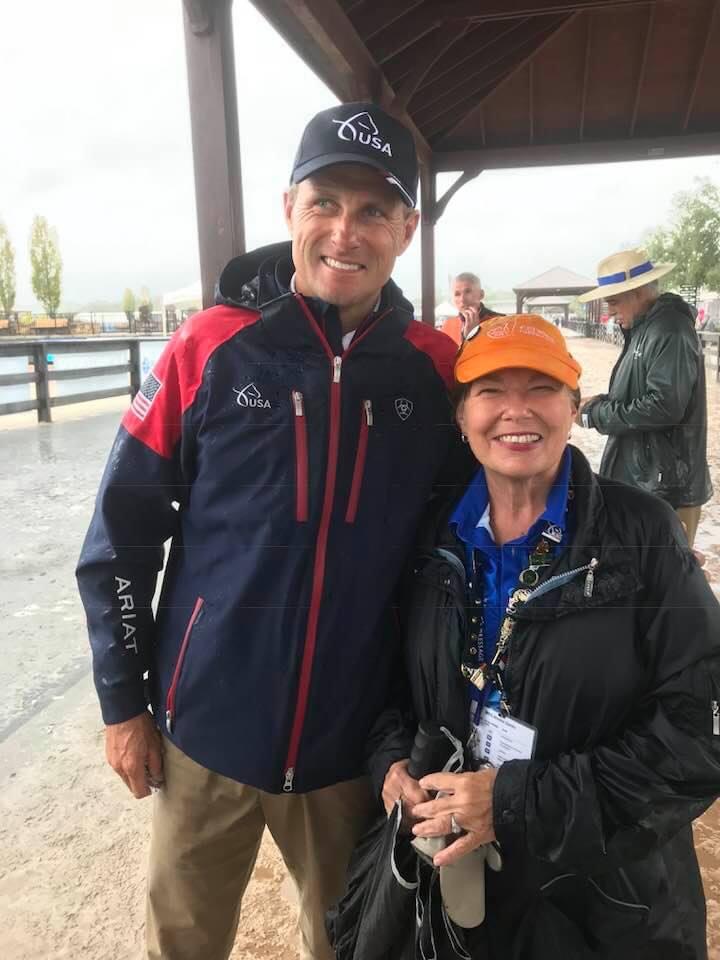 Did you used to compete?
I did once I got a horse. I used to work to ride. The barn where I rode was nothing fancy, and the funny thing is that it was two dollars an hour to ride a horse, and five dollars for five hours. If you worked, they wouldn't take the horse from you at the end of your five hours. I'd go out early and help feed, in the afternoon we'd throw out hay, and saddle up horses to take out. They rented horses out and basically turned people loose with them, so we had to go get them when their time was up. They had a bunch of little ponies, and we'd jump on them bareback to go get the people.
My parents couldn't really afford to buy me a horse, so I decided to get a job when I turned 14. I got a special work permit so I could get a job since I was underage. A horse at my barn came up for sale, and he turned out to be the best first horse a girl could ever have. He had been there and done that and won a bunch of stuff. He was actually a Timed Event horse, but he was five gaited. I showed him in English pleasure classes and pole bending. He was just a ton of fun, and the best first horse I could've ever had.
After that, my first husband and I owned and raised horses. We showed mostly in Breed Shows, like Appaloosa, Quarter Horses and Paints. We never really jumped unless we were on the trail and something was in the way! I didn't really know much about Dressage, but I knew a lot about horsemanship. We had bareback pleasure classes at the Appaloosa shows that I loved! We were in a Dressage clinic once where they told me to act like you have a string tied to your head and just kind of dangle from that. And I said, 'Well, this just goes back to us riding bareback!' And the clinician said, 'People should ride bareback more often because the bareback riding position is exactly the position you should be in for Dressage.' People often say it's easier to take a Western rider and teach them to do Dressage than it is a Hunter Jumper rider.
Tell us about your horses!
I went about 10 years without horses and then I took in a rescue. I've had him for over 10 years now, and he's my boy! He was this big beautiful paint on his way to the slaughterhouse. I took him up to the clinic, and they told me he had fractured his hip and had a roached spine. I was looking for a companion horse, so then I got an Appaloosa who was priced way too low at only $300. Those two are now best buddies. Then, I decided I needed a horse that I could actually do something on, so I picked up a younger horse who's like a puppy dog. He's so sweet! He is about 15.3 and super chunky. They're all really easy keepers, thankfully. It's a colorful pasture with three paints and an Appaloosa. The horses are therapy for me. For most girls, that's the thing that will soak up a lot of tears growing up.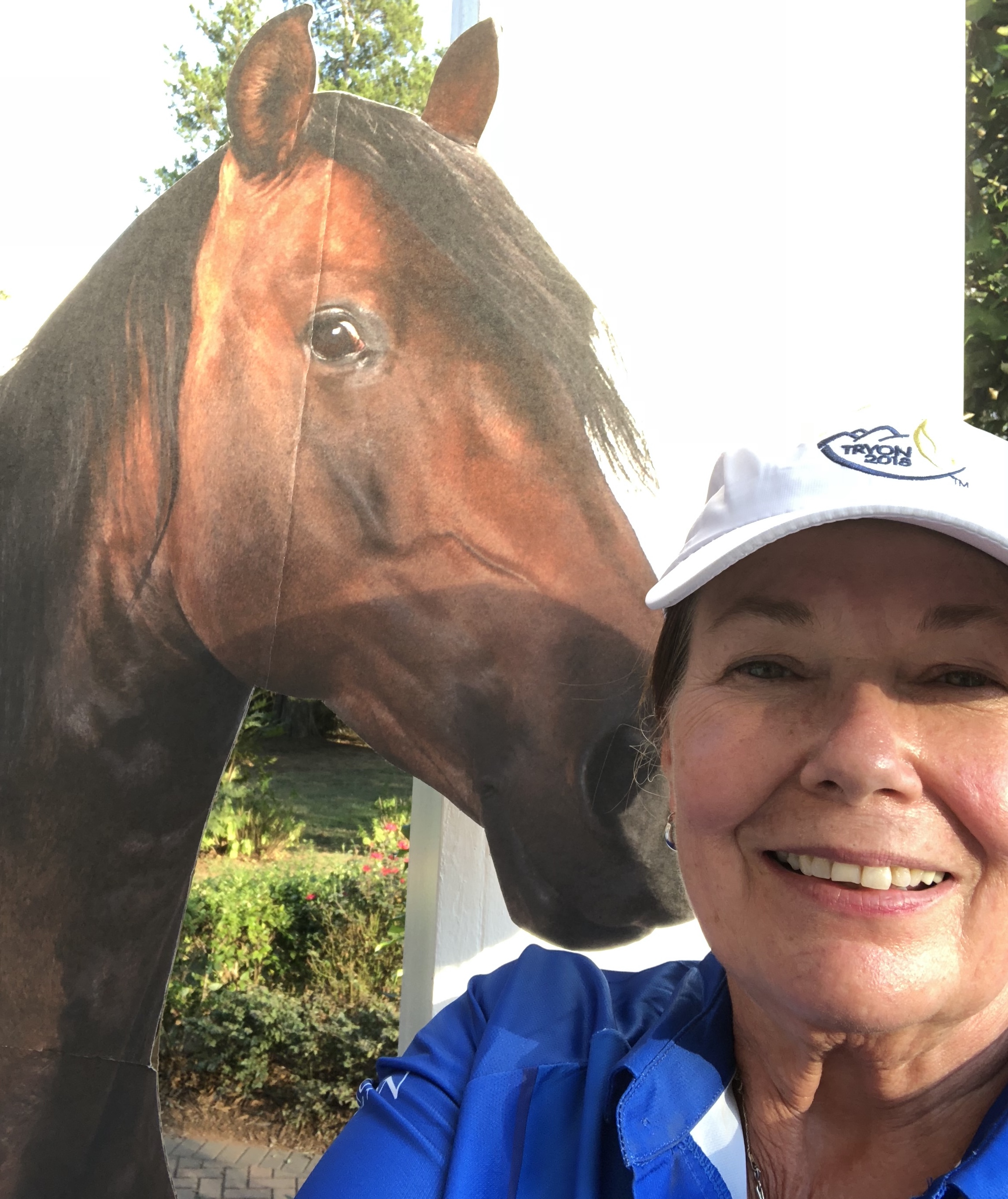 What was your experience like during the FEI World Equestrian Games™ Tryon 2018?
Kathryn [McMahon] asked me to be one of the volunteer leads. We had very long days! [One of my highlights] was just all of the connections I got to make with people. So many of us have stayed in contact with each other. As hard as WEG was, it was like going to a big camp. We all created such a bond doing it.
Towards the end, we had pretty much done our work in the volunteer center and things wound down a bit. I had volunteered for the Marathon phase of Driving, and the person who was supposed to be the starter didn't show up. I went down there as a floater and someone asked me if I could be the starter. I said, 'Sure, as long as someone tells me what to do!' They ran me up the big hill on a golf cart to the start, and the FEI people were just great up there. One of the FEI officials explained to me what I needed to do and it was just so cool. You couldn't see much from up there, but I got to meet great people. I exchanged pins with some of the Chef d'Equipes of the teams, got to chat with the Drivers and Navigators, and learned so much about Driving. Once we neared the end of it, we got to head down and watch the best of the best compete. I'm hooked on Driving now!
After WEG, everybody in our Facebook group said, 'Let's sign up for Tokyo!' I don't know how many people did, especially after it got cancelled. Initially, they said nobody could volunteer. Then, they backed up and said that they needed some of us to come. For whatever reason, I made the cut of only 50 volunteers! One of the pluses was that since I had already volunteered at WEG, I had already gone through the extensive background checks and everything. I had a little bit of a leg-up there. The funny thing is that when I was working at the volunteer headquarters during WEG, they brought the group [Olympics organizing committee] from Japan. It'll be interesting to see how many people are in Tokyo who I've already talked to. They wanted to see how our volunteer check-in was set up, how we were handling things, and so on.
How have you been preparing for Tokyo 2020?
Their plans are changing everyday, especially with COVID. We get emails that contradict the email we got the day before. It's not bothering me because I know we're going to show up and make it work. We're going to adapt on the fly because we have to. When I had my video interview for Tokyo, I said, 'No matter how well you plan for things, stuff is going to happen.' All of the planning in the world is no substitute for being light on your feet. The main thing is to be a good problem solver. It's kind of like riding a fresh horse – you just gotta keep your leg on both sides and ride it out! At the end of the day, if you've still got a leg on each side, it was a good day.
They're putting us up in a hotel near the equestrian center. The Japanese Ministry said that we need to be supervised nonstop in order to come into the country. They also have a 14-day quarantine requirement, so anybody that wants to explore Japan will need to find somewhere to stay for two weeks. In lieu of quarantine, all of the athletes and volunteers are going to basically be in a bubble. I'm fine with it, though, as I'm going to put the show on. I'm not going to sightsee – I'm going to help the best horses and riders in the world do their thing. This time, we won't have to fight crowds to do it!
Why should equestrians volunteer for other disciplines?
You can learn from everybody and there's a commonality between everything. It doesn't matter what kind of riding you do. Plus, I just love seeing beautiful horses do what they do! It's such a great opportunity. I can appreciate a good Jumper, Dressage, Reining or Driving horse. The competitors and their grooms are so great, too. Last year, when Boyd Martin won the 4*, I got to help put Thomas' cooler on and get him ready for pictures. Stuff like that is just so much fun. 
How does it feel to be Tokyo bound?
I just keep pinching myself! I'm looking forward to the whole experience. I travel a lot, but Tokyo is one of the places I've never been. I feel like once I get there, though, it won't feel much different from WEG. We'll have people and horses there from all over the world. I can already tell that the people are going to be wonderful to work with. As a group, they're just delightful people. I'm excited to go and help where I can.
What will your role be during Tokyo 2020?
For the first three days, we'll be setting up the cross-country course. We'll be running around with the crew and course designer helping put the course together. Then, we have Dressage and for that I have no idea. I was the warm-up person for three rings at Tryon once, and it was a very busy and long day! A lot of the same competitors that were there [for WEG] will also be at the Olympics. I'm just going to be happy with whatever role they give me. I'll be prepared to do anything. On the last day of Eventing, we may be setting up the jump course, decorating it and getting people in and out of the ring. I'll also be working two days with the actual Jumping. I was supposed to just do Eventing, but when I told them the dates I was going to be there, they wanted me to work the Individual Jumping Finals, too. Kent Farrington is on the team, and he's one of the guys that we see at Tryon a lot. We've seen most of them at one time or another at Tryon, but Kent is kind of a regular there. I don't know in what capacity I'll be working Jumping, but I'll let you know when I come back! It's going to be a really fun experience.
Thank you for taking the time to chat with us, Suzanne! We are so appreciative of the role you play at TIEC and can't wait to hear all about your experience in Tokyo.