Meet Stephanie Aull, the Community Relations Manager and Development Coordinator for the Foothills Humane Society in Columbus, NC! The Humane Society will be bringing adoptable dogs ready for their furever homes tomorrow during Saturday Night Lights, so we caught up with Stephanie to talk about all things FHS. Keep reading to learn more and get a sneak peek at some of the dogs you can expect to see at TIEC! 
What does a day in the life at the Humane Society look like? 
​A day at FHS changes from day to day! Every morning, our dedicated staff arrives to take care of the dogs and cats. This includes feeding them, cleaning/sanitizing their living areas, and of course, loving on them! We have wonderful volunteers that also assist with daily tasks like laundry, dishwashing, socialization, and dog walking among other things. Almost daily, we receive stray or owner surrendered dogs & cats from our community. And of course…adoptions!  
What's been a special memory for you all at FHS?
One of our most recent memorable moments was opening our New Digs facility. This facility was partially funded by a matching grant from the Polk County Community Foundation and is complete with 28 kennels split into 3 sections. This facility allows us to help so many more dogs and enriches their lives while they await their forever homes!
What kind of animals are available for adoption? 
​We have dogs, cats, kittens, and puppies available for adoption! 
What is the main goal for FHS?
​Our mission is to shelter and care for stray and surrendered companion animals within our community, prevent cruelty to animals, reunite lost animals with their owners, adopt animals to qualified homes or place them with reputable rescue organizations, and educate the public about responsible animal ownership and population control.
Has a particular animal stuck out to you during your time there? 
​One of my favorite adoptions was of a dog named Taz. He was a sweet pittie mix who was a staff favorite because of his wiggle butt and stellar personality. He was such a teddy bear! However, Taz was often overlooked because of his breed and physical appearance. The day Taz was adopted was an emotional one! His forever family drove all the way from the coast of SC to adopt him. He immediately fell in love with them and their young son. When it was time for him to go home, he jumped right up in the truck, curled up on his new fluffy bed, and placed his head in the lap of his new human brother in his car seat. We still keep up with Taz and his new family and he is one of my personal favorite success stories! 
How can people help FHS? 
Adopting, volunteering, fostering, and donating are all ways that people can get involved with and support FHS! All adoptable animals can be seen online through our website, www.foothillshumanesociety.org. Those that are interested in volunteering or fostering can fill out an application also on our website. We provide foster parents with everything they need! Right now, we are in critical need of fosters for large dogs and kittens. Donations can also be made through our website or in person at 989 Little Mountain Rd. in Columbus, NC. 
Meet some of the adoptable dogs that will be joining us tomorrow!
Muddle
Hello, I'm Muddle, a 3 year old Pittie mix. My owner surrendered me to the shelter when he no longer wanted me. I am a roly-poly guy and am always bringing a smile to the staff and volunteers' faces. I love to be scratched and loved on. I attend class twice weekly and I currently know how to sit and lay down. I am very gentle and take treats delicately. My owner said that I love kiddos. I can't wait for a family that will let me ride shotgun and be their best companion! My ideal home would be one that would allow me to lay around but also take walks a few times a day. Read my full description at https://www.petfinder.com/dog/muddle-50843650/nc/columbus/foothills-humane-society-nc129/. 
Ash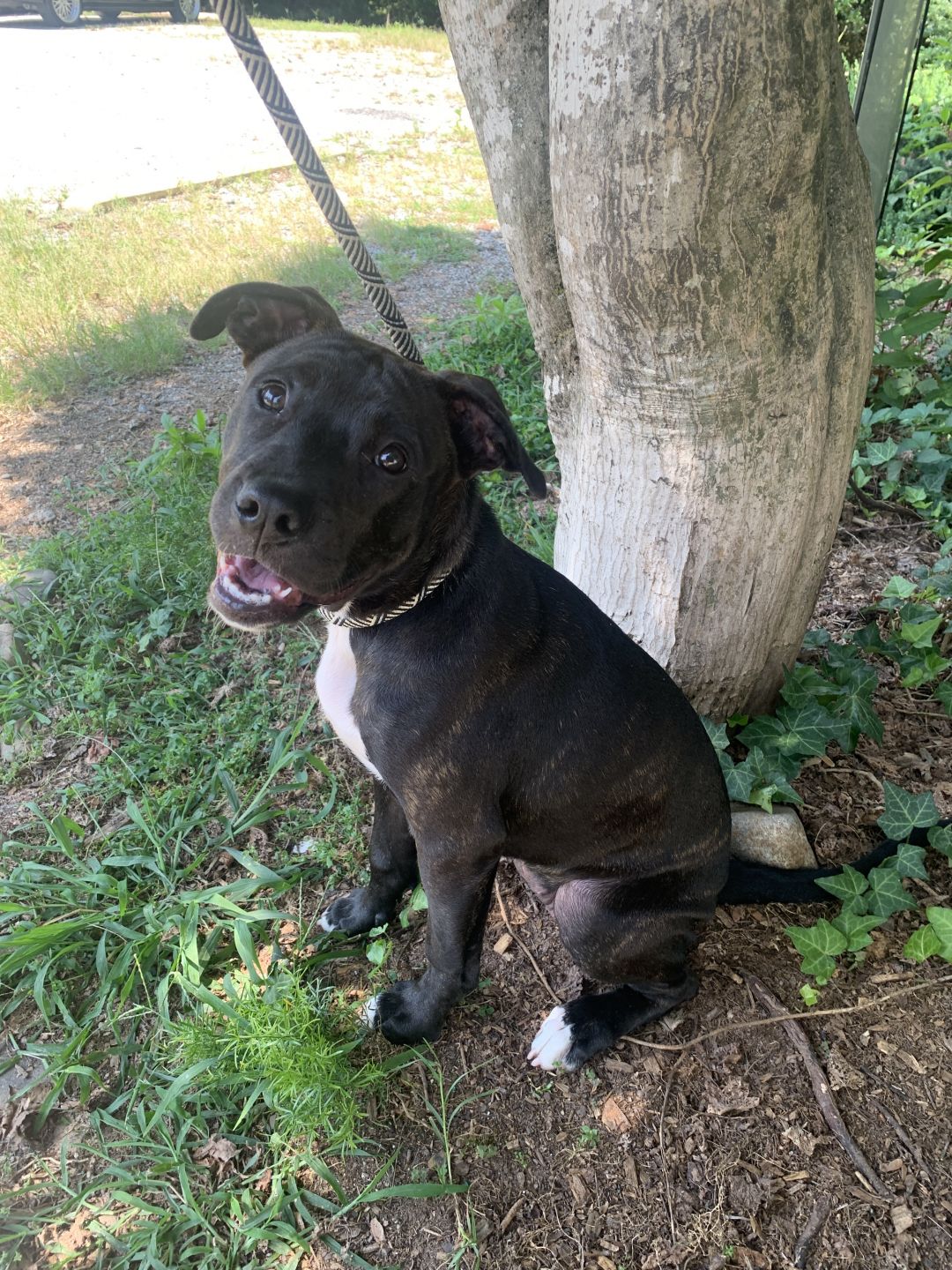 Ash is one perfect little puppy! This 5-month-old Pittie mix is a gorgeous brindle color. Ash is super sweet and LOVES to cuddle and be around people. She will sit in your lap and let you cradle her like a baby. We can definitely see her growing up to be a big lap dog! Ash is also very well behaved, walks well on a leash, and is doing great with house training. She is even learning how to sit! See her full description at https://www.petfinder.com/dog/ash-52633639/nc/columbus/foothills-humane-society-nc129/.
Alaina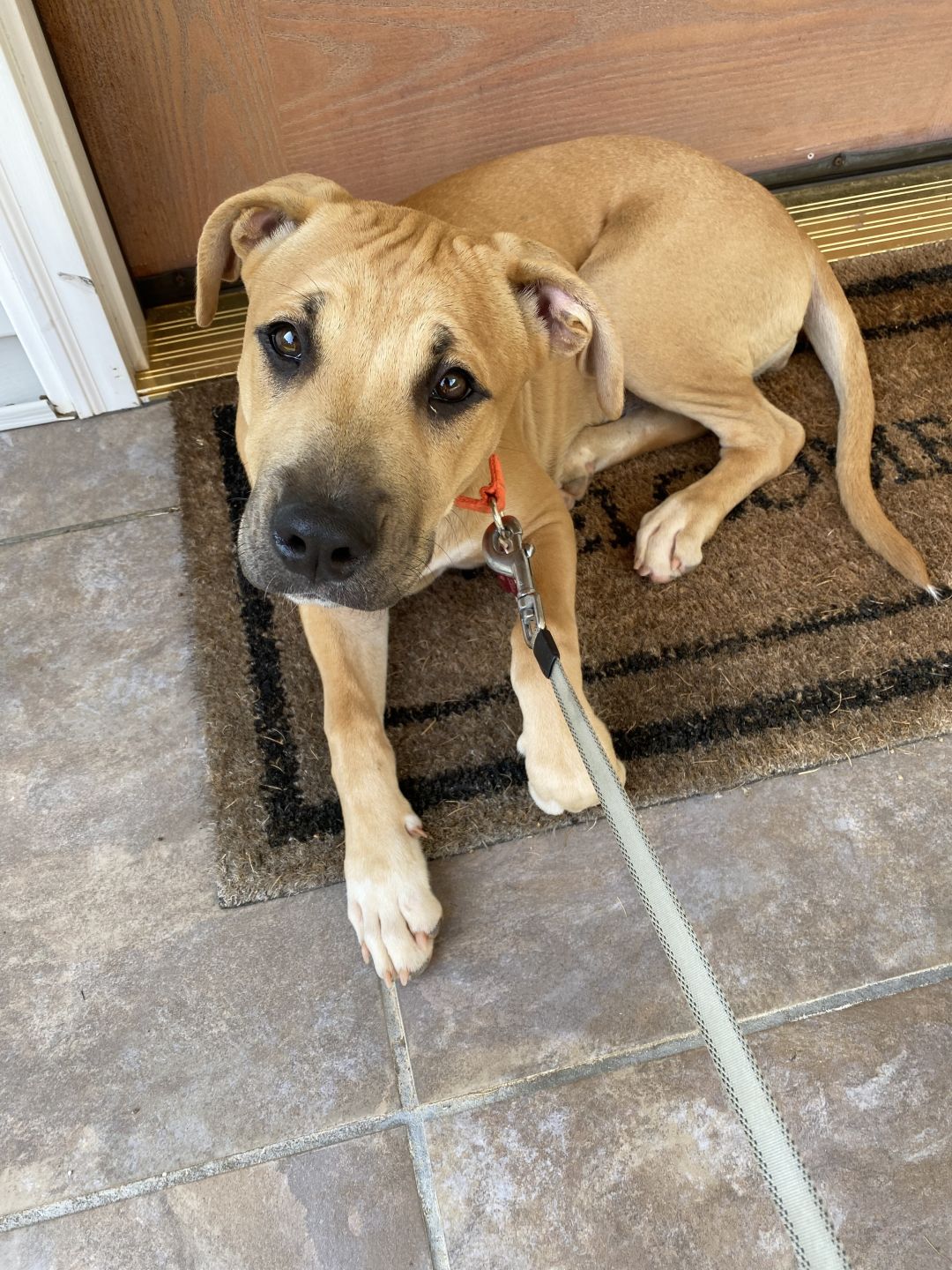 Alaina is a 4-month-old pittie mix surrendered by her owners when they could no longer afford her and her sister, Ash. Alaina is currently in foster and her foster parents have great reports! She is the sweetest little thing. She has loved meeting people and hasn't seemed scared of anyone yet, but she does flop over on her back for belly rubs to be her first introduction. Read Alaina's full description at https://www.petfinder.com/dog/alaina-52581786/nc/columbus/foothills-humane-society-nc129/. 
Thanks so much for chatting with us, Stephanie! We look forward to seeing you and the adorable adoptable dogs tomorrow at TIEC.