The mayor of Rutherfordton, NC is a familiar face at Tryon International Equestrian Center & Resort (TIEC) from volunteering for almost every event to cheering on competitors from the stands and frequenting the venue with family. Everyone who knows Jimmy Dancy knows he is a volunteer at heart, and he has been a core member of the TIEC volunteer team since his first role in 2017.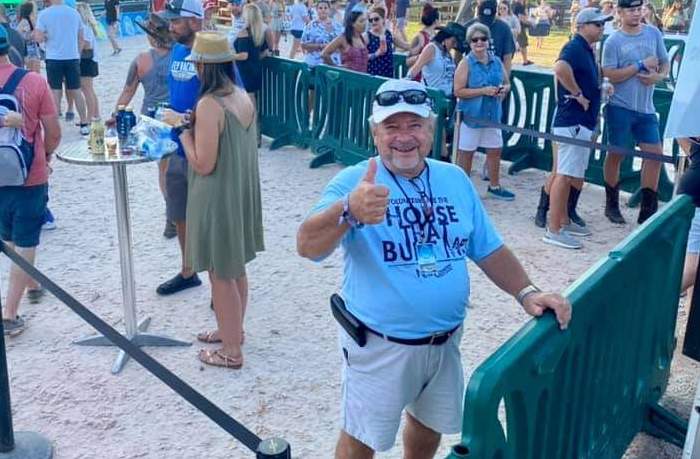 Jimmy Dancy volunteering at the Night in the Country Music Festival.
"I have volunteered since the first Block House [steeplechase] that was run by Tryon International Equestrian Center. It started a great venture for me, and it was a very, very enjoyable time that I spent out there," said Jimmy.
Jimmy's first volunteer job was cleaning golf carts to be used by steeplechase officials, and since then, he has served in a variety of capacities such as shuttling guests attending the 2018 FEI World Equestrian Games, delivering food to Eventing judges on the White Oak Cross-Country Course, moving obstacle cones for Driving competitions, or ushering concertgoers to their seats in the International Stadium. 
"I've done a little bit of everything, and that's the exciting part about it. Usually when I sign up, I'll sign up for things that I've done before. But I'd be out there sometimes when they did not have enough people in another area, and I would move, and that's fine because I've been able to see so many different parts of the equestrian center and experience so many different events that I probably would not have volunteered for the first time around," explained Jimmy.
While he never meets a stranger and is a friend to all, people may not realize there is a real cowboy hidden inside Jimmy and his time at TIEC sparks fond childhood memories.
"I laugh because [volunteering at TIEC] takes me back to my very first experience with horses. When I was a kid we lived next door to a large farm where a gentleman had cattle and a lot of fields and hay, so I got to work on that farm quite a bit. During certain times of the year, they had some ponies that the farmer's son and I would ride and move cattle from one field to another. So, for a brief period of time as a young boy, I got to be a cowboy for about an hour or two every week," remembered Jimmy.
Now a grandfather, Jimmy is passing his cowboy knowledge to his grandson, Jackson, by spending time with him at TIEC.
"Jackson has a hat, a belt buckle and boots, so now he's getting to live that experience as a proposed cowboy himself."
In his capacity as mayor, Jimmy has seen TIEC transition from dirt to destination, admitting that it was hard to visualize the massive plans that were unfolding before him.
"I was one of those fortunate ones who got to go out there at the very beginning and be a part of the groundbreaking, where we stood up on top of the hill and there was nothing down there but grass and dirt. They had just started on the sheds, and we were being told what they were going to do there. It was hard for me to see through my eyes what was going to be there, but now I marvel at being able to see what the transition has been over those years."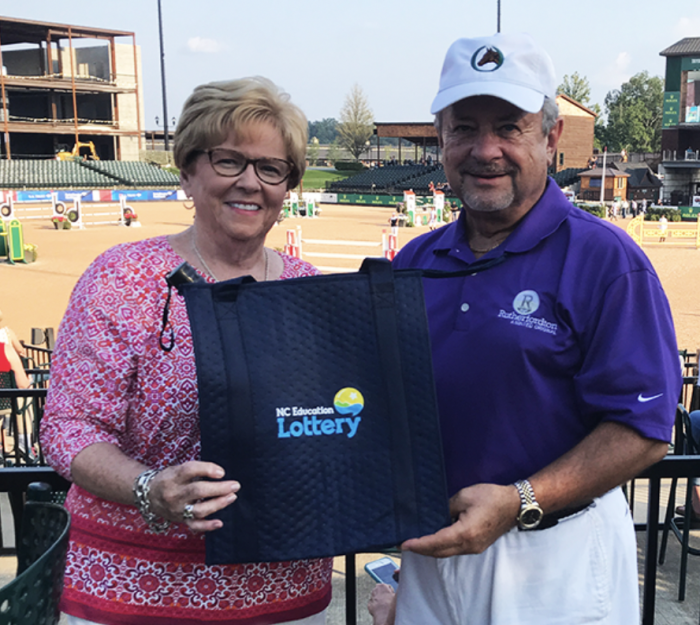 Jimmy and his wife, Ginger, at TIEC's Saturday Night Lights.
As mayor, Jimmy was also involved in getting a sewer line connection from Rutherfordton to TIEC at the onset of the resort's development. The town is also in the process of building a firehouse closer to TIEC to assist in emergency services for the region.
"I'm tickled to death that the town of Rutherfordton has a part to play in the [TIEC] experience. And in reality, we're partners in what we do."
Now a veteran volunteer at TIEC, Jimmy most enjoys driving the golf cart shuttle and telling new visitors about the equestrian center or catching up with familiar faces he has met before. 
"I've been to TIEC so many times and done so many things that when I'm taking someone somewhere in a golf cart, I've had so many people who say, "Oh, you're the mayor!" And I said, "How did you know that?" And they say, "Well, you drove me last year." So it's fun to reminisce and go back and see and talk to people and just meet so many different people from everywhere."
Jimmy is especially grateful for his experience volunteering at the 2018 FEI World Equestrian Games, he shared. 
"That's the thing [TIEC] gave us during those World Games: meeting people from different countries, and being able to tell them about the story of the equestrian center. That's the fun part – meeting people, talking to them and being able to answer questions."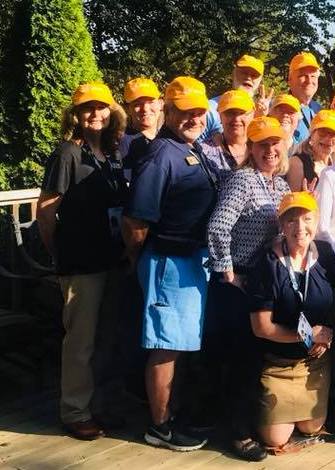 Jimmy Dancy volunteering at the 2018 FEI World Equestrian Games.
Having retired from CitiGroup, Jimmy has traveled the world and met many people, such as on trips to Mexico and India where he worked alongside former President Jimmy Carter and actor Brad Pitt for Habitat World Build. He emphasized that you never know who you might meet while volunteering at TIEC, where he was introduced to a North Carolina governor, and also rider Julio Mendoza Loor, an international Grand Prix Dressage competitor who represented the country of Ecuador at the 2018 FEI World Equestrian Games. 
"You just never know exactly who you're talking to and what they will mean to you, so it's a great experience once you start a conversation."
When he is not volunteering, Jimmy is regularly seen having dinner with his wife, Ginger, at one of TIEC's restaurants. They both enjoy the experience of being at the equestrian resort. 
"Ginger and I go out there for dinner quite often, and it's just a great experience. I'm extremely happy that the equestrian center is here," he added.
To learn about volunteering at TIEC, visit Tryon.com/volunteer or email volunteers@tryon.com. 
###