For Immediate Release
Michelle Yelton and Sarah Madden for TIEC
(R-L) Doug Payne with wife, Jessica, and groom Courtney Carson
©Madison Ibach, TIEC
May 31, 2021 – Mill Spring, NC – Doug Payne, a recently-named member of the U.S. Olympic Eventing Team, is a familiar face at Tryon International Equestrian Center and Resort (TIEC) and was named to the team last week while competing at the venue during Tryon Spring 4 competition. With a repertoire of victories that spans multiple years and many countries, Payne spends a significant amount of time competing at TIEC and has become a fan favorite after collecting several wins at the venue, which he calls his "second home."
"We were driving in earlier this week and Hudson, our son, he's 3 now, he comes across the top of the hill and says, 'Oh, we're home!' And I said, 'yeah.' We're here [at TIEC] enough to be. It's a super special place and a super convenient place to show and we love coming and will continue to come back," said Payne who was previously based in Aiken, S.C. but just relocated to the Durham, N.C. area.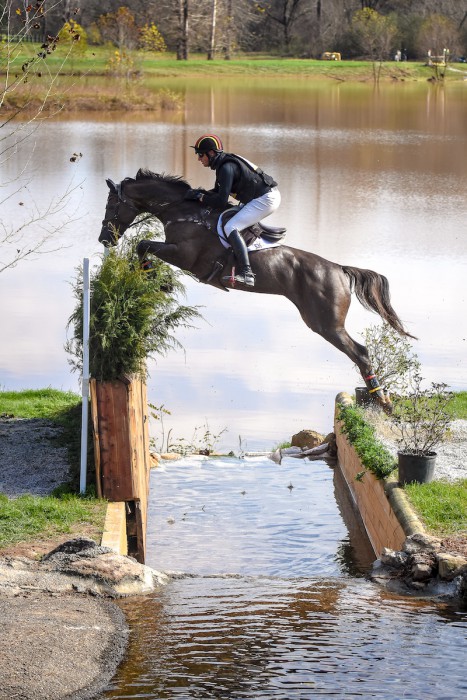 Doug Payne and Vandiver Claim ProElite® CCI 4*-S Win
©Madison Ibach, TIEC
To celebrate Payne's selection to the U.S. Olympic Eventing Team as the traveling alternate, the North Carolina-based rider was recognized in a surprise ceremony at TIEC on Saturday, May 29, where he was presented with a Cross-Country jump flag signed by the venue's staff and horse show officials. Payne described being named to the team as "a humbling experience because it's something that you work your life for, and the opportunity to represent your country and having the chance [to do so] – clearly, you just want to make the most of it."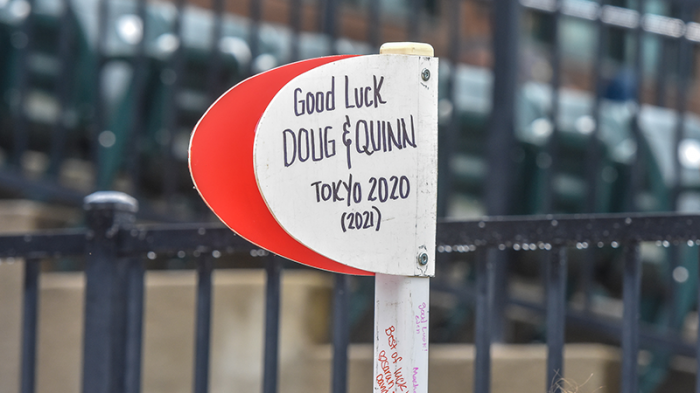 Cross Country Jump Flag presented to Payne and Carson from the TIEC team.
©Madison Ibach, TIEC
Payne qualified for the U.S. Olympic Event Team last fall in the 2020 USEF CCI4*-L Eventing National Championship held at TIEC. This year alone, Payne and his equine partner, Vandiver, took home first place in the ProElite CCI4*-S National Championship held at the venue as part of The Fork at TIEC presented by Nutrena, an annual Eventing competition. That same week while competing in The Fork at TIEC, Payne also swept Tryon Welcome 2 in the Jumper rings, claiming wins in both the $15,000 Tryon Resort Grand Prix and the $5,000 Horseware Ireland Welcome Stake.
Both Payne and groom Courtney Carson, who shares a close connection with Vandiver, also known as "Quinn," and has been a crucial member of Payne's team for five years, were recognized for their nomination. The news broke while they were competing at the TIEC, and Carson shared that the feeling was "surreal. It's funny, when I started working for these guys I was like, 'Oh, I can do this for a year and then get a real job,' and then I was like, 'maybe we can get a shot at Tokyo?'" Carson continued, "It's hard to believe that was five years ago, and now we're on the plane and with a horse that I find very, very special. It's really cool, and really exciting."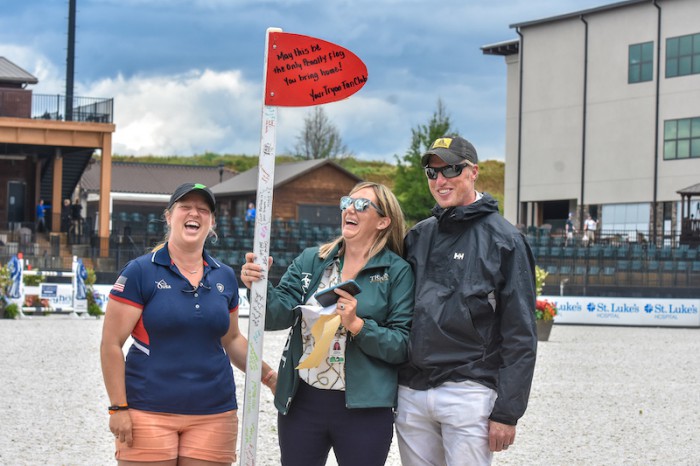 Molly Oakman, TIEC Director of Equestrian Operations (center), presents a Cross Country jump flag to Doug Payne (right) and his groom Courtney Carson (left). 
©Madison Ibach, TIEC
With the Pan-American Games under her belt and the Olympic Games ahead of her, Carson reflected that her favorite moment with Vandiver was achieved this spring at TIEC, when he claimed the win at The Fork at TIEC presented by Nutrena in the CCI 4*-S Division to earn a National Championship. "Quinn is definitely probably my favorite horse in the barn. I don't think that's a secret to anybody, so every time he comes home it makes me really happy, especially being a bit of an older horse. But, for him to finish on his Dressage score and win here [at TIEC] this spring in a really tough field was huge."
Click here to learn more about the U.S. Eventing Olympic Team. 
###