For Immediate Release
Mill Spring, NC – April 4, 2021 – Sunday saw thrilling finishes across the board for The Fork at TIEC presented by Nutrena®, but none as definitive as Doug Payne (USA) topping the leaderboard in the ProElite® CCI4*-S Division, in addition to top-ten placings with Quantum Leap and Starr Witness, in fifth and eighth. In between rides and coaching across all divisions in Eventing, Payne was also winning in the Jumper rings as part of Tryon Welcome 2 competition, where he went two-for-two aboard Quintessence. Read more about Tryon Welcome 2 results here.
Sunday at Tryon International Equestrian Center and Resort (TIEC) saw competitors contest Cross-Country and Show Jumping phases of The Fork at TIEC presented by Nutrena®, with upper levels challenging the Captain Mark Phillips (GBR) course design on the White Oak Cross-Country Course and Michel Vaillancourt (CAN) designing Show Jumping courses in Tryon Stadium. Read below to see results and interviews from all divisions. 
Doug Payne and Vandiver Claim ProElite® CCI 4*-S Win
Doug Payne (USA) and Vandiver, the 2004 Trakehner gelding (Windfall 2 x Mystic Replica XX) owned by Debi Crowley and Doug and Jessica Payne, were the only pair to avoid adding time faults to their score after Cross-Country, securing the win in the ProElite® CCI 4*-S Division on a score of 25.7. Payne also collected fifth place with Quantum Leap, the 2011 DSP gelding (Quite Capitol x Corporate Report) owned by Doug and Jessica Payne, on a score of 34.6, while Starr Witness, the 2011 Dutch Warmblood mare (Chello III VDL x Veneur) owned by Laurie H. McRee, Doug Payne, and Catherine Winter, scored 37.9 to grab eighth place. Holding steady all weekend at second place, Boyd Martin (USA) finished on a score of 28.1 for reserve with Tsetserleg, the 2007 Trakehner gelding (Windfall *PG* x Buddenbrock) owned by Christine, Thomas IV and Tommie Turner. Tamie Smith (USA) held onto the podium with Mai Baum, adding 7.2 to her score to finish with a 28.4 in third aboard the 2006 German Sport Horse gelding (Loredano x Rike) owned by Alexandra Ahearn, Ellen Ahearn and Eric Markell.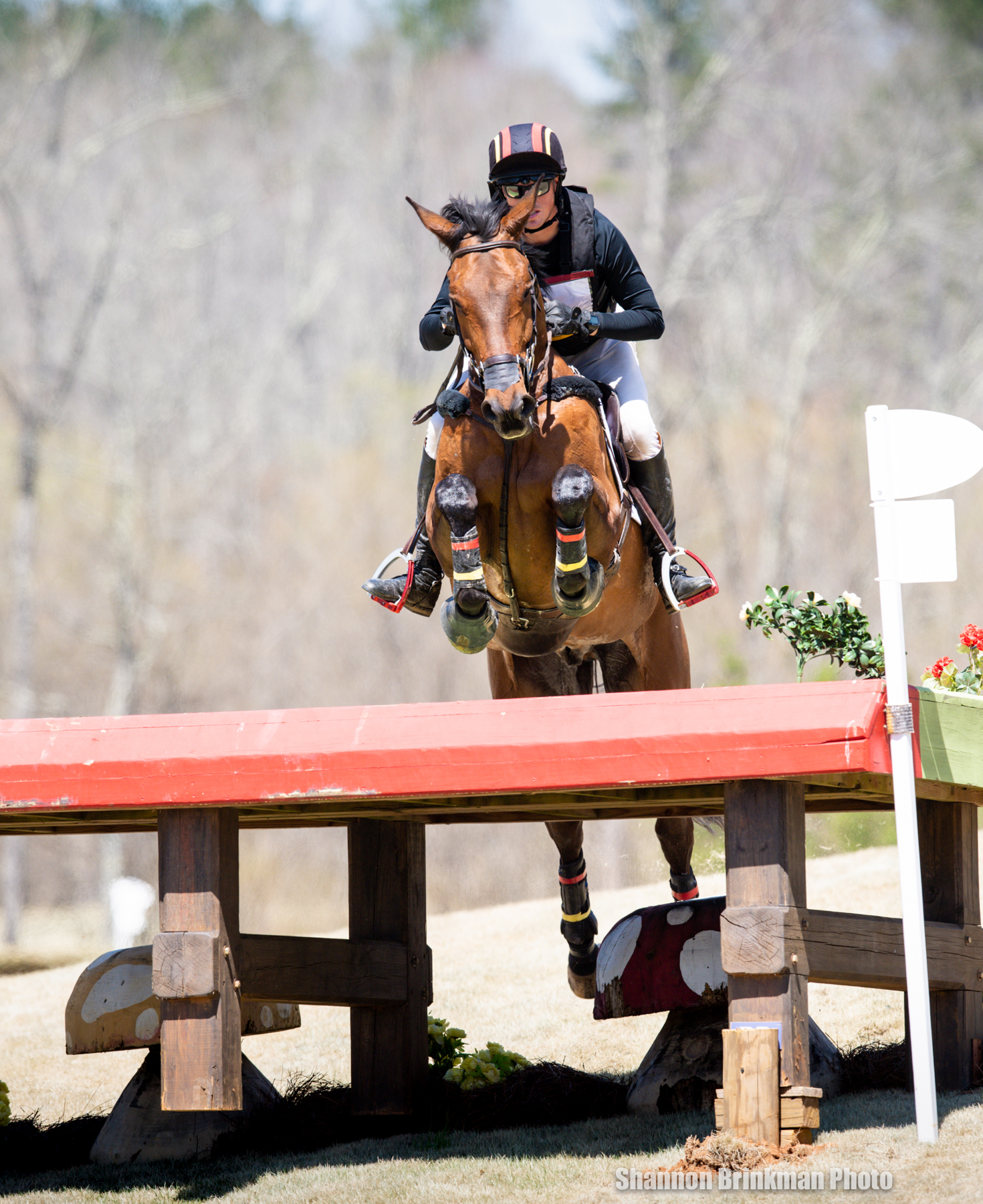 Doug Payne and Vandiver
©Shannon Brinkman Photography
Payne, whose three CCI 4*-S mounts are all qualified for Tokyo should he get the chance to go, reported that his goal with each horse was to "let them flow and see what we could get done," which resulted in top ten finishes. "Quinn [Vandiver] is the old man of the group, but he's just getting better and better each year! He's honestly easy and efficient – it's not that I wasn't trying to go fast, but he's just a quick horse. He covers the ground and is easy on himself," Payne explained. "Whereas, with Quantum [Leap], who was pretty close to the time, every once in a while needs to be set up a little more. He's a five-star horse in the making, without a doubt."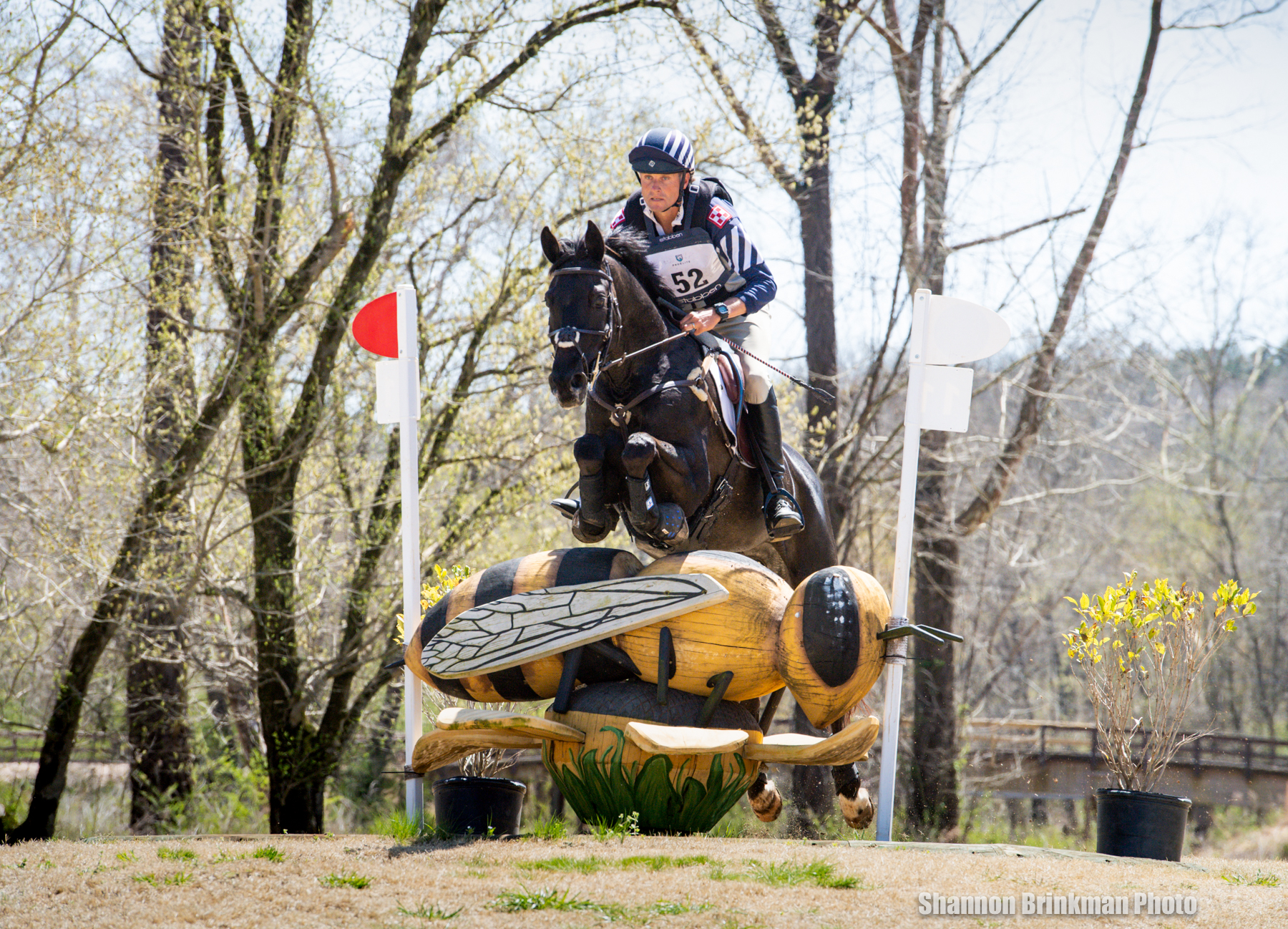 Boyd Martin and Tsetserleg
©Shannon Brinkman Photography
Starr Witness, Payne's Pan-American Games mount, is aiming at a 4*-L run in Jersey unlike the others, who are aimed at the Land Rover Kentucky Three-Day Event, he explained. "Clearly, she's a classy horse as well. She just doesn't have the base fitness that the other two do at the moment. Fitness is a little less urgent with her right now. We'll see what we can do the rest of the season!"
Payne was one of numerous riders to take advantage of jump schooling opportunities under the lights in Tryon Stadium and Dressage test of choice schooling offerings. "I think it's a great opportunity, and honestly, under-utilized," Payne shared. "You seldom ever get a chance to ride in an atmosphere that's provided here, so to do that in a schooling environment is awesome. Hopefully that continues, because it was super valuable.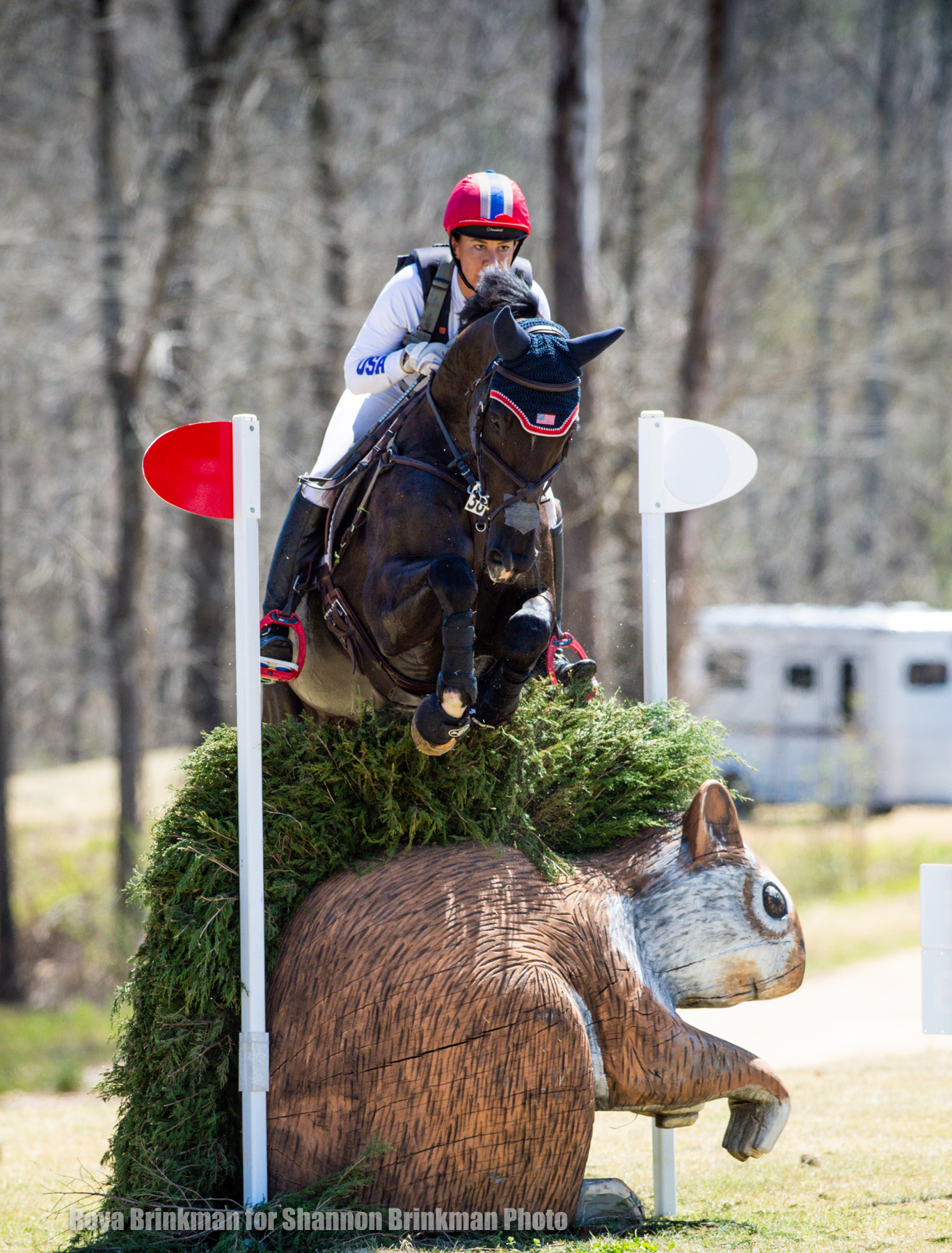 Tamie Smith and Mai Baum
©Shannon Brinkman Photography
"Only at Tryon could you jump and event in the same weekend easily," Payne emphasized about his multidiscipline weekend. "The footing [on Cross-Country] was excellent, I thought. It's super helpful that they pulled the little jumps off last night. I can't say enough [about the team here.] Tryon has done an excellent job here, and we look forward to coming back as often as we can!" Payne concluded, "I'm really lucky to have this group of horses and the team behind us that makes it all happen. There's certainly a lot going on, but it's great." 
Lucienne Elms and Tremanton Breeze to CCI 3*-S Win
Lucienne Elms (GBR) blazed around the White Oak Cross-Country Course with Tremanton to maintain their lead in the CCI 3*-S Division, finishing on a score of 28.9 for the win. Allison Springer (USA) and Crystal Crescent Moon, the 2013 Connemara cross gelding (Catherston Dazzler x Mystic Replica) owned by Nancy Winter, grabbed reserve on a score of 29.3 after their double-clear Cross-Country run, while Tamie Smith and Solaguayre California, the 2011 Silla Argentina mare (Caspara x Casall) owned by David and Julianne Guariglia, kept their 30.8 score to receive third place.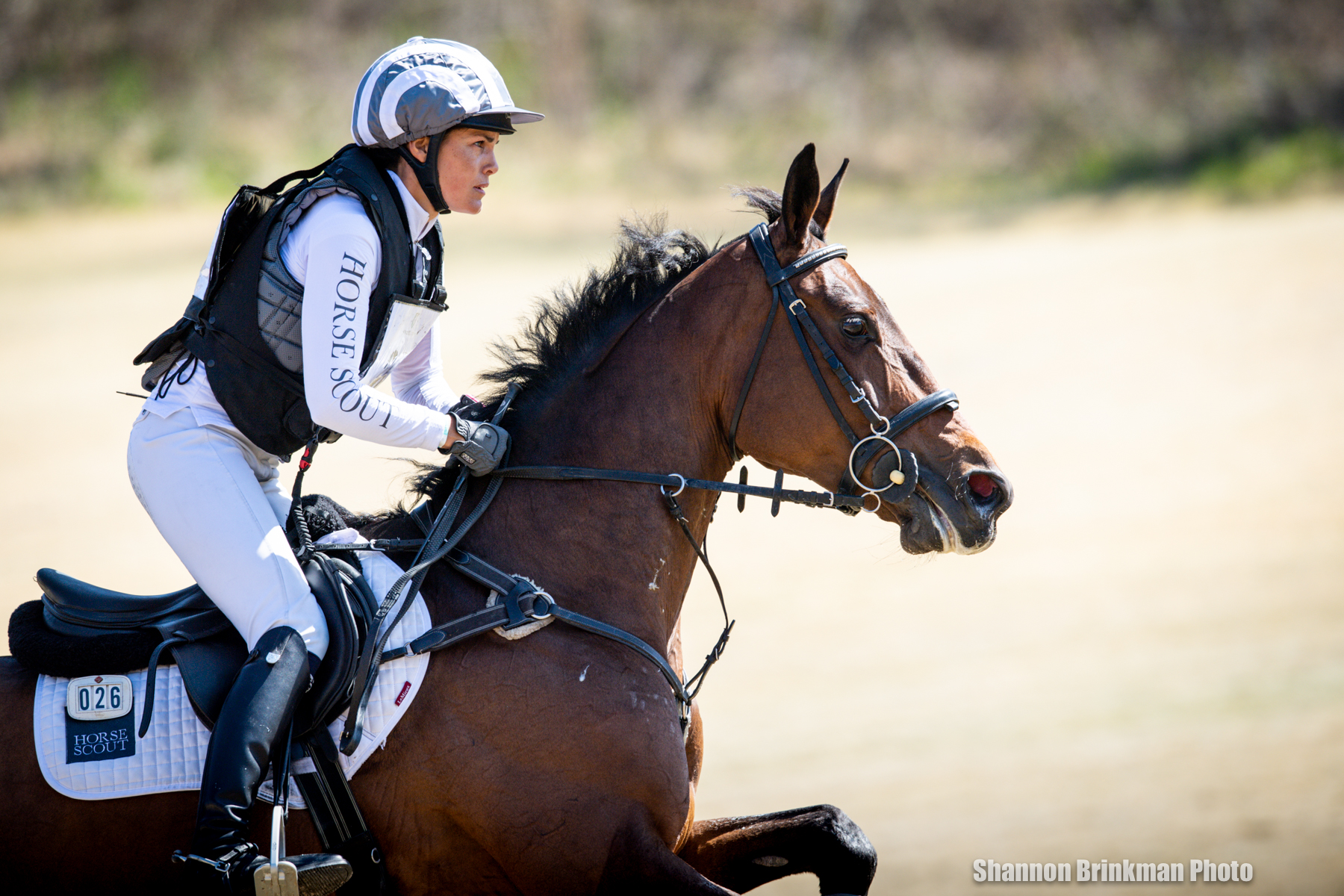 Lucienne Elms and Tremanton
©Shannon Brinkman Photography
Elms said that the 2012 Sport Horse Breeding of Great Britain mare (Birkhof's Graffenstolz x Hand in Glove) felt confident and balanced, lending to a speedier ride than she had anticipated. "Genuinely, my plan was actually just to let her find a rhythm and then not hassle her out a bit, but I set off riding forward and actually, the way they built it, the course rewarded quite forward riding, I guess, and the combinations were built to sort of just keep moving. So she felt confident, and balanced, and the ground was great. So I just kept the same rhythm and when I got to the furthest part of the course, I saw that I was on a pretty good time at that point. Every time she landed, I kept her just moving forward; she's got a lot of blood in her with a natural gallop. I rode carefully through the second water. That was a little bit big for her. And then she had loads of gallop left!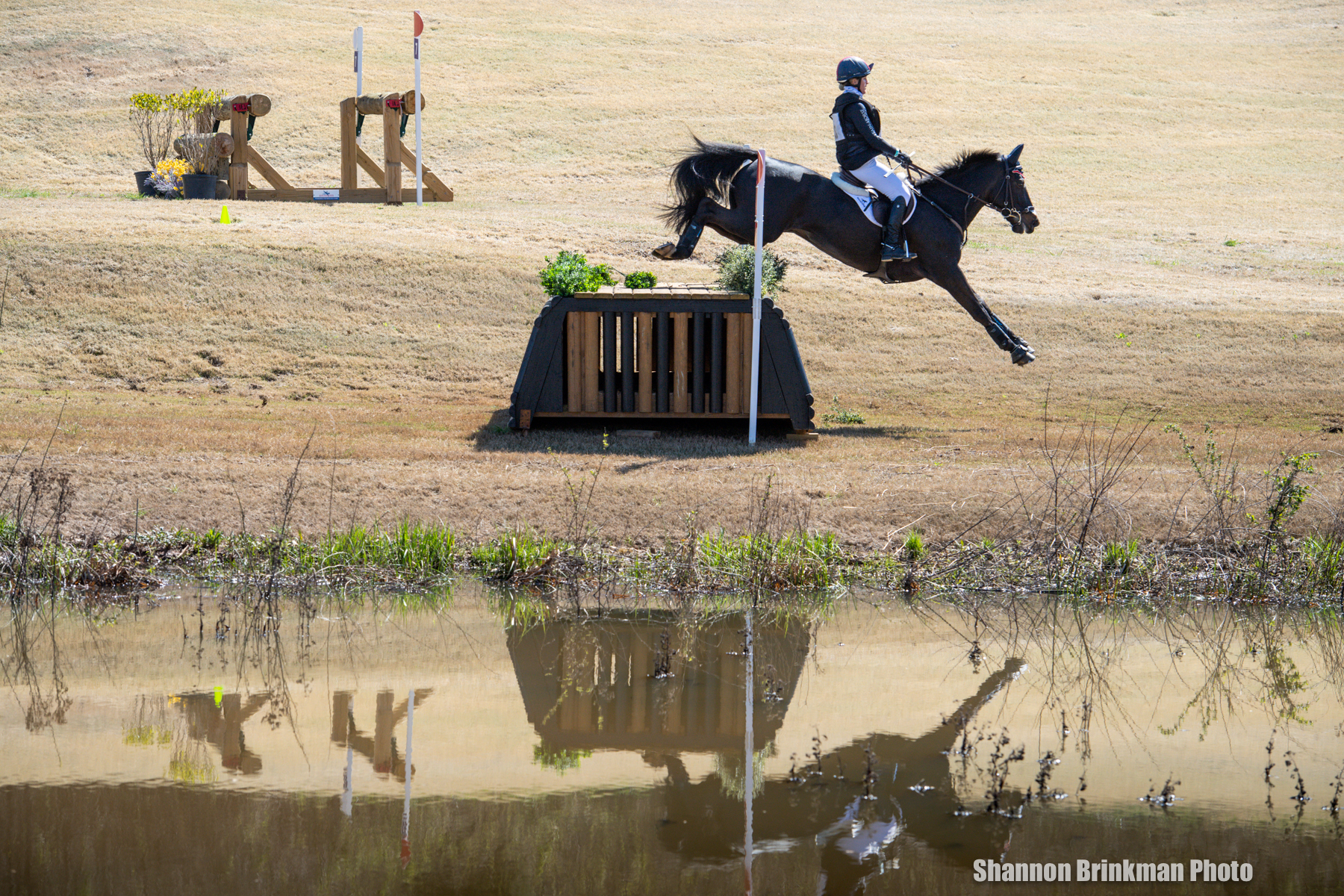 Allison Springer and Crystal Crescent Moon
©Shannon Brinkman Photography
"That's the joy of her having a full thoroughbred dam: she can open up and dig deep when she needs to!" Elms emphasized. "But I'll definitely now back off for a month or so to give her some time, but I'm really encouraged with that run. The course was brilliant; it was really educational, and there was a table on four strides to a corner on the way home. When they build like that, it's lovely cause it just prepares them for the next level. It's just lovely education for the horses' brains."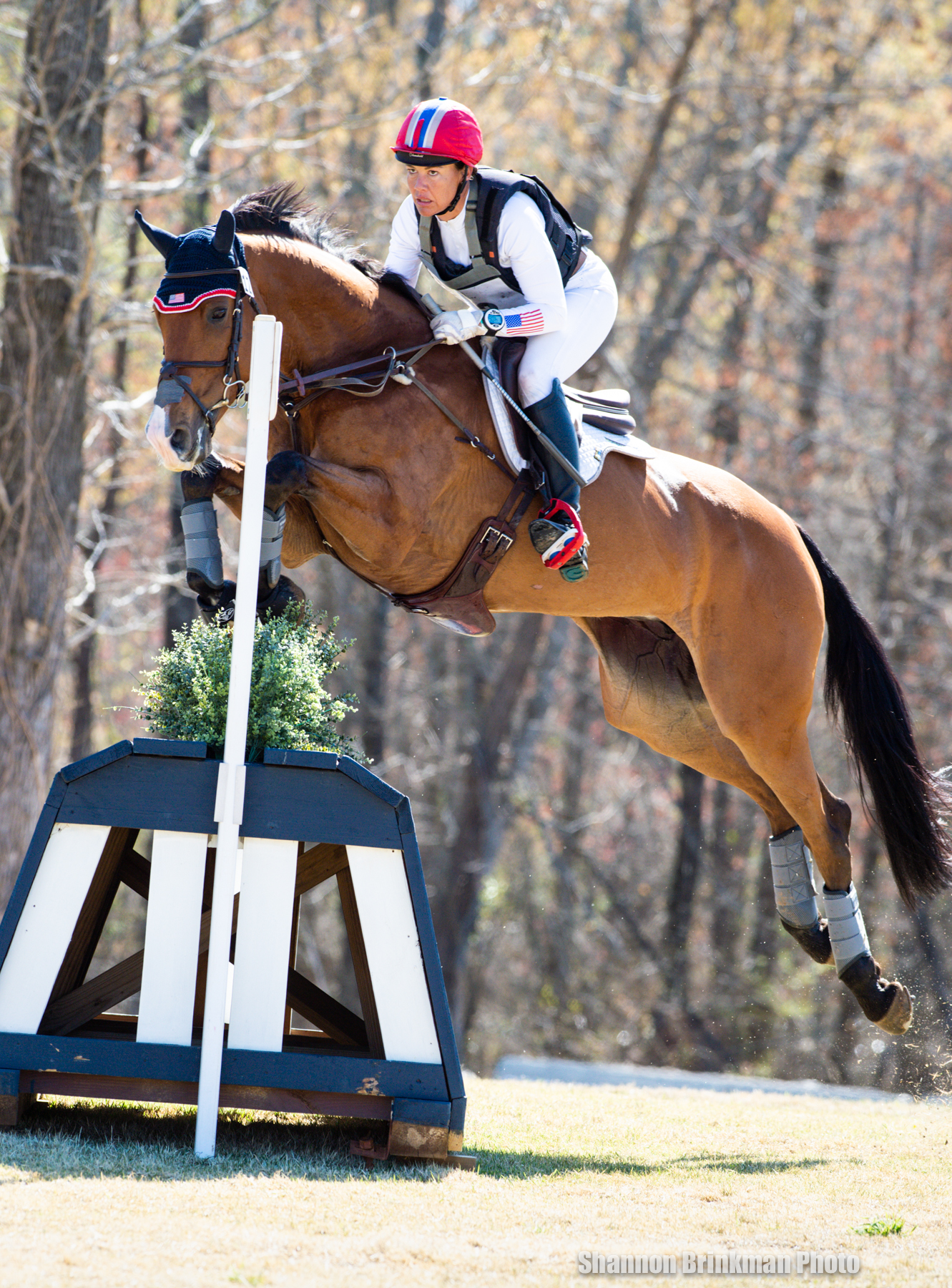 Tamie Smith and Solaguayre California
©Shannon Brinkman Photography
After a successful weekend with multiple rides beneath her, Elms is now looking to aim Tremanton for a 3*-L at the Tryon International Three-Day Event in November, after a lighter summer ahead of her. "I really just want to say thank you so much to the Tryon team for creating such a professional, international environment. The arenas and the footing are fantastic. I know how much effort they've had to put in, given that we had so much rain here last week," she concluded. 
Maya Black and Double Diamond C Dominate CCI 2*-S Division
Maya Black (USA) and Double Diamond C, the 2015 Hanoverian gelding (Diacontinus x Lois Land CBF) owned by Laurie Cameron, capped off the weekend with a win in the CCI 2*-S Division, making light work of the White Oak Cross-Country course to finish on a score of 28.8. Meghan O'Donoghue (USA) and Fashionable Man, her own 2013 Thoroughbred gelding (Charitable Man x Unknown), claimed second place on a score of 30.8, while third place went to Jordan Crabo (USA) on a score of 32.3 aboard her own FE Uncle Sam, a 2014 Holsteiner gelding (Uriko x Paramount).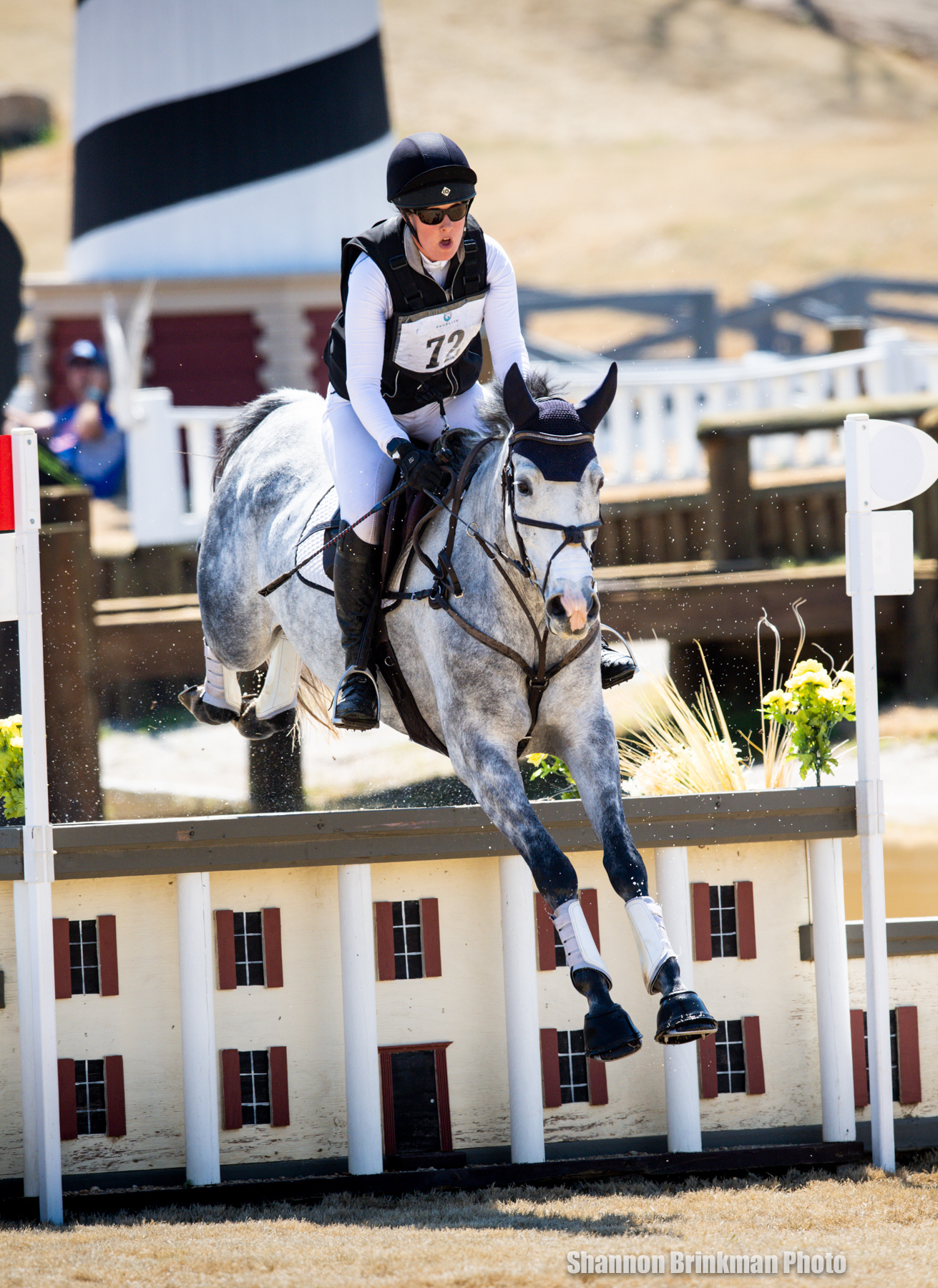 Maya Black and Double Diamond C
©Shannon Brinkman Photography
Black summed up her Cross-Country tour with Double Diamond C, whom she calls "Perfect Peter," as a "pretty perfect round. He was perfect out there, and everything rode great. He jumped very confidently, and very rideable, and he jumped really well into the water. Sometimes he can jump a bit big into the water, but now at this level, the water jumps are getting bigger, so he's jumping more normally into the water because it's a bigger drop. He felt very well prepared and comfortable and just galloped around and felt exactly how I would have hoped him to be!"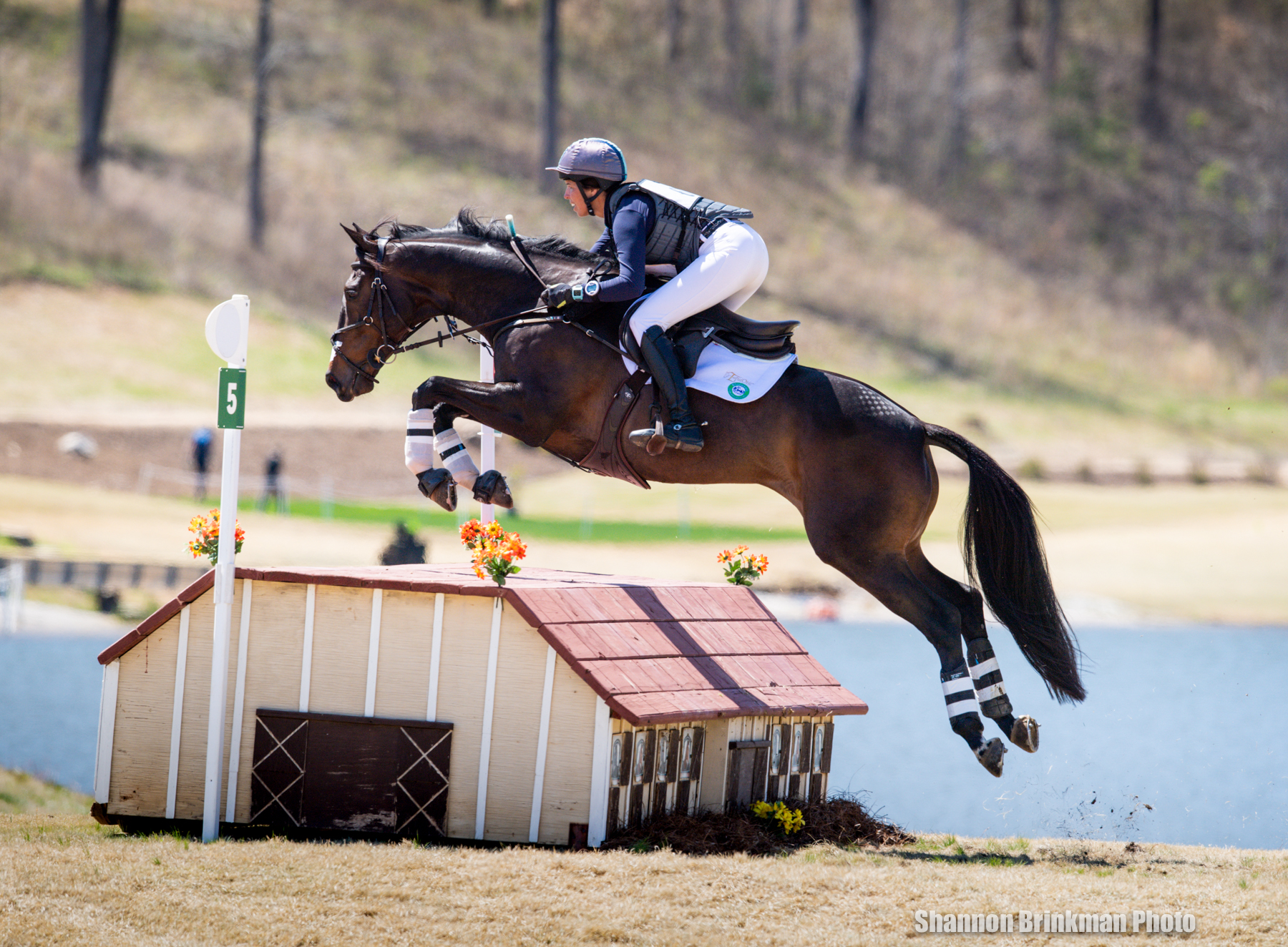 Meghan O'Donoghue and Fashionable Man
©Shannon Brinkman Photography
Facing no trouble at the drop-in at the water obstacle that caused her to take a tumble last fall, Black emphasized that she was extra prepared to have good rides on all three shots she took on course. "I jumped off that jump into the water three times today, and I made sure to put my arm back all three times, which might've been a little extreme, but I [was determined] to not do that again! They all three jumped in super, and didn't have any bobbles, so that was good."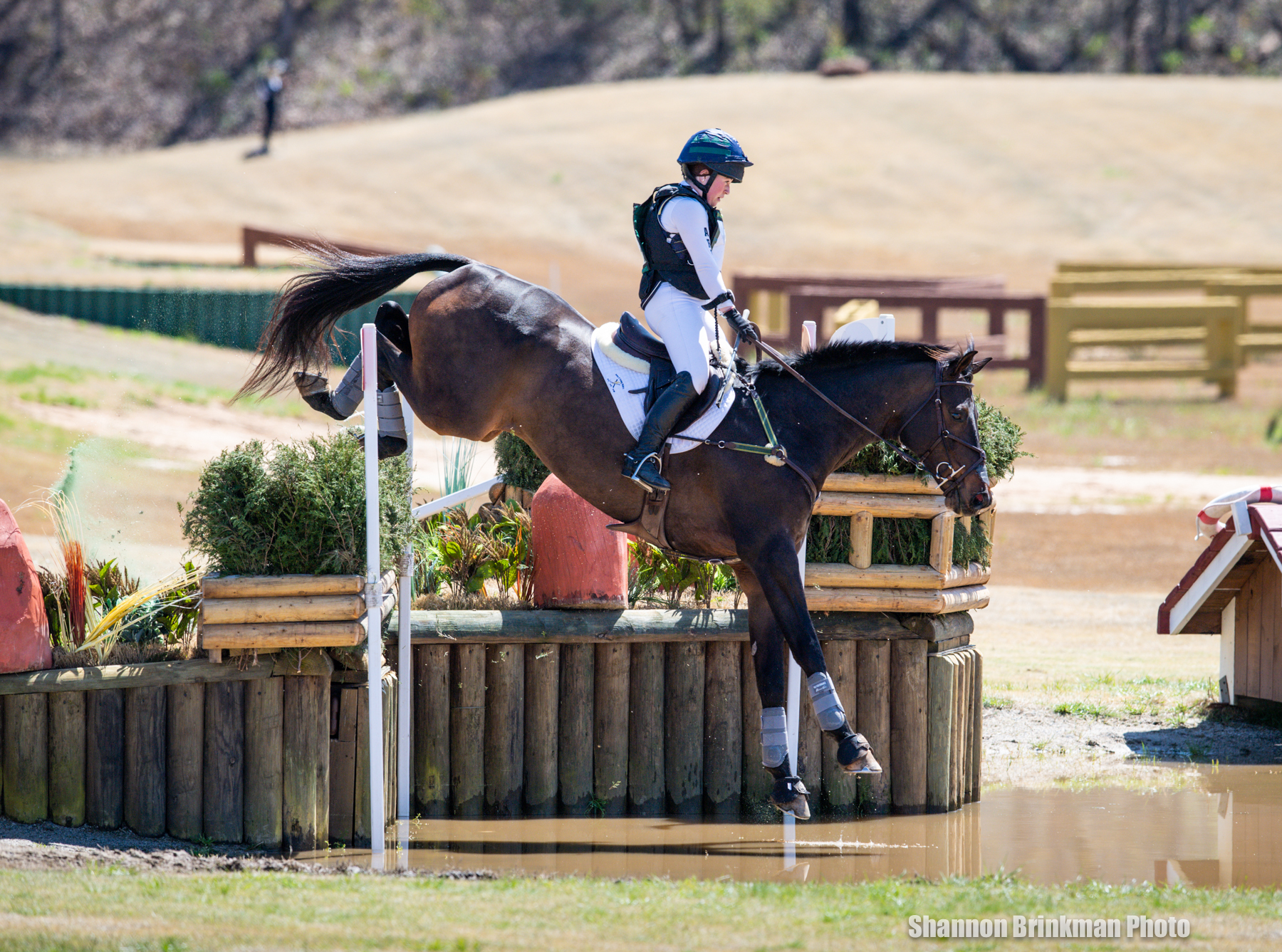 Jordan Crabo and FE Uncle Sam
©Shannon Brinkman Photography
After qualifying her rides for a 2*-L later on in the season, Black will give her young mounts some well-deserved rest time before planning for the fall season. "Really, for their age, my horses are ahead of schedule, basically, so they're going to have an easy while when we head back to Virginia. They'll get out in the fields for a month or so, and then we'll start working on flat work and fitness again before we look at the plan for the fall. I'm trying to keep them sound and happy for the future!" 
Austin Skeens and What Gives Win their First CCI 1*-S
Austin Skeens (USA) and the 2014 Thoroughbred gelding owned by Heather Skeens, What Gives, made light work of the CCI 1*-S Division to claim the gelding's first FEI event on a score of 39.4. Second place went to Anna Billings (USA) with her own Wexford Cruise, the 2013 Irish Sport Horse gelding (Loch Cruise x Rich Rebel), on a score of 44.1, while Sandra Holden (USA) and Cano Cristales, her own 2003 Hanoverian gelding (Conteur x Kolibri), rounded out the podium on a final score of 65.6.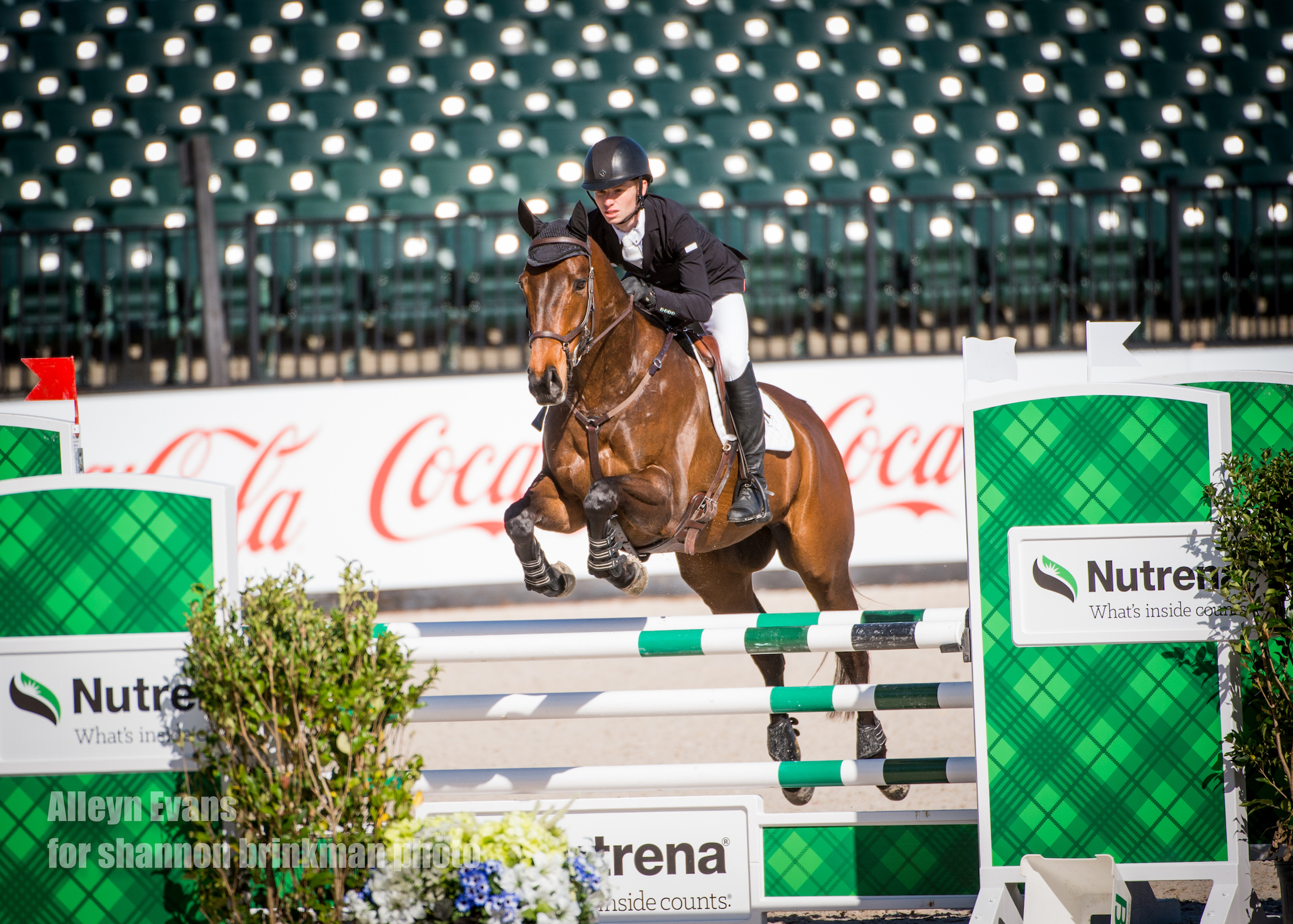 Austin Skeens and What Gives
©Shannon Brinkman Photography
Skeens reported that he wasn't sure how What Gives would handle the massive environment that TIEC offers as a venue, but was amazed to see his young mount take everything in stride. "We came into this not exactly sure what we'd have, because it's just such a big venue, especially [for a horse] who's never been here. But he was just such an absolute superstar, in all three phases. I'm just incredibly impressed with the way he handled all of the atmosphere everywhere that he went."
Beyond the scores, Skeens is excited to have discovered that What Gives handles atmosphere and excitement "like a pro" and that even on Cross-Country, they left the start box and "didn't look back. He was super super fast, and jumped everything just as well as he could and carried on straight to the finish line. He had lots of gas left in the tank at the end, even after the big hill. At the bottom, he was ready to take me right up it. It was really, really great."
Going forward, Skeens will reassess his plans for What Gives after such a successful outing, he admitted. "We will just kind of see where the road takes us. When you have a weekend like this, you kind of look at everything in a different light. He came into the Dressage and really held his own against some really nice horses, and then of course he ran Cross-Country like a champion. He's proving that he's really a great horse, so we're just lucky to have him on board."
Though he's competed at TIEC before, at the 2017 American Eventing Championships, Skeens concluded that he had especially enjoyed arriving early and enjoying Tryon Resort's atmosphere outside of the competition rings. "I just brought one horse, so being at Tryon has been great. I always love coming here – whenever you get an excuse to come to a place like this, definitely do! It's just another world, you know. The experience is great, and it's like Disneyland! It was nice to have an extra day to kind of take in the sights and spend Friday just enjoying the park and enjoying life here. It's just really fun to be here, and it was a great weekend. We will definitely be back!" 
Will Faudree and Boyd Martin Collect Advanced Division Wins
Will Faudree (Southern Pines, NC) and Mama's Magic Way, the 2011 Hanoverian gelding (Mighty Magic x Straightaway) owned by Jennifer Mosing and Sterling Silver Stables, collected a win in the Advanced – Test A Division despite pulling two rails in Show Jumping and adding 16.4 time penalties after Cross-Country, finishing on a 52.2. Lucienne Elms (Campobello, SC) and Atlantic Vital Spark, her own 2010 Irish Sport Horse gelding (Atlantic Sparky x Atlantic Biance), improved from fourth to second on a final score of 58.7, while Sarah Kuhn (Aiken, SC) and Mr. Cash van de Start, Deborah Kuhn's 2012 Belgian Warmblood gelding (Deauville de la Vie x Ishtar van de Start), retained third place honors on a final score of 59.1.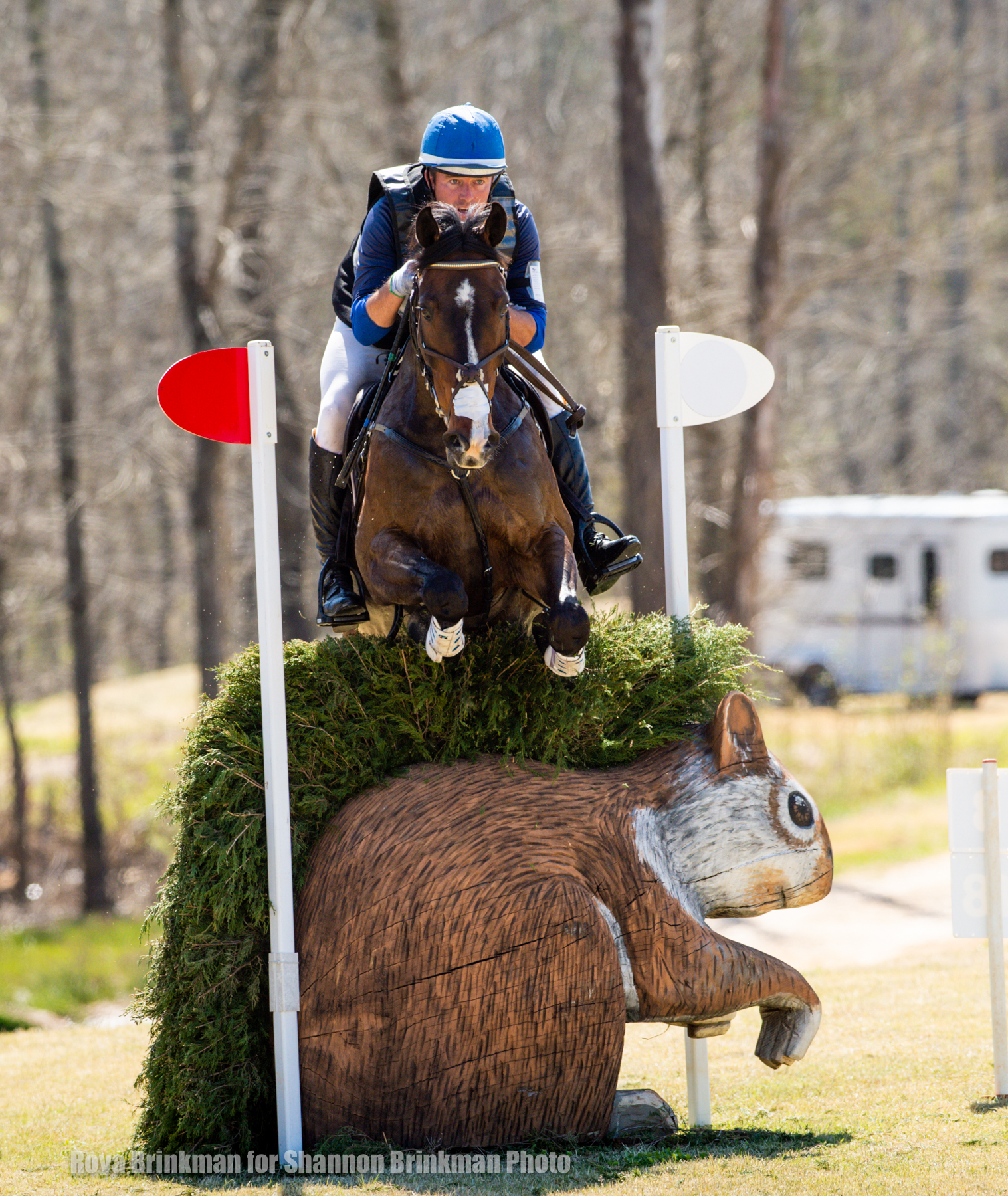 Will Faudree and Mama's Magic Way
©Shannon Brinkman Photography
Faudree and Mama's Magic Way led the entire weekend in the division, and he calls the gelding a "kindred spirit" who is really starting to come together as an Advanced horse. "He's a really cool horse. Everybody that knows me and him knows we're basically like kindred spirits, like 3-year-old toddlers let loose in a candy store on a sugar high. The Dressage is starting to come together, and there's more there, which is really exciting. He's a super jumper and he's really fun to ride on the Cross Country and in the Show Jumping."
Though pulling a few rails in Tryon Stadium Saturday night didn't cost them the win, Faudree mentioned that his horse's extreme carefulness became a bit of a foil when shadows on the ground started to look like ground poles: "I felt a bit bad for him last night. One rail, I could've given him a bit more room, but the next rail it was like he was trying to bounce the shadow rail in front of the jump. The lighting in the ring at the time, about an hour before sunset when he went, just made him a bit spooky. I felt a bit bad for him because he does not like to touch things! He was just superb at Cross-Country," Faudree shared. "It was a great track and a great venue to be at leading up to Kentucky in a couple weeks."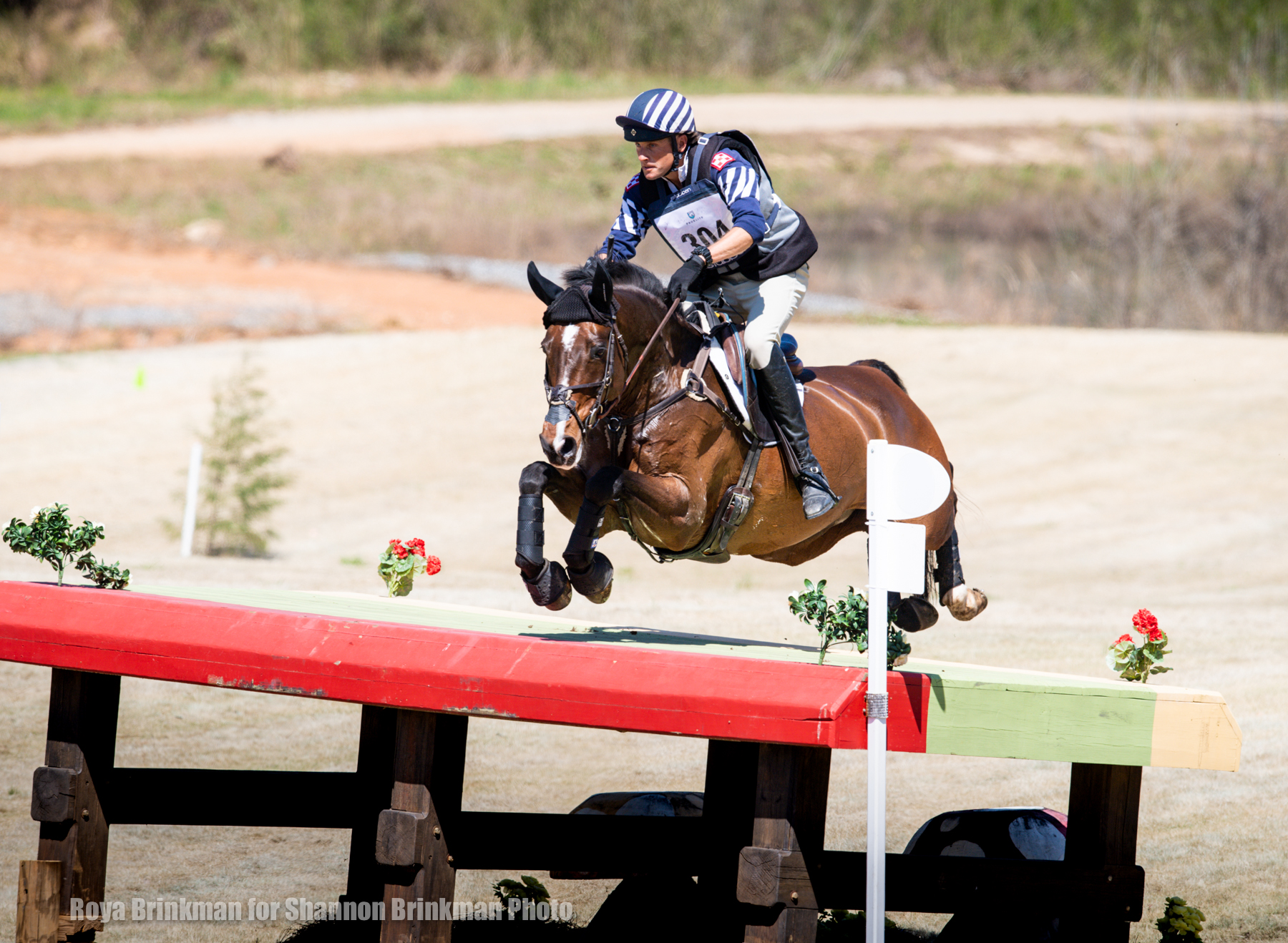 Boyd Martin and Long Island T
©Shannon Brinkman Photography
Boyd Martin (Cochranville, PA) retained his one-two placing in the Advanced – Test B Division, with Long Island T taking over the lead after Cross-Country phase to finish on a score of 41.8 with the 2006 Oldenburg/Thoroughbred gelding (Ludwig von Bayern x Highlight) owned by the Long Island T Syndicate. Luke 140, the 2011 Holsteiner gelding (Landos x Omega VI) owned by the Luke 140 Syndicate, finished in reserve on a score of 42.7. Staying steady in third, Daniela Moguel (Shelby, NC) piloted Cecelia, the 2003 Thoroughbred mare (Connecticut x Penny Stock) owned by Jorge Martinez and Paloma Garcia, to third place with a final tally of 47.3 points. 
Caroline Martin and Vamonos are Victorious in Open Preliminary
Caroline Martin (Miami Beach, FL) and Vamonos, the 2015 Zangersheide gelding (Andiamo VH Kapelhof Z x Quasimodelle Kapelhof Z), which she owns with Sherrie Martin, scored a win in the Open Preliminary Division on a final total of 32.2, improving from second to first and trading places with Paige Crotty (Southboro, MA) aboard Excel Star Armina Z, her own 2012 Irish Zangersheide mare (Air Jordan Z x Cromina Z), who finished on a score of 33.4 for reserve after adding four faults to her score. In third, Mary Bess Davis (Mansfield, GA) and her own Imperio Magic, the 2014 Warmblood gelding (Cassander C x Khadija des Hayattes), scored 38.1 after pulling a rail in Tryon Stadium.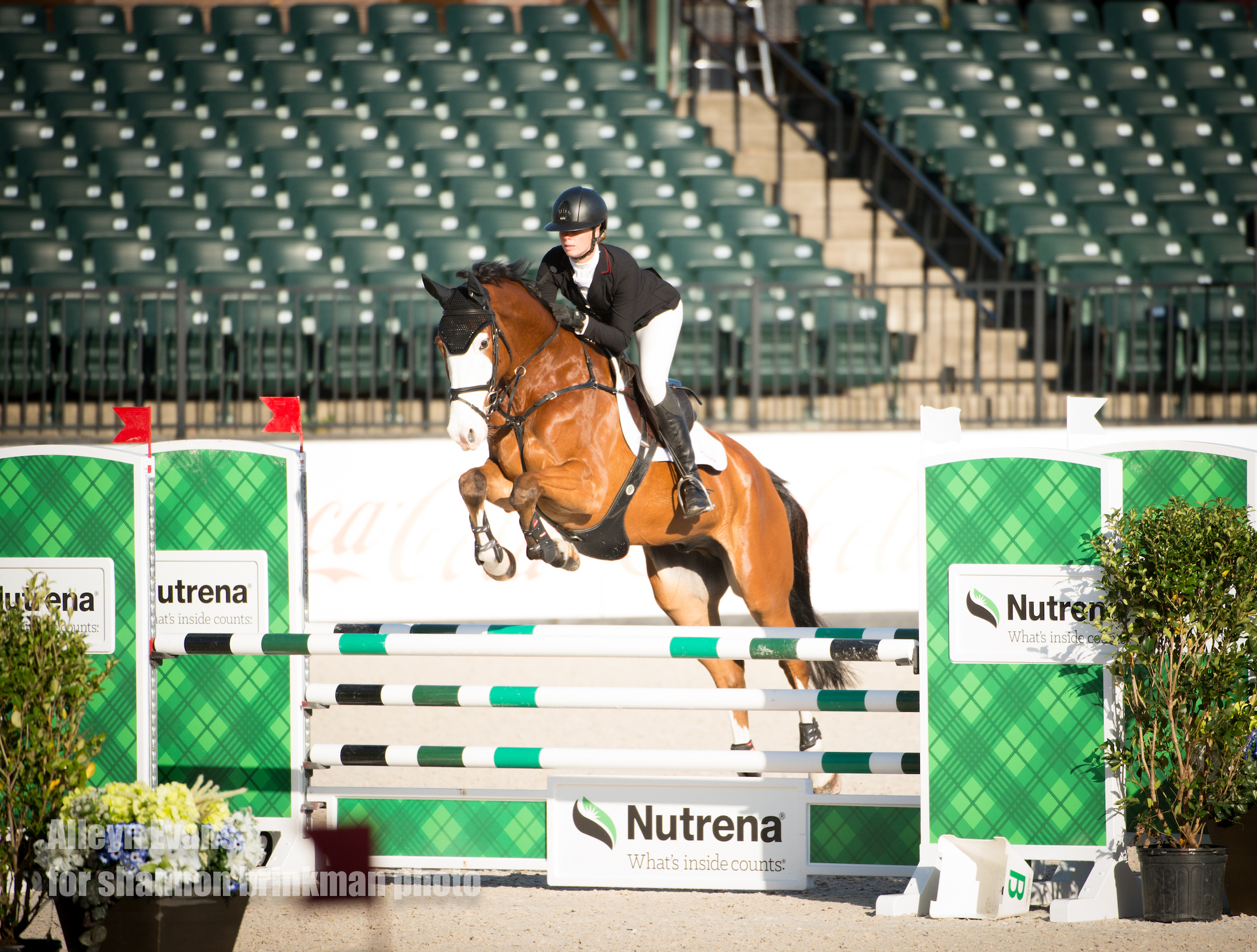 Caroline Martin and Vamonos
©Shannon Brinkman Photography
Martin is still getting to know Vamonos, after she received him as a wedding present recently, she revealed. "I just started riding him about a month and a half ago. He was produced by Emily King, who took him to young horse championships and stuff like that as a six year old. He had a quiet year last year and went back to his home in Ireland. Funny enough, he's a wedding present! My friend who is a dealer and sells horses with me got him for me as an engagement/wedding present. He's a super horse, and I ended up buying him. We're just getting to know each other."
Though they've only been to a few shows together yet, Martin sees Vamonos as a horse to bring up the levels and keep in her string for the long haul. "He's definitely able to go up the levels. We've got a big future, and we're looking more towards next year! It was a good weekend for all of the horses," she concluded. "The surfaces for Dressage are amazing, and the Show Jumping under the lights in the big stadium is a great atmosphere for the horses. It was very good practice for them, and the Cross-Country course was lovely." 
Benita Strini and DHI Kevin G Collect Open Novice Win
Benita Strini (Scottsville, VA) and DHI Kevin G, the 2015 Dutch Warmblood gelding owned by Plain Dealing Farm, led Open Novice the whole way to finish on a score of 20.2 in their competitive division. Kelly Waters (Verbank, NY) earned second place aboard Family Man, her own 2008 Hanoverian gelding, ending up with a final score of 21.2, while Audrie Stanka (Simonton, TX) and Jenny, the 2014 Dutch Warmblood mare owned by Zachary Brandt, took home third place on a score of 23.3.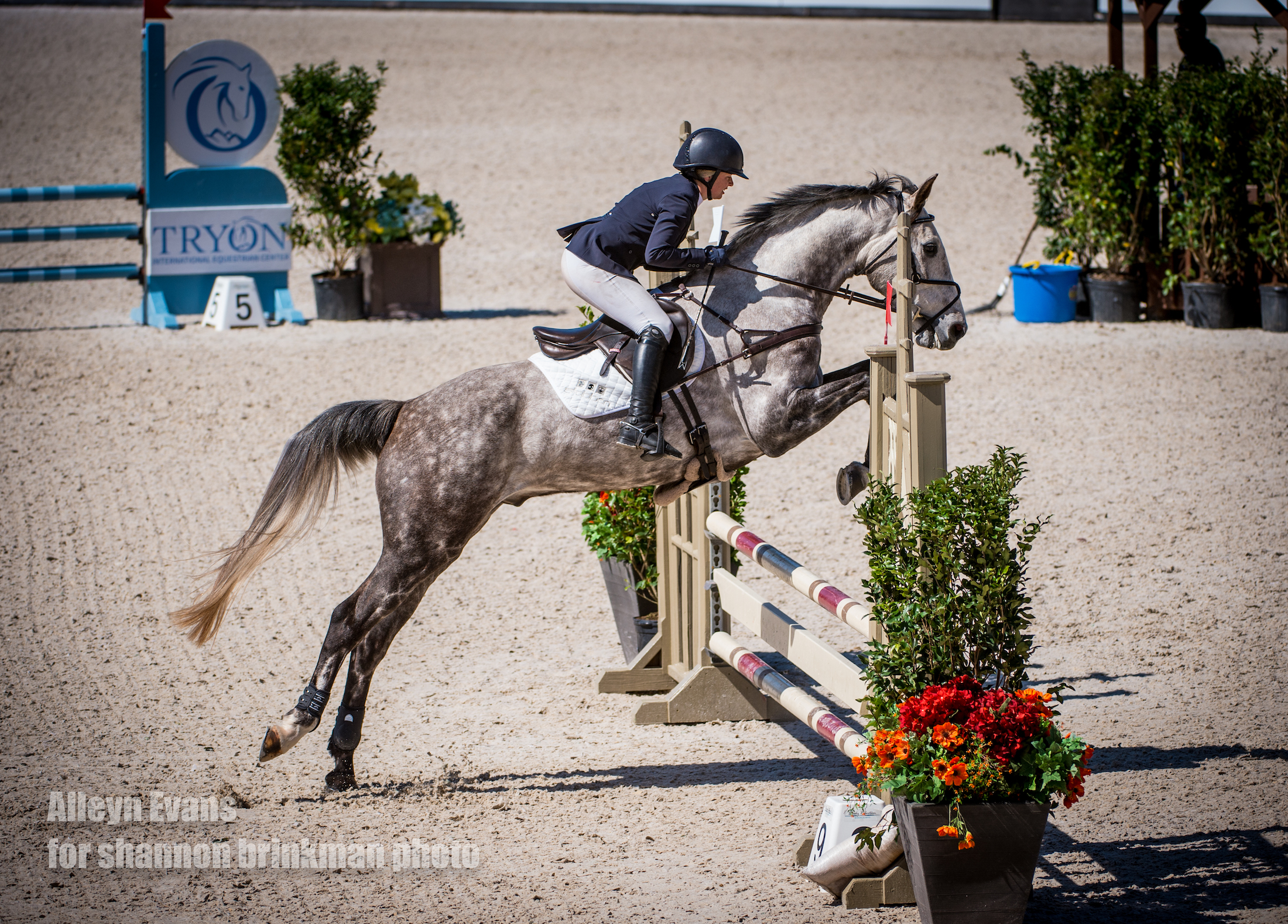 Bella Strini and DHI Kevin G
©Shannon Brinkman Photography
Click here to view all division results from The Fork at TIEC presented by Nutrena®.
Competition continues at TIEC with the remaining half of the four-week Tryon Welcome Series, featuring Hunter, Jumper and Equitation competition. No spectators are currently permitted per USEF policies for COVID-19. Competition information is available at www.Tryon.com/compete. 
Photos ©Shannon Brinkman Photography. These photos may only be used once in relation to this press release with proper credit. Contact media@tryon.com with questions.
Tags:
Allison Springer
,
Austin Skeens
,
Benita Strini
,
Boyd Martin
,
Caroline Martin
,
Cecelia
,
Crystal Crescent Moon
,
Daniela Moguel
,
DHI Kevin G
,
Double Diamond C
,
Doug Payne
,
Eventing
,
Long Island T
,
Lucienne Elms
,
Luke 140
,
Mai Baum
,
Mama's Magic Way
,
Maya Black
,
ProElite
,
Quantum Leap
,
Sarah Kuhn
,
Starr Witness
,
Tamie Smith
,
The Fork at TIEC presented by Nutrena®
,
Tremanton
,
Tsetserleg
,
Vamonos
,
Vandiver
,
What Gives
,
Will Faudree