Meet our next TIEC Rider Spotlight, Lucille M. Sullivan! Starting her equestrian journey at just nine years old, Lucille has an extensive background in equestrian sport with a deep love and passion for horses. She started in the Hunter and Jumper rings, and then fell in love with Dressage after college and has continued ever since. The New York native wanted to be closer to the TIEC action, so she moved down to Rutherfordton, North Carolina in 2018 where she and her family built a dream facility just a stone's throw away from TIEC.
Lucille joined us for Tryon Summer Dressage 3&4, and will be back again for Tryon Fall Dressage 3. We love welcoming Dressage competitors to TIEC, and can't wait to see Lucille and more Dressage stars again soon for our Tryon Fall Dressage Series! Click here to view prize lists and submit your entries. 
Continue reading to get to know Lucille, learn more about her background in the sport, hear her advice for up-and-coming Dressage athletes, and more.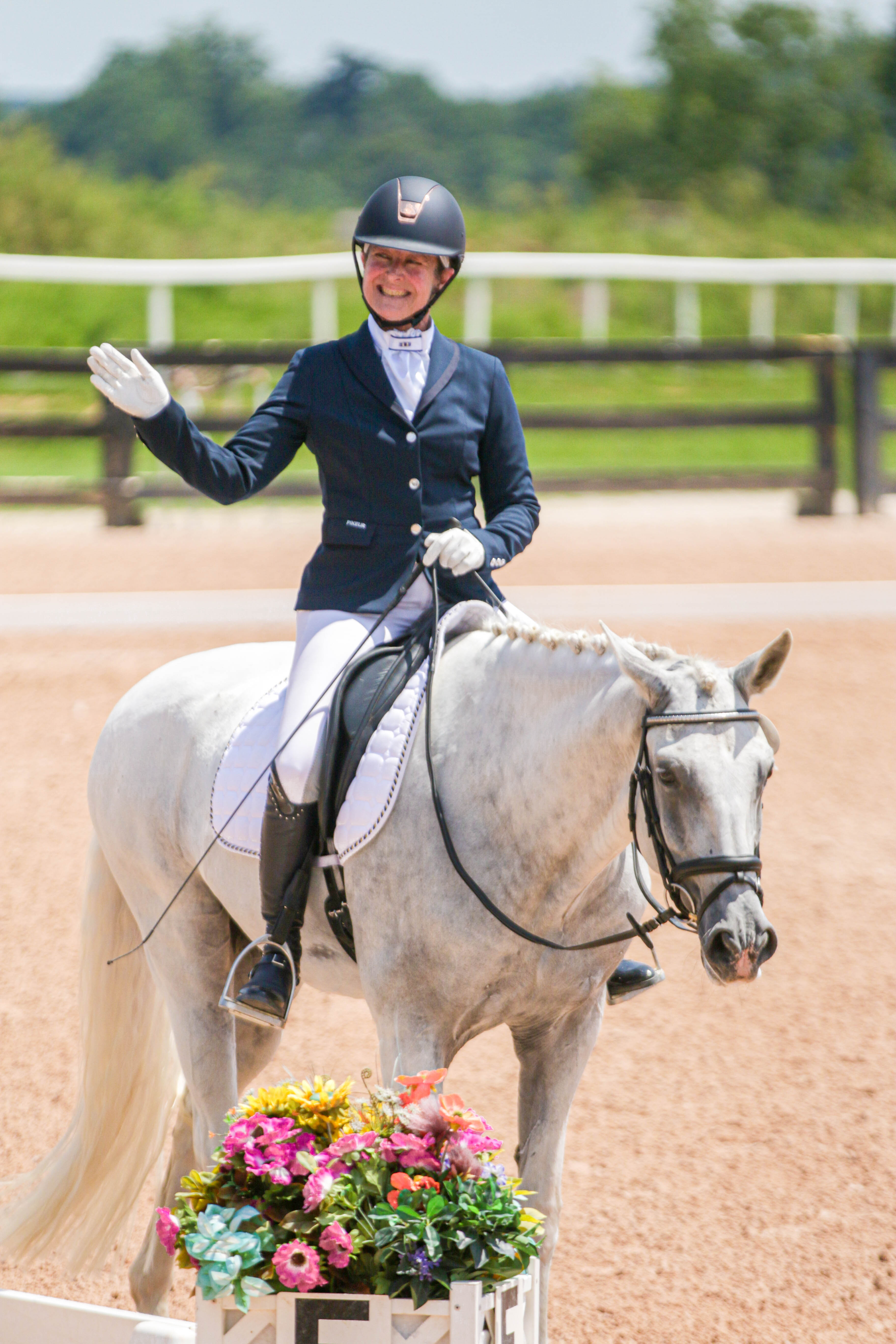 How did you get involved with horses?
My first riding instructor lived two doors down from me. For my ninth birthday, my parents bought me a package of riding lessons with her. I rode with her until college. The suburban neighborhood that I grew up in had five of us, and we all ended up being horse professionals. That's how I got into horses. I did Hunters and Jumpers until I got out of college, and then I got into Dressage.
What sparked the shift from Hunter/Jumper to Dressage?
I found it more interesting, even to this day. I'm not a Hunter girl, but I always loved the Jumpers. I'm an adrenaline junky, but I never had a horse who could do the big Jumpers. 3' was as much as I could do. So, I got into Dressage. The quality of my horses has increased dramatically from back then. My first horse out of college was a quarter horse, and then I got an off-the-track thoroughbred, and now I have these horses in my farm. There's really been a progression of horses.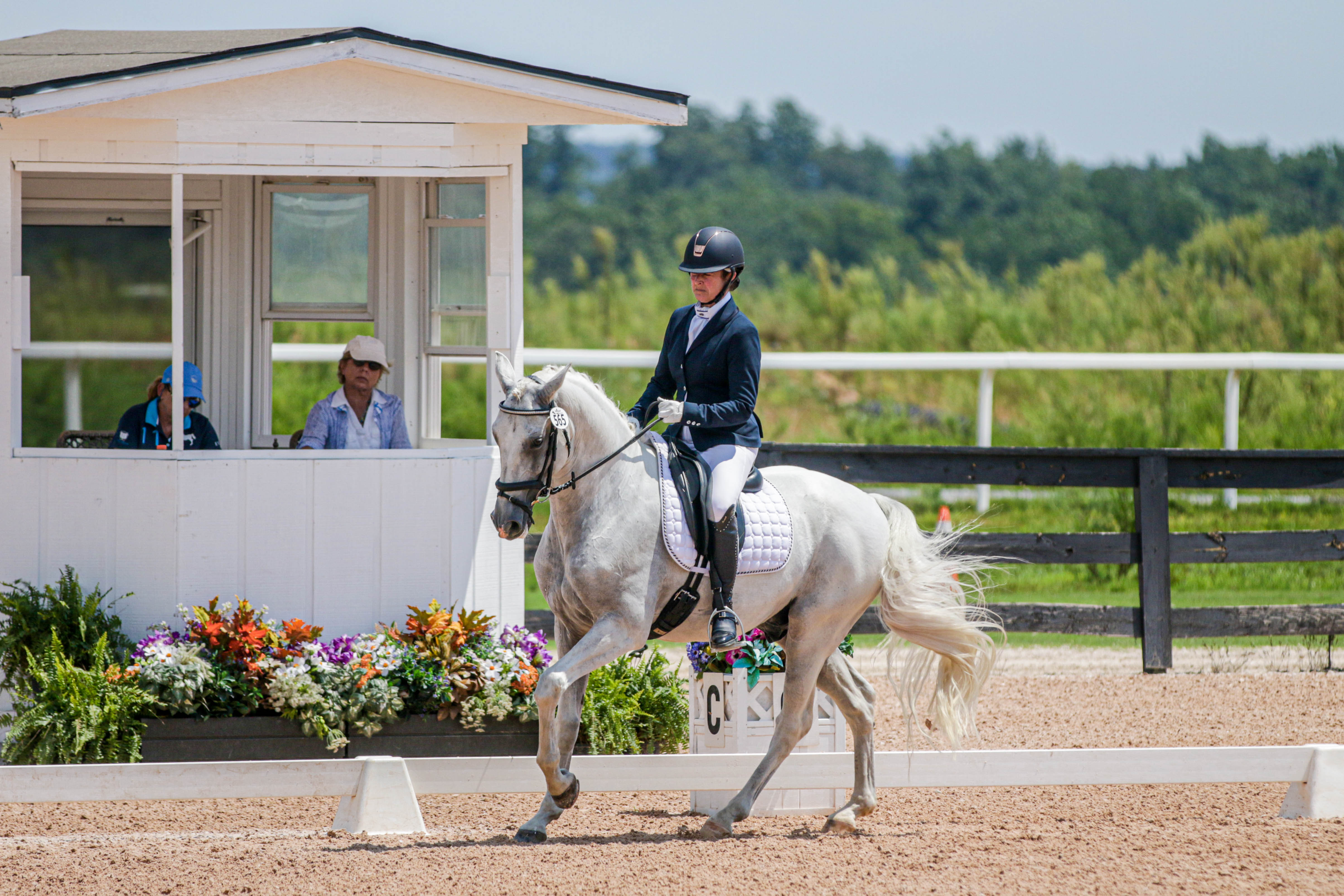 When did you begin riding professionally?
I went to college for accounting. I graduated from high school early, so I started college when I was 16 and graduated by the time I was 21. I took the CPA exam and was working as a CPA at 21. I did that for five years while I rode my quarter horse and OTTB. I got married, had my two kids, and rode through all of that. I did a little bit of teaching on the side, too. I got divorced in 2003,, and decided that I wouldn't go back to accounting after that. That's when I started riding professionally.
How have you enjoyed working as a professional?
It's been hard. In Long Island, I worked for people and did a lot of lessons. It was a very busy lesson barn with a lot of kids and 'up-downers.' It's all a learning process. I enjoyed the kids, but the kids wanted to jump, and I wanted to train Dressage. When we moved here, I decided I was going to do more training and less teaching. We kept two of our school horses and sold the rest. Most of the school horses I placed in great homes before we moved. I decided to focus more on training horses and people with their own horses. I have a lot of young horses, and really like doing young horses. I also have a couple of middle-aged women with appropriate mounts who they can learn on and are safe on.
Tell us about your horses!
They're all young right now. I had one Dutch horse who I intended to be my show horse, but he was injured and is retired now. I have a four-year-old mare who's a Rubignon x Contucci that I bred out of a mare that I've owned since she was a foal. I started her as a three-year-old. She has her first filly, by Bingotti, on the ground and is currently in foal to Sanceo. After she has this baby, she'll go under saddle full-time. I have a three-year-old colt who's a Pikko Del Cerro x Contucci. I just started him. His pedigree has been approved by the American Hanoverian Association.  He would need to go to the stallion licensing as a four-year-old, so we'll see how his first year of training goes. If I still like him as much as I do, we'll take him for licensing next year. Those are my two main riding horses. I also have another mare who's dam is bred to Bingotti. That foal will be a 2023 Bingotti x Don Principe. I'll pick the ones I want to ride, and develop the rest to be sold. We'll see where that goes! 
I just finished the L program, and passed my testing in May. I'm going to be judging at FRC [Foothills Riding Center] for the first time this month. I'll retake the program starting in December because I want to get distinction so that I can move onto the R program. I have my Silver Medal and would love to get my Gold, but don't currently have a horse for that. We'll see what happens. Something will come!
Has a particular horse stood out to you over the years?
I've learned from every single horse that I've sat on. I got my Silver Medal on a 14.3-hand German Riding Pony named Klaus that I acquired by happenstance when I was down in Wellington training with Pam Goodrich. At the time, I had my bronze medal, and had no horse in sight that could go higher. Pam said, 'You need something you can learn from.' This pony came along, and just based on a video and Pam's word, I had him shipped from Louisiana to Florida. She gave me a couple weeks of lessons with him and I brought him back to New York. I showed him at Fourth Level that summer, and then showed him at Prix St. Georges the following year. I showed him at Prix St. Georges for two years and then sold him. He's semi-retired in Ocala now.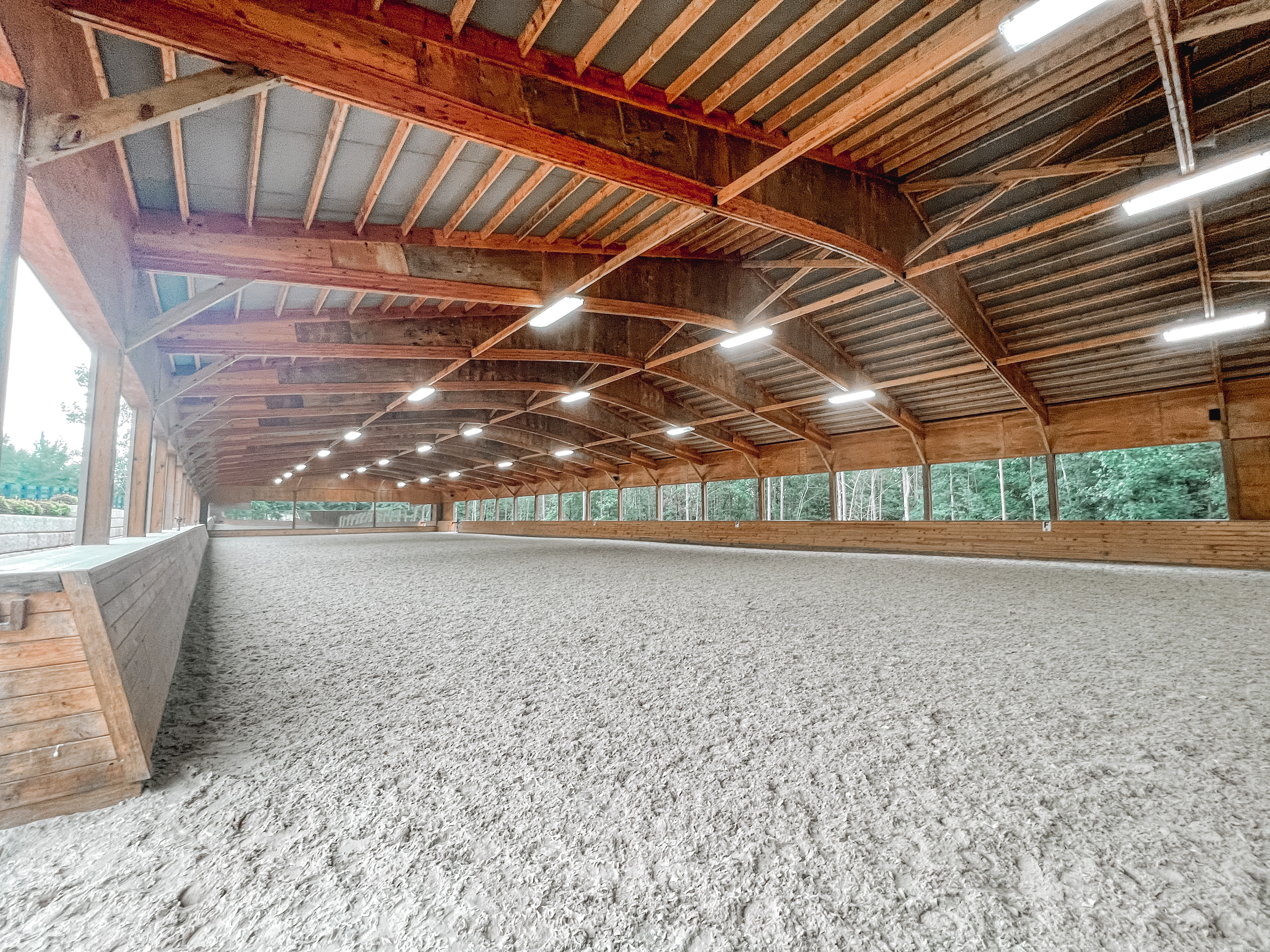 What made you decide to make the move from NY to NC?
I moved down here in April of 2018 because of the [Tryon International] Equestrian Center. I was down in Wellington for the winter training, and I was reading about what they [Tryon Equestrian Partners] were doing here. The first year it opened, we decided to go back to New York by way of Tryon. We went shopping for farms and didn't see anything appropriate that we could afford. The following winter I went back down to Florida to train with Pam again, then came back to Tryon again to do the same thing, and still kept seeing farms that were out of our reach or not appropriate for what I wanted. I went back to New York and skipped a year [in Wellington] because we were trying to build an indoor arena in New York. We were going through a lot of red tape there. We finally got permits to build the arena, but the cost kept going up because it took us literally years to get the permits. 
My husband said he wanted to go down to North Carolina to look just one more time. I had met a woman down in Florida through the purchase of a horse for a client, and she was living in this area. She said, 'Come stay with me and I'll connect you with my real estate agent.' So, four years after the equestrian center had opened, we finally found this property. We closed things down in New York, closed on this property, and then on April 1st, we came up here. We immediately started renovating this place when we moved up here in April.
How have your experiences been at TIEC?
I love showing at Tryon. We moved here because of it and are only 8.5 miles away as the crow flies. My arena has good footing, as I'm a strong believer in good footing. I absolutely love that I can show at a place like Tryon with the quality of the footing, rings, and maintenance. Plus, there's restaurants and restrooms on the grounds. You can't appreciate that until you come from New York where every showground has a porta-potty. It's those little things. It is a beautiful place to show horses. I love it! I'm absolutely blessed to have it right there. 
Give us a recap of Tryon Summer Dressage 3&4!
Fagueiro is a work in progress, but I thought he was great. He was the first horse I got here in training after moving to North Carolina. He knew nothing. His owner and I have worked very hard, and he's in training five days a week. He went from being so weak and unfit that we just did walk and trot sets at the beginning of his training, to doing Second Level successfully this weekend. He was wonderful in all three tests and is finally coming through, which has been a struggle for him. We still need more engagement, but that's okay. It's a work in progress. I was really proud of him. 
We had scores between 65.8 to 68.1 in all three tests, which were very respectable scores. I thought he really showed up. It's been a lot of hard work, but he's doing great. His mom's goal is to get her Bronze Medal with him. So, I'll continue to show him Second Level for the rest of this year. He already has a flying change, half pass, and all of that kind of stuff, so we'll start at Third Level beginning of next year. I just want to make sure he has his basics before we jump him up to Third Level.
Will you be joining us for the Tryon Fall Dressage Series?
Yes! We'll be back in October for Tryon Fall Dressage 3.
What advice would you give to up-and-coming athletes?
I think that people underestimate how valuable it is to learn from a horse who already knows. There are lots of people that want to learn with their horse, and if that's your only option, then make sure that you leave money in your budget for training. If you are fortunate enough to buy a horse that knows its job already and learn from it, that is the best way to go. Once you know what you're shooting for, then you can teach it to the young horses. If you can't afford those expensive schoolmasters, at least leave money for training. That's what we've done with the horse I showed last weekend. He knew nothing when he came here and neither did his owner, but she's fortunate enough to be able to put him in training. So, we've trained him and her at the same time. 
Thank you for chatting with us, Lucille! We can't wait to see you back at TIEC again soon.