Dressage and Para-Dressage at TIEC
Up Next – Tryon Summer Dressage 3&4: August 13-14
Official Photographer: Tryon Photography
 2022 Dates: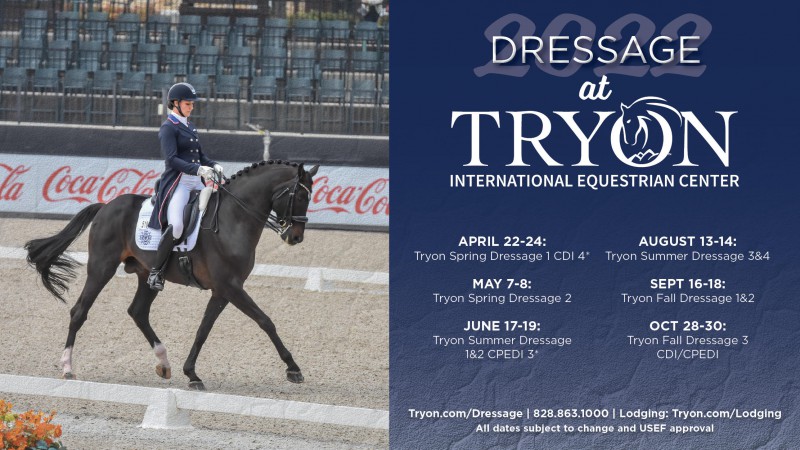 Book onsite lodging NOW for availability
More Information:
Lodging: Please contact lodging@tryon.com or 828-863-1015
Entries: Please contact Monica Fitzgerald at mon1206@aol.com or  954 647-7940
Media: Please contact media@tryon.com
COVID-19: Click here to read Tryon Resort's Action Plan

A variety of onsite lodging is available for competitors and spectators. Choose from a three or five-bedroom riverside cabin, Tryon Resort's signature one-bedroom "tiny house" cottages, or a room at the Stable House Inn. RV pads with full hookups are also available onsite. Year-round, onsite restaurants serve farm-to-table cuisine, sushi, Italian and casual favorites, and Sunday brunch, with a General Store available for all sundry needs. Click here to reserve lodging now or call 828-863-1015.
Recap – Tryon Summer Dressage 1&2 CPEDI3*: June 17-19
Live Scoring: Tryon Summer Dressage 1
Live Scoring: Tryon Summer Dressage 2 (Sunday)
Official Photographer (National): Sharon Packer
Recap: Tryon Spring Dressage 2:
Recap: Tryon Spring Dressage 1:
 Recap: Tryon Fall Dressage 3:
Recap:  Tryon Fall Dressage 1&2: National 
Recap: Tryon Summer Dressage 3&4: National 
 Recap: Tryon Summer Dressage 1&2: National and CPEDI 3*
Summer Dressage 1 National Class Schedule
Summer Dressage 1 National Order of Go
Summer Dressage 2 National Class Schedule
Summer Dressage 2 National Order of Go
Live Scoring: Dressage 1 National
Live Scoring: Dressage 2 National
Recap: Tryon Spring Dressage 1
CDI Live Streaming Friday-Sunday