Weekend and Single Day Passes On Sale for August 26-28, 2021
Fellow music lovers, country music karaoke stars, and anyone who's been missing live shows: exciting news! The Night in the Country Carolinas Music Festival presented by Ingles is launching its inaugural three-day party centered around Pure Country at Tryon Resort this August 26-28. The original Night in the Country Music Festival (NITC) is a 20-year tradition in Yerington, Nevada, and boasts the largest campout and music festival in the state each summer. From the Sierra to the Appalachians, NITC is on the move and celebrating country music from coast to coast with the first-ever Night in the Country Carolinas Music Festival, presented by Ingles. 
We sent members of Team Tryon to the iconic Nevada bash to bring back a preview of what's to come at Tryon Resort this August. From food and friends to epic daytime experiences and VIP perks, here's an inside peek at the party to come from first-time NITC attendee and Tryon Resort's very own, Sarah Madden!
Your NITC Tour Guide: 
Hi, y'all! My name is Sarah and I'll be showing you around. I've been excited about bringing Night in the Country Carolinas to Tryon Resort from the moment it was announced, but I can't emphasize enough how thrilled I am about this event now that I've seen Night in the Country Nevada for myself! Below are some insights about the Nevada experience as well as what you can expect from the Carolinas edition. Still got questions? Let me know at the bottom of this page, and our team will do our best to answer them so you can prepare for the ultimate NITC Carolinas experience. 
Let's get started! 
The Lay of the Land: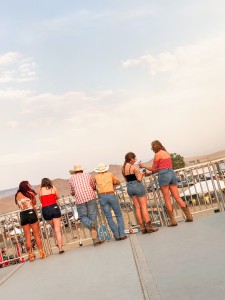 Born in the heart of Nevada's Mason Valley farmland, the Night in the Country tradition is a simple one: Pure Country. For three days, thousands gather in campers and tents for the ultimate party. Daytime is for stirring up some dust at the High Noon Saloon Tournament of Champions, making pour decisions while sipping local wines and spirits, and choosing your own adventures with friends. Everything gets hotter when the sun goes down – because that's when the music starts! Featuring unforgettable lineups, multiple stages, and an epic after-party, there are so many reasons to make sure you don't miss it! 
Everywhere you look, there are cowboy hats, cowgirl boots, buckles and beaming faces. In Nevada, campsites often feature personal above-ground pools, shade structures and plenty of outdoor sports and games. In the Carolinas, there's not a desert sun to avoid, but there will be plenty of opportunities beyond the campground to don your suit and enjoy a cool-down. More on that below. 
Preview the NITC Carolinas festival map here.
The Reason We're All Here:
Music is the main attraction, and there's nothing like a country music festival with a few (thousand!) of your closest friends to celebrate the return of live performances. Start at the side stage for an intimate experience with the industry's up-and-coming stars, then make your way to the main stage to dance, cheer, sit, sip, and party – whatever your style may be – through the night. There's no bad seat in the house… I promise! Whether you're chilling in GA or standing front and center, you're in for an awesome experience.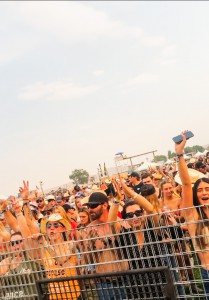 The Night in the Country Carolinas lineup is going to be incredible. Full stop. The party doesn't stop with the A+ headliners! Here are a few artists I'm particularly pumped to see: 
Our opening night headliner, Old Dominion, was recently named ACM Group of the Year! They're sure to put on a fabulous show. I am especially excited to jam out to Miranda Lambert, who needs no introduction, but we'll brag about her anyway: the most decorated artist in the history of the Academy of Country Music, Lambert is the recipient of more than 70 prestigious awards and special honors: 35 ACM Awards (including 9 ACM Female Vocalist of the Year Awards), 13 CMA Awards (Country Music Association), 2 GRAMMY Awards, and many, many more.
Local favorite and Rutherfordton, North Carolina native Avery Roberson went from a contender on The Voice to debuting in the top 100 iTunes Country Chart with his single "Ringtone," and he made a big impression on the Night in the Country Nevada stages. I can't leave out Chris Young, either, who will be closing out the weekend as our Saturday headliner. The multi-platinum artist is about to release his eighth studio album and has amassed close to four billion career streams and 11 No. 1 hits. We like to jam out to "Famous Friends" around here! Chris Janson is another one I don't want to miss, especially for his 2018 Song of the Year "Drunk Girl," the chart-topping, double-Platinum smash "Buy Me a Boat," and more from this high-octane entertainer. 
Let's hear it for some ladies I can't wait to see: Ingrid Andress  is nominated for three ACM Awards including New Female Artist of the Year, and also received three GRAMMY nominations. She co-wrote and co-produced every song on her debut album, Lady Like, which features her Platinum-selling, No. 1 debut single "More Hearts Than Mine." Lily Rose burst onto the country music scene with her single "Villain" debuting in the #1 spot on the iTunes All-Genre and Country Charts. 
And there are SO many more I haven't mentioned here! Go check out the full lineup, and don't forget to peruse our Spotify Playlist to get you concert-ready. Plus, don't forget about the Full Moon Saloon Aftermath – the ultimate afterparty open to all attendees who are 21+!
View the full lineup and preview your concert experience here. 
Eat, See and Do: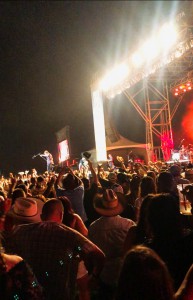 The NITC experience includes signature activities and events that are included with your festival pass, as well as numerous ways to upgrade your day. A classic favorite is the High Noon Saloon's Tournament of Champions, featuring 32-team double-elimination first come, first served tournaments featuring multiple courts. King Kong Beer Pong with volleyballs, and tossing footballs at bowling pins? Sign me up! Cheer on your friends, form a team yourself, and compete in friendly party games for serious bragging rights and trophies to match. Morning yoga, acoustic music sets, and tasting experiences are perfect for a more chill itinerary, but there's plenty of high-octane fun to be had around every corner. 
While food is limited to campsites and vendor row at Night in the Country Nevada, Tryon Resort features eight restaurants onsite and multiple bars, with a slew of additional food trucks and concessions stands available. There will be plenty of shopping to do, too! 
Check out our festival grounds amenities here.
What's Included?
One pass gets you SO much pure country fun. Night in the Country takes the "General" out of General Admission and packs so many experiences into your party. Morning Yoga is a great way to prepare for an exciting day ahead, and is offered Friday and Saturday morning. BYO yoga mat! High Noon Saloon's Tournament of Champions features two days of tournaments in the following team sports: King Kong Beer Pong, Cornhole, Fowling (Football bowling), and Spikeball. These are free, professionally-run tournaments with prizes throughout each daily bracket. This was one of my favorite events to enjoy in Nevada and the Carolinas competitions are sure to be just as fierce!
Brand new to the NITC tradition,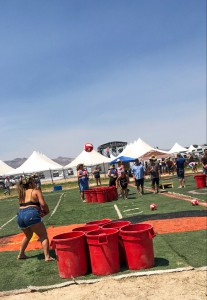 the Maze Bar is THE experience I can't wait to see at Night in the Country Carolinas. This outdoor, life-sized labyrinth for participants 21+ weaves nearly a quarter of a mile with surprises and potential prizes around nearly every corner. At the finish line? A hidden oasis with specialty cocktails you can't find anywhere else on the property! Last, but not least on the list of included festival experiences, is the brand-new Bands, Brews & Que, where you can peruse barbeque in every style, enjoy music from local artists, and where you can also access the Craft Beer Experience and Grapeland for wine lovers. 
Learn more about included experiences here.
Upgrade Your Party: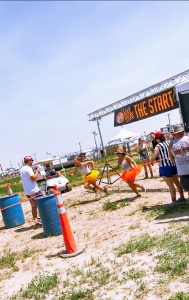 As I mentioned earlier, you'll find the Craft Beer Experience and Grapeland within the Bands, Brews & Que area, where all festival-goers over the age of 21 have free access to these tasting experiences. The emphasis here is on local beer and wine, with plenty of flavors to explore all weekend long! One of the most fun events to watch at Night in the Country Nevada was definitely the Beer Relay, which features an obstacle course navigated by two teams at a time while chugging beer (or water if you prefer!). It might be the most fun you ever have while exercising… unless, of course, you decide to sign up for the PeopleChase 5K. Hosted first-thing Thursday morning, this Derby-themed scenic morning run will take you through our renowned White Oak Cross-Country Course, where some of the world's best equestrian athletes typically compete on this former golf course. 
If a slower premium experience is more your speed, I recommend the Vino Van Gogh or Rolled & On the Rocks experiences. Sip wine, socialize, and paint a masterpiece with the help of a pro, or enjoy some of the smoothest whiskeys from around the country paired with a full-bodied cigar. Extra pours available if you want to extend the tasting experience! The ultimate level-up experience, though, will undeniably be the giant pool set as a centerpiece in the middle of the festival grounds at Club Beach. We'll be bringing the beach – including volleyball, epic DJs, and more – to the Blue Ridge foothills, with more details to come. In the meantime I can assure you that the vibes – and the music – will make this a favorite daytime hangout that you can't miss. 
Kick Off Your Boots, Rest Your Head: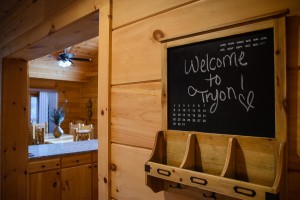 There are plenty of ways to party hard without sacrificing comfort, and nothing proves that more than the elaborate campsites constructed at Night in the Country Nevada. You're never more than a bike ride or walk from the activity and concert venues, ensuring that you don't miss a minute of the party without sacrificing your ability to relax or slow down with your own crew. My favorite setups to see in Nevada were the campsites that featured plenty of games, from giant Jenga to Twister and many more. 
If RV and tent camping aren't your thing, not to worry! Night in the Country Carolinas offers onsite log cabins, motel rooms, and even offsite hotel takeovers (complete with shuttle service!) in addition to onsite RV and tent camping. Whatever your style, there's always a place for you to lay your head after kicking off your boots. 
View all NITC Carolinas lodging options here. 
Friends Don't Let Friends Miss Out (Pro Tips!):
If you're on the fence about upgrading your pass, do it! Private bathrooms are a game changer, and the premium experiences you enjoy will be lifelong memories. 
Sign up to be a volunteer and earn valuable donations for your charity of choice AND gain free access to the fun! Learn more here.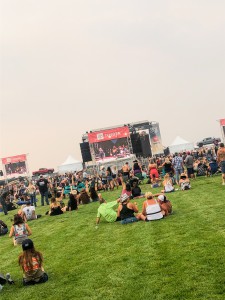 Hydrate! We'll have plenty of places to cool off, grab a bite to eat or a drink, and recharge so that you can enjoy all that the foothills have to offer without the party ending prematurely.
Only have one day to party with us? Grab the recently-launched One Day, All Day GA pass and save $15 when you purchase from your local Ingles location! Learn more here. 
View the full schedule by day here.
Listen to our Spotify Playlist here.