Welcome to the TIEC Ultimate Jump-off Tournament presented by Coca-Cola®!
If you're suffering from a lack of horse sport combined with missing out on March Madness, then solve both problems by following our equestrian bracket below featuring #TIEC's top 16 Grand Prix champions from 2019!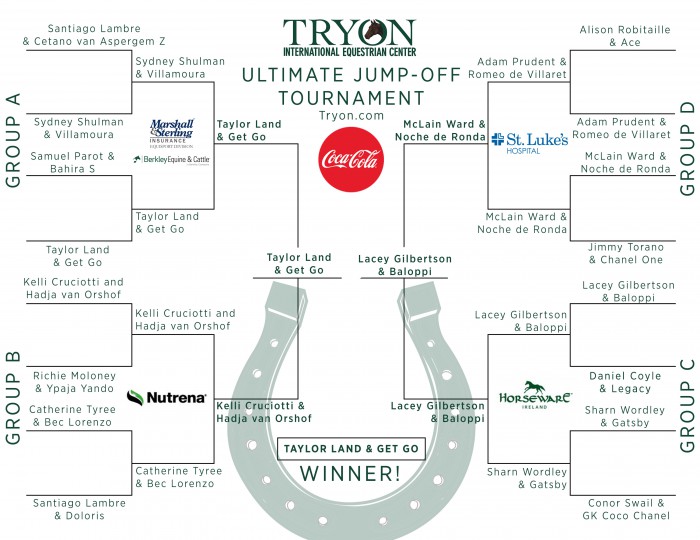 Instructions:
• We will post the daily competing rider videos on our Facebook and Instagram for voting.
• Watch the videos and vote on who you want to advance by commenting in the video's social media thread on Facebook or Instagram.
• Comment on the video posts as much as you want, but only 1 vote per person will be counted.
• The winning rider will advance to the next round of the tournament.
• Votes for that day's riders must be submitted by 11:59 pm EST on the same day as posting.
Enter to Win a Tryon Resort Getaway!
• Think you have the best bracket? Direct Message (DM) us your bracket on Facebook or Instagram by Monday, April 6th at 10am. Include your name and email in your submission.
• Everyone who submits a winning bracket will be automatically entered into a drawing to win a 3-day/2-night Tryon Resort Getaway!
• The winner will be announced on our Facebook and Instagram pages following the last day of the tournament.
Thank you to all who entered! A winner has been selected and will be posted and contacted on social media.
Contest Terms
Everyone with a winning bracket (choosing the correct winner) submitted by 10am on 4/6/2020 will be automatically entered into the raffle.

Only 1 winner will be selected to win.

In case of no correct winning brackets, a winner will be chosen from the brackets with the highest number of correct picks (with first-round picks counting for 1 point and later picks counting for 2 points).
No limit to the number of brackets submitted per person – brackets submittable by Instagram or Facebook message.
Winner will be announced via Instagram or Facebook within 24 hours of the conclusion of the Ultimate Jump-off Tournament.

The lodging stay is good for a 3-day/2-night stay in a Tryon Resort 1-bedroom Getaway Cabin.

Lodging reservation is based upon availability.

Cannot be combined with any other other offer.

Reservation must be used by December 31, 2020.