Meet our first Farrier Spotlight, Tyler Raymer! Tyler is the official farrier at TIEC with over two decades of experience. From World Champion Racehorses and Show Jumpers to World Champion Miniature Horses, he's worked with all kinds of equine athletes. Continue reading to get to know Tyler, hear what he loves most about his career, learn why it's important to have an onsite farrier, and more!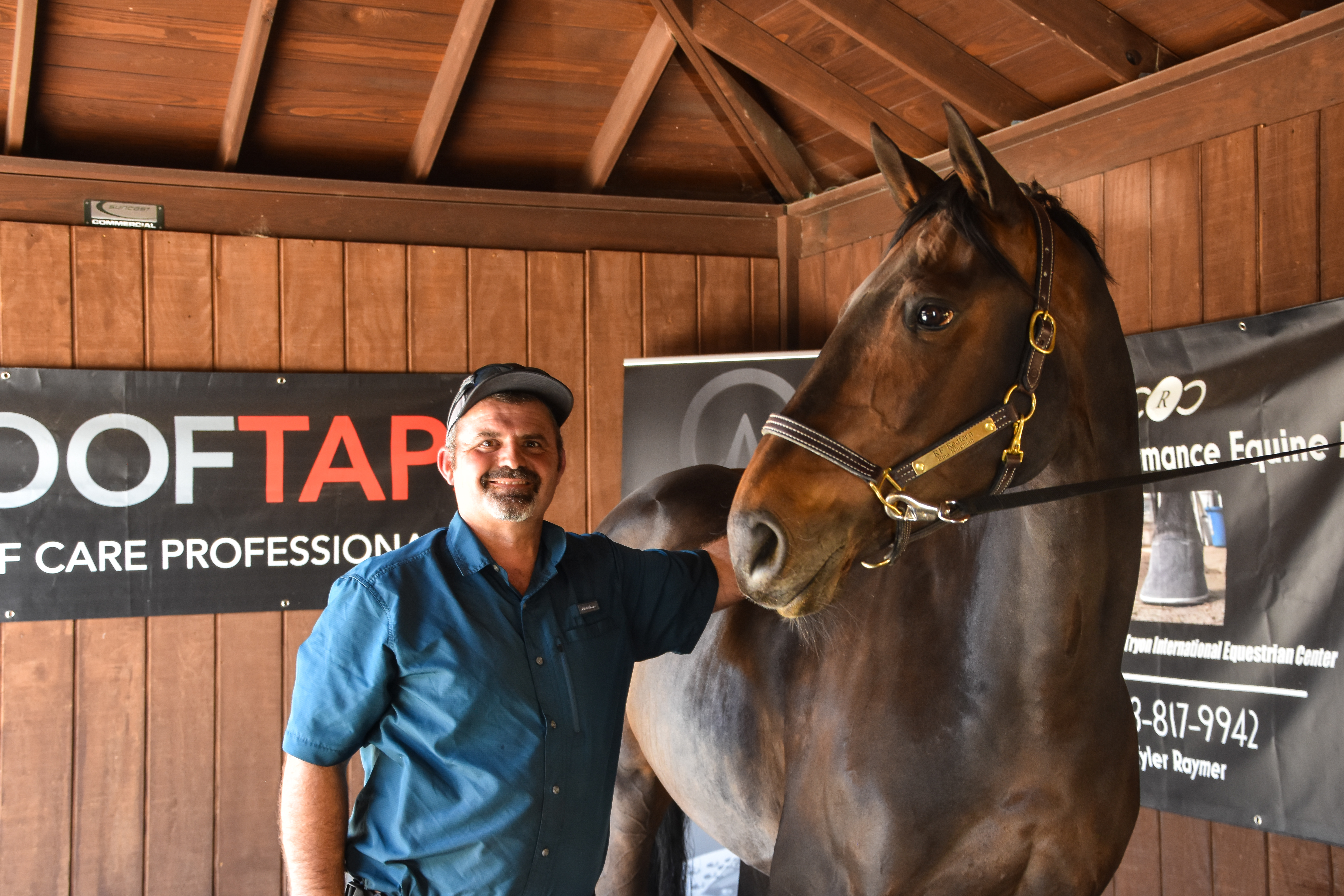 What made you decide to become a farrier?
I was born and raised in Canada. My family raised Standardbred horses, so we trained horses and shod them at the same time. After a bit, I realized that I wanted to help with as many horses as possible, so I started shoeing full time. I've been doing it for around 20 years now. I actually rehabbed horses and had performance racehorses, and I quickly found that the best way to help any horse is through their feet. We moved to Tryon a year and a half ago after my wife had shown up here five or six times. She was like, 'Can we just move here?' So, we packed up and bought a farm in Columbus. It was probably the best move we've ever made. Now I'm here, and she's here showing!
Why is it important to have an onsite farrier at a show?
Most people don't have the ability to take off and put on shoes, so there's that part. Plus, being able to work together with the Tryon Equine Hospital on-site to figure out problems and solve them is a huge advantage. For example, last Thursday we had a horse come in that could barely walk, and he ended up winning his division over the weekend after we worked on him. Stuff like that is my competitor side coming out from racing. When I can work on Grand Prix level horses and see them go out and win, that's always a big feat. 
I had a horse come in last fall who didn't have shoes on. The owner said he was lame and asked if I could fix him. He wanted to leave him barefoot, so I trimmed him. Since then, he's gone down to Florida to compete in Grand Prix classes barefoot. He came back five minutes later because the horse was sound and said, 'You're shoeing the rest of my barn!' Over the winter, he won six Grand Prix classes, multiple Welcome classes, and a Nation's Cup Qualifier. Coming from the racehorse community, I'm very competitive, but I don't have to be the one riding them to get that enjoyment. To actually work on them and get them there is probably the greatest satisfaction of working at a show. Being six miles from my house also doesn't hurt! 
Not being born into the Show Jumping game, I try to take it on as a study to see what they're doing. For me, it's more about the biomechanics of the horse and what they're doing in the ring, rather than just putting shoes on them. I can take different things, technologies, and strides into it. Learning to see the differences in the ring instead of just watching a horse jump around is very important.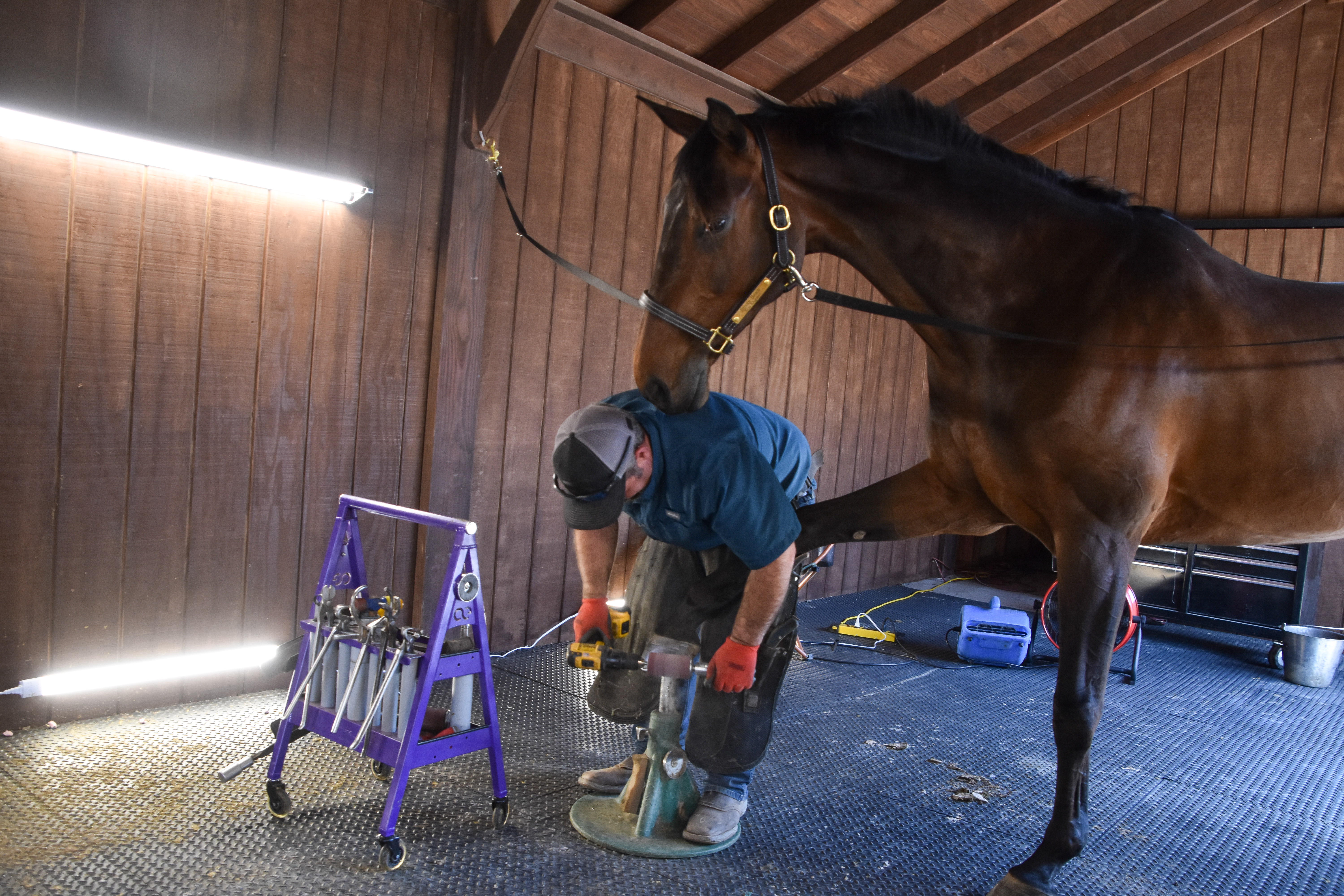 What do you love most about your job?
I love the variety and challenges that are presented. From an FEI horse that jogs lame on Tuesday, and you have to try and solve the puzzle in order to get them sound, [to] working with horses that have chronic problems, where you can actually change how things go and make them comfortable. A sore horse in the foot is just a miserable horse as everything comes from [their hooves]. If you get to the bottom of where the pain is coming from, things can get better that way. I've worked on World Champion racehorses and I've worked on World Champion miniature horses, so to me, it's less about the discipline and more about the individual horse and what it needs to perform.
Thanks so much for chatting with us, Tyler! We are so grateful to have you at TIEC.