Meet our next Team Tryon spotlight, Trent Yarbrough! Trent has been a member of the team since the beginning, and has been a key contributor to the venue's success and growth over the years. What initially began as a weekly position during our Saturday Night Lights series quickly evolved into an all-encompassing role, providing incredible support for our many events over the years. His multifaceted role spans across every event at TIEC, from international equestrian competitions and PBR® to music festivals and concerts. Receiving 40+ calls and unloading upwards of 1,000 boxes on some days, Trent takes on each and every challenge presented to him with a smile on his face and contagious enthusiasm. Continue reading to get to know Trent, learn more about his role, hear what he's looking forward to, and more!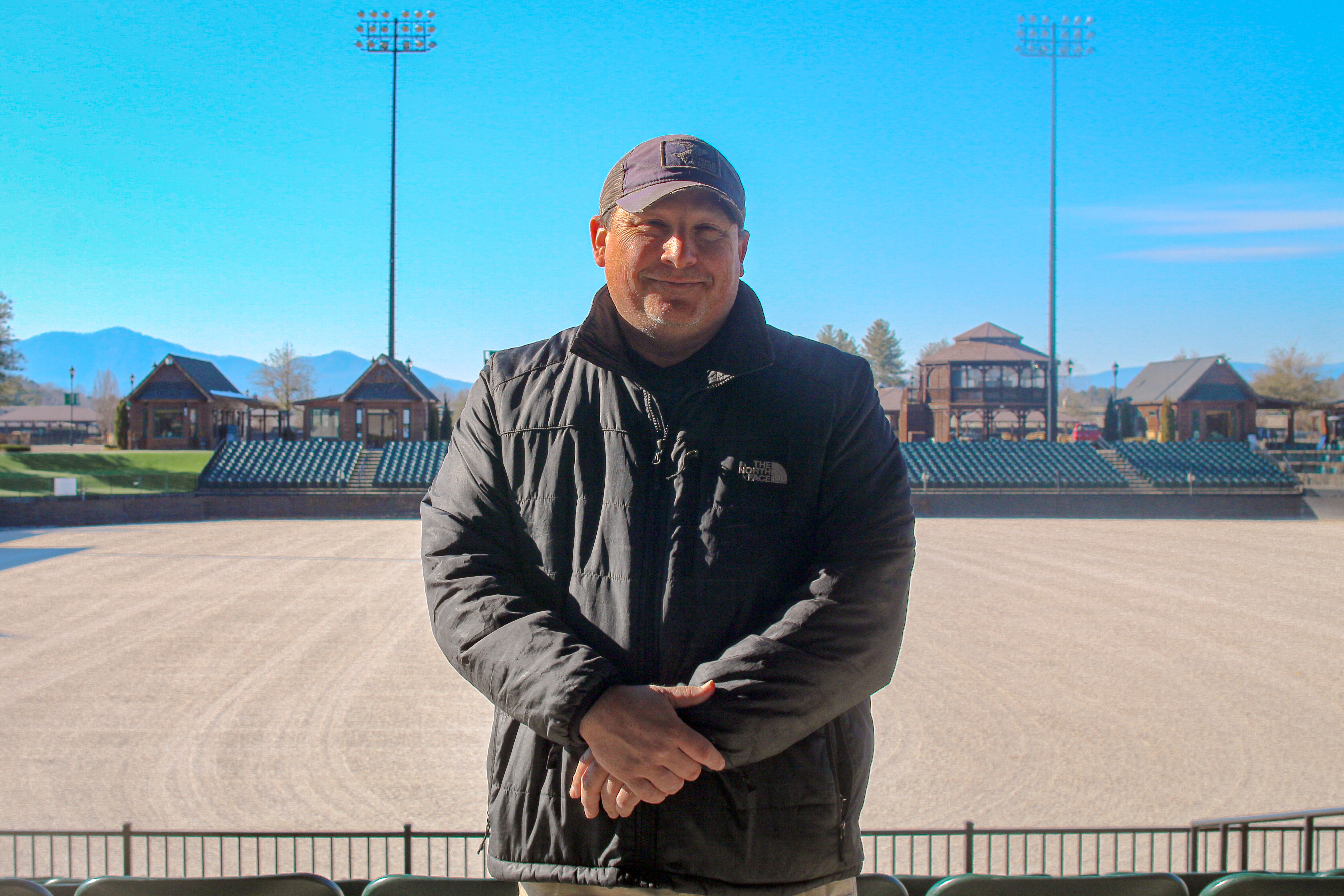 How did you get started at TIEC?
Through Doug Grondahl, actually. I used to be a bouncer for him [at a former business Doug owned]! Well, not really a bouncer – I was a police officer in Tryon for six months. After that, I worked here for Saturday Night Lights once TIEC opened. It developed into my role now because of the way that TIEC changes. We didn't have a lot of cooler and freezer space, so we were renting Sysco trailers, and that was my job as a runner. They'd give me a shopping list and I'd go get it out of the trailer. That's what I did for the longest time. Then, we got more cooler and freezer space, and it just grew from there.
On average, how many boxes would you say you unload per day?
It depends on how much is ordered. We've unloaded pallets of stuff before, which makes it a lot easier than doing it one by one. I would say I've unloaded close to 1,000 [boxes] on the biggest days. When we did WEG [FEI World Equestrian Games™ Tryon 2018], we were unloading thousands everyday.
How many phone calls would you say you get a day?
It depends on the day, but on a busy one, upwards of 40 I'd say. It all just depends. Some of it is quick stuff such as, 'Hey, can you bring me a trash bag?' Some people get a lot more than I do, so I'm not complaining. I consider myself on the low-end! 
Can you walk us through a typical day?
I usually work Tuesday through Saturday, but it doesn't always work out like that. Let's say we were starting on Tuesday, then we know we have beer and food deliveries. We take care of those which can take a long time, especially during season. I try to help the delivery guys unload and it can take up to four hours during the summer. After that, it's a matter of who asked for what and what can get done the quickest. Typically, it all starts with food and beverage from first-thing to about mid-morning. Then it can be cleaning out the three-story, moving furniture, getting car inspections done, taking trash away… it can be anything. Yesterday, I was putting together desks for our CFO. It's a bit of everything! I just do it all until I feel comfortable enough to leave [for the day].
Where are you from originally?
I'm from here. I actually graduated from RS Central [in Rutherfordton, NC]. I wasn't born and raised here, though. We moved around as my family was divorced, so I've been in Lexington, North Carolina, Spartanburg, South Carolina, and then I moved here. I've been to school in multiple places, but I really grew up here. 
Being a local, how has it been watching TIEC grow?
It's nice to have something like this within close proximity. Not just for Polk County, but the people who come out to support this from all over the world. It's done great things for this community. It's constantly growing.
What do you enjoy about working at TIEC compared to previous jobs?
I've gone from cleaning toilets and general cleaning to managing inventories for three or four different warehouses. In that way, it's similar in that I was always doing something different, but this one is just so much better. The people and atmosphere are so much better. I've definitely enjoyed this more than any other job I've ever had.
What do you enjoy most about your role?
Being able to do different tasks. It's never just one thing. I'm always here, there and meeting different people. It's really a lot of fun. You get to meet new people and see new places. It's always different! It's a great property with great people to work with. I wouldn't be here if it weren't for some of these people. I really look forward to seeing what happens from here.
I can't thank Sharon Decker and Doug Grondahl enough for allowing me to do all of this stuff. Doug is the reason why I'm here. I've worked with him for a while, and what started out very slow has evolved into all of this. 
What is the most challenging yet rewarding thing about your job?
I think some of the challenging aspects are when things go wrong, and they do sometimes. When somebody doesn't get a delivery, somebody leaves something off, and so on. Somebody needs something, and I have to figure out how to get it. Those kinds of things are challenging, but I find them very rewarding when I am able to make it happen, and that happens most of the time. It just takes a bit of ingenuity sometimes to make things work and get things done. Someone might ask me, 'Can you bring me 30 of these?' If I find 27, I still consider that a win. A lot of times the most rewarding thing is seeing people's faces when they say, 'Wow, you did find it all!' They often don't know how I find it in this big place, and I don't either. That's probably most rewarding – just getting stuff done for people so they can do their jobs and look good, while I'm behind-the-scenes looking good.
What's been a highlight for you over the years?
WEG [FEI World Equestrian Games™ Tryon 2018], of course. Everyone who was here during that time always goes back to that. It was so neat to see the international side of things. The preparation was intense, but finally getting through it, doing it, and looking back on it… it was a once-in-a-lifetime experience. You can see how much this place has grown since then, too. We're constantly growing!
What are you excited about this year?
I'm excited to see where it all goes, especially with the Indoor Complex being utilized [more frequently] now. It'll keep more people in with a job. We didn't have that much for people to do [during the off-season] in the past, but now it'll be more year-round. I'm excited to see people get back on property and do more things and events. 
We are so grateful to have you as a key member of Team Tryon, Trent! Here's to another fantastic year.