Meet Katherine Neilson, our next Steeplechase Spotlight! As we near the 74th Tryon Block House Races, we caught up with the accomplished trainer who has been running horses in the event for over 25 years. Katherine works with both flat and steeplechase horses, earning many impressive wins across the country. Continue reading to learn about her family's deep roots in the sport, how she began her career, her thoughts on the Tryon Block House Races, and more.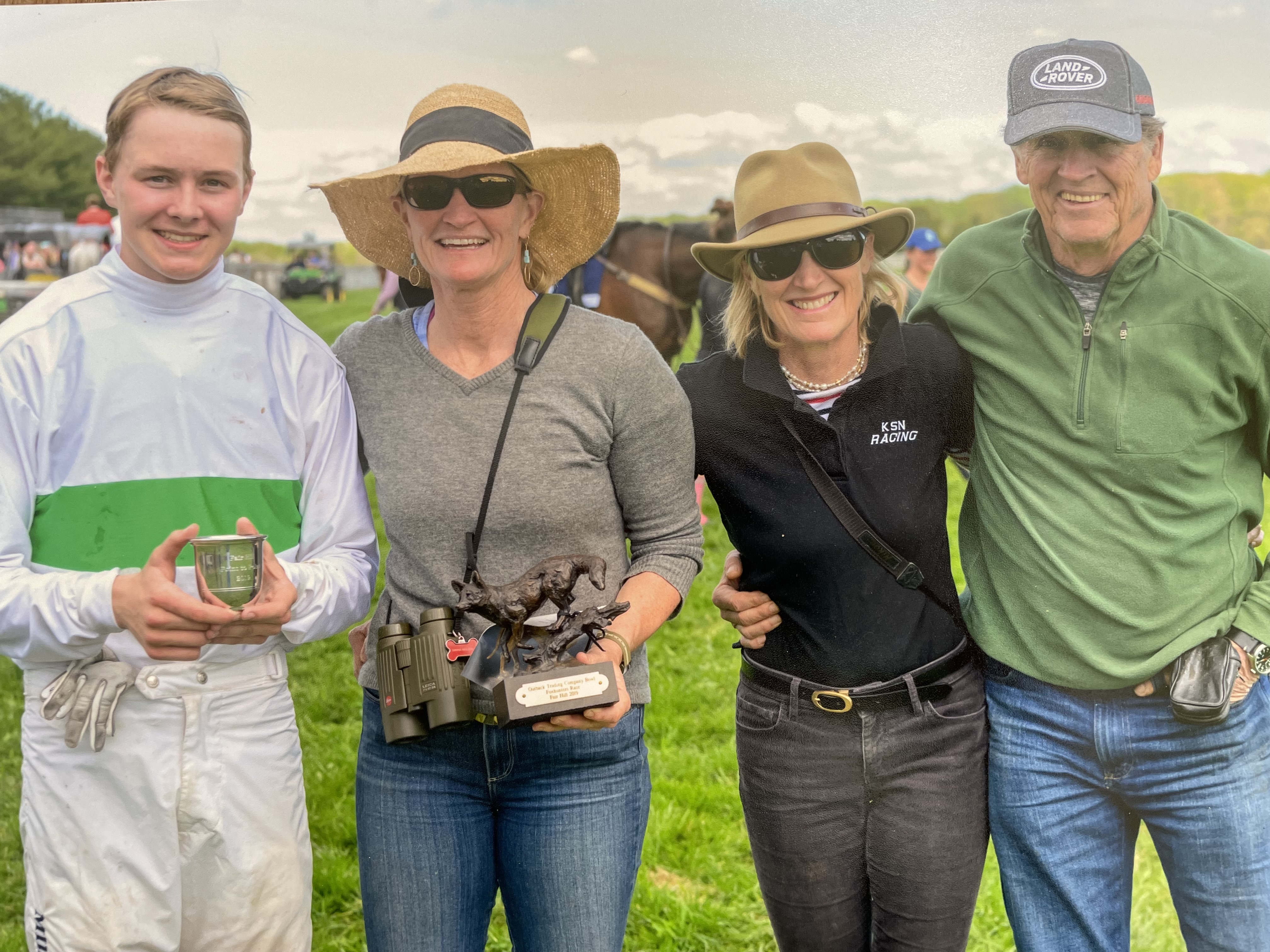 How did you get into the sport?
My family is deep in the tradition of Racing, Timber Racing, and Steeplechase. My aunt, father, and grandparents were all involved in one form or another. My father was one of Jonathan Sheppard's first clients. My grandfather owned a horse named 'Haffaday,' and my dad rode him and Jonathan Shepherd trained him. I would say that was the standout thing that jumped from one generation to the next. They won a bunch of races together, including the Maryland Hunt Cup! I don't think anyone really had any expectations about what he [Haffaday] was going to be able to do with his career, but he surprised everybody. 
When did you begin racing?
To be honest, my mother really didn't want me to be a jockey. I went to a really good high school and college where I got a bachelor's degree in English, and I took the LSAT, so she encouraged me to go into a different path. I didn't start racing until I was in college. I rode on the flat and then after I graduated from college, I started galloping full time and riding races and fell deeply in love with the sport. 
How did you get into training?
I worked for Jonathan Sheppard for six years. While I was working for him, he gave me a horse called 'Double Dater'. I trained him and he was my first sanctioned winner. I sold half of him to a wonderful man, Cary Jackson. I started building my business after that while still working for Mr. Sheppard. He gave me a couple of horses to train and a great job. I also worked for Bruce Miller, and he was really instrumental in teaching me how to train. Both Mr. Sheppard and Bruce Miller are very gifted horse trainers, and I learned a lot from them.
What's your history with the Tryon Block House Races?
I've been running horses in the Block House Races for over 25 years. I've mainly trained, but I've ridden in some flat races there. It's always been such a fun day and a big party, and that fun has continued at Tryon [Green Creek Race Course]! 
What are your thoughts on the Green Creek Race Course?
I love it! I thought it was terrific and it's a wonderful venue. You can see all the fences and the irrigation is wonderful. There's nothing to say except for what a wonderful place it is. Molly Oakman and her team do an incredible job. 
Has a particular horse stuck out to you over the years?
I have to say that one of the most special horses that I've ever trained was a horse called 'Riverbed'. He was very well-bred. He was so fun because he would get out there and stalk. When he was behind in the field, he would switch off and run down the competition, then pull out and come out front at the end. He won a lot of races doing that. It was always so exciting to watch him. I love the owners, Susie McDonald and Nancy Jane Reed. Sadly, Mrs. McDonald recently passed away, but it was a really wonderful partnership with really good people. The jockey at the time was a guy named Carl Rafter who is a wonderful English jockey. He knew how to get to the finish line first. It was a great combination. Usually, when you have a good horse like that and a jockey who gets along with them, that magic keeps reoccurring. 
What is your favorite part about being a trainer?
I would say the most enjoyable thing about being a trainer is developing a horse to know and love its job, like Riverbed. Seeing them learn how to run, jump, and win, then seeing that all come to fruition is the best part of it. There are so many moving parts, so when they all come together, it's just the best.
Why should people come out to the Tryon Block House Races?
Because of the beauty of it. Watching a horse jump is so beautiful. It's poetic, really. It's an opportunity to enjoy yourself with your friends in the beautiful outdoors. You get a heightened sense of appreciation for the beauty combined with the speed of racing. It's definitely unique and inspirational. People come to the races because it's exciting. I'm so excited to see what kind of party is going to happen there this year!

Thanks so much for chatting with us, Katherine! We are so impressed by you and look forward to seeing you at the races on Saturday, April 16th. To learn more about the 2022 Tryon Block House Races and claim your tailgate spot, visit Tryon.com/Steeplechase