Columbus, NC – May 11, 2021 – As the oldest steeplechase in North Carolina, decades of tradition surround the Tryon Block House Races, the historic steeplechase of Tryon Riding & Hunt Club (TRHC) now hosted by Tryon International Equestrian Center (TIEC). The Tryon Block House Races celebrates its 73rd running on Saturday, June 5th, and the event has a deep history of attracting generations of families who have attended not just for years, but for decades. Read stories from some of the race's generational spectators and view images from decades past below.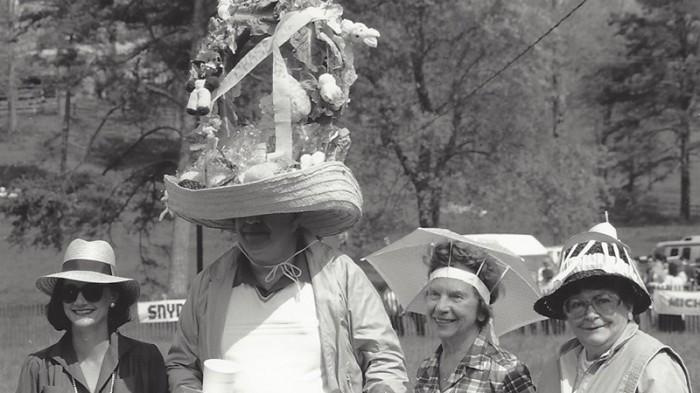 Decades of fans have enjoyed the famous hat contest. Photo courtesy of Tryon Riding & Hunt Club.
Fifty Years of Friends and Family:
For 50 years, Joan Lonnes of Tryon, NC, has attended the historic steeplechase, outranking all current attendees as the longest consecutive participant. Her memories of the Tryon Block House Races begin in 1969.
"We moved down here with my husband's work, and one of his associates who also lived in Tryon invited us to the steeplechase in 1969. Of course, we enjoyed it. We moved here with a horse, one pony and two children, and my husband also rode with the hounds. We enjoyed steeplechase so much that we decided immediately that we needed to get our own group together, and we have done it every year since," explains Lonnes.
Lonnes credits her husband, Wolfgang, who has since passed, for starting their steeplechase family tradition that grew to include friends extending three generations:
"My husband was the one who started [to extend] our group beyond family. Of course, our children were little when we moved here and now they are in their 50s, so that was the nucleus of our guest list, and some of those original people are still coming. We now have a third generation coming, because my husband's friend's daughter came as a small tot and now she comes with her own daughter," shared Lonnes.
Lonnes encourages people to attend with friends or family and enjoy this event she has treasured for 50 consecutive years:
"Our group loves to attend; they don't hesitate to do it. I'm so lucky this started with an associate from my husband's work."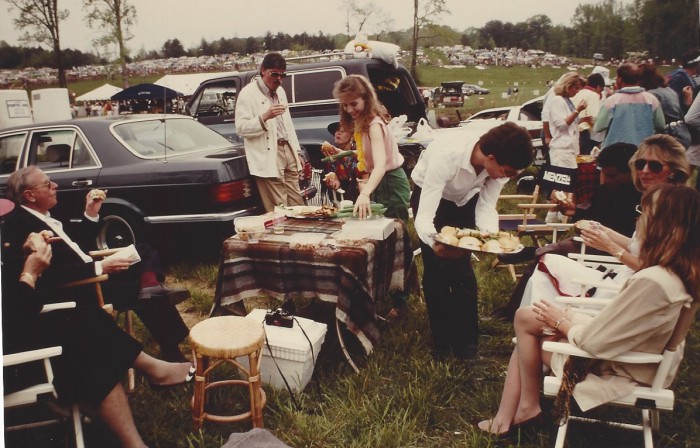 Families have made the Tryon Block House Races a tradition for generations. Photo courtesy of Tryon Riding & Hunt Club.
From the 50s to Now:
Similarly, Nancy Wilson of Tryon, NC, has attended 41 of the Tryon Block House Races. She began coming as a child in the early 50s when her grandparents moved to Tryon, then made the move herself with her husband in 1979. Her parents followed suit a few years later, and now four generations of their family now attend the historic steeplechase.
Wilson, a former Tryon Riding & Hunt Club board member for 20 years and past president, and her husband, Jim Bob, have both participated as volunteers, but returned to enjoying the event as spectators once their children were born. They implemented creative measures to ensure that both they and their children had a great time, she details.
"After our son and daughter came on the Wilson scene, we felt it might be best to get back to enjoying the day with our friends and their children! I have a wonderful photo of our daughter, Mary Kenson, drinking from her baby bottle that we had 'placed' in one of infield fences. Mary would run around and come back to her bottle as needed, and we never had to assist! Innovative and easier!"
Wilson is pleased to see the event continuing through the partnership with Tryon International Equestrian Center:
"I am thrilled with today's Block House Races. The Block House provides a consistent tradition and celebration of 'steeplechasing' – truly one of the oldest sports! It is really comforting to know that through the efforts of TRHC and now the partnership with TIEC, the Block House tradition continues even stronger today with a steeplechase course that matches or is even better than those found elsewhere in the United States!"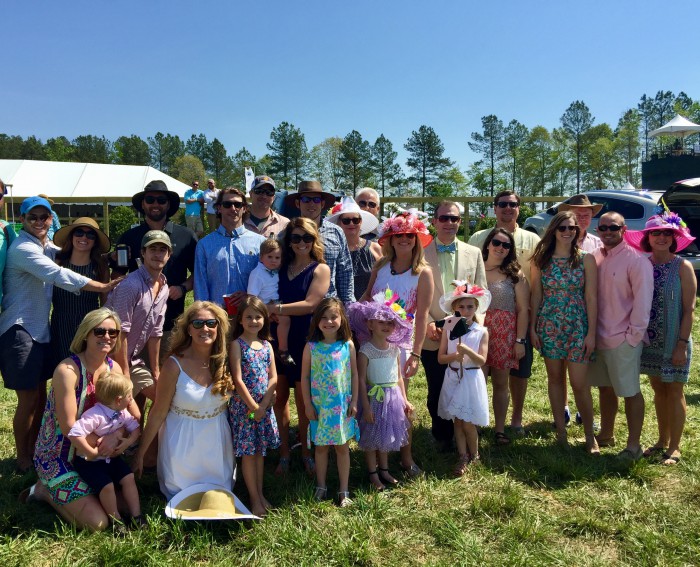 The Washburn Family of Bostic, NC, has attended the Tryon Block House Races for three generations. Photo courtesy of Amy Washburn Cooke.
Three Generations Strong:
Amy Washburn Cooke, originally from Bostic, NC, and three generations of her family have been committed to attending the Tryon Block House Races since 1997.
"We faithfully attend rain or shine," declared Cooke. "The weather is inconsequential! Our first steeplechase experience was in 1997. It was cool and windy, but being lifelong equestrians, we were hooked."
Cooke encourages people who have never attended to bring their friends and family to experience this exciting day of "steeplechasing:"
"Being together with family and friends is my favorite part! Everyone is happy and ready for an exciting day! Just buy a ticket, pack a picnic, and load your truck with some friends and family! You won't regret it!"
Tickets to the 73rd Tryon Block House Races, the historic steeplechase of Tryon Riding & Hunt Club, are on sale now at Tryon.com/Steeplechase. Join the ultimate tailgating party in Western North Carolina on June 5th at Tryon International Equestrian Center's Green Creek Race Course in Columbus, NC.
Five races throughout the day will showcase the power and athleticism of the horse alongside tailgating and fun contests. For more information, visit Tryon.com/Steeplechase or email tickets@tryon.com.