Meet our next sponsor in the spotlight, Ken Feagin! Owner of Ken Feagin Truck & Trailer, Ken has been a strong supporter of Tryon International Equestrian Center since the very beginning. He's a fellow horse lover with a diverse background from western to English disciplines, but his riding experience doesn't end with horses… Can you guess? Here's a hint: The PBR® Tryon Chute Out presented by Bear's BBQ at TIEC coming to Tryon Resort this weekend!
That's right, Ken was an avid bull rider back in the day. His rodeo days consisted of steers, mules, and broncs, ultimately graduating to bulls. We're thrilled to have Ken join us for PBR® this weekend – his favorite event of the year at TIEC. Continue reading to learn more about his bull riding and equestrian history, how Ken Feagin Truck & Trailer began, his experience at TIEC over the years, and more.
Click here to purchase your tickets for the PBR® Tryon Chute Out presented by Bear's Smokehouse BBQ!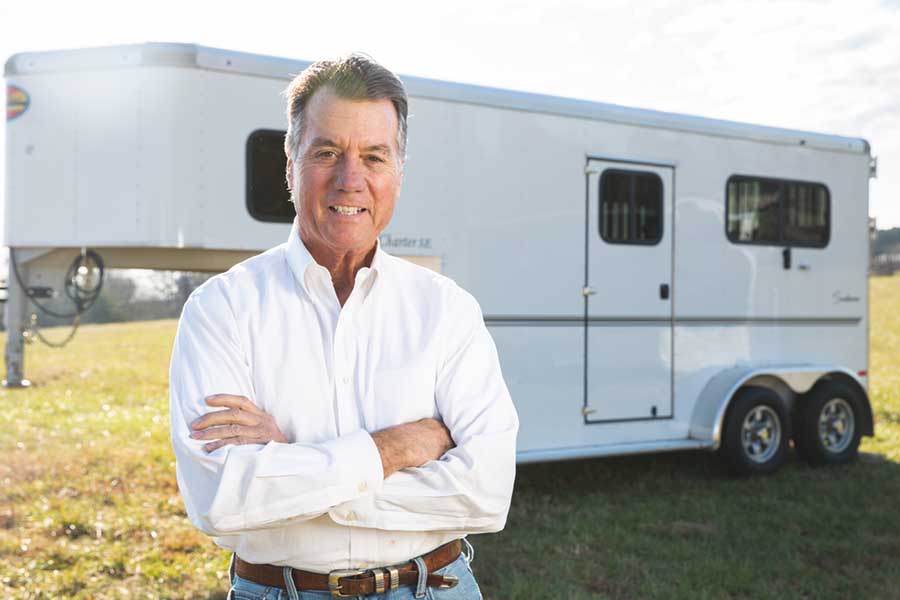 Ken Feagin Truck & Trailer started after my involvement in a Ford dealership that I was a partner at a little over four years ago.  I've always had horses, so the two [trucks and horses] came together hand-in-hand. That's how we started the business!
What is your background with horses?
I started with western. I did timed events, western pleasure and halter as a kid. When I moved to this area, I was introduced to fox hunting in the english seat. So, I spent a good bit of my time riding in an English saddle, but I always liked a good quarter horse.
What brought you out to this area?
I moved to this area probably 40 years ago. I grew up in Georgia and that's where I first started rodeo and working with horses. I've been here for a little over 40 years, and landed in the Tryon and Campobello area. I was involved in a business in Hendersonville and Morganton, then I moved to this area because of the horses and farms. A lot of the people here were involved in the horse industry.
We greatly appreciate your support of TIEC all these years! How did you first get involved?
This is going to sound like a paid advertisement, but it's not. I'm really proud to be associated with Tryon International Equestrian Center. I've been with you guys since the very beginning. I used to sit on the hill up [overlooking TIEC] at nighttime and watch the contontory trucks move dirt for hours. Since the beginning, [watching] the planning and progress has been phenomenal. We're so fortunate to have this facility in our own backyard. It's a great asset!
Have you had any highlight moments at TIEC over the years?
I've always enjoyed the Saturday Night Lights. Of course, one of the highlights was the PBR® Tryon Chute Out that I attended last year! Of course, the [Night in the Country Carolinas] Music Festival was great, but I had a keen interest in bull riding, so that has been one of my highlights.
We hear you have a hidden talent… Bull riding! Can you tell us about your background in the sport?
I wouldn't call it a hidden talent, but when I was young, I participated in a lot of backyard rodeos as a kid – mostly in Alabama and Georgia. I'm sure, like a lot of people, my horses weren't quite good enough to pay all the expenses that are involved, so I turned to riding livestock to make ends meet. I started with steers,  mules and broncs, and then I graduated into bulls. I rodeoed until I was about 20 – I started when I was about 12 and then went through school. It helped me pay the bills and I thoroughly enjoyed it!
What did you enjoy most about bull riding?
I would say it's probably just the adrenaline rush of the event and the challenge. There's the fact that you can say you did it, and these days, now the fact I get to go watch it.
What was most challenging about bull riding?
The biggest challenge for me was to stay calm and get your thoughts together. Especially when you're setting up properly in the chute. That was the key element for me. Of course, the ride and then the off [dismount]. If one doesn't pair up with the other, the result is not what you want it to be.
At those types of events, I really enjoy the fans that are there. I have a tremendous respect for the cowboys and cowgirls, the rodeo entertainers and the pickup riders. They're all tremendous athletes. People sometimes don't truly appreciate that, but these folks are just true athletes. Last but not least, I enjoy the bulls themselves. The breeding and skills these animals have these days are far more sophisticated and tougher than anything I ever rode. It's a whole new ballgame, and my hat goes off to these guys that ride them, the guys that breed and own them… Just the whole gambit!
Why should people come out and watch?
It's just like going to a football game or a baseball game. These guys have a talent, and it's challenging. People will enjoy it once they go and once they see it. To be that close to a bull and the action – both in the chute when they come out and when they come off – is pretty incredible. You get a whole new perspective and respect when you come to see something like this live. 
I appreciate being involved and look forward to the weekend. It's a great place, a lot of good people, and certainly a lot of excitement. You just can't beat it. It's a great place to spend the weekend!
Thank you for catching up with us, Ken, and for your amazing support at TIEC! We can't wait to see you soon.