We have a very special Rider Spotlight duo this week! Meet Theo and Ryan Genn. The Genn brothers share a deep love for horses and true passion for the sport, and have quite the list of impressive accomplishments in the show ring. The talented brothers were introduced to the sport and trained by their father, Wilhelm, who is quite the horseman as well! Needless to say, horses definitely run in their blood. Continue reading to learn about the Genn brothers, their incredible string of horses, the equestrian family dynamic, their goals for the future, and more!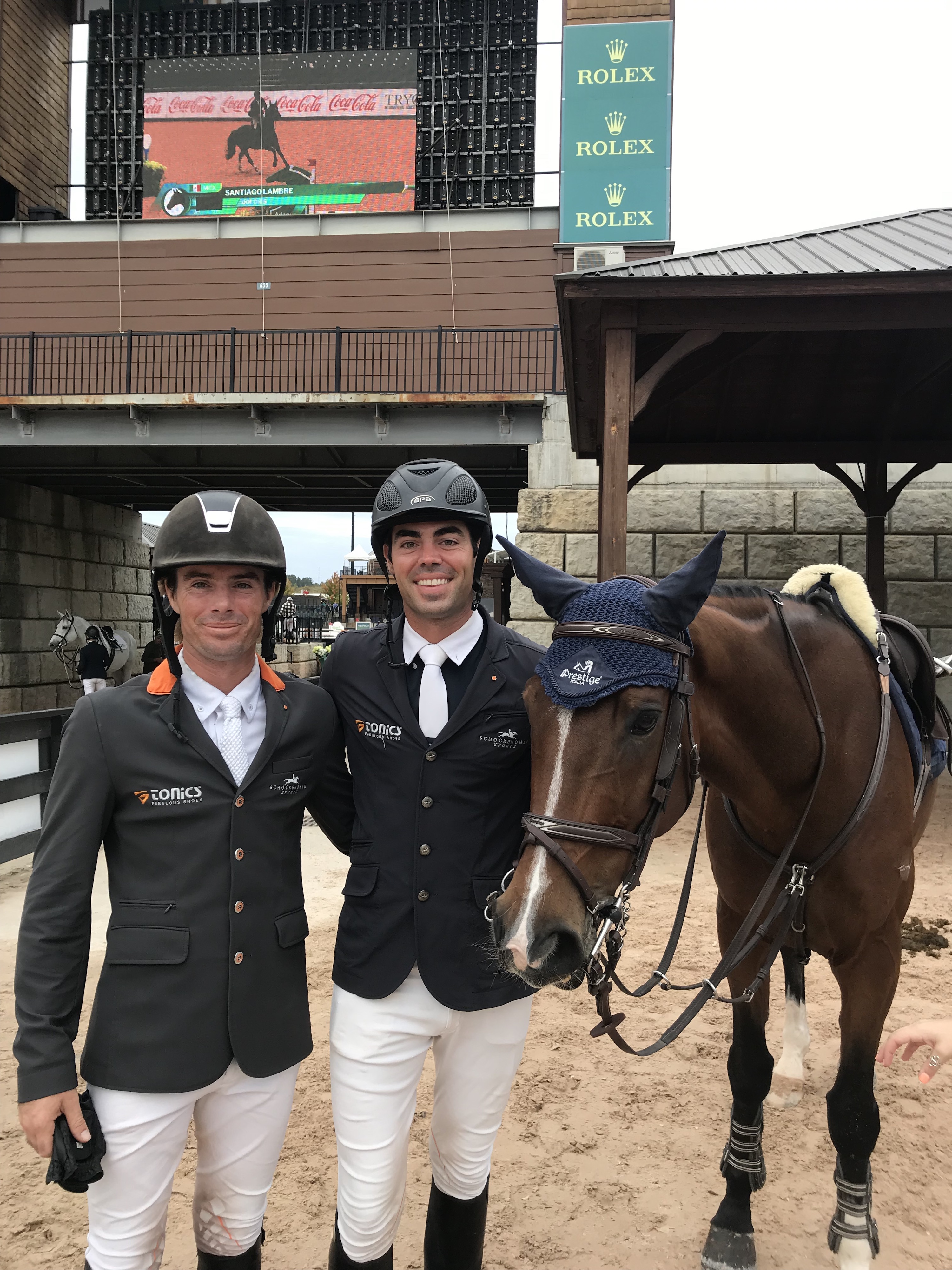 Photo courtesy of Ryan Genn.
Tell us about your Grand Prix horses!
THEO: I have three Grand Prix horses here with me. My oldest, Boucanier, is 13 this year and he jumped all the World Cup classes out west last fall; he's a good horse. I have a ten-year-old named Chaccomo 11 that we have really high expectations for. He just seems like he has all the tools: good canter, good build, he's scopey and wants to be really careful [over the fences]. He was a little more difficult than we thought he would be when we bought him, which made things take a little bit longer, but something really clicked this spring for him. He jumped some really hard 1.50m classes this summer and was clean, so we'll see where it goes. I hope that he can be a successful 3* horse and then be able to dip into some bigger classes. From there, I would say the first goal with him would be to get on a Nations Cup team. I also have a nine-year-old named Firewall that Eduardo Leon owns. They're all really good horses, coming off a pretty long break since we stopped showing the first week of August. We meant to only be on a break for a few weeks, and then the show schedule worked out where we were home for about five weeks, but it's fine because it's good for the horses to get a break from showing. 
RYAN: I'm riding two mares tomorrow: Dieta and Colora. Dieta is 11 and I've been showing her for a little over a year now. Colora is a ten-year-old that I've been showing since the spring, so I don't know her as well, but she has plenty of experience since Theo showed her in some FEI stuff before I got her. We've had both of them since they were six. They're both a little quirky. Dieta has a really long back and a big head so everyone makes fun of her, but she tries really hard and has jumped a lot of clear rounds for me. Colora is a little bit of a wild girl and you have to lunge her the first day of a show, but she's been really good so far and we're starting to get to know each other now. It's going to be the first time under the lights for me with both of those horses, so I'm not really sure how that's going to go. I don't want to overthink it; I'm just going to do my normal routine and make sure they're ready, and hopefully they'll handle the lights well.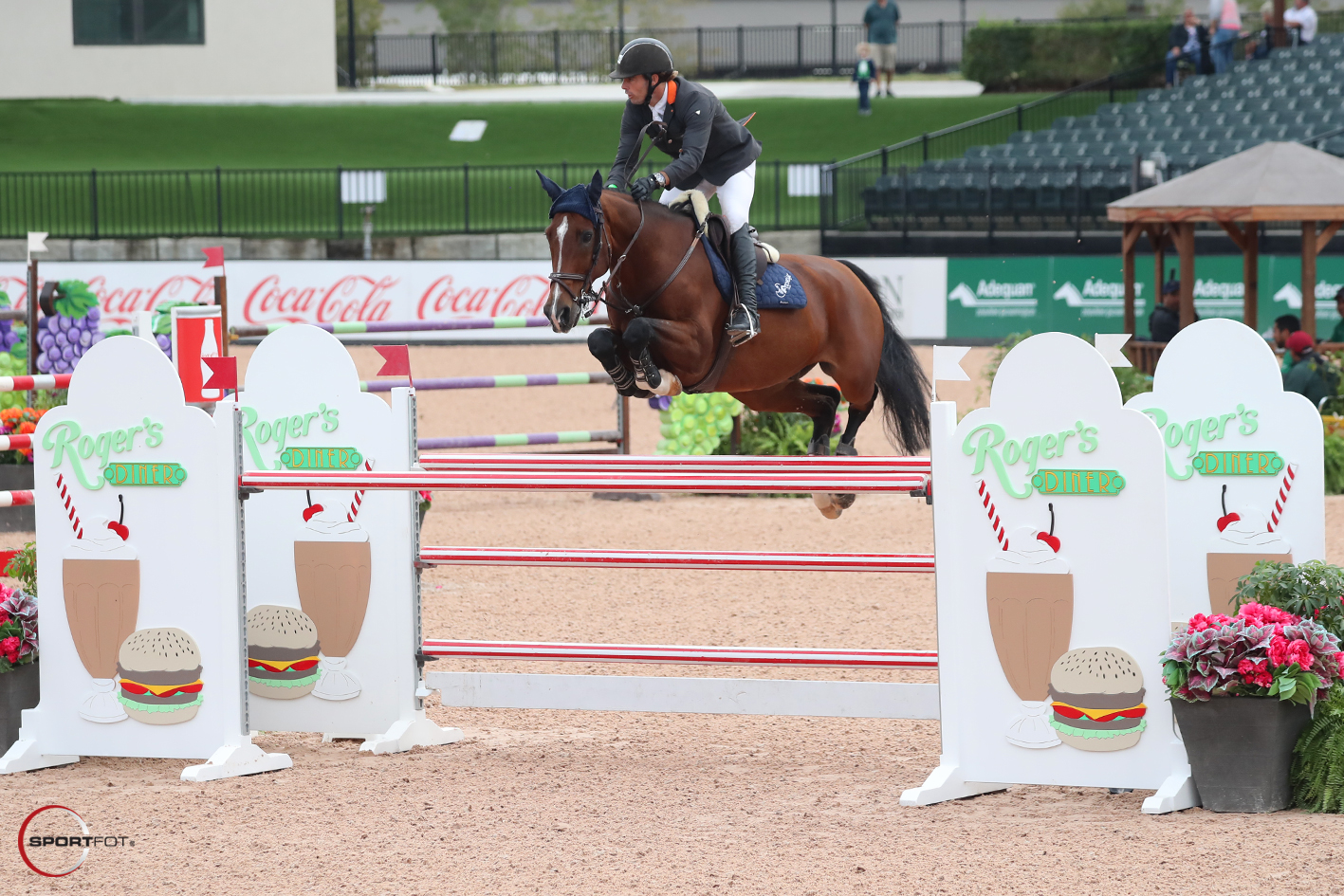 ©Sportfot
How did you get into the sport? 
 THEO: I always knew that I wanted to do this for a living. Even when I wasn't riding, I would travel with my dad to horse shows during the summer. When I was 13, I started showing, but I was only riding about once a week and saying I was gonna be a Grand Prix rider, and then my dad explained to me that if I really wanted to show and be good at this, I would have to ride at least two to three times a week. I was completely taken aback after that conversation, but it was what I needed, and after that I got really serious about riding. By the time I was 14, I was always at the shows and was riding as much as I could. 
I think a lot of girls start doing this when they're young because they just love horses, but I think for guys it's different because we want to play sports and be successful, but when you ride in the beginning it takes a lot of failure and frustrations. When I started, it wasn't about the horses, it was about the sport and being with my dad. It's difficult to keep going and to keep pushing yourself until you're good. Now, it's different and I care about the horse way more than I do about the sport, but in the beginning it's not that way for a lot of boys. I think that's why a lot of guys don't keep riding. 
RYAN: I never wanted to ride, really. I did all the other sports I could play, but then they [my family] started traveling a lot and I didn't see them as often, so that started bothering me, and I never really loved school. Theo was enrolled in online school, so I talked my parents into letting me do online school if I started to ride. About a year into riding it really started to click for me! 
I like to see him [Theo] winning obviously, but I get seriously frustrated when he beats me. The best, though, is beating my dad. Even if I don't win, I want to place ahead of him. 
Theo: It's definitely healthy competition, but it's [always] there. A lot of times, even if have no intention of winning a class, I do try to place ahead of them. Even if I'm just going into school for the Grand Prix, I'll go a little faster in a class if they're in it.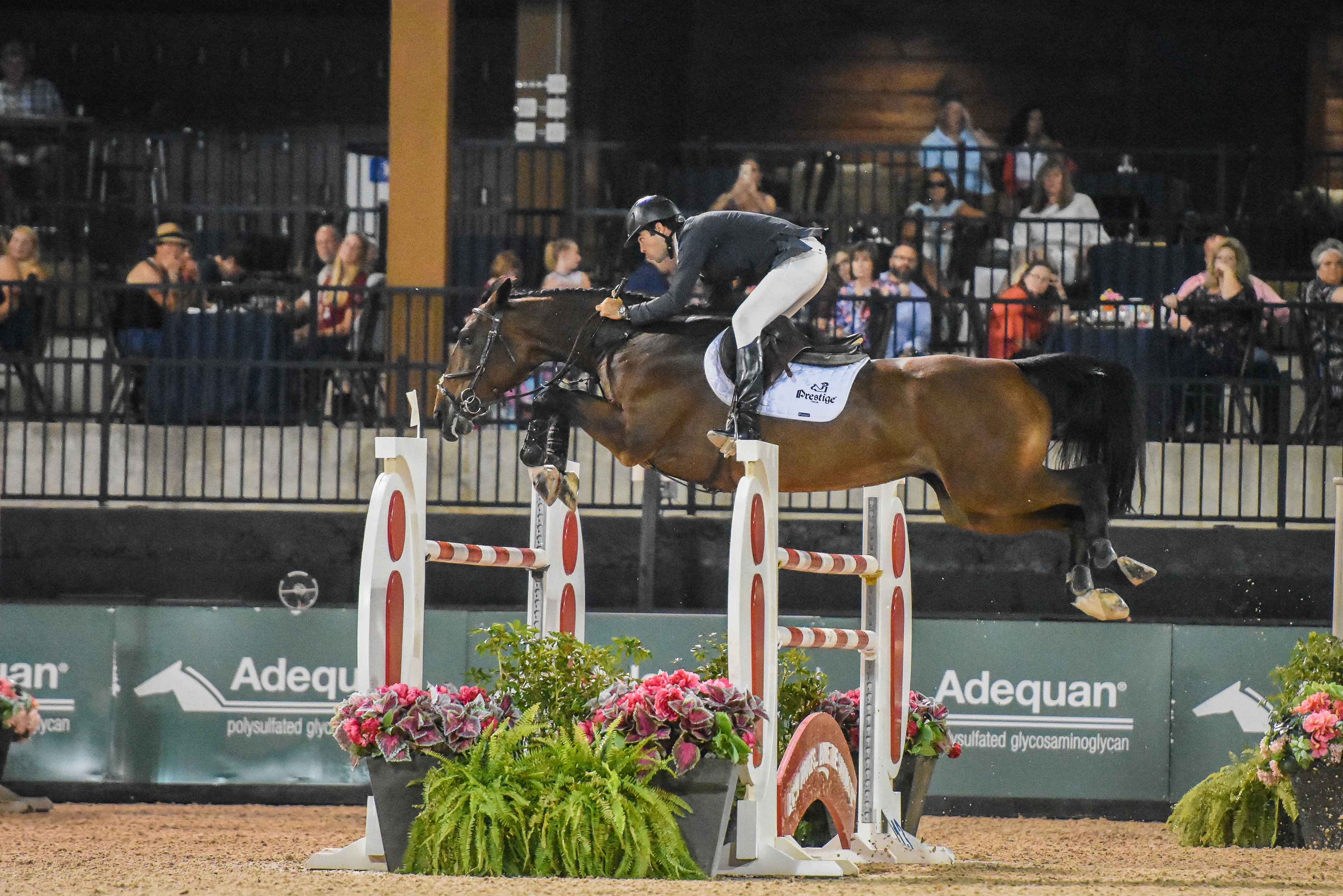 ©TIEC
What is it like sharing the sport with each other and your dad? 
 RYAN: For us, it's awesome. We literally talk about it 24/7 and we love it. The camaraderie is really great and we work well together. I think for my mom, she gets frustrated that it's literally the only thing we talk about besides football. 
THEO: A lot of people who work with their family complain about it and think it's really difficult. There's no question that we've had some really hard times, but the main thing is that no one gives up. My dad may wreck me one day when I'm not doing my job well, but I'm not gonna quit or give up. 
What's a big career highlight you have had?
 RYAN: My most recent highlight would be my win in the Kentucky Grand Prix in the spring with Dieta. That was also the first Grand Prix I won in Kentucky. 
THEO: The one that meant the most to me was probably the World Cup Thermal placing because it was my first placing in a World Cup qualifier, and it meant a lot to me and my career. 
How has your show season been so far?
 THEO: So far, this year has been incredible. I feel like we're starting over now since we had such a long break, but spring through August was insane. My Grand Prix horses jumped 15 clear rounds in the 1.50m, and Ryan probably had just as many. They were all National Standard 1.50m, too. Between the two of us, we probably have 35-40 clear 1.50m rounds from just two months. It was nuts! We would literally have 6 horses [in a Grand Prix] and five would be in the jump-off almost every week.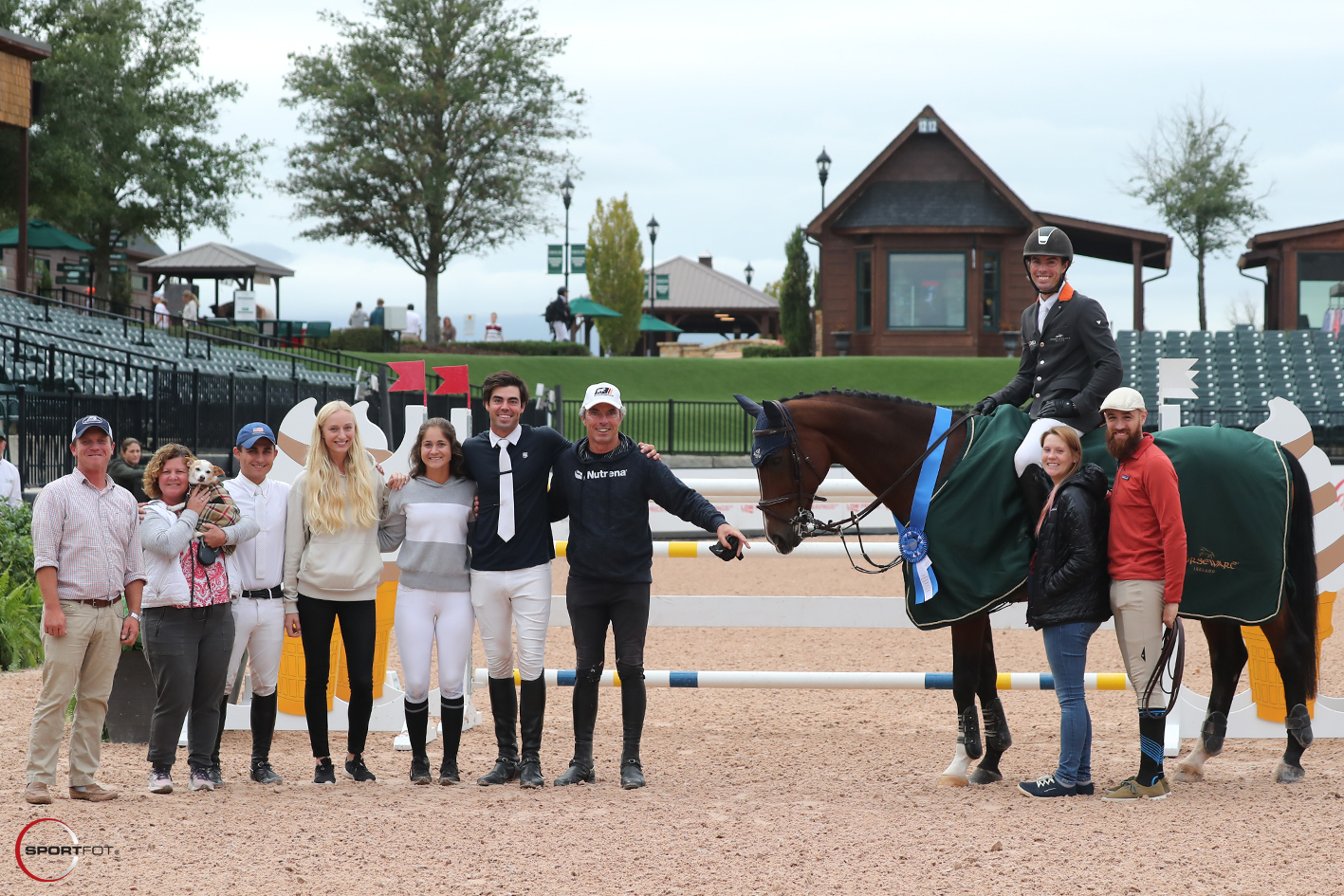 Theo Genn after winning the $25,000 American Standard Grand Prix at TIEC.
©Sportfot
What do you think of showing at TIEC?
 THEO: I love it! The horses are happy here and it's very horse-friendly with the bridle path. The footing is good and the stalls are really safe, and it's nice to have the fans and mats already out. Everything is really clean. Obviously, having all the restaurants here is super nice, too. Saturday nights are sweet; it's definitely something you have to get used to, which is why I came last week. Going under the lights for the first time with those guys [horses] was different and they didn't feel the same. It's an awesome experience, but your horses need to get used to it for sure. 
RYAN: The layout of the facility is also nice because all of the rings are really close!

Congratulations to the Genn brothers for strong performances at TIEC throughout the Tryon Fall Series! We'll be sure to keep an eye on this duo and their horses. 
To learn more about competing at TIEC, click here.