Meet our next rider spotlight, Samantha Collins! Samantha comes from a horse-loving family, sharing the passion with her mom, Dayna Collins, who is both an equestrian and member of Team Tryon's finance department.
Formerly from the Hunter/Jumper world, Samantha initially implemented Dressage as a tool to improve her horse's strength and longterm soundness. After diving deeper into the discipline and receiving inspiration from the sport's top athletes, Samantha fell in love with the sport and has since earned her Bronze Medal and qualified for the US Dressage Festival of Champions coming up this August! We caught up with her during Tryon Spring Dressage 1 to learn more about her background in the sport, the impact Dressage has had on her riding, how she balances riding with high school, and more. Continue reading to get to know Samantha!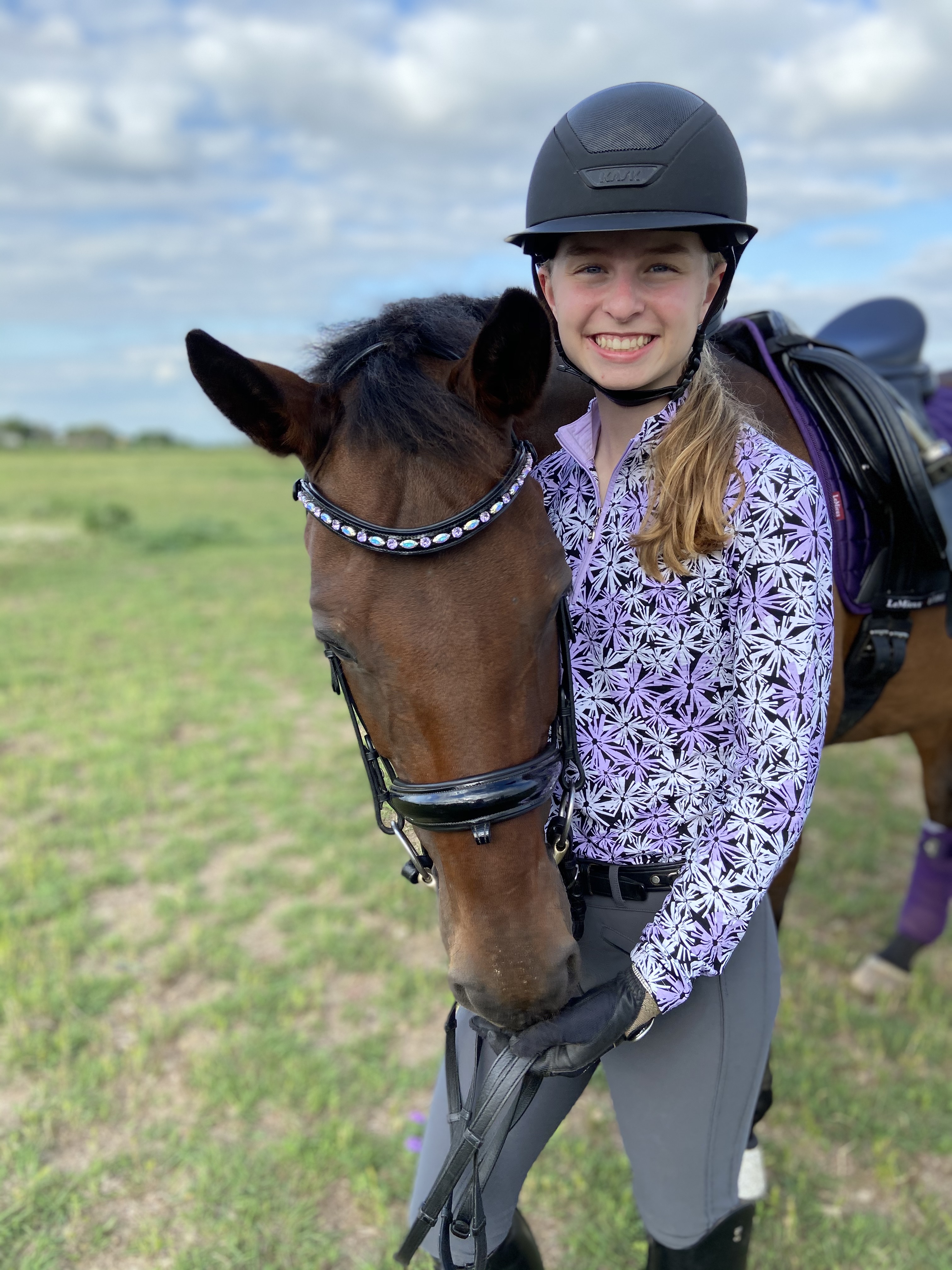 How did you get into horses?
My Mom has been riding her entire life, and her grandma introduced her to horses. So, when I was old enough, my mom put me on a horse and I've wanted to ride ever since.
How do you enjoy sharing a love for horses with your mom?
I feel like I'm never alone! I feel like I have someone who understands me and shares that love of horses with me.
What sparked your interest in Dressage?
When I was younger, I had a pony who was kind of lame. My trainer suggested I try Dressage to strengthen his hind end and back. It was funny – the first few rides I was like, 'This is not for me.' Then, I watched rides from the 2016 Olympics and other world championships and I thought it was so cool. I developed an understanding of Dressage. It's about the training and the mindset you have. There's aspects of [Dressage] everywhere and that's the really cool thing. My horse's topline improved as well as his mental state. He just seems super happy. I eventually outgrew and sold him. It was so rewarding to see him teach another rider that shares that same passion.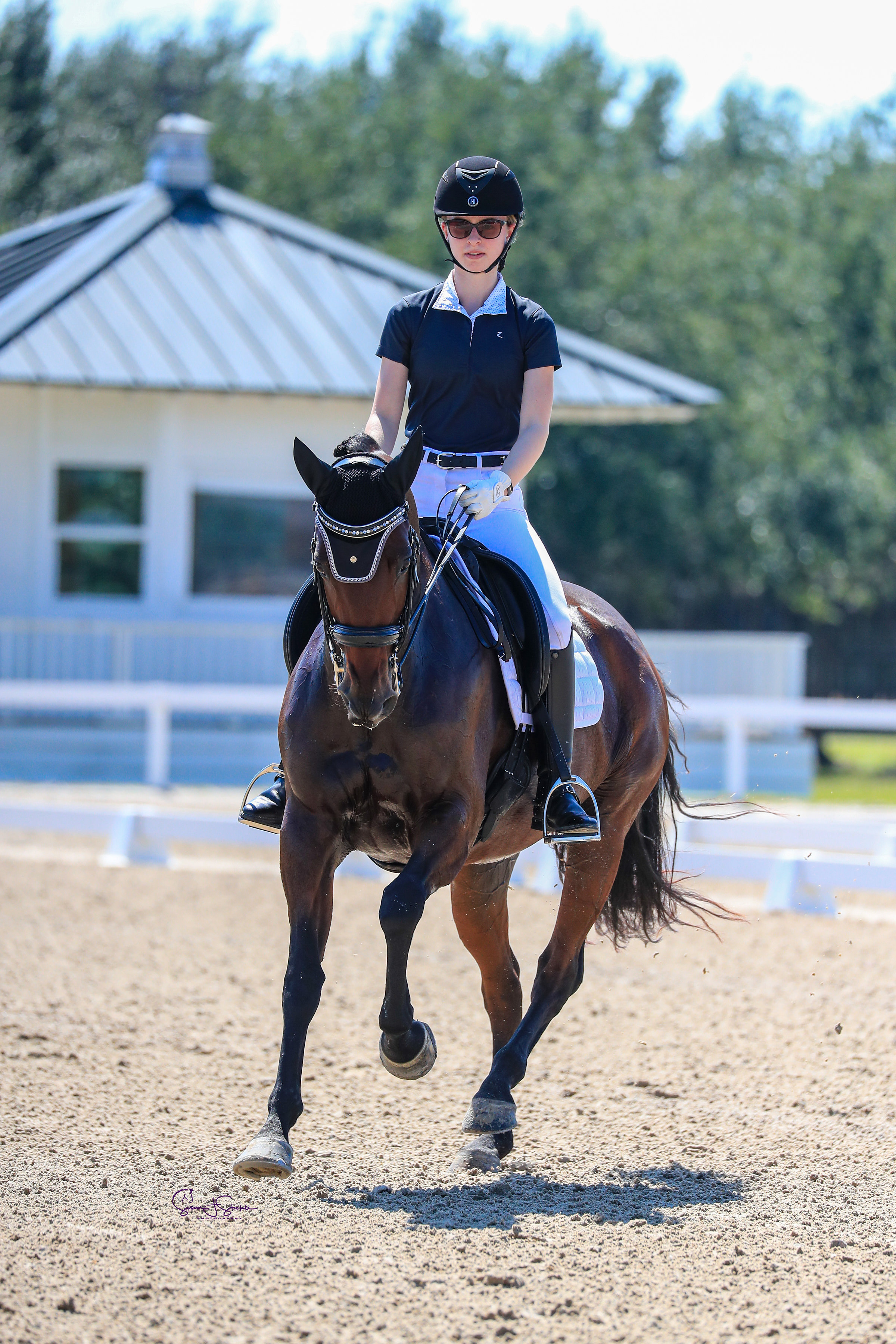 Tell us about your new horse!
When I got my horse, Maggie [Ballybolger Springthyme], I was just looking for a safe, reliable horse to teach me how to ride a bigger horse [instead of a pony]. When we started out, she was pretty hot, sensitive, and green in Dressage, but we just clicked instantly. I started her at first level, and then we went on and showed first, second, and third level. We were able to get our bronze medal and it was really rewarding. I had some trainers that told me that it couldn't be done on her because she's too downhill, sensitive, or just can't physically do it because she was an Eventer, but now we're showing at fourth level. I'm looking forward to getting our silver medal this year!
How has the transition from Texas to North Carolina been?
We love it here! We just love the horse community. Everybody welcomed us with open arms and nobody cared about what we rode or what our backgrounds were. We've made a lot of awesome friends around here who also show their love for horses. Plus, the weather here is so nice all the time.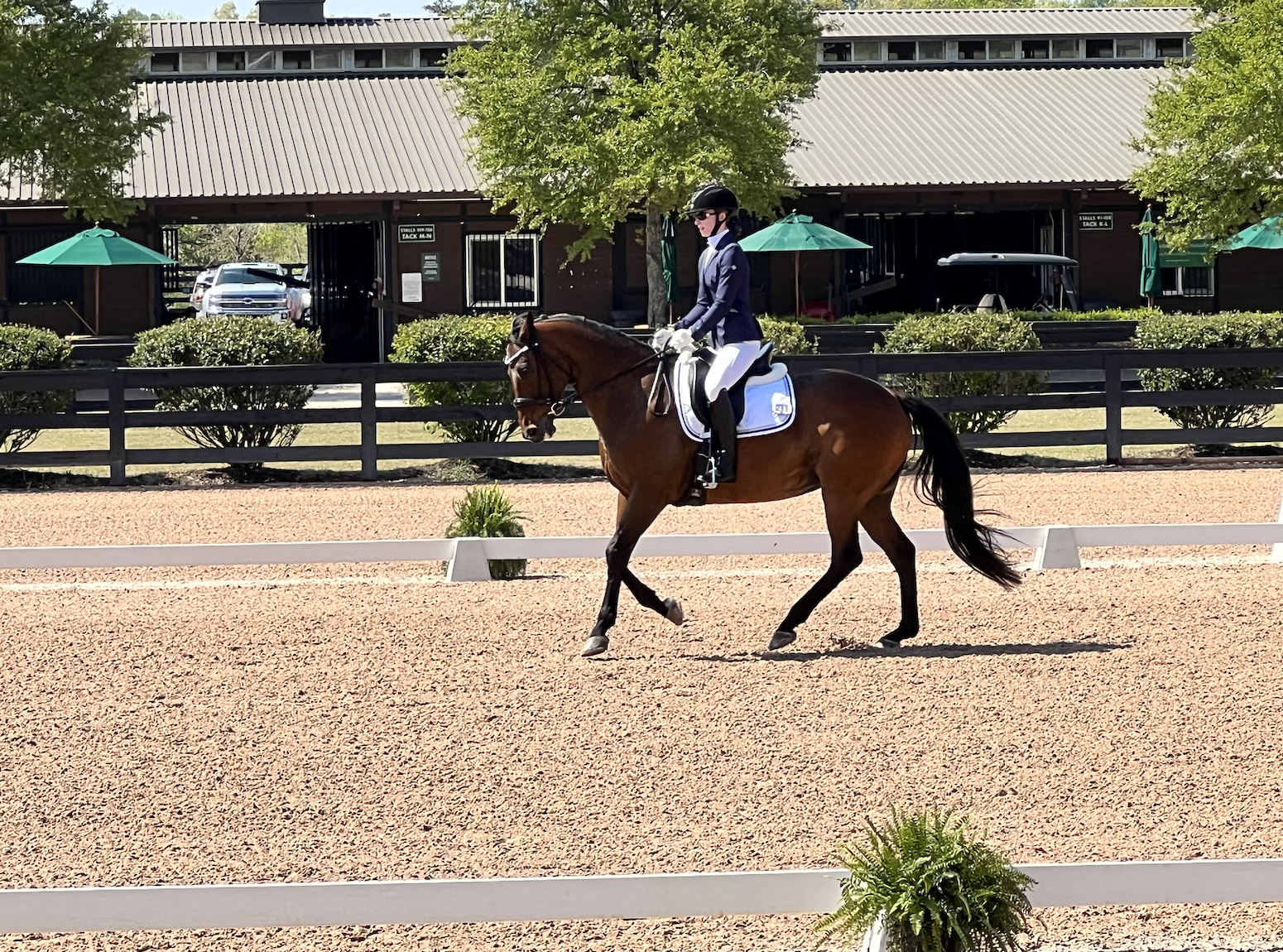 How was your show experience at TIEC?
We showed at the Tryon Spring Dressage I and it was amazing! It was organized so well and one of the best-run shows we've been to. I feel like we just knew where everything was. It was definitely the biggest facility we've been to, but it was so easy to get around. I feel like Maggie just flourished in the environment, and she loved the outdoor rings. She felt just like she did at home. It was just beautiful. It's so manicured with the mountains in the background. We plan to show Prix St. Georges soon in order to get our silver medal.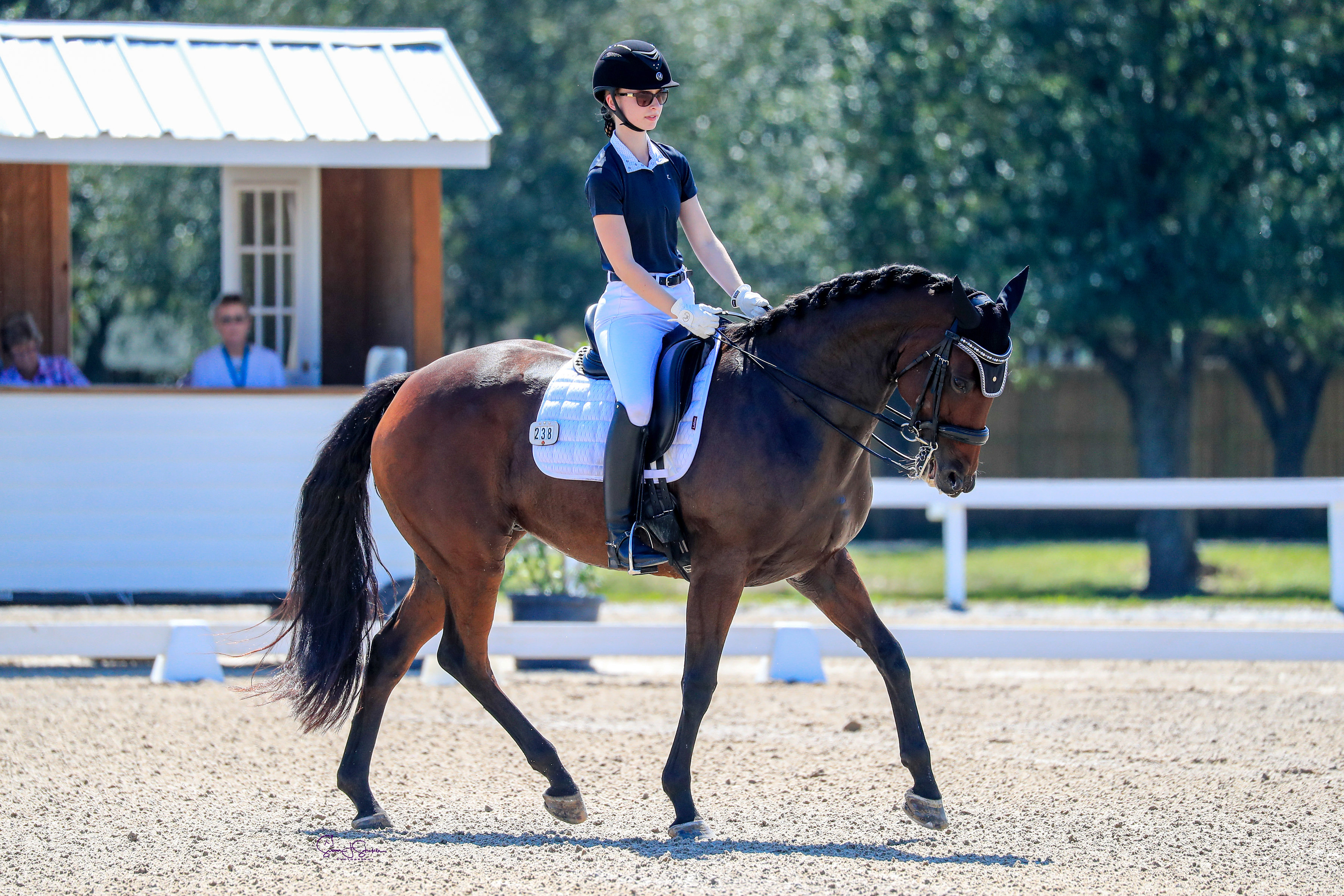 Congratulations on qualifying for the US Festival of Champions at Lamplight! How are you preparing, and what are you most looking forward to?
At this show, we'll be showing the Equitation Finals. For preparation, I try to make sure the way I ride is very effective and efficient, as well as quiet as possible and rewarding for the horse. I sit up and picture that I'm riding like Charlotte Dujardin or Laura Graves, and remind myself I can do anything that I want. Maggie can do it, too!
How do you balance school and riding?
I'm a junior in a public high school, which I've found is kind of rare [when riding and competing]. I've heard a lot of people do school online or private, but I do public. At times, it's really difficult to balance school and riding. I take AP classes and higher level honors courses that occasionally require a lot of homework. I just try to be diligent about my time and not waste much time. If I have free time at school, I do my homework. Then I come home and ride which I love because it takes my mind off of school. It's a nice break! I also think it's just about knowing your limits and knowing how much is too much. You don't want to spread yourself too thin, while also making sure that you challenge yourself. You just don't want it to be so overwhelming that you lose interest or passion in what you do.
What advice would you give to up-and-coming equestrian athletes?
Make sure you ride for the love of the horse and don't let anybody tell you differently. When something may not be going the right way, always try to find the good. There is good in everything that you do! No matter what anybody else thinks, your horse is always trying hard for you and you should always try hard for him or her.
Thank you for catching up with us, Samantha! We can't wait to see you shining in the TIEC rings again soon.