Meet this week's Rider Spotlight, Reagan Williams! The 13-year-old athlete out of Brookhaven, GA has been shining bright in the show rings at TIEC. Continue reading to hear about her background in the sport, get to know her horses, learn about her goals for the future, and more.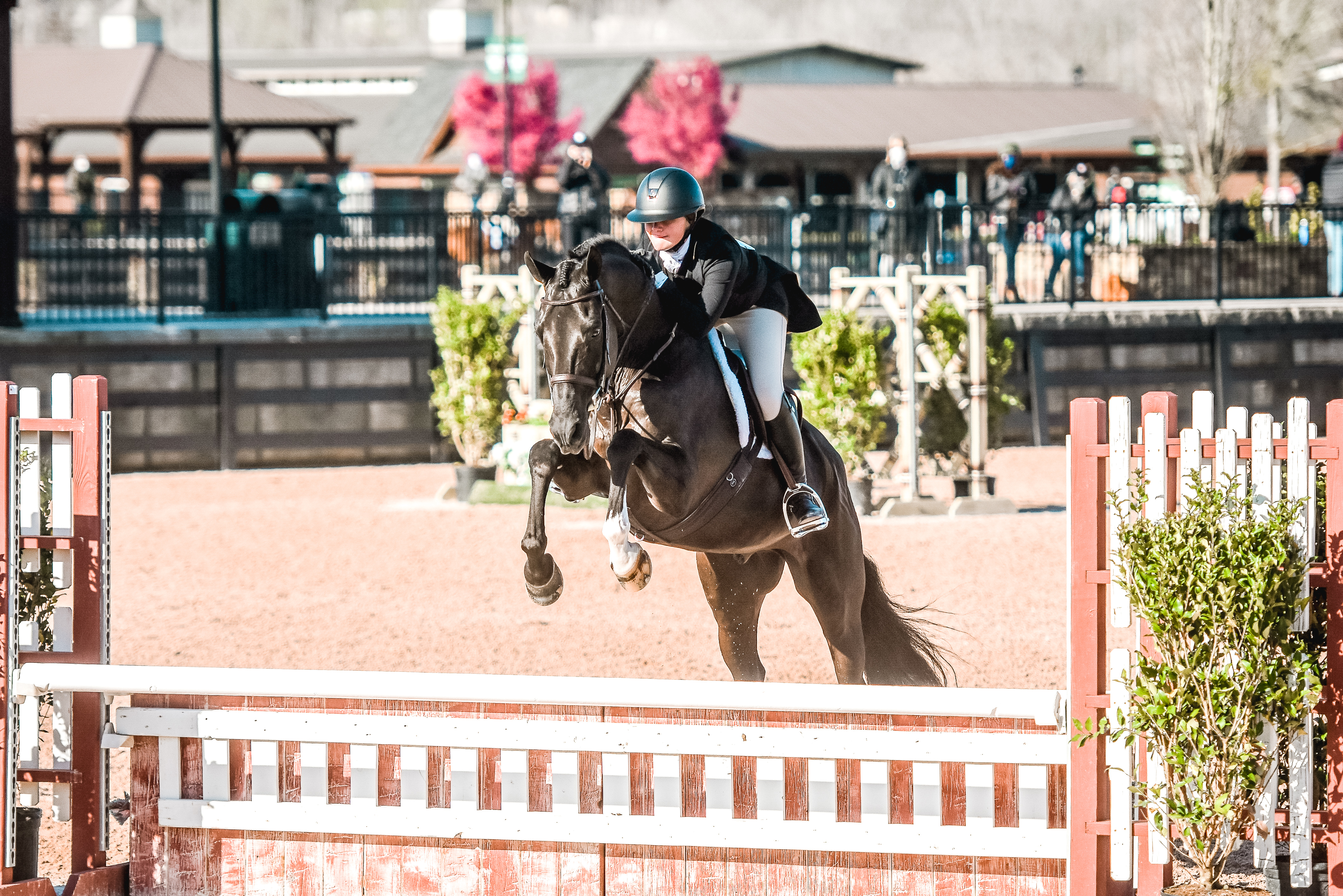 How did you get into the sport? 
When I was in first grade, one of my friends invited me to go to a riding camp with her. My mom also rode quarter horses when she was younger. I went to camp with my friend and ended up breaking my arm! I still wanted to keep riding, though. Two years after summer camp, I got my first small pony, Justamere Canary Diamond (Blossom). It was kind of funny how it worked out because I was still a really green rider and she was a really green pony, so it wasn't exactly the best fit, but she ended up teaching me a lot, and we went to Pony Finals together. As I started to get taller, I moved up to my large pony, Dressed Up (Bella). I was just riding her for my trainer at first and then we really connected. Once we got to our next couple of shows, we started to have some challenges. She wasn't green, but she was a different ride. It took a lot for me to get used to her. I was supposed to go to Pony Finals with her last year, but then it was canceled. She just sold actually a couple of weeks ago. In November, I moved to New Vintage Farm with [trainer] Julie Curtin and her assistant trainer Amy Barrett. 
Tell us about your horses!
I lease my jumper, Wildcard (Enzo), and he's probably my favorite. I know I really shouldn't have a favorite, but he's perfect! They've all taught me a lot, but the jumpers are newer to me, and I'm so excited for the rest of our year together! I also have Clapton who I do the 3'3″ Juniors on. He's also been my Derby horse. I actually did my first Derby on him a couple of weeks ago in Tryon. He's perfect! The third week [Tryon Spring 3] was probably my favorite because I got my highest score on him and there were a lot of professionals in it. He was my first horse. I'm doing the Juniors with him at the moment because my new Junior Hunter (Ice)  is off for a little bit, so he's just getting back and rehabbing. I showed him for the first time down in Florida when we did a half-circuit at WEF [Winter Equestrian Festival]. He's only been showing for about a year, so he's still green. We moved straight up to the 3'3" Juniors, which was big for me because it was only my third time in the Junior Hunters. He did super well! For how young he is, he's so good and really takes care of me.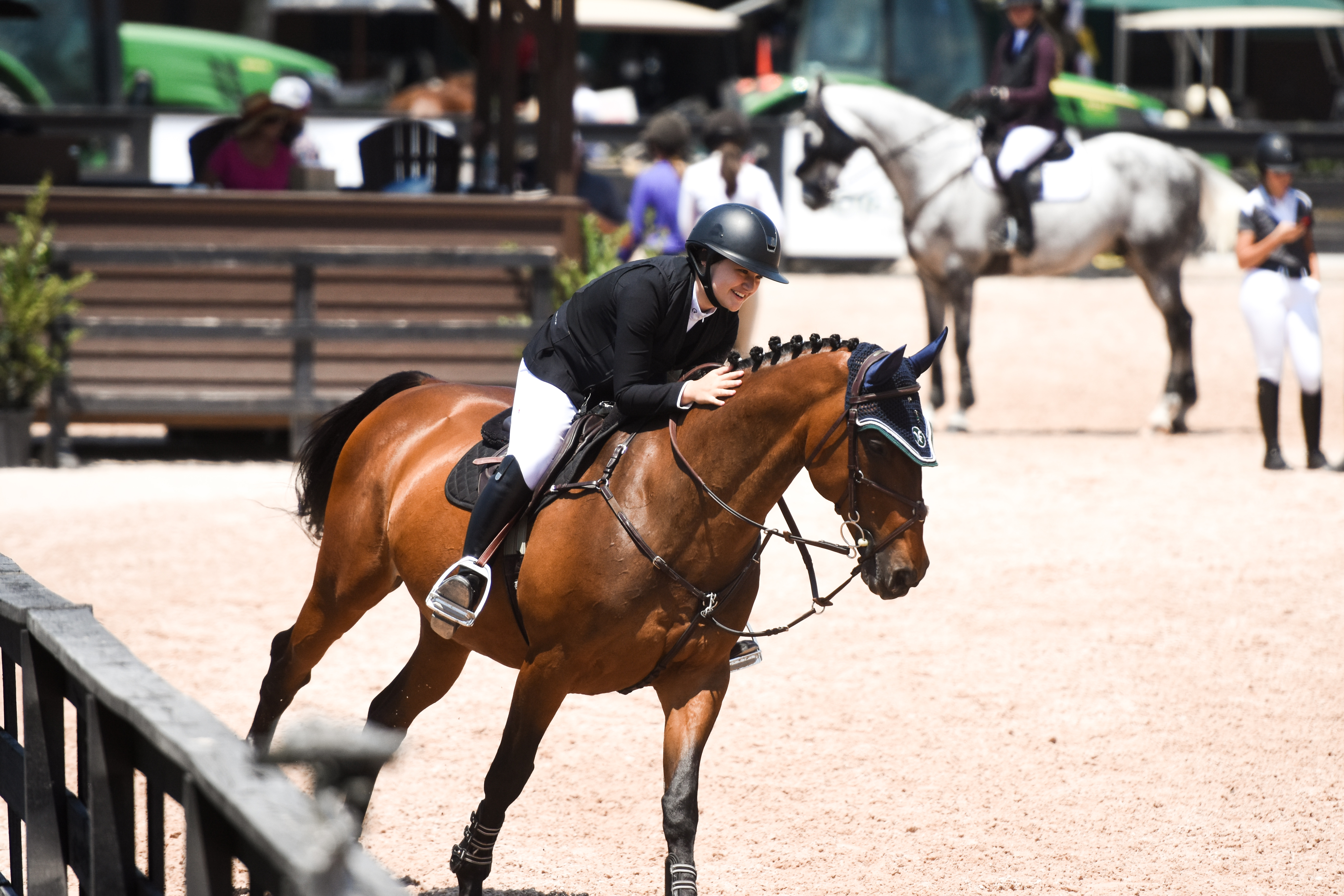 Which horse has had the biggest impact on you? 
I'd have to say Clapton. I've done pretty much everything with him. I ride him in the Juniors, Equitation, and Derbies. He's really adjustable. He saves me a lot and has taught me so much, so I definitely feel that he's made the biggest impact on me. 
Do you want to ride professionally one day?
I definitely think I'd want to. I'd want to have a few years as an amateur to see how I go and do what I want to do. I really enjoy riding, so I feel like just seeing where I get in the future would help me decide that.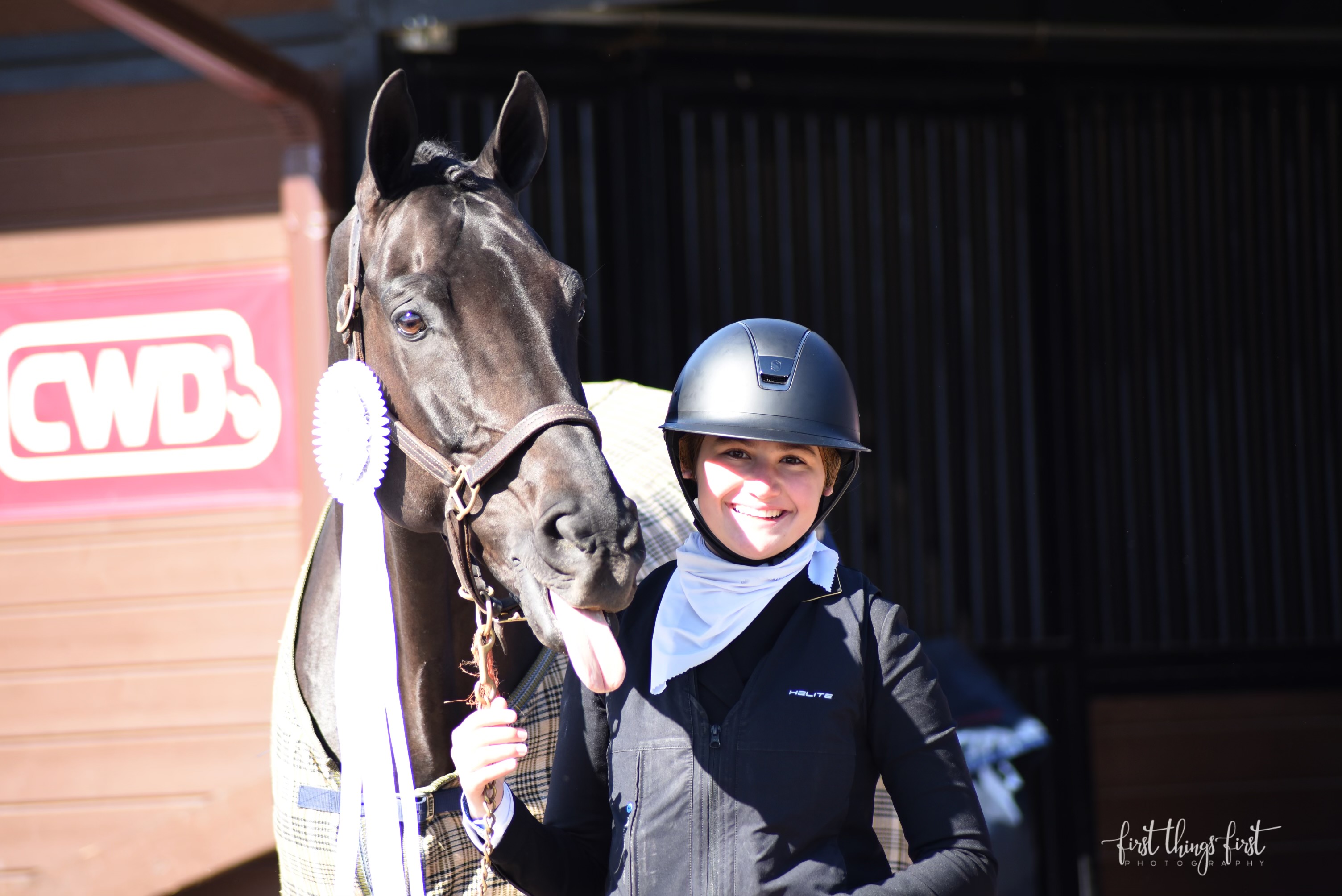 How do you balance school and riding? 
It's been an adjustment because I just moved to a new school. When we went to Florida, I was virtual for a little bit and it helped me a lot. I am going  to school which helps me balance my riding and academics. I know a lot of riders who do that. It's definitely going to be an adjustment, but I feel like I'll be able to work hard and keep my grades up and still be able to show on Fridays. My trainer, Julie Curtin and [assistant trainer] Amy Barrett also make sure my horses are ready for me to show!
What are your upcoming goals?
I want to continue to learn on all of my horses. I plan to go to Washington with Enzo, as well as go to Capital Challenge on Enzo, Clapton, and Ice. I am also looking forward to USHJA Zone Jumper Team Championships at Tryon this year on Enzo. This is my first year and I can't wait!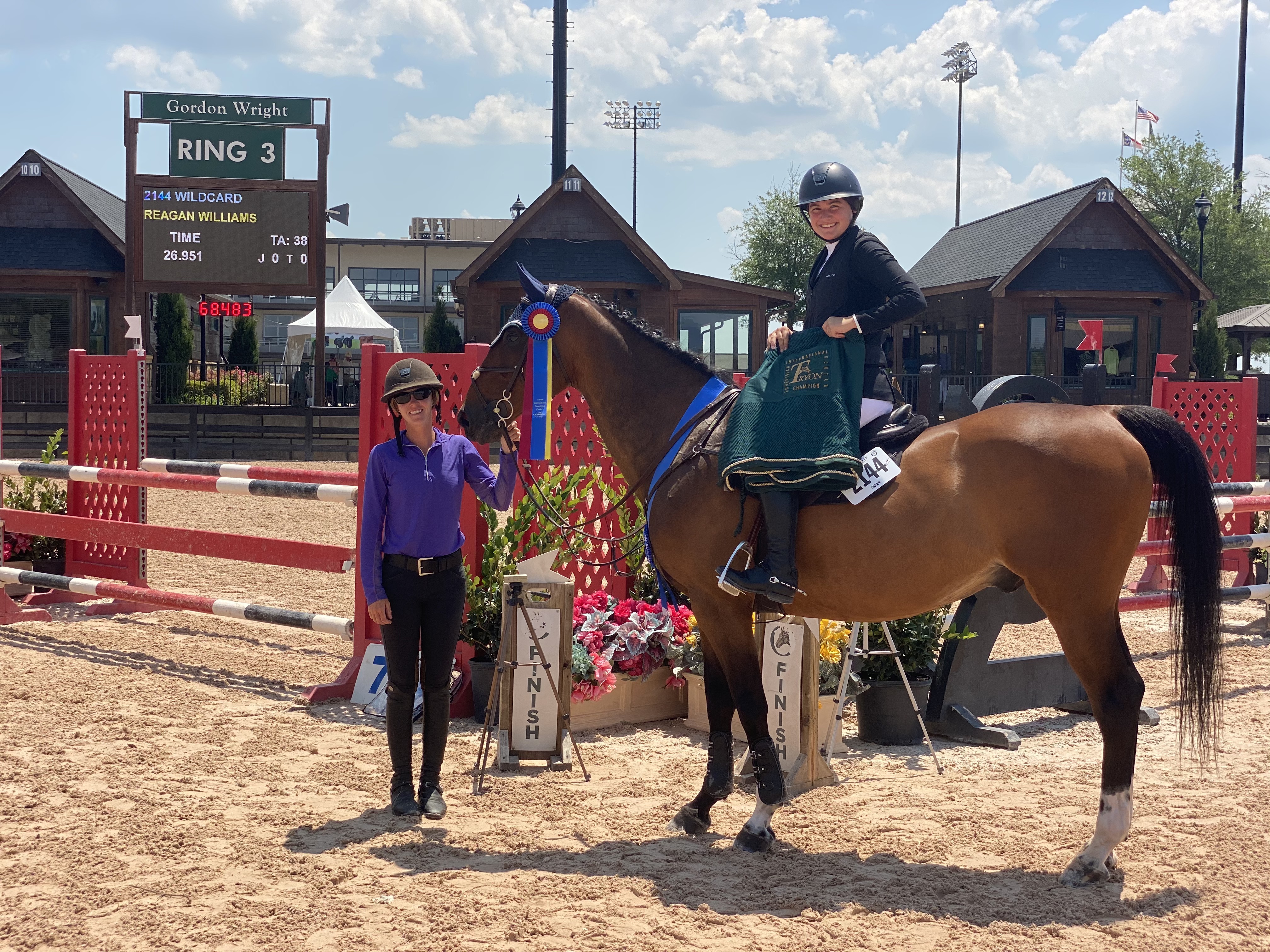 What do you like about showing at TIEC?
Tryon is definitely one of my favorite horse shows. I think I like it the most! I enjoy the food a lot and everything about the environment is awesome. The rings are really well taken care of and my horses like it there a lot. I love how everything is close together even though it's a big facility. I've shown there the most. I really like the people who show there and it's all run very well. 
What advice would you give to someone who's interested in equestrian sport?
I would say focus on having a good time and a bond with your horse. Even though it's fun to do well, it's better to have a great round than win. If you have a bad round with good parts to it, you should always be proud of yourself and your horse's progress.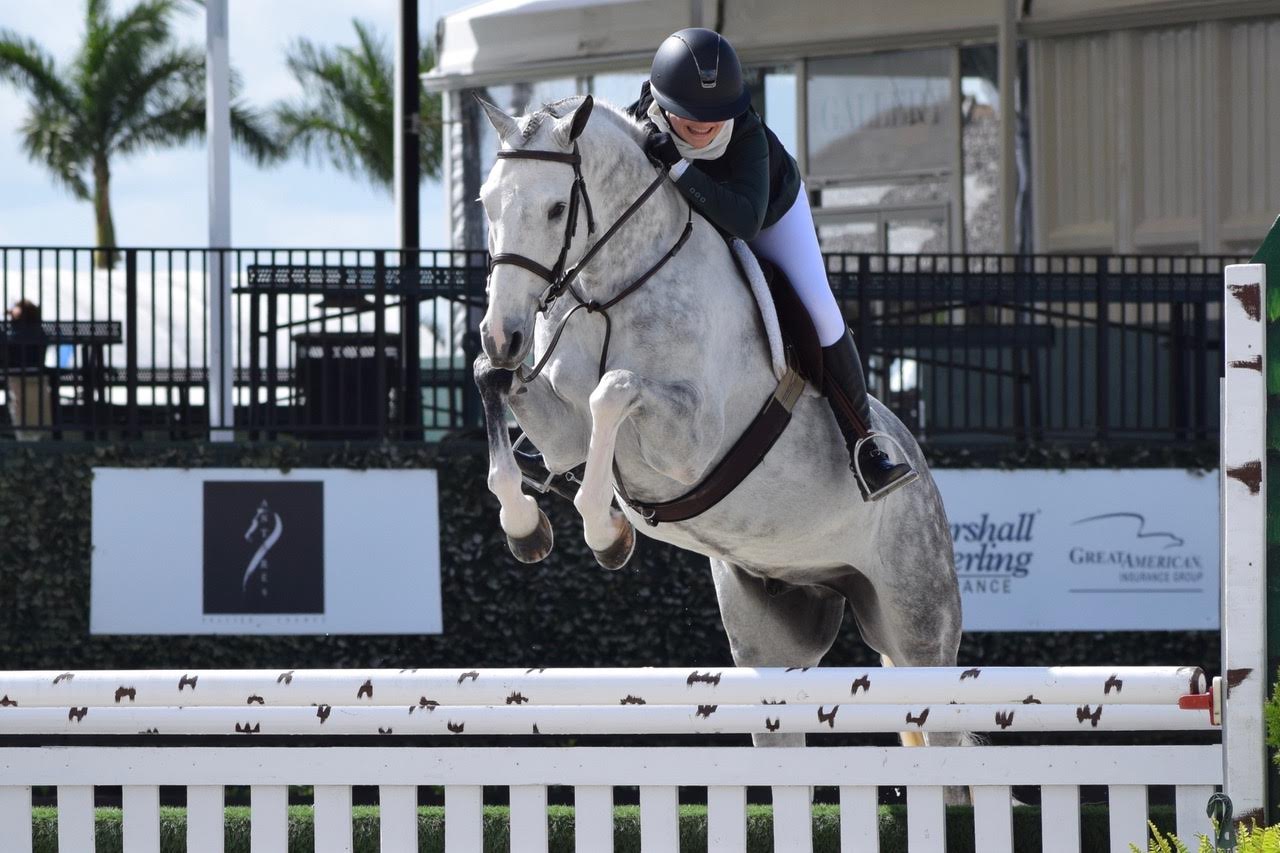 Thanks for chatting with us, Reagan! We can't wait to watch you and your horses continue to shine at TIEC.