Meet this week's Rider Spotlight, Nicole Ferrera! Hailing from Riverview, Florida, this Adult Amateur is making her mark in the Equitation and Jumper rings. Read more to learn about her horses, her resilience, and her love for TIEC.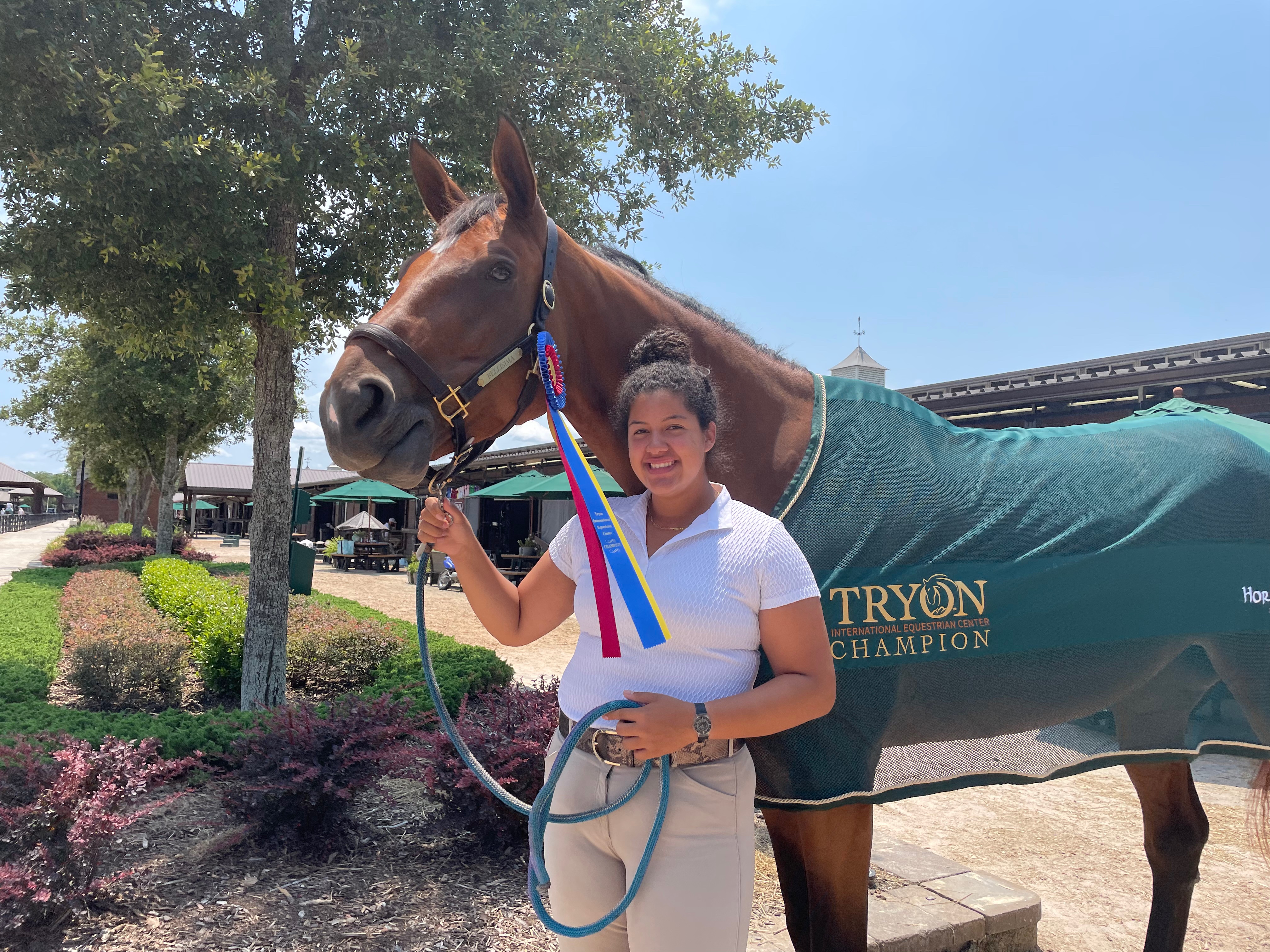 Tell us about your horse!
Currently, I own just one. Her barn name is Bella, and she's an eight-year-old RPSI Warmblood. She's great and she is the love of my life! I've had her for about a year and a half now and I do the 3' Adult Equitation and the .90 and 1.0m jumpers.
How did you get into the sport? 
As cheesy as it sounds, I really was born with a love of horses. Truly, before I could even speak, I saw a horse on the TV screen and I lost it. I absolutely loved them and I finally started taking lessons when I was four years old and started jumping when I was six.
How do you balance school and riding on your IHSA team?
It's definitely difficult! I'm the president of the University of South Florida team. Time management is key and also asking for help when you need it. I'm majoring in Biomedical Sciences and minoring in Spanish.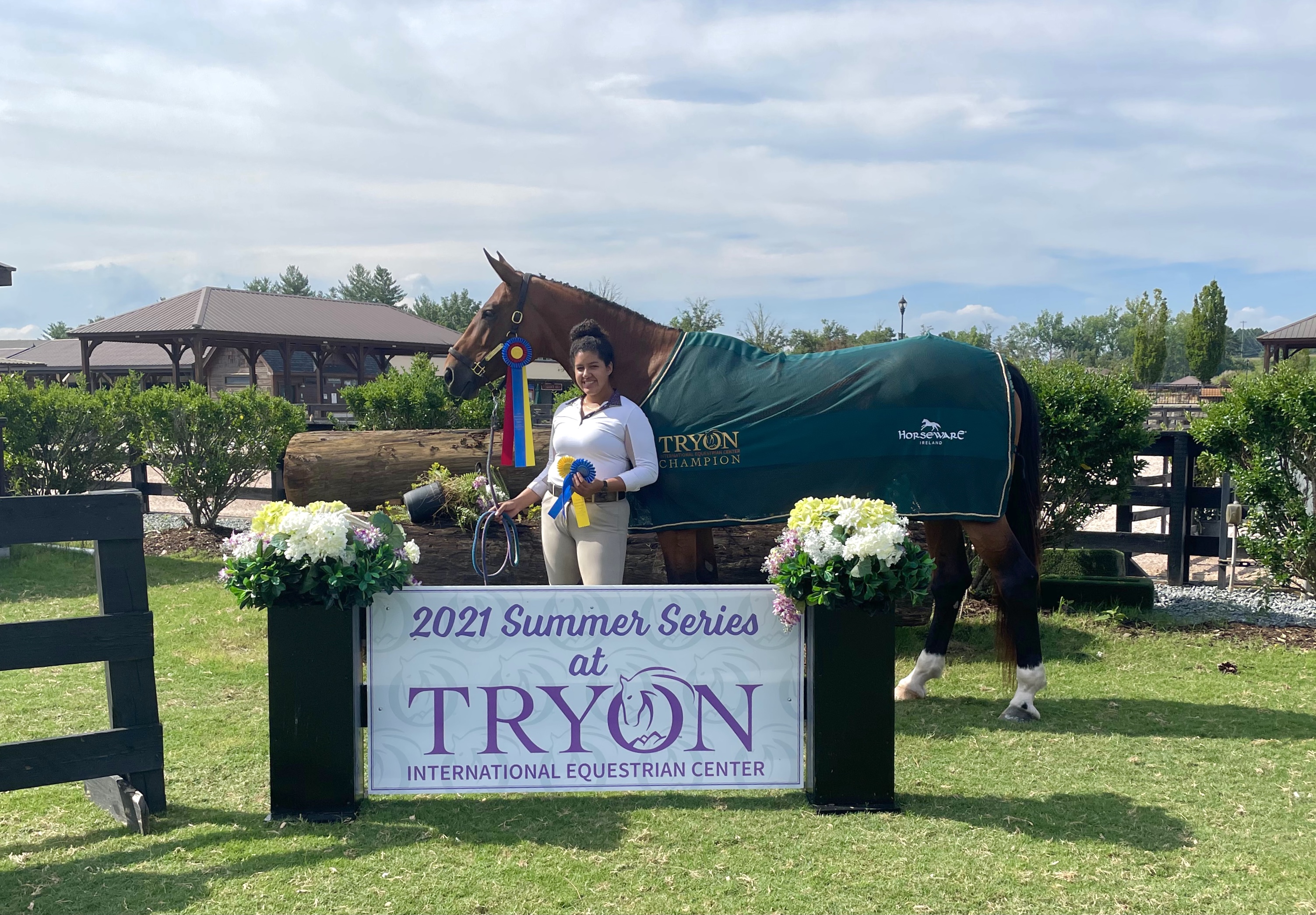 What are your goals for your riding career?
Competing at TIEC was actually one of my goals, which was an absolute dream come true! I did qualify for the National Horse Show Adult Equitation Medal Final, and my goal for that is definitely just to be consistent. Last year was a little rough because it was my first time ever at a final, so that's just a big goal for me. I'd like to be consistent at my riding and eventually move up in the jumpers.
Is there any advice you would give to someone who wants to start riding?
Definitely never give up and always keep your head up! I personally had the longest road, I feel like, when it came to this sport. I was always told when I was younger that I did not have the body for the equitation, nor did I have the horse. I really didn't, honestly, with the standards that were in place back then. Now that I do have my new horse and the standards of the equitation have changed, it's definitely way better! I would just recommend to everyone not to give up.
What was your favorite part about showing at TIEC?
I have been obsessed with TIEC since I was 14. Like, ever since I found out it was being built, I was obsessed! I was able to come when I was 18. This is my third time ever coming to Tryon, but the first time I was able to take my own horse. The other time I've leased horses, so this time was absolutely incredible. Before I came to TIEC, I was competing at the World Equestrian Center in Ocala. As gorgeous and amazing as that venue was, my show experience was absolutely horrible! My horse and I were not clicking and I fell off twice. I completely lost my confidence, and my horse lost her confidence as well. Coming to TIEC and proving all of it back to myself and her really made the experience 10 times more incredible. Honestly, TIEC has always been the venue that I've been most obsessed with! With the setup and the way the shows are run, everything is so organized and beautiful. I also love Saturday Night Lights! If anyone has the opportunity to show at TIEC, take it, for sure. I waited four years for that opportunity and it was 110% worth it. It's spectacular and leaves me speechless!
Thanks so much for taking the time to talk to us, Nicole! We can't wait to see you at TIEC again soon.