Say hello to Michael Britt-Leon, our next rider spotlight! This talented Hunter athlete joined us at TIEC during the Tryon Fall Series, so we were thrilled to catch up with him. With multiple National and International Derby wins, Horse of the Year titles, and a talented string of horses and students, Michael and his partner in crime, Kelly Sims, have made quite the splash in the Hunter side of the equestrian world. Michael was also featured in our Behind the Barn Series Presented by MD Barnmaster, where we heard about his barn essentials, favorite barn memories, ideal barn design, and how he creates a home away from home at horse shows. Continue reading to hear about his background in the sport, how his year has been so far, what he has coming up, and more!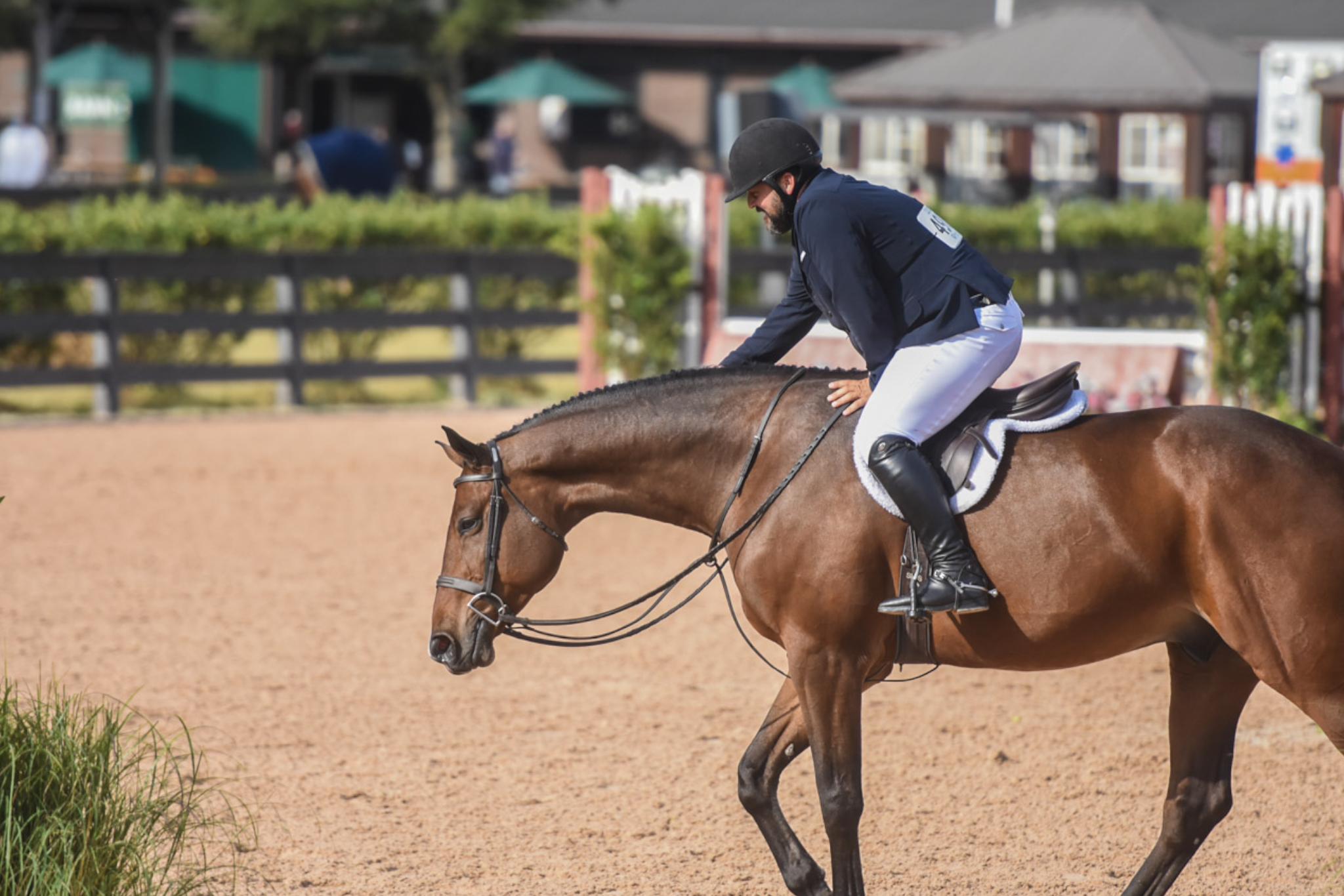 What sparked your interest in equestrian sport?
I moved to California when I was seven years old. I was playing baseball and there were three little girls on my team who were going to riding lessons every Saturday. I wanted to hang out with them, so I told my dad that I didn't want to play baseball anymore and wanted to go ride. I was petrified [about riding] at first, but I wanted to hang out with my new friends, so I went every Saturday for a month. I was hooked after that. I rode Western when I started, and fell in love with the horses. I had a really wonderful, patient and sweet lady who led the riding program. I stayed with that program and ended up doing the Ponies, Children's Hunters, and just worked my way through the ranks of southern California, starting at the local level then going up to A shows. I'm very competitive and I loved that side of it, so what started as a social thing became a very big passion of mine. I kept going through the ranks my junior year then later became professional, and here I am now!
It was an odd thing, though, because nobody in my family rode. My parents definitely didn't expect me to become an equestrian. I have the most incredible, supportive and loving parents. They've supported my brother, my sister and myself with all of our dreams and goals. We're very different kids, but they've supported us on our own journeys. It's incredible. Especially since riding is such an elite sport. You really have to not only have the passion and determination, but a financial backing. We didn't have a lot growing up. My parents came here from Cuba and had absolutely nothing, so they're completely self-made. For them to do what they did and be able to support us was a really big deal. They paid for my lessons and my horse that I had, but for the majority of it, I got a lot of ride time through being a working student. I'd go to the barn, go to school, and then come back to the barn. I worked very hard so I could have those opportunities and learn as much as I could. Back then, we'd groom all of our horses, take care of them, take care of our trainer's stuff, and I'd ride ten to twelve horses a day. I learned a lot just by going through that and getting all of those rides!
What's been a major highlight for you over the years?
The biggest highlight would be my most recent win at Capital Challenge. I've only been a few times, and this one was definitely special. I knew that I was going in with a really good group of horses. My best friend, Kelly, owns the majority of horses that I ride. Like me, she's very particular about what we like, and she's backed me with great mounts to compete on. I knew I was going in with some real winners. Obviously, it's nerve wracking because everybody has real winners there. We're all great riders with great horses, so it's anybody's game at that level. You really have to ride the best and hope your horse is there for you. It was a huge accomplishment! Somebody asked me whether I knew I was going to come out with that prize, and I said, 'Do we ever know we're walking in as the winner?' I think we go in hopeful and feeling prepared and confident, but at that level, you have really good riders, so you just hope that your style will get the job done. I'm very competitive, so every time I go in the ring, I ride for the prize. When you work as hard as I have and do, these kinds of accomplishments are huge. At the end of the day, this is an individual sport and you're working with your horse. The fact that these massive animals go around and jump these courses with their ears forward and they're happy to do their job still amazes me. I still get just as happy now going to the barn as I did as a kid. I'm getting to live my dream. It's been an exciting ride for sure!
Which horse has made the biggest impact on you?
I've had a lot of great and talented horses. I've been fortunate to be able to develop quality horses for either customers or myself. I'd say Private I is probably the most special in the way that we really understand each other. He always tries so hard for me every time I go in the ring. I love teaching as much as I love riding, and he goes in the Amateur Owner ring for his mom, Kelly Sims, and puts in the same effort. When I ride him, he's very, 'Let's go get it!' When Kelly rides him, he's very soft. He gives her a great jump, but doesn't jump so hard that she has to really hang on. He knows his rider and is very intelligent. How many horses are winners in the Professionals and the Amateurs? That's a big one. My horse of a lifetime is older now and retired at home. I won International Derbies on him, and I called him my avatar. I'd sit on him and we'd plug into each other. He has a great life at home now, Windsor Stables, with big beautiful pastures. He gets to be out grazing all day and I still ride him a bit. My husband, who doesn't ride, has come out and taken lessons on him. He's been able to canter and jump little jumps. I've had several horses win Horse of the Year titles, so it's hard to choose just one. All of them have been so special in their own way. We really learn so much from our horses. Whether it's a four-year-old who's green broke, a twelve-year-old Equitation horse, or a horse like Private I who's an eight-year-old jumping an International Derby, they all have so many lessons to teach us. They're just like people. It's hard to choose one, but if I had to, I would definitely say Private I. He's put me on top of the world!
Which horses did you bring with you?
Private I is here and Bacchus, who's another one of Kelly Sims' horses. He's another one I do the 3'9 classes on. Private I is leading in the country for the 3'9 and Bacchus is second, so that's pretty cool. I have True Enough who's another one of Kelly's, and he's leading in the country in the Confirmation. I have Downtown, who's owned by Kelly and does the 3'6 Greens and 3'6 Confirmation. I have Dreamgirl's Legacy which is one of my Amateur Owner's horses. Madison Orr owns him and does the Amateur Owners with him. I have three Equitation horses, Eleese Shillingford's Odyssey, Arden Stromnes' Counselor, and Kate Marie Davis on Gallardo.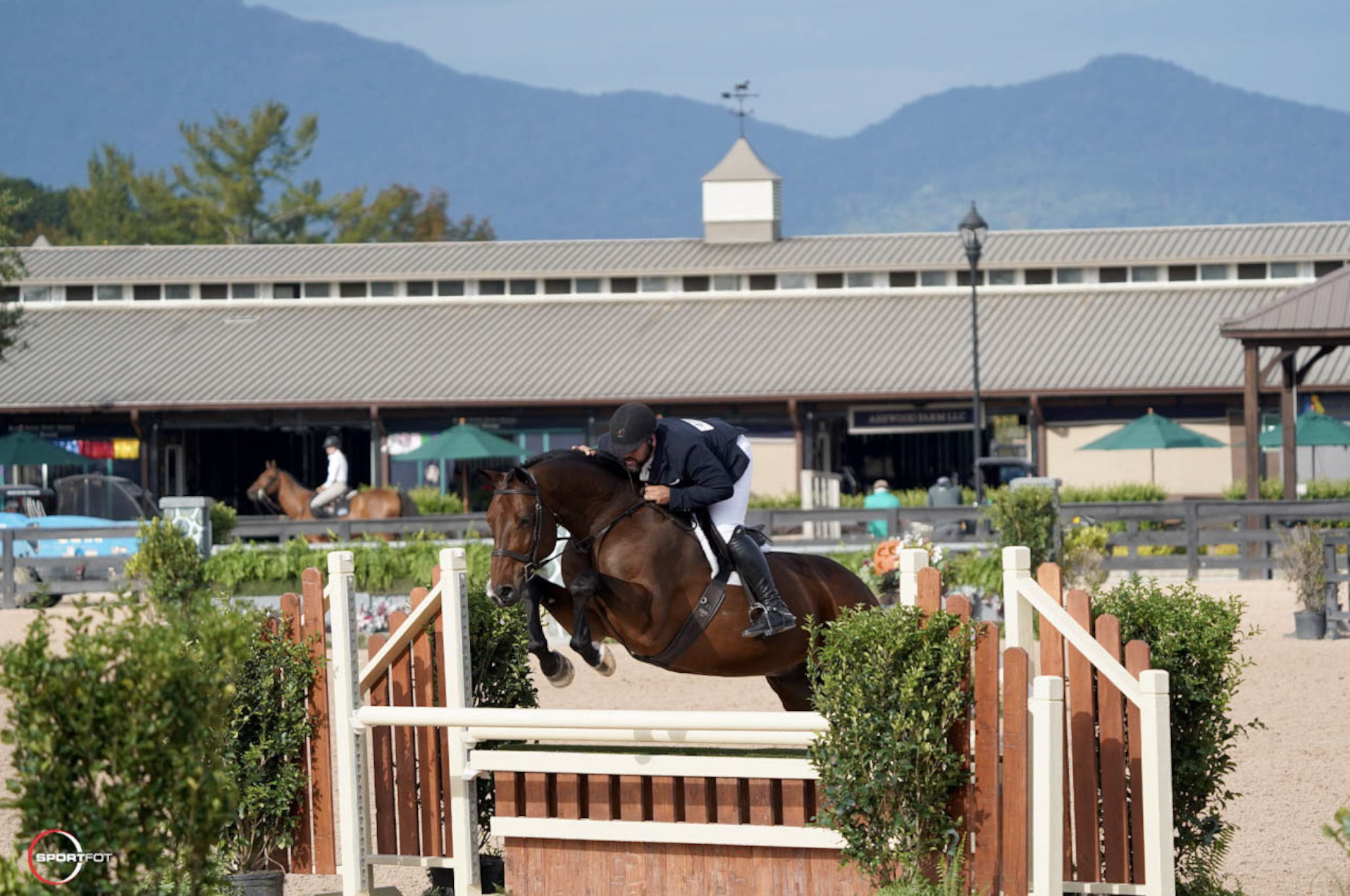 How has your experience been at TIEC?
We love coming to Tryon! The grounds are magnificent, and they clearly care about the competitors. They're so welcoming. There are all of these shaded areas and fans in the summer. The covered ring is perfect for when it's raining. I love that they have all of the shops and restaurants right here. It's a full community. We stay in the cabins, which are beautiful! I'm kind of famous for checking on my horses in the middle of the night, so I like to be able jump in the golf cart and come up to the barn from the cabins. It's been great. I moved from California four years ago, and really spent the first two years traveling the East and Southeast Coast figuring out which venues I wanted to take my business to. When we came to Tryon, we decided this is definitely somewhere we wanted to be. 
How has your show season been so far?
2020 has been tricky. The pandemic has been life-changing and very difficult honestly. It's changed a lot of what we do. It's been scary and hard, but I try to find the positive and good in everything. I got married a year and a half ago, and I normally travel a lot. We're gone at least two weeks out of every month, so the benefit for me was spending a lot of time with my husband. We bought a 1920s farmhouse and completely renovated it, so being able to spend time on our property in the new house has been great. I got to spend a lot of time at the barn with our horses. We didn't know when we'd be able to get back to competing, so we spent a lot of time at home schooling and practicing as much as we could. I love teaching, and got to teach a lot and stay connected with our barn family. That was really nice. Getting to have that bit of a break was great. It was hard on the business, but with everybody at our farm, they really picked up where they needed to to keep things going as they should. It was hard, but we got through it!
What are your plans moving forward?
We love to compete and we're always growing. As far as goals, we're just trying to keep being the best we can be and push ourselves to the next level. We're going to WEF [Winter Equestrian Festival] this winter, which we haven't done before. That'll be pretty exciting as it's something new for us. I have a really great group Juniors and Amateurs who are just the most incredible people to travel with. They're all very talented, too!
What is your favorite barn memory?
This is going to sound super cheesy, but every morning when I drive into the barn, all of our horses are out on their grass pasture. They're either over the fence and grooming each other or just grazing, and there is a peace and calm to that that makes my heart smile every time I drive in. Just watching them out in their natural state whether they're playing and bucking or relaxing and sunbathing, it's so peaceful to me. As far as being in the barn, I spend almost all day with Kelly. We have more fun everyday than I think any other pair of people do. We laugh and do goofy stuff all day. We have the best time riding at the farm. I think those are my moments. This business puts so much on you, we put so much pressure on each other, and we're always trying to be the absolute best, but with Kelly at the farm, I always remember why we do it. There's so much joy and happiness that I don't think everyone gets!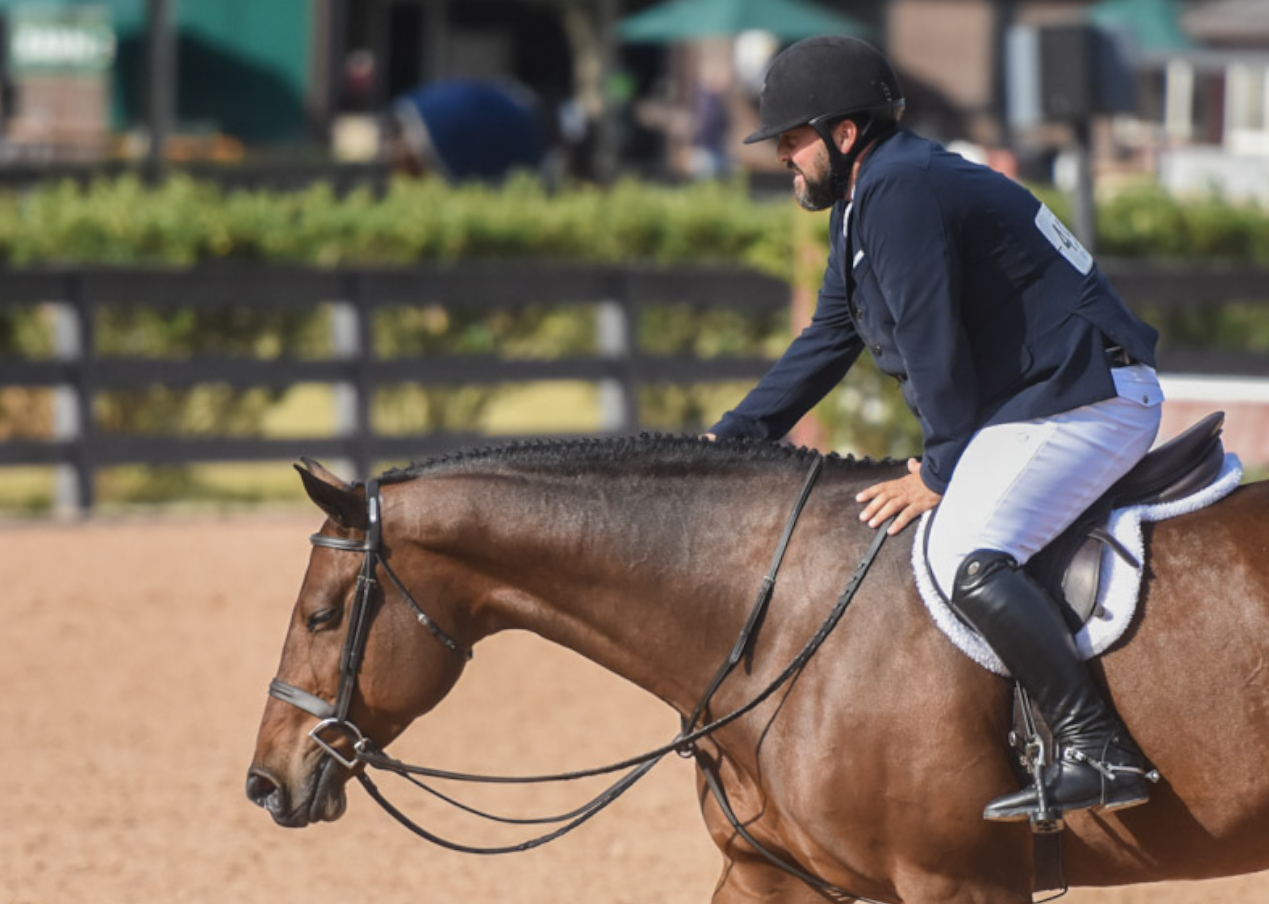 What are your top three barn essentials?
I would say a metal curry comb because it keeps the horses shiny, and pine sol because they water down my barn aisle and spray pine sol so it smells clean everyday. Lastly, I'd say either a tractor because I'm crazy about the footing, or our barn mats. We have mats that run down the aisle and in their stalls. Horses' feet are so important, so the more cushion they can have the better.
What is most important in a barn design?
Airflow! We keep our horses inside even though they're supposed to be outside, so having light and airflow is crucial.
How do you create a home away from home?
That's easy! I have an incredible setup at the barn. As far as when we're gone, I try to set up our barn with our tent, curtains, couches, chairs, and everything so all of our Windsor team has a place to sit and be together. Everybody is very supportive and comes to the ring for each other. We very much have a family environment. I like to have that feeling at the barn where our horses are. That's how I make our home away from home. 
Thank you for chatting with us, Michael! We can't wait to welcome you and your team back to TIEC.