Margie Engle is the next athlete to step under our rider spotlight! With a striking list of international accomplishments both in and out of the show ring, this iconic athlete needs no introduction. Margie and her students joined us during the 2020 Tryon Fall Series, so we were thrilled to catch up with her and hear about her inspiring background in the sport, how her season has been so far, her ideas about how we grow equestrian sport, and more. Continue reading to learn more!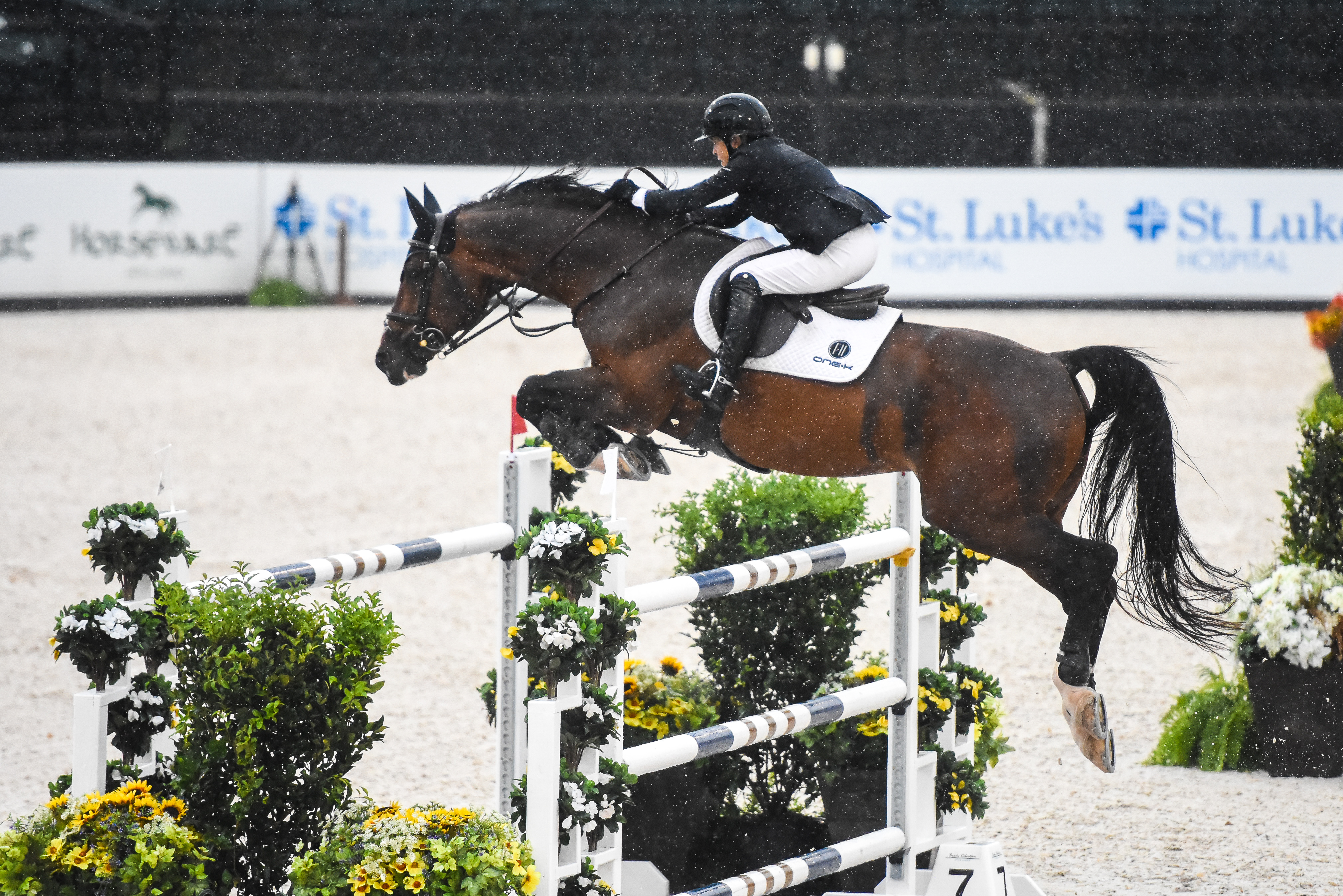 Which horses did you bring with you to TIEC?
I only put Dicas in for the FEI this week. I've tried to alternate. I have Aston [Aston Des Etisses] here for the FEI, and Royce is going to go next week. Both Aston and a horse named 'Cesna M' are only eight years old. He was clean in the Qualifier last week, and did his first 1.50m FEI class last week. It was tough here with a hundred-and-something horses, but he was clean! He earned this week off, and he'll show next week. Royce has this week off and will do the four-star next week.
How's your experience been at TIEC so far?
It's been gorgeous. The weather couldn't be any better this week! The facility looks great. I have to say, even with all of the rain last week, the footing held up. When I went into the Grand Prix, it was pouring. The rain was coming down sideways, but the footing held up great. Whatever they did to the ring, it seems to be working well! 
Did you bring any students with you?
I did. I have one that did the Zones last week, and she did very well for her first Championship. She just started doing the Mediums earlier this year. I have some other students here, as well as some young horses who I'm bringing along. We have plenty to keep us busy!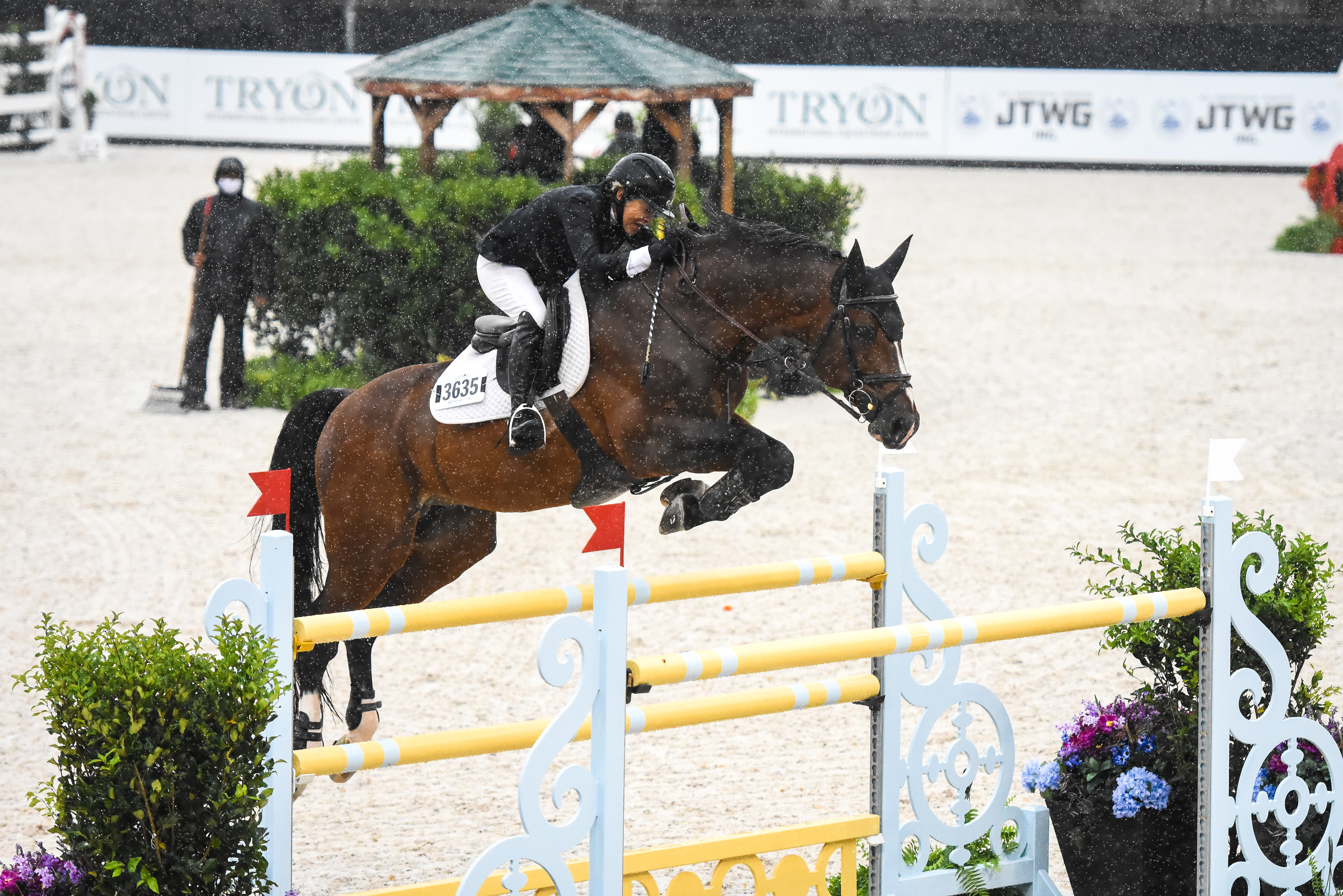 How did you get started in equestrian sport?
I had a strange start as nobody in my family rides. My parents are way more academic. My mother was a school teacher to start, and then she ended up being a principal. My father was a CPA. When I was younger, I loved sports and animals, so it [equestrian sport] seemed like a great combination of the two. My best friend, Andrea, from third grade was riding at Gladewinds Farm. They had a riding school, boarding, and a dog and cat kennel, too. I went out with her, and I just fell in love with the horses. I begged my parents everyday for lessons! Luckily, the farm had a dog and a cat kennel, so I worked there in exchange for lessons. It took me a long time to convince my parents that it was okay to ride because of my size, and I was a bit of a daredevil. They weren't really that happy with me going into something that they were afraid would hurt me. They thought, when they had a daughter, that I'd like to do more girly things, but I was a bit of a tomboy! From the first time I saw the horses, I just fell in love with them. I would beg to take them out for grass and to brush them. I came home one day and my parents were laughing because I told them they let me clean the stalls, rather than do the dog and cat kennels. I don't know if you've ever worked in a dog kennel, but it is not pleasant! It was fun taking the dogs for walks, but the kennels were messy.
My parents both worked, so I had to find a way to the barn back and forth. I would carpool, but if that didn't work, I'd find out the bus schedule, ride to the bus stop, then walk the rest of the mile to the barn. I got a job when I was young, and they saw how driven I was and how much I wanted to do it, so they ended up hiring me to break the young ponies and horses there because of my size. I'd fallen off plenty of times, so they knew I didn't seem to mind it! They got me to show some of their sales horses and ponies. Where there's a will, there's a way!
I think that the harder something is for you to do, the more you appreciate it when you're able to do it. I was thrilled. I didn't care what they gave me to ride. They could've given me a donkey and I would've been happy! The Kramers [Gladewinds Farm owners] always teased me about that. Any time the school horses were bad, they said, 'Most kids wouldn't ride that one, but you got excited for the challenge!' 
What's been a highlight for you over the years?
Honestly, just being able to do this as a profession and ride everyday. It was so foreign to my parents for me to even be able to ride as it's thought of as an elite sport. It seemed unattainable. I always wanted to do the Grand Prix classes, but I was always told I'd never be able to make it. Just being able to be competitive at the Grand Prix level is amazing to me. I always wanted to be able to ride. When I first started in South Florida, I rode anywhere between 60 and 75 rounds a day. I did a lot of catch rides, especially in the Hunters. I rode for a lot of different professionals. When you're starting, you kind of have to ride anything and everything that someone gives you. For me, it was a challenge. The worse they were, the more I wanted to ride them. It helps you get into their head the more you're around them and the more you learn about them. I think after being around so many different types, you develop a horse sense. I have to say, I liked it back then, but now it just makes me appreciate the good ones even more. I don't think I'd want to ride most of those at this point!
Of course, there are big career highlights, but for me, it's just being able to compete at the top level, traveling all around the world, and meeting different people. It's always something new! It was a lot of fun when we went to the Olympics to watch all of the other sports and just get to be there. This sport takes you a lot of places that I probably wouldn't have been able to go otherwise. 
How was your quarantine experience?
I think horse people in general learn to roll with the punches. I honestly feel very fortunate. We haven't changed that much from what we normally do. I did plan on going to Europe, so that changed. When we were stuck at home, I actually enjoyed it. I got to spend more quality time with the horses at home. My husband, who probably hadn't ridden since almost 20 years ago, got to go trail riding with me. He couldn't go to work, so we'd go on trail rides in the morning. He's a vet, but it was only for emergencies. I was still able to go to the barn and ride, so I didn't have to stop doing what I loved. I got to spend a lot of time with the horses that I normally don't. I have a really cute baby who I'm obsessed with, and she became my puppy dog. I can call her and she'll come running up without even wanting a carrot. She just wants scratches! I got to do a lot more with the young ones, like Aston and Cesna, who are here. I kind of enjoyed not having to go to a horse show every week and have some downtime. I think it was good for the horses. It wasn't the worst thing in the world, and made us look forward to showing once we were able to. We have to wear a mask and social distance, but it's a small price to pay compared to the rest of the world. It's different, but you can't do anything about it, so you can choose to be unhappy or embrace it and enjoy the parts that you can!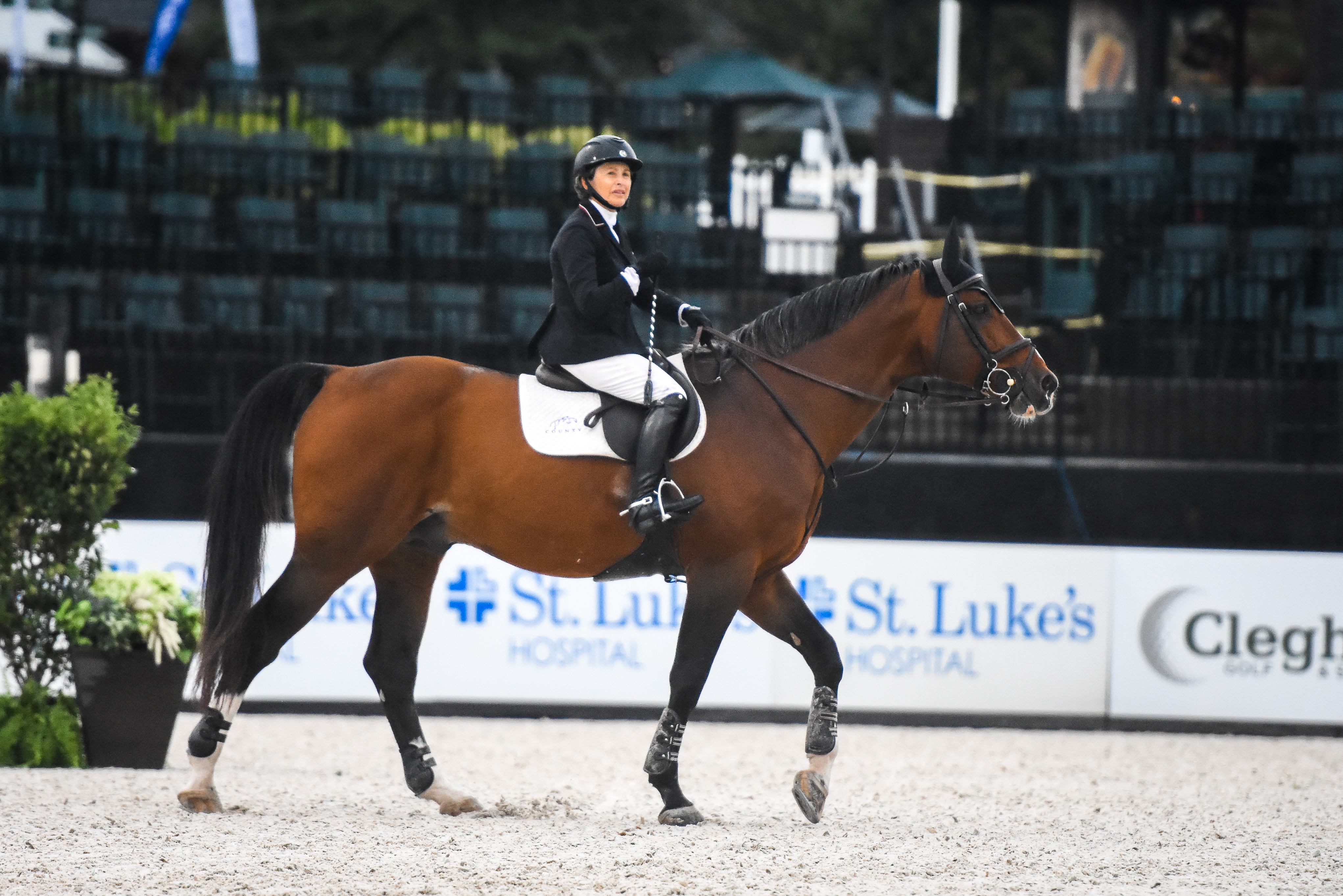 How has your 2020 competition season been so far?
We haven't really missed much. We went to Michigan for three months and rented a house. The weather was beautiful there. It's probably one of the few areas that's actually cool in July and August. I left Dicas and Royce down in Wellington because I was still a little worried that the shows would get shut down, so I brought a lot of the young horses and some clients. For the clients that didn't want to come, I had people help them in Wellington do some of the ESP shows down there. They were very well run, and David [Burton] did a great job. After that, I went to Split Rock for a couple of weeks. I tried to stay in one place at a time, so we didn't have to go from hotel to hotel. My husband and I drove from Wellington all the way up to Michigan in one shot, which I hadn't done in years! I used to drive the truck and trailer all of the time, but that was quite a few years ago. I was glad we did it, though, so we didn't have to take the risk of staying in a bunch of different hotels all the time. After we're done here, we'll do Kentucky, and then back to Wellington! It'll be nice to be home.
How would your horses describe you?
I think they just see me as someone to give them treats! 
In your opinion, how do we grow equestrian sport?
I think you have to make it accessible to people of all different levels. It's funny, someone asked me the other day if I thought I could make it nowadays in the sport like I was able to do when I started. I told them that I'm not really sure. I don't know that there are many places now like where I started. I was fortunate that the Kramers saw how driven I was, and it was a situation where they had a riding school and a dog and cat kennel. They saw how badly I wanted it, and they gave me a lot of opportunities. It helped them, too, with me breaking the young horses. I knew from an early age that they were always for sale, but that gave me a leg up. I never owned any part of my own horse until I was probably 25. I bought part of Daydream, but probably only one hoof! I put everything I had into him. He was the first Grand Prix horse who I was able to hold onto for any length of time.
You have to make it accessible and give people opportunities who are willing to work hard. I actually leave most of my young horses over in Europe because it's so expensive to show here. You have to make it more affordable, then you'd have an opportunity for people who wanted to start out with young horses. I don't have all of the answers, but it does have to be accessible to more people. I truly believe, though, that where there's a will there's a way. When I started, I didn't make money for a long time. I worked in exchange for getting to ride more horses. Since you can't pay junior riders, the Kramers bought me my first saddle, and they'd give me their daughter's hand-me-down riding clothes. You weren't supposed to pay juniors, so I got things instead for it, which I was very appreciative of. I don't know how many people like that are around nowadays. I'd like to hope that there are people who give more opportunities.
Thank you for chatting with us, Margie! Best of luck on the rest of your 2020 show season, and we can't wait to welcome you back to TIEC in 2021.