What is it like to compete under the lights for the first time? Meet Genevieve Edwards, our next rider spotlight, who just placed fifth in her first evening Grand Prix ever at TIEC's Tryon Stadium. From designing the interiors of jets to owning her own show barn, the journey to Tryon Stadium was ten years in the making. Following an eight-year hiatus from the sport, Genevieve opened Echelon Sporthorses. Although without financial backers, she was determined to achieve her dreams of becoming a Grand Prix rider. We caught up with Genevieve, who proves that hard work and true grit can get you to the top, to learn more about this dream coming to fruition with her Belgian Warmblood, Ocho, in the $30,000 Tryon Resort Grand Prix.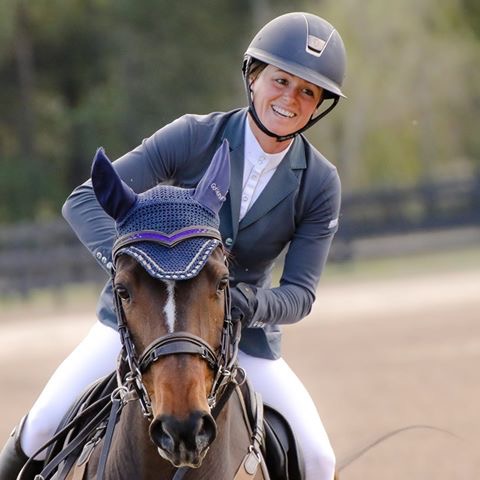 Photo courtesy of Genevieve Edwards
How long have you been riding horses, and when did you get your start in riding?
I have been riding pretty much my whole life. I grew up in New Jersey, and I had a friend at school whose family owned a big show barn. She invited me to ride her show pony and I instantly fell in love with riding. When I went home, I told my mother that I had to start riding, and it just took off from there. I progressed from the Pony Hunters to the Jumper and Equitation divisions. When I was 17, my jumper got injured and my parents, who are not horsey people, didn't want to buy me another horse and instead wanted me to focus on school. So, I actually quit riding for seven or eight years. During that time, I bounced around schools and eventually ended up at SCAD in Savannah, Georgia.
How did you get back into riding horses?
I noticed that there was not a barn focused on Jumpers in the Savannah area, and I thought that I could be the one to fill the untapped niche. I had gone to school for architecture and interior design, and was working for Gulfstream as an interior designer for jets, but I knew the corporate world just wasn't really for me. I started teaching a little bit and doing training rides for people in the area, just to get my feet wet. Then, I decided to 'jump off the cliff' in 2009. I quit my job and bought a 36-acre piece of property where I built my farm and opened my doors. After four years of living off Ramen Noodles and Jell-o, a local magazine did a feature on me and that's when the phone calls started coming in. Within six months I had a full barn and we started going to horse shows. I also started getting into the young horses, because I wanted to get to the bigger shows.
 ©Sportfot
When did you start competing at the Grand Prix level?
I remember the first time we watched the night class during Saturday Night Lights, and I knew I wanted to get a horse good enough to do the big classes here one day. At the time, I had a couple young horses and then I found Ocho, who I found on a YouTube video from the Czech Republic. I brought him up through the younger Jumper divisions and now we've done our first grand prix here. I don't know what it was that Saturday, but I walked in the ring and I knew I had it. I also had about 50 people cheering me on with posters. It's really incredible to think that just 10 years ago, I could only dream of competing at the Grand Prix level and now I am!
I can't afford to buy a seasoned Grand Prix horse, so I've done this on my own, without sponsors. I think that doing it on my own and the relationship I have with my horses is really going to pay off in the long run, because it makes everything even more special.
Tell us about Ocho!
He's really amazing. I took a huge chance with him when I bought him without seeing him in person as a four year old. He's more like a dog than a horse! He gets turned out in my yard and I have even done lead line classes with him – the kids love him! He has never ever questioned anything that I have presented to him in training or at a horse show. He has the best brain; I can do trail rides on him and even ride him bareback.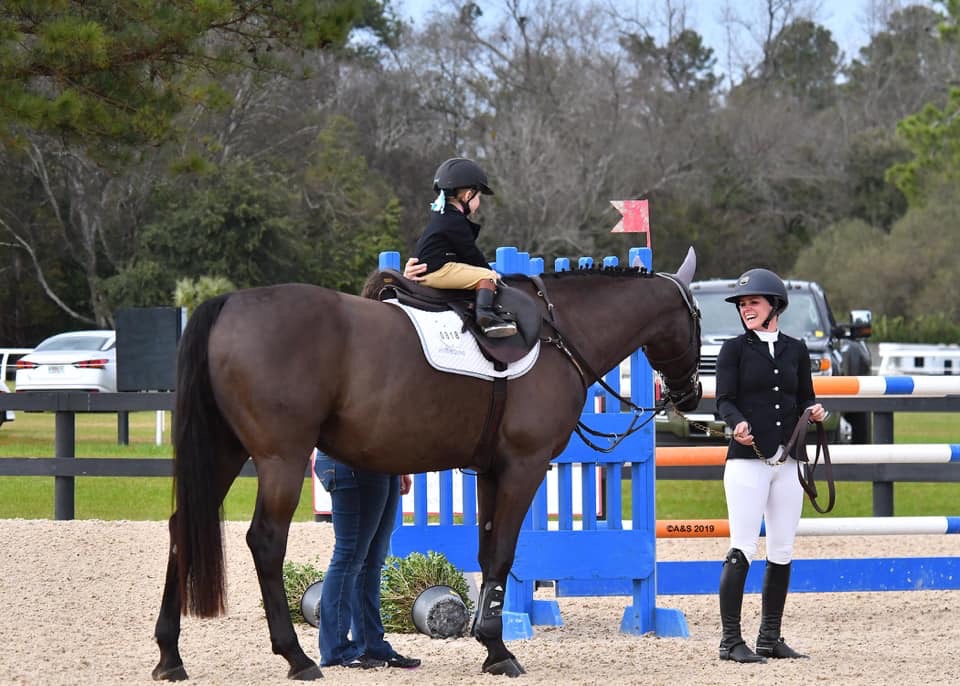 ©A&S 2019
How do you prepare yourself and Ocho for Grand Prix competition?
I think what really helped me was talking to a sports psychologist, because my head was really getting out of control and it was negatively impacting my riding. I was working with a great trainer and had the horses, but 90% of riding is mental, and I just could not get control of it. She really changed my life and how I view things by giving me the tools that I needed to conquer that mental instability in the ring. Part of it is also getting the experience, so every time I go into that ring, I get more and more comfortable and not so star-struck.
At home, I turn my horses out at night, we ride them bareback, and we hack out a lot since I live on a six-mile dirt road. I think that helps keep them very level and happy. We do a lot of big shows, but my program at home is very laid-back. They're super fit for the job that they need to do, and we do a lot of Dressage, but they're also allowed to be horses, which I think makes a big difference.
How have horses impacted your life?
 I have a very intense, Type-A personality, so when I lost access to horses in high school, I definitely started going down a bad road. Having them back in my life has brought back that sense of humbleness that I needed, as well as coaching kids and helping riders achieve their dreams. Horses don't care if you have the flu or if it's Christmas; they teach you to stay centered and to focus on something other than yourself. The whole environment surrounding horses and the people it brings together is so special – you can't find that anywhere else. They keep you grounded and just bring you so much joy and happiness. I don't do this for the sport; I do it for the horses. The sport is just the icing on the cake.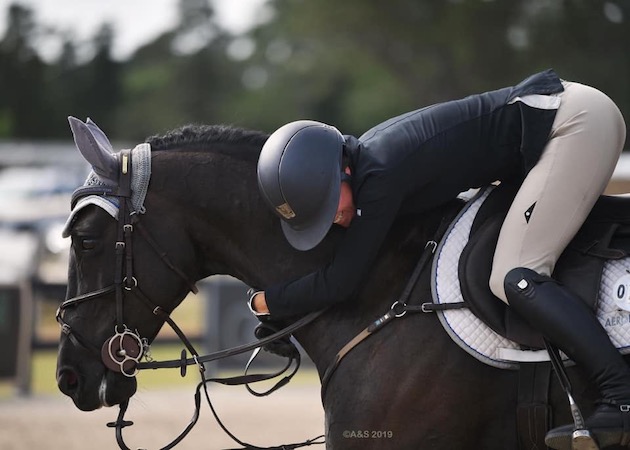 ©A&S 2019
What are your favorite parts about TIEC? 
 Honestly, it's our favorite horse show. For the families, it's perfect because not all parents just want to sit at the ring and watch – even the dads love it at TIEC! My horses are always fantastic here; we've come for two weeks at a time and they don't get stressed out, and they're not getting worse by the second week. I just love the area, too! I'm a mountain girl, so I love to go hiking. What has been created in this area is pretty incredible. It's awesome to be able to go to a horse show and also be able to go white water rafting, hiking, or go to a great restaurant in Saluda. I also love that there's even a gym on property!