Meet Emma Jameson, a local hunter/jumper-turned Para Dressage international athlete! From riding at North and South Carolina therapeutic riding centers to competing with Converse College on their IHSA Hunt Seat Team to Para Dressage, Emma's first Dressage show ever was also her CPEDI 1* Grade IV debut – in Tryon Stadium. Emma's story is one of inspiration, unrelenting community support, and a strong love for horses. Get to know her below!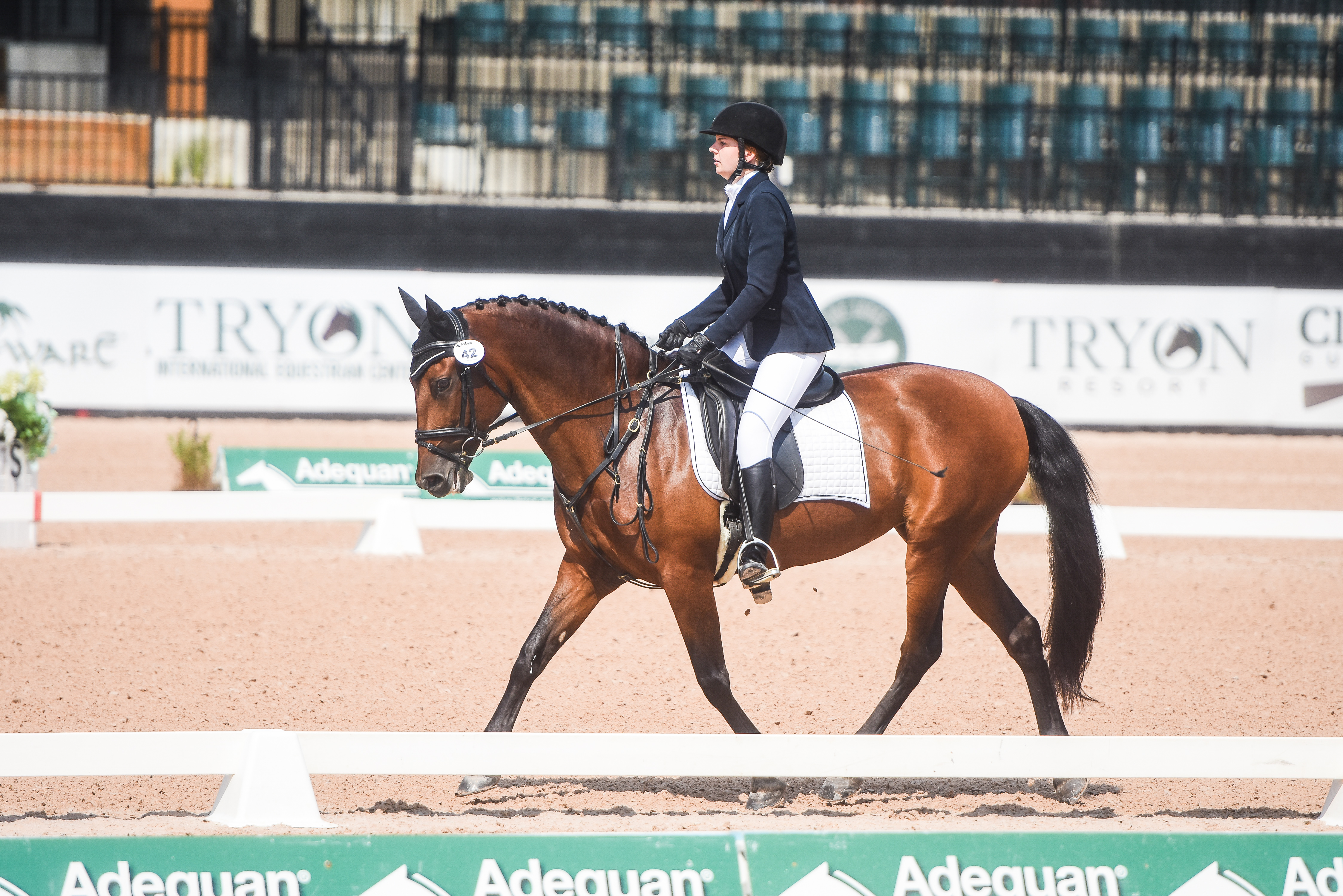 ©TIEC
How did you get involved with horses?
I had a stroke when I was born, and then I was diagnosed when I was six months old, so from there my mom started looking into different treatments and therapies. Then, she stumbled upon HALTER, a therapeutic riding center that's now located in Spartanburg, SC, but at the time was located in Pauline, SC. At that point, I was about two years old, and I wasn't walking independently. I started riding this amazing horse named Redtag, and on top of getting botox injections for the first time, within about two weeks I was walking independently without outside aids, which was huge. As soon as they put me in the saddle, they haven't been able to get me off since!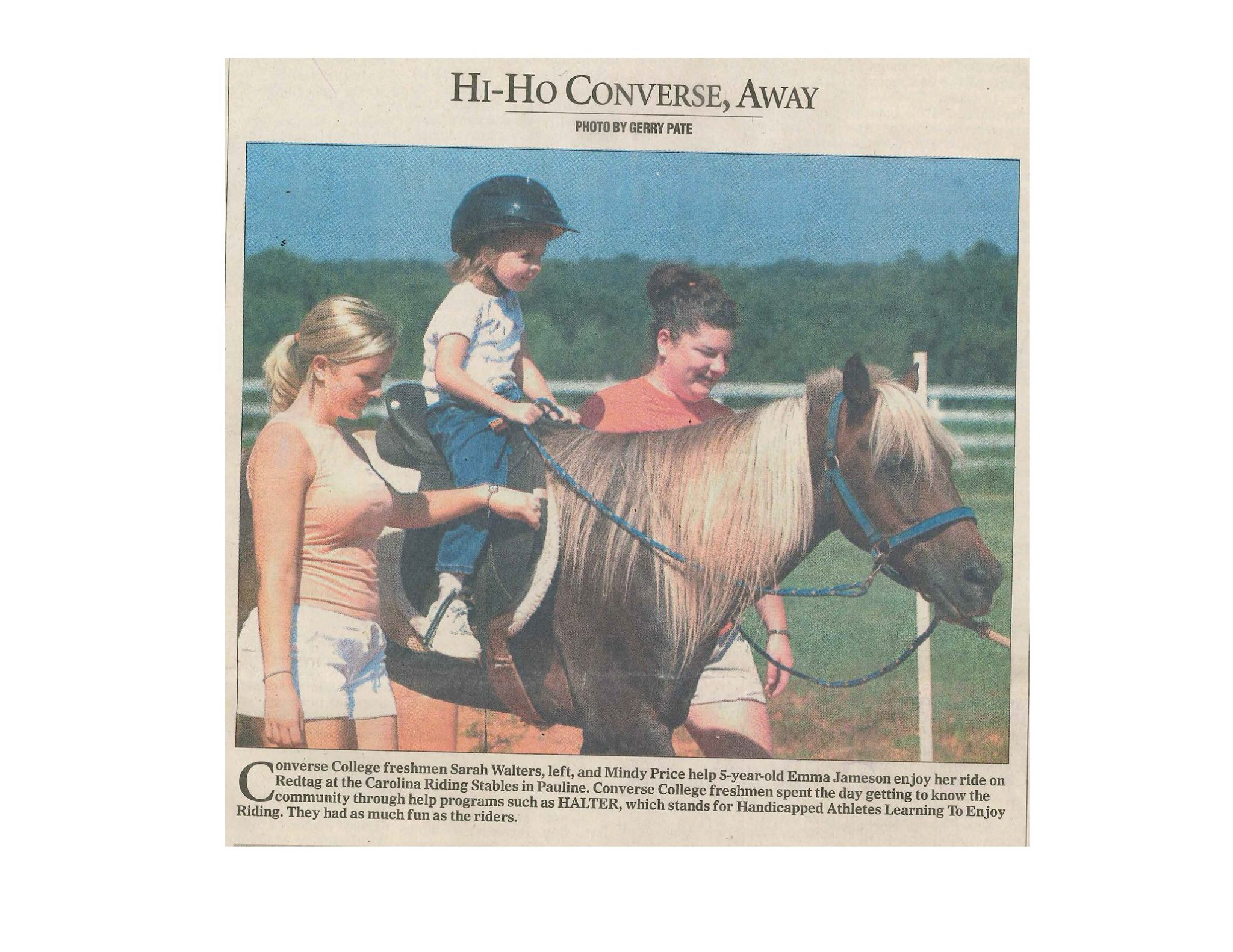 Photo courtesy of Emma Jameson.
Tell us about your journey into Para Dressage!
I transitioned from riding at HALTER to riding at TROT, based at the Foothills Equestrian Nature Center (FENCE), to riding Hunters at Clear View Farm in Landrum, SC. At the time, I had just gotten another botox treatment, so my leg was in a serial cast. So, there I'm sitting on [a horse named] Aaron in a round pen, and Lisa Miller-Bivens is manipulating the stirrups so that my cast will go through, at least partially, because this cast was huge. Lisa was like, 'Alright, it's going to be like you've never ridden before. We're going to go back to basics and then we'll work up from there.' I did that with her for about six months in the round pen and then she took me into one of the larger arenas and put some ground poles out and was like, 'Alright, lets go.' From there it was seamless.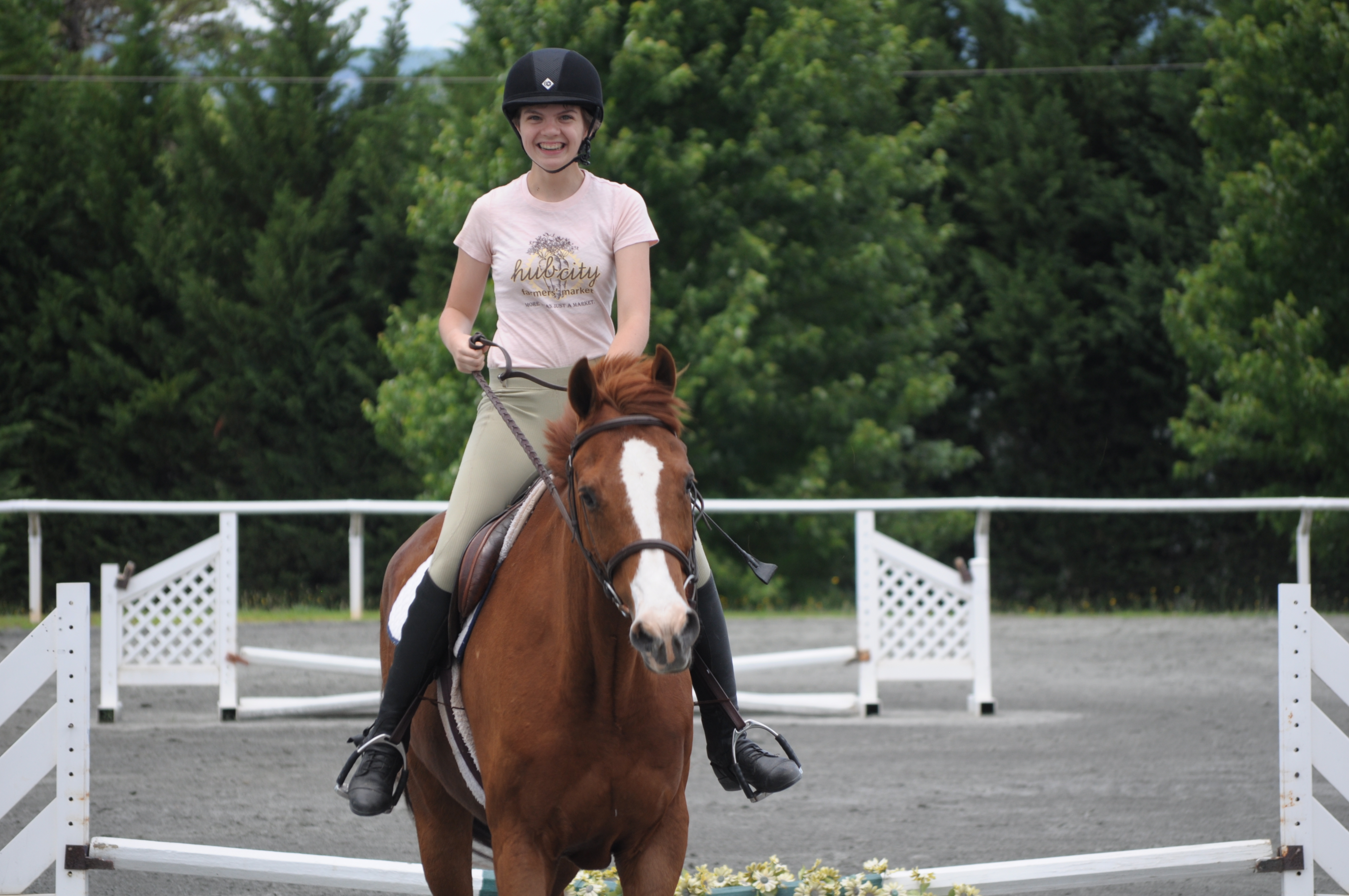 Photo courtesy of Emma Jameson.
I rode with Clear View for several years, and then about two years ago we found out about a Dressage clinic in Maine, where I worked with a loaned horse. There, I worked with two coaches who were being certified to teach Para Dressage, and that's where we first found out about a lot of the accommodations that I ride with now, such as looped reins and having a whip in one hand. One of the coaches was trying to manipulate my leg and asked me, 'Can you feel that?' and I said, 'No, I don't have any feeling on this side.' Not long after we got back from the clinic we started calling around to different Dressage barns in the area, and I got connected to Ashley Parsons. I'm still a non-competing member of the Converse IHSA team, since I'm focusing on Dressage now.
Ashley is phenomenal; she has so much patience, and started researching things right away for me, since I was her first Para rider. I rode different horses at her barn for a while, then I started leasing 'Tessie' in July. Tessie's owner has started riding her the way I ride her, so that way she responds to my aids better. The whole barn is just absolutely incredible; they're such an incredible group of ladies. They've all at one time or another come to my lessons to watch, and calling out to remind me to sit to the right since I have a tendency to lean left in the saddle, since that's my stronger side. I started doing Para Dressage a year ago, and now I'm here competing both nationally and internationally – in my first Dressage show ever. I have never done this before, so I'm on cloud nine right now.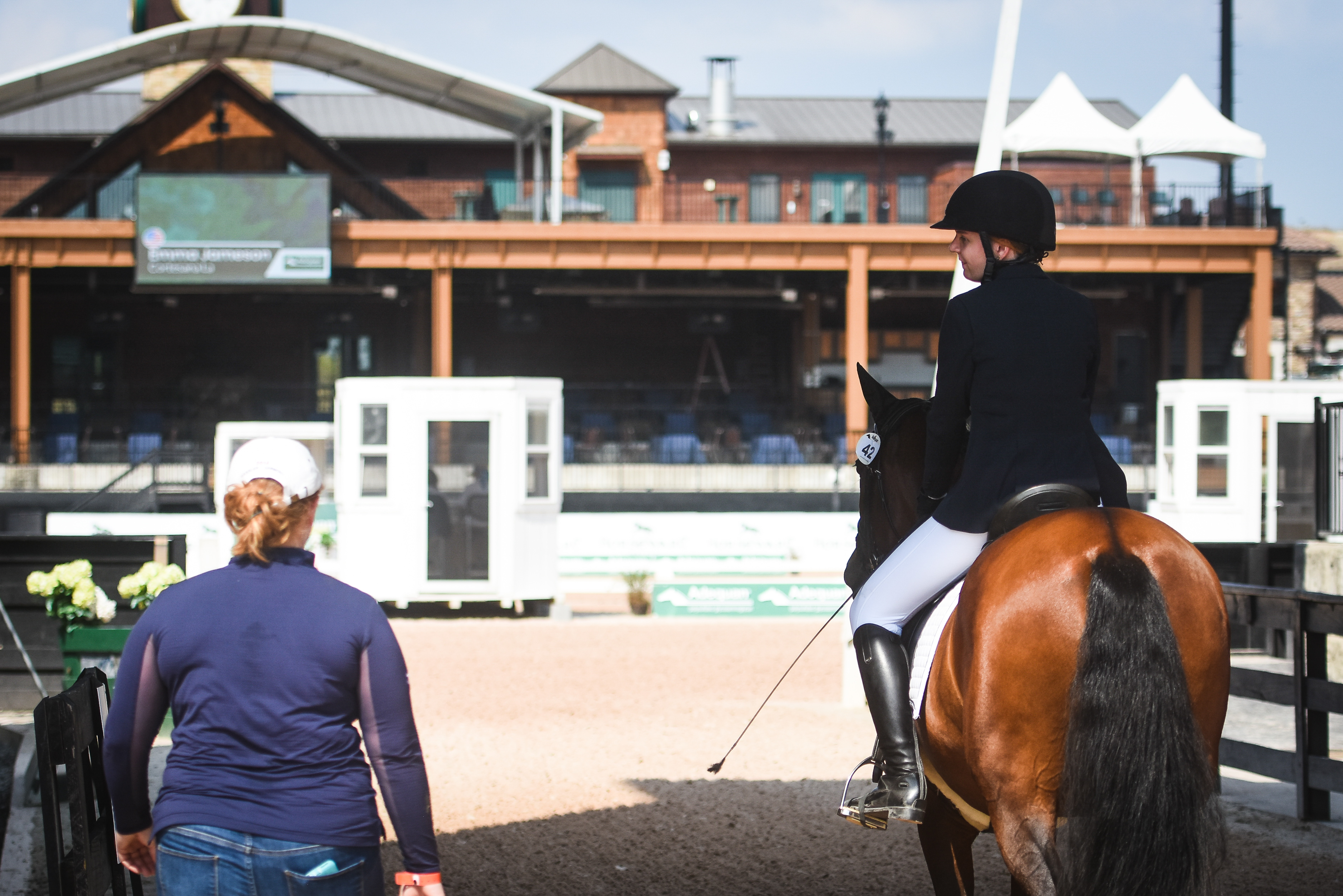 ©TIEC
How did you prepare for your first show?
We got the test and started just walking through it first. There were some movements that I had no clue what they were, so Ashley would go and stand in the middle and I would maneuver myself around her, and just learn how to ride a Dressage test. After we could walk the test, we would trot the whole test, and then we incorporated my canter movements. I did the jog myself with my horse, and she was perfect. This whole experience has been amazing. I don't think I have the words for what it was like after I finished my test in Tryon Stadium! That feeling was absolutely incredible, and I've never felt anything like it before.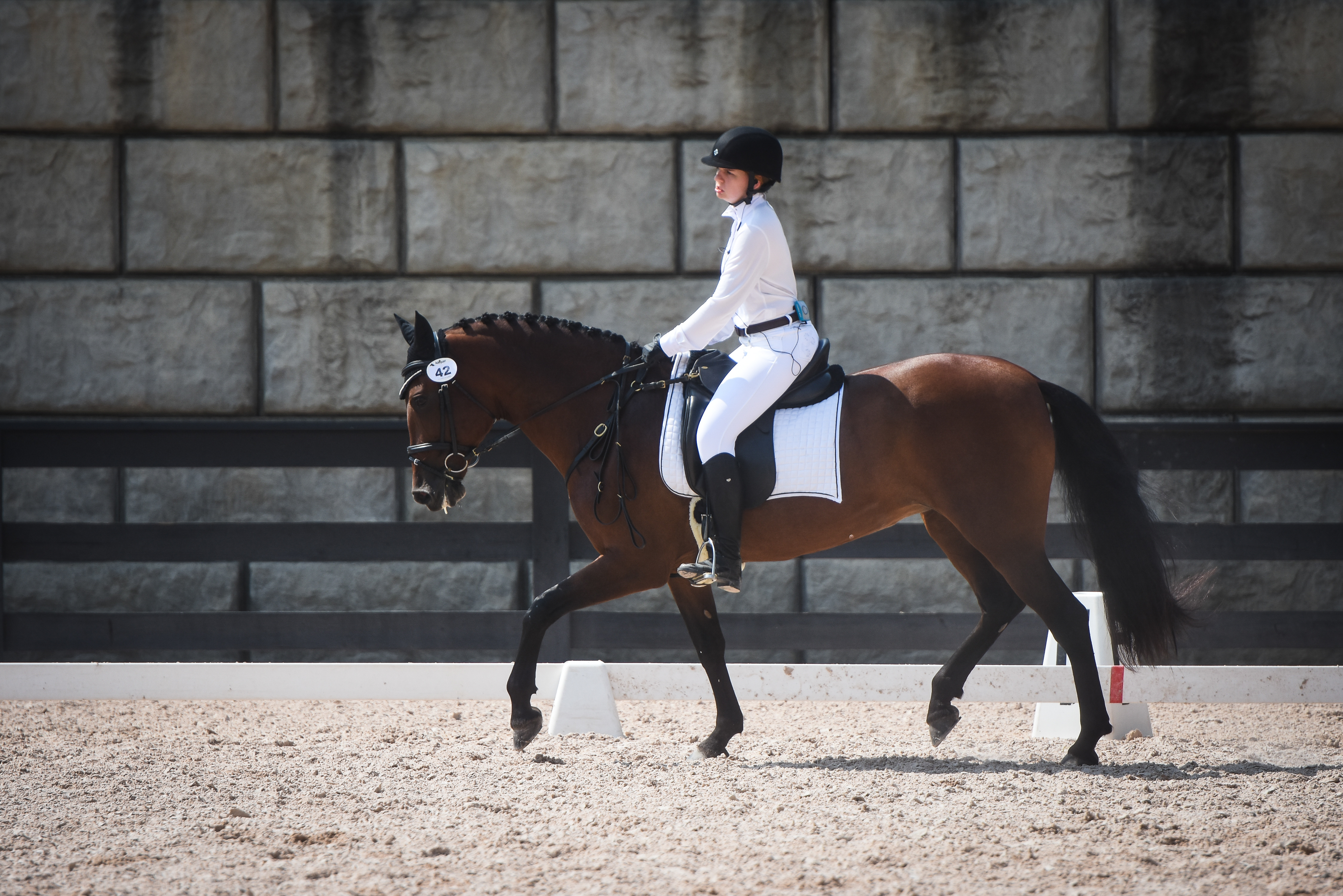 ©TIEC
Where do you want to go from here?
I want to go to the Paralympics one day. What's really great about the U.S. Para Team is that we have all adopted each other. For three of us, this was our first international show, so the people who have done this before, such as Kate Shoemaker, have taken us under their wings. It's absolutely incredible just being here. Ever since this place was built I've wanted to ride here, and now not only am I riding here, but I'm riding in the Tryon Stadium, which is just mind-boggling to me.
You wear a special necklace when you ride. What does it mean to you?
When I was 17, my grandfather passed away suddenly. He served in Korea and was certified to jump out of airplanes, and received this medal. When we were cleaning out his bedroom, we found it, and my dad had it made into a necklace for me because my grandfather came to every show with me, and was always telling me how proud he was of me for doing all of this. Now, I have a piece of him with me every time I show, and every time I ride.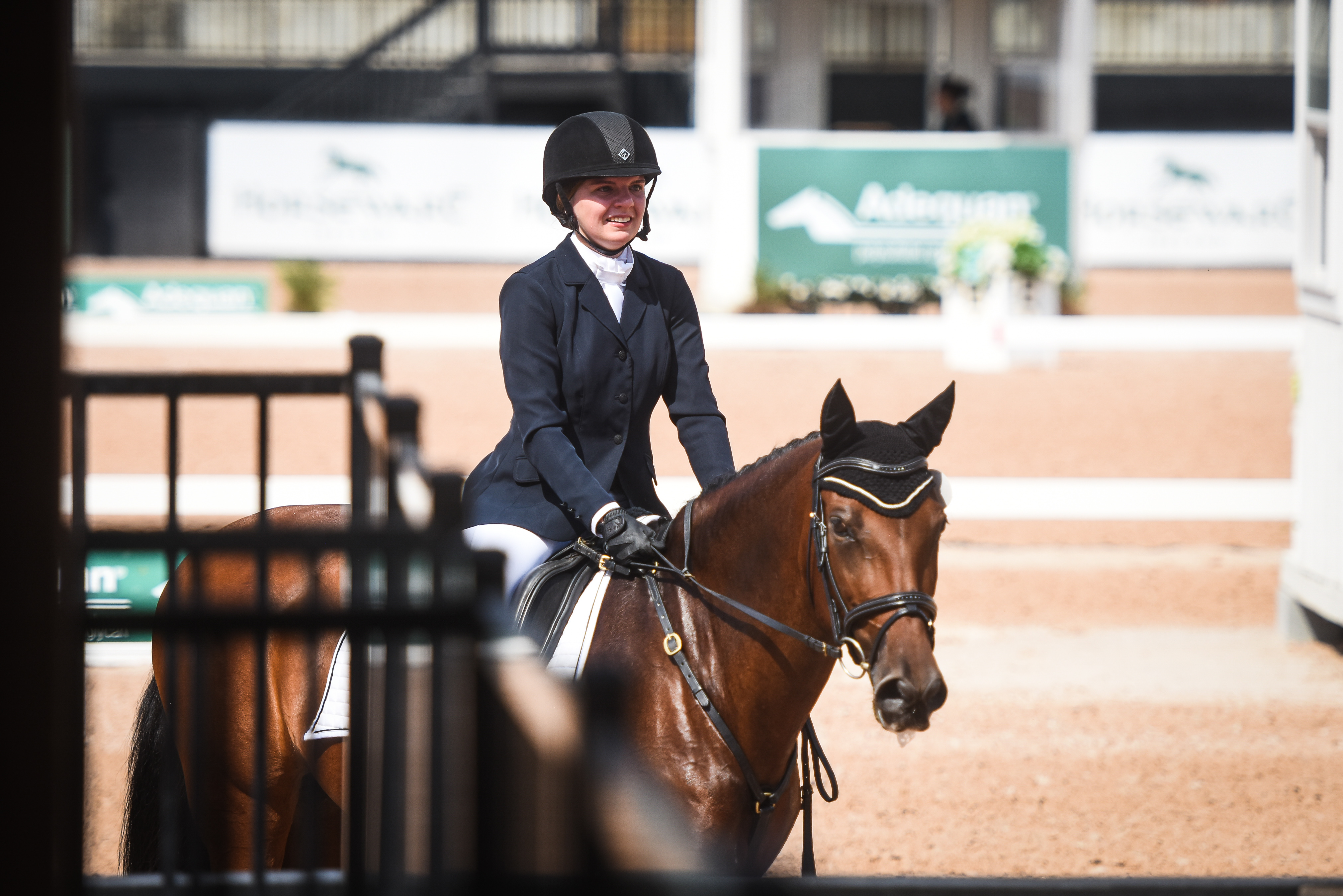 ©TIEC
Tell us about your horse!
Her show name is Cortesana La; I typically call her anything but that. She's my Tessie girl, and that's the name that I call her most often. She's absolutely my little wonder pony. From the get-go, when she realized that my right side doesn't function normally, she kind of took to rolling herself under me to catch me when I start slipping off. She's about 15.2 hands. If I'm bending her a different way than I should be, which happens, she kind of recognizes which lead she needs to pick up anyway. She had never had a Para rider before. Misha Marshall, her owner, realized Para Dressage was something I wanted to do, and offered me the lease on her horse.
She has her mare moments, and that's why were such a good match: we're both opinionated. But she also has her cuddly moments. She's absolutely incredible; sometimes when I'm getting off at the end of a lesson, my right leg will decide not to function anymore, and she brings her neck down and lets me lean on her when we're walking back to the barn.
This local athlete is definitely one to watch, and we're so thrilled to be her "home show!" Congrats on your Para Dressage debut, Emma, and thanks for sharing your story with us! For all results from the Adequan®/USEF Para Dressage National Championship and Tryon Fall Dressage 2 CDI 3* & CPEDI 3* presented by Adequan®, click here.
Photos taken by TIEC unless otherwise noted. These photos may be used only once in relation to this press release.