Meet our next TIEC Rider Spotlight, Brittni Raflowitz! Brittni owns ESI Show Jumping, where she campaigns sale horses as well as develops young horses for her own string. ESI Show Jumpers is based out of Tryon, NC and Wellington, FL, so Brittni spends a lot of time here at TIEC. She shows under the Israeli flag and has hopes to represent her country in team competitions in the future.
Brittni is a familiar face around TIEC and will be gearing up all fall to compete in the $25,000 Tryon Developing Show Jumper Championships presented by Spy Coast Farm during Tryon Fall 5. Continue reading to get to know Brittni, learn about her passion for young horses, her favorite TIEC moments, and her future goals.

©Sportfot
How did you get into horses, and why did you choose to turn pro?
My parents were both involved with horses, my mom more so because of dad. I've been on a horse ever since I was in the womb, basically! I knew from when I was very young what I wanted to do with my life, and ever since I was little I had one goal, one dream, and nothing was going to get in the way of that.

©Bailey Beck for TIEC
Tell us a bit about some of your top horses?
I am so lucky right now, because I think I have the best string that I've ever had. We have an amazing group of young horses and an amazing group of sale horses. My top horse right now, Hilton Van De Breepoel, is also making his comeback. He's been out for a year now, so I obviously can't wait to have him back in the ring. I've been with him for nine years. I have a few up-and-coming ones for myself that I'm extremely excited about. It's almost too good to be true! One of them is a six year old stallion named KanKan, and we'll be doing the finals here at week five. I have two four year old stallions right now that we're breaking, so I'm very excited about that.
When did you find your passion for developing horses?
I've always loved producing young horses; I feel it's really, really satisfying. Especially when you get them to a certain point, and all the hard work paid off. It's almost as gratifying as walking into a Grand Prix. It's not only that I get to watch their careers build, but how much we're able to form as a team and really connect with each other. And, I think the most important thing is knowing how your horse is feeling along with them knowing how you're feeling. So it's a true bond, which is also one of the most amazing things anybody in the world could have.

©Sportfot
What are some special moments you've had at TIEC?
I've had so many special moments here: a lot with the young horses, and [Hilton Van De Breepoel], my top horse. For instance, he jumped his first Grand Prix here, he jumped his first FEI class here, and he won his first Grand Prix here. I think this is an amazing place to really build any horse you have. For us, we're extremely lucky that we have a farm 10 minutes away, so we're able to trailer the horses in and let them show, and then let them go home, go to the paddock, and be real horses. I think that helps a lot with building them as well.

©Bailey Beck for TIEC
What do you like about the DJS series here and why do you think it is important for a venue of this caliber to host these classes?
I build their summer and their fall around that [series] to really get them mentally and physically ready for [the DJS Championship]. I think it's great, and it always has a lot of competition in it. You get to really see how your horses are all progressing. And, they get to really compete at the highest level.
Which horses are you competing in the DJS championship?
We have a bunch. I think right now, it will be KanKan in the six year old division, and then D'Olala SE 1 Z, Peridoni 20, and Kudos for the seven year old division, so it's gonna be quite a busy few days.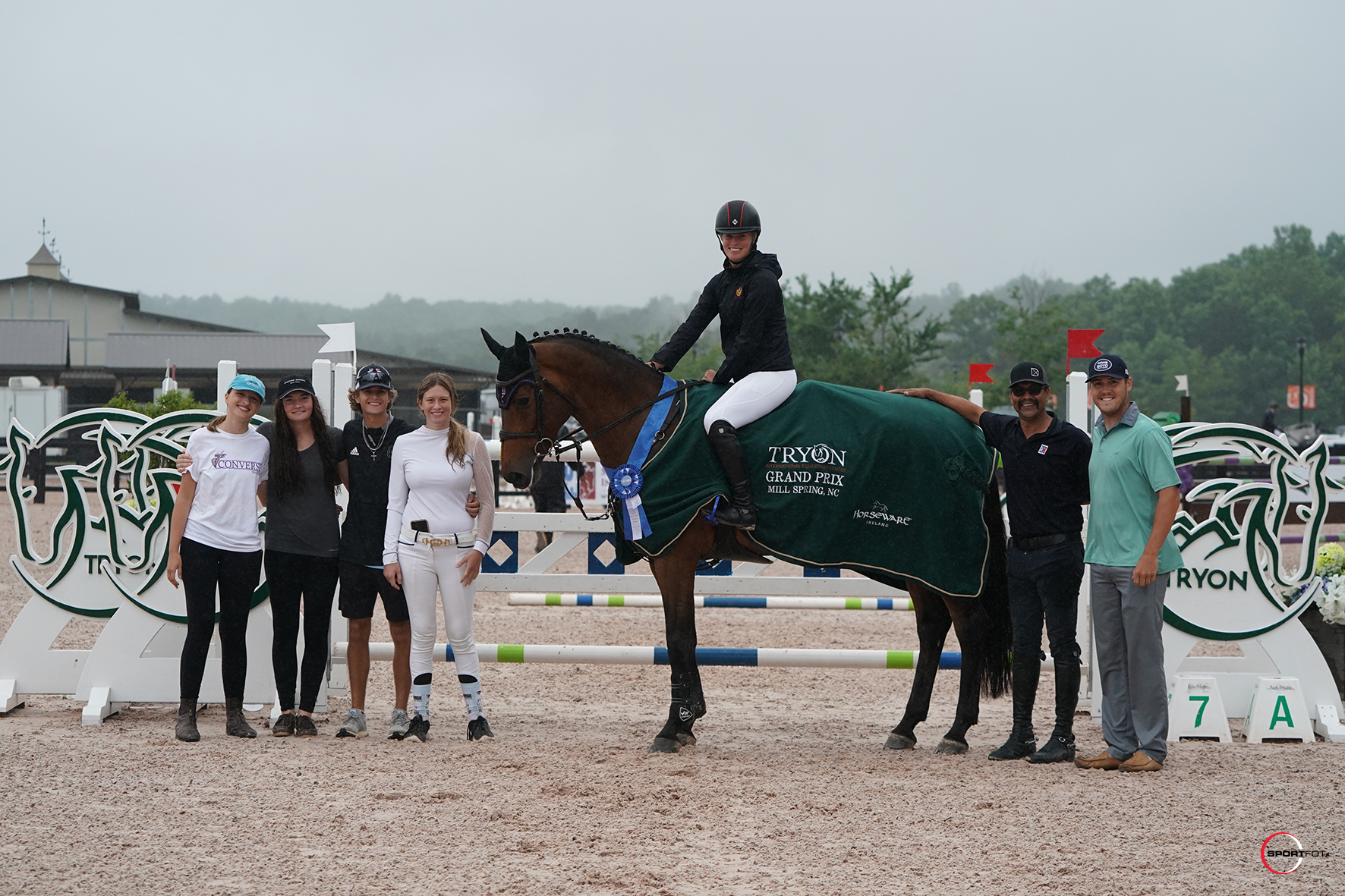 ©Sportfot
What are your goals for the future?
My future goals are to represent my country in any team aspect, and honestly to be the best athlete that I can possibly be and try to give younger riders the same experiences that I've had. I also want to be the person that always fought for their dreams and never gave up.
Is there anything else you would like to add?
Everyone who has been there along the way is the reason we are where we are today. I want to thank my partners and sponsors for always believing in me. Most importantly, thank you to my parents for believing in my dreams with me!
Best of luck, Brittni! For more information about the Developing Jumper Series presented by Spy Coast Farm, view the Prize List here.