Boots Wright is taking the reins for our next rider spotlight! With an extensive and unique background in Driving, Boots is one of the sport's top athletes with a striking list of accolades. Capturing top placements and prestigious awards in Hunter, Jumper and Driving rings, horses have played a significant role in her life. She and her talented ponies competed with us during the ProElite Tryon CDE last fall, and we can't wait to welcome her back in a few weeks for the Katydid CDE Presented by Main Street Insurance at TIEC April 21-25, 2021! Continue reading to learn about how her equestrian journey began, hear about her career highlights, get to know her ponies, and more.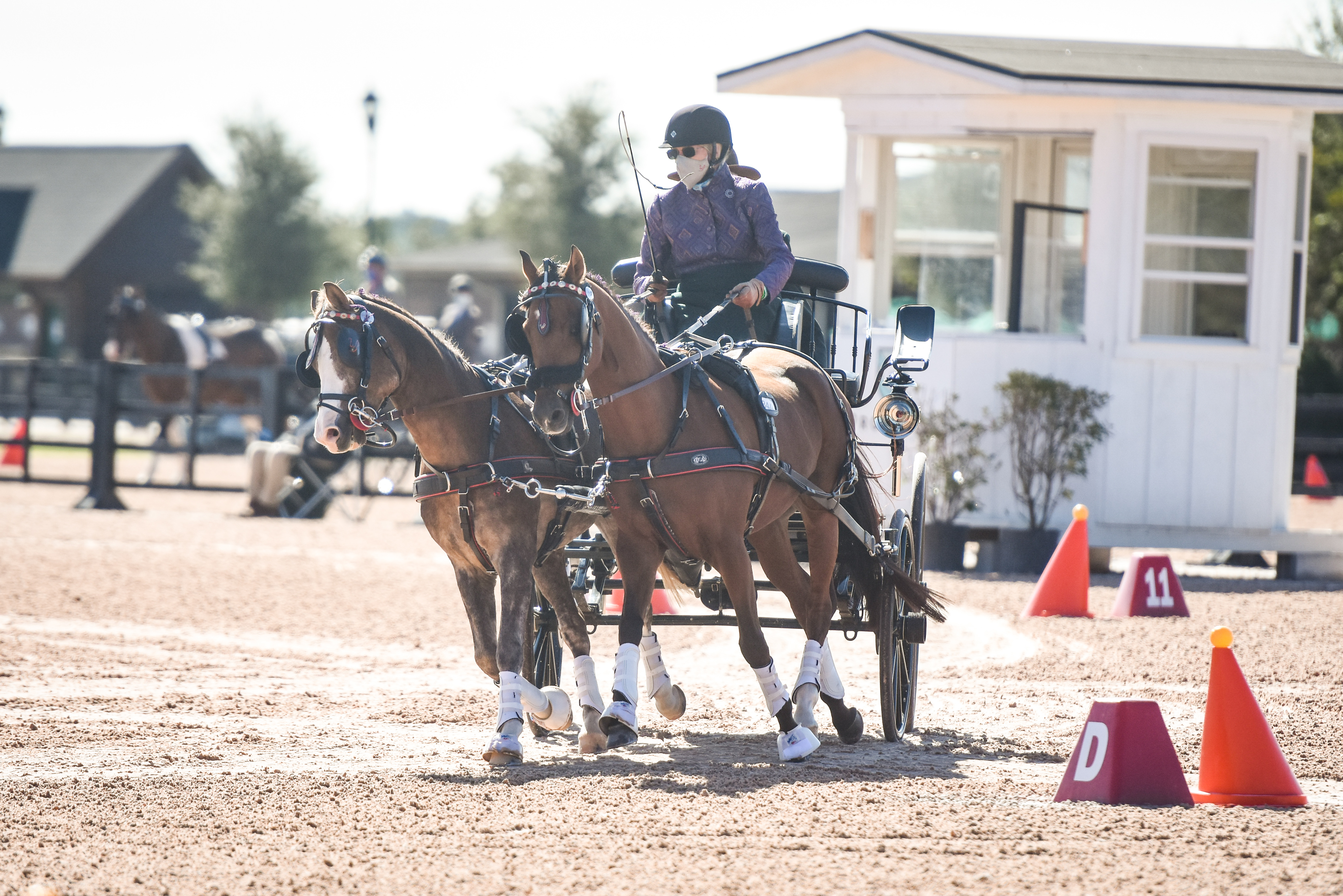 What sparked your love for Driving?
I had a cousin who used to drive his four-in-hand over to my mother's house because they were basically adjoining farms. He drove the team over, took me on the seat next to him, and then handed me the reins. I never forgot what it felt like to hold onto those four reins and horses! It kind of faded through teenage years because I rode Hunters and Jumpers for years. We moved to Middleburg, where I continued riding Hunters and Jumpers, but there was a significant Driving community there. One of my very best friends was a Driver, so we started breaking some of my horses to drive. I haven't looked back since. 
Tell us about your ponies!
I have a German Riding Pony and a Section B Welsh. I had a wonderful German Riding Pony who I lost last October. Oddly enough, another German Riding Pony has come into my life. He's very green, but hopefully he'll be able to fill the other one's spot.
I drove horses for a good while. My husband and I bought a team that Bill Long competed at the 1994 World Championships in Holland. After those horses were done with the competition, we brought them home and that's how I learned to drive four-in-hand. I drove them for a number of years until old age took them away from me. There was a pair of them who competed in the 1993 World Pair Championships that were held in New Jersey. I bought the fourth-place pair and spare who were the foundation for the team that Bill then showed in 1994. From 1995 on, I drove them until old age took two of them, and then the original pair went to a guy named Larry Poulin. Larry turned out to be my groundman, coach and Dressage trainer to this day. These relationships go on and on! It's such a tiny world. Everybody knows everybody. 
What makes a quality Driving pair?
They have to have great brains and a really good work ethic. After that, it's up to the individual Driver to determine which qualities, breeds and characteristics they're looking for. For me, coming from the Hunter/Jumper world, I like daisy-cutter movers. The Germans are really good at that.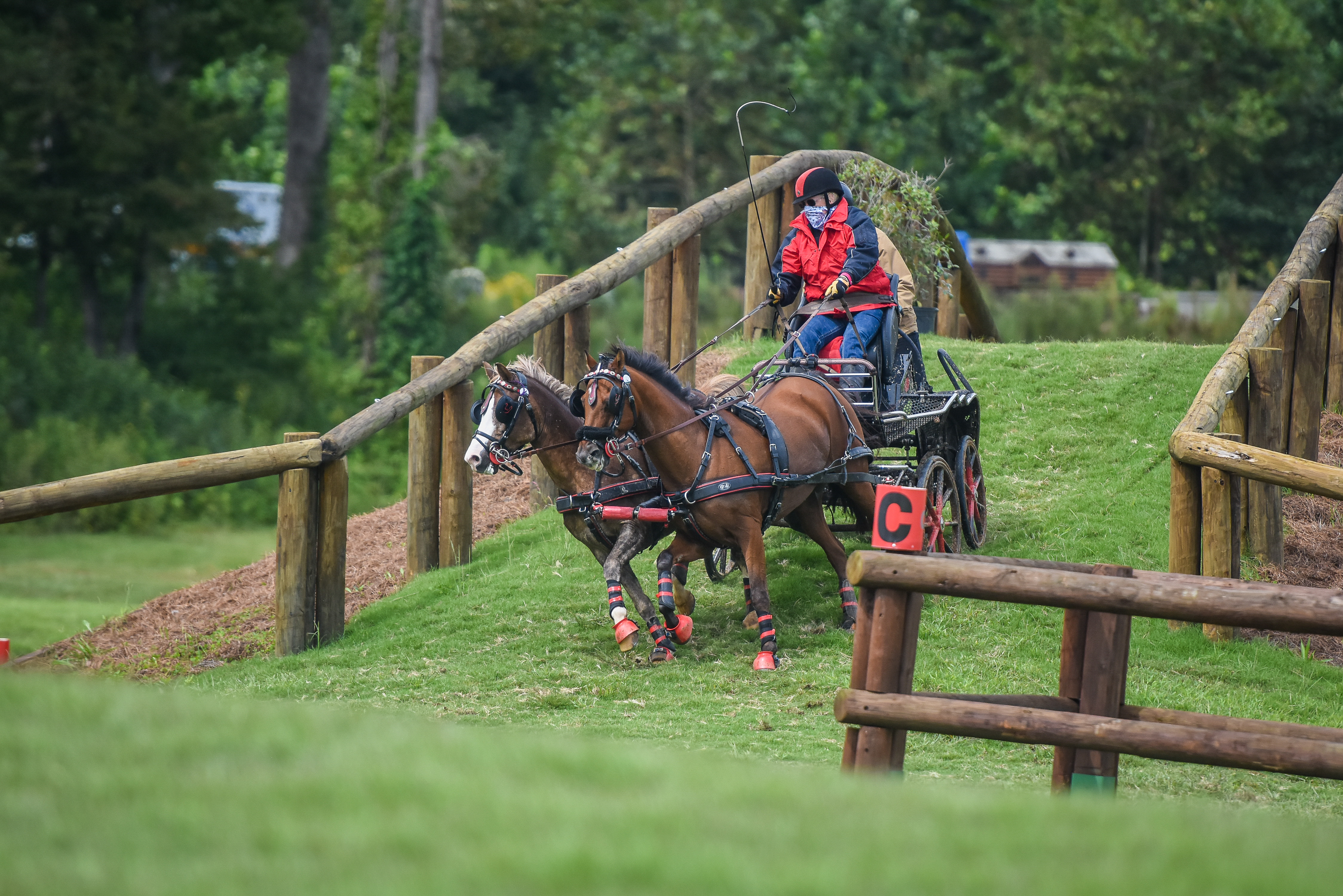 What is your favorite Combined Driving phase?
I would say Dressage because it's the foundation of everything. I've been accused of doing Dressage in the Marathon! If your ponies bend, then the dynamic of taking the carriage around an obstacle becomes much simpler. If you drive even reasonably correctly, you have a really good chance that you're going to get around in good shape. I always kind of knew what was correct, but it wasn't until Larry came to work with me that my education really progressed and the ponies got a bunch better.
How will your 2021 competition season be different from 2020?
Right now, all I've done is judge rather than compete. The Florida season started on New Year's Day. There I was, judging on New Year's Day, and they always say that what you're doing on New Year's is what you'll be doing for the rest of the year! I enjoy judging because I like looking at horses. You can always learn something, even if it's something not to do. I really enjoy the vast majority of people, too. It's very rewarding.
What's been a major career highlight for you?
Winning Horse of the Year in the Amateur/Owner Hunters, winning Horse of the Year with the Pony Four-in-Hand, and then winning Horse of the Year with the Pair of Ponies. That's been very gratifying! I cannot imagine life without horses at all. It's all I've done for 50 years basically, and all I've ever really wanted to do. I've been blessed to have been able to do it at that level. 
What's something you wish you knew when you started?
I wish I had known all of the Dressage work that I've learned, like how to make them sit on their hocks, bend correctly, and carry themselves. I've developed really wonky hands over the years from playing the guitar too much and what not, so I can't have horses lean on me with their mouth. I can't have them too heavy because I physically can't hold them up. If I had known then what I know now about balancing a horse, my Hunters would have been truly unbeatable.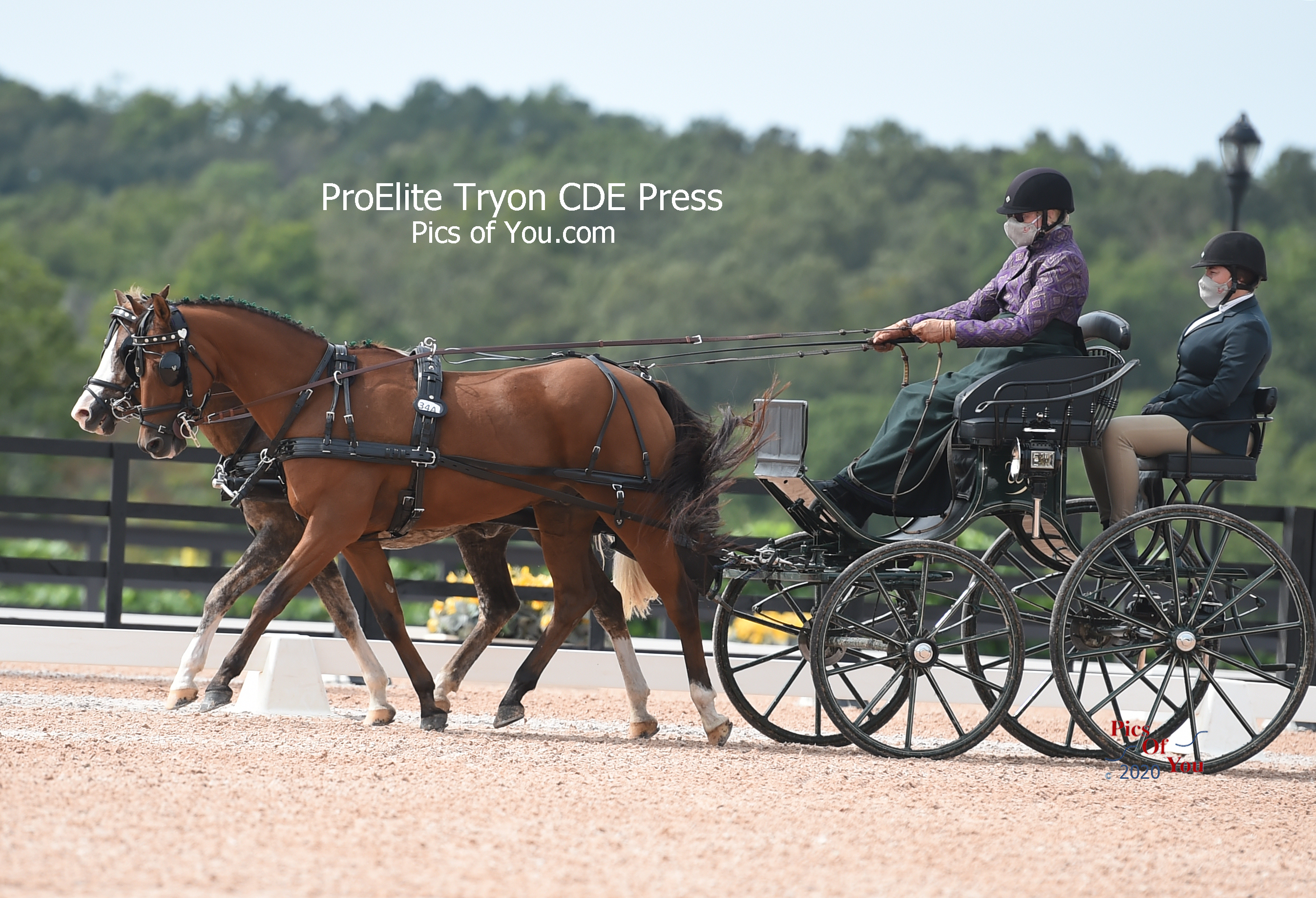 What advice would you give to someone who's interested in Driving?
Find somebody close to you and be a barn rat. Learn the ins and outs of what happens on a daily basis in the barn. If all you ever see is people Driving [at competitions], you don't stop to think about the hours of preparation that it takes to make an equine mind go along the same track as you do. 
How was your experience during the ProElite Tryon CDE?
That was just after my pony had gotten sick. He had Cushing's and subsequently foundered. It was during the time that he was sick, so I couldn't take him. I went with a really good pony who can do all three phases, and my Marathon and Cones pony who very early on said to me, 'I don't want to be pretty, I want to go fast!' He's very good at the Marathon and Cones. The Dressage test turned out to be quite good which blew me away. I was very surprised. We had a difficult Marathon after the hurricane came through, but then we went double clear in Cones. 
Will you be joining us for the Katydid CDE Presented by Main Street Insurance?
I'm either going to be competing at it or judging it. It depends on whether the European members of the jury can actually get there. If they can't, then I'll be the president of the jury because I'm the only three-star FEI driving judge in America. There's a four-star [judge] who lives in Vermont, but she won't [be able to attend], so it's just me.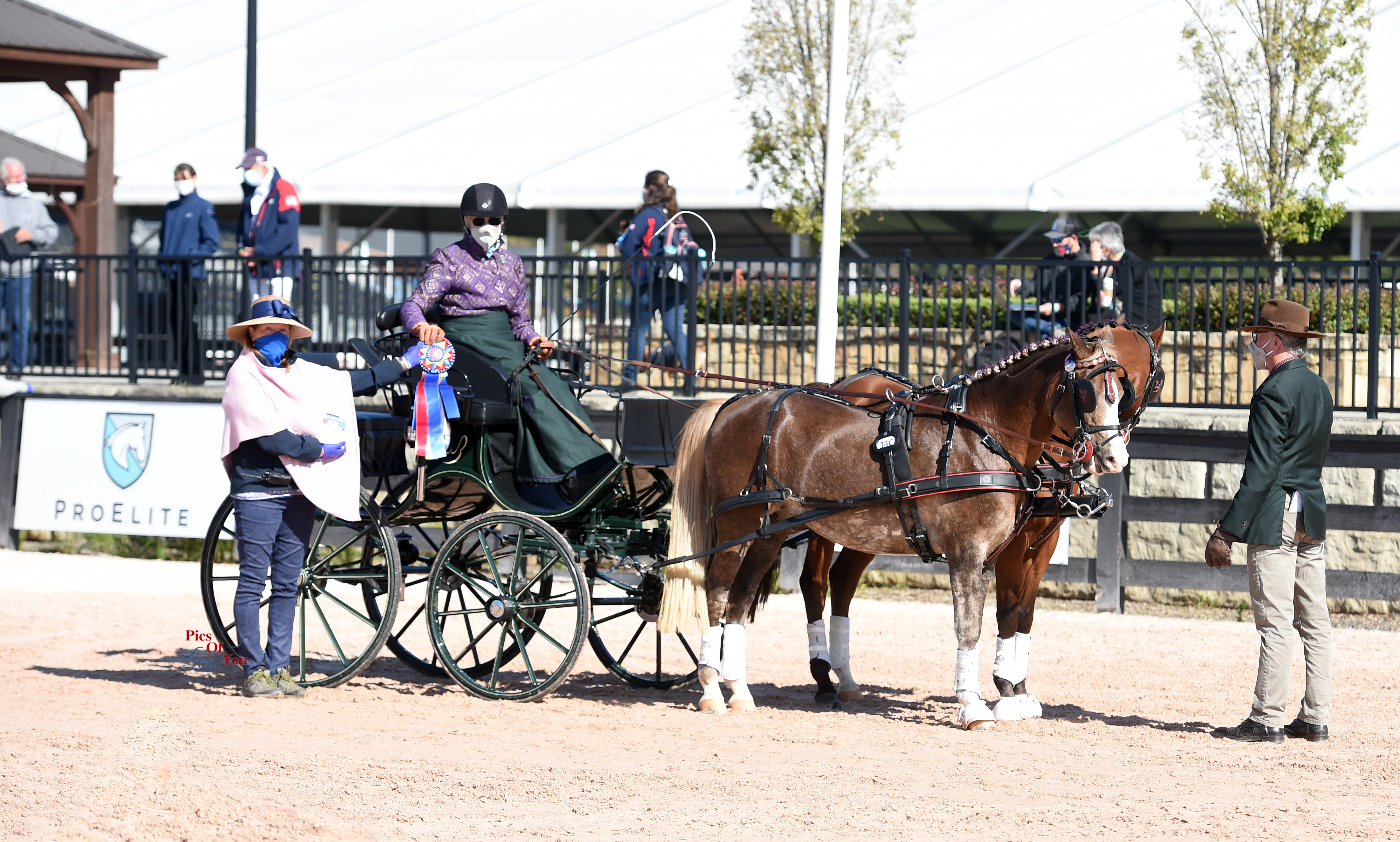 How have you enjoyed Driving at TIEC?
Tryon is a fabulous facility and the footing could not be better. I scribed for the president of the jury at the [FEI World Equestrian Games™ Tryon 2018] Test Event, and that was my first look there. It's just a fabulous venue. When it comes to its completion, it's going to be nothing short of stupefying. 
In your opinion, how can we grow the sport of Driving?
That's the question on everyone's list. First, you have to have a reasonable economy where people have money that they can spend. Very few people do this for a living, and their livelihood is dependent on people who want to drive for recreation or competition. People have to have the money and they have to have the time to devote to it. It's not just putting your horse, saddle and bridle in the trailer and off you go horse showing. It takes considerably more infrastructure to move yourself around with at least one carriage, and often two in the upper divisions. It's a very expensive sport.
Thank you for chatting with us, Boots! We are dedicated to supporting the sport of Driving and look forward to seeing you at TIEC again soon.
Click here to learn more about Driving at TIEC.