There are a variety of details that define the success of a horse show. Some are large, others are small. All require intricate planning and precision, and for that reason, US Precision Construction LLC (USPC) is the perfect resource. Located just miles down the road from Tryon International Equestrian Center (TIEC), USPC is a manufacturing company operated by Mark Bellissimo, that utilizes robotics and automation to manufacture high-end modular structures that can be used for residential, retail, commercial, and hospitality projects.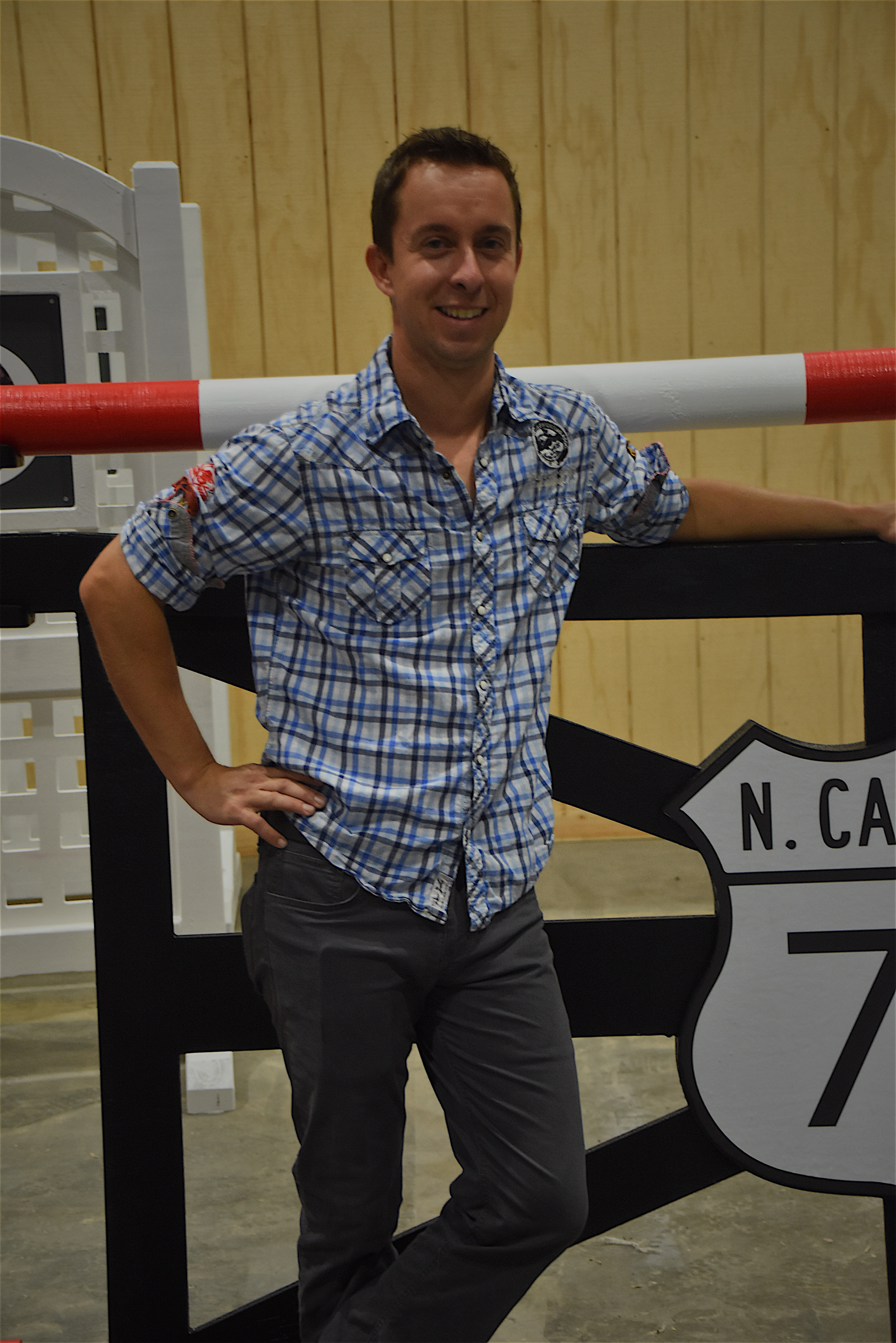 On a bright October morning, I strolled through the doors of USPC to learn more about one of the exciting new endeavors taking place within the factory, jump engineering. At the helm of this venture is life-long equestrian and Chicago native, Eric (Sauce) Sassmannshausen.
As I hovered near a back wall trying to keep out of the way while jumps were being set for photos, I observed. Moving poles and shuffling standards, Sauce finished up a phone call, and I overheard him exclaim, "It's a great feeling, being this excited about the work I get to do."
Stepping into the new role in September, Sauce has already produced around 50 jumps for the company, and plans to grow that number within the passing weeks. Before arriving at TIEC, Sauce served as CFO of his family's Kinvarra Farm, in St. Charles, Illinois. His success in and out of the show ring earned him experience within the equestrian community, and his passion for learning propelled him into his position with Equestrian Sport Productions, as well as TIEC.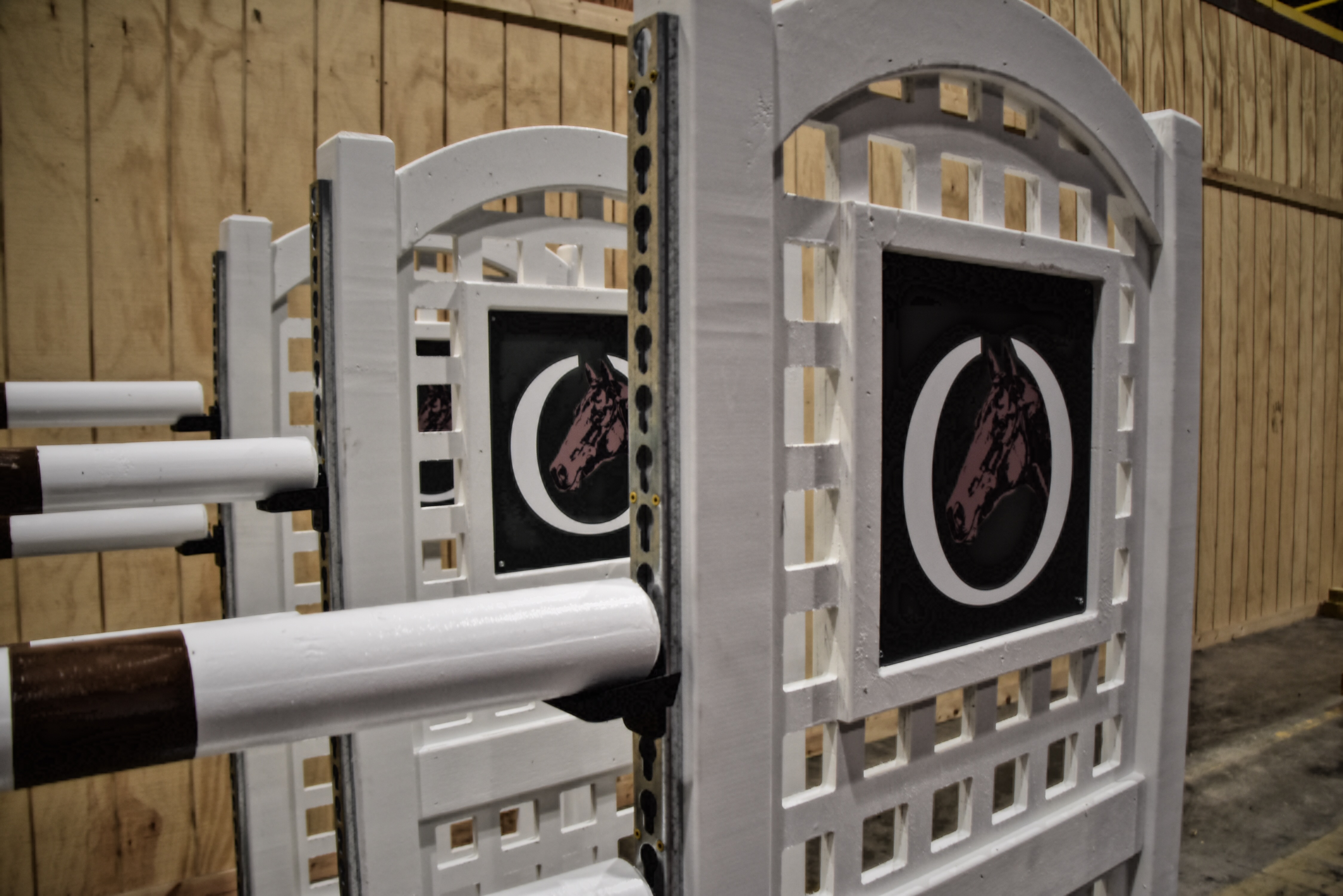 "I've been making jumps for our family farm for as long as I can remember," said Sauce. "I've never had access to the equipment that I have here at USPC, so I'm really excited about that. It's nice to produce something of such high quality, because these machines don't make mistakes. I'm learning every day."
Sometimes, the best way to know, is to do. For Sauce, years of "doing" stem from riding, managing, showing, and working hands on with the jumps that he is now building and improving upon, every day. "My brothers and I have done ring crew, we've done all of the different levels in regard to the show," explained Sauce. "So, when I'm building, I have a better idea of the parts that break more easily based on how the jumps get handled. I want to see and fix the problems before there are problems. I know the areas that wear out the fastest, I know where they are and how to prevent that."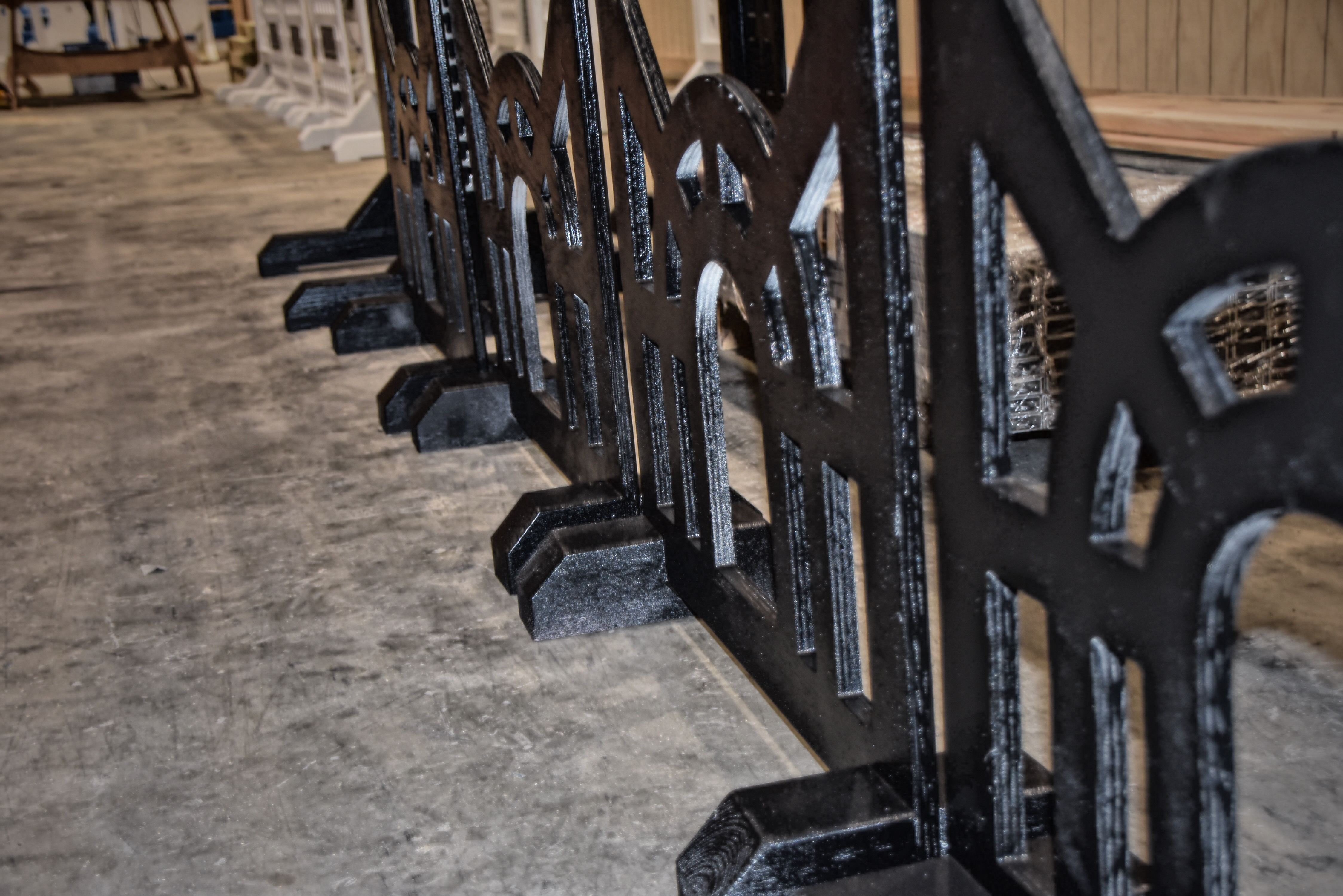 He continued, "I was always familiar with the materials, I know what materials work and don't work, just from trial and error at home on our farm. I see all of these designs and jumps in 3-D, I can see the finished product as I'm creating it. I can see how it all works, all of the different layers, how each one fits together. I think that is an advantage for me, because I can see how it all works before it is built, and structurally, I know how to make everything stronger."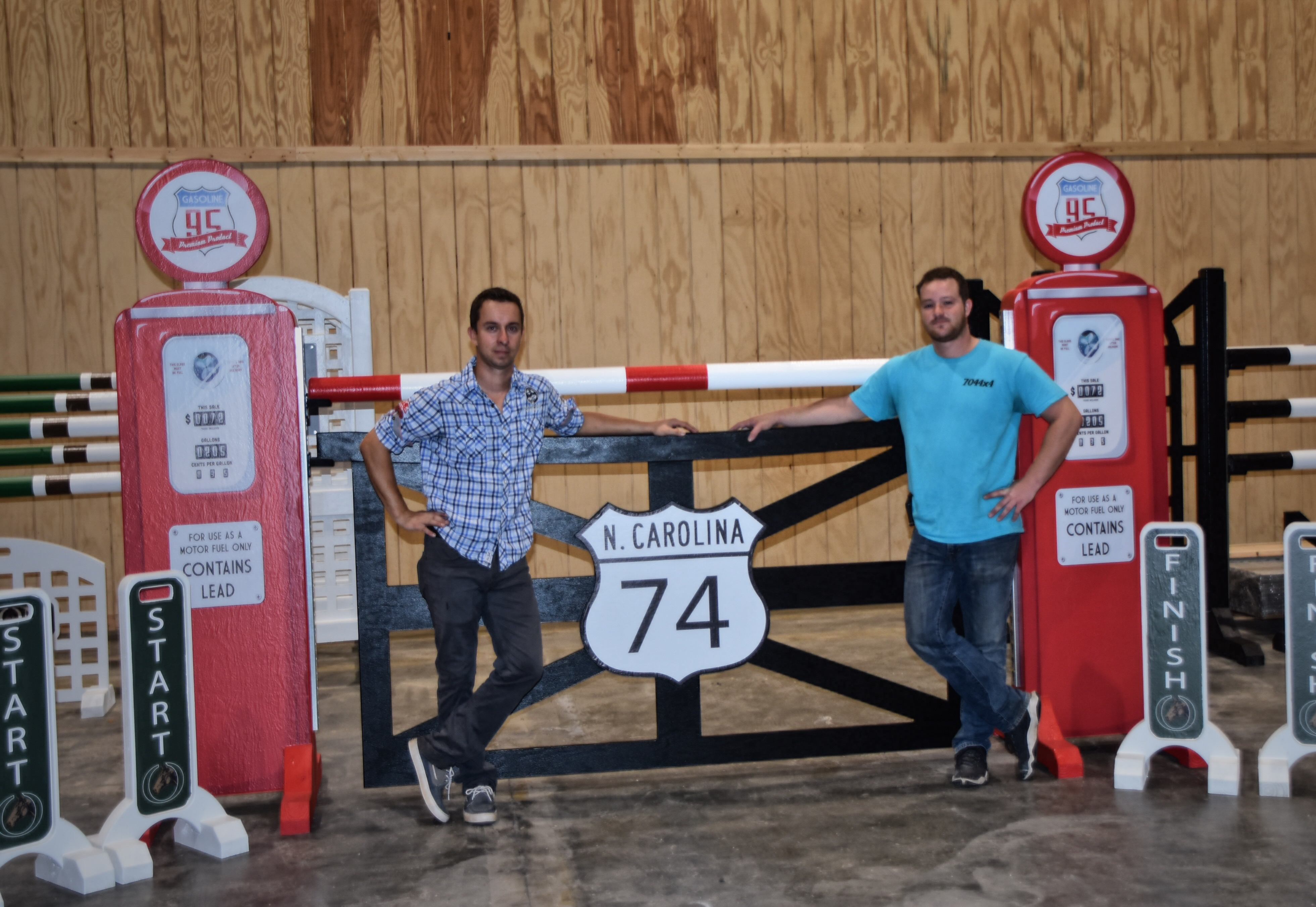 When people attend horse shows, they look for a variety of things. It's no secret that the quality of the jump displays does indeed say a tremendous amount about the venue at large. "Jumps are so important to the image of not only the facility, but also to the image of the horses," said Sauce. "A lot of the horses that come through the shows here, are sale horses. You want something interesting to look at, for pictures and videos and observations in general. You need stuff out there that catches the eye of the spectator."
"That's the direction I want to go," noted Sauce. "I want cool jumps going out into those rings, things that make people talk, and get them excited to come out and watch." When it comes to unique and memorable jumps, Sauce delivers. His favorite thus far? A vibrant red and black Route 74/ vintage gas pump jump that he just finished up last week.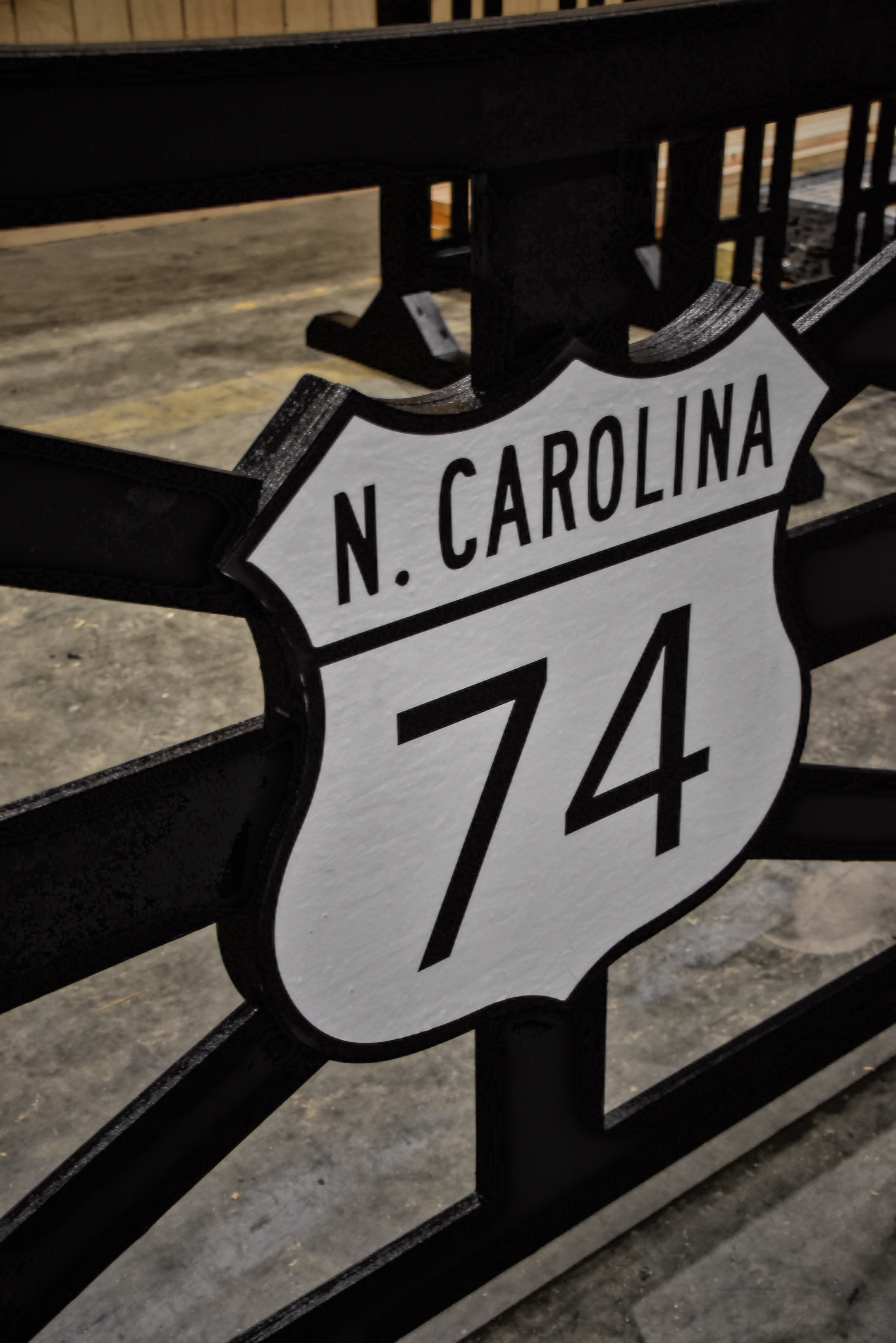 Though humble about the work he is doing, Sauce lights up when he talks about the future of the operation. "The thing that I'm the most excited about," he commented, "is the fact that I get to learn and grow with the establishment that we are creating. Something as simple as the base feet of the standard, when we got those down pat, that was so exciting because you wouldn't believe how complicated that type of thing can actually be. What the machine can do in five minutes, would take someone hours or even days to complete. We can, and will produce quality as well as quantity, and that's what makes this all such an incredible investment, and gives us a huge advantage."
When asked about the most challenging aspect of his job, Sauce chuckled. "The most challenging part of this job is turning it off. I enjoy doing this," he said. "I want to see stuff in the ring, that's important to me. I love the work, and I'll often stay late. When I do leave, I'm always looking at other jumps, I'm always thinking and studying, always processing ways to make the jumps better. My mind is always running, I get hyper focused on it."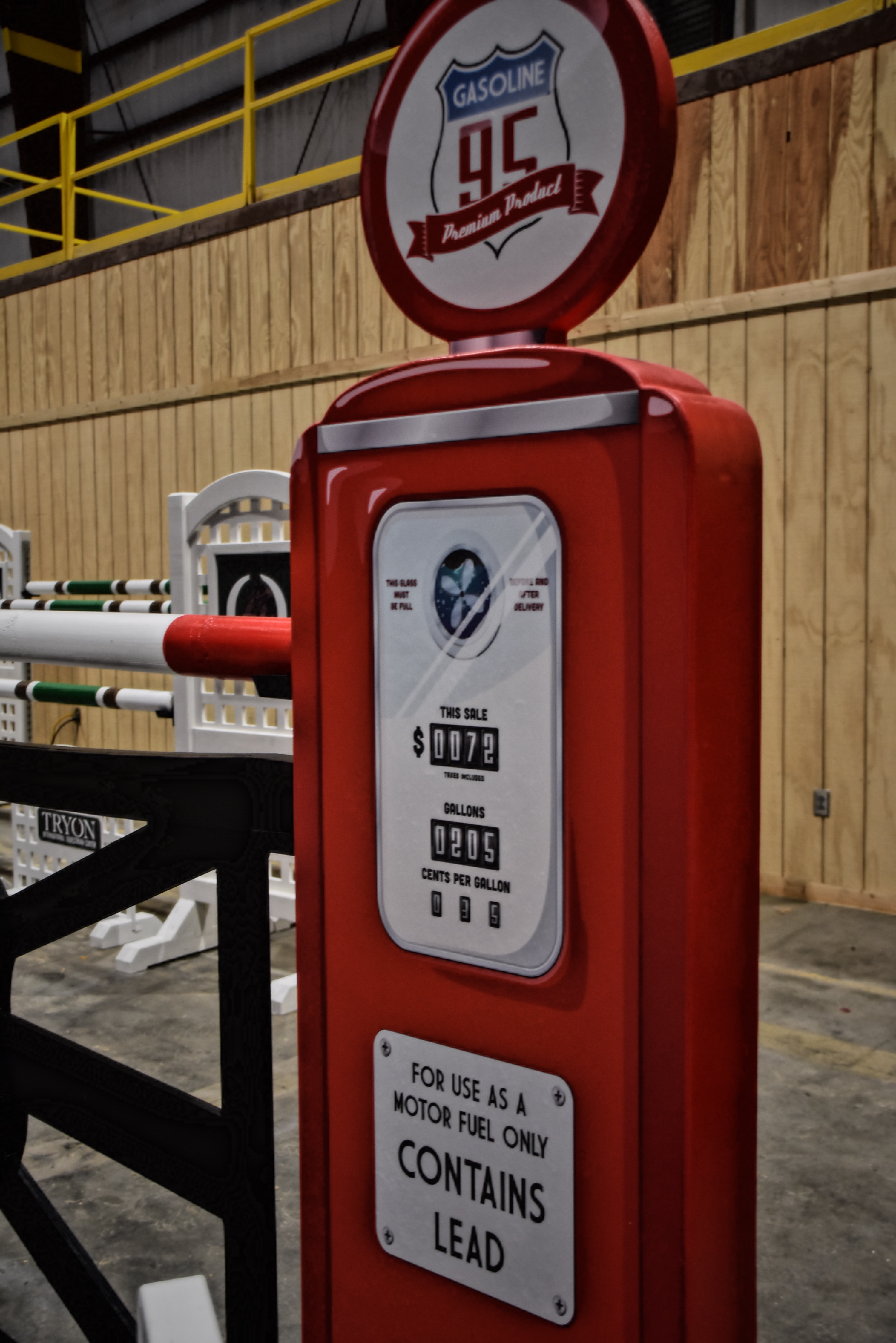 While he didn't always see himself in this exact position, Sauce has a future now set with some tremendous goals in mind. The first goal? See one of his jumps in the FEI World Equestrian Games™, Tryon 2018. "I really want to make some special jumps," he elaborated. "With this technology, I can make 20 jumps in a row that are unique. Ultimately, I like seeing the finished product. When I see the ones that I have finished, that just gives me so much motivation to continue moving forward and creating more."
Sauce will continue to grow the ever-changing image of TIEC jump displays. With a passion for the sport, and an eye for excellence, there is no doubt that this jump engineer is on his way into the big arenas.