Equestrian sport and a love for horses is deeply rooted in Tryon, North Carolina, which many horsemen and women have called "home" for generations. As the sport continues to grow, we're shining the spotlight on our "Local Legends" who have played significant roles in the development of equestrian sport in the area and at the Tryon International Equestrian Center.
Meet Randi Goulding, our second Local Legends feature. As the barn manager of Roger and Jennifer Smith's Green River Farm in Rutherfordton, NC, Randi has been a part of the local equestrian community for the past 19 years. She currently manages 12 horses, from show hunters to show jumpers, eventing and fox hunting mounts alike. She also competes Green River Farm's Akota, a 12-year-old Paint mare, in eventing. Continue reading to hear how she started riding, how she believes TIEC has impacted the local equestrian community, and more.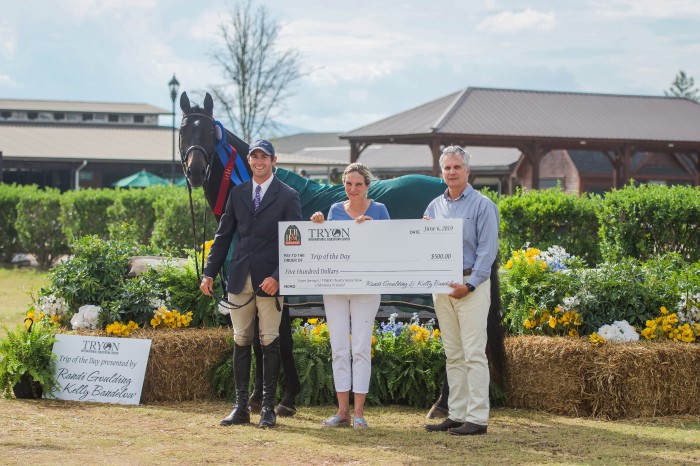 Randi Goulding and Kelly Bandelow presenting the Trip of the Day award to Hunter Kay and Hobcaw Creek
©Reagan Ibach for TIEC
Can you tell us how you started riding, and how your journey has continued since then?
I started riding when I was three years old. My sister was taking lessons at a riding school in Atlanta, and my parents took me over to see her ride. I just fell in love with horses. When I was twelve years old, I began taking lessons with Barbara Goldsmith, a professional in Atlanta, and started going to horse shows. At 16, I began working for several different people during the school year and over my summer breaks. At this point in my life I began going to more prestigious horses shows with such professionals as Don Stewart, Terry Brown and Laura Kraut. This continued through my college years. At the age of 23, I became a flight attendant, which left little time to pursue horses professionally, but I continued to ride during my free time. After the events of September 11, 2001, the airline industry suffered dramatic upheavals and it was time for a change. Horses had always been a deep passion within me and I wanted a return to that life. It was through serendipity and good fortune that I was hired by Jennifer and Roger Smith to manage the horses at Green River Farm.
Randi Goulding and Atoka
©Shannon Brinkman Photography
How do you think TIEC has impacted the local equestrian community?
Tryon has such a long standing history in the equestrian community, going back more than 100 years. Horses are the heart and soul of this place. As a teenager, I showed at Harmon Field and to see the vision Jennifer and Roger come to fruition has been inspirational. TIEC has been a huge boon for the region. It's amazing to have a facility like this in our backyard, hosting international, national and local level events from show jumping and show hunters, eventing, driving, dressage, and the young horse shows. It meets the needs of the equestrian community in all aspects, providing a facility for every level of competitor to compete at various events through the year. The personal highlight for me was being present at the 2018 WEG. The US team, of which Laura Kraut was a member, won the gold. When Laura and I were teenagers, she showed and I groomed for her at Harmon Field. It was a full circle moment that made me so proud of what everyone involved at TIEC had accomplished. Who could have dreamed 40 years ago she would have been standing on a podium receiving a world championship gold medal in Tryon!
Randi Goulding and Atoka
©Shannon Brinkman Photography
Who have been some of your role models along the way?
I try to learn something everyday while working with horses, so my lessons come from far and wide. Terry Brown had a big influence on my riding style. Anne Keenan taught me how to start young horses as well as overall horsemanship. It was while riding with Anne, that I met Laura (Kent) Kraut and groomed for her. We were both juniors and Laura was riding "Winning Hand" among others. It was great to be a part of such a successful team.  Most recently, Jennifer and Roger have had the biggest influence on my path. They always put the horse first when it comes to their care and well being.
Randi Goulding and Atoka
©Shannon Brinkman Photography
Is there anything you'd like to add?
I cannot thank Roger and Jennifer enough for getting me to this point in my career. I never imagined there would be a job like this, giving me the opportunity to pursue my passion with horses. Working for them at Green River Farm has been a dream job.