Meet Parker Minchin, our next athlete to slide under the spotlight of our Amateur Hour series! Parker is an accomplished Reining athlete with an extensive background in the Hunters. She and her two lovely horses are competing in the Carolina Classic at the Tryon International Equestrian Center this weekend, so be sure to come out and cheer her on! Continue reading to get to know more about Parker, her transition from the Hunters to Reining, her talented horses, and more.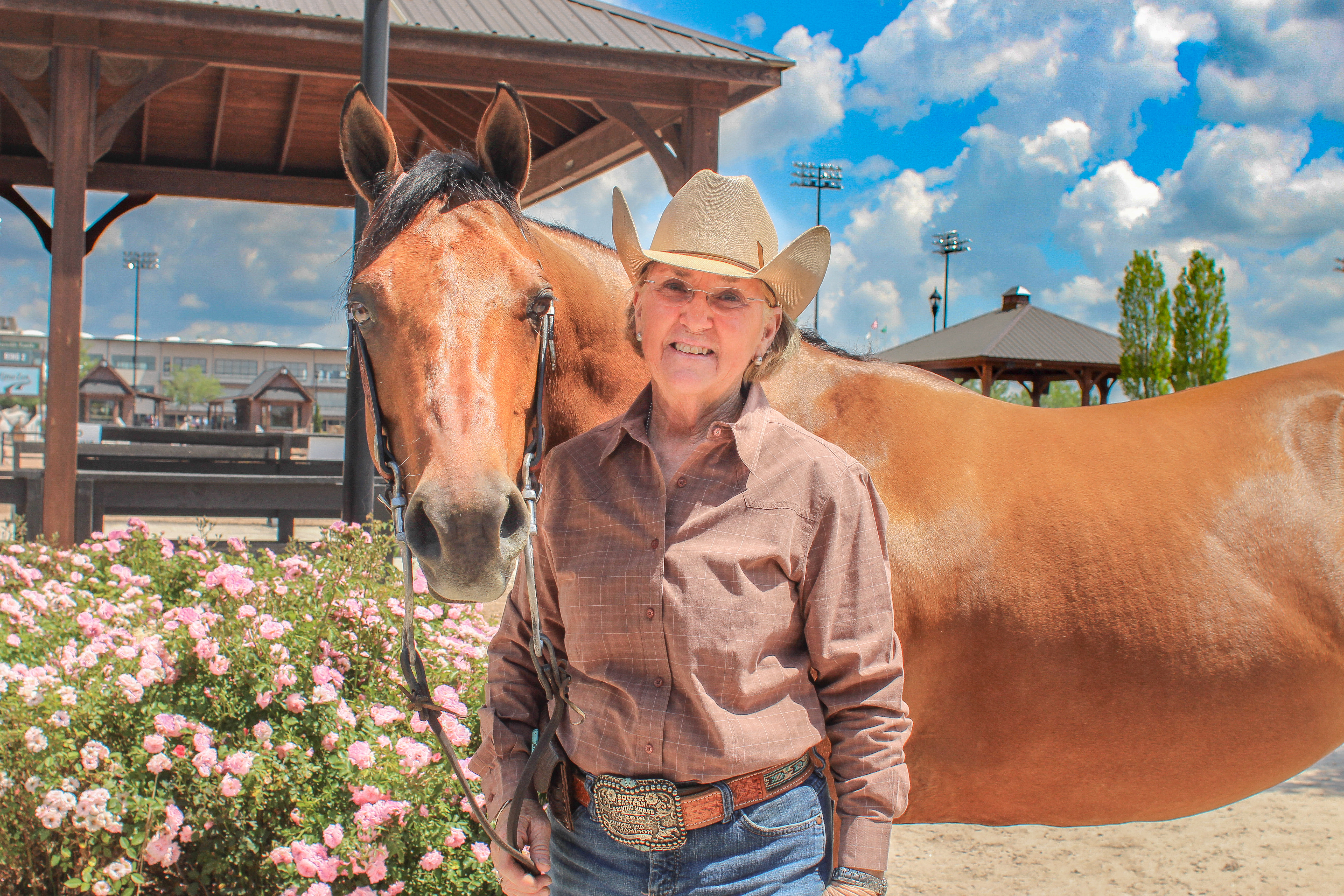 Tell us about your horses!
I have two horses here. I've had Dunwhizzenruff, or 'Wizard,' for about five or six years. I've been showing him for a long time, and then I have a horse named Conquer This Town, or 'Rocket.' I bought him as a two-year-old to do the Futurity, but he got hurt and didn't get to go, so my trainer showed him last year. Now, I'm making my debut on him! I'm a little nervous because he won a lot last year with my trainer, and I feel like sometimes I let him down. It'll come, though! It's a work in progress.
What are you competing in this weekend?
I'm doing the Non-Pro Derby on Rocket, and then Wizard will do the regular Non-Pro classes.
How did you get into Reining?
I grew up in a horse family and did the Hunters my entire life. I actually did it professionally until about 20 years ago. When I got remarried, my husband had been a professional in the Hunters, too. So, I got my amateur card back and started doing the Hunters again a little bit, but I always wanted to try Reining. It had always been on my bucket list! I started Reining about six years ago.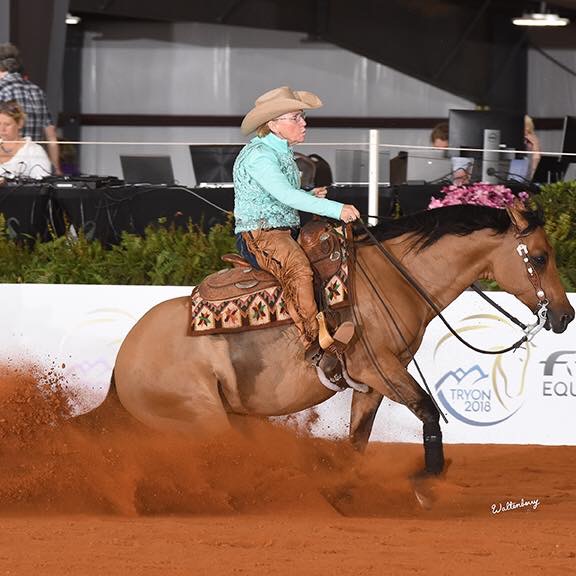 How was the transition from the Hunters to Reining?
The only problem is when you stop Reining horses, you need to get them to go far and not anticipate it. You run them all the way to the fence. Well, I still see a distance to the fence. Nobody else understands that! Even though I know they're not going to jump, I still think about that. That part is really hard for me.
Have you showed at TIEC before?
Yes, we came for the WEG Test Event last year, but I had not been here before that. Everybody else in my family had been here to show in the Hunters, but I hadn't been until last year. We're just blown away by how fabulous this facility is! We don't want to show anywhere else besides here.
What do you work on in between shows?
We have to work on our stops and our turnarounds. You have to keep them fit enough to show. Especially when you're competing in a big ring like the one here, you have to keep them fit. We work on their form so that when we show them we can work on the speed. We have to make sure they're putting their feet where they're supposed to in order to turn faster and slide further.
Which horse has made the biggest impact on your life?
During my time as a Hunter trainer, I had some really, really famous ones. I actually still board Rox Dene, who is the 'Show Hunter of the Century.' She's 33 now! Last year was great for Wizard and me. We ended up fourth in the world for the Prime Time Non-Pro. We won a lot last year. I don't know that I'll be able to ever repeat that again. He's my heart horse of the Reiners!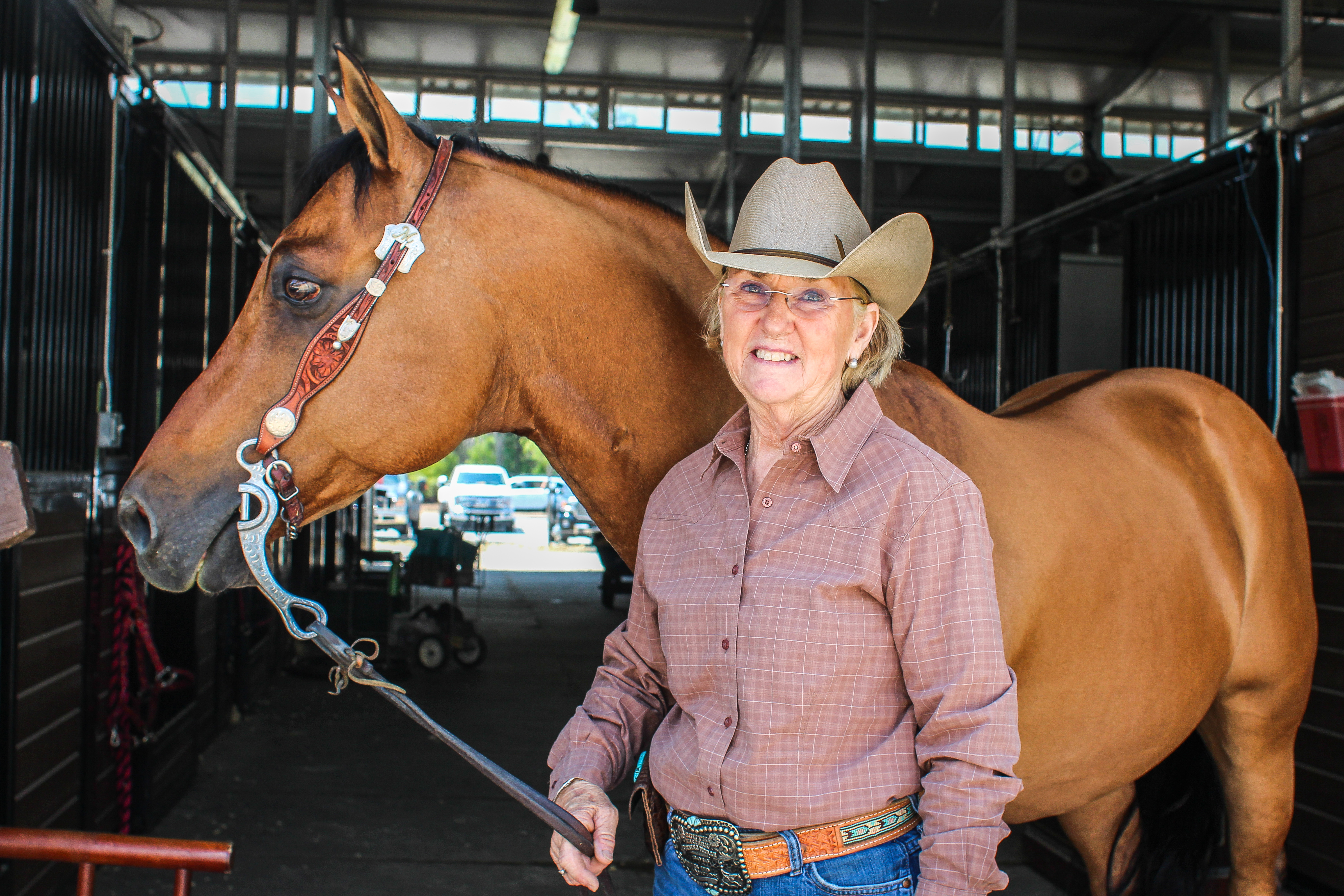 What motivates you?
I just love the horses, the family atmosphere, and the friendships that we've made. It's really fun to come back to a place like this and see some of my Hunter friends again who I haven't seen in 20 years. We have a really tight-knit family across all disciplines. Horse people are just drawn together. There are so many people who have your back!
How have horses and the sport impacted your life?
I have been able to go places, do things, and meet people who I never would've met if it weren't for the horses. I judged the Hunters for years, so I traveled a lot. There are so many people in the horse business who are important in their industries, but when we get to the horse show, we're all just horse people. They're people who you never would've gotten the chance to meet except through the horses.
Thank you for chatting with us, Parker! Best of luck to you and your horses this weekend.