The Carolina Classic at TIEC slides into the Indoor Arena onsite at TIEC May 8-12, 2019. Winner of the Carolina Classic Derby Open at the venue's inaugural hosting of the longstanding Reining competition last year, TIEC is thrilled to welcome back Peter Defreitas this May. Defreitas has been competing in the Carolina Classic since 1996, so we caught up with him to hear what he had to say about this spring's event. Keep reading to see what Defreitas had to say about growing the sport of Reining in the Carolinas at TIEC!
You had great success last year – how will you build on that success this spring?
That was the first time I had won the Carolina Classic, and it was a pretty big deal for me. I've been going to the Carolina Classic since 1996, and it was my very first NRHA horse show, so to win there last year was special. I'm just hoping to go and prepare my horses well, and let things fall where they may.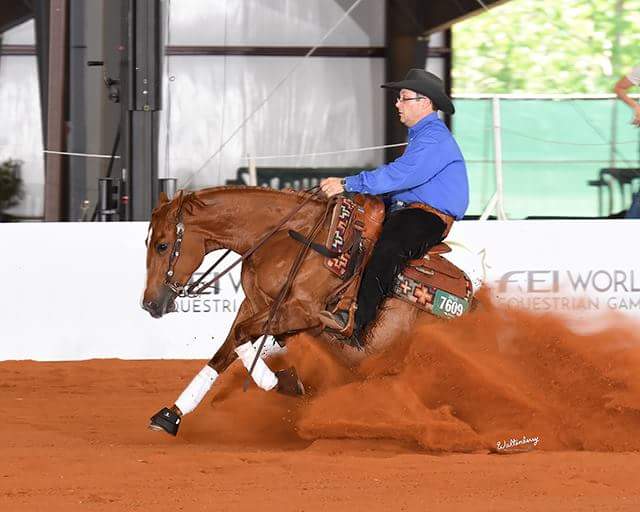 Sweet Daisy Surprise and Peter Defreitas sliding to first in 2018.
©Waltenberry
Do you have a favorite aspect of the venue?
Last year was the first time I'd ever been to Tryon, but we really liked the size of the arena. We're looking forward to seeing what's been done since last May. We liked the stabling, and all the restaurants being right there on the grounds is all pretty neat.
How have you seen the sport of Reining grow in the Carolinas, and how can the Carolina Classic at TIEC grow the sport?
The way to encourage growth is to keep having events there – and to have people go and have a good time. I think because it was a new venue last year, some people were a bit skeptical [of coming], but I think everyone that was there last year was pretty pleased with the facility! More and more people will come each year as it's continued at TIEC. There's definitely always room for a new venue, and once people come to TIEC they're going to enjoy going back to it.
What horses are you bringing to the Carolina Classic at TIEC this year?
I have a couple different horses I'm bringing. I have a few non-pro horses for my clients to show, and then I have one horse I'll be showing in the Derby there. My assistant will be showing a Derby horse there as well.
Are there any up-and-coming horses on your string for spectators to watch?
I have several futurity horses this year that I think are going to be really nice and that I hope people will enjoy watching, but that's a long way down the road. We'll see how they end up in the next six months or so.
Good luck this spring, Peter! Click here to learn more about the Carolina Classic at TIEC.