Additional Equestrian Biosecurity Information to Come Shortly to All Competitors
For Immediate Release
Mill Spring, NC – March 15, 2021 – The Tryon International Equestrian Center and Resort (TIEC) is set to launch the 2021 competition season with the four-week Tryon Welcome Series, which starts March 25. The Hunter/Jumper series will feature USEF A and AA Hunters and Level 3 Jumpers and over $75,000 in prize money. Download the Tryon Welcome Series Prize List and find information about stabling, lodging, and golf cart reservations at Tryon.com/compete.
Due to U.S. Equestrian Federation policies surrounding COVID-19, competition will remain closed to spectators until further notice. To view the TIEC COVID-19 Action Plan, visit Tryon.com/Covid.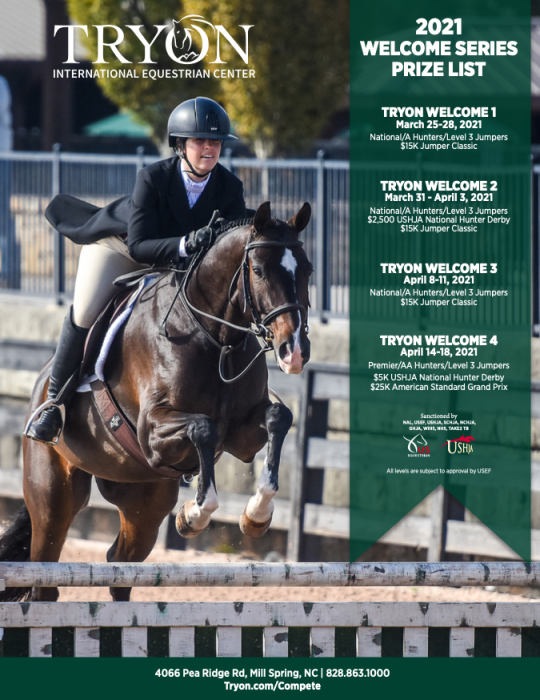 Tryon Welcome 1, hosted March 25-28, will feature USEF A/Level 3 competition. The $15,000 Jumper Classic will be hosted Sunday afternoon.
Tryon Welcome 2, which will be hosted March 31-April 3 in order to give competitors a day off for Easter Sunday, features USEF A/Level 3 competition. The week will feature a $2,500 USHJA National Hunter Derby alongside the $15,000 Jumper Classic. Also hosted alongside Tryon Welcome 2, The Fork at TIEC presented by Nutrena® will bring FEI and national Eventing competition to the venue April 1-4.
April 8-11 will see Tryon Welcome 3 at the venue, continuing to offer USEF A/Level 3 competition including a Friday $5,000 Welcome Stakes and a $15,000 Jumper Classic Sunday afternoon.
Tryon Welcome 4, April 14-18, brings the first USEF AA/Level 3 competition to TIEC for the season. Alongside a $25,000 American Standard Grand Prix hosted Sunday afternoon, the week will also feature a $5,000 USHJA National Hunter Derby.
Prize Lists for the entire 2021 competition season are updated as available and available online, in addition to information on lodging, stabling, golf cart reservations, and other info, at Tryon.com/compete or by calling 828-86-1015.
Spring & Summer Series stall and lodging requests are now available. Visit Tryon.com/compete to learn more.
Organizers are hopeful that regulations around COVID-19 will continue to ease to allow spectating of competitions at some point this year. Click here for the latest information on USEF's COVID-19 policies. To view the TIEC COVID-19 Action Plan, visit Tryon.com/Covid. All guests will be temperature-checked upon arrival to TIEC. Masks must be worn at all times unless mounted on a horse or actively eating or drinking, and social distancing is required while onsite at TIEC.