For Immediate Release
Sarah Madden for TIEC
Mill Spring, NC – April 25, 2023 – the Katydid CDE presented by Pavillon at Tryon International Equestrian Center & Resort (Tryon International) saw strong entry numbers for its third season at the venue, culminating in Cones competition in Tryon Stadium on Sunday morning. Both national and international divisions saw strong performances and results, with rave reviews from competitors about the weekend. Several of the week's contenders used the Katydid CDE as their final competition run before heading to the World Championships in the Netherlands, and all raved about the quality of competition offered for their preparations. Read more and view results below. 
Janelle Marshall and Irresistible are Untouchable in 3* Single Pony Win
In the 3* Single Pony Division, Janelle Marshall (SC) and Irresistible climbed from third place after Dressage to claim the lead after Cones on a final score of 154.88. In reserve, Hilary Mroz-Blythe (MA) had a faultless Cones performance to win that phase and finish the weekend on a score of 163.87. Amy Cross (MD) wrapped up her weekend on a score of 168.93 for third place.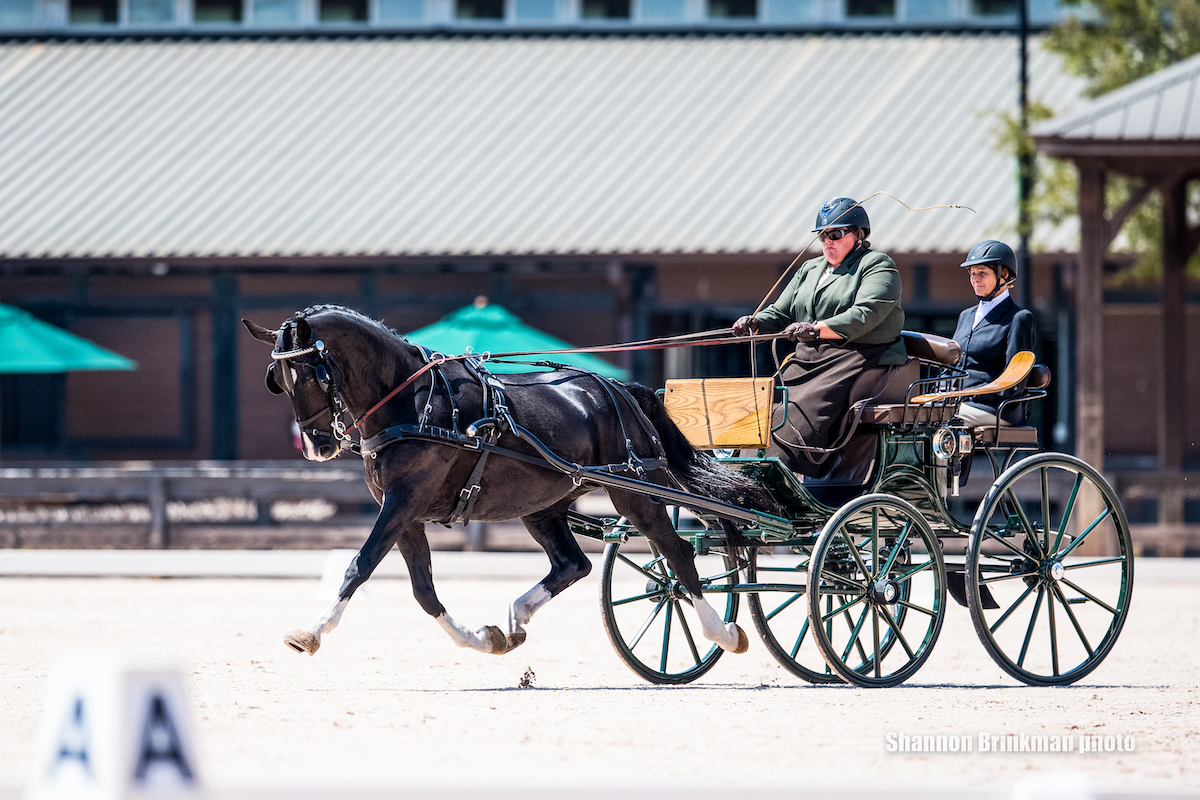 Janelle Marshall – Dressage Phase
©Shannon Brinkman Photography
Marshall was able to claim the win piloting Bob Sims' mare, who is 14 years old. The duo are preparing for the World Championships, and found their stride after a bit of a "rocky" start to the weekend. 
"This is a great venue, certainly with world-class hazards, that's for sure. Dressage was a little rocky for her, but during Marathon yesterday she was actually quite exceptional. And today in Cones, I'm very, very happy with her."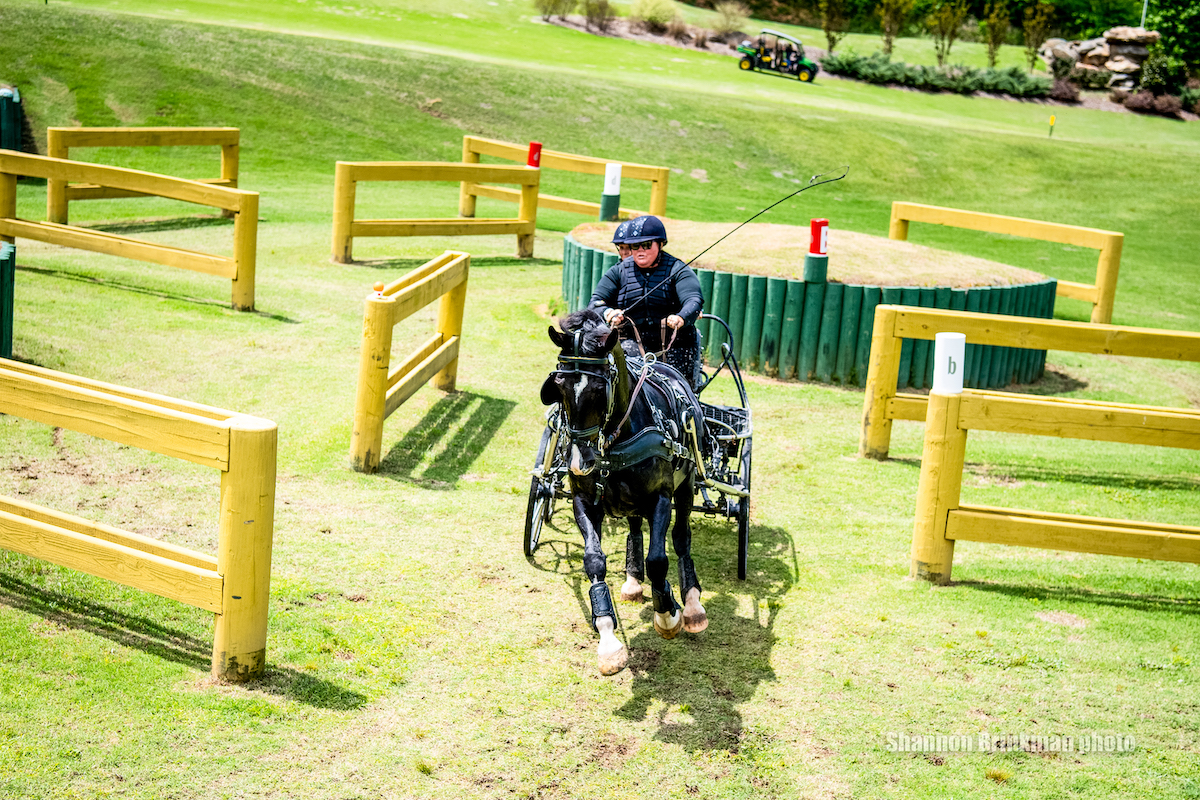 Janelle Marshall – Marathon Phase
©Shannon Brinkman Photography
According to Marshall, who is a repeat competitor at Tryon International's Combined Driving events, the White Oak Course delivered the world-class conditions she's used to seeing at the venue despite heavy rain prior to competition. 
"The water hazard was spectacular. The lighthouse… I love driving that hazard! It's gorgeous, and number six, which was the mounds, was certainly quite challenging, but I think it actually drove absolutely beautifully. Pretty much all the hazards here drive exceptionally well," she elaborated, "and Marc Johnson is a great course designer, so we're very lucky to have him here. He set up a fantastic course."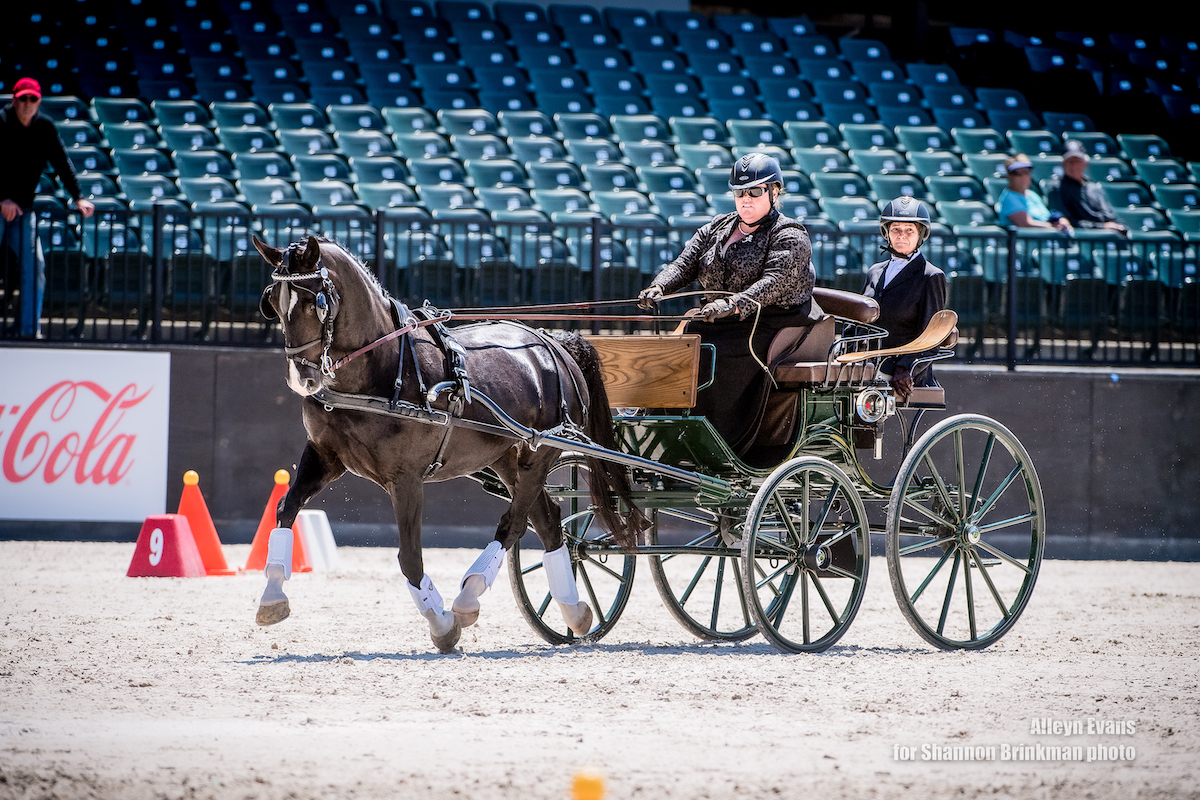 Janelle Marshall – Cones Phase
©Shannon Brinkman Photography
Walking into Cones competition with a lead of more than nine points, Marshall's strategy in the phase was to keep herself and her mare calm, she detailed. "For this mare, I was aiming just to go cool, calm and collected, and not allow her to get strong. She had moments, but that was okay. Overall I'm very, very happy with her. It's definitely different footing for us; we're not always used to competing on this footing, so that adds another layer of strategizing."
In addition to earning a qualifying score for the World Championships at the end of August, Marshall called the weekend "icing on the cake" to a remarkable spring season full of hard work. "Unfortunately now, we have a little bit of a big break before the Championships, but this gave us a qualifying score for the World Championships and was a great way to finish the Florida season up here. It just gives us a little bit more time to work on things through the summer. We worked really hard in the Florida season, so this weekend was a great experience. 
"We love it here!" Marshall concluded. "We come every year, and we will keep continuing to come, because we love it here. It's so pretty. I love looking up and seeing the mountains right there."
Katie Whaley Wows in Worlds Dress Rehearsal for 3* Pair Pony Division
Katie Whaley (KY) may have been the only driver in the 3* Pair Pony Division, but her focus was squarely on her future World Championship bid in August, and she accomplished her ideal training run at Tryon International with her team. The final score for Whaley was 145.18, reflecting a sub-50 score on Dressage and a double-clear effort in Cones on Sunday.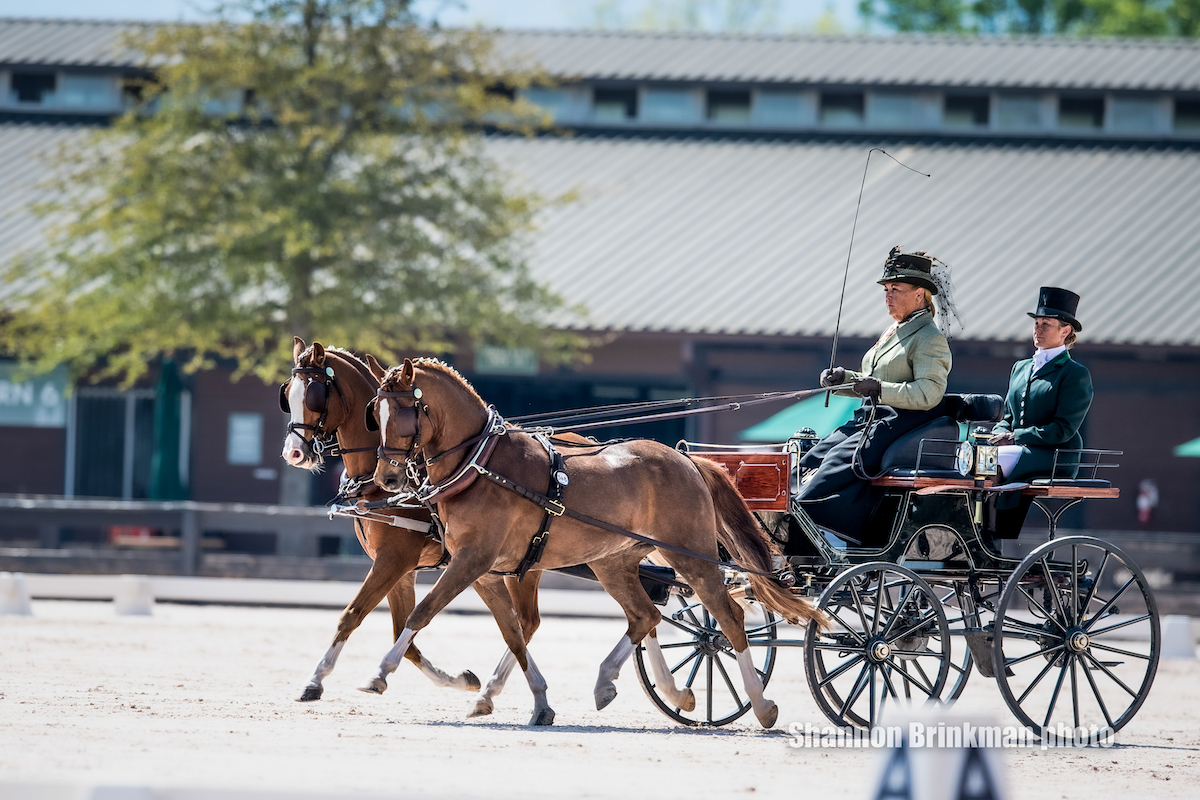 Katie Whaley – Dressage Phase
©Shannon Brinkman Photography
"This was the best weekend so far with this pair," Whaley raved. "We broke 50, which was my goal in Dressage. You know, ponies don't get those scores! For the Marathon phase, I put Tommy back in. I've been saving him for Worlds, since he's my number one pony. That was a joy to drive yesterday! We went double clear today, and it doesn't get much better than that. I feel really ready for Europe now."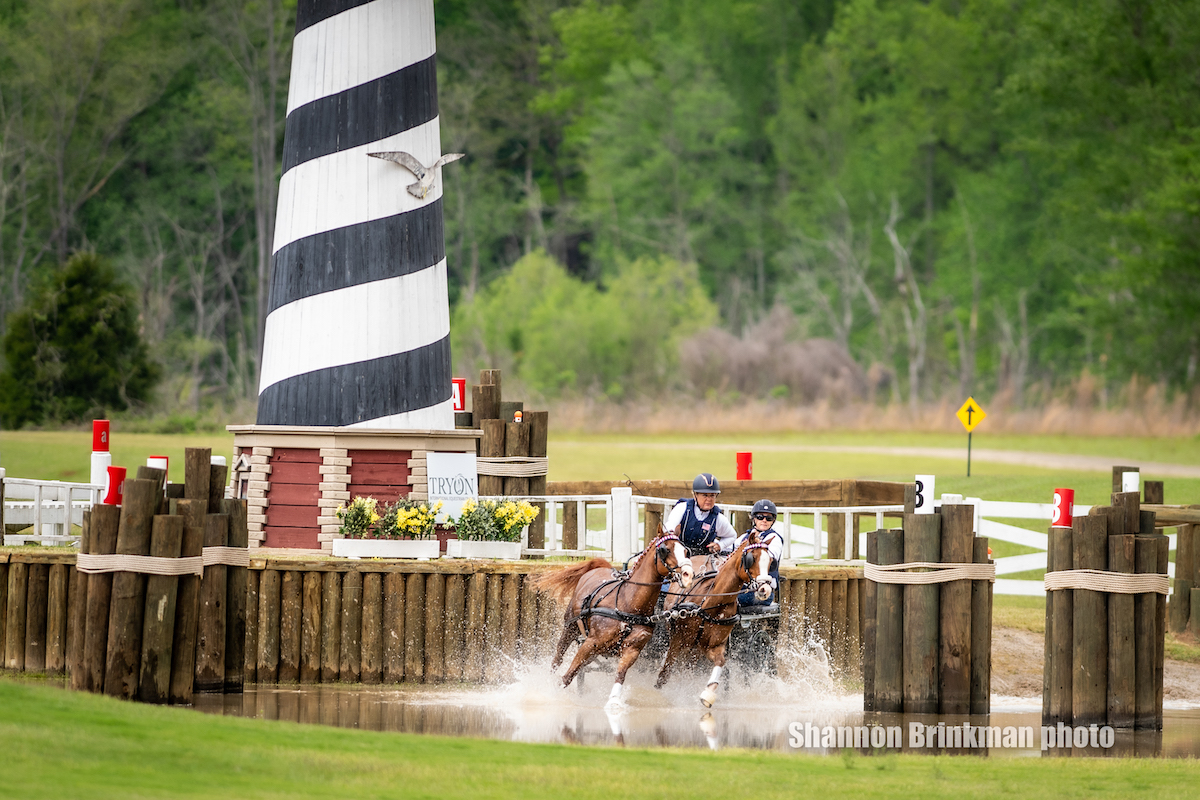 Katie Whaley – Marathon Phase
©Shannon Brinkman Photography
Whaley did opt to take it easy on the White Oak Course, choosing to prioritize a slick performance over a speedy one. "Marathon was great, and smooth. I didn't push them. I just wanted to be smooth. We didn't touch a post, didn't have a knockdown… So it was great."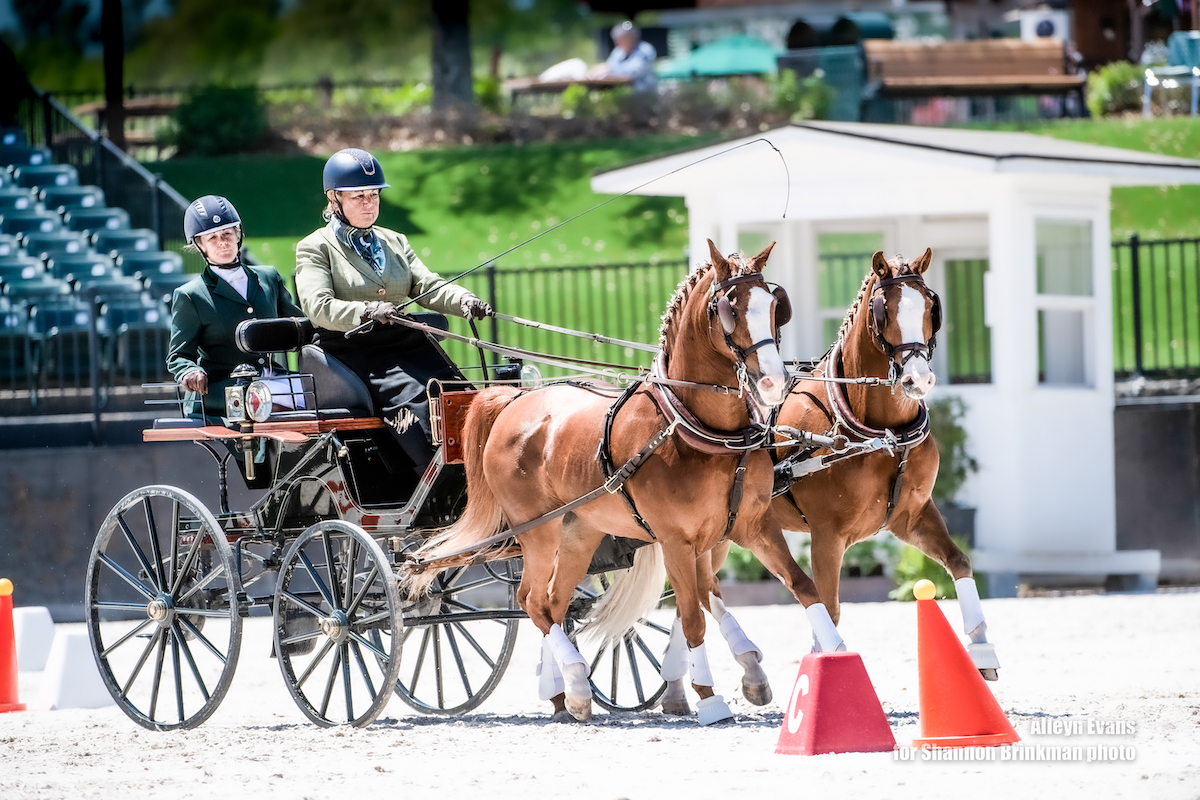 Katie Whaley – Cones Phase
©Shannon Brinkman Photography
Whaley concluded that her Tryon International experience was a top-tier way to prepare for her future goals, as one of the top venues for Combined Driving in the nation. "Besides Live Oak, they're probably in a tie for the two best shows. The Katydid CDE is very professionally run, and I always knew what was going on. It's a pleasure to show here. I'm just thrilled," she concluded. "I'm really finishing my spring season on a high note. So I'm really excited."
Allison Stroud Drives to 2* Single Horse Win
Allison "Lisa" Stroud (PA) brought a green horse to Tryon as part of his first Advanced season and drove away with a blue, scoring 145.61 over three phases to take the overall title. Reserve honors went to Daphne White (NC), who finished on a three-phase total of 161.53. Kimberly Moore (KY) claimed third after winning the Marathon phase, totaling 168.91 points on the weekend.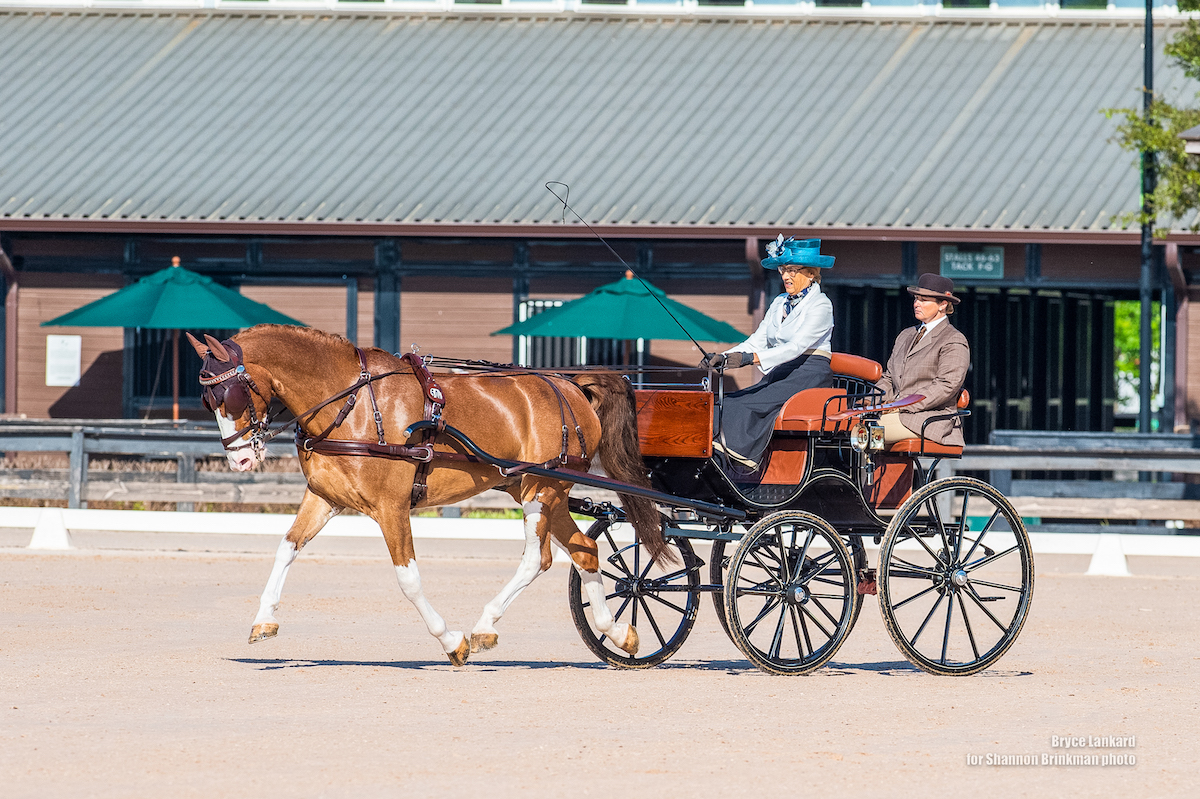 Allison Stroud – Dressage Phase
©Shannon Brinkman Photography
"It went very well; this event is extremely well organized," Stroud raved. "If they say something's going to happen at a certain time, it happens at that time.  It's a very efficient, well-run event, and a beautiful facility. The footing is good, the barns are great, so it's always sort of a treat to come here."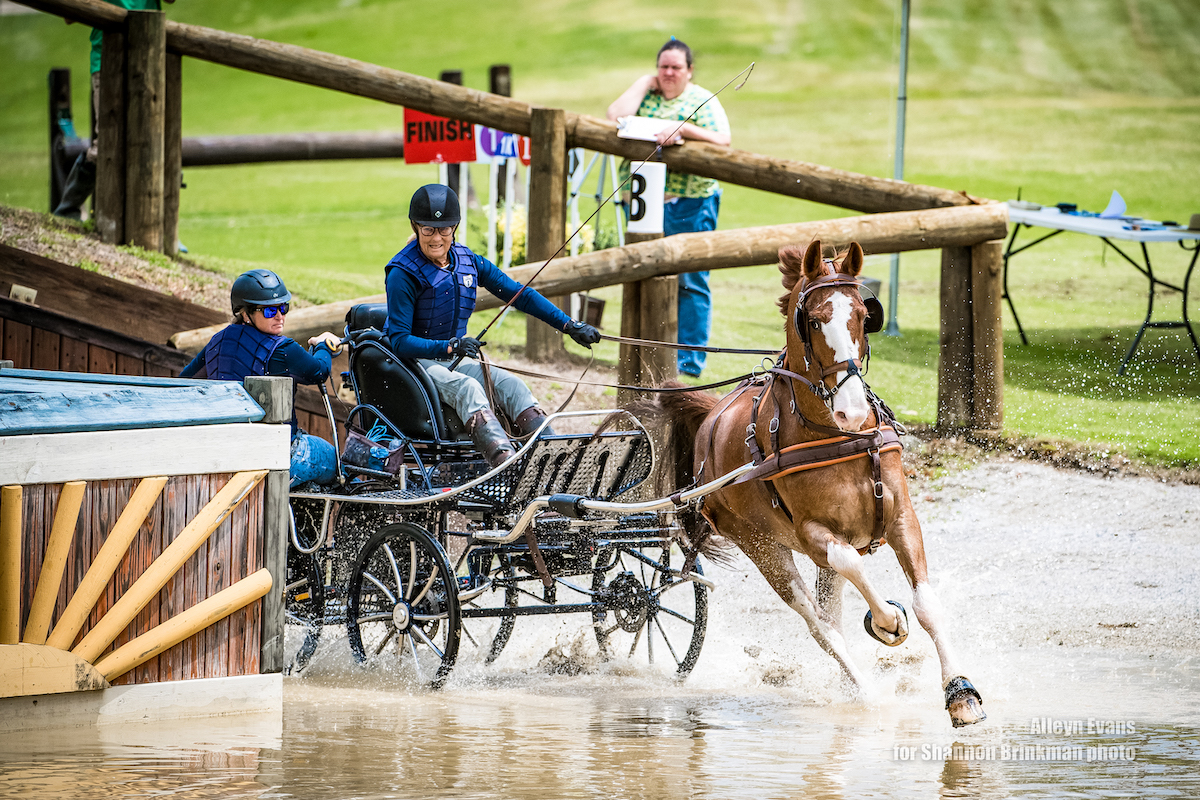 Allison Stroud – Marathon Phase
©Shannon Brinkman Photography
For Stroud, the water hazards on the Marathon course proved to be an advantage for her hydrophilic horse, rather than a point of stress as they can sometimes become: 
"The Marathon was really fun. There's two water hazards, and unlike any horse I've owned before, he actually goes forward to the water and loves it. I mean, if there was a diving board, he'd jump right off. He's a horse that tries very hard to please you. He's very honest, and always cheerful. He's a happy guy!"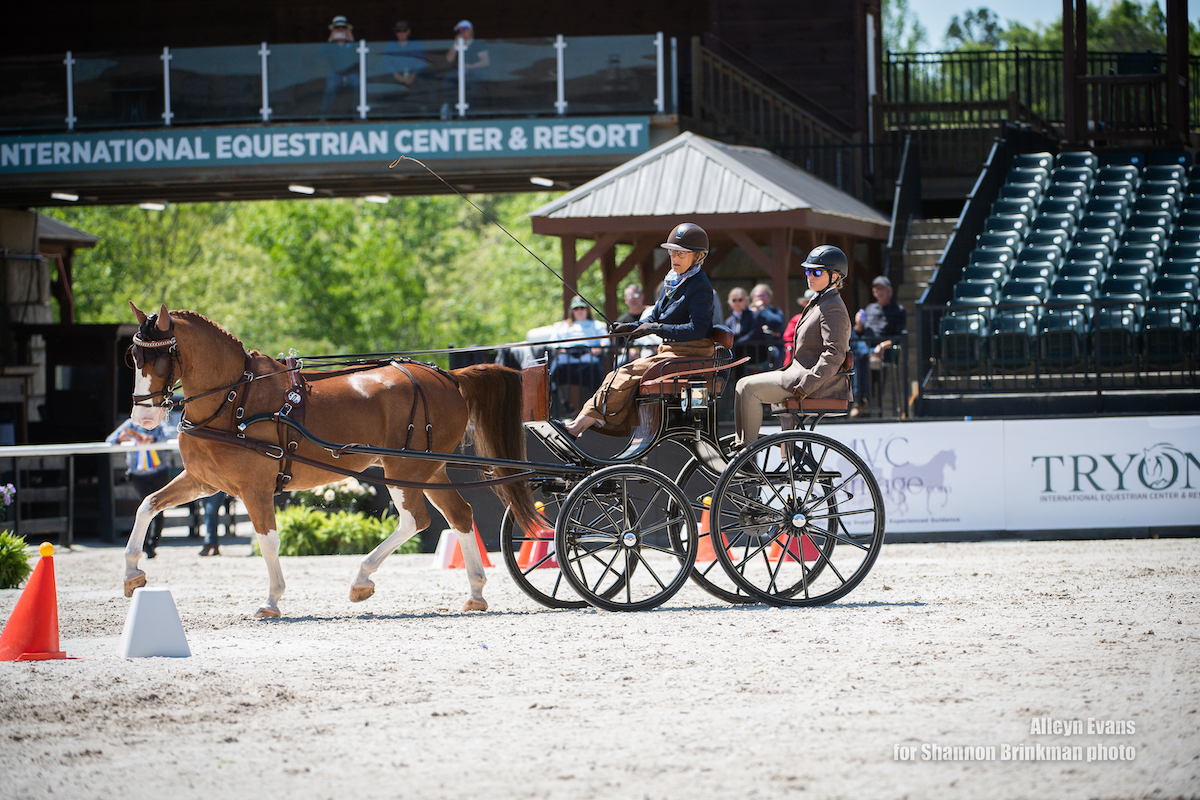 Allison Stroud – Cones Phase
©Shannon Brinkman Photography
Stroud humbly listed her strategy for each phase as "geez, I hope I make it through" – despite her experience and talent at all levels. Not only did she survive all three phases, but topped off an impressive weekend with a fast and clear Cones performance to clinch the win. 
"He's very manageable in the Cones," she said of her horse. "I've had him for three years, and that's all he's driven. So, he's slowly coming up the stages. This year we're trying the novice advanced. He's not an advanced horse yet," she acknowledged, "so I can't just happily gallop around the Cones phase, because he needs to move up at his own pace. This was a totally positive start, and I was really pleased with him."
To view all results from the Katydid CDE including results by phase, click here. 
Thank You to Our Sponsors!
Katydid CDE presented by Pavillon at Tryon International
Braini
The Carriage House
IVC Carriage
Allison Stroud
Anna Koopman
Bettina Scherer
Carol Precious
Cathy Thomas
Cheryl Rivers
Hilary Mroz-Blythe
Laura Kunze
Photos ©Shannon Brinkman Photography. These photos may only be used once, in relation to this press release. Competitors may view and purchase official competition photos at shannonbrinkman.zenfolio.com. 
For more information about competitions hosted at Tryon International Equestrian Center, visit www.Tryon.com/compete.