For Immediate Release
Mill Spring, NC – November 13, 2020 – Day two of Dressage wrapped up the BUCKEYE™ Nutrition CCI 4*-L Division with a continued lead for Marilyn Little (USA) and RF Scandalous, besting the BUCKEYE™ Nutrition USEF Eventing CCI 4*-L National Championship thus far on a score of 21.50. Gaining second after earning a 24.50, Elisabeth Halliday-Sharp piloted Deniro Z, the 2008 Dutch Warmblood gelding (Zapatero x French Buffet XX) owned by Ocala Horse Properties and the Deniro Syndicate, while Boyd Martin (USA) and Tsetserleg, the 2007 Trakehner gelding (Windfall *PG* x Buddenbrock) owned by Christine, Thomas and Tommie Turner, grabbed third heading into Cross-Country on a score of 26.50. Doug Payne (USA) and Starr Witness, the 2011 Dutch Warmblood mare (Chello III VDL x Veneur) owned in partnership with Laurie McRee and Catherine Winter, keep their top placing with yesterday's 26.60 to sit in fourth, also tied with Tamra Smith (USA) and Danito, the 2009 Hanoverian gelding (Dancier x Wolkenstein II) owned by Ruth Bley.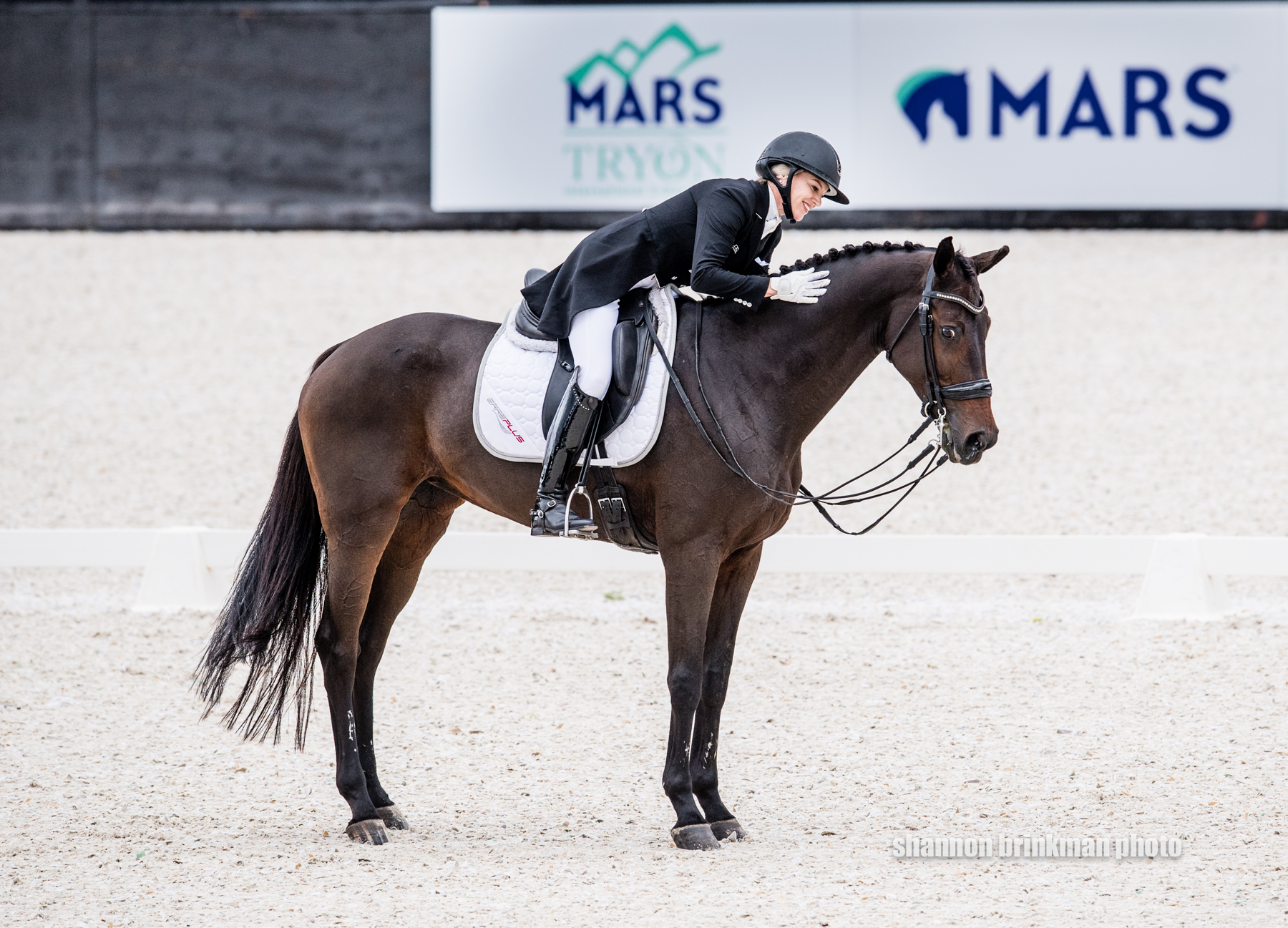 Marilyn Little and RF Scandalous
©Shannon Brinkman Photography
"There's always pressure," Little admitted about the atmosphere surrounding the CCI4*-L National Championship, "but truly the only pressure I feel is pressure I've put on myself. I believe Kitty and I both tend to produce our best performances in the most pressurized moments, so I really look forward to the butterflies! We know how to do weeks like this, and I believe we have come into this weekend prepared and ready to take on all three phases the way we would like – but of course the stars have to align!"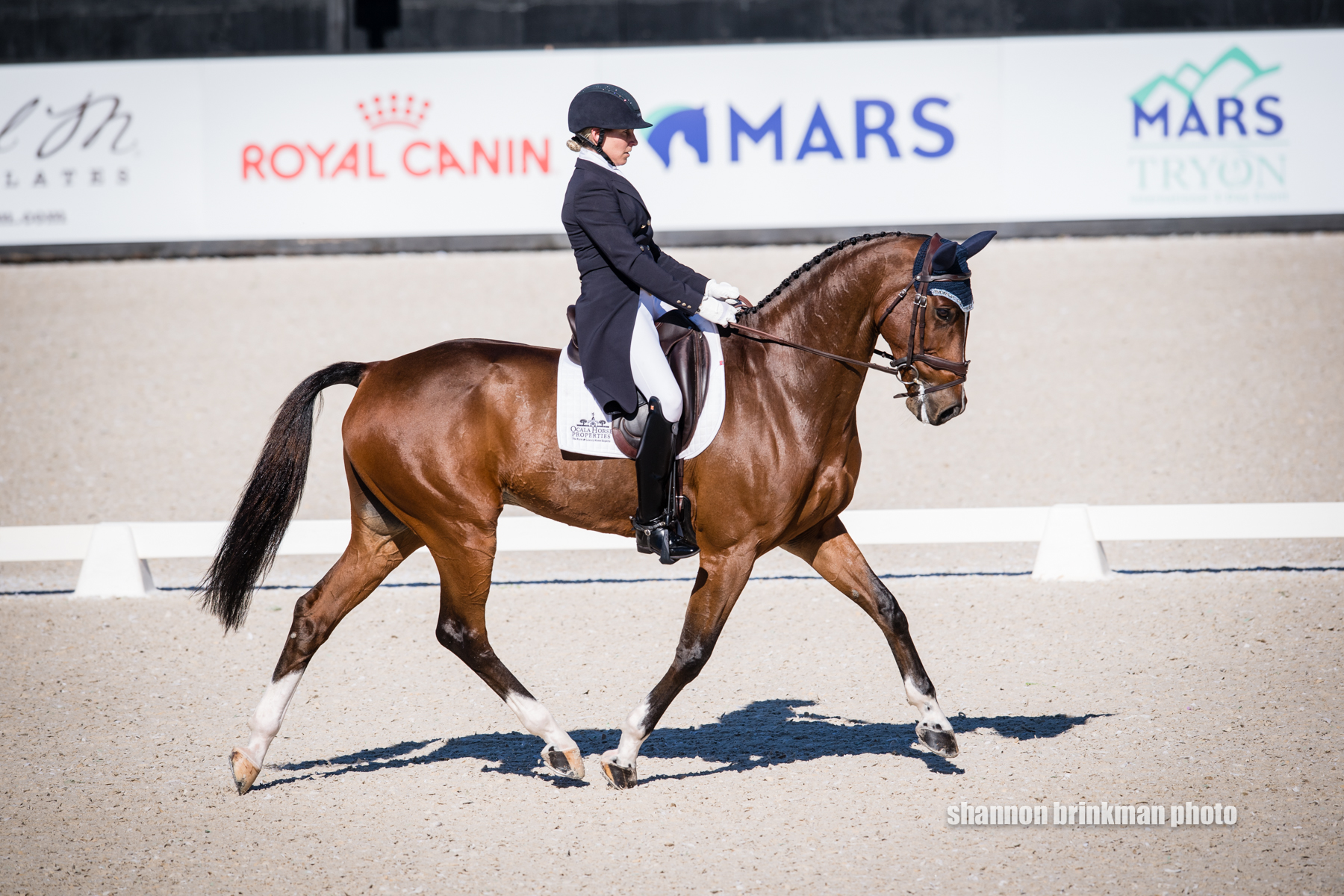 Elisabeth Halliday-Sharp and Deniro Z
©Shannon Brinkman Photography
Despite the loss of major events throughout the year due to COVID-19, Little emphasized that this weekend is one of her most important chances to showcase RF Scandalous as an Olympic contender. "I only have one shot out there, and so I try to be patient and careful to never overuse or risk her in a competition that isn't critical to the greater goal," she shared of her strategy with the 2005 Oldenburg mare (Carry Gold x Lario) owned by Michael and Phoebe Manders along with Jacqueline Mars. "Weekends like this one are not only goalpost events, but the opportunity to finally pull the trigger and put your preparations to the test – it's so much fun!"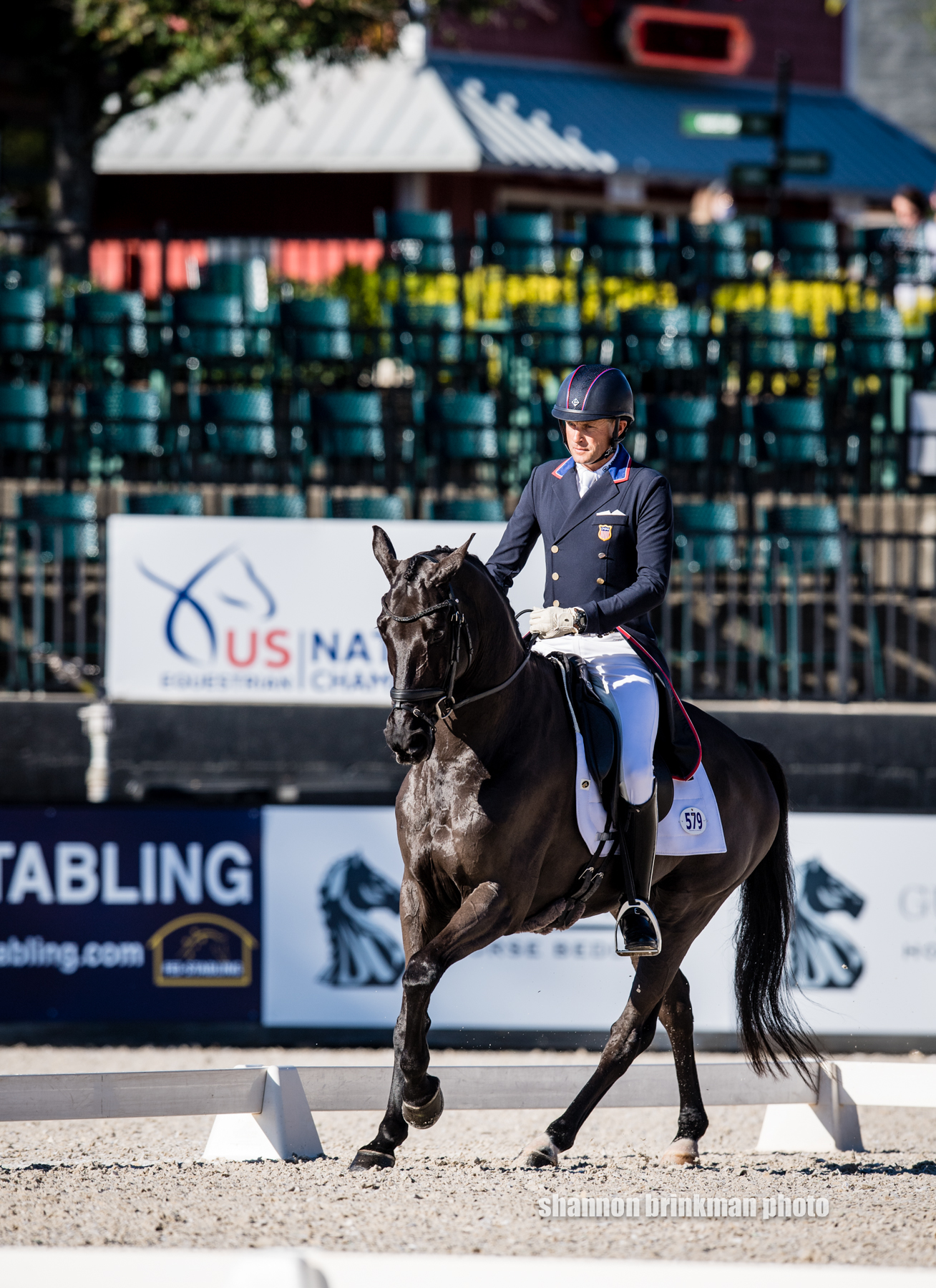 Boyd Martin and Tsetserleg
©Shannon Brinkman Photography
Little acknowledged that leading up to the MARS Tryon International Three-Day Event, "there have been a host of new challenges, some of which have required me to dig deeper to find answers than I thought possible. The fact that I have the chance to be here at all with Kitty this weekend, with all the excitement that I have, is both a blessing – and frankly – a miracle produced by the many incredible people around us. Their support deserves a personal best from both of us," she emphasized. "We have to take one day at a time, but each day, that is what we have come here hoping to deliver."
Erin Sylvester-Kanara and Paddy the Caddy Easily Dominate CCI 4*-S Dressage Phase
Erin Sylvester-Kanara (USA) and Paddy the Caddy produced a score of 24.60 to handily dominate the sandbox in the CCI 4*-S Division, followed in second by Jenny Caras (USA) and Trendy Fernhill, the 2011 Irish Sport Horse gelding (Ars Vivendi x Cruising) owned by Elyse Eisenberg, receiving a score of 27.00. Third currently belongs to Lillian Heard (USA) and CharmKing, the 2011 Holsteiner gelding (Cassito x Heraldik XX) owned by CharmKing LLC, after their performance earned a score of 27.40. The CCI 4*-S Division will contest the Show Jumping phase on Saturday, November 14, starting at 9:00am EST in Tryon Stadium, completing their weekend with Cross-Country on Sunday.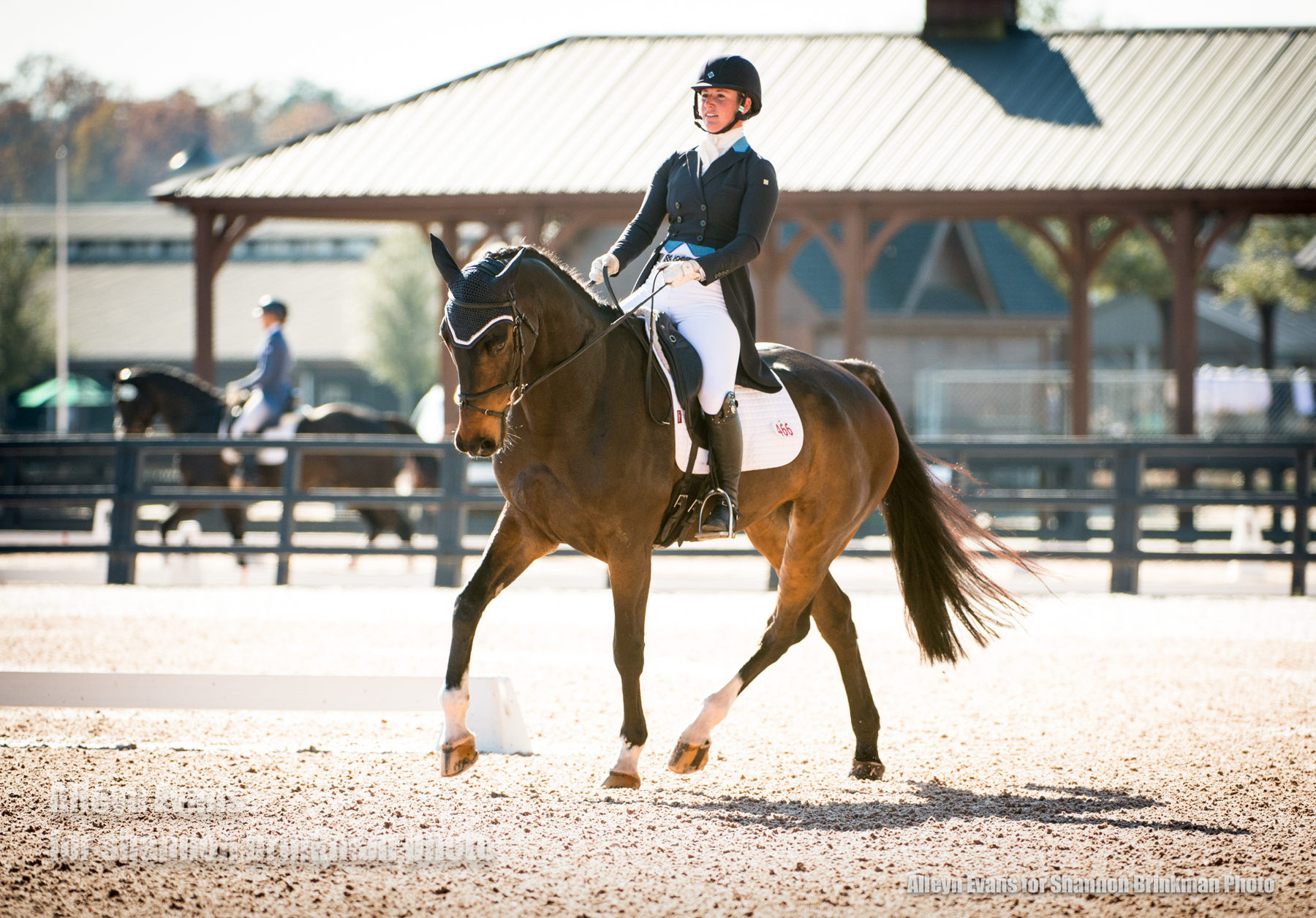 Jenny Caras and Trendy Fernhill*
©Shannon Brinkman Photography
Sylvester-Kanara and the 2007 Irish Thoroughbred gelding (Azamore x Unknown) owned by Frank McEntee are only contesting the Dressage phase this weekend and will not continue on in the CCI 4*-S, she revealed, after improving upon a previous score with the same test a few weeks ago at Plantation Field International.
"I was really, really happy with his test. I did that same test at Plantation and we just had some trouble getting into a rhythm with that test. It has a different flow in the trot work, and it's a little bit more technical right at the start," she explained. "You don't have any mediums to kind of get out in a forward rhythm, so I set it as my goal to get that test a lot better, because I really didn't have a good enough performance or score at Plantation. I actually intended to finish his season that weekend, and he was super in the Jumping phases, but I felt like I just needed to finish off with one more improved Dressage test."
Back in the show ring this week for redemption, Sylvester-Kanara got the ending to Paddy's season that she was hoping for, she shared. "I worked really hard this week setting up each piece of the test so he knew what was coming up. He felt a little nervous in the warm-up this morning, but in a good way: he was trying hard. When he got into the ring, he was super. He has the ability to turn on a little bit of charm when he's feeling right, and he definitely was today. I was really happy with him!"
Though Paddy the Caddy will not be going forward in the CCI4*-S this weekend, Sylvester-Kanara will be piloting another mount, Campground, in the same division, and she noted that she's excited to test the Jumping and Cross-Country courses. "The courses look great for the rest of the week. I will be riding another horse in the 4*-S, Campground, and I'm really looking forward to jumping him around."
Sylvester-Kanara emphasized that she and her team are appreciative of the opportunity to compete at this level on the East Coast in 2020, especially given the week's weather circumstances. "I hope that I speak for most of the riders out there, that it is hugely appreciated the massive effort that has not only gone into making this event happen as a 4*-L/3*-L/2*-L for this side of the country, but also then making the Cross-Country happen at all after the storms this week," she said. "We've really enjoyed our stay so far, and couldn't be more appreciative of the effort that has been put into making this event happen.
"I know it is such a huge effort for these events to still run this year given everything that's gotten in the way of competitions, so they've done a super job with it," Sylvester-Kanara continued. "It's been nothing but pleasant interactions and experiences with everyone, the whole way through. There pretty much couldn't have been a worse scenario with the weather this week, especially for Cross-Country. That course is in a beautiful setting on the riverbed, and it makes for super footing, but there is the risk with torrential rain that it's going to upset everything. I'm really impressed with the difference that they've made [in the past two days]. I have a couple students in the CCI4*-L, so I have walked that a few times. There are definitely a couple places where the footing still needs to be improved, but you can see where they are on top of it and ready to do the best that they can," she concluded.
*Paddy the Caddy requested no photographs, please. Trendy Fernhill is the new leading horse to watch after Dressage. 
Sara Kozumplik Murphy Holds Guardian Horse Bedding CCI 2*-L Lead After Dressage
Sara Kozumplik Murphy (USA), Otta B Quality and their day one lead were untouched after the conclusion of the Dressage phase in the Guardian Horse Bedding CCI2*-L Division, sitting on a score of 25.20. The remainder of the podium also remains unchanged after day two: Tik Maynard (CAN) and Richard Maynard's Galileo, the 2011 Dutch Warmblood gelding, hold a score of 26.10, while third stays with Kelly Prather (USA) and Catch Me Cooley, the 2012 Irish Sport Horse gelding (Clover Brigade x Loughnavatta Sabrina) owned in partnership with Cooley Farm, on a score of 26.90.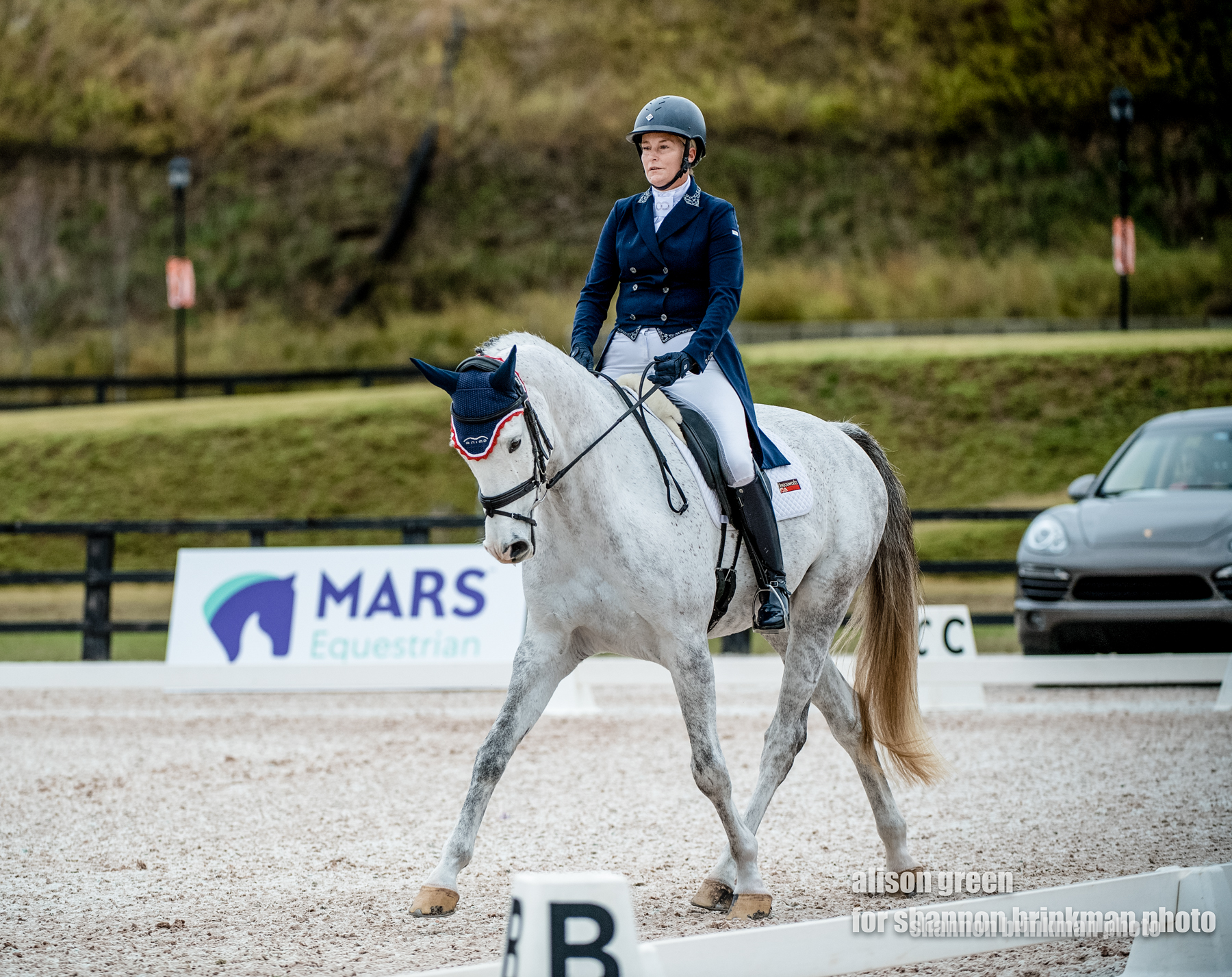 Sara Kozumplik Murphy and Otta B Quality
©Shannon Brinkman Photography
Murphy admitted that while she believes the next two phases of competition will be extremely influential for the division, she's hopeful that her spot remains intact going forward if she's able to navigate the White Oak Cross-Country Course according to plan: "With the scores being as tight as they are, I think tomorrow and Sunday will be hugely influential. I believe that we'll see it shuffle around a bit here and there, just hopefully not with me!"
Murphy got a chance to walk the White Oak Cross-Country Course Friday morning and commented that conditions are shaping up nicely after a deluge of rain Wednesday and Thursday, which delayed Cross-Country competition to Saturday for the CCI 4*-S and CCI 3*-L Divisions but did not impact her schedule. "They're out there working a lot and it's already tremendously better [after the rain]. I think it's going to be pretty good [by tomorrow]. The ground is great most of the way around. That was this morning, so I imagine when I go out to walk it again later it'll be even better."
Of the Captain Mark Phillips-designed course, Murphy relayed, "It's a very fair, well presented, and beautifully built course. This level is supposed to be inviting for the horses, and it is. With a track like this that isn't in quite as big of an open field, you sometimes need to go a bit faster than you would think you need to. My horse is quite a good jumper and sometimes spends too much time in the air, so I need to get moving a bit. He's certainly well prepared, and I shouldn't need to nurse him around, but we'll see what happens!"
Day One Results:
Click here to read about Thursday's results, including Dressage results from the CCI 3*-L Division. 
To view full Dressage results from the MARS Tryon International Three-Day Event, click here.
Schedule Update:
Due to weather, CCI 3*-L Cross-Country competition has been moved to Saturday, November 14, and CCI 4*-S and HT divisions will run Cross-Country on Sunday, November 15. Live streaming information will be adjusted prior to Saturday, November 14. To learn more about the revised schedule, click here.
To view Orders of Go, Live Streaming Schedules, and more, click here. 
Photos ©Shannon Brinkman Photography. These photos may only be used once in relation to this press release with proper credit. With questions, contact media@tryon.com.
Tags:
Boyd Martin
,
Catch Me Cooley
,
CharmKing
,
Danito
,
Deniro Z
,
Doug Payne
,
Elisabeth Halliday-Sharp
,
Erin Sylvester-Kanara
,
Galileo
,
Jenny Caras
,
Kelly Prather
,
Lillian Heard
,
Marilyn Little
,
Otta B Quality
,
Paddy the Caddy
,
RF Scandalous
,
Sara Kozumplik Murphy
,
Starr Witness
,
Tamra Smith
,
Tiki's Maynard
,
Trendy Fernhill
,
Tsetlerleg