For Immediate Release
Mill Spring, NC – April 18, 2021 – Taylor Land (Atlanta, GA) and Get Go claimed a second consecutive Tryon Resort Grand Prix win at Tryon International Equestrian Center and Resort (TIEC), stopping the short-course timers in 31.551 seconds. In reserve, Amanda Flint (Bourbonnais, IL) rode her own VDL Wittinger, the 2003 Dutch Warmblood gelding (Indoctro x Irusa), to the first double-clear round of the class with a time of 34.081 seconds. Grant Seger (Aiken, SC) claimed both third and fourth place, guiding Cantucchini, the 2011 Oldenburg gelding (Cloney x Caprera) owned by Grey Fox Crossing, to a four-fault, 31.808-second jump-off performance, and dropping two rails in the jump-off with Dr. J, Grey Fox Crossing's 2008 Warmblood gelding (Diamant de Semilly x Galaxy), and coming home in 32.023 seconds for fourth place.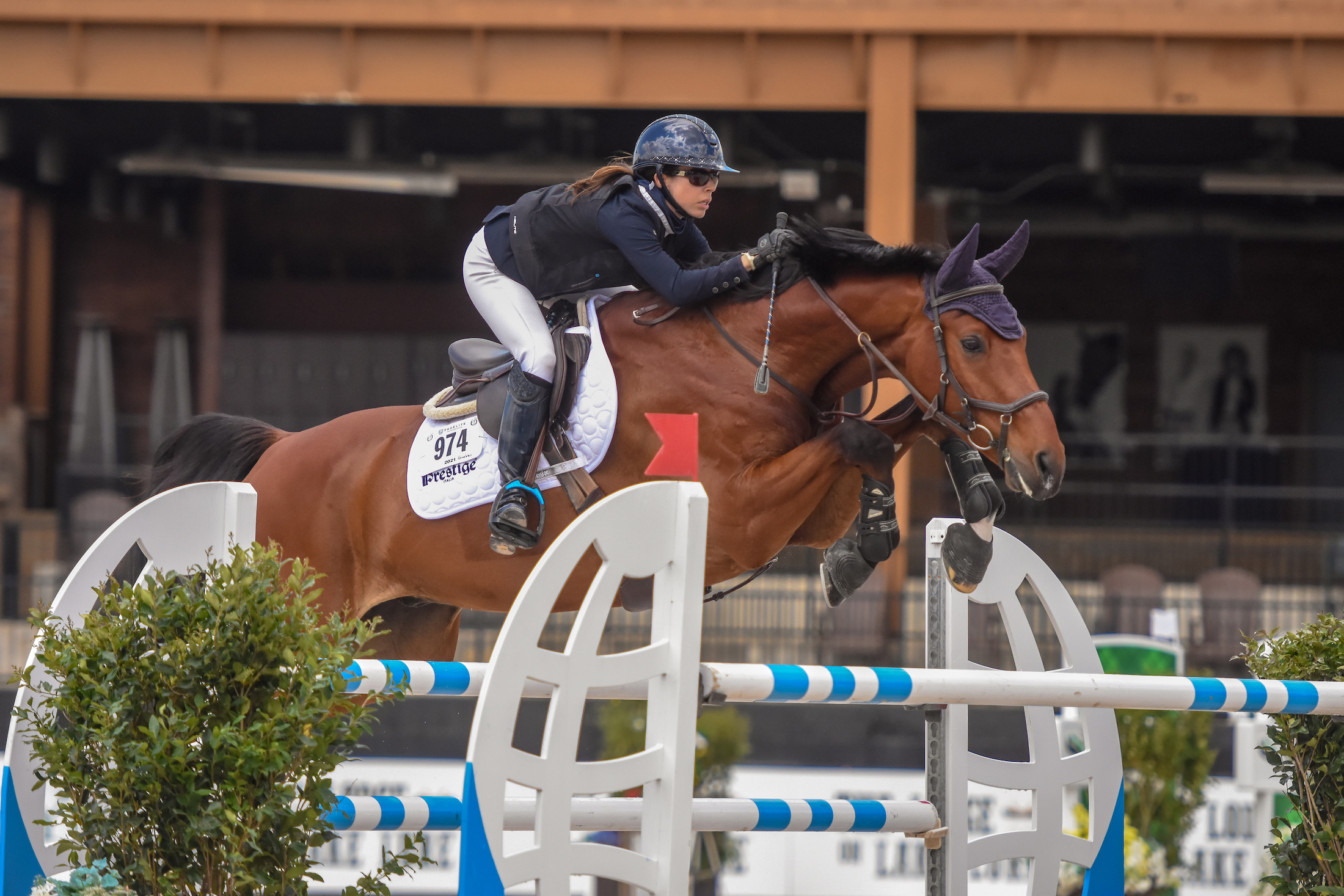 Taylor Land and Get Go
©TIEC
The Dean Rheinheimer (Sheridan, IN) course design challenged 18 entries in the American Standard Jumper Classic to close out the Tryon Welcome Series, with the 2021 series breaking all previous attendance records over four weeks of national Hunter, Jumper, and Equitation competition. Land and the 2012 Hanoverian gelding (Grey Top x Wantana) owned by Pinetree Farms, Inc. were second-to-last in the jump-off test, which gave them an opportunity to go "medium-fast" to take the win, Land shared.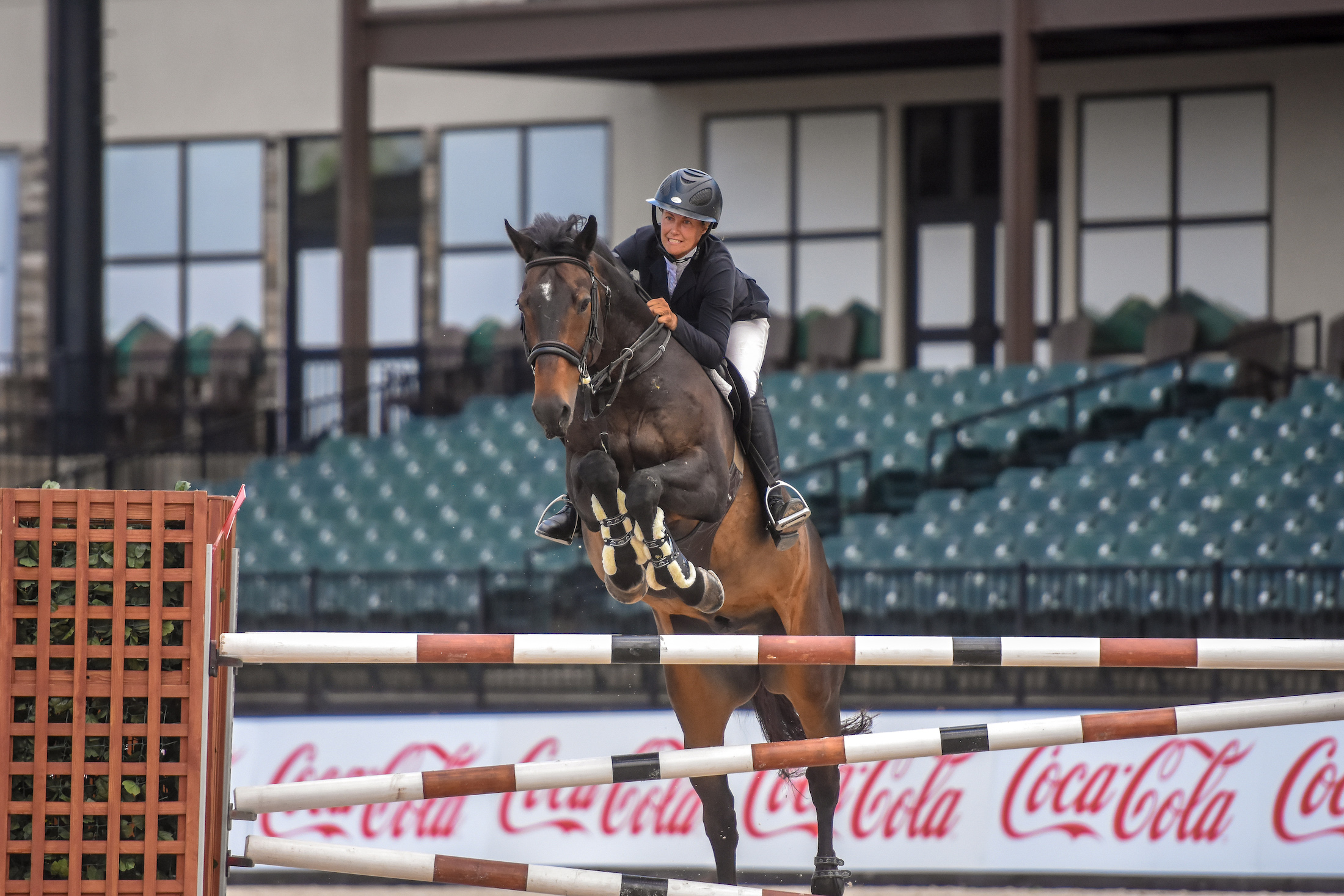 Amanda Flint and VDL Wittinger
©TIEC
"The jumps were a little bigger this week for a little bit more money, so it was nice we got a little warm-up last week," Taylor relayed of her two-week streak. "I thought the course was good, with smooth, forward lines. It had enough options and questions to make it difficult. I really enjoyed it!"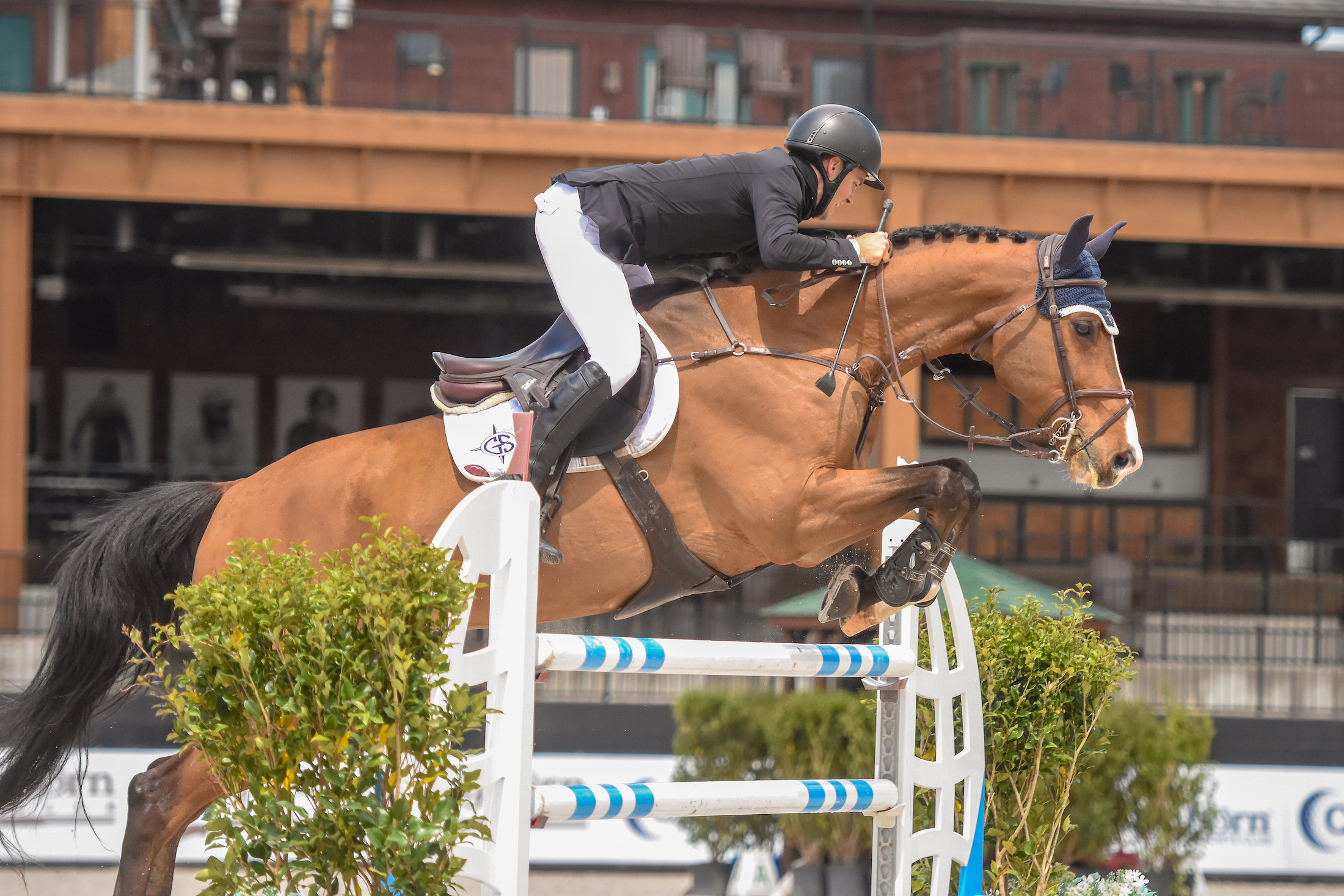 Grant Seger and Cantucchini
©TIEC
Late in the order, Land was able to watch riders tackle the jump-off course before making her own run. "I went second to last, and I knew there was only one [rider] clean to that point, and she hadn't been super fast. My jump-off strategy was to go medium-fast, make sure I jumped clean and put enough pressure on the last rider to make it hard for [Grant Seger] to catch."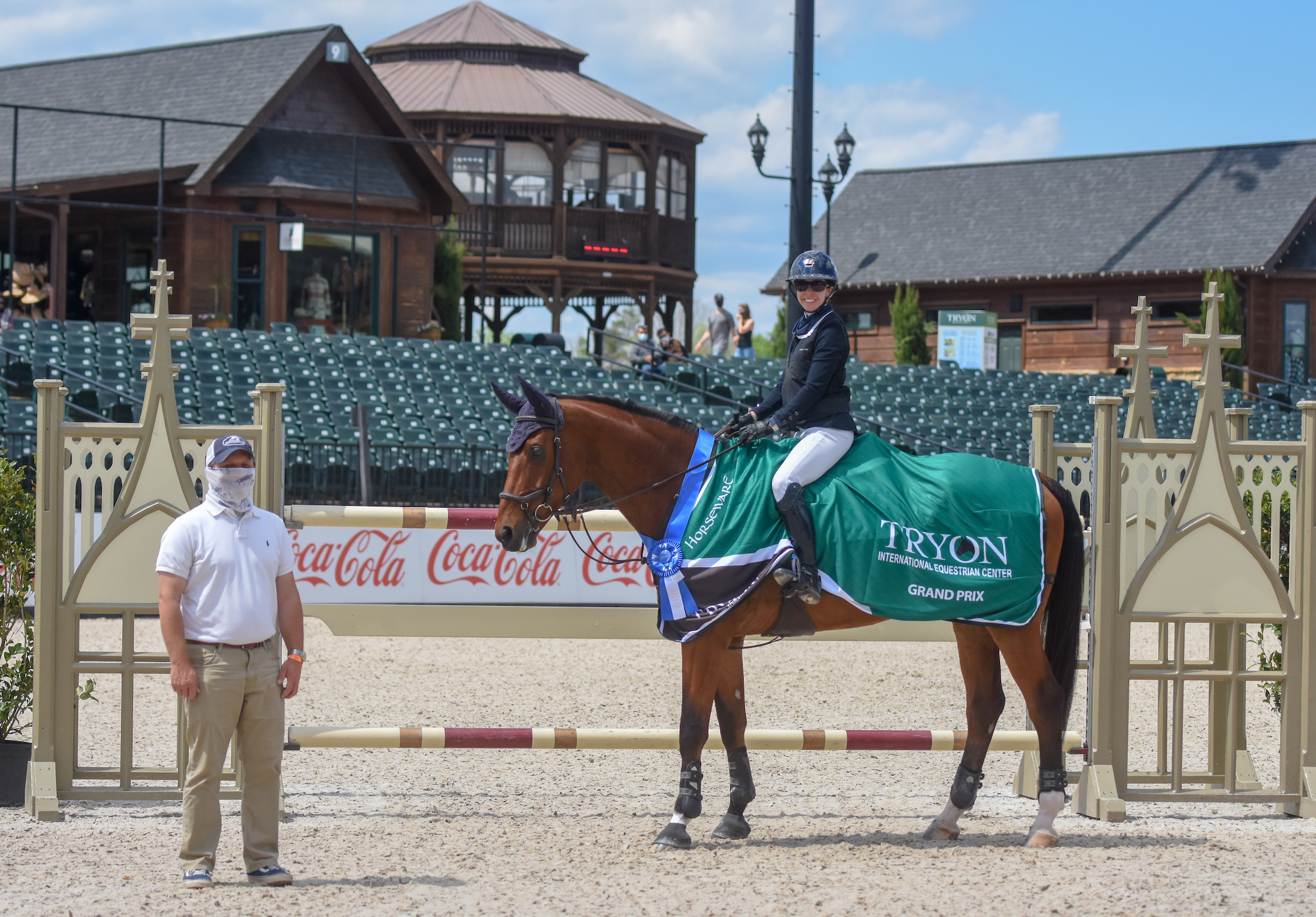 Taylor Land and Get Go in their presentation ceremony with JP Godard, TIEC Competition Manager.
©TIEC
Land is a frequent face at TIEC, particularly in Tryon Stadium, and when she returns from two weeks at home to the venue, she will hopefully have a bigger string with her, she concluded. "I'll be back here in May with Grumbles [Get Go]. I have two horses coming back from injury, so he's my main man right now! It's great to be here."
Eleese Shillingford Bests Senior Crowd for $5,000 USHJA National Hunter Derby Win
April 16, 2021 – Eleese Shillingford (Alpharetta, GA) didn't let a competitive 33-entry field in the $5,000 USHJA National Hunter Derby – nor her junior age – prevent her from producing the top score of the day on a two-round total of 179.5 aboard Odyssey, her own 2012 Westphalian gelding (Chin Win x Loreen). Julie Curtin (Woodstock, GA) piloted Salter Hydinger's Anthem to reserve on a two-round score of 178 with the 2008 Hanoverian gelding (Argentinus x Unknown), while third was named to junior competitor Katelyn Coveny (Natick, MA) aboard her own MTM Fashion, the 2010 Oldenburg gelding (Fiderstanz x Lapaz II), collecting a total score of 177.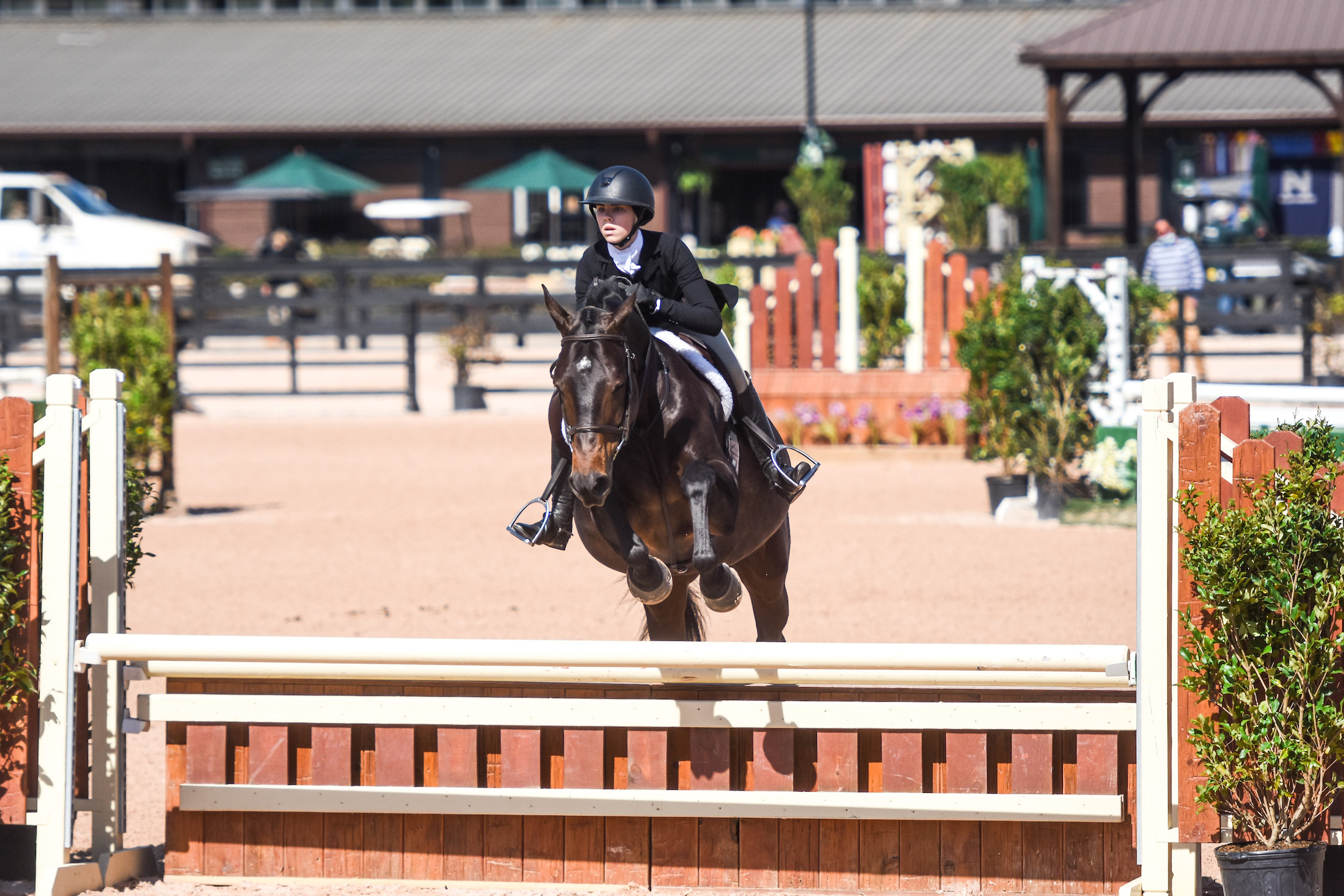 Eleese Shillingford and Odyssey
©TIEC
The Keith Bollotte (Hendersonville, NC) course design lent itself to Odyssey's talents especially in the Handy round, Shillingford, the 16-year-old high school sophomore, recapped. "He's a very good boy, but tends to get strong sometimes, so I just enjoyed it as a Derby with no pressure. Handy rounds are my favorite. I love the tight turns," Shillingford revealed of her second-round strategy.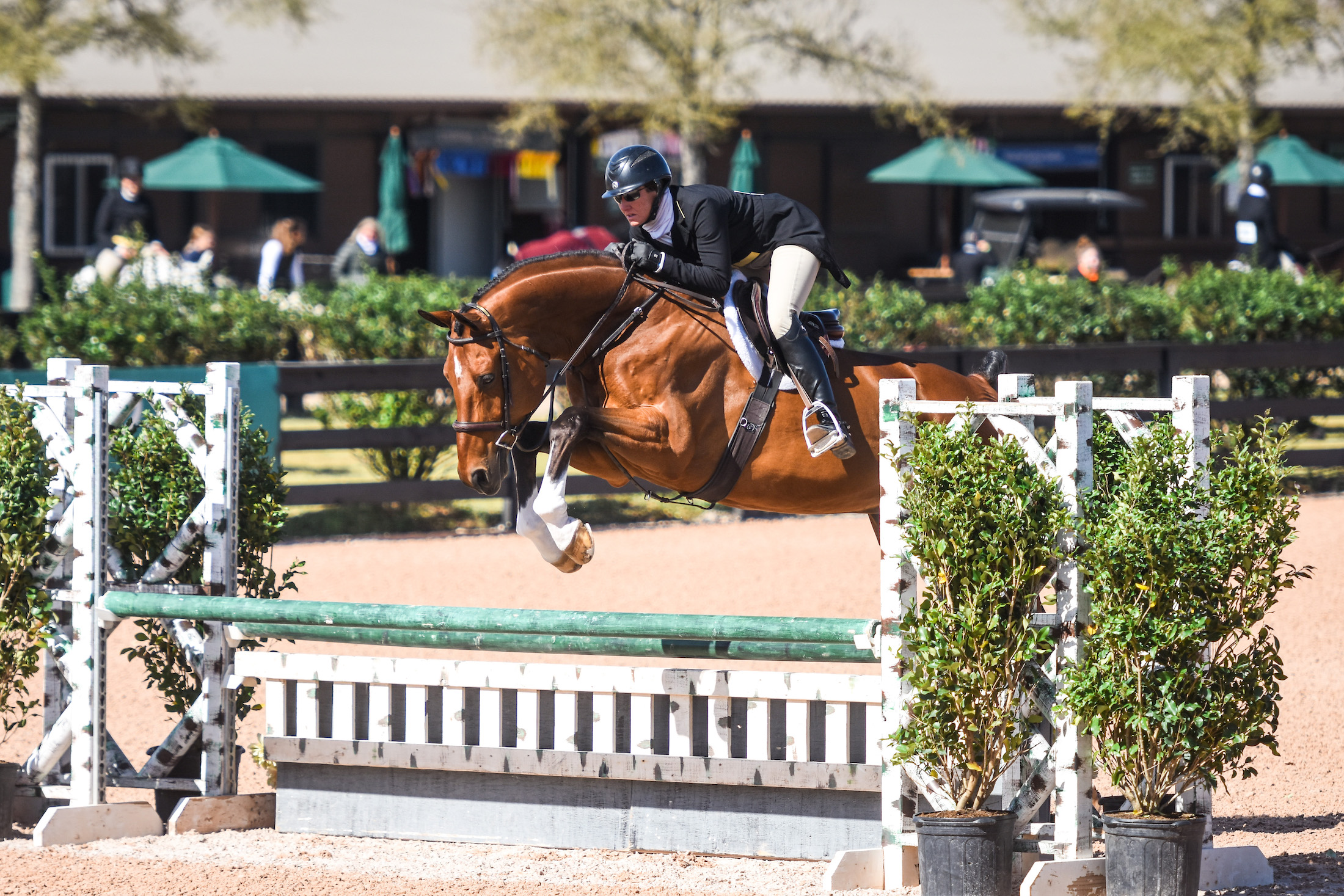 Julie Curtin and Anthem
©TIEC
"My plan was to slice the first jump so that I could land right, already inside of the decorations to turn to the nine [stride line]. I rode up the nine early so that I could fade out for the trot jump, and didn't have to pull much at the last second," she elaborated. "We rode up nicely to the high option, and I put that on a bit of a left angle so I landed on the left lead and could turn right inside to the other high option. I faded out a little bit before the last oxer so that when I landed I could slow down a little bit before picking up my hand gallop to the last jump."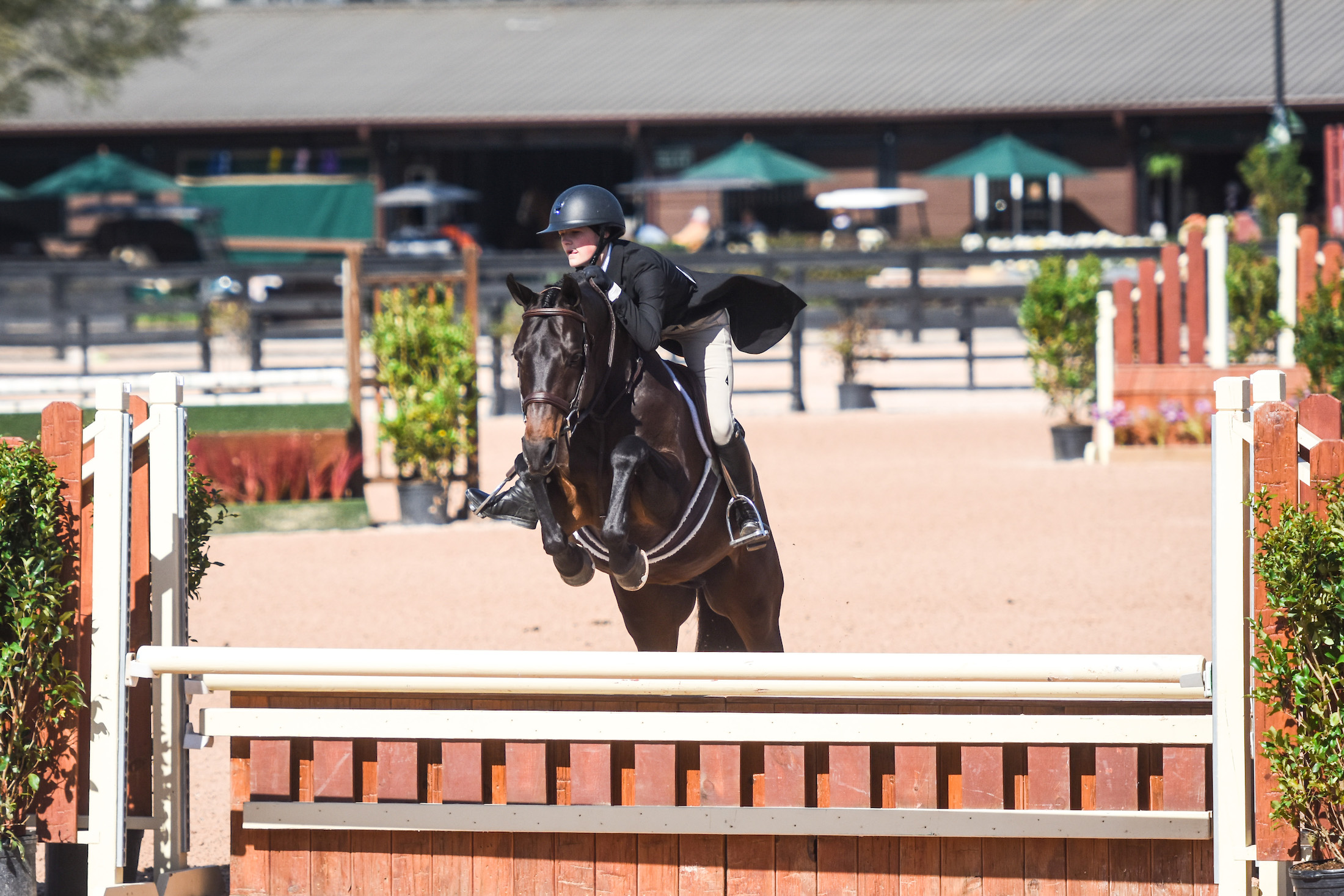 Katelyn Coveny and MTM Fashion
©TIEC
All the details came together for Shillingford, who has been paired with Odyssey since he was four years old. "He does everything. I've taken him to International Derbies, National Derbies, Hunters, Jumpers, Equitation… he's done it all! He's a good, old soul, even though he's pretty young. I can always count on him," she emphasized.
Eleese Shillingford and Odyssey in their presentation ceremony with JP Godard, TIEC Competition Manager, and trainer Michael Britt-Leon.
©TIEC
In the near future, Shillingford is aiming for the ASPCA Maclay Finals and Dover/USEF Hunter Seat Medal Finals with Odyssey, as well as more USHJA International Hunter Derby performances along the way. "I love those," Shillingford concluded, "and he loves jumping big!"
Doug Payne and Quintessence Claim Second $5,000 Horseware Ireland Welcome Stake Win
April 15, 2021 – Doug Payne (Aiken, SC) and Quintessence scored another $5,000 Horseware Ireland Welcome Stake win on Thursday, stopping the short-course timers at 32.976 seconds. Also grabbing second, Payne piloted Botanja, Courtney Alston's 2006 Warmblood mare (Salvatore x Juta), to a fault-free time of 37.413, while Grant Seger (Aiken, SC) rounded out the podium aboard Cantucchini, the the 2011 Oldenburg gelding (Cloney x Caprera) owned by Grey Fox Crossing, clearing the jump-off track in 37.486 seconds.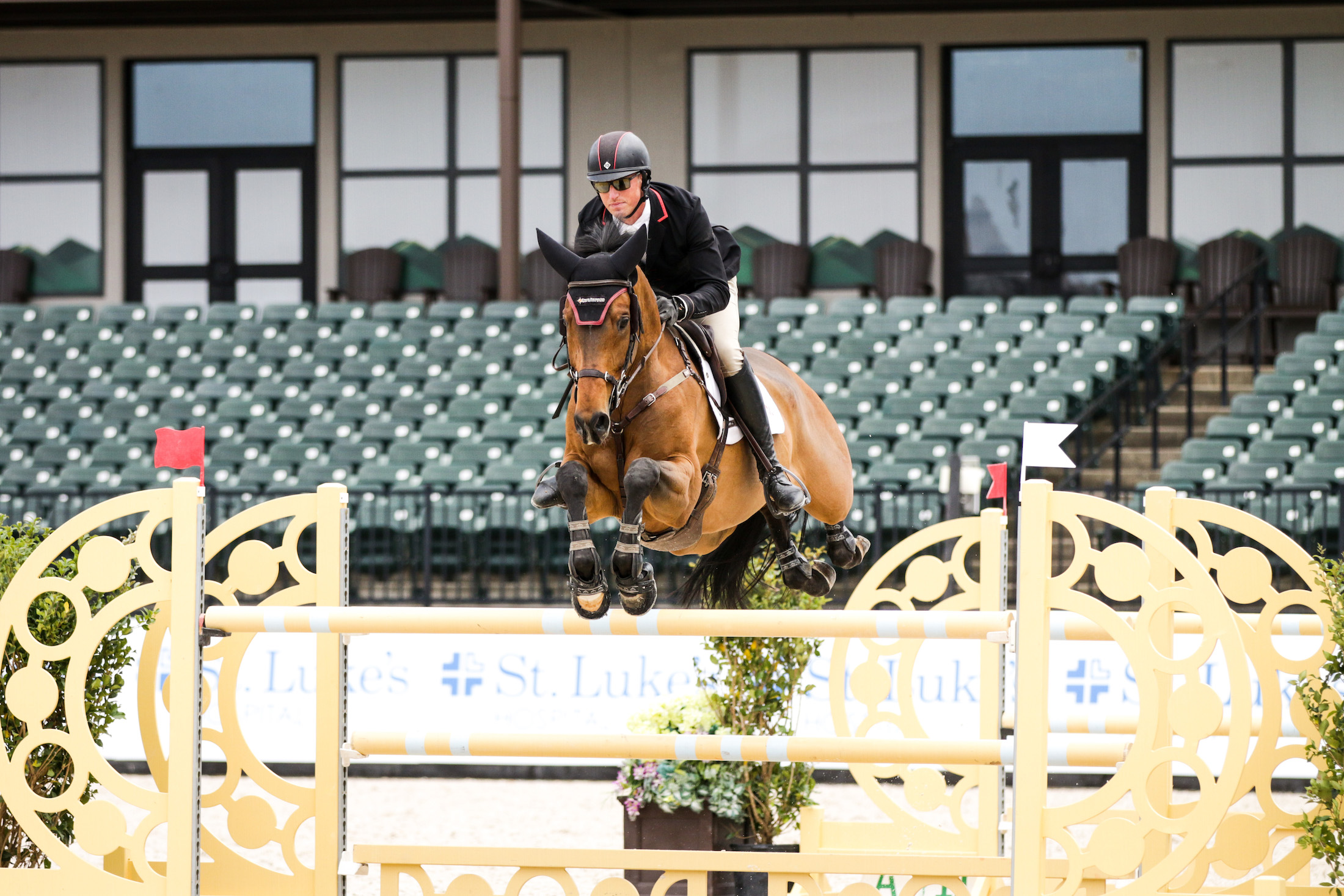 Doug Payne and Quintessence
©TIEC
Payne and the 2011 Holsteiner gelding (Quinar x Victoria's Secret) owned by Jane Dudinsky are familiar faces at TIEC, where Quintessence first made headlines in 2017 for winning the 6-Year-Old Division of the Developing Jumper Series Finals presented by Spy Coast Farm with Payne in the irons. From national to international competition, the pair are consistent podium finishers in any part of the venue's annual calendar. Most recently, they've been consistent winners throughout the 2021 Tryon Welcome Series, claiming back-to-back wins during Tryon Welcome 2.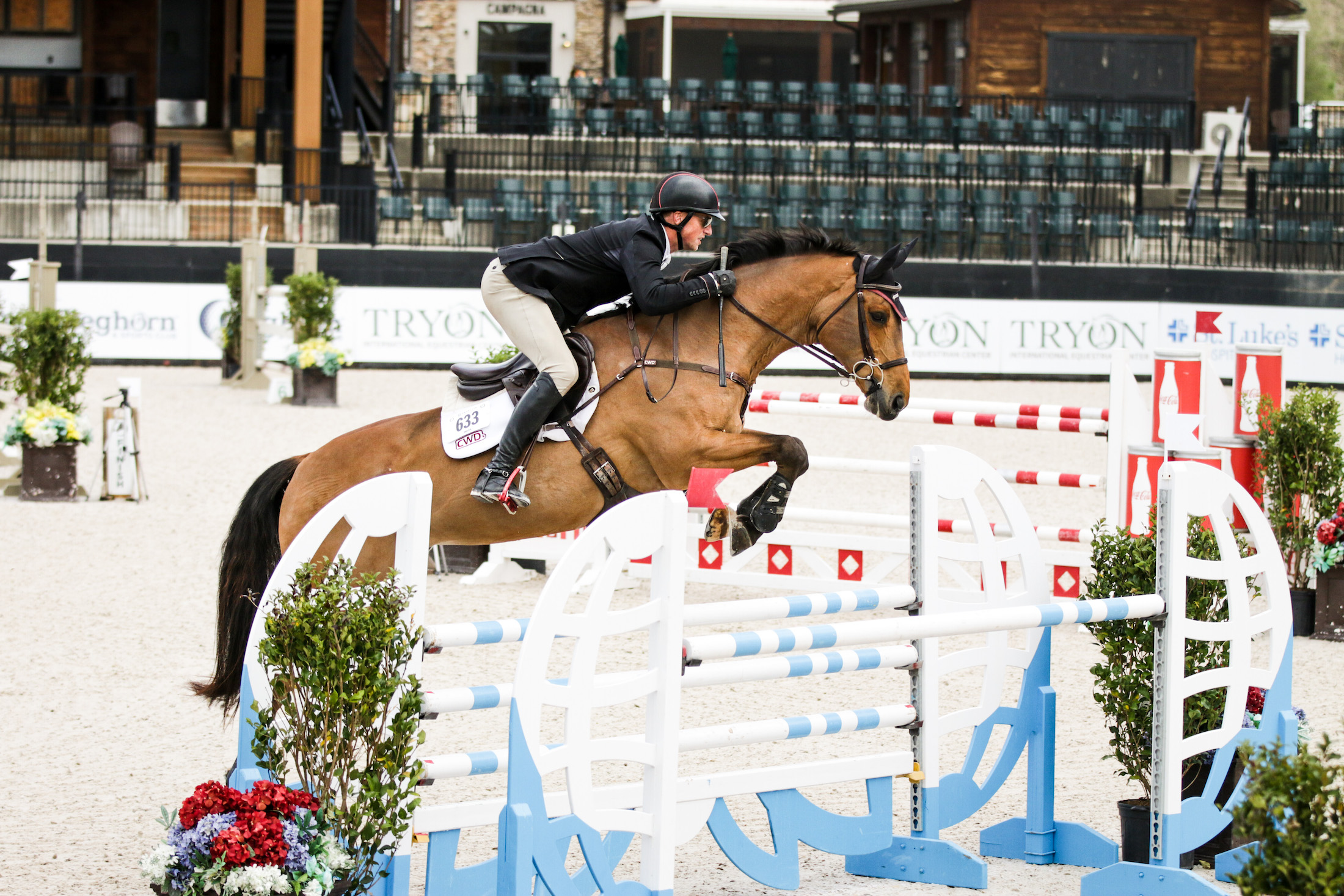 Doug Payne and Botanja
©TIEC
"He was excellent," Payne reported of his tour around the Dean Rheinheimer (Sheridan, IN) course design in Tryon Stadium with Quintessence. "In the jump-off, I probably could have gone around to [fence] five, but I figured it's great practice to do a little inside [track], and he handled it really well. He's super sharp and jumped around great. He's exciting to have and just a lot of fun."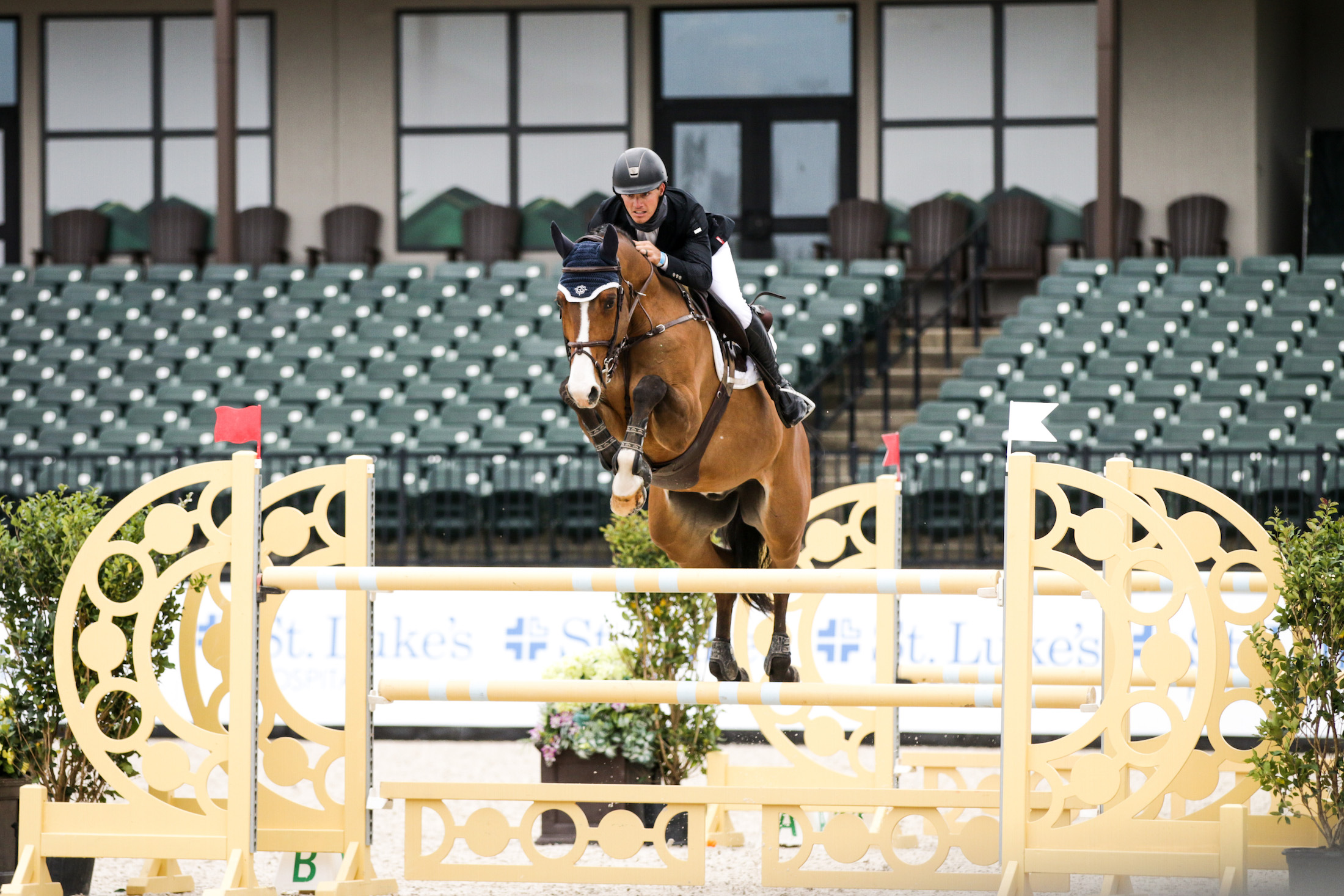 Grant Seger and Cantucchini
©TIEC
Botanja, Payne shared, has been with him for "quite a while," and things are really starting to click for the mare, he relayed. "I've jumped with Botanja quite a lot but I think in the last little bit she's started to come around and is getting better and better and sharper and sharper. I'm super proud of her today."
From TIEC, Payne will switch gears to don his Eventing gear and contest the Land Rover Kentucky Three-Day Event with stars Vandiver and Quantum Leap after dominating The Fork at TIEC presented by Nutrena® earlier this month. Payne concluded that competing at TIEC for Tryon Welcome 4 was an integral part of his Kentucky prep: "Vandiver and Quantum Leap actually had their final prep here, and were first and second in the 1.30m Division."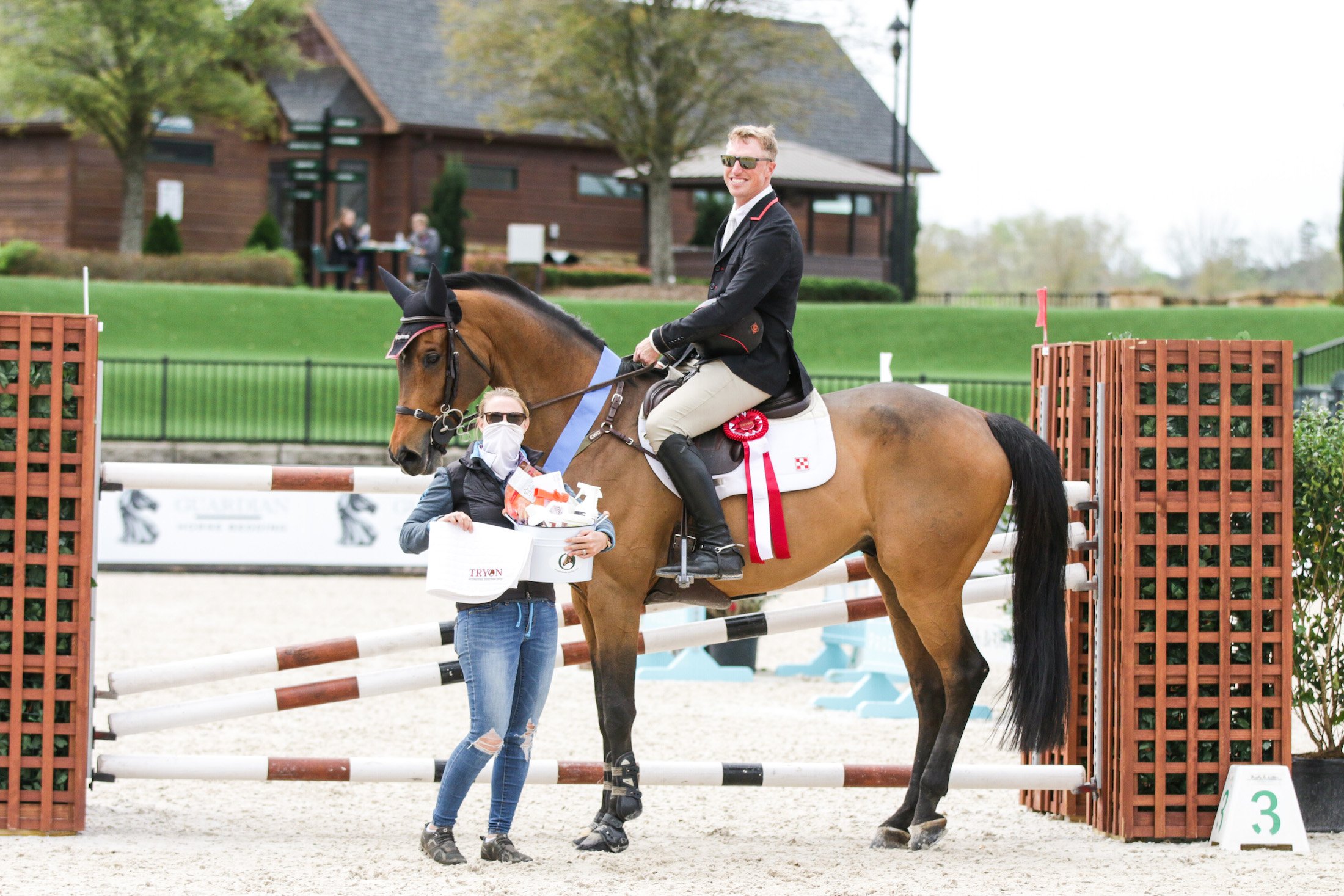 Doug Payne and Quintessence in their presentation ceremony with Jessica Payne.
©TIEC
Hunter Highlights:
Michael Britt-Leon (Canton, GA) swept the High Performance Hunter 4' Division with Private I named champion and Bacchus earning reserve, both for Kelly Sims.
Harrison Ford (Villa Rica, GA) swept the Baby Green Hunter 2'6" Division, guiding Sarah Roberts' mounts Gussied Up to champion honors and Graceland to reserve on the week.
The Main Street Insurance Junior Hunter 3'6" Division concluded with a champion rosette for Parker Peacock (Winston Salem, NC) and her own Acclaim, with reserve going to Skyler Ezzell (Peachtree Corners, GA) and Ella Domenicone's Mini.
Jumper Highlights:
The 1.30m Open Jumper Division went to Cari Gleeson (Wellington, FL) piloting her own Flight to champion honors, while Doug Payne (Aiken, SC) and Quantum Leap, owned by Doug and Jessica Payne, jumped to reserve.
Dr. Lauren A. Zappitelli (Apex, NC) and her own Vaquito claimed champion honors in the 1.30m Medium Junior/Amateur Jumper Division, followed by Judy Sutton (Maggie Valley, NC) and her own Win a Date in reserve.
Vick Russell (Columbus, NC) and How Do You Do were champions of the 1.15 Jumper Division for Christina Fisher, while Ricardo Villa (Campobello, SC) rode GiGi Gorgeous to reserve on behalf of Libby Bertelsen.
For full Division results from Tryon Welcome 4, click here.
For full results from the $25,000 Tryon Resort Grand Prix, click here. 
For full results from the $5,000 USHJA National Hunter Derby, click here. 
For full results from the $5,000 Horseware Ireland Welcome Stake, click here.
Tryon Welcome 4 concludes the Tryon Welcome Series at TIEC, with a brief pause in Hunter/Jumper programming before the Tryon Spring Series begins May 5, 2021, and features six weeks of national and international Hunter, Jumper, and Equitation competition. All competition information, including prize lists and stall reservation information, is available at www.Tryon.com/compete. Beginning May 3, limited spectators will be permitted at competitions per USEF COVID-19 policies, and more information is still to come.
Photo credit ©TIEC. Competitors can review and purchase photos from the entire Tryon Welcome Series at www.Tryon.com/photos. These photos may only be used once in relation to this press release with proper credit. Contact media@tryon.com with questions.
Tags:
Amanda Flint
,
Anthem
,
Botanja
,
Cantucchini
,
Doug Payne
,
Dr. J
,
Eleese Shillingford
,
Get Go
,
Grant Seger
,
Horseware Ireland Welcome Stake
,
Julie Curtin
,
Katelyn Coveney
,
MTM Fashion
,
Odyssey
,
Quintessence
,
Taylor Land
,
The Fork at TIEC presented by Nutrena®
,
Tryon Welcome 2
,
Tryon Welcome 4
,
Tryon Welcome Series
,
USHJA National Hunter Derby
,
VDL Wittinger