For Immediate Release
Sarah Madden for TIEC
Mill Spring, NC – August 19, 2021 – Tryon Summer Dressage 3&4 competition at Tryon International Equestrian Center & Resort (TIEC) featured the final installment of the Tryon Summer Dressage Series, hosting two national competitions August 14-15. The FEI Grand Prix saw Chris Hickey take the win aboard Stenager Wyatt Earp, the 2012 Danish Warmblood gelding (Wilkens x Stnagers Santana x Sandro Hit) owned by Cecilia Stewart, scoring a 68.804%. Julio Mendoza Loor and Rosali, Aileen Daly's 2005 Danish Warmblood mare (Blue Horse Romanov x Mosegardens Ratina), earned reserve on a total score of 67.717%, while third place went to Jessica Stark, riding the 2010 PRE stallion Guateque IV (Laco x Yazmin x Salinero XIII) owned by Coves Darden Farm and scoring 64.783%.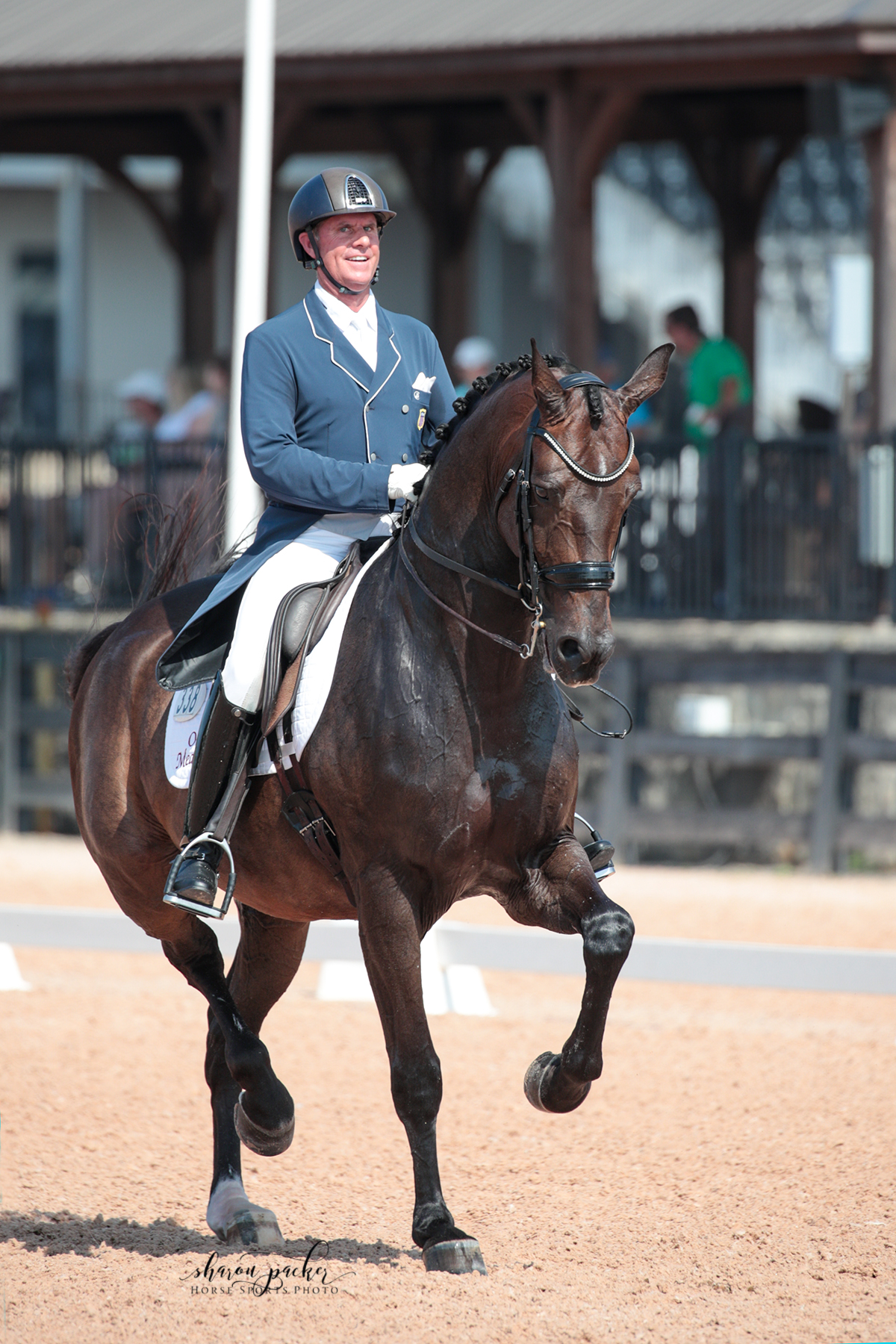 Chris Hickey and Stenager Wyatt Earp
©Sharon Packer
Hickey revealed that "Wyatt" is green to the FEI Grand Prix level, but already shows great promise and growing confidence. "Today, he was quite good; yesterday he had some green Grand Prix funny business in his test. He was very naughty yesterday, but he was a rockstar today," Hickey recapped. "He needed to get some leaping and broncing out of his system. Today I was happy he behaved and used his athleticism in a positive way!"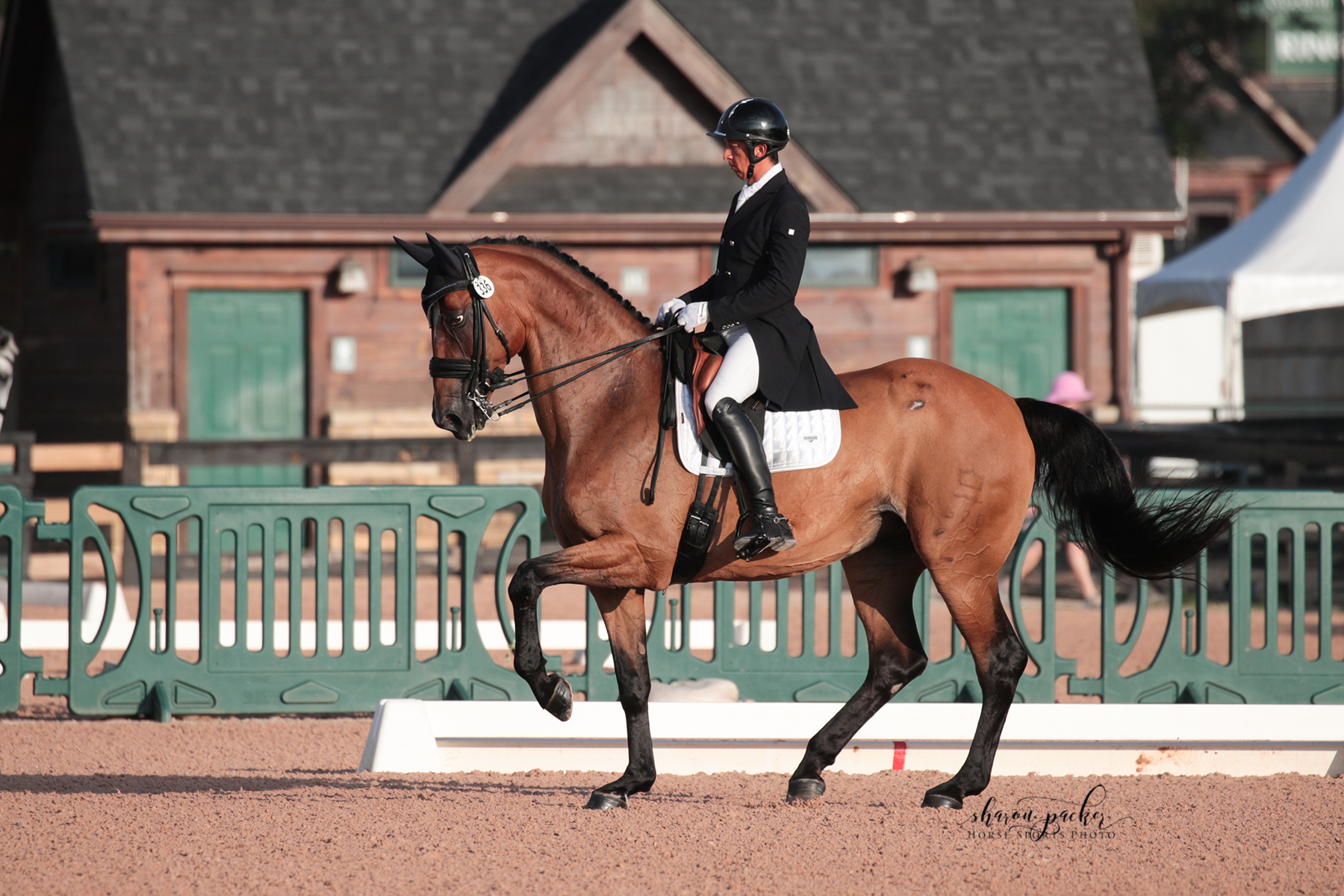 Julio Mendoza Loor and Rosali
©Sharon Packer
In light of Wyatt's greenness at the level, Hickey's goal was to give his mount positive experiences without too much pressure. The duo first practiced their test at TIEC in June, and Tryon Summer Dressage 3&4 was their debut competition. "To have a good Grand Prix horse for the CDI ring, you need a horse that is sensitive, and forward-going, and a little bit hot. Sometimes there are some drawbacks of these sensitive and athletic horses – that combo sometimes gets in your way. Yesterday that got in our way, and today was great. I was very pleased."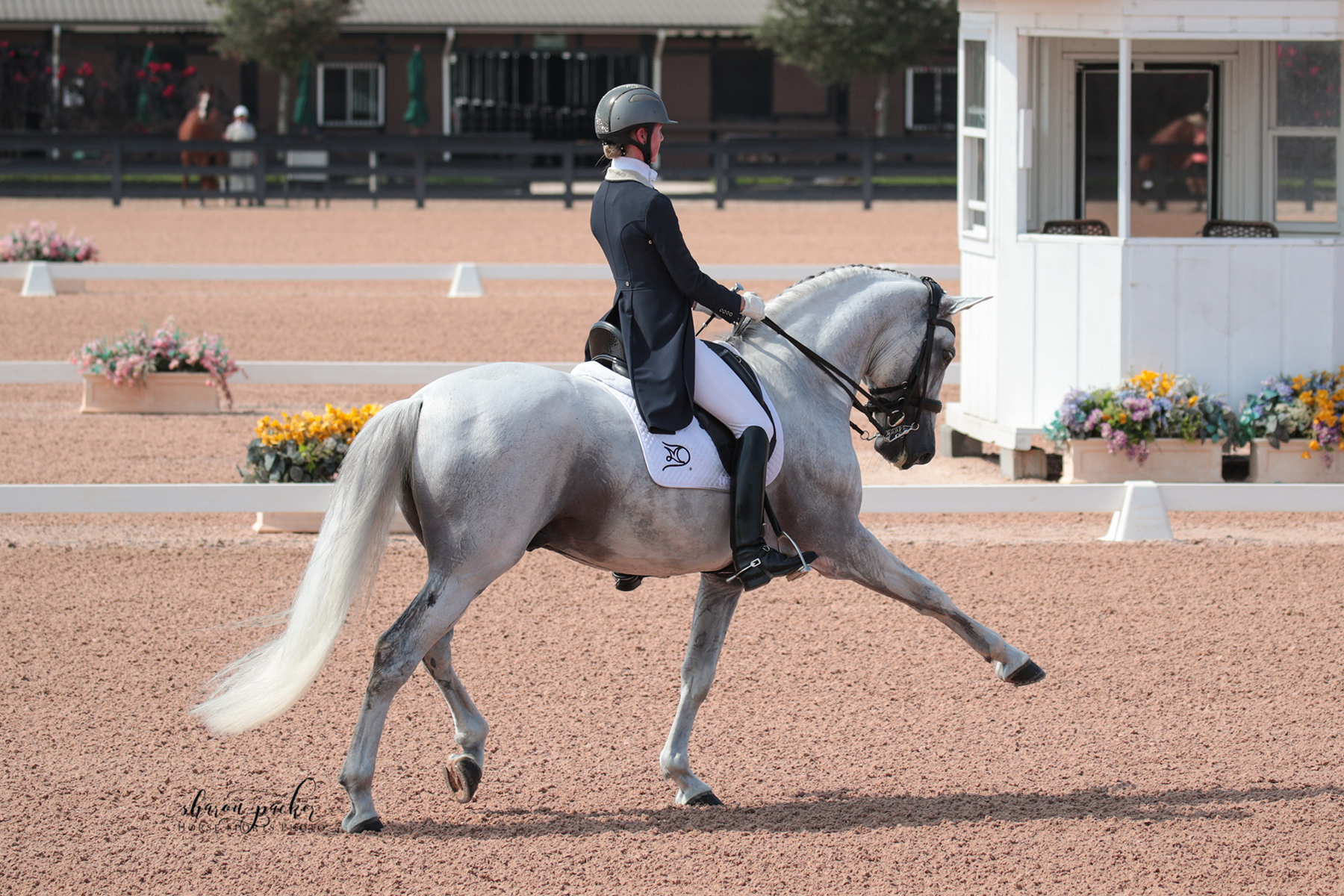 Jessica Stark and Guateque IV
©Sharon Packer
Hickey's philosophy with developing CDI horses is to protect their confidence, and competing at TIEC is one of the main ways he chooses to do so, he shared. "I try to have the horses begin Grand Prix with confidence in the ring and not be too stressed, because it's hard enough to do a clean Grand Prix test. If you put too much pressure on them in the beginning, the pot boils over," he elaborated. "With all the piaffes in that test, and the passage, it is so much more demanding than either the Developing Grand Prix or the Intermediate II. You have to be really careful with horses coming along.
"Because we're within two hours of Tryon, and I have students, it's easy to come here. The footing and the stabling is so good, there are some aspects that are just so good, that I choose to come here," Hickey stated. "I wanted to do that horse's first Grand Prix tests on good footing, in good rings, and in a good environment. Even though I want these horses to get mileage, I want them to do it with high quality footing, high quality judges – I would rather come here than just stay at home with little schooling shows that don't have those other features and amenities."
Tami Crawford and Patricia Borders Shine in the Coolvio FEI Intermediate II Division
The Coolvio FEI Intermediate II Division hosted Open and Adult Amateur competition throughout the weekend, with Tami Crawford representing the Open division and Patricia Borders returning to the show ring after a hiatus in the Adult Amateur division. Crawford and Especial L M, the 2009 PRE stallion owned by Janine Hill, contested their second show at the level and achieved confidence-building ring time, she reported. The duo scored a 63.088% on Sunday and a 63.235% on Saturday's test.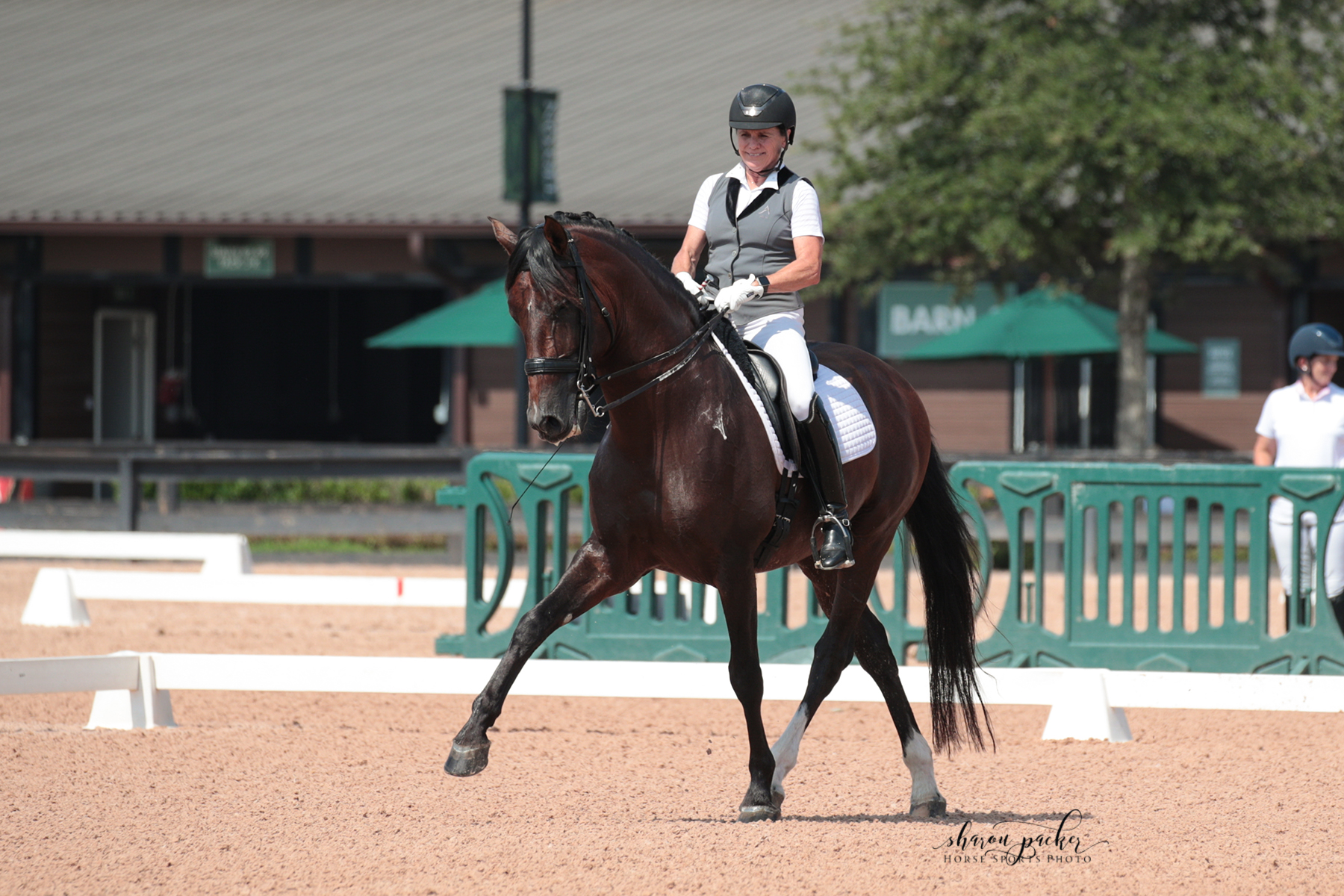 Tami Crawford and Especial L M
©Sharon Packer
Crawford "couldn't be happier" with her weekend, she emphasized. "It's just wonderful here. I don't know why I haven't been coming more often! This is Especial's second show at the Intermediate II level, and I think he's starting to know the test and getting better and better.
"I think really getting a real passage that's not too forward was a highlight, but really it's about getting in the rings enough times that you make some mistakes and get better from them," she recapped. "This last test was really a culmination of the last two shows – not traveling too much, and asking for more – he actually gave more. I just hadn't been asking enough – he was there, willing and ready, asking where I had been!"
Crawford's next goal is to work towards the Grand Prix level, but has some homework to do first, she explained. "The changes have always been a little difficult for him, and so I've got to really hone in on those, I think. I mostly just need to get his one-tempis down, and then he'll be scoring well. That's really all that's missing. That, and a relaxed walk once I get him all excited!"
The convenience and setup of TIEC's venue, as well as a breezy commute, makes it the ideal destination for Crawford as a competitor, she concluded. "We live about six hours away, but when we travel somewhere nearby in Atlanta, it's about the same amount of travel as driving all the way here! Coming here, the traffic isn't bad, so the horses arrive much happier," she continued. "It's cooler up here, the footing is amazing, the facility is amazing. We'll be coming here a lot more. Everything is geared towards ease of operation with the horse. We have a stallion, and it can be hard on them if it's not set up just right, and he was great."
Pat Borders and Oh Fiddledeedee, the 2008 American Saddlebred mare (Callaways Northern Kiss x Sleepy Creeks Vivian Leigh x Dr. Santana), debuted at the Intermediate II level together. Though Saturday's test was not the score she hoped, the experience led to a Sunday score of 61.765% and increased confidence that Borders was thrilled to feel in her mount, she shared. "It was my first time riding the Intermediate II, and my horse hadn't been off the farm for a year and a half. Between COVID and myself recovering from an injury, and learning the movements for Int. II, it just took a while. Saddlebreds can be kind of hot and high-headed, so the weekend started off a little rocky. We came back on Sunday and did a little bit better! I go to horse shows to practice, to get my horse off property, and to test us out a little bit. Mission accomplished!"
Patricia Borders and Oh Fiddledeedee
©Sharon Packer
Borders has long competed American Saddlebreds in the traditional Saddleseat discipline, and did so until she was 55 years old, she detailed. "I'm relatively new to the Dressage world. I'm learning over the years that I'm a little more conscious of riding the movement that I'm actually in, instead of anticipating the next movement, which I think a lot of people get hung up on," she elaborated. "I think it's a new level of confidence to ride the moment. Saddlebreds are extremely sensitive, so you have to be very careful with your cues or they will misread you. I think I need more practice to get better!"
Though not reflected in her score, Borders shared a moment that demonstrated her mount's growing confidence which made her proud and excited to keep cultivating: "My mare, who is very game, but kind of shy, lacks a little bit of confidence. We were going down the centerline after a pirouette, and she knew that we needed to turn right. And that was not actually correct – we were supposed to turn left. Right in front of the judge, we got into a miniature argument about the fact that she was telling me that I was wrong, and we were supposed to go to the right.
"I don't know what caused it, except that maybe she had picked up something from a previous test and somehow she decided, 'I know that we need to turn to the right.' And that's the first time that this horse has ever made an independent decision! Actually, I feel really good about that. I could feel her confidence. So, that's something we will have to work out at home, so that she understands it's a different test, but for her to have confident, independent thinking at this stage of her career is really exciting to me."
Borders and her mare will be a duo to watch in the Intermediate II divisions at TIEC going forward, and she concluded that the venue is an ideal show venue for her, particularly after taking a break from competition. "I always enjoy going to Tryon because Monica [Fitzgerald] puts on a really good horse show. I always have fun at the shows, because everyone is so nice and so supportive. It was fun to get out after being away from showing a while!"
Julio Mendoza Loor Dominates FEI Prix St. Georges and Training Level 3 Tests
Julio Mendoza Loor and Diplomat OBX ended their weekend with a definitive win in the USEF Training Level Test 3 Division, scoring a 73.621% with the 2017 Hanoverian gelding (Doctor Wendell MF x EM Rising Star MF x Rotspon) owned by Darlene Bowes. The nearest Open section competitor was Amy Hoffield and Magnum Del Rose, her own 2016 Hanoverian gelding (Abastado x Abra), who scored 62.241%. Taylor Hammann and Gabe, the self-owned 2005 Hanoverian gelding, scored 69.483% to earn the highest score for the Junior/Young Rider division.
Mendoza and Baylen Dream TWF dominated the open division of Saturday's FEI Prix St. Georges competition, scoring 62.206% with the 2010 Oldenburg gelding by Benetton Dream owned in partnership with Alison Head. The highest ranking Adult Amateur ride of the day went to Cecelia Stewart and Valentin, her own 2012 Swedish Warmblood gelding (Dalwhinnie x Bella Ragazza x Regazzoni), scoring 63.824%, while Lunalee Barboza scored 63.529% to earn the highest Junior/Young Rider score with Donatus 107, her own 2003 Württemberg gelding (Dark Dream x Davina).
For full results from Tryon Summer Dressage 3, click here.
For full results from Tryon Summer Dressage 4, click here.
Tryon Summer Fall Dressage kicks off September 17-19. To learn more about the 2021 Tryon Dressage competition schedule, click here. 
Photos ©Sharon Packer. These photos may only be used once in relation to this press release. To view official photographs from competition at TIEC, visit www.Tryon.com/photos. With questions, contact media@tryon.com.