Dorothy Douglas and MTM Lolah LOL Dominate $20,000 USHJA International Hunter Derby
Daniel Pedraza Littlewood Drums Up Another Win with $6,000 Speed Stake CSI 3*
For Immediate Release
Sarah Madden for TIEC
Mill Spring, NC – October 17, 2021 – Cathleen Driscoll (Elk Mills, MD) captured her second national Grand Prix win in a row by taking the win in Sunday's $25,000 Tryon Resort Sunday Classic, this time riding Flotylla to a time of 31.607 seconds at Tryon International Equestrian Center & Resort (TIEC). Karl Cook (Rancho Santa Fe, CA) and Caillou 24, the 2007 Holsteiner gelding (Cassall x San Patrignano Corrado) owned by Signe Otsby, secured second place with a time of 32.028, while Rodrigo Pessoa (Wellington, FL) and Carlito's Way 6, the 2010 Holsteiner gelding (Casall x Lordanos) owned in partnership with Artemis Equestrian Farm LLC, cleared the short course in a time of 32.276 to earn third.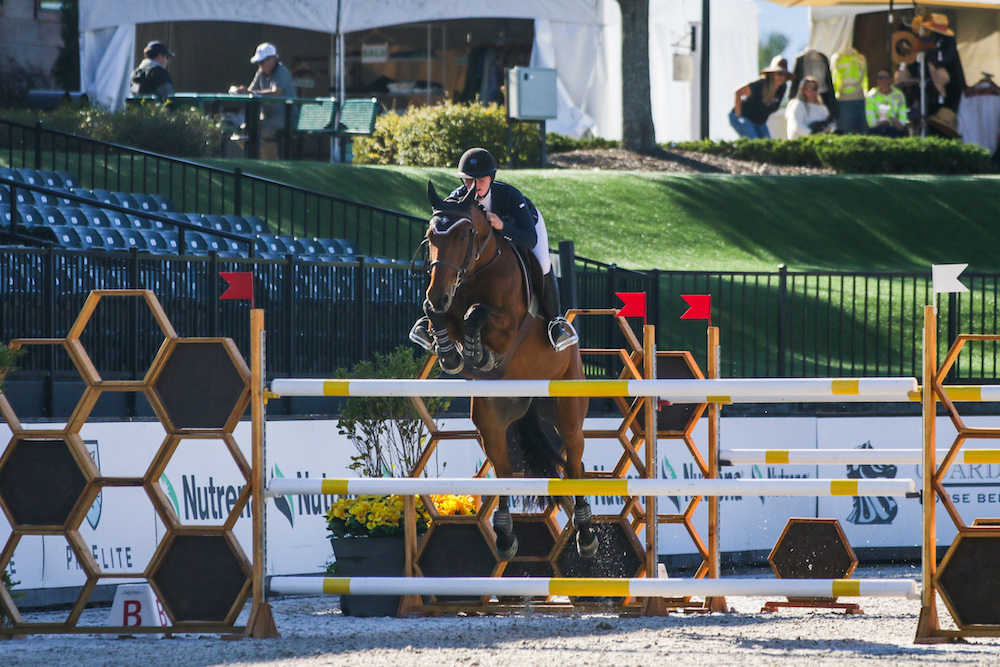 Cathleen Driscoll and Flotylla
©TIEC/Reagan Ibach
Forty-three horse-and-rider pairs challenged the first round of the Michel Vaillancourt (CAN) designed course, with 17 pairs earning a chance at the jump-off track. Fresh off a Sunday Classic win from Tryon Fall 3 competition aboard Blue Diamant, Driscoll and Donald Stewart's 2011 Polish Warmblood mare (Alvaro x Flourin Du Rouet) took on their first 1.45m class together and won after she decided to test her ride's jump-off skills: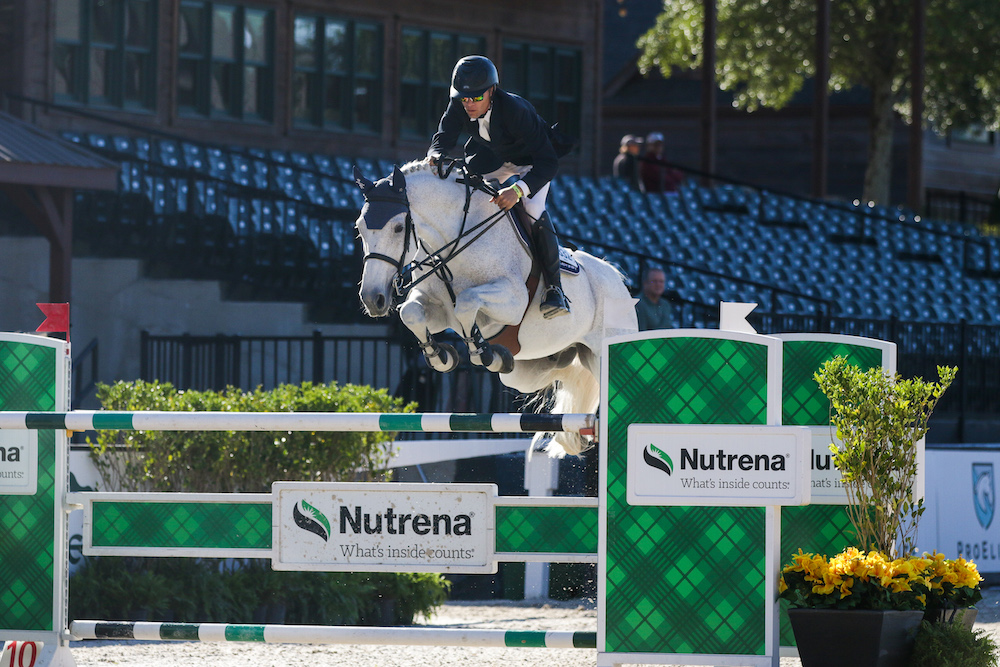 Karl Cook and Caillou 24
©TIEC/Reagan Ibach
"This was her first 1.45m, so I rode it a little aggressively, but she responded beautifully. Everything rode nicely. I thought the triple was good. The time was right on," she reported of the first round. "This is only my second week showing [Flotylla], and every time I go in the ring I feel like I'm learning something new about her, so I decided to take a shot and I didn't know how she would respond. I really sliced the verticals, and had the big gallop to the last, and I thought I would take a shot and see how it ended up!"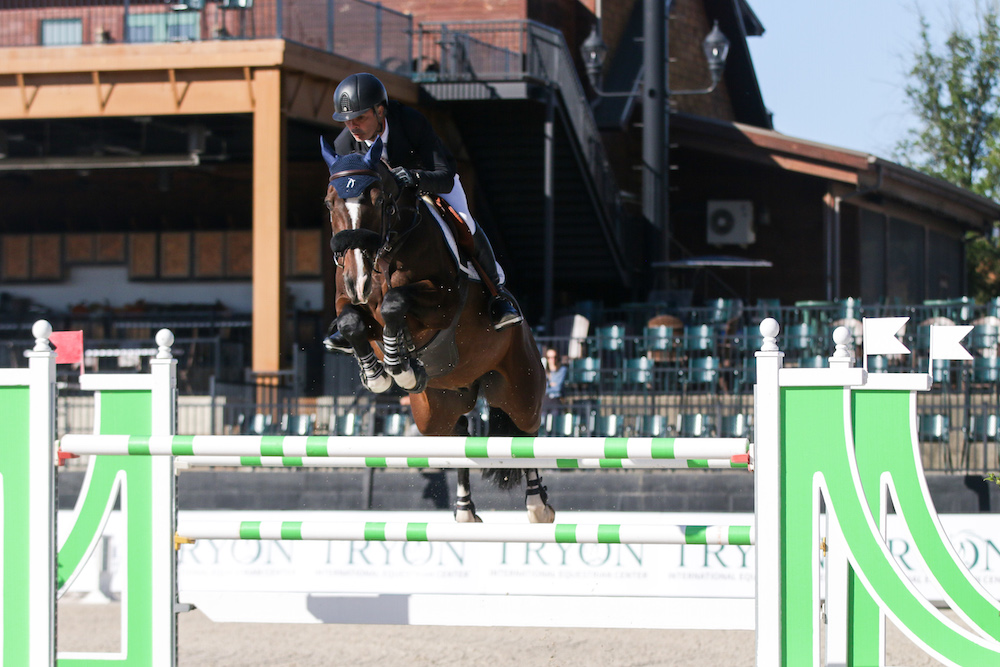 Rodrigo Pessoa and Carlito's Way 6
©TIEC/Reagan Ibach
After notching her first-ever Grand Prix win just a week ago, then following suit on a second mount to close out Tryon Fall 4, Driscoll joked that she's "leaving so someone else can win. The last two weeks have been pretty unbelievable. At the end of every day, I just have to stop and remind myself that at some point this is going to end," Driscoll acknowledged of her hot streak at the venue. "I just have such an unbelievable group of horses right now, and owners and sponsors and supporters behind me. I feel so blessed to be here and be doing this and be doing as well as I am at the moment.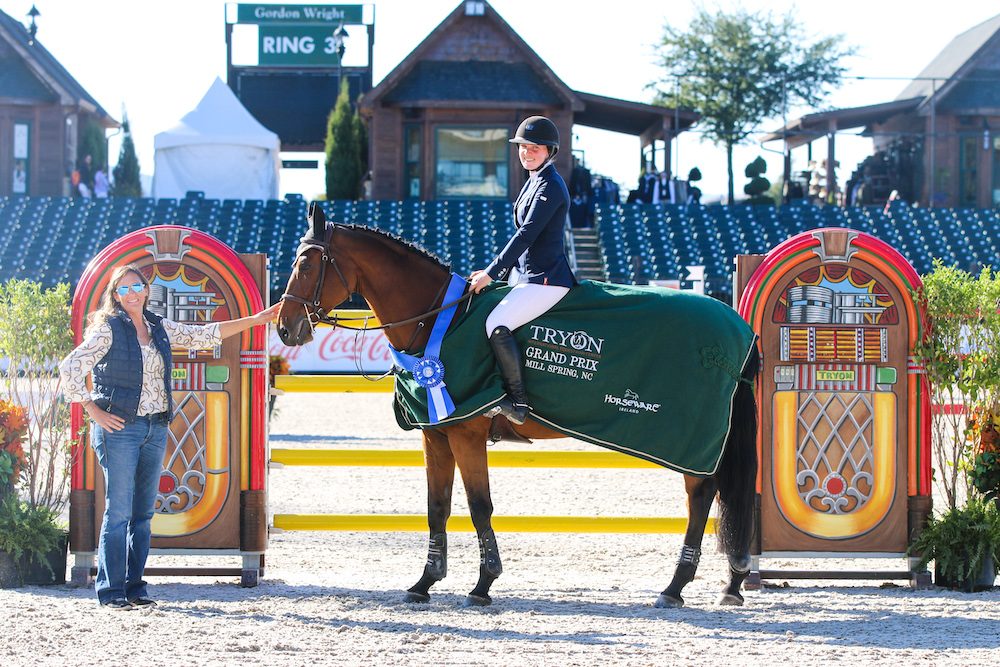 Cathleen Driscoll and Flotylla in their presentation ceremony alongside Molly Oakman, TIEC Director of Equestrian Operations.
©TIEC/Reagan Ibach
"Tryon is a staple on our tour," Driscoll emphasized. "We always come here in the fall. The weather's beautiful, the footing is good, and the courses are always great. It's a really nice show for the seasoned horses for the Saturday Night Lights classes as well as for the young horses coming up with this Sunday [grand prix] class, and the open jumpers during the week. This has already been such a great show, and this [win] was just such an unbelievable way to finish off here."
Dorothy Douglas and MTM Lolah LOL Dominate $20,000 USHJA International Hunter Derby
October 15, 2021 – Dorothy "Dorrie" Douglas (USA) and MTM Lolah LOL collected another International Hunter Derby win at TIEC, claiming Friday's $20,000 USHJA International Hunter Derby on a score of 373.5 after two rounds of competition. Brooke Kemper (USA) and La Vida Loca, the 2011 Hanoverian gelding (Levisonn x El Bandita) owned by Emily Cyrway, scored 371.5 to earn reserve honors, while third place went to McKayla Langmeier (USA) aboard the Rafferty Farm LLC's 2011 Danish Warmblood gelding (Favorit Ask x WI A'qua), WI Fabregas, on a total score of 370.
Fourteen entries toured the Keith Bollote (USA) course design, and Douglas was only ahead by 0.5 points going into the handy round with the 2013 Westphalian mare (Los Angeles x Palma) owned by Abigail Davenport. She chose to stick to her original plan, but wanted to make sure she exceeded Kemper's impressive handy performance, Douglas acknowledged: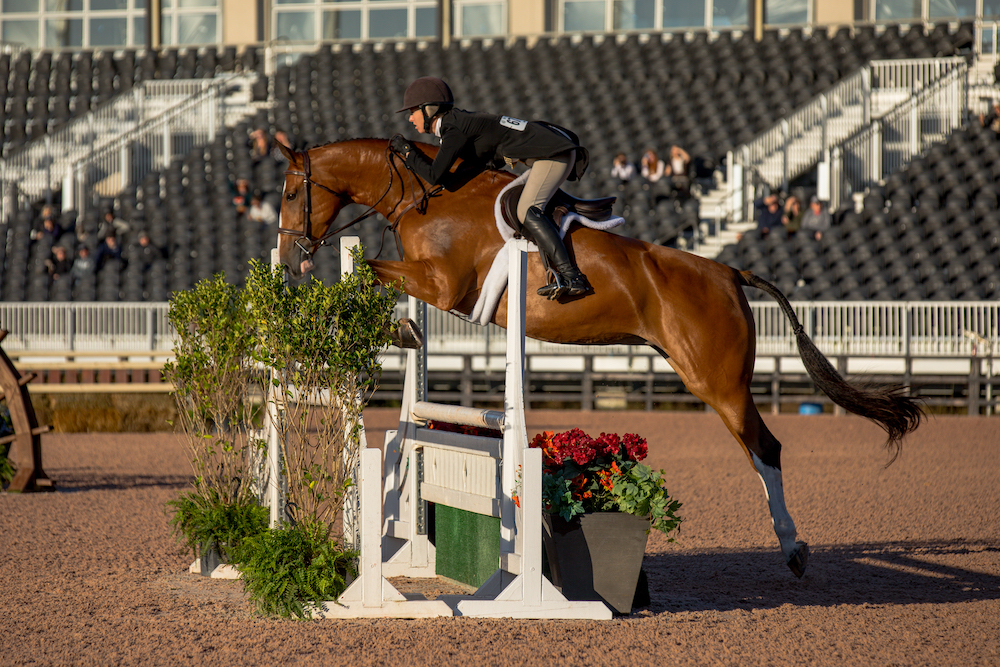 Dorothy Douglas and MTM Lolah LOL
©TIEC/Bailey Beck
"I watched Brooke [Kemper] go – and I was only 0.5 ahead at that point. Sometimes you don't want to know! My strategy was based on my original plan, but I knew I had to at least match what Brooke did in order to barely win," she explained. "Ultimately, it wasn't really going to change the way I rode. My plan was to do all the inside turns, jump all the high options, and be as handy as possible."
With a horse like Lolah, Douglas revealed, it's easy to ride confidently, even though the mare has been on a bit of a break from competition. "We ended up sixth overall at the Kentucky Hunter Derby Championships, and she hasn't really jumped since then. This is her first show back this fall. She is awesome – it's so cool to have such a solid, scopey horse because there's no question whether or not to jump the high options."
For Douglas, one of the most exciting aspects about a horse like Lolah is her potential as a Hunter despite only having competed in the discipline this year, she revealed:
"She did the jumpers in the year previous, and she's only done a few hunter shows but is pretty well settled into her new career! She's the best. She is literally leading the country in money earned through International Hunter Derby wins. For a horse that's technically a first-year hunter horse, that's amazing." Lolah's jumper career lends to her confidence and boldness in the Hunter show pen, Douglas continued. "She did the six-year-old championships in the jumpers and did 1.40m jumper classes as a seven year old, and that's when I took her and made her into a hunter. So, it's cool that even though she's a first-year, green hunter, she has a lot of show miles behind her. She's the best. I can't say enough good things about that horse. It feels like an unfair advantage because my horse is amazing!"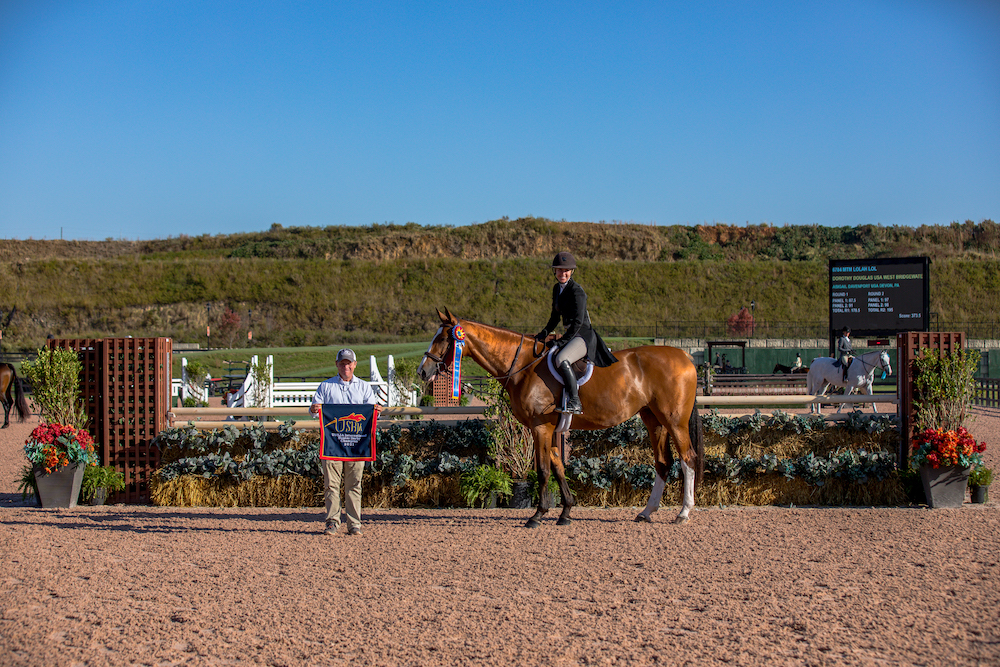 Dorothy Douglas and MTM Lolah LOL in their presentation ceremony alongside JP Godard, TIEC Competition Manager.
©TIEC/Bailey Beck
The duo are two-for-two in International Hunter Derby wins at TIEC alone this season, after also taking the top call during Tryon Spring 6. Though she admitted being intimidated by adding even more travel to her schedule this season, Douglas emphasized that she was thrilled to have decided to compete in the Tryon Fall Series:
"We haven't been here since this summer. I was a little bit hesitant to come this week because we just did Capital Challenge, and it felt like a lot of driving and setting up, but I couldn't be happier to be here! It's so awesome being here, and we love it. It's nice to have everything kind of self-contained. It's wonderful to be back here."
Daniel Pedraza Littlewood Drums Up Another Win with $6,000 Speed Stake CSI 3*
October 15, 2021 – Daniel Pedraza Littlewood (MEX) and Santa Rosa Yalta, the 2012 Mexican Sport Horse Mare (Unknown x Unknown) owned by Proyectos Agricolas Sa De CV, claimed another FEI win on the week after also topping Wednesday's $37,000 Power & Speed Stake CSI 3*. The duo stopped the timers over the Michel Vaillancourt (CAN) course in 63.01 seconds to take the win. Shane Sweetnam (IRL) and Impossible Dream, the 2013 Dutch Warmblood gelding (Cardento x Peter Pan) owned by Sweet Oak Farm, collected reserve on a time of 68.45, while third went to Karl Cook (USA) and Signe Ostby's Ircos IV, the 2008 Belgian Warmblood gelding (Nabab De Reve x Echo De Thurin), after their four-fault, 64.28-second performance.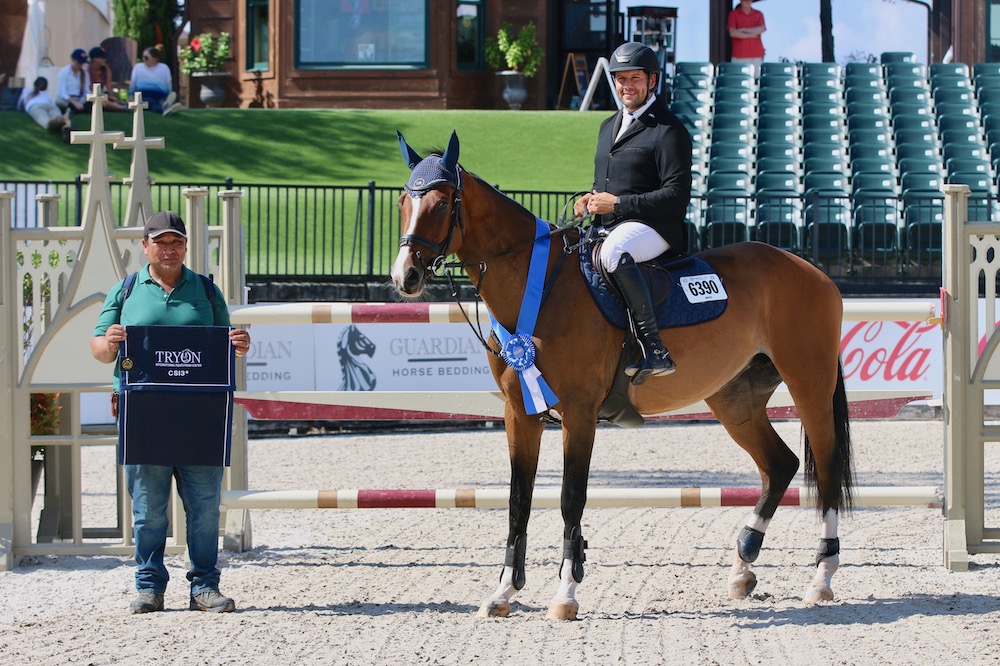 Daniel Pedraza Littlewood and Santa Rosa Yalta in their presentation ceremony.
©TIEC/Natalie Suto
Hunter Highlights:
The Adult/Amateur 50 & Over Hunter Division named Linda Veins (Pilot Point, TX) as champion aboard her own mount After Dark. Reserve belonged to Jamie Corn (Tryon, NC) and her own MTM Mr. Grace.
Remember When and Ceyda Sezer (Roswell, GA) championed the Baby Green Hunter 2'6" Division, while Jordan Lubow (Mobile, AL) and mount Hoku Du Rouet grabbed reserve.
Jumper Highlights:
The ESI Footing High Junior/Amateur Jumper Division congratulated Jacqueline Ruyle (Houston, TX) as its champion on the week aboard her own Cyramo Z, with reserve named to Anna Beth Athey (Enid, OK) and her own Calavino.
Heather Steinman (Canton, GA) and Livhaven Stables' Itile Horta claimed the champion rosette in the Big Ass Fans 1.20m Open Jumper Division, with reserve going to Alex Granato (Lexington, KY) aboard Upton for Isabella Longo.
For full division results from Tryon Fall 4, click here.
For full results from the $25,000 Tryon Resort Sunday Classic, click here.
For full results from the $20,000 USHJA International Hunter Derby, click here. 
For full results from the $6,000 Speed Stake CSI 3*, click here. 
The Tryon Fall Series continues next with Tryon Fall 5 competition, hosted Wednesday, October 20 through Sunday, October 24. Highlight competitions are available for live and on-demand streaming at www.Tryon.com/streaming, and competition information can be found at www.Tryon.com/compete. 
Photos ©TIEC. These photos may only be used once in relation to this press release. Competitors may request photos for the Tryon Fall Series or review and purchase photos at www.Tryon.com/photos. With questions, contact media@tryon.com. 
Tags:
Big Ass Fans
,
Brooke Kemper
,
Caillou 24
,
Carlito's Way 6
,
Cathleen Driscoll
,
Daniel Pedraza Littlewood
,
Dorothy Douglas
,
ESI Footing
,
Flotylla
,
Impossible Dream
,
Ircos IV
,
karl cook
,
La Vida Loca
,
McKayla Langmeier
,
MTM Lolah LOL
,
Rodrigo Pessoa
,
Santa Rosa Yalta
,
Shane Sweetnam
,
Speed Stake
,
Tryon Fall 4
,
Tryon Fall Series
,
USHJA International Hunter Derby
,
WI Fabregas