For Immediate Release
Emily Carpenter and Sarah Madden for TIEC
Mill Spring, NC – October 10, 2021 – The $25,000 Tryon Resort Sunday Classic at Tryon International Equestrian Center & Resort (TIEC) was topped by Cathleen Driscoll (USA) aboard Blue Diamant with a jump-off time of 36.14 seconds. Second place was awarded to Eugenio Garza (MEX) and Contago, the 2011 Oldenburg stallion (Cornet Obolensky x Cassini ll) owned by David Garza with a time of 37.672 seconds in the jump-off round of competition. Fabian Herrera (USA) and Emperor, the 2012 Warmblood gelding (Eldorado Van De Zeshoek x Imperija ESH 577) earned third place honors with a jump-off time of 39.377 seconds.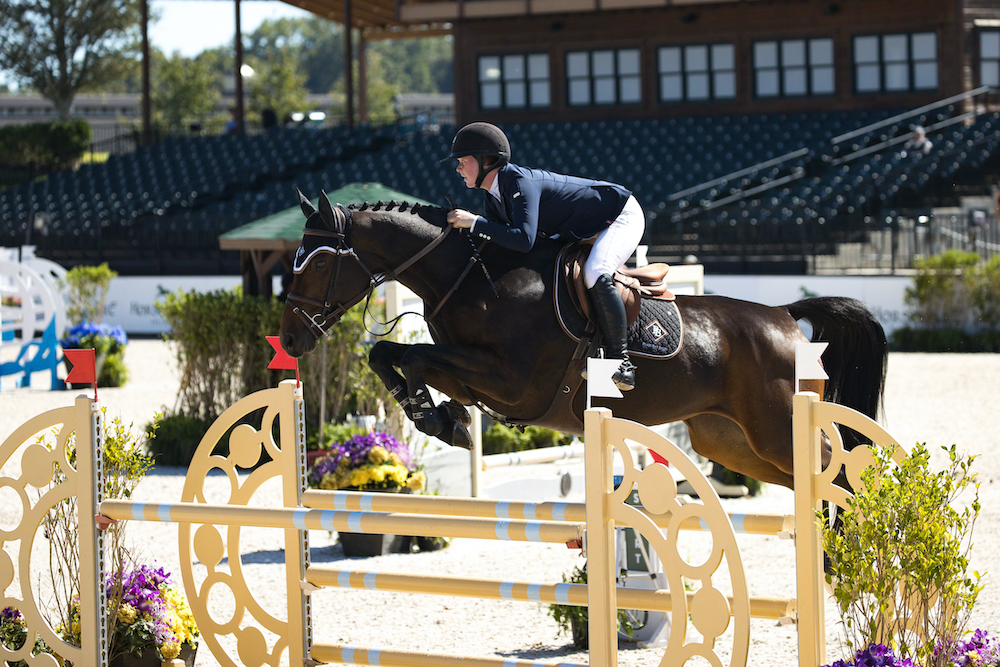 Cathleen Driscoll and Blue Diamant
©TIEC/Natalie Suto
The Sunday Classic was both Blue Diamant's Grand Prix debut as well as Driscoll's first Grand Prix win. "I'm just so excited. We had no expectations going into today," Driscoll reported. Driscoll recently took over the reins of the 2011 Selle Francais gelding (Diamant De Semilly x Mr. Blue) owned by Rice Show Stables after his owner Marissa Rice returned to school this fall. "I took over the reins to keep him going. We've just been moving back up steadily."
The Guilherme Jorge (BRA) designed course saw 20 horse-and-rider pairs, with nine pairs qualifying for the jump-off round of competition. Driscoll's plan was simply "to jump a good round," which proved to be no trouble at all for the duo despite being first to test the jump-off track. "He's such a competitor, and he's so careful and so fast. I took a little shot in the jump-off and he rode beautifully and answered all of the questions beautifully. He was really a star today!"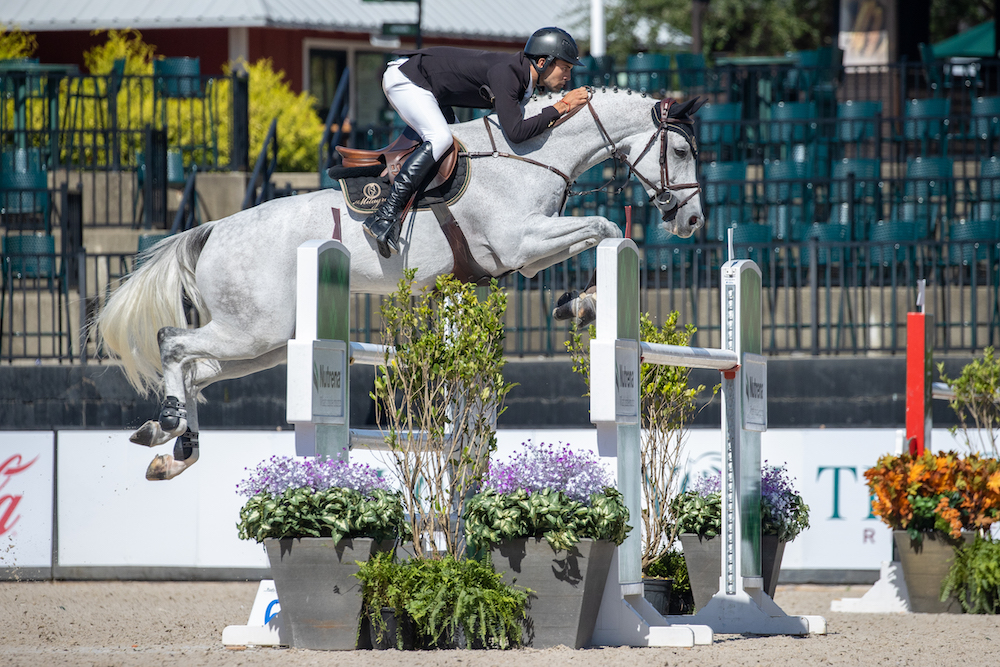 Eugenio Garza and Contago
©TIEC/Natalie Suto
Driscoll knows Blue Diamant well, despite recently regaining the ride. A homebred of Henri and Katie Prudent, with whom Driscoll has been riding and training for over two years, Blue Diamant came over to the States from France and Driscoll produced him to the 1.40m level.
"He was in the barn as a sales horse. I brought him up through the 1.40m level, and then we sold him to one of our clients, Marrissa Rice. She competes him in the Low Amateur Owners, so that's what he's been doing for the last year and a half. She went back to school this fall, so I took over the reins to keep him going."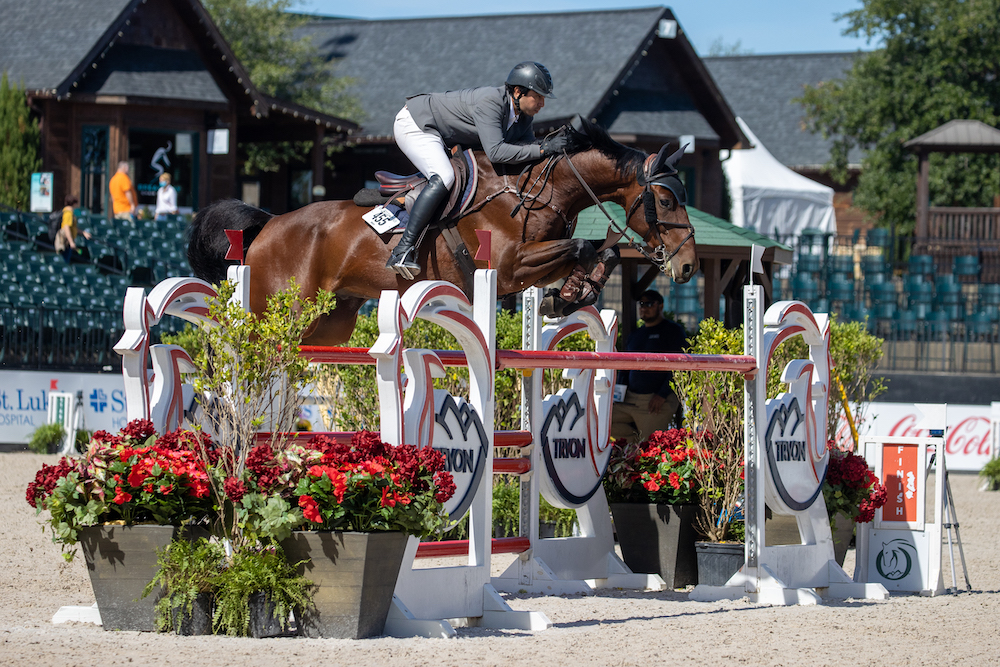 Fabian Herrera and Emperor
©TIEC/Natalie Suto
Their history and connection combined with Blue Diamant's talent led to a win in the horse's first national Grand Prix appearance, and allowed Driscoll to take chances on course:
"Going first, I knew I had to take a little shot. Blue Diamant just has a huge stride; I've never ridden a horse with a stride like his. My plan going in was to let him hunt around and do as few strides as possible," she shared. "I did eight back to the double, and then hunted down [to the next] in nine. The last two fences were really off of a big gallop, and I knew that's where I could be fast with him, so I just kept galloping and saw the big one and let him cover the ground. I felt like I had to put a little bit of pressure on with the others coming behind me!"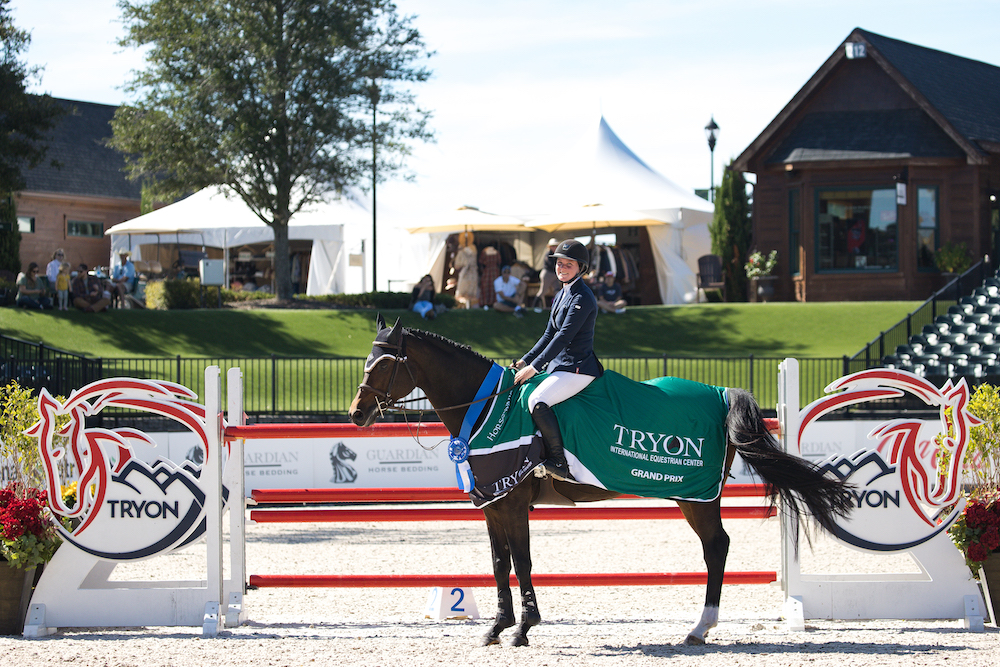 Cathleen Driscoll and Blue Diamant in their presentation ceremony.
©TIEC/Natalie Suto
Driscoll will be competing another week at TIEC with a group of new horses, and she concluded that the facility has been key to giving them positive experiences:
"We've got a group of new horses in, they've all been jumping wonderfully here. The footing has been spectacular despite four days of rain. I'm just thrilled with our week so far. The facility is beautiful! Thank you to the Prudents," Driscoll concluded. "I've been riding and training with them for about two and a half years now, and they have really brought my riding to another level."
Hunter Holloway and Ruby Tuesday Take Win in $10,000 USHJA National Hunter Derby
October 8, 2021 – Hunter Holloway (Topeka, KA) and Ruby Tuesday captured the win in the $10,000 USHJA Hunter Derby with a combined total score of 181. Tyler Petrie (Medina, OH) and Undeniable, the 2015 Dutch Warmblood gelding (Zapatero VDL x Darinda) owned by Ann Rice Ervin, were awarded the red rosette with a score of 179.5. Finishing in third place was Bridget Hickton (Pittsburgh, PA) aboard Fearless, her own 2012 Hanoverian gelding (Uccello x Romina), with a final score of 175.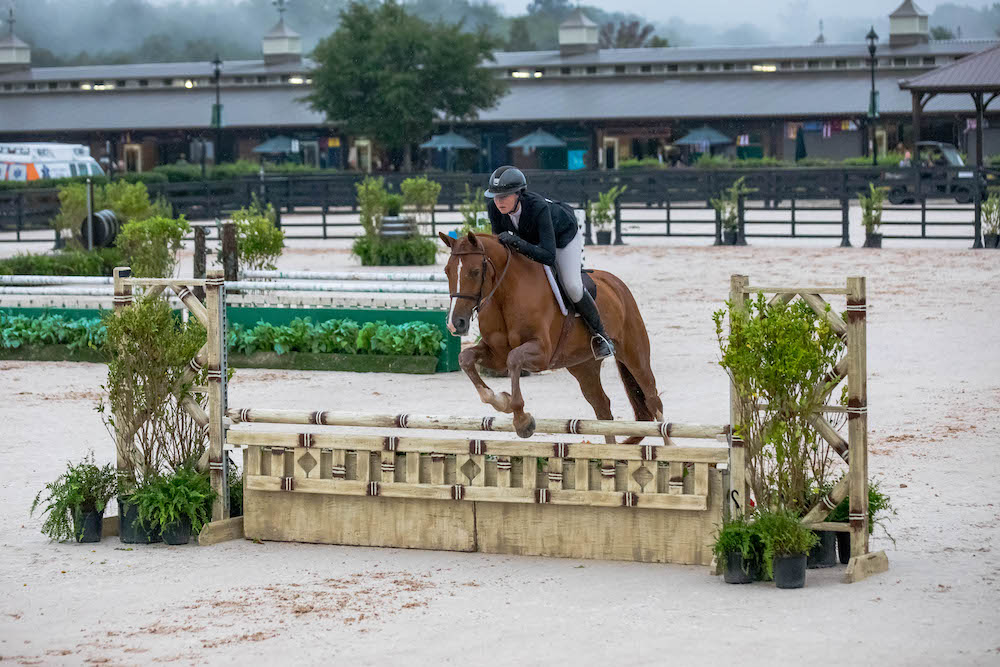 Hunter Holloway and Ruby Tuesday
©TIEC/Bailey Beck
Holloway and Ruby Tuesday, the 2011 Oldenburg mare (Any Given Sunday x S&L So Be It) owned by Hays Investment Corp. topped the $10,000 USHJA Hunter Derby prior to her victory in the $73,000 JTWG Inc. Grand Prix CSI 2* during the Tryon Fall 3 competition aboard Pepita Con Spita, the 2011 Westphalian mare (Con Spirit 7 x Come On) owned by Hays Investment Corp. Holloway and her homebred, Ruby Tuesday challenged 22 horse and rider duos throughout the Lewis Pack designed course. The duo bested the first round of competition with a score of 90, and continued to conquer the handy round seeing 12 competitors. A score of 91 in the handy round began Holloway's winning streak over the Fall 3 competition.
Hunter Holloway and Ruby Tuesday in their presentation ceremony.
©TIEC/Bailey Beck
Holloway has a long-standing partnership with her mare Ruby Tuesday, who was produced out of Holloway's breeding program. "She's out of Any Given Sunday, which is a horse that my mom and I both did the Grand Prix on, and I later did Hunter Derbies with him, and the Equitation as well." She added, "He's amazing and has produced a lot of nice babies, so it's been really fun to bring her along. She's now nine and all grown up, so it's been exciting to see her come up the levels."
Heavy rain throughout the class never deterred Holloway and her mount from executing an impressive and clean handy round. "The footing held up really nice even with all this rain. It's been a torrential downpour all day. It's nice that the footing held up and the course was lovely," she reported. Holloway knew her mare's ability to show off during the handy round, taking the inside track during the course. "She is really rideable, so I can make all the turns and go for it a little bit, and I knew she'd be up for the task as long as I rode a nice track."
Holloway hopes to continue her successes at TIEC during the remainder of the Fall Series. She reflected on her time spent at the venue, saying "It's been super! I always love being in Tryon, even when it's pouring!"
Developing Jumper Series Five, Six, and Seven Year Olds Shine Under the Lights
October 8, 2021 – Tryon Stadium hosted the Developing Jumper Series Five, Six, and Seven Year Olds under the lights Friday evening, giving up-and-coming equine athletes the chance to get a taste of the spotlight and a heightened competition atmosphere.
Juan Ortiz (Loxahatchee, FL) and Odiel VDM were the victors in the Friday evening Seven-Year-Old Class, as one of only four pairs to go double clear under the lights. Ortiz was gifted the Odiel VDM as a birthday present after McLain Ward recommended him, he shared:
"He's a very powerful and big boy. He needed someone that could stay on him, because he jumps quite hard! McLain called me and said, 'I think this horse is going to jump a lot, and I always had a great relationship with thim, and I trust him and recommend him.' From there, my sponsor, Blue Trim LLC, Diana Patterson, bought him for my birthday!"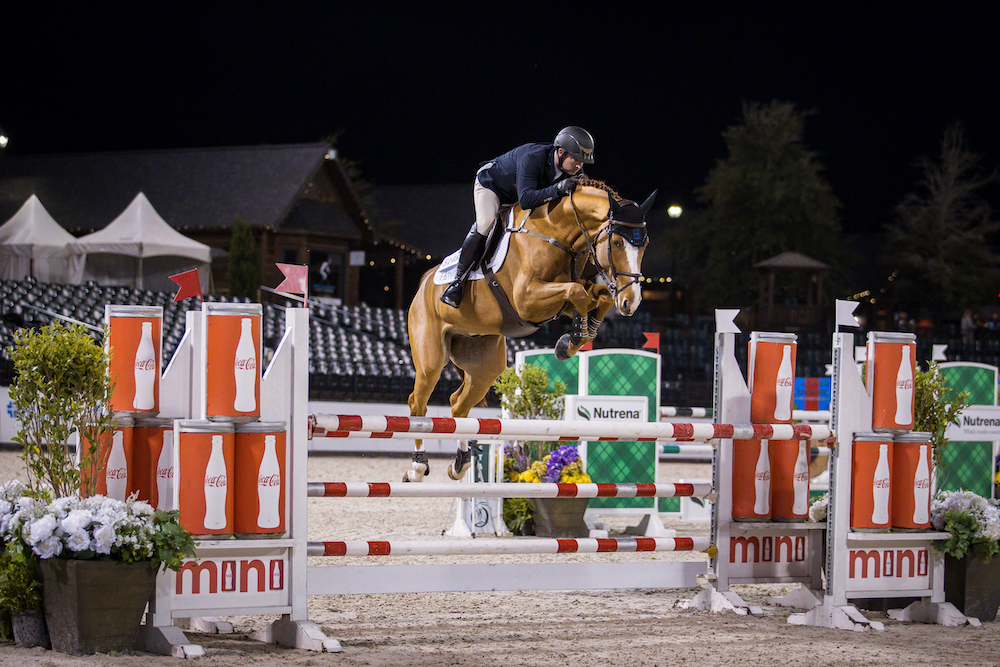 Juan Ortiz
©TIEC/Natalie Suto
Ortiz believes that developing young horses is one of the most important ways to source new talent, instead of shopping – and paying – for more experienced mounts. His sweet spot is the seven and eight year olds, he noted, since it takes a little less time and money to produce them from those levels. "It's always been a pleasure to jump in the young horse classes at TIEC. I really like the fact that we have some breaks to make sure that it is not as expensive as [competing] regular horses. I really appreciate what the horse show management and everybody does to make sure that we have incentives to be able to develop proper young horses."
A longtime and frequent competitor at TIEC, Ortiz appreciates the variety that competing at TIEC can offer developing horses. "Obviously, young horses benefit from every experience that is different from day to day," he explained. "This was a chance to give the horses a different experience under different circumstances and see how they reacted. If we consistently see young horses jump in the same ring with the same material, and they learn, but it gets a little mundane. It [competing under the lights] gives them a different taste of what the next step in their career is going to be.
"As a venue, I think Tryon is one of the best venues for upcoming horses, because in a lot of horse shows, the annex ring is assigned to the young horse division. Once in a while we're in the main ring, and that's like a big deal. In Tryon, we always get two fantastic rings where the WEG [World Equestrian Games] were hosted: the International Stadium or the Tryon Stadium. They switch back and forth, and they always have great courses in both rings," Ortiz raved.
"At other shows, we always end up showing in small rings. It's like the young horse division is scrap iron! Here, it's a priority, and that's why I'm a loyal customer of the horse show. I was the first person to show in Tryon; I was here the first weekend for the trial show. I've been showing here ever since!"
For Ortiz, the perks of competing at TIEC extends beyond his young horses' experience, he concluded:
"I don't want to go anywhere else! It's a great place for my family. My son loves it, and he plans his life around coming here. We live here as a second home, even though we live in a camper. We have lakes and mountains and a lot of other activities besides the show that are fantastic for the family and the people around you. I love the Carolinas!"
In the Six-Year-Old Division, Kadansa B and Sabrina Lefebvre (CAN) earned reserve honors over the weekend and gained valuable experience in and out of the ring in just their second show together, Lefebvre shared of "Lola," after competing at TIEC for the first time.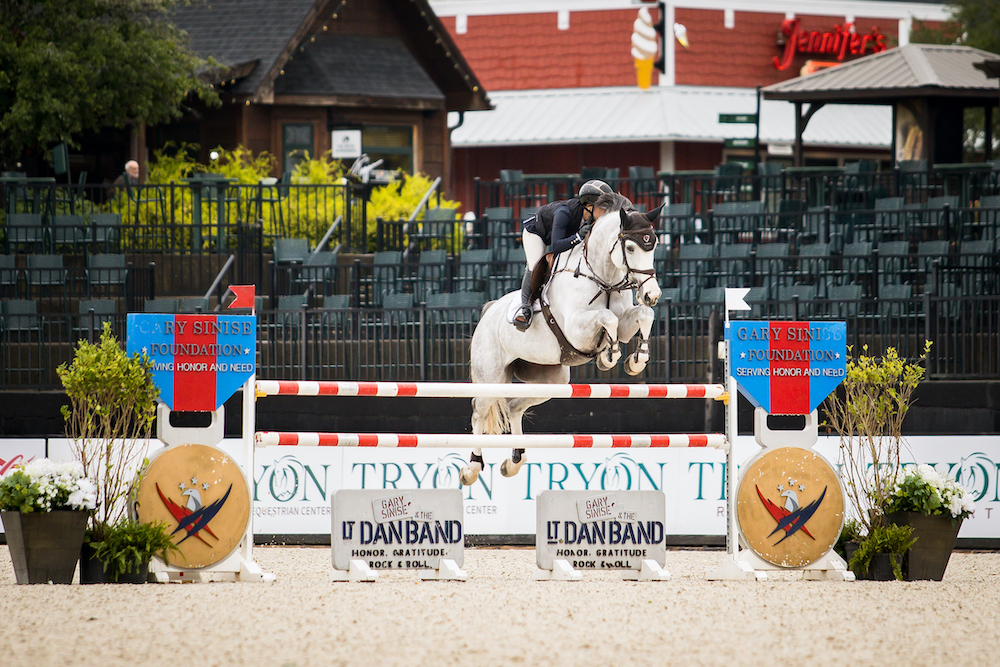 Sabrina Lefebvre
©TIEC/Natalie Suto
"It's just our second show together. She's been really amazing and jumping almost only clear rounds since I've had her," Lefebvre reported. "She's small but mighty, she has a really big heart. She's really, really sweet. I hope to develop her into a U-25 horse for myself."
"I really loved [competing under the lights.] I have two young horses with me, so I've been doing all of the young jumper classes over the summer. It was such a good experience for them to jump under the lights so young. It's good for them to go in this atmosphere when they're young, and the fences are a little lower, and have a nice experience. For their future, it is so good!
"This is my first time at Tryon, actually!" Lefebvre revealed. "We love it, and we're going to come back for sure. It's amazing, and everything is so nice. The stabling is nice, the footing is nice, the jumps… all of the resort."
$6,000 Speed Stake CSI 2* Belongs to David O'Brien and Olivia SCF
October 8, 2021 – The $6,000 Speed Stake CSI 2* was topped by David O'Brien (IRL) and Olivia SCF, the 2014 Belgian Warmblood mare (Cardento x Landino) owned by Spy Coast Farm LLC, with a time of 66.53 seconds. Second place was awarded to Brooke Peterson (USA) aboard her own Uqualin Du Salucy the 2008 Selle Francais gelding (Quaprice Bois Margot x Voltaire) with a time of 71.01 seconds. Doug Payne (USA) and Quintessence, the 2011 Holsteiner gelding (Unknown x Unknown) owned by Jane Dudinsky earned third place with a time of 71.97 seconds.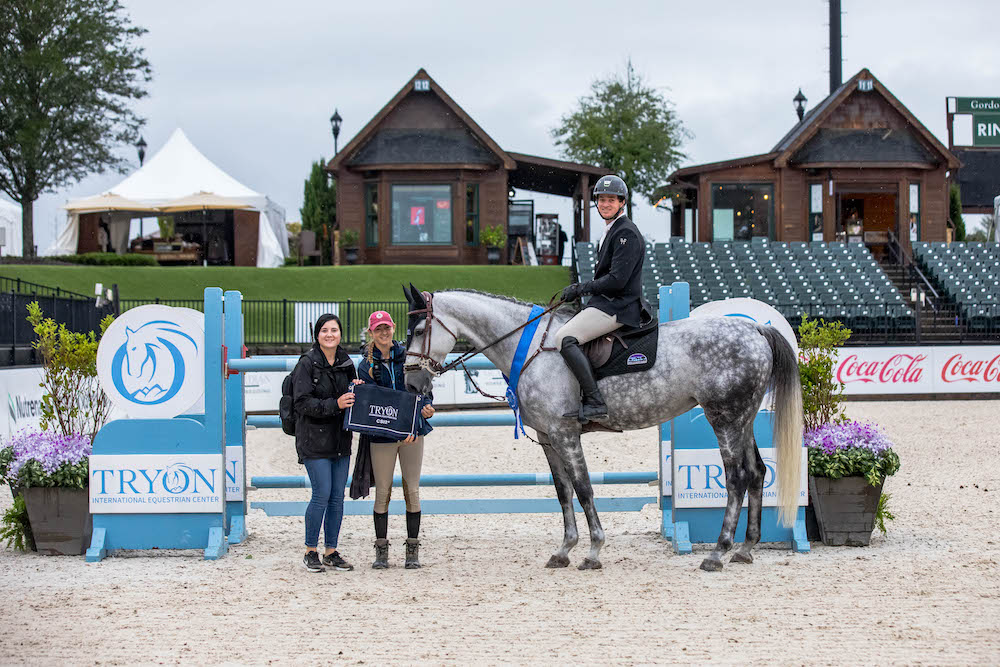 David O'Brien and Olivia SCF and team in their presentation ceremony.
©TIEC/Bailey Beck
Hunter Highlights:
The 15-17 Children's Hunter Division was championed by Sophia Santoro (Matthews, NC) and her own All Dressed Up. Reserve champion was awarded to Ava Svatos (Charlotte, NC) and Xena owned by Andrea Guzinski.
Champion honors of the 3'3" Amateur Owner Hunter Division was awarded to Christina Fisher (Alpharetta, GA) aboard her own Everything Is Gucci. Reserve champion was earned by Jennifer Morris (Aiken, SC) and her mount, Staros.
Jumper Highlights:
The Ken Feagin Truck & Trailer Low Children's Jumper Division was championed by Anna Scott Ault (Kennesaw, GA) and her own, Copy Cat. Reserve Champion was awarded to Katie Whittaker (Tega Cay, SC) aboard her own, Flim Flam. 
Champion of the St. Luke's Hospital Low Amateur Jumper Division was Kathleen Feeley (Canton, GA) and her mount, Fly'n High. Reserve champion honors were awarded to Christina Couper (Charleston, SC) and Cora, owned by Double C Sporthorses. 
Equitation Highlights:
First place honors of the WIHS Pony Equitation Class was awarded to Ava Hartman (Marietta, GA) and Celtic Creek's Golden Nugget owned by Lindsay Milligan. Second place was earned by Chandler Wilks (Canton, GA) aboard Roulette owned by Right Ride LLC.
The Ariat Adult Medal was won by Bobbi Healey (Moorestown, NJ) and Gustique owned by Motivere Incorporated. Second place honors were awarded to Eliza Fauntleroy (Manakin Sabot, VA) and Falcor owned by Samantha Coker.
For full division results from Tryon Fall 3, click here. 
For full results from the $25,000 Tryon Resort Sunday Classic, click here. 
For full results from the $10,000 USHJA National Hunter Derby, click here. 
For full results from the $6,000 Speed Stake CSI 2*, click here. 
To view Developing Jumper Series (DJS) class results, click here.
The Tryon Fall Series continues with Tryon Fall 4 competition hosted Wednesday, October 13 through Sunday, October 17. Highlight classes are live streamed for free at www.Tryon.com/streaming, and competitions are free and open to the public to attend. View competition details at www.Tryon.com/compete. 
Photos ©TIEC. These photos may only be used once, in relation to this press release. Competitors may request and purchase photos at www.Tryon.com/photos. With questions, contact media@tryon.com.