For Immediate Release
Michelle Yelton for TIEC
May 15, 2021 – Schuyler Riley (Wellington, FL) and Robin de Ponthual landed first place in the $30,000 Cleghorn Golf & Sports Club Grand Prix with a time of 36.771. Darragh Kerins (Wellington, FL) and Delight M-G C de Leuze, the 2009 Belgian Sport Horse mare (Armitage x Unknown) owned by Trefoil Farm LLC and Greg Patrick Broderick, earned second place on a jump-off time of 38.075. Rounding out third place was Hallie Grimes (Houston, TX) with Can We Keep It? LLC's 2008 Belgian Warmblood gelding NKH Calango (Calvados Z x Good Times) in 38.192 seconds.
Climbing from her third place finish aboard Quilimbo in Thursday's Horseware Ireland Welcome Stake, Riley and Robin de Ponthual, the 2005 Selle Francais gelding (Elf d'Or x Calypso d'Herbiers) owned by Katherine Gallagher, rose to first out of the 25 pairs on the Catsy Cruz (MEX) course.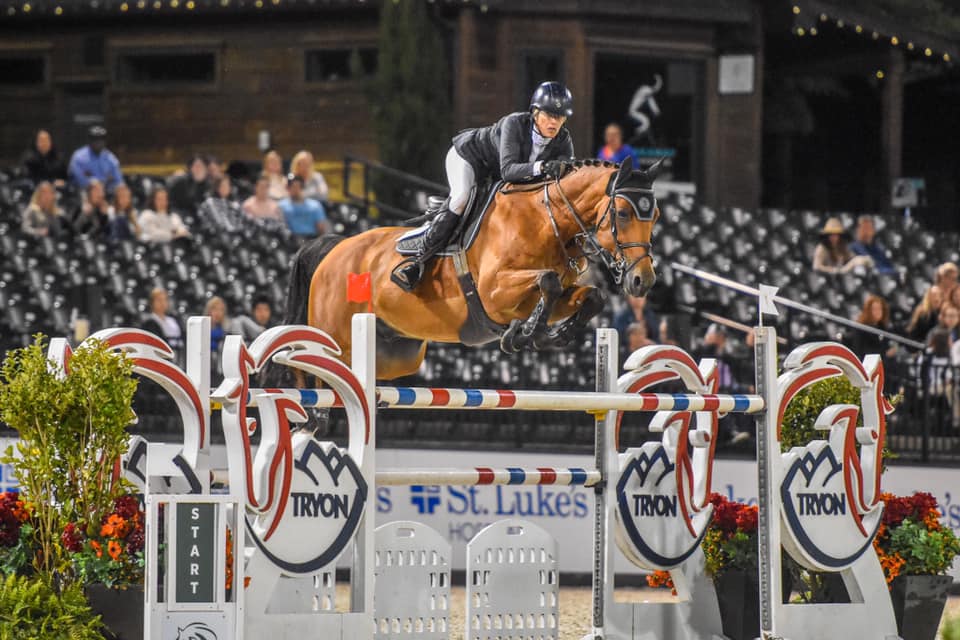 Schuyler Riley and Robin de Ponthual
©TIEC
"The course was good. It was hard enough. Fortunately for me, they lengthened the time allowed. I felt the time allowed sounded really tight, and I don't think I could've gone much faster in the first round and gone clear. I think she did just the right amount for the level. She had a wide range of levels of horses and riders in the field, so I thought she did a lovely job," explained Riley.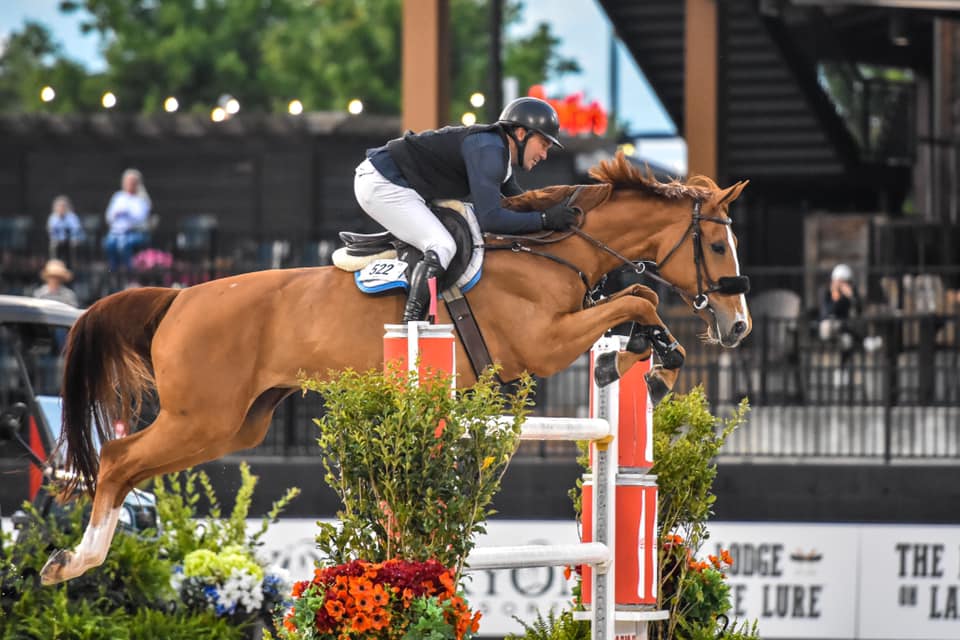 Darragh Kerins and Delight M-G C de Leuze
©TIEC
With only six teams returning for the jumpoff, Riley and Robin de Ponthual were first on course and pushed hard for the win.
"When you're first to go in the jump-off, you just have to lay it down. You have to go your horse's speed, do the best you can, trim every corner and hope that the chips fall in your favor. I really did feel like that was as fast as I could go on Robin. I maybe could've done one less to the last, but I'm really happy with where it ended up," she said.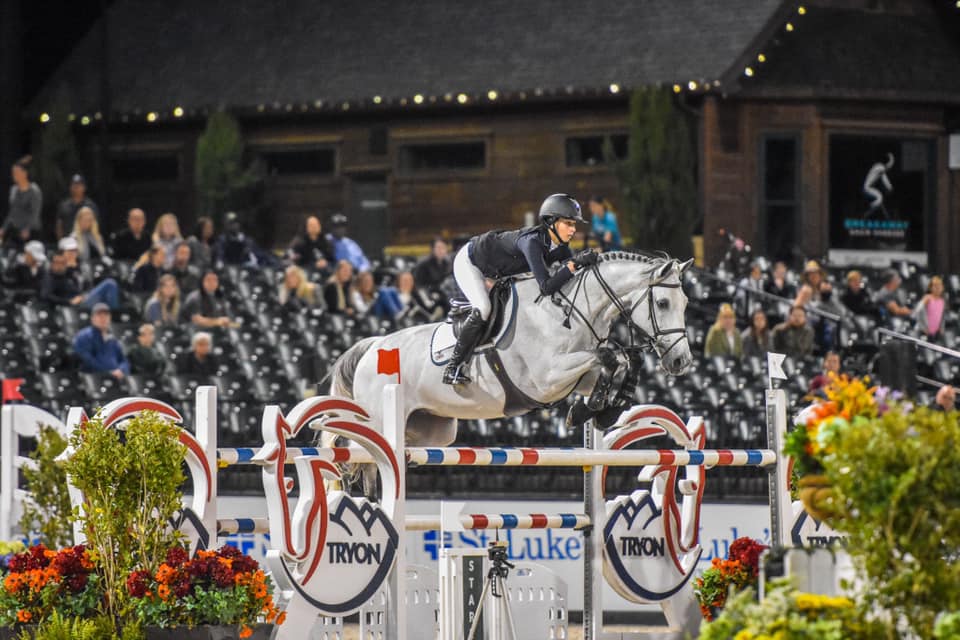 Hallie Grimes and NKH Calango
©TIEC
Riley enjoyed being back under the lights and competing before a small audience now that spectators are permitted to watch the classes again after being closed to the public for nearly a year.
"It was amazing to [be back under the lights] and see people and their faces! Everybody here is so friendly. I've always loved this venue. The footing is amazing. We only had a few people here tonight because we're reopening slowly and doing it right, but to get a little of the atmosphere back is what makes this place so great. We also had a couple of younger horses in the class and it was good for their first experience under the lights with some atmosphere. I was thrilled with the class," she added.
Zayna Rizvi and Excellent Combine for the Junior's First $20,000 Horseware Ireland Welcome Stake Win
Sarah Madden for TIEC
May 13, 2021 – The youngest in the class navigated a tricky course to beat the adults in Thursday's $20,000 Horseware Ireland Welcome Stake, resulting in Zayna Rizvi (Greenwich, CT) claiming her biggest win to date aboard Peacock Ridge LLC's Excellent. The duo was one of four to challenge the jump-off track, but none could best their trailblazing time of 38.759 seconds. Gavin Harley (Wellington, FL) rode the E2 Show Jumpers' entry, Very Chic du Tillard, the 2009 Selle Francais gelding (Diamant de Semilly x Jumping Queen), to reserve on a jump-off time of 40.287. Schuyler Riley (Wellington, FL) also guided an E2 Show Jumper entry, Quilimbo, the 2009 Holsteiner stallion (Quidam de Revel x Soda), to third on a time of 41.943.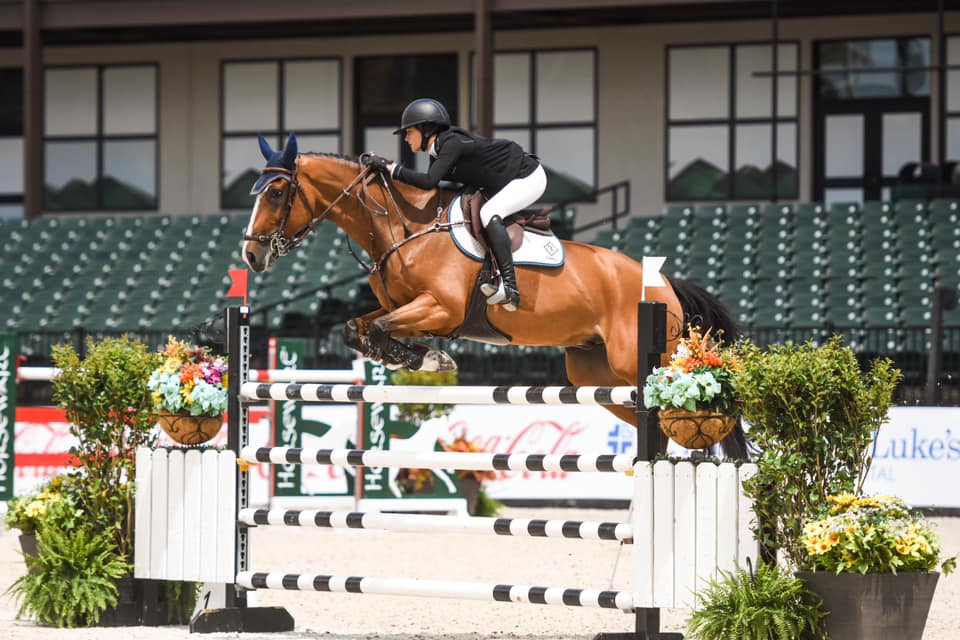 Zayna Rizvi and Excellent
©TIEC
Rizvi, 15, and the 2009 Dutch Warmblood gelding (Cicero z van Paemel x Royal Queen) faced a significant challenge set by Catsy Cruz (MEX), with tight combinations that Rizvi worried would work against her mount's massive stride. "Honestly, I was a little worried going into the first round, because some of the lines were kind of steady, and he has a huge stride, so that was probably the hardest part of the course for me," she admitted. "But, he's so good, and if I back him off he's very careful. It worked out great for us, but I was definitely a little nervous about that part."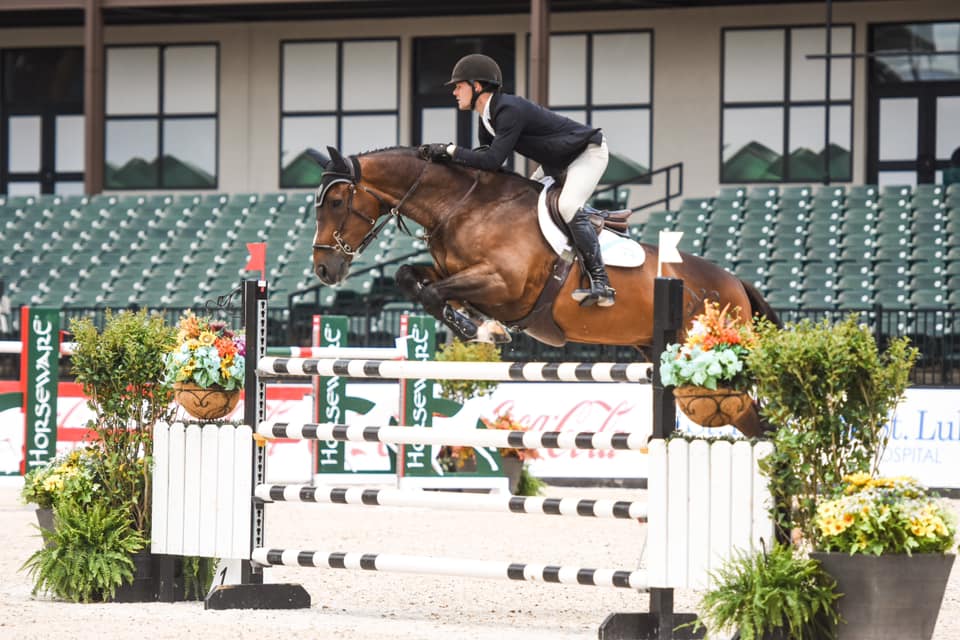 Gavin Harley and Very Chic du Tillard
©TIEC
As the jump-off trailblazer, Rizvi chose to push the pace away from the jumps, taking her time at each fence, and still ended up with a comfortable lead after the jump-off unfolded. "Since I had to go first, I just wanted to keep the jumps up, really." Rizvi detailed, "I tried to go fast around the turns, then slow down for the jumps, so that I wasn't rushing him off the floor. He was so good about it."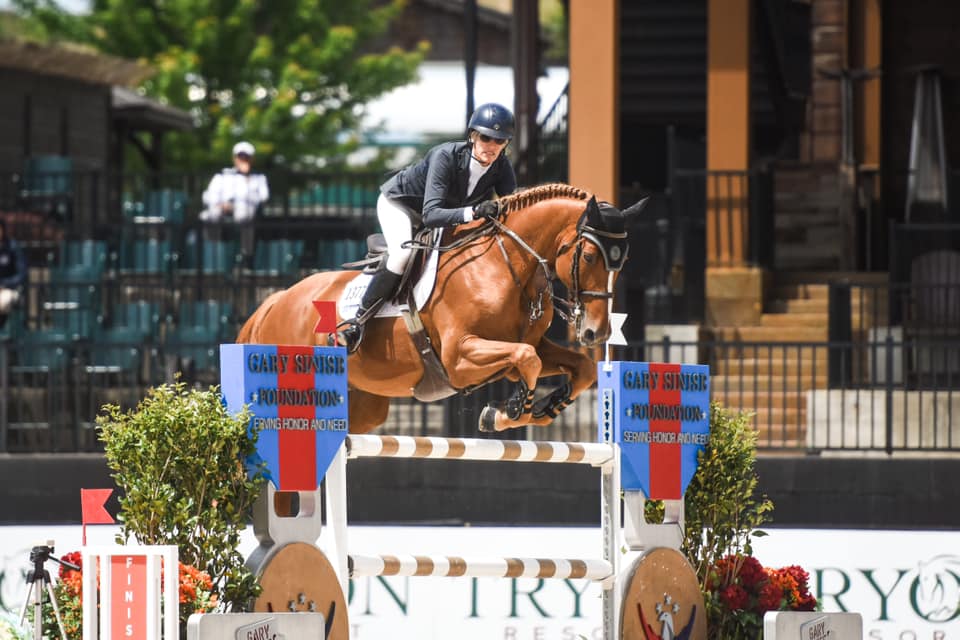 Schuyler Riley and Quilimbo
©TIEC
Though it's not every day a junior rider tops a tough Welcome Stake – and this win was her first win at this level – Rizvi relies on her partnership with her horses to get her through the nerves of new things. "Sometimes I definitely get nervous because a lot of the riders [I'm competing against] have done this multiple times, and I'm just kind of starting with the bigger classes, but I trust my horses so much, and I know they're always going to have my back, so also, not really!"
Smooth Sailing for Isabel Harbour in the $2,500 USHJA National Hunter Derby
Sarah Madden for TIEC
May 14, 2021 – Isabel Harbour (Alpharetta, GA) scored multiple top placings in Friday's $2,500 USHJA National Hunter Derby at TIEC, notching fourth and first place. With Fitz, Harbour scored an 88 in the first round and collected a two-round score of 180 for the win. In the irons with IMH Equine LLC's Lost Art, the 2011 Dutch Warmblood gelding (Unknown x Unknown), Harbour cruised to a total score of 173 for fourth place. In reserve, Matt Cyphert (Argyle, TX) rode Kate McDonnell's Crimson Tide, the 2008 Hanoverian gelding (Lordanos x Elfie), to a score of 178, while Kelly Cruciotti-VanderVeen collected third place and a score of 174.5 aboard Chris Jansen's Inclusion, the 2011 Oldenburg gelding (Cassini Gold x Stutbach I).
Isabel Harbour and Fitz
©TIEC
Lewis Pack (Aiken, SC) set the track for 30 first-round entries, with the top 12 traversing the handy round of competition. Harbour and the 2007 Dutch Warmblood gelding (Numero Uno x Kootje) owned by IMH Equine LLC are a longtime pairing, she shared, but Lost Art only has a few derbies under his belt, and the two are completely different rides: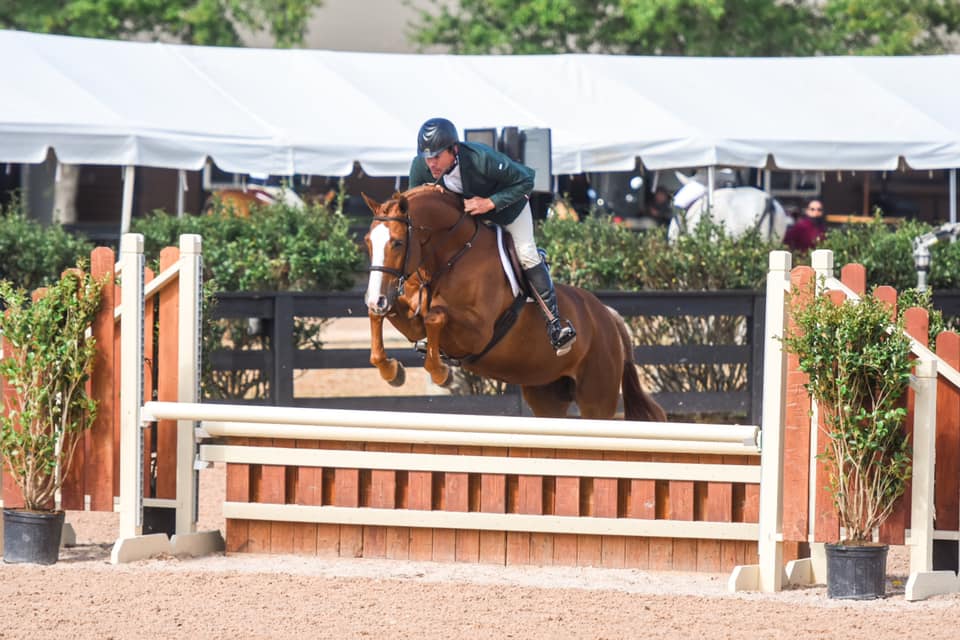 Matt Cyphert and Crimson Tide
©TIEC
"I've had Lost Art about two years, but we've only been showing him for about a year. This is probably his fourth derby, so he's pretty new at this," Harbour detailed. "He's so much fun to ride and very brave. "Fitz is the complete opposite – I've had him almost four years now, so he's been with me for a while. He's really a great partner."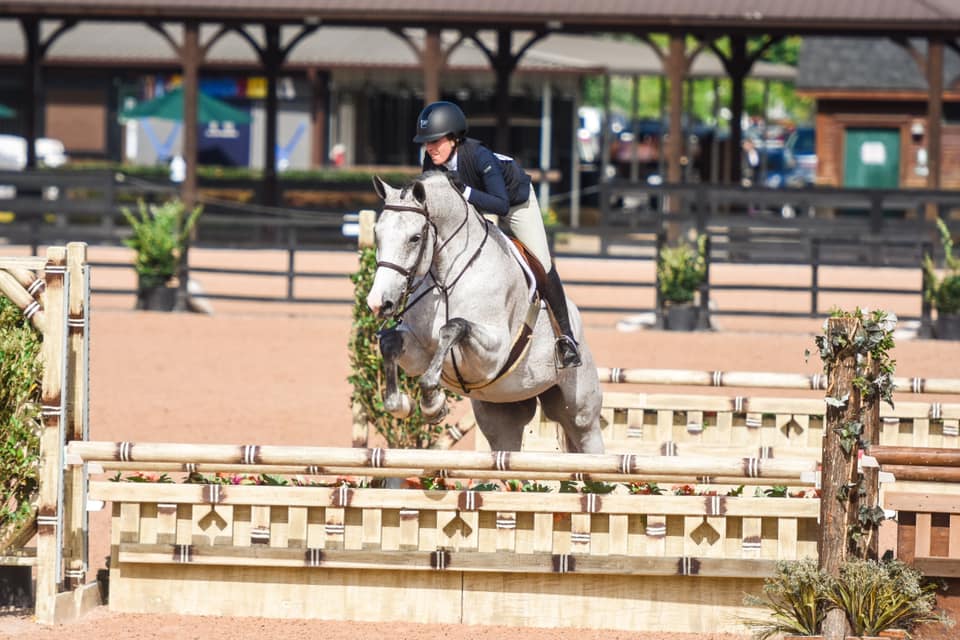 Kelli Cruciotti-VanderVeen and Inclusion
©TIEC
Fitz's strength lies in the handy rounds, Harbour noted. "The first round was very solid. He's perfect at the handy – he'll do all the inside turns." She recapped, "To the vertical right turn to the two stride I didn't mean to do that inside turn, but it set up so well that I did it and it was great. He was perfect."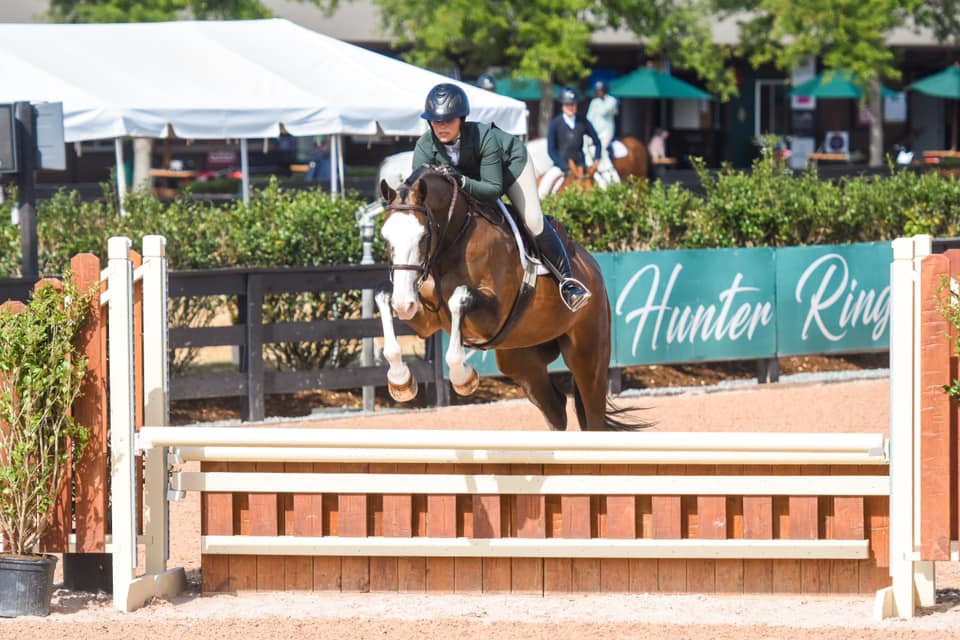 Isabel Harbour and Lost Art
©TIEC
Posting a competitive score with Lost Art, the young partnership shows potential still untapped, she reflected. "I'm not as good at the handies with Lost Art, as I'm still figuring him out, but he was just an angel to ride. I had a lot of fun."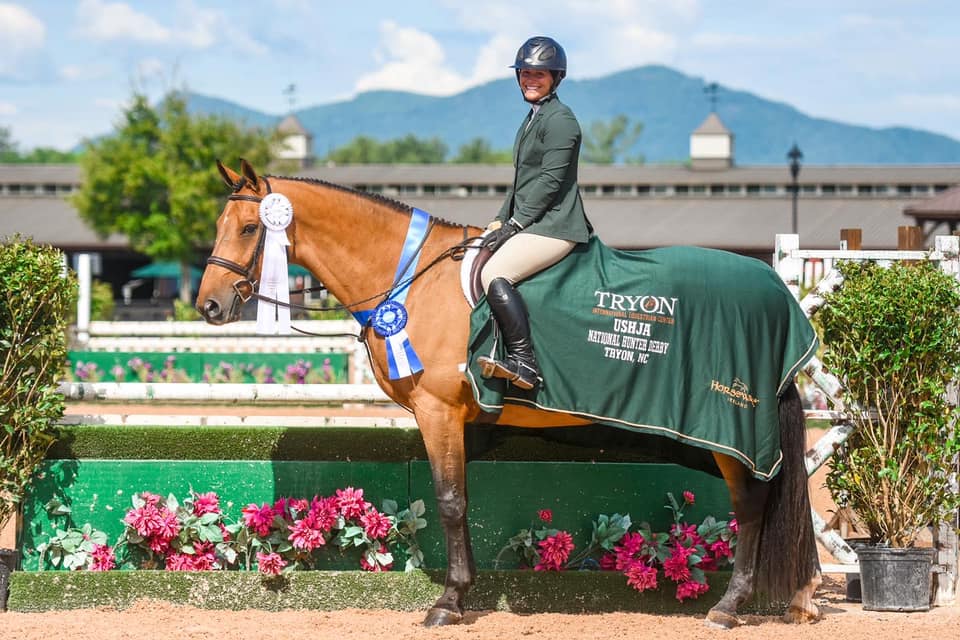 Isabel Harbour and Fitz in their presentation ceremony.
©TIEC

Hunter Highlights:
Lexi Selldorff (Chatham, MA) and her own Fine By Me secured champion honors in the Amateur-Owner Hunter 3'3" Division with reserve champion going to Isabel Harbour (Alpharetta, GA) and Lost Art for IMH Equine LLC.
In the Foothills Hunter 3' Division, Isabelle Ehman (Melton, GA) and her own Firelight earned champion status. Reserved champion was awarded to Jamie Corn (Tryon, NC) and her own MTM Mr Grace.
The Green Hunter 3'6"/3'/9" Division saw Penny Lombardo (Loxahatchee, FL) and Charismo take home top honors for Joyce Hutcher. Victoria Imbriglio (Fayetteville, GA) and Kendall King's Galant received Reserved Champion status.
Jumper Highlights:
In the 1.10m Sport Horse Essentials Jumper division, Audrey Norrell (Larkspur, CO) was named champion aboard Lady Evita Z owned by Kinsley Kropholler while Doug Payne (Rougemont, NC) rode Iron Giant to reserve champion for Mary Guynn.
Austin Cumming (Madison, GA) and Stephanie Cumming's Lebron James received champion status in the 1.30-1.35m DJS 6/7 Year Old Young Jumper Division. Juan Ortiz (Loxahatchee, FL) and Odiel VDM earned reserved champion honors for Blue Trim LLC.
Eva Pool (Marion, NC) and her own Casa Grande claimed the championship in the .90m Non-Pro Jumper Division, while reserve went to Callahan McPherson (Sherrill's Ford, NC) and mount Coriander FF.
For full division results from Tryon Spring 2, click here.
For full results from the $30,000 Cleghorn Golf & Sports Club Grand Prix, click here.
For full results from the $20,000 Horseware Ireland Welcome Stake, click here.
For full results from the $2,500 USHJA National Hunter Derby, click here. 
The Tryon Spring Series continues through June 13 and features six weeks of national and international Hunter, Jumper, and Equitation competition. Competitions are open to the public per the USEF COVID-19 Action Plan.Competition information is available at www.Tryon.com/compete, with live streaming available for select classes at www.Tryon.com/streaming.
Photo credit ©TIEC. Competitors can review and purchase photos from Tryon Spring 2 and request photos for the entire Tryon Spring Series at www.Tryon.com/photos. These photos may only be used once in relation to this press release with proper credit. Contact media@tryon.com with questions.
Tags:
Cleghorn Golf & Sports Club
,
Darragh Kerins
,
Delight M-G C de Leuze
,
Excellent
,
Gavin Harley
,
Grand Prix
,
Hallie Grimes
,
Horseware Ireland Welcome Stake
,
Isabel Harbour
,
Kelli Cruciotti-Vanderveen
,
Matt Cyphert
,
NKH Calango
,
Quilimbo
,
Robin de Ponthual
,
Saturday Night Lights
,
Schuyler Riley
,
Sport Horse Essentials
,
Tryon Spring 2
,
Tryon Spring Series
,
Very Chic du Tillard
,
Zayna Rizvi