For Immediate Release
Sarah Madden and Allie Hay for TIEC
Mill Spring, NC – June 19, 2021 – The second night of competition at the Perrigo Tryon Summer Dressage CPEDI 3* saw team tests performed in Tryon Stadium under the lights, part of the final U.S. Olympic Observation Event before Tokyo. The Adequan® U.S. Para Dressage Team is firing on all cylinders ahead of team selection announcements, and Team Tests thrilled spectators Saturday evening as well as live stream viewers from around the world. Freestyle CPEDI competition continues Sunday, June 20, starting at 9:00am EST, with live streaming available at Tryon.com/streaming.
Cynthia Screnci (USA) scored a personal best aboard her new mount, Sir Chipoli, in Grade V competition after winning the previous night as well. Screnci and the 2007 Dutch Warmblood gelding (Sir Donnerhall x Vivaluciene TKS x Carabas) co-owned by Chris Von Martels and Select Equine International scored a 69.225% to earn first place, while Cayla van der Walt (RSA) and Daturo II, the 2006 Andalusian gelding (Mirlito XI x Datura x Pestillo) owned in partnership with Christine Heathman, received second place honors on their score of 68.333%.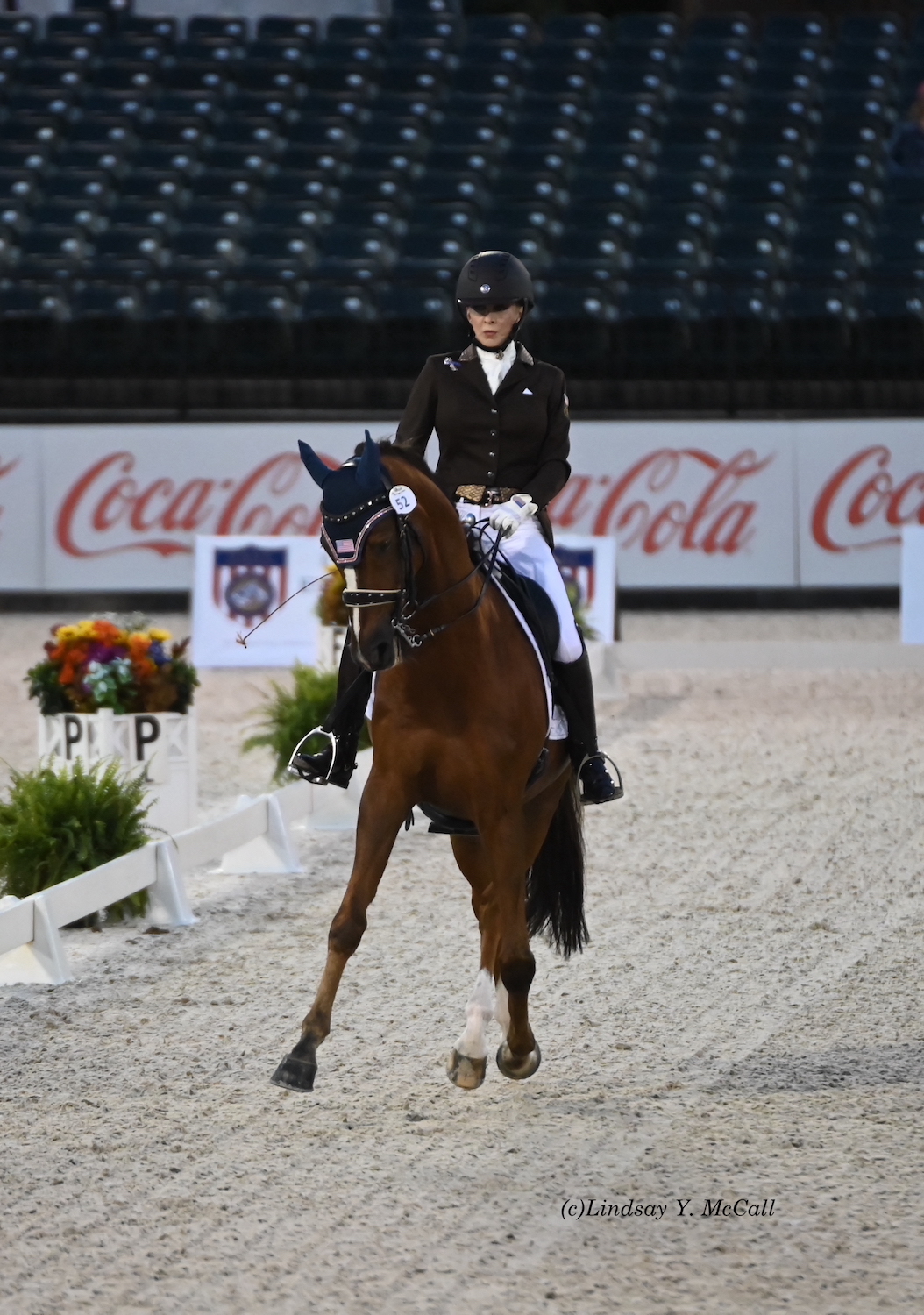 Cynthia Screnci and Sir Chipoli
©Lindsay McCall, USPEA
Screnci has already formed a show-stopping partnership with her horse, despite having only known him for four weeks. This is only the pair's second show, with podium finishes in all competitions thus far. "He got here on my birthday, so it was kind of like a meant-to-be thing," she said with a smile. "He's got all the movement and he has such international quality, but some things we are just going to need to smooth out. But, like I said, we've only had him for four weeks!" Screnci is setting her sights on the World Championships in 2022, hoping the pair will shine even brighter under the lights after a year of working together.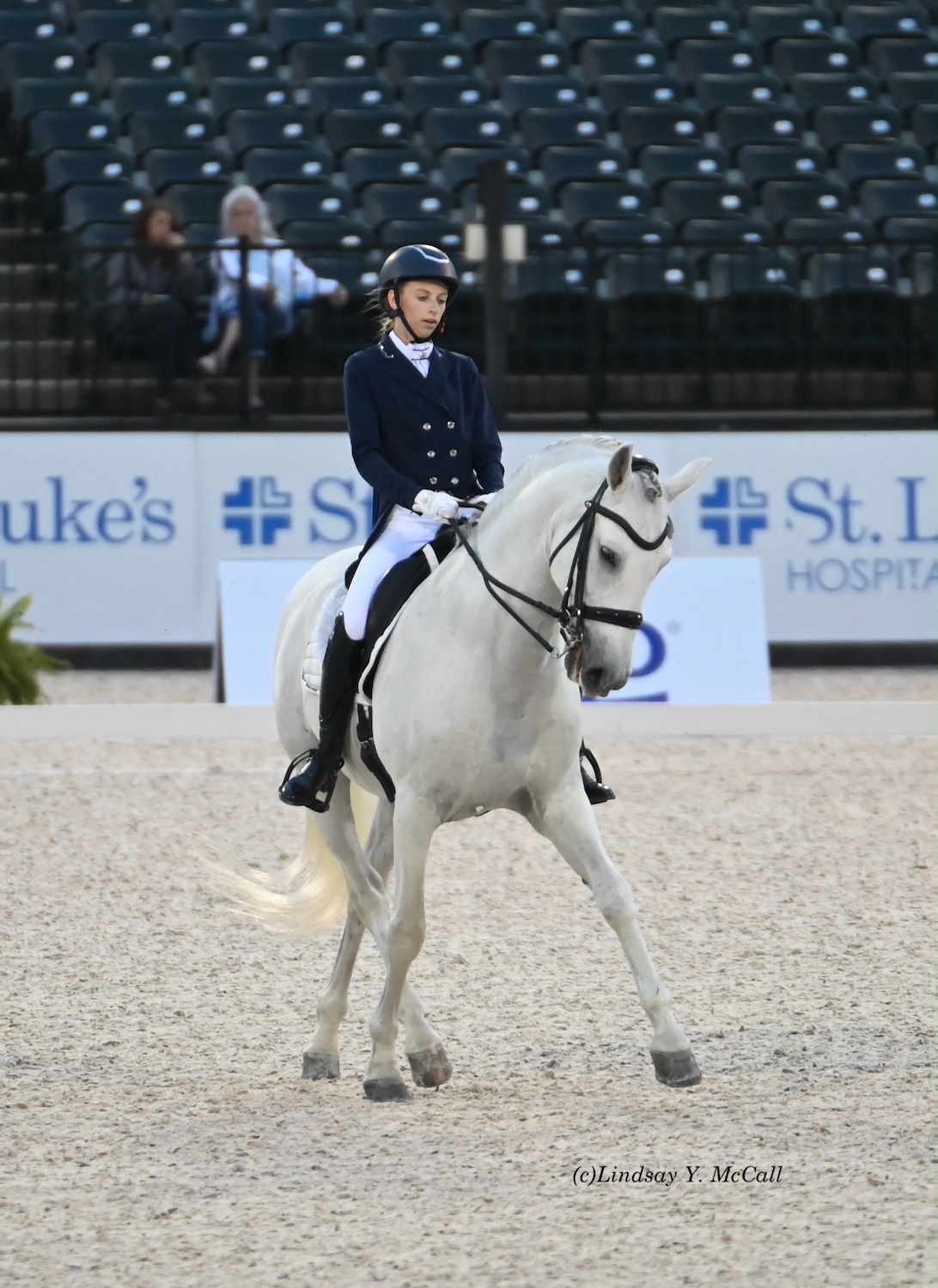 Cayla van der Walt and Daturo II
©Lindsay McCall, USPEA
Sir Chipoli, her "meant-to-be" mount, and Screnci have already taken the Para Dressage ring by storm, but Screnci herself is new to the sport. No stranger to the equestrian world, she has owned and ridden horses for over 40 years, competing in barrel racing, hunters, and jumpers. After an injury in a jump-off in 2015, she decided to try her jumper mare in the Para Dressage ring after some coaxing by Robert Dover. "I've only been doing Dressage for the last two years!" she admitted, "We won last night and we won again today, and that's just really incredible."
The night also held special meaning for Screnci, who pointed out a special pin on her coat that could also be seen worn by other competitors, as a tribute to her mother who passed away in May. Screnci's mother was an active supporter of not only Screnci, but the entire U.S. Para Dressage community, she emphasized. "She loved everybody here, and she had bought these for everybody to show that she supported them all."
In Grade II competition, Beatrice "Bea" De Lavalette (USA) piloted Clarc to first on a score of 71.414%, catching a second win on the weekend with the 2007 Dutch Warmblood gelding (Dreamcatcher x Miss Sinclair) owned by Elizabeth and Nicolas De Lavalette. In reserve, Laurietta Oakleaf and Comte Du Baccara C, the 2007 Dutch Warmblood gelding (Johnson TN x Baccara x H Ulrich) owned by Laurietta Oakleaf and Tammi Nowicki, combined for a score of 63.434%.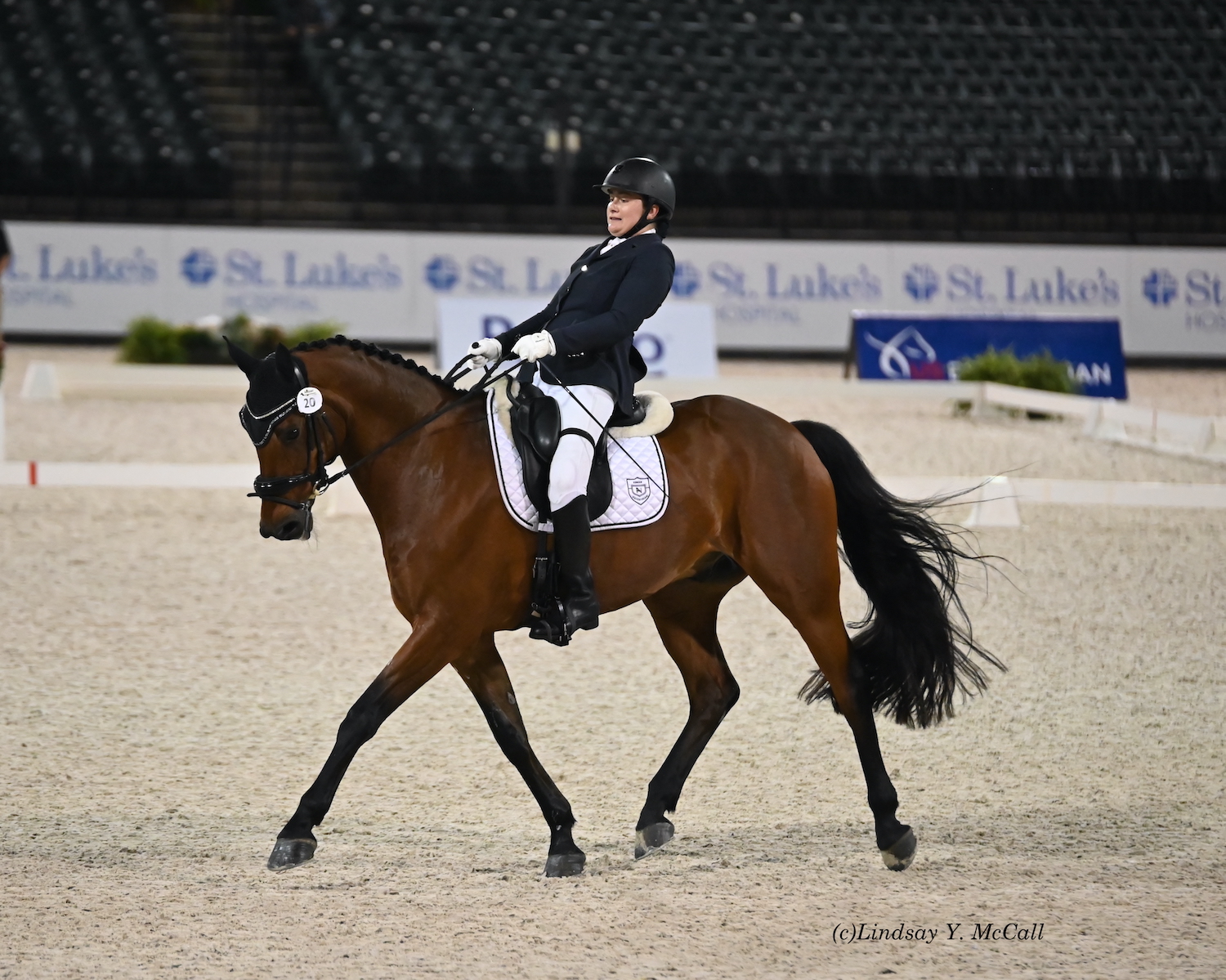 Bea De Lavalette and Clarc
©Lindsay McCall, USPEA
De Lavalette reported that her weekend with Clarc has only improved as competition has continued, sharing, "It went really well. I'm very happy with tonight's test. I worked on some of the judges' comments from last night, and adjusted my riding for tonight. My horse was really good. He spooked, but that's no big deal! Honestly, I thought it was a very good ride and I'm very happy with it."
Since traveling to Germany in May, De Lavalette revealed, she has grown as a rider, and her focus is on continuing to improve her skills. "So much has changed since my trip to Germany, and during those three days in Germany, my riding completely changed," she emphasized. "From there, we've been working on how much my riding has changed and how to improve it." Her growth is evident, as she performed her test with grace and ease, earning the top spot in her class.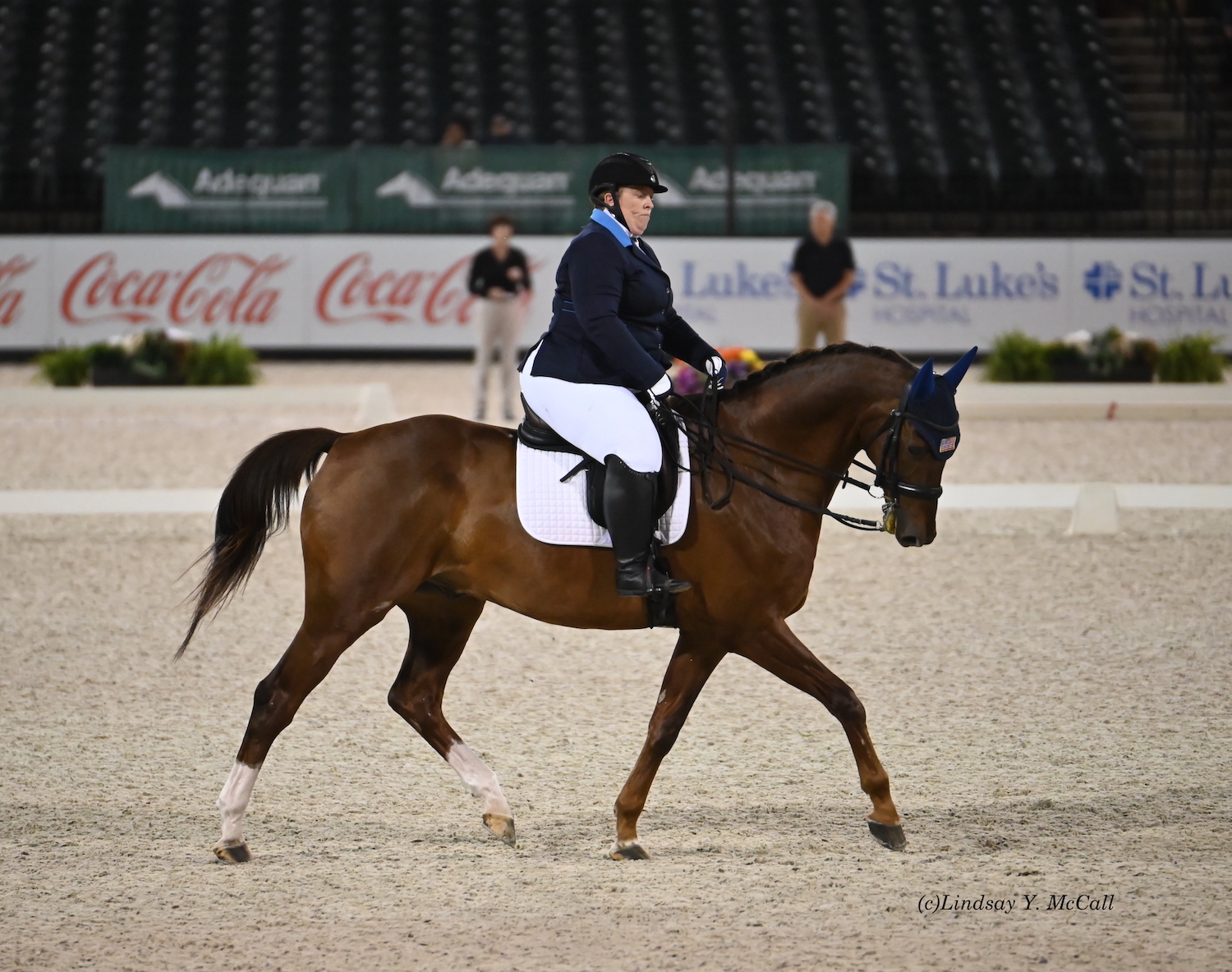 Laurietta Oakleaf and Comte Du Baccara C
©Lindsay McCall, USPEA
For De Lavalette, the highlight of Saturday night's test was seamlessly handling a spooky moment in the sandbox, she concluded: "Right after the spook, I didn't let it fluster me. I just went straight back and said, 'Okay, let's go!' So that's probably my proudest moment [from tonight] because I didn't let it get my mind off what I was doing."
More Saturday Night Highlights:
In Grade I, World Number One Roxie Trunnell (USA) scored an 84.702% to obliterate the previous world record score of 83.334% she set in March with Dolton, the 2012 Hanoverian gelding (Danone x Lady x Londonderry) owned by Karin Flint and Flintwoode Farms LLC, continuing her winning ways from night one. Sydney Collier (USA) and All In One, the 2009 Hanoverian gelding (Abanos x Dauphina x Dauphin) owned by Going for Gold LLC and Katie Robicheaux, claimed reserve with 71.250%, while Deborah Stanitski (USA) earned 67.024% for third aboard her own mount, Skovlunds de Nice, the 2006 Danish Warmblood mare (De Noir 3 x Miss Kiki x Diamond).
Kate Shoemaker and her mount, Solitaer 40, had another successful night in Grade IV competition. Shoemaker and her 2007 Hanoverian stallion (Sandro Hit x Dynastie x De Niro) owned by Kate, Craig, and Deena Shoemaker, earned a score of 74.250% from the judges after their performance.
Rebecca Hart took first and second in Grade III competition again, this time winning with a score of 72.941% aboard El Corona Texel, a 2009 Dutch Warmblood gelding (Wynton x Urieta Texel x Goodtimes) owned by Rowan O'Riley. Hart and Fortune 500, the 2010 Oldenburg Gelding (Fidertanz 2 x Weinrose x Don Romantic) owned by Rowan O'Riley, earned second place with a score of 72.451%. With a score of 70.686%, third place honors were presented to Charlotte Merle-Smith and her own Guata, a 2011 Dutch Warmblood mare (Vivaldi x Zuata x Haarlem). Ignacio Trevino Fuerte and Delegada X, the 2002 mare (Airoso XXVI x Lusitana x Farruco XIII) owned by Beatrice De Lavalette, claimed fourth place with a score of 61.912%.
Read more results and interviews from Perrigo CPEDI 3* competition here. 
View full Perrigo Tryon Summer Dressage CPEDI 3* and Para Dressage Team Observation Event results here. 
Replay Saturday night's action on-demand here. 
Perrigo Tryon Summer Dressage 1&2 CPEDI 3* and Para Dressage Team Observation Event competition continues Sunday, June 20th, with national USDF competition taking place during the day in Rings 6/7 and Para Dressage Freestyle competition hosted in Tryon Stadium starting at 9:00am EST. All competition information, including live stream links, are available at www.Tryon.com/Dressage. 
Photos ©Lindsay McCall, USPEA. These photos may only be used once in relation to this press release. With questions, contact media@tryon.com. 
Tags:
Adequan®
,
All In One
,
Beatrice De Lavalette
,
Cayla van der Walt
,
Charlotte Merle-Smith
,
Clarc
,
CPEDI 3*
,
Cynthia Screnci
,
Daturo II
,
Deborah Stanitski
,
Dolton
,
El Corona Texel
,
Fortune 500
,
Kate Shoemaker
,
Laurietta Oakleaf
,
perrigo
,
Rebecca Hart
,
Roxanne Trunnell
,
Roxie Trunnell
,
Sir Chipoli
,
Sydney Collier
,
Tryon Summer Dressage 1 & 2