For Immediate Release
Allie Hay and Sarah Madden for TIEC
Mill Spring, NC – June 18, 2021 – Para Dressage was front and center in Tryon Stadium Friday night at Tryon International Equestrian Center & Resort as part of Perrigo Tryon Summer Dressage 1&2 CPEDI 3* competition and the final U.S. Olympic Observation Event before Tokyo. Individual Tests were performed Friday evening starting at 8:15pm, with Team Tests taking place Saturday evening and Freestyle performances closing out the weekend Sunday, June 20, starting at 9:00am. CPEDI competition is being live streamed for free at Tryon.com/streaming. 
Grade I Competition kicked off with a win for Adequan® U.S. Para Dressage Team member Roxanne Trunnell (USA) and Dolton, the 2012 Hanoverian gelding (Danone I x Lady x Londonderry) owned by Karin Flint and Flintewood Farms LLC, after the duo collected a total score of 82.500%. In second place, with a score of 70.059%, was Sydney Collier (USA) and All In One, the 2009 Hanoverian gelding (Abanos x Dauphina x Dauphin) owned by Going for Gold LLC and Katie Robicheaux. Deborah Stanitski (USA) and Skovlunds de Nice, her own 2006 Danish Warmblood mare (De Noir 3 x Miss Kiki x Diamond), received third place with a score of 67.143%.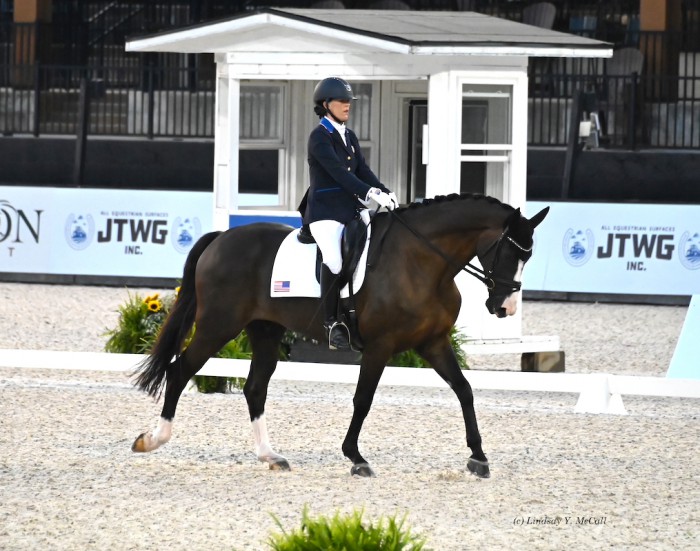 Adequan® U.S. Para Dressage Team member Roxanne Trunnell and Dolton
©Lindsay McCall, USPEA
Trunnell and Dolton have shined in the TIEC competition rings before, but competing under the lights at TIEC provided a new layer of atmosphere to the venue and some cooler temps than typically felt in Florida, she shared. "It was [such a good test!] He was a good boy," Trunnell recapped. "He felt really relaxed, but forward, too.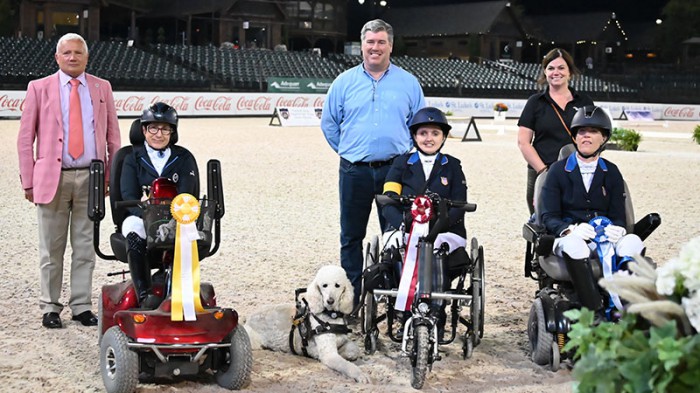 Grade I athletes honored in their presentation ceremony: (From L-R) Deborah Stanitski, Sydney Collier and Roxanne Trunnell
©Lindsay McCall, USPEA
"I've competed [under the lights] in Wellington, and it's a lot colder out this time!" The weekend that is also serving as a final observation event for the U.S. Olympic Team selection trials is giving high performance athletes and their horses a practice outing, and Trunnell concluded that she hopes to continue her momentum from her win at TIEC into future rides both in North Carolina and beyond. "Hopefully, [the plan is] keeping the good scores going, and making it to Tokyo!"
Rebecca Hart (USA) piloted two mounts through Grade III competition, earning first place aboard Fortune 500 on a score of 72.500% and claiming second place with El Corona Texel, a 2009 Dutch Warmblood gelding (Wynton x Urieta Texel x Goodtimes) owned by Rowan O'Riley, after their performance, which earned them a score of 70.245%. Third place honors were presented to Charlotte Merle-Smith aboard her own Guata, a 2011 Dutch Warmblood mare (Vivaldi x Zuata x Haarlem); the pair received a score of 69.461%. Ignacio Trevino Fuerte and Delegada X, the 2002 mare (Airoso XXVI x Lusitana x Farruco XIII) owned by Beatrice De Lavalette, claimed fourth place with a score of 60.441%.
Rebecca Hart and Fortune 500
©Lindsay McCall, USPEA
Hart and the 2010 Oldenburg Gelding (Fidertanz 2 x Weinrose x Don Romantic) owned by Rowan O'Riley have only danced together under the lights twice now, but her "happy soul" of a young horse took to the atmosphere with ease, Hart recalled. "He is just such a cool horse. He's really starting to come into his own, which is nice, and he's just a fun, happy soul. He's such a pleasure to ride and show because he's just a happy dude!"
After piloting two horses around the Grade III tests, Hart reflected that she's grateful that she's been focusing on fitness lately: "You know, I think it's amazing that we're doing this at night to, sort of, simulate Tokyo, [but] I'm really glad I've been working on my fitness because these are long days, and with two [horses], it kind of doubles!" Hart went first and last in the Grade III competition, without a spare minute between rides. "But," Hart emphasized, "It's an absolute privilege to have two horses at an event like this, so I cannot ask for more than that."
Grade III athletes honored in their presentation ceremony: (From L-R) Ignacio Trevino Fuerte, Charlotte Merle-Smith, and Rebecca Hart
©Lindsay McCall, USPEA
Para Dressage has been featured at TIEC numerous times throughout the years, but Perrigo Tryon Summer 1&2 is markedly scheduled to showcase all CPEDI competition at evening hours to simulate conditions that will be expected in Tokyo. After her first tour of Tryon Stadium under the lights, Hart was thrilled with the results she achieved. "I love showing under the lights. Para is really starting to come into its own as an international discipline, so I think any time that we can highlight it and bring it to an event like this, in a venue like this, under the lights and now that we're able to bring back some spectators, it's great for growing the sport of Para-Dressage."
Going forward throughout the weekend, Hart will work on achieving increased energy in the ring while maintaining El Corona Texel's relaxation, but is excited to give "Moolah" more miles under the lights Saturday night. "That was a really good test for him and this is his second time under the lights, so to have him come out and really want to play is a really special feeling," she concluded. "Huge thank you to all the volunteers and sponsors that are putting on this event and staying into the late hours for us. We couldn't do it without them, so huge thank you to everyone that's putting on this event!"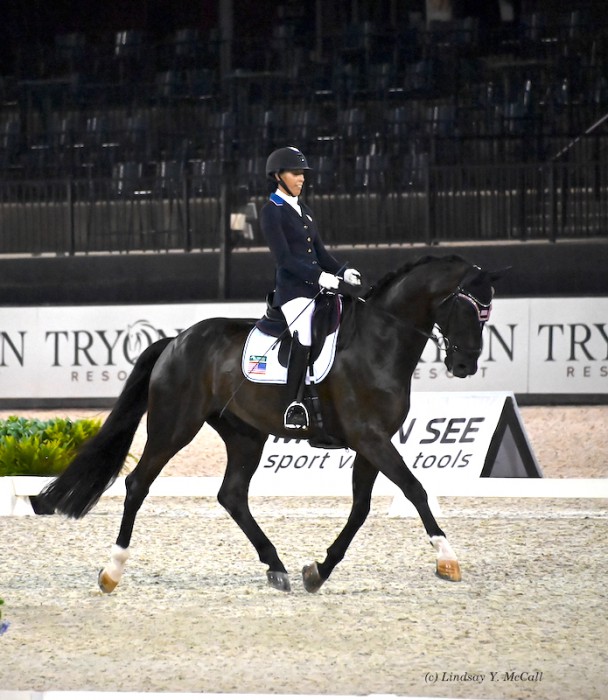 Kate Shoemaker and Solitaer 40
©Lindsay McCall, USPEA
Kate Shoemaker, D.V.M. and Solitaer 40, the 2007 Hanoverian stallion (Sandro Hit x Dynastie x De Niro) owned by Kate, Craig, and Deena Shoemaker, were the solo competitors in Grade IV individual competition, producing a score of 73.049%. 
One of the last rides in Tryon Stadium for the night, Shoemaker raved about the evening's atmosphere. "It's so amazing in this venue under the lights," she shared. "I don't know what it is, but just the way the lights bounce off all the different wood, and the rocks, and the colors, it just makes this amazing atmosphere. The horses are loving it!"
She's starting to see her homework pay off with "Sully" in the sandbox, she detailed. "We've really been working on bringing a lot more power and cadence into our riding. Everything is always behind, [between] what you're getting at home, and what you're getting in the arena, and it's just so exciting right now because I'm starting to get that work in the arena. I think it showed today!"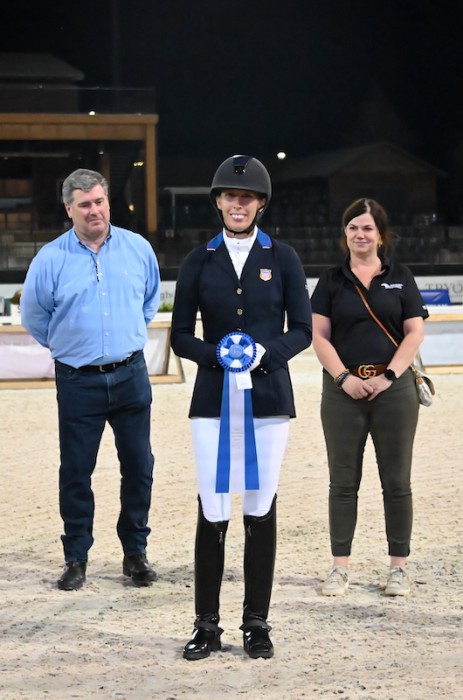 Grade IV winner, Kate Shoemaker, honored in her presentation ceremony.
©Lindsay McCall, USPEA
The only thing Shoemaker will tweak going forward is her warmup routine, she revealed. "We're trying to figure out what the ideal amount of warm-up time is, just to make sure he's as 'through' as possible. I think today was a little bit short, so tomorrow we'll do just a touch more and see if we can get a bit more. I'm just so happy to be here, and that Perrigo is sponsoring, [and for] everyone here at Tryon, the USEF staff, and everybody's personal support staff. It's amazing what goes into putting this on, and I'm super thankful," Shoemaker concluded.
View full Perrigo Tryon Summer Dressage CPEDI 3* and Para Dressage Team Observation Event results here. 
Replay Friday night's action on-demand here. 
Perrigo Tryon Summer Dressage 1&2 CPEDI 3* and Para Dressage Team Observation Event competition continues Saturday, June 19th, with national USDF competition taking place during the day in Rings 6/7 and Para Dressage Team Tests hosted in Tryon Stadium starting at 8:15pm EST. All competition information, including live stream links, are available at www.Tryon.com/Dressage. 
Photos ©Lindsay McCall, USPEA. These photos may only be used once in relation to this press release. With questions, contact media@tryon.com. 
###