Ashley Perkins and DF Carusela Blue Bring Home Blue in Coolvio First Test Level 3
For Immediate Release
Allie Hay for TIEC
Mill Spring, NC – September 22, 2021 – Tryon Fall Dressage 1&2 competition at Tryon International Equestrian Center & Resort (TIEC) began the Tryon Fall Dressage series, hosting competitors of all levels September 17-19. First place honors in the Coolvio First Level Test 3 Open competition were awarded to Ashley Perkins and DF Carusela Blue after the pair strutted down centerline Saturday to a score of 70.972%. Also in the Open division, Cassidy Nutter took second and third place honors with her mounts, scoring 64.722% with Justo HM, the 2016 Lusitano gelding, and 63.750% with Rayito PG, the PRE gelding. In the JR/YR division, Marissa Griffin took first (73.056%) with Conguistador 2, her own 2009 Danish Warmblood gelding, and second place with Hunter (66.111%), her 2009 Irish Sport Horse gelding.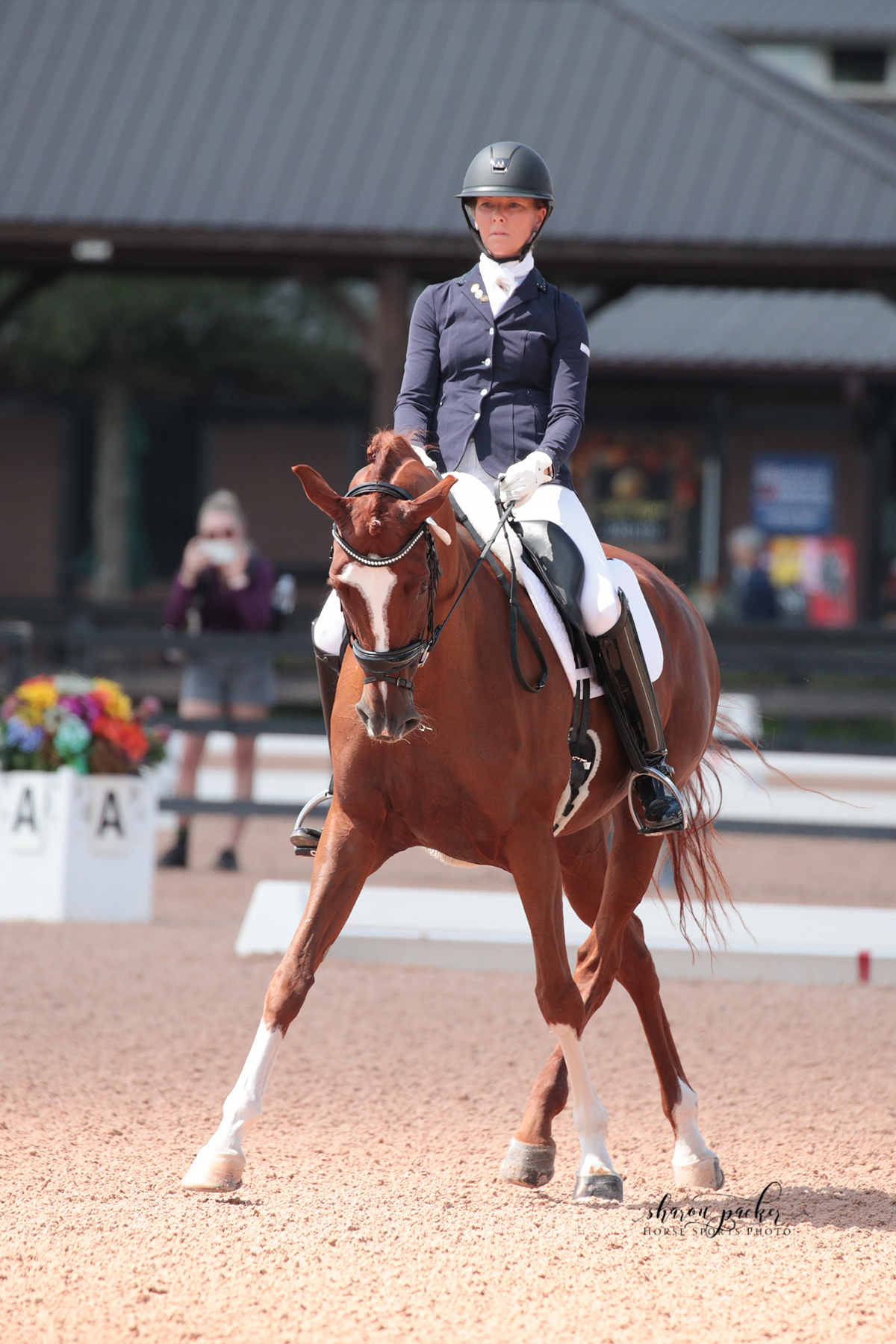 Ashley Perkins and DF Carusela Blue
©Sharon Packer
Perkins and the 2011 Danish Warmblood mare (Don Caruso x Louisiana) owned by Brenda Duet are a relatively new pairing, and the powerful mare is just getting a feel for the show ring, despite her age. "She hasn't had any show experience until last year, even though she's a little older," Perkins explained. "I am honored to get to ride her! She is feisty, fiery, fun, and smart, but can be a little challenging because she hasn't seen much of the world."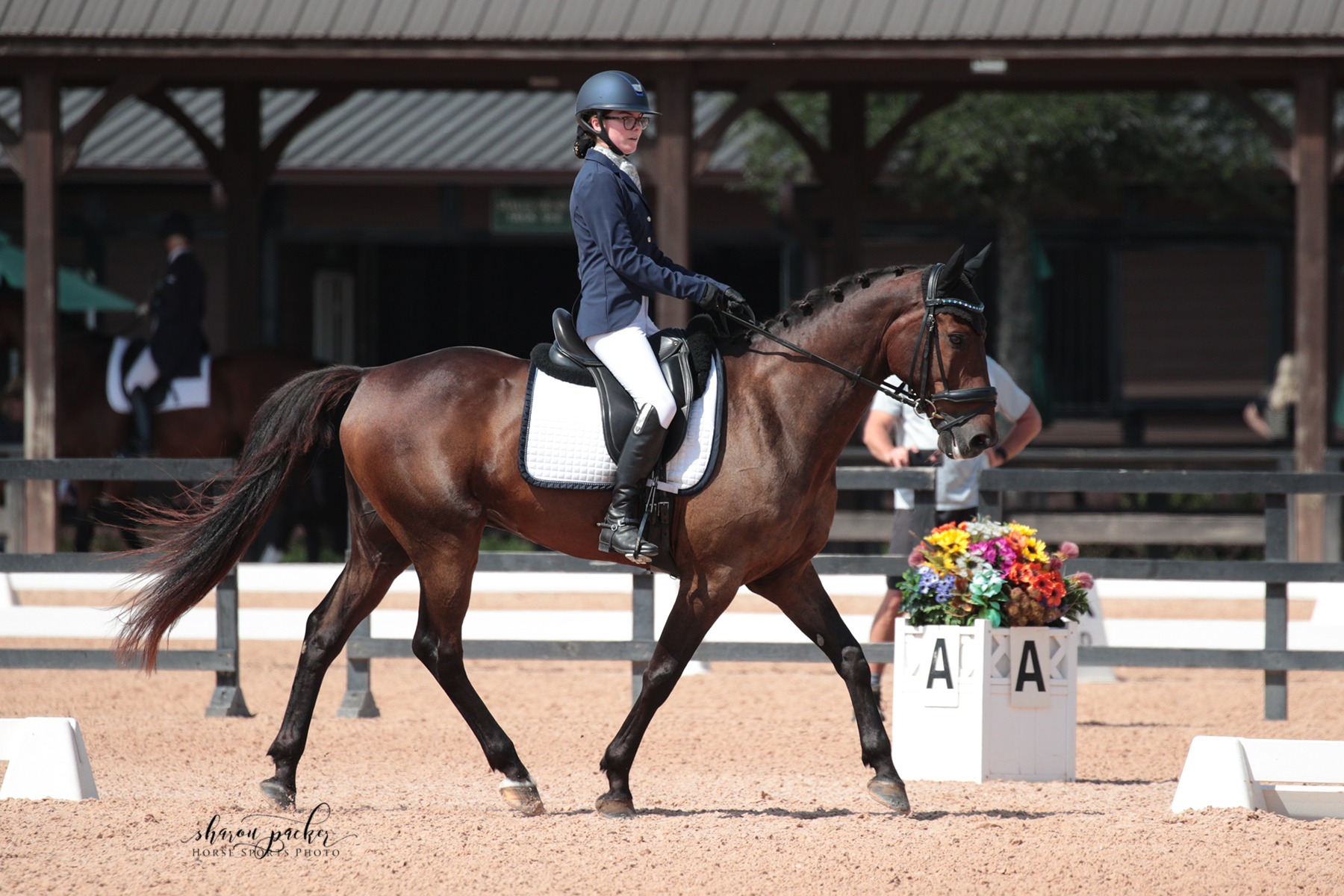 Marissa Griffin and Conguistador 2
©Sharon Packer
Since her horse is still green, Perkins planned to use this show as a learning opportunity, but was thrilled to walk away with blue ribbons as well. Still in the learning stages of their partnership, Perkins explained, "It's just about confidence, connection, and helping her find more relaxation in the ring. Overall, in her training, it's about giving her the basics, foundation, and strength to be able to move her up the levels." The pair made some mistakes during their first two tests of the weekend, Perkins remarked, but corrected them and walked away with a blue ribbon on day two.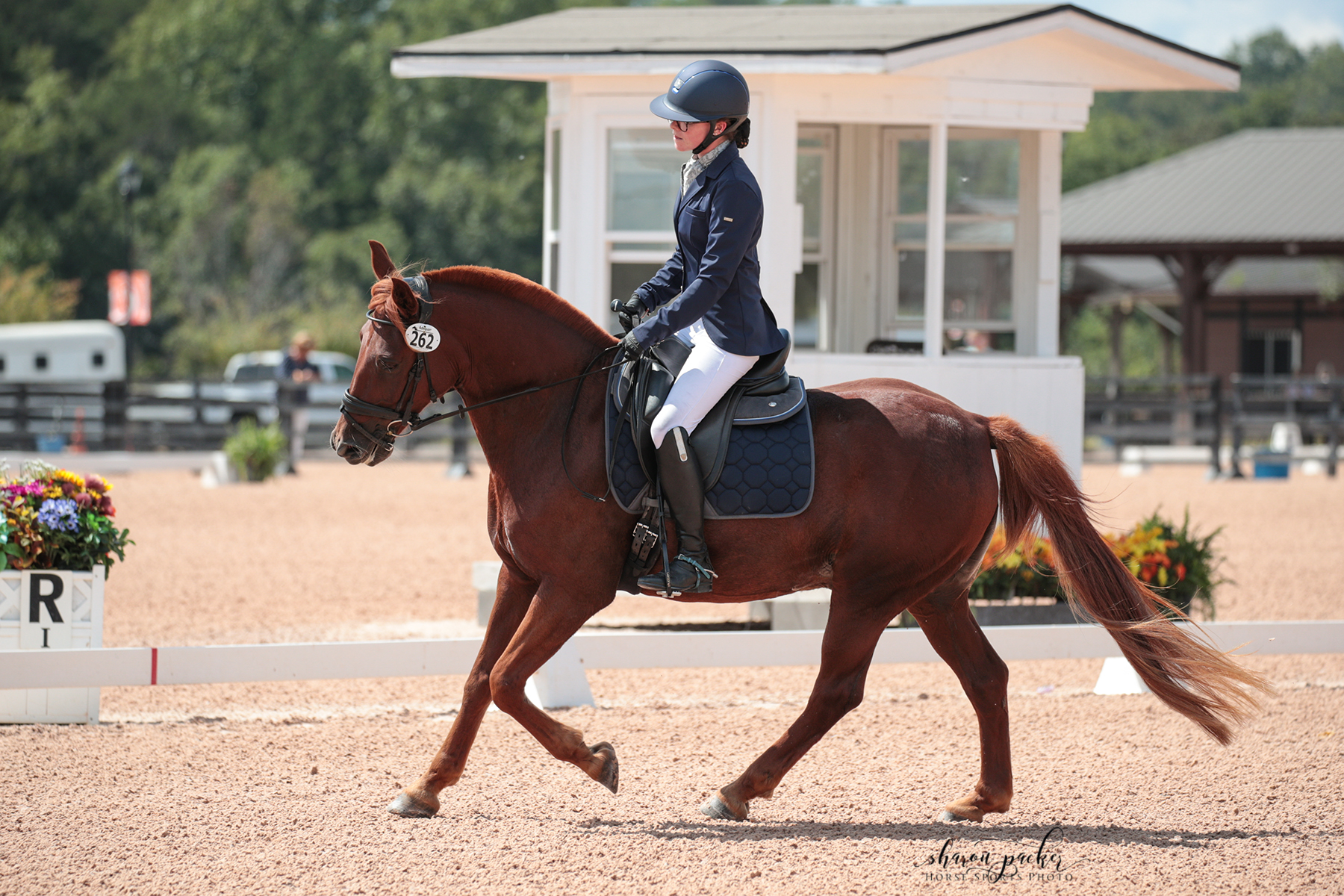 Marissa Griffin and Hunter
©Sharon Packer
The next stop on Perkins' schedule is the Region 1 Championship show in Lexington, VA, where she wants to have similar success. After that, she hopes to qualify for the national championships in Lexington, KY. Despite being new to the show rings, she is confident in her mount and hopes their hard work at home – and at their home show – will pay off. A Landrum, SC native, Perkins loves the quick commute to TIEC competitions, she concluded. "Everyone is really friendly, so it's always a blast to get to show in your backyard and feel like you're on your home turf and have such a high-quality venue to do that."
Julio Mendoza Loor and Baylen Dream TWF Have Dream Weekend in Prix St. Georges
The FEI Prix St. Georges test on Sunday saw Julio Mendoza Loor and Baylen Dream TWF win the Open division on a score of 73.382%. Second place honors were split between Allison Thompson riding her own Merlot 325, the 2006 Holsteiner gelding, and Ashley Perkins riding Barbara Bezpa's 2009 Danish Warmblood gelding Eastpoint JS; both pairs scored an identical 63.235%.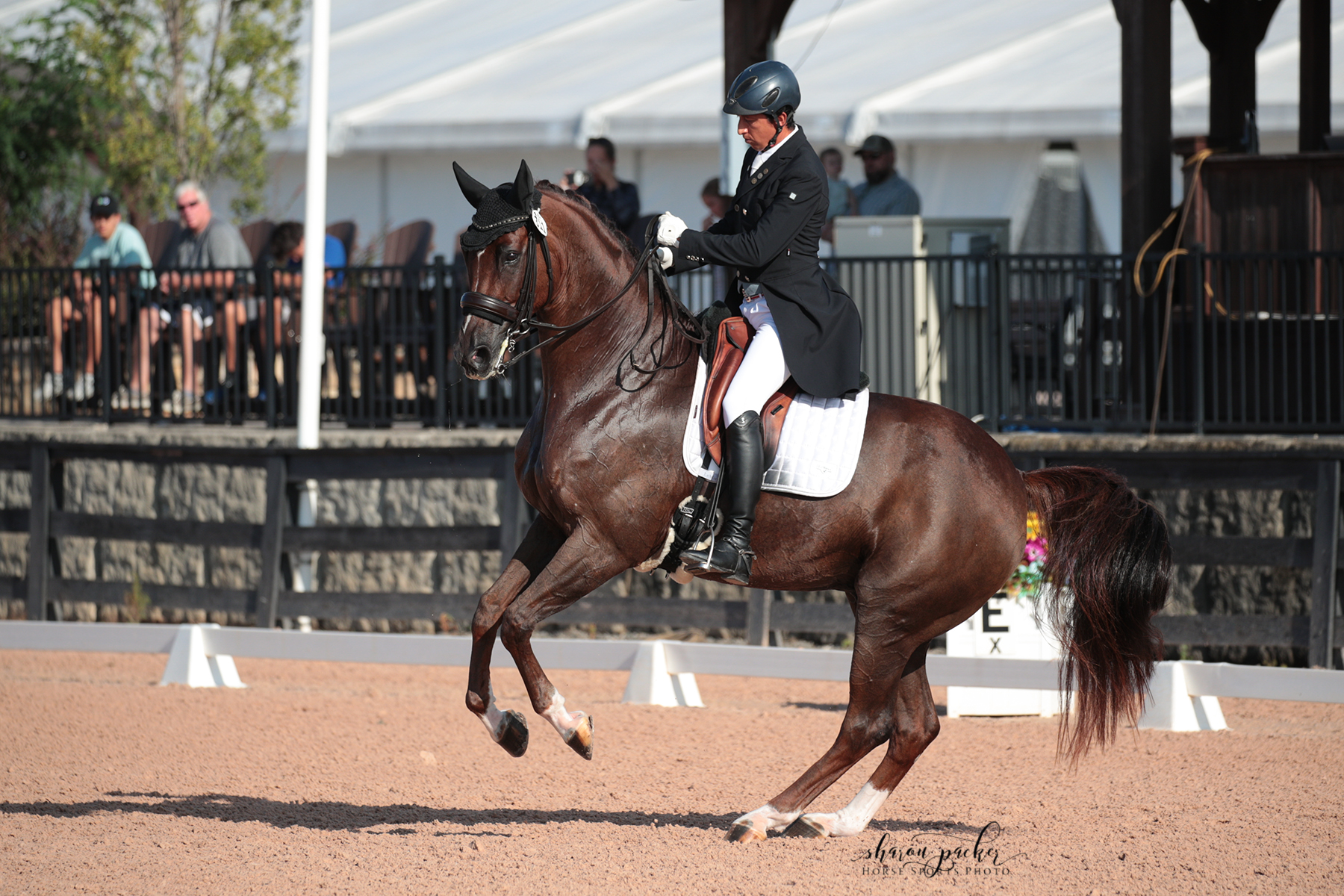 Julio Mendoza Loor and Baylen Dream TWF
©Sharon Packer
Mendoza was ecstatic with the performance of his 2010 Oldenburg gelding (Bennetton Dream x Unknown) throughout the weekend, shining bright in Ring 1. "He really, really showed out today," Mendoza chuckled. "He was happy to go down centerline and he was doing everything I was asking. He was supple and through and gave me an amazing feel. I always enjoy riding him, and the rest of the horses too, but today he was really, really special. I love that horse."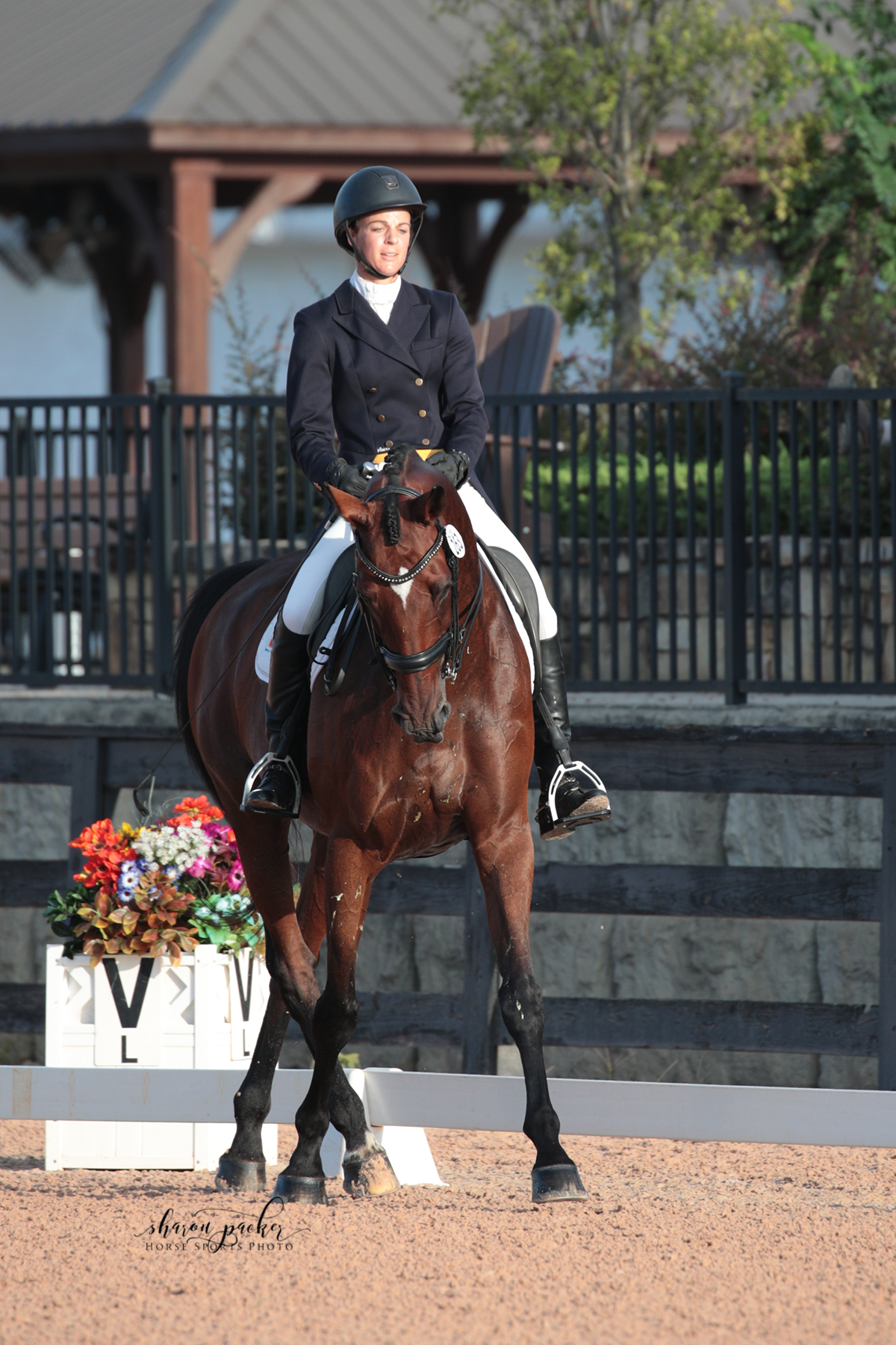 Allison Thompson and Merlot 325
©Sharon Packer
Mendoza has been practicing pirouettes and tempi changes with Baylen Dream TWF, noting his mount's sensitivity and excitement in the ring. "He always wants to be an overachiever and do single tempi changes! He keeps thinking he's a Grand Prix horse, but I have to tell him, 'No, no, no, one more year!'" Their hard work and training paid off, as they were able to successfully complete double tempi changes and pirouettes in Sunday's test for the win.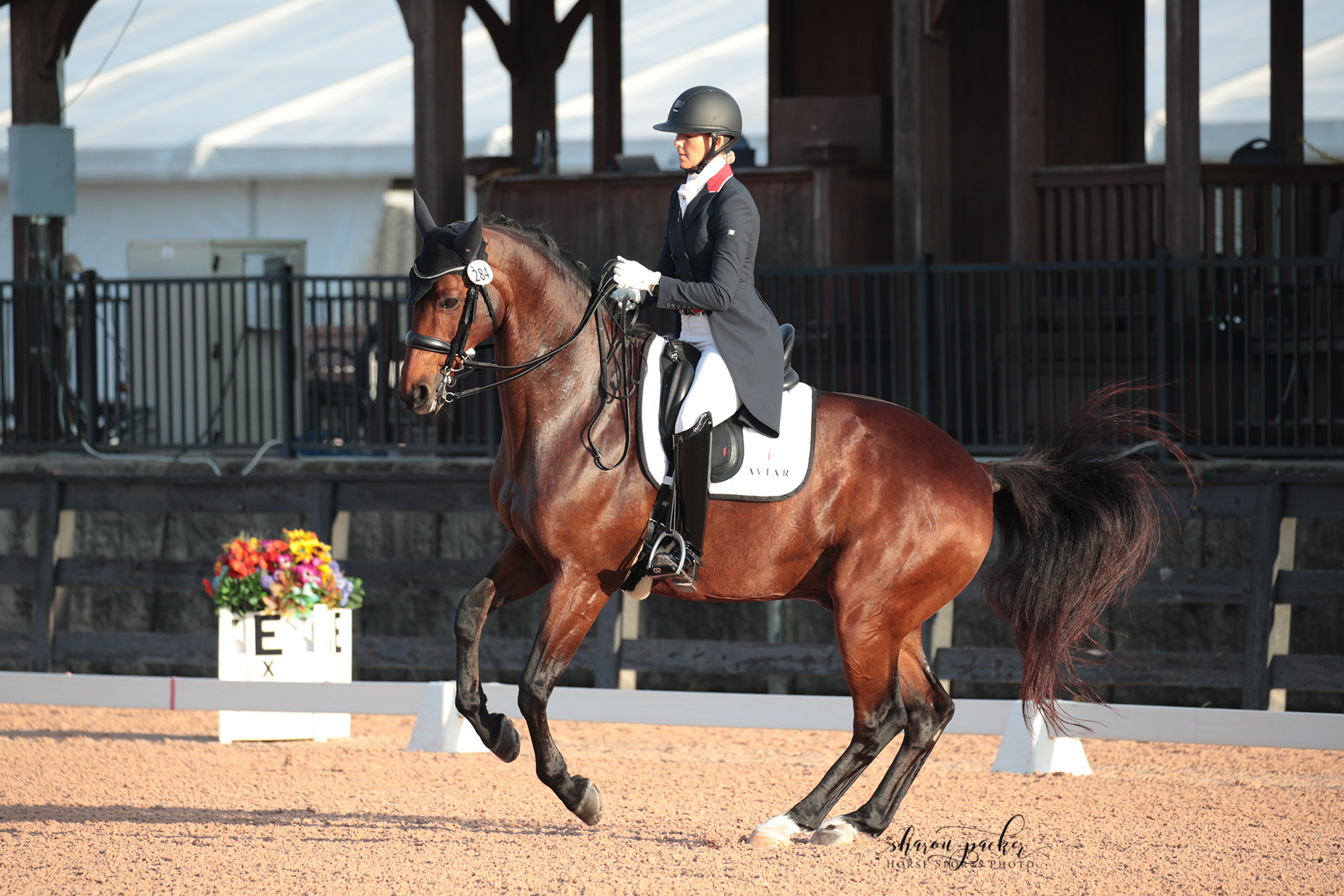 Ashley Perkins and Eastpoint JS
©Sharon Packer
The enthusiasm from both Mendoza and the spectators was palpable following his test. As he gave his final halt and salute, he celebrated and gave his horse a pat, later commenting, "I try to be a little bit goofy. It's already a hard sport. It's mental, it's physical. We're working every day with these animals and sometimes we forget to have a little bit of fun! I felt really good in my test and was very pleased with my horse and I'm very grateful to him.
"That horse is the next future shoe-in candidate to go to Paris," he continued. "Why not have fun? Because life is too short not to have fun!" Mendoza is aiming to take his mount to the Pan-American Games and Bolivian Games next year, working towards their ultimate goal of competing in the Paris 2024 Olympic Games.
Pony Power for Sophie Evans and Princeton in Coolvio First Level Test 3 – Pony
Sophie Evans marched down centerline with her large pony, Princeton, in Sunday's Coolvio First Level Test 3 – Pony class, earning a score of 62.917% in the JR/YR division. Evans and the 14.1hh Irish Sport Pony gelding have been forming a partnership over the past year leading up to their Tryon performance. Her pony, she explained, "usually is really hot and today he wasn't, so that's good!"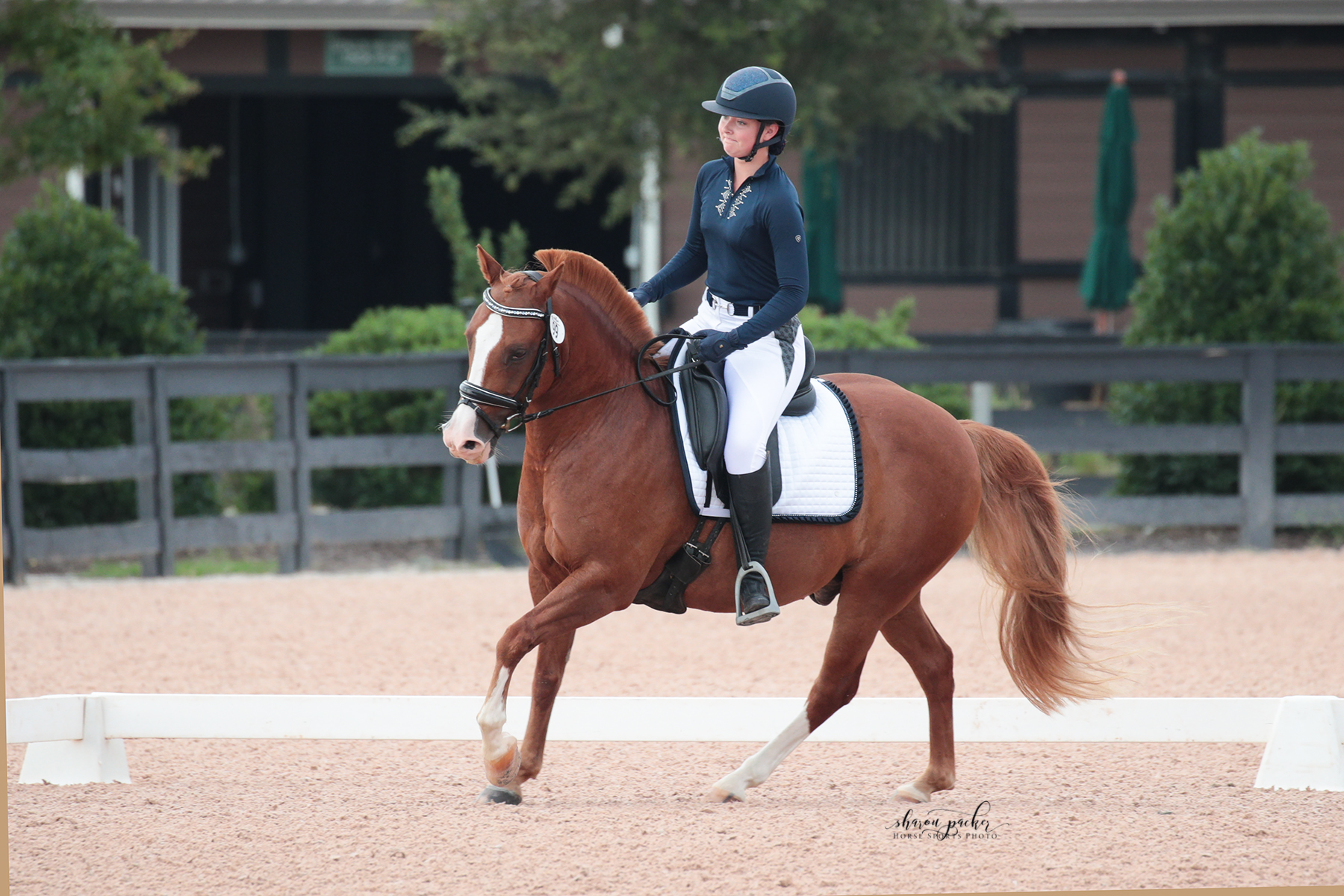 Sophie Evans and Princeton
©Sharon Packer
Princeton, trained to second level by Evans' mom, is teaching Evans, a multisport equestrian, about the world of Dressage. "My mom got me into Dressage," she explained. "She's been doing Dressage for quite a long time. I've probably been doing full Dressage for about a year. I also do Eventing and Jumpers."
Evans noted that she enjoys coming to compete at TIEC because "everything's really on time out there and super organized." She used this show as practice for the coming season: Princeton and Evans will be traveling to compete at the Region 1 Championships in two weeks, where she hopes to finish with good rides and high scores.
For full results from Tryon Fall Dressage 1, click here.
For full results from Tryon Fall Dressage 2, click here.
To preview Tryon Fall 3&4 competition, click here.
Photos ©Sharon Packer. These photos may only be used once in relation to this press release. To purchase photos from Tryon Fall Dressage 1&2, visit www.Tryon.com/photos. With questions, contact media@tryon.com.