USEF Advanced Pony and Intermediate Combined Driving National Championships Still Up For Grabs Sunday
For Immediate Release
Mill Spring, NC – April 24, 2021 – Due to impending weather over the weekend, the Katydid CDE CAI 2* at TIEC presented by Main Street Insurance featured a schedule change, so that all Dressage competition condensed to Thursday, April 22, with Marathon taking place Friday instead of Saturday as initially planned. The White Oak Cross-Country Course, which also hosted Combined Driving at the FEI World Equestrian Games™ Tryon 2018, welcomed competitors through the obstacles to decide one more phase of the USEF Advanced Pony and Intermediate Combined Driving National Championships. Read below for results from across the phases ahead of Sunday's Cones competition.
Gabriel Grasso Cruises Through CAI 2* Single Horse Division
Still holding onto his lead after two phases of competition, Gabriel Grasso (FL) and Hendrik won the Marathon phase on a total score of 84.92, with Nifty Hamilton (FL) earning second on the day with Makari Design, scoring 90.15. Donna Crookston (PA) and Viktor scored 94.22 through the obstacles for third. Grasso holds a two phase leading score of 124.21 ahead of Cones competition.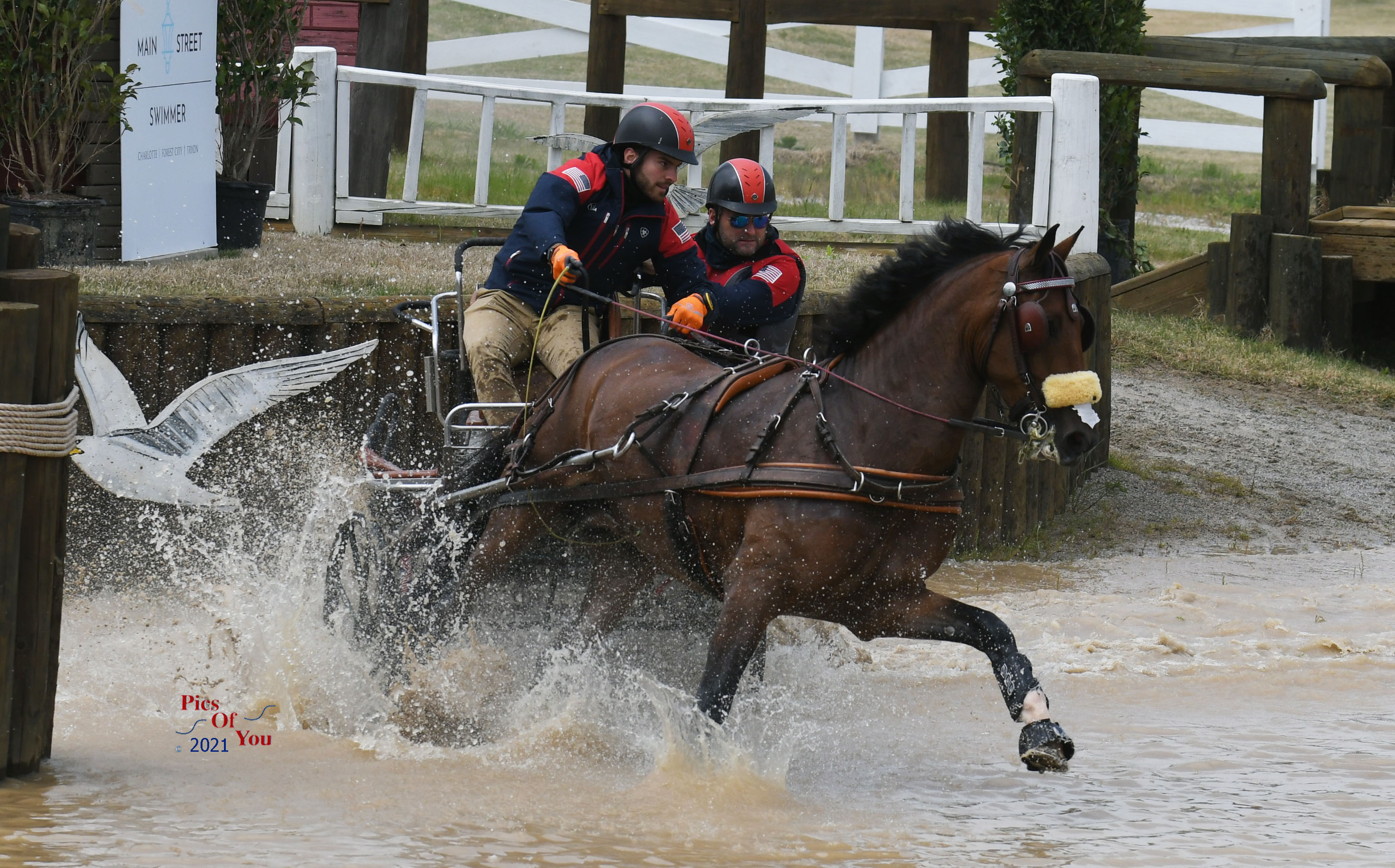 Gabriel Grasso and Hendrik
©Pics of You
"This horse really likes Marathon," Grasso emphasized. "Marathon is the best day for him. He was really fast through the obstacles. He always gives me everything from the first obstacle to the last. I was pleased with the horse and course."
Smooth is fast, and fast is smooth, which made Grasso appreciate his experience at obstacle five in particular, he shared. "My favorite obstacle was number five. It was really smooth and I liked the line that I chose. I'm very pleased with the horse and looking forward to Cones!"
Jacob Arnold Wins Marathon in Both CAI 2* Pair Pony and CAI 2* Pair Horse Divisions
Though he's on his own in the USEF Advanced Pair Pony Combined Driving National Championship run, where he scored 91.30 on Marathon with his team, Jacob Arnold (KY) continues to dominate the CAI 2* Pair Horse division as well. Scoring a 101.27 on Marathon for the win to come away with a score of 148.16, Arnold bested Paul Maye (VA) and his team by just a few points after their Marathon score of 104.22.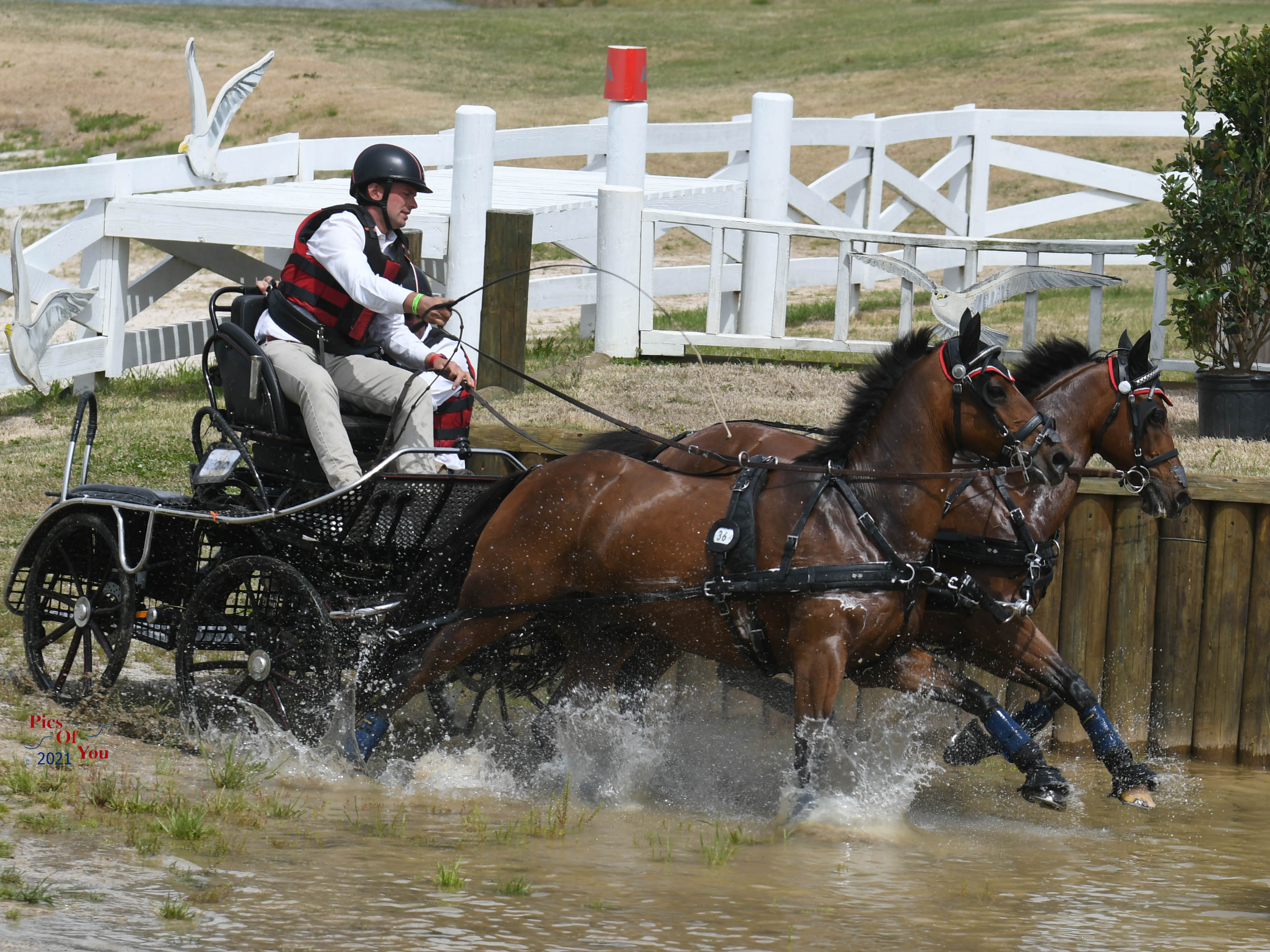 Jacob Arnold and team
©Pics of You
"With the pony pair, I was very pleased," Arnold reported. "They were great. They drove like a unit as if it was one horse, and that's really the goal when you're leading a pair. I couldn't have been happier with the whole weekend so far. I think obstacle number three was probably the best obstacle of the day with the ponies for me. I was really pleased with that. They were super the whole day, but I felt like I drove better on that particular obstacle."
Arnold held the reins for a young horse's first run at Marathon to top the CAI 2* Pair Horse Division, pairing him with an experienced competitor and seeing great results, he recapped. "I was super pleased with the horse pair, and it was my young horse's first Marathon ever. He was a rockstar! He used his energy when necessary and absolutely exceeded all of the expectations I had set for him. My experienced horse was super as well and gave me a great ride."
Jennifer Keeler Wins Marathon; Barbara Chapman Holds Lead in USEF Advanced Single Pony Combined Driving Championship Chase
Jennifer Keeler (KY) combined with Zeppo to win the Marathon phase of the CAI 2* Single Pony Division, scoring 86.92 on the day for the win. Barbara Chapman (MI) and Maduro scored second on Marathon with a score of 100.22, but still sit in first place ahead of Cones competition with a shot at the USEF Advanced Single Pony Combined Driving National Championship on a score of 151.17. Finishing third through the Marathon obstacles, Dana Diemer (NC) scored 103.33 with Clarwood Mack the Knife.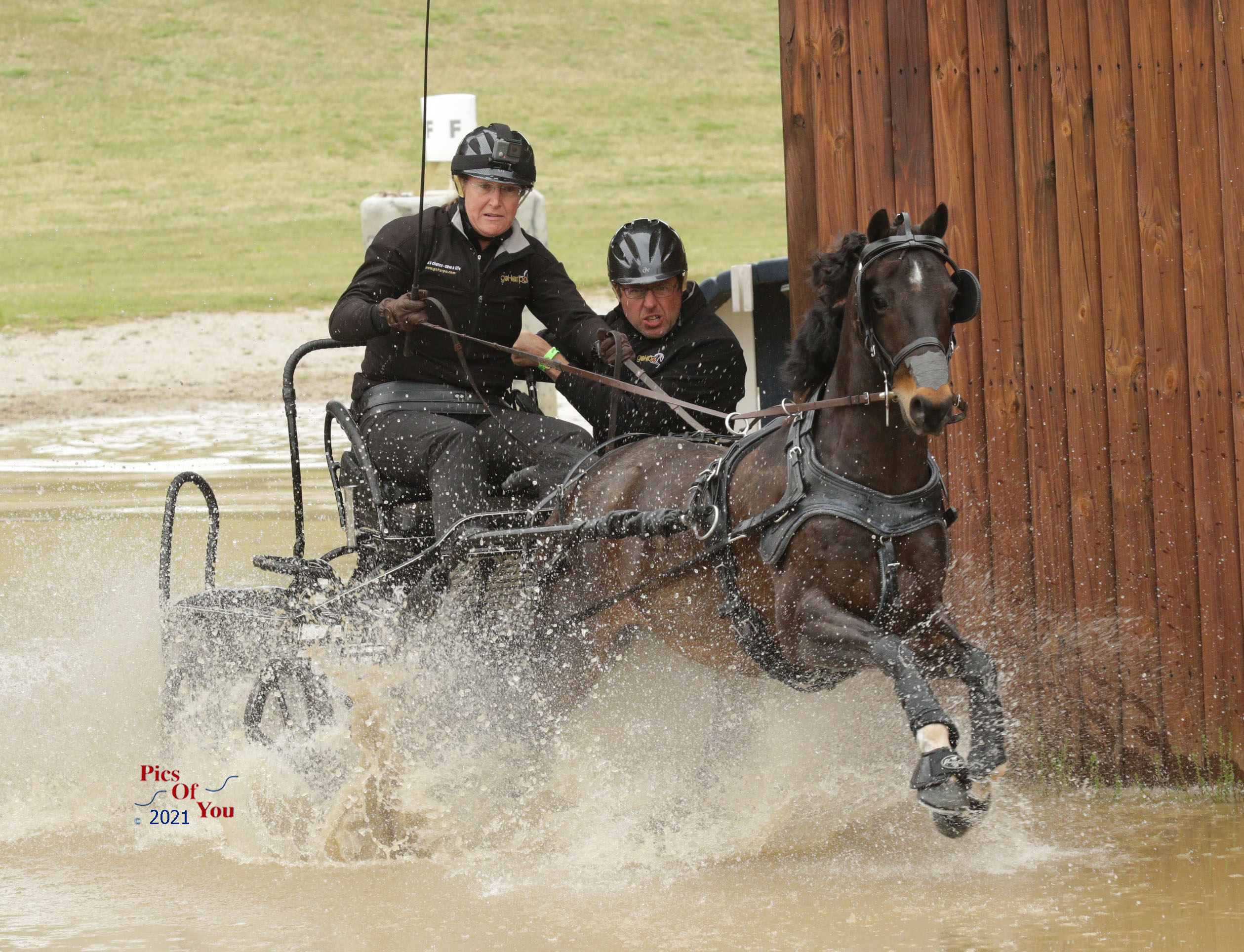 Jennifer Keeler and Zeppo
©Pics of You
"The course was absolutely outstanding," Keeler began. "The course really suited our pony and went to his strengths which is part of the reason why we chose to bring him. It paid off! He just ate it up out there."
For Keeler, a bit of a gamble at the fourth obstacle paid off due to the stature of Zeppo and her husband, David Harris, who serves as Navigator, she explained: "The fourth obstacle was very tricky. It was very tight, and we chose what I would describe as a challenging route. Because our pony is only 13 hands tall, his smaller size worked to his advantage in this instance. We chose a route that was very tight and quick, and the gamble paid off. We were a little worried about it because we knew it was going to be incredibly tough" Keeler admitted, "but he stepped up and we just flew through there. My husband, David, navigated for me, and we came out of there and couldn't believe how well it had gone."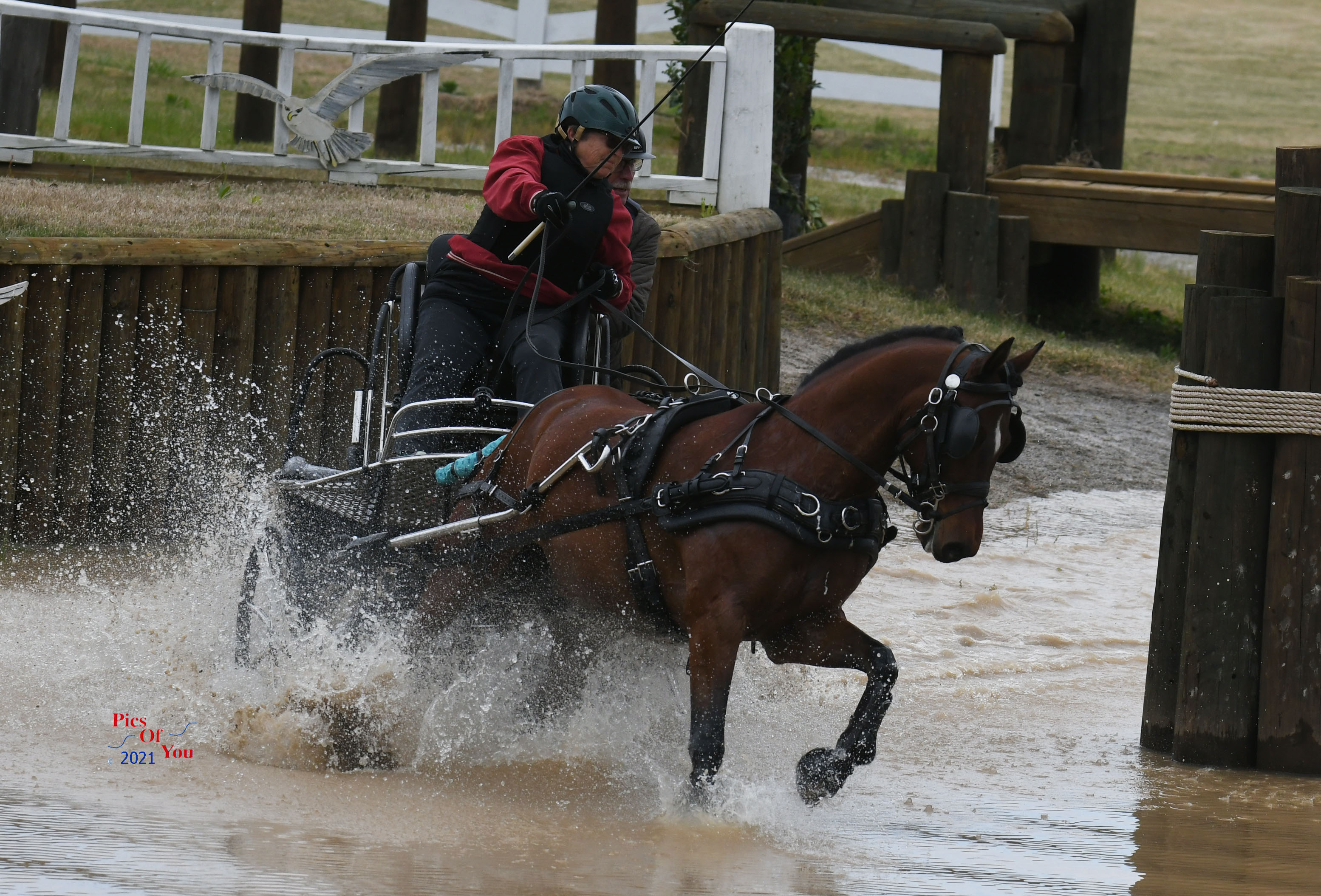 Barbara Chapman and Maduro
©Pics of You
Sitting a point behind after two phases, Keeler is motivated to overtake the lead with her pony who is a dual-phase specialist. "we're excited for Sunday and that challenge. We're hoping for a victory and feel confident because historically, we do well in Cones. It will be an interesting timeline. Normally, you come off of Marathon which is strenuous, and you have to get them ready for the next day. It'll be interesting to see how it affects them physically to have an entire day off in between."
Keeler concluded, "I appreciate the effort of TIEC and the organizers here to get the Marathon done today so we'd have great ground and weather. It was so appreciated by all of us! Ponies and people alike will enjoy long naps tomorrow."
Intermediate Pair Pony Success for Yvette Harris
Yvette Harris (MD) is unchallenged in the Intermediate Pair Pony Division with ponies Suki and Morwell Amber, collecting a score of 97.04 through the Marathon course for a two-phase total of 155.81. Harris, who first competed at TIEC last fall in the Preliminary Pair Pony Division, has bumped up a level and was relieved to have lost a competitor in Boots Wright, who is serving as an official this weekend: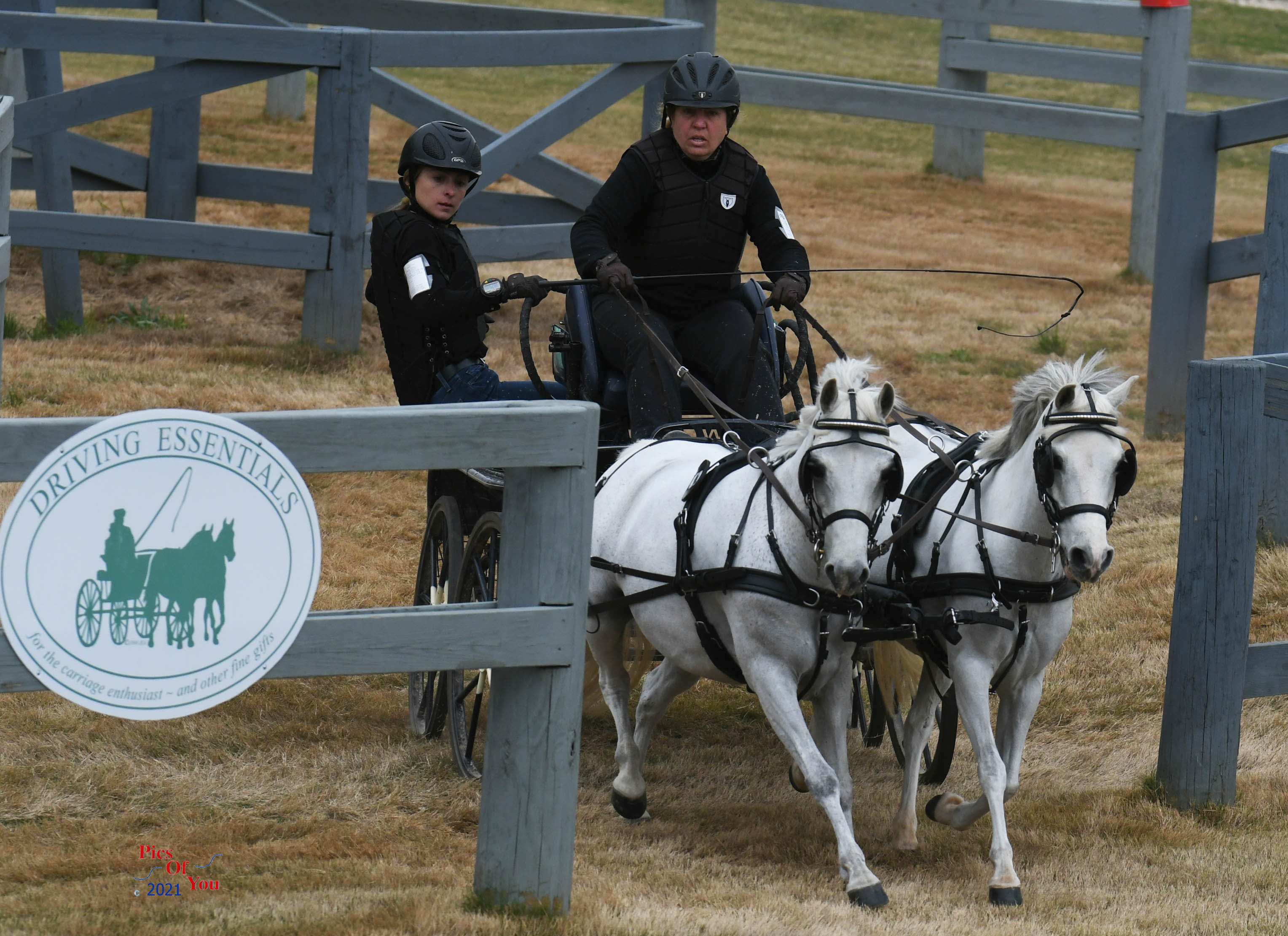 Yvette Harris and team
©Pics of You
"I was here last year as well, and I think the obstacles are great. I thought today they were pretty challenging, with lots of different elements in there," she noted. "My ponies went really well, and fortunately we finished in time. I really do like all of the obstacles, but especially the second water obstacle with the boats, because you get to go in and out of the water and it really gets the ponies thinking about what they're doing."
I moved up [to Preliminary] after my last experience, so I was a little bit excited to have Boots Wright, who won this division, serving as a judge this weekend! My goal for Sunday is completion. I'm hoping it won't be as windy as it was on Dressage day." Harris summarized, "I want to get a good solid course in with them, driving my best. That's always the goal.
"I'm very happy to be back here again, and appreciate them [TIEC] putting it on again," Harris concluded. "It's so nice here, having this kind of facility and the groundskeeping and everything. It's really a pleasure and I love being able to walk out of the barns and watch the horses in the rings right in front of me."
Riley Wiltinson Holds Intermediate Single Pony Lead After Two Phases and Marathon Win
Riley Wiltinson (MD) and Willow's Aslan won the Marathon phase on a score of 81.63 in the Intermediate Single Pony Division, leading after two phases on a score of 137.91 as well. Alice Baughman (SC) scored 93.24 in Marathon for second with Captain Jack Sparrow, while Patti Rozensky (FL) claimed third driving LLF Lucent to a score of 95.58.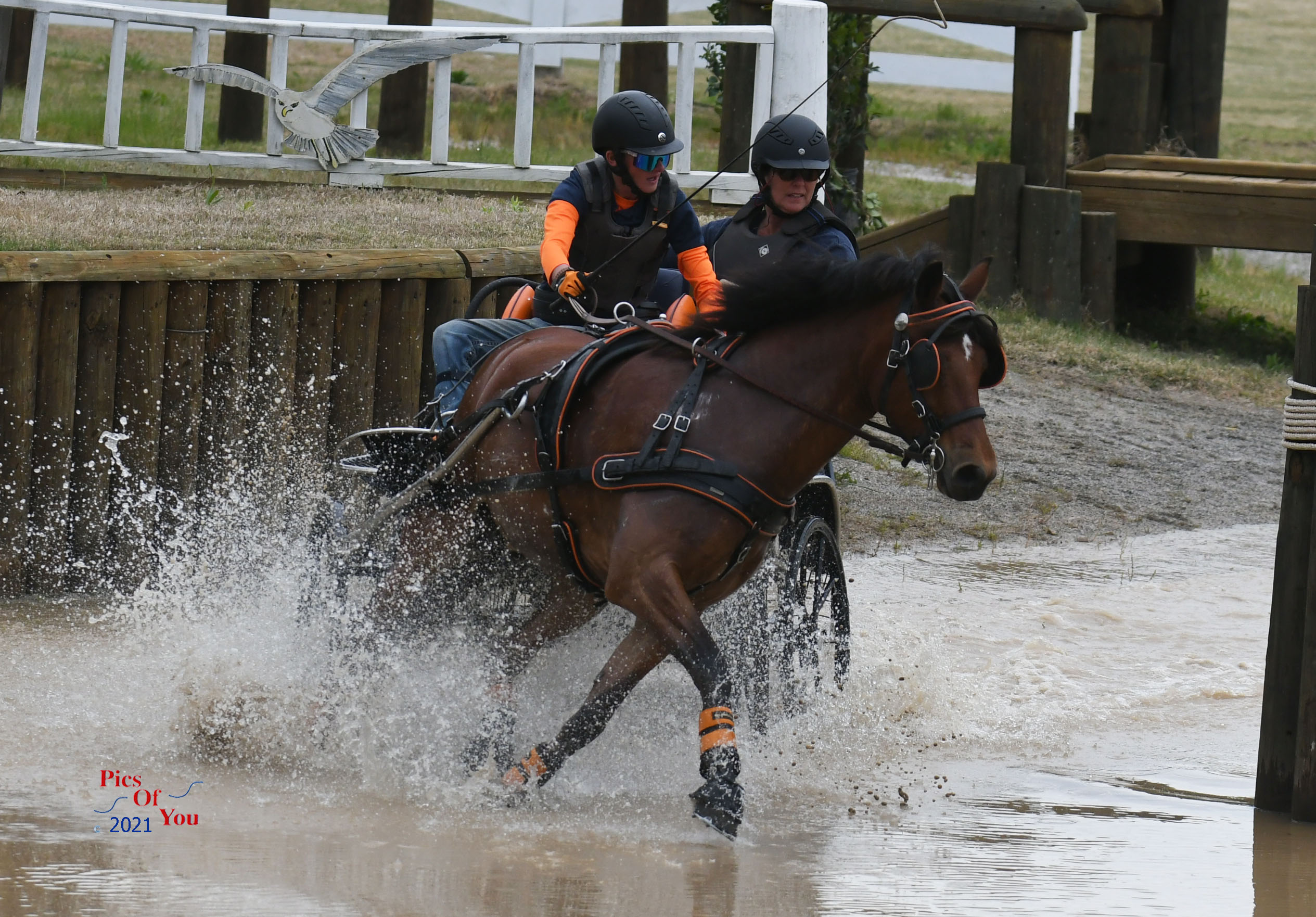 Riley Wiltinson and Willow's Aslan
©Pics Of You
"It went really well," Wiltinson said of his day. "I was very happy with the pony. He did really well for me." Wiltinson has been partnered with the Connemara for four years, but is a first-time competitor at the venue this weekend with his eye set on a National Championship. "I really liked the fifth hazard; it was a lot of fun and we were really able to run through it. This is my first time competing at TIEC, and it's been great so far. My goal for Sunday is to drive a double clear round and be able to win the Championship."
Tim Novak Wins Marathon in the Preliminary Single Horse Division
Tim Novak (SC) scored 65.08 with Bubba to win Marathon in the Preliminary Single Horse Division, less than a point ahead of Muffy Seaton (SC) and Bonifide Statement, who scored 65.40 for second place on the day. Third went to Jennifer Harber (KY) and Qalypso CCF, who added 68.19 to their Dressage score to lead after two phases on a total score of 120.06.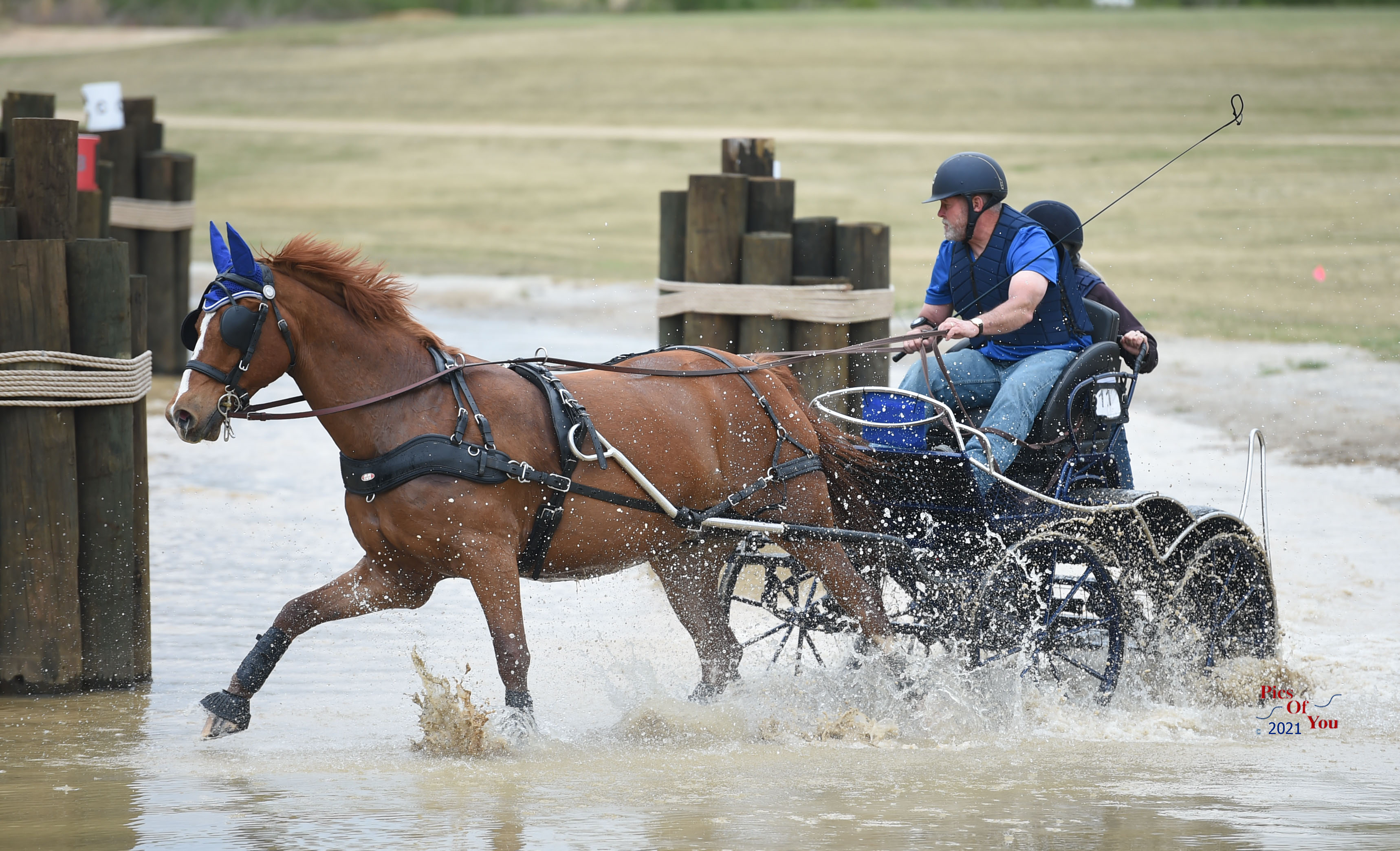 Tim Novak and Bubba
©Pics of You
Novak, who is piloting his daughter's former Eventing mount, he revealed, finally got to drive the White Oak Cross-Country Course after attending as a spectator at the FEI World Equestrian™ Games Tryon 2018. "It went very well today. I thought the hazards were great, the course was marked very well, and I had a great time. I'm very impressed.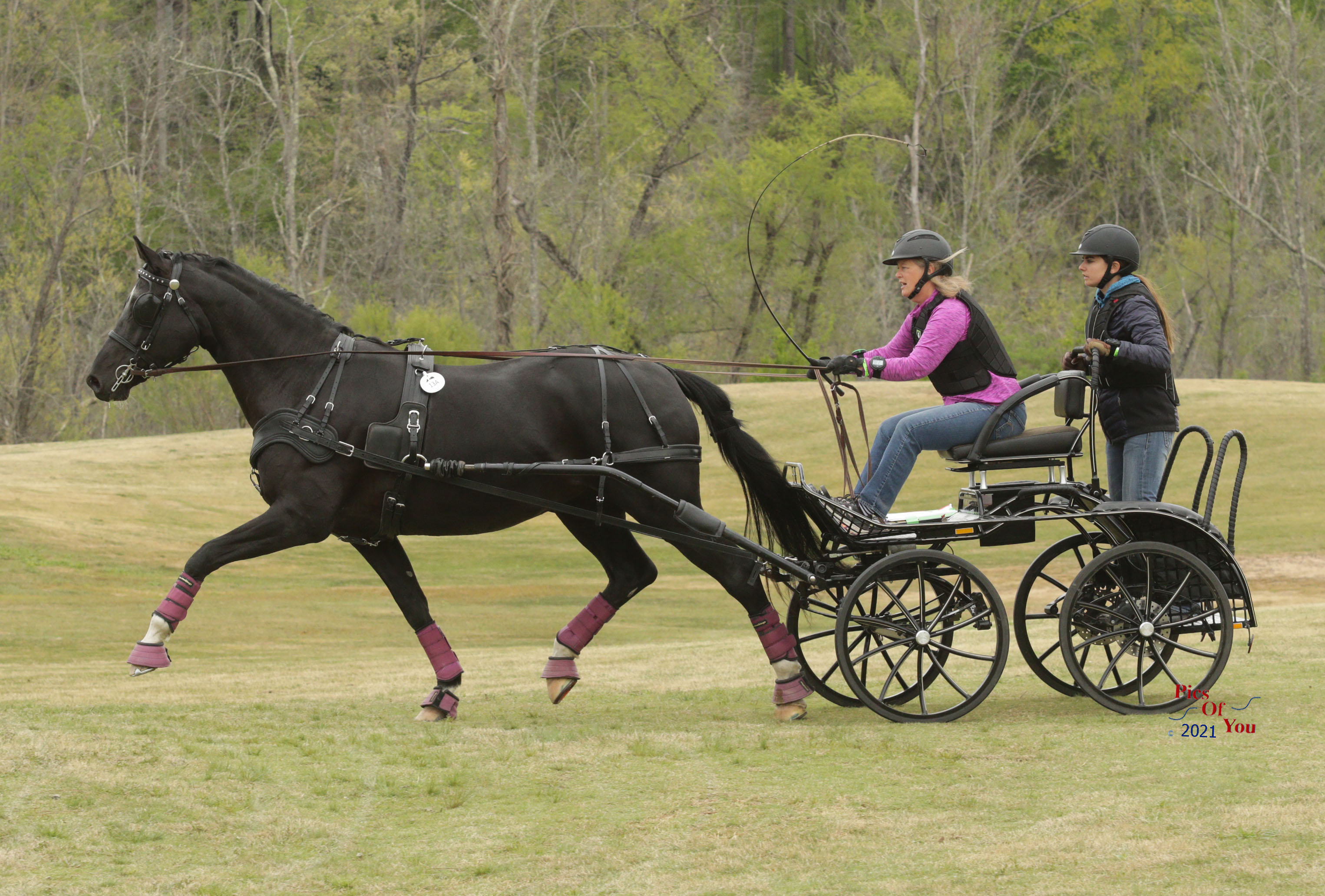 Jennifer Harber and Qalypso CCF
©Pics of You
"My horse is my daughter's retired Event horse, who we broke to drive about three years ago. He was a little too bold for her in Cross-Country, and he took to Driving very well. For Sunday, going double clear would be really nice."
Liz Murray Dominates Preliminary Pair Pony Division
Liz Murray (NC) and her Preliminary Pair Pony team, Bruno and TF Tinkerbell, are unchallenged in their division and scored 68.25 on Marathon. Their total score ahead of Cones competition is 131.24.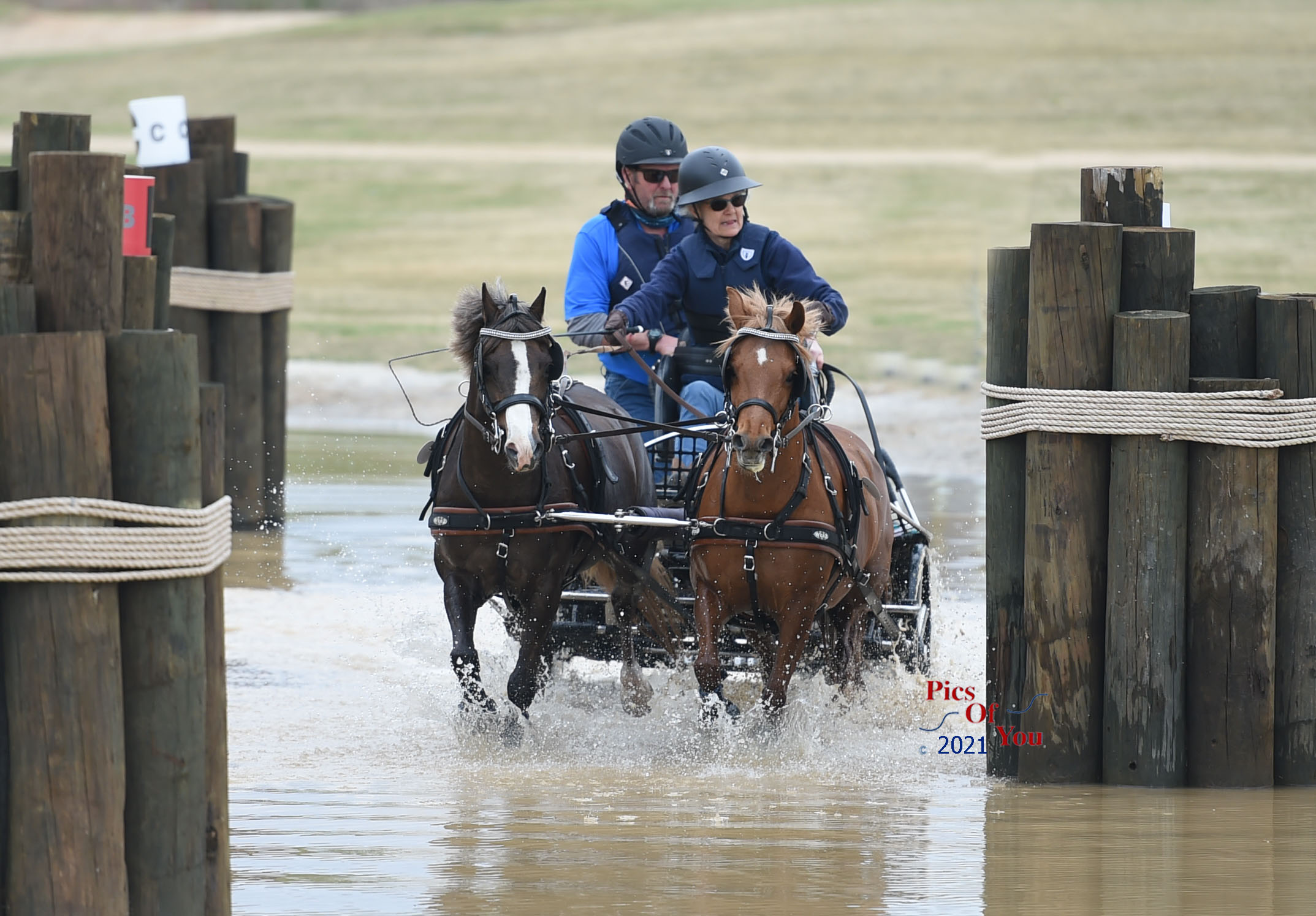 Liz Murray and team
©Pics of You
"Today was really fun! It's just me, so there wasn't much competition. I'm really happy with how the ponies went and how I drove. I'm learning, so it's all coming together. It really felt like it came together today," Murray reflected. "The course was amazing. I really liked it, and it flowed really nicely. My goal was to be smooth and go a bit faster than I usually go, which I think I accomplished today."
Looking ahead, Murray's goal is to keep all cones and balls in place while making the time to close out her first experience at TIEC, and reported that the schedule change works out in her favor. "The schedule change was actually perfect for me because I have a zoom meeting on Saturday! It's just one of those things that happens." She concluded, "this is my first time here. I really like it! We weren't sure what to expect, and my husband and I had a lot of fun today. It's fun to be out in a big ring for Dressage as it makes it feel like a real show for us newbies. The Marathon was really fun and I'm sure Cones will be, too."
Jackie Kane Wins Marathon Phase in Preliminary Single Pony Division
Jackie Kane (MA) scored an impressive 57.19 to win Marathon in the Preliminary Single Pony Division with Prairie Song Fletcher, besting a field of seven who tackled the course. Janelle Marshall (SC) and Erristible earned second on the day to hold a two-phase lead, scoring 58.53 for a total of 104.46. In third, Taylor Bradish (SC) piloted Madam's Martin to a score of 66.88.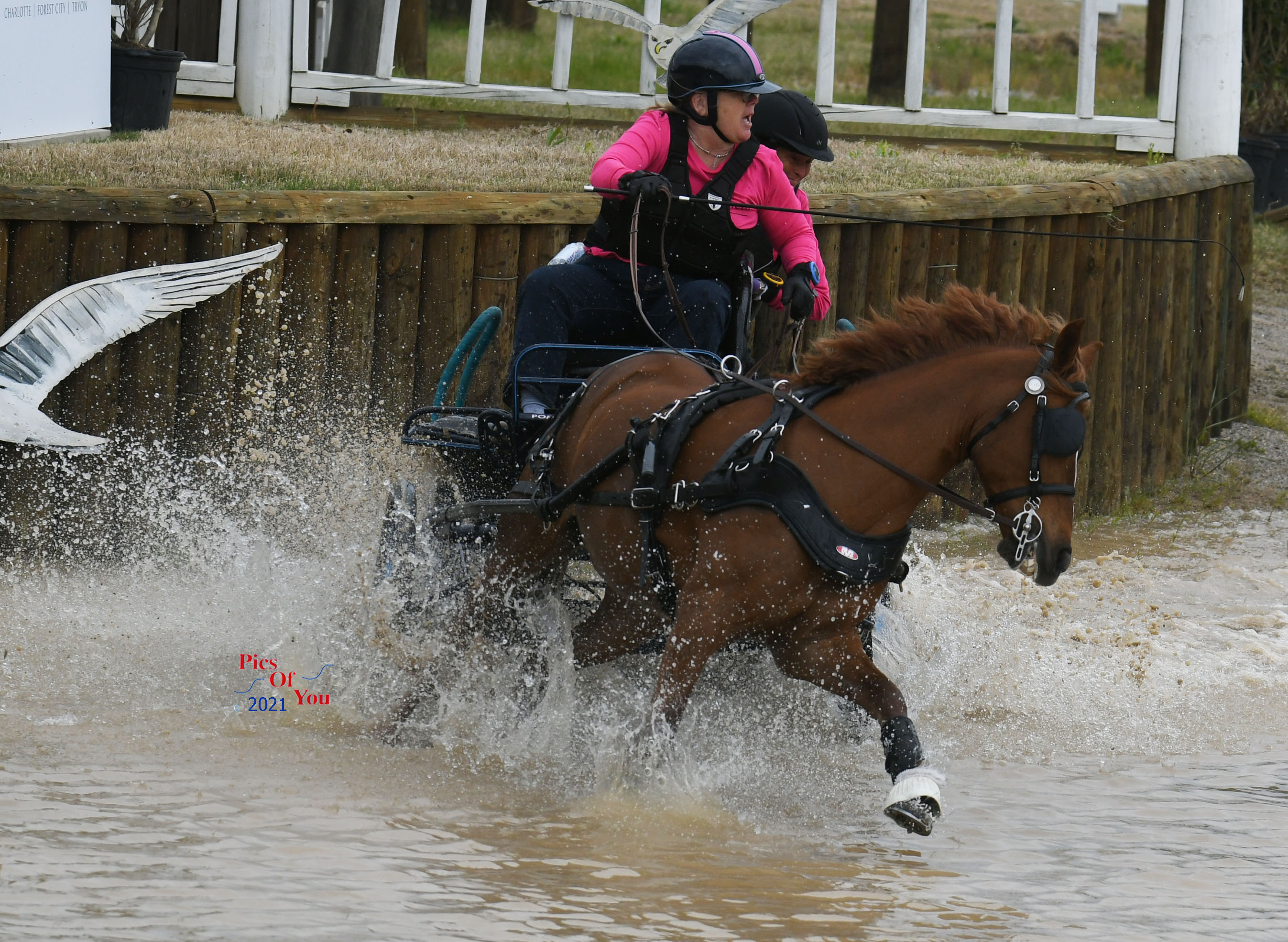 Jackie Kane and Prairie Song Fletcher
©Pics of You
Kane noted that "a great day" left her positioned just in front of her mentor, Janelle Marshall, despite working with a first-time navigator on the back step:
"The course was nice, the obstacles drove really well, and Fletch was on his game. He was really responsive and I'm so pleased with the way that he went. I want to thank my navigator who went blindly on my backstep, Missie Auen. This is the first time she's navigated. She's a student of a friend and said that she would do it because, coming from Massachusetts, I couldn't bring down the usual girl who navigates for me. I'm always quite anxious when I have a new navigator on the back, so maybe that helped me drive more precisely," she mused.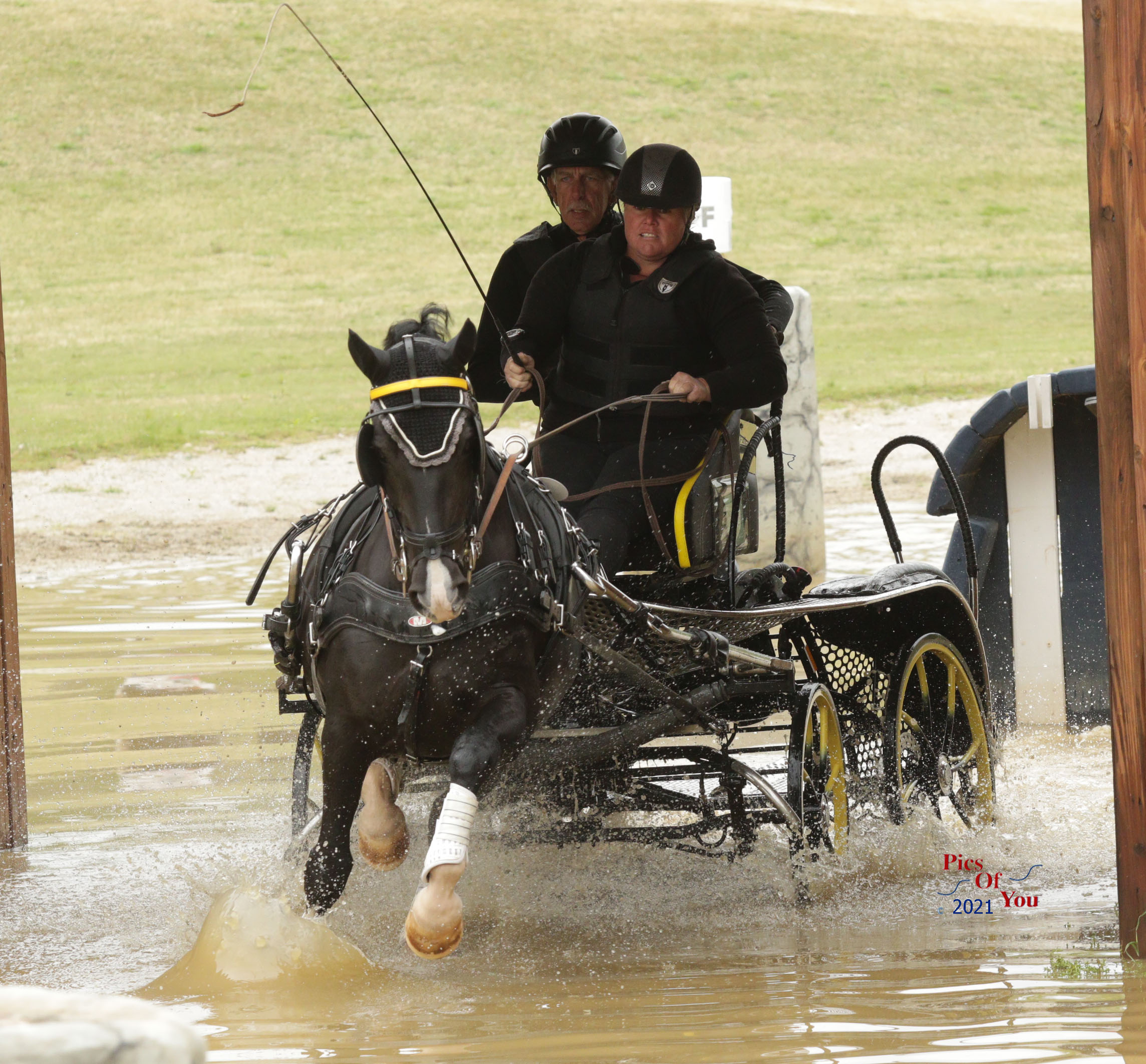 Janelle Marshall and Erristible
©Pics of You
Kane is still working through her first full competition season with this pony, she shared, and has already notched two competitions at TIEC now after first attending the ProElite Tryon CDE last fall, she concluded. "I was supposed to come here last April, but that event was cancelled due to COVID. I came in September because I wanted to see what Tryon was all about, and I loved it! It was a great time and I had to come back. It's a great course and venue. I look forward to the future events they'll be having here. They've been well organized and the officials are great."
Click here for full results from Dressage at the Katydid CDE at TIEC presented by Main Street Insurance. 
Read the Dressage day recap here. 
Competition continues Sunday, April 25, featuring the Cones phase of competition. Competition is closed to spectators, but scoring and competition information can be found at www.Tryon.com/Driving. 
Photos ©Pics Of You. These photos may only be used once in relation to this press release with proper credit. Contact media@tryon.com with questions.