Featuring USEF Advanced Pony and Intermediate Combined Driving National Championships
For Immediate Release
Mill Spring, NC – April 23, 2021 – The Inaugural Katydid CDE at TIEC presented by Main Street Insurance debuted at Tryon International Equestrian Center and Resort (TIEC) after a 2020 cancellation, welcoming a robust number of entries for the CAI 2* and national competition alongside the USEF Advanced Pony and Intermediate Combined Driving National Championships. Thursday, April 22 featured Driven Dressage competition, with impending weather resulting in the Marathon phase shifting to Friday, April 23. Cones competition will remain as scheduled for Sunday, April 24. Per USEF's COVID-19 regulations, competitions are closed to spectators at this time.
Taylor Bradish is the First to Drive the 2021 CAI 3* Single Horse Test for the Advanced Single Horse CT
Taylor Bradish (SC) and Katydid Dutchess were the first to try their hand at the newly-published 2021 CAI 3* Single Horse Test, which went into effect February 1, 2021. They had some bobbles, Bradish reported, but she was pleased with her 55.89 resulting score. As the first in the United States to drive this pattern in competition, Bradish admitted there was some pressure that her mare picked up on while in the sandbox, she shared: "There were a few mistakes, but it's the first time it's ever been driven in this country, so that was a bit of pressure. The mare felt the pressure from me, so she was a bit hot, but I'm very happy with it for the first time."
Taylor Bradish and Katydid Duchess
©Pics Of You
There's also an advantage to being the first to compete with a new test, Bradish reflected: she's one competition ahead of anyone else. "Now the next time other people drive it, it'll be their first time and my second! It takes the pressure off. [It's notable for this test that] you canter in [to the box], which I don't think has ever been driven in Dressage before. Our canter wasn't quite as collected as I would've liked, but also, [there was] the pressure. We also had to do simple changes, which I was super happy with. My extensions were very good because of all the power she has."
Katydid Dutchess, a "marathon specialist," will take a nice break between now and Sunday to complete the Combined Training two-phase competition.
Jacob Arnold Leads the CAI 2* Pair Horse and CAI 2* Pair Pony Divisions
Jacob Arnold (KY) may have been the only competitor to compete in the CAI 2* Pair Pony Division, earning a score of 52.66, but he also collected a win in the CAI 2* Pair Horse class to finish on a score of 46.89 after the Dressage phase.
"I was very pleased with our round in Dressage today, Arnold said of his team. "The left horse is a grey Dutch Warmblood that is owned by Steve Wilson that I have competed for a few years, including the World Championships in 2019 and plenty of shows beyond that. I was really proud of the black horse that I brought this weekend," Arnold revealed, "because this is actually his first show ever! This is literally his first show environment, so the fact that he came in and behaved well, did everything we asked, and has been such a superstar gentleman all week is great."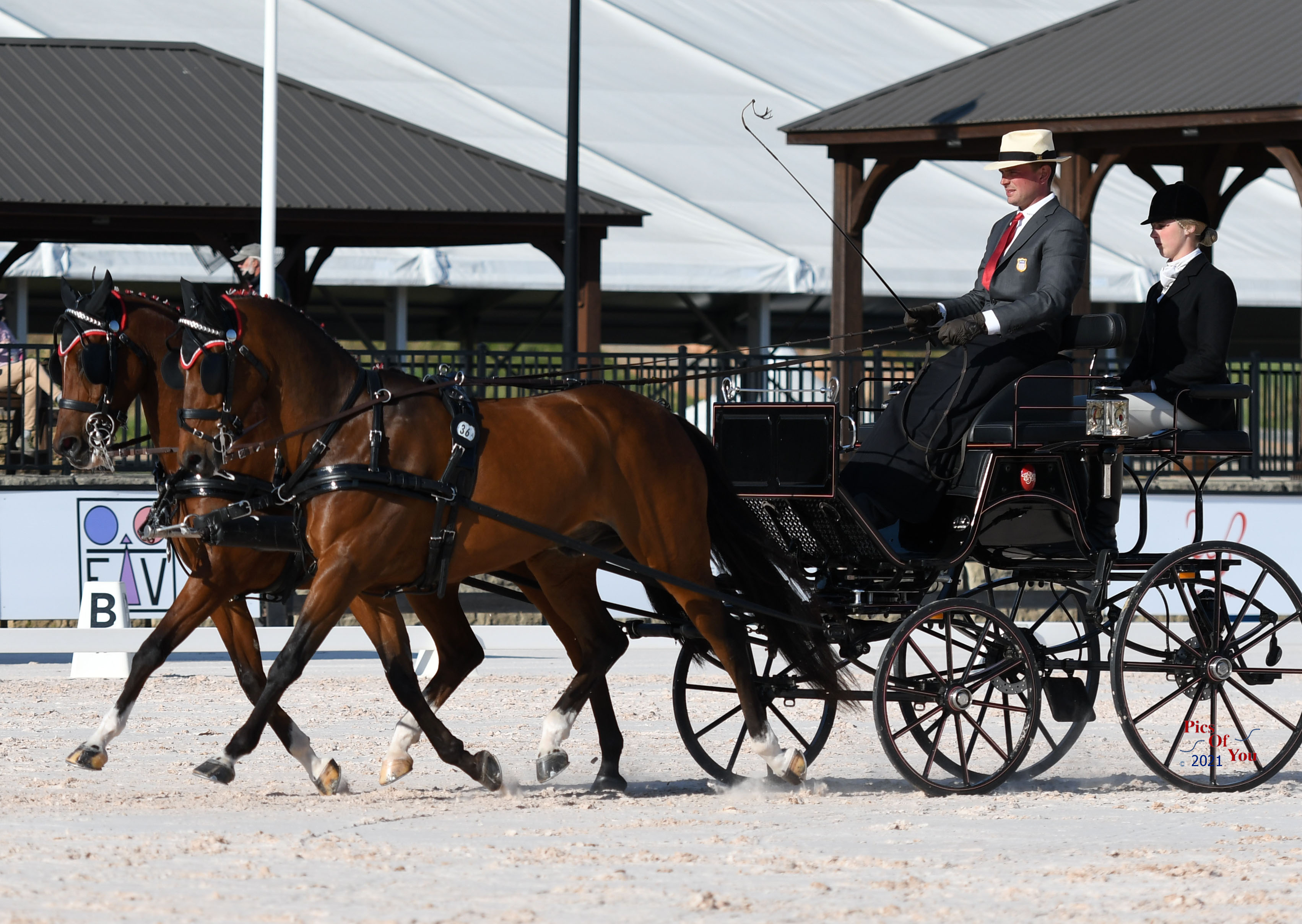 Jacob Arnold and his Pair Pony team
©Pics Of You
Arnold emphasized, "to take a 6-year-old baby horse to a Two-Star competition and be pleased with the results is pretty unusual. It went super and I am really pleased. It's great to be at a nice facility." Going forward, Arnold will pair his inexperienced partner with an expert Marathon horse, he explained. "I'm pairing him with a schoolmaster Marathon horse tomorrow. My strategy is to give the young horse a good drive. We have our World Championships at the beginning of September so I'm really focusing on that. I hope to keep bringing along this young horse to be successful if need be for September. It'll just be a nice, smooth Marathon to give him confidence."
In the CAI 2* Pair Pony Division, Arnold is stepping behind the reins for Eleanor Parkes who owns the pony team but is recovering from an injury. "I was pleased with their Dressage test. They're owned by Eleanor Parkes  and she's been a great supporter of mine." While Arnold has the reins, he's focused on giving the ponies good experiences without going all-out, he concluded. "I've been giving them a school at some various shows in Florida and North Carolina to keep them in the competition mindset and see what we can improve. I was super pleased with them, and I think they're a lovely pair of ponies."
Misdee Wrigley-Miller is Putting the Pieces Together with Her CAI 2* Four-in-Hand Horse Team
Misdee Wrigley-Miller (FL) may be the only Driver in her division, but stated that her ever-present "competition against herself" is going very well after the Dressage phase. She collected a score of 46.34 after putting in what she called a settled and cohesive test.
"I was so proud of my team today. I worked on some things that I wasn't as happy with at the last competition we did, and it worked out. Anytime you can fix the problem, it's always a good thing! I was very pleased with their settledness and their flexibility. It really felt like I was driving a team today instead of individual horses."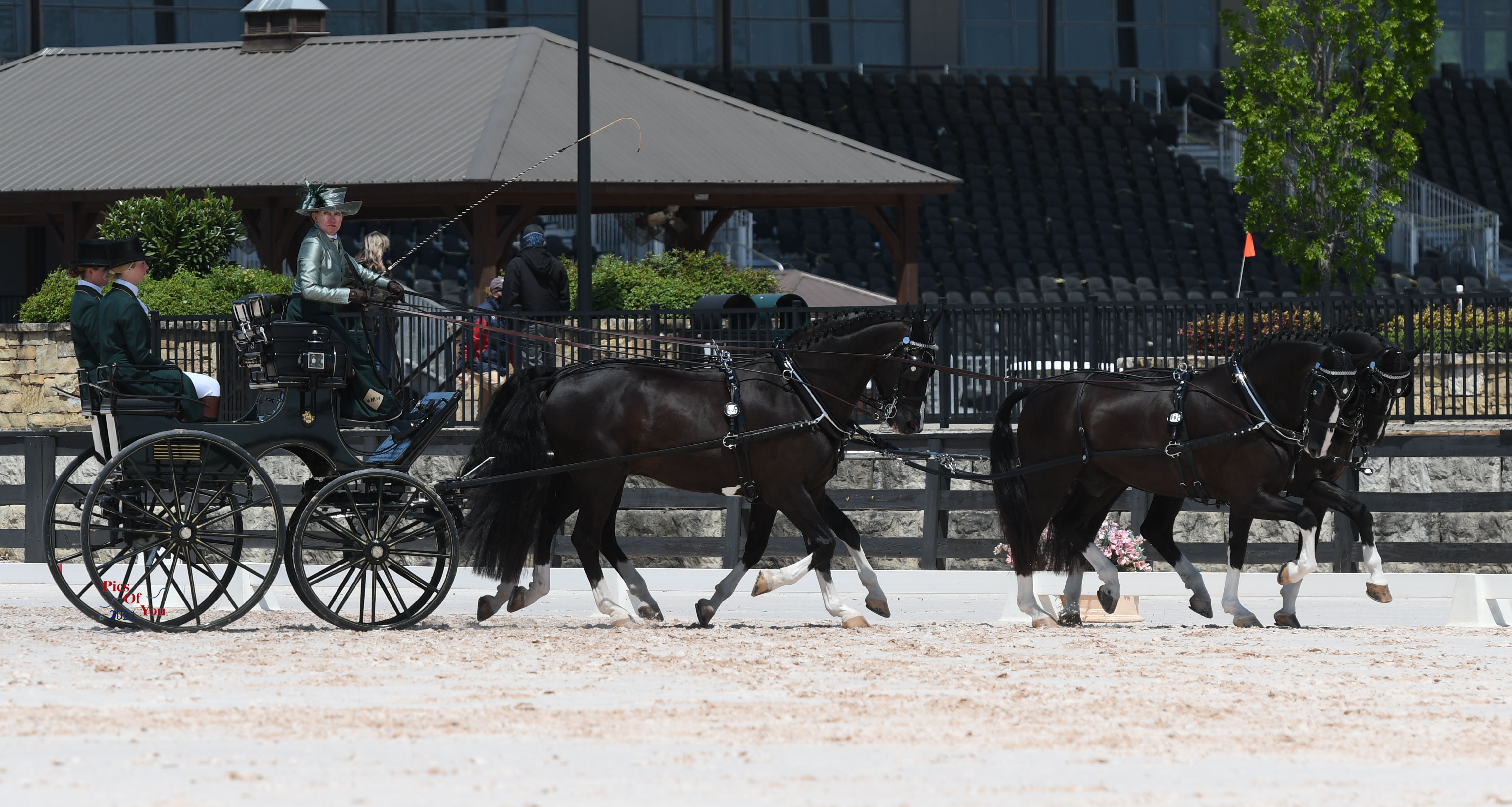 Misdee Wrigley-Miller and team
©Pics Of You
Wrigley-Miller and her team have competed at the venue before, having challenged the ProElite Tryon CDE in September of 2020, and she stated that she's excited to push herself to better her previous scores in the Marathon phase tomorrow: "I always compete against myself, even if there's not another competitor, so I always want to improve my score especially in the Marathon. I keep working on making my time faster and my turns a little smoother, so that's what I'm really going for tomorrow," she explained. "I want to increase my speed while still keeping accuracy. These horses give me so much confidence. Probably more than any other team that I've driven. These four are so responsive and I trust them completely, and I think they trust me, too.
"Truthfully," Wrigley-Miller concluded, "I always love coming to TIEC because the footing is great, the stabling is great, I know the obstacles are safe, and everything's safe and good for the horses. I really enjoy coming to this facility to compete because I love my horses and I know they're safe here."
Gabriel Grasso Drives to CAI 2* Single Horse Dressage Win
Gabriel Grasso (FL) drove Hendrik to a score of 39.29 for a comfortable win in the Dressage phase of CAI 2* Single Horse competition, with Nifty Hamilton (FL) driving Makari Design as his nearest competitor in second with a score of 47.27. In third place with a score of 51.19 is Donna Crookston (PA) with Viktor.
"It was pretty good," Grasso said of his Dressage test. "He's usually a really hot horse, but he got to relax one lap and felt really good after that. The rest was pretty easy. It was the first time I rode that test. It was really fluid and the horse gave me his best. I'm really happy with it."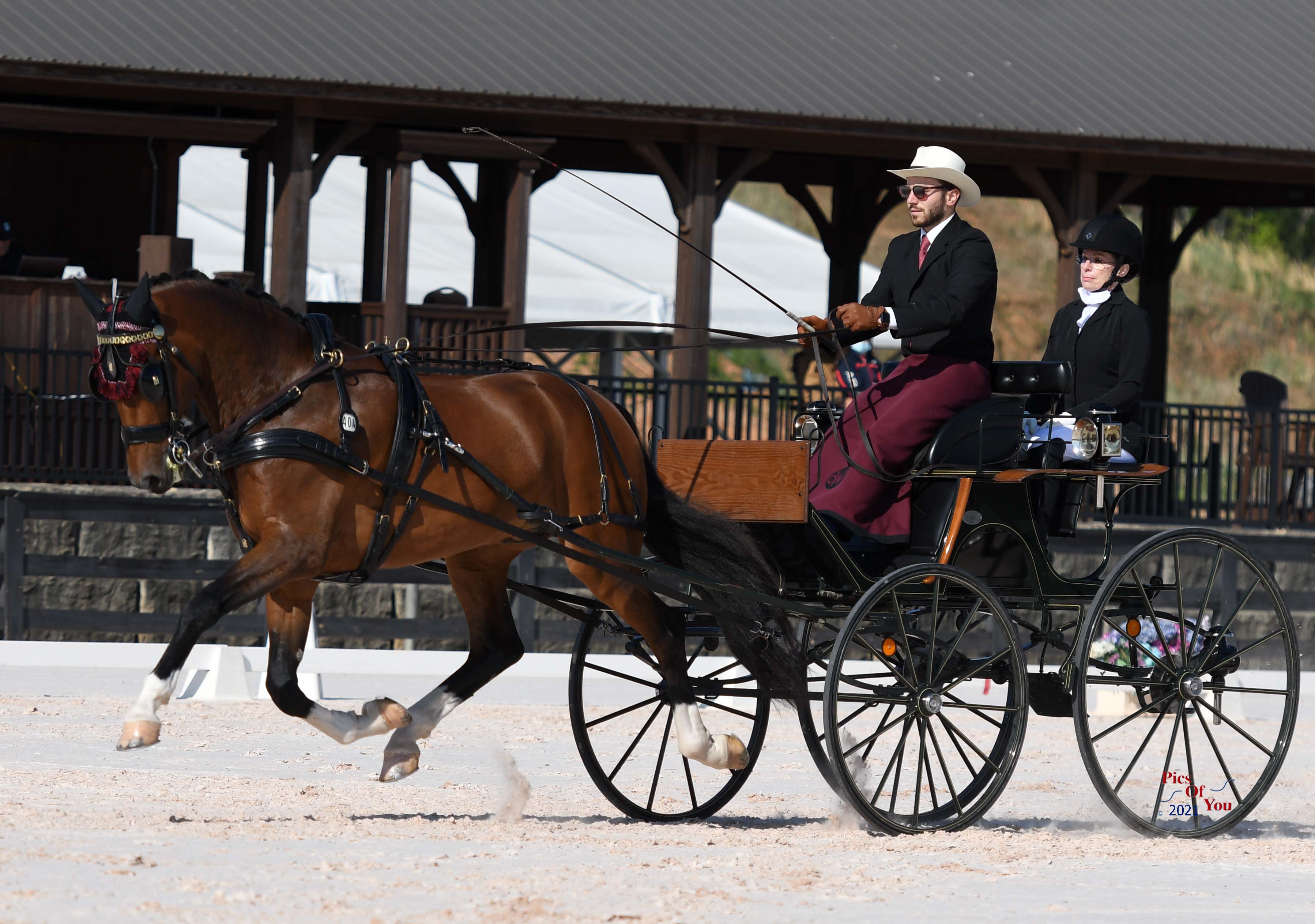 Gabriel Grasso and Hendrik
©Pics Of You
Grasso last competed at TIEC for the FEI World Equestrian Games™ Tryon 2018 Driving Test Event, and said he's excited to be back at the spacious and world-class facility. "This is my second competition here. I like it! The place is really nice, and the horses like it a lot. There are places to warm up where I can be completely on my own before going into the ring."
Thanks to his prior experience at the venue, Grasso is expecting a fair test on Marathon, requiring a fit horse and a skilled driver to not ask for too much too soon: "Basically all of the obstacles are reversed [from the last time I was here]. The [course] is really long, so we have to have a fit horse. It's cold, so the horses are fresh. You have to know when to push, but not push them too much."
Jean Thornton Drives Her Intermediate Four-in-Hand Horse Team to an Educational Day One
Jean Thornton (FL) scored a 90.00 with a team of inexperienced horses as the only competitor in the Intermediate Four-in-Hand Horse Team Division, noting that while some things didn't go to plan, there were plenty of encouraging moments as well:
"We warmed up really well and I was thinking that the wind had really died down, so I was pleased about that, but the wind picked up just as I went in. My scarf, which I'd never worn before, started slapping in the wind and it was cracking like a whip the whole time," Thornton reported. "I only have one seasoned horse in this group, and have all of these new and young horses now, and sometimes they're really good and sometimes they're not."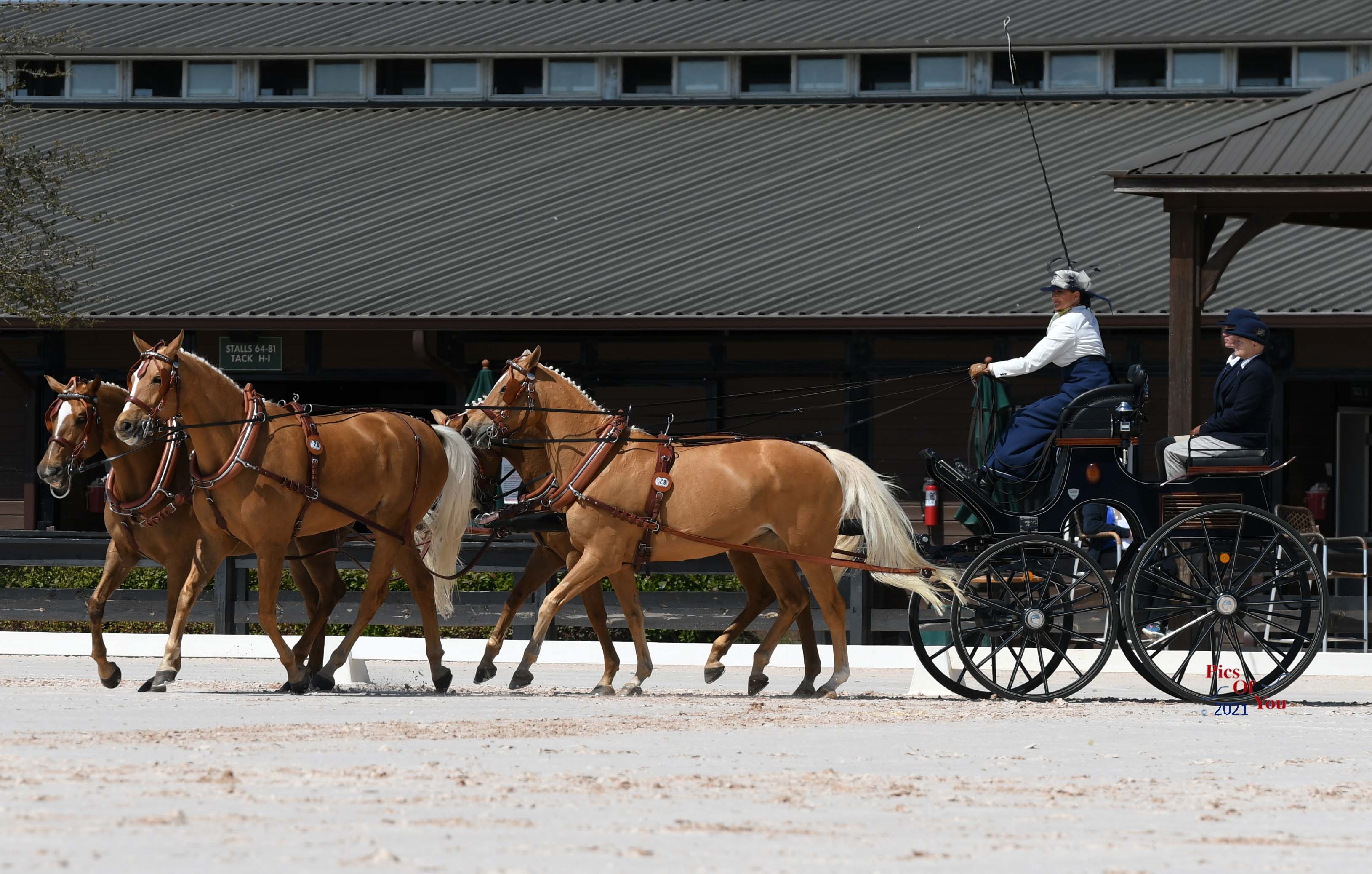 Jean Thornton and team
©Pics Of You
Despite some jitters and mishaps along the way among her team, Thornton noted that there were several victories gained in specific movements that she's been working towards. "The reinback, which we had been struggling with previously, actually went really well. I was really happy that they did reinback so well. My one-handed circles were pretty okay, as well, which has been one of the parts that's most difficult for me, so I was happy with that!"
Thornton was also quite proud of her horses in the jog, she noted, emphasizing that her Katydid CDE at TIEC experience is proving to be quite educational for her inexperienced horses. "One highlight of today was the jog. They don't have a lot of experience jogging as I've only ever done jogs for Dressage, and that was always with one horse and myself. Now, I have five green horses! They've only been in carriage driving for about a year, even though they're not super young. They're still very green, but they did really well in the jog. They were well behaved and in such great condition."
Looking ahead, Thornton is excited to tackle the Marathon track and continue to have a positive educational experience for her team. The Marathon has been our best phase this season, so I'm excited about that. I've never been here before to compete, so I'm unfamiliar with the obstacles. I've been out walking them and I'm feeling more and more confident every time I walk them."
Marianna Padgett Wins Intermediate Single Horse Dressage Phase
Marianna Padgett (FL) and Bravo won the Dressage phase in the Intermediate Single Horse class, earning a score of 62.70. Sarah Reitz (NY) and Awesome George are in second with a score of 92.45 with two phases ahead of them. Padgett noted that she is piloting a young horse, so despite a few "Dutch moments" his first full competition season is going well, she shared.
"Today was good! I have a young horse; this is his sixth or seventh competition. He's getting better! He's a little strong, so we've had a few Dutch moments. Overall, I'm really happy with him," she reported. "He won the Intermediate Single Horse Division last year here [at the ProElite Tryon CDE]."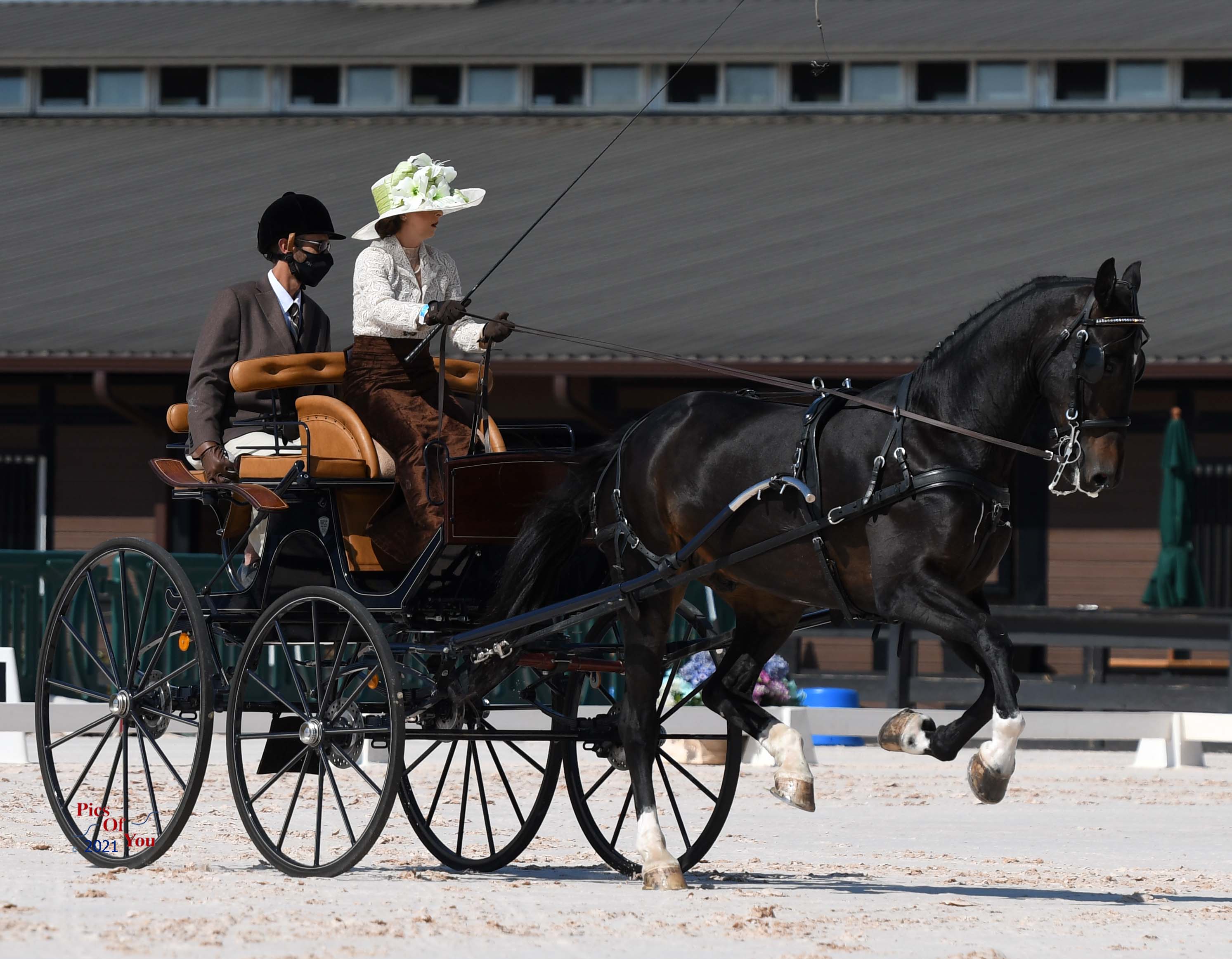 Marianna Padgett and Bravo
©Pics Of You
The goal for Marathon, Padgett conveyed, is to "go fast! He's a great, three-phase horse. Marathon is definitely his best day. Thankfully, since he's been on the course before, I feel pretty good about the hazards [despite the schedule change.]" Beyond that, Padgett noted, her plan is mostly to "drive the horse who shows up that day and make a plan from there."
Padgett is excited to have the sport of Driving at a facility like TIEC, especially as a way to help grow the sport and increase interest in potential Driving athletes. "This is probably my favorite facility," she noted. "I'm just thankful to be here and blessed to have the horse that I have. Hopefully, they'll have many more shows here in the future." She concluded, "We don't have a lot of young drivers in the sport. I'm not necessarily young, but I'm young for this discipline, so I hope we can get some younger people involved. It's a great sport!"
Alice Baughman Tops Intermediate Single Pony with Captain Jack Sparrow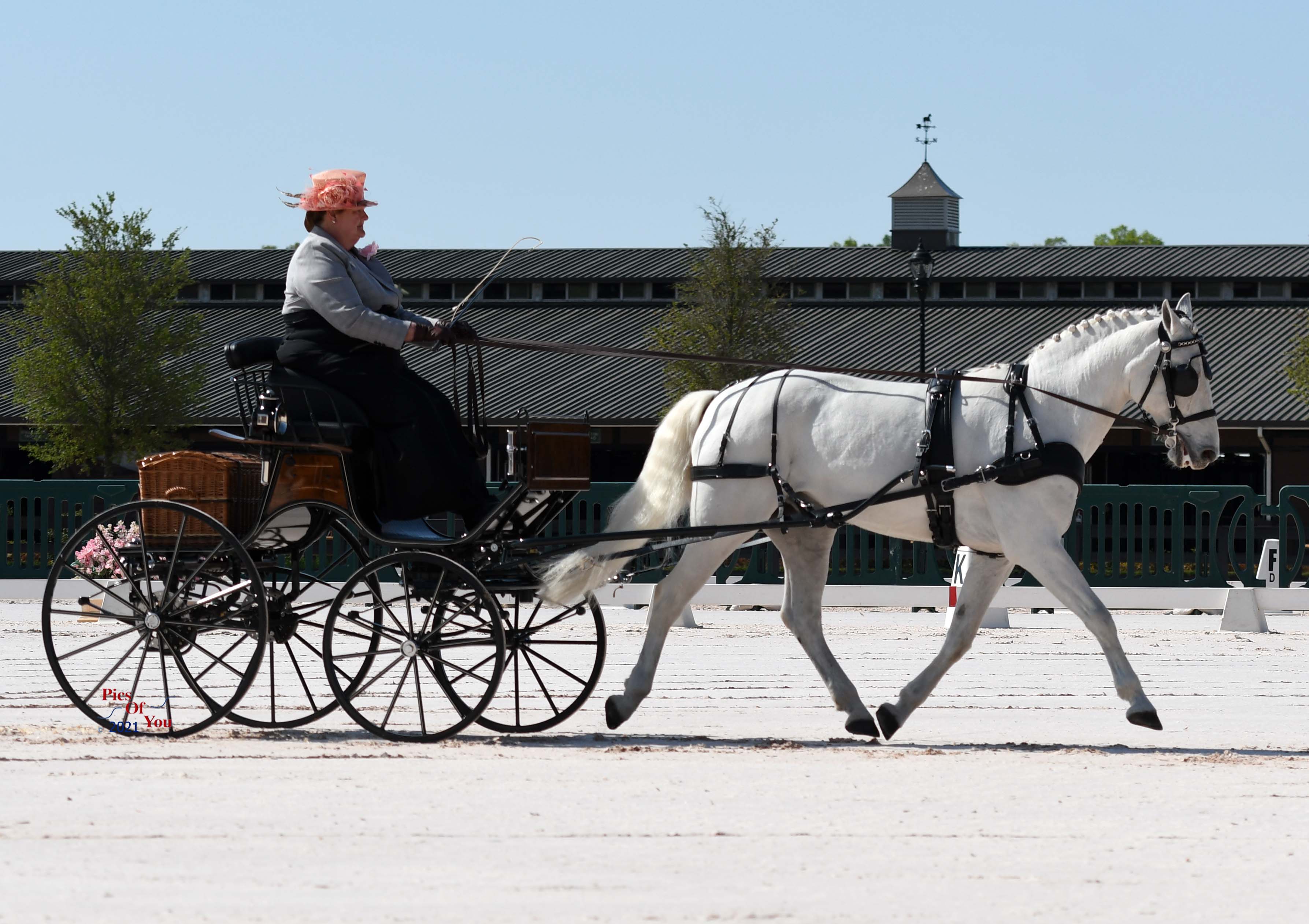 Alice Baughman and Captain Jack Sparrow
©Pics Of You
In a large class of Intermediate Single Pony competitors, Alice Baughman (SC) and Captain Jack Sparrow scored a 48.23 to win the day. In second, Riley Wiltison (MD) drove Willow's Aslan to a score of 56.28, while third place went to Patti Rozensky (FL) and LLF Lucent, earning a score of 57.80.
Yvette Harris Leads the Intermediate Pair Pony Division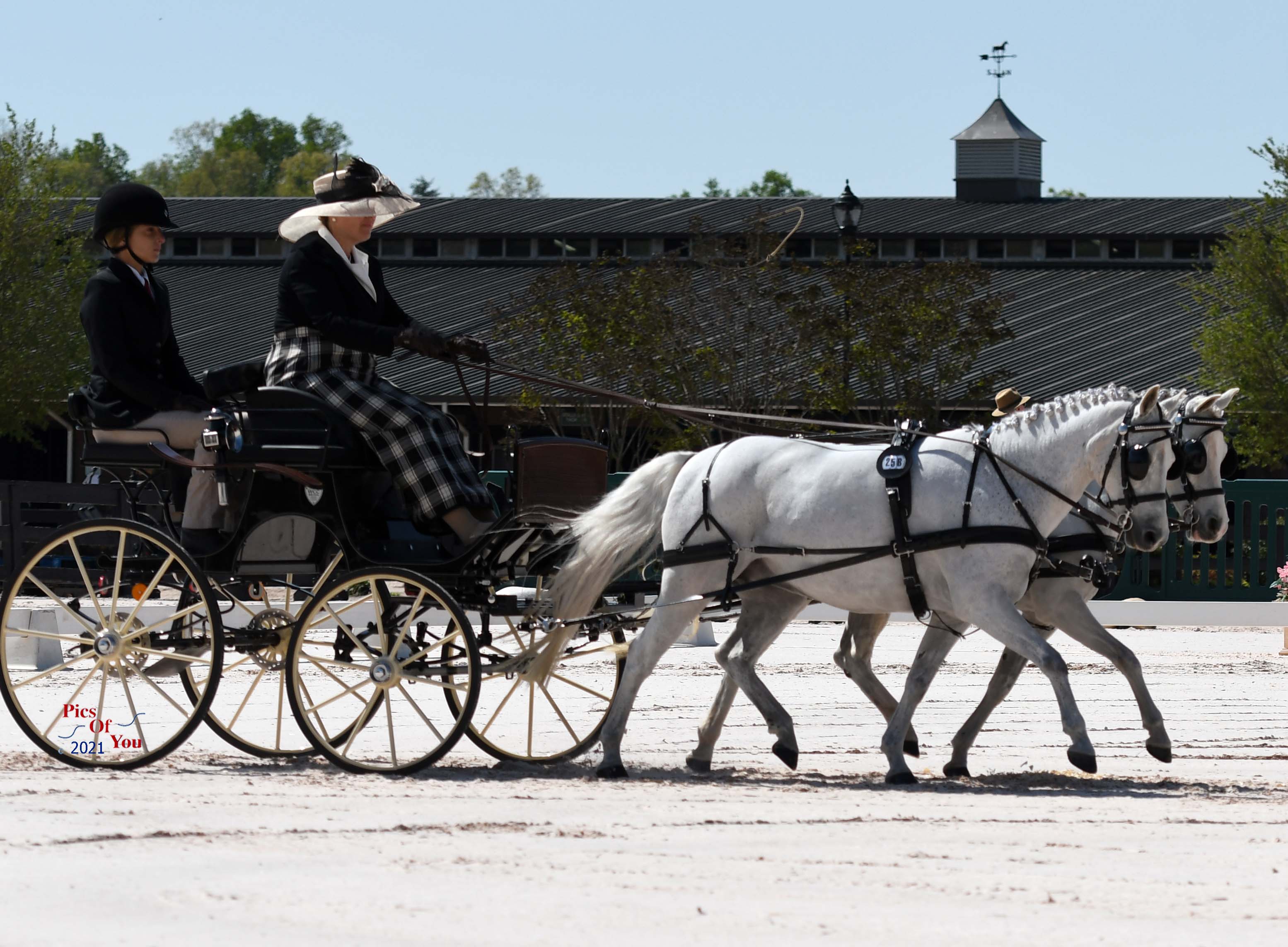 Yvette Harris and team
©Pics Of You
In the Intermediate Pair Pony Division, Yvette Harris (MD) drove Suki and Morwell Amber to a score of 58.77, and is the only competitor in her class.
Click here for full results from Dressage at the Katydid CDE at TIEC presented by Main Street Insurance. 
Read updates after Marathon competition here. 

Competition continues tomorrow, April 23, featuring the Marathon phase of competition. Competition is closed to spectators, but scoring and competition information can be found at www.Tryon.com/Driving.
Photos ©Pics Of You. These photos may only be used once in relation to this press release with proper credit. Contact media@tryon.com with questions.