For Immediate Release
Michelle Yelton for TIEC
Mill Spring, NC – April 10, 2022 – Fabian Herrera (Charlotte, NC) and Emperor staked their claim on the $25,000 Jumper Classic win during Tryon Welcome 3 at Tryon International Equestrian Center & Resort (TIEC). With a time of 37.575, Herrera and his own 2012 warmblood gelding (Eldorado Van De Zeshoek x Imperija Esh 577) were one of only two horse and rider pairs out of a field of nine to advance to the jumpoff. 
In second place with a time of 39.995 was Charlotte Clark (Sunbury, OH) and her own Kinsella, the 2010 Irish Sport Horse mare (Capitalist x Jerpoint Mist). Tryon Welcome 3 Welcome Stake winner Elizabeth Schumann landed third place aboard mount Ivanhoe, the 2014 Warmblood gelding of unknown breeding owned by Light Speed Equestrian, LLC. With two faults, their round one time was 79.137. 
Fabian Herrera and Emperor
©TIEC
Herrera felt well prepared for the Dean Rheinheimer (Sheridan, IN) course saying, "it actually rode really nice. It was a great course and a good start to the year. We just tried to go fast [in the jump-off]. It rode exactly how we were thinking and it was very good."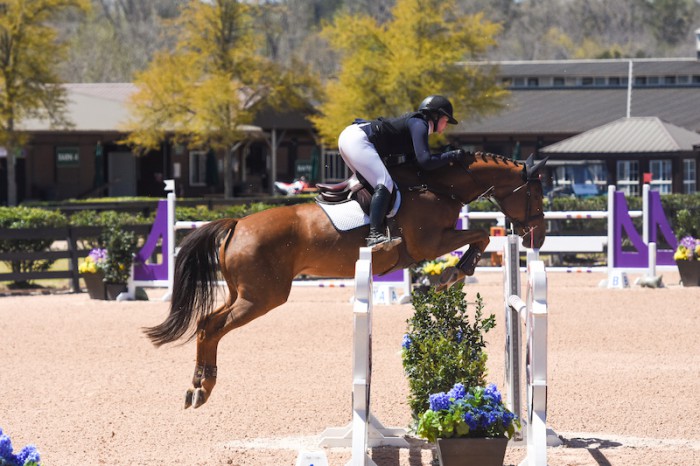 Charlotte Clark and Kinsella
©TIEC
While he and Emperor have been partners for two years, Herrera is preparing the horse for a future rider.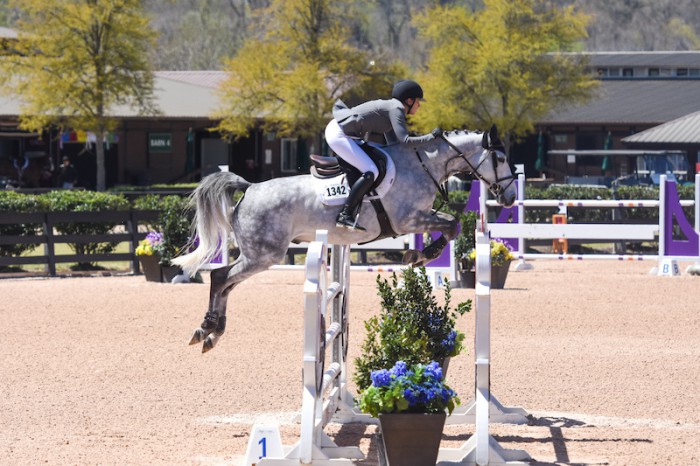 Elizabeth Schumann and Ivanhoe
©TIEC
"We've had him for maybe two years now. He was doing the Hunters for a little while but was a bit too spooky for that, so we started him in the Jumpers about a year ago. We've been doing the 1.40m for around four months. He's ten years old, and he's for sale!" explained Herrera.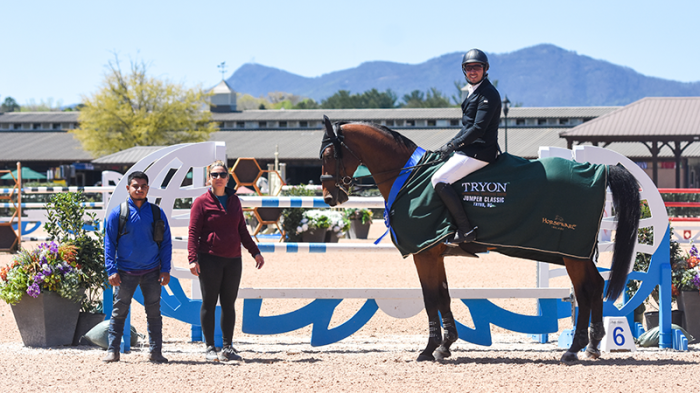 Fabian Herrera and Emperor in their presentation ceremony.
©TIEC
Herrera's chances of reappearing in the winners' circle are strong as he plans to base from TIEC this year. "We'll be here for the rest of the year pretty much and then go to Wellington for the winter. Until then, we'll be here at least two weeks out of every month." 
 Elizabeth Schumann and Denison Park Combat Top $5,000 Horseware Ireland Welcome Stake
April 8, 2022 – A last-minute decision to compete at TIEC paid off Elizabeth Schumann (Ocala, FL), putting her and counterpart Denison Park Combat in the winner's seat for the $5,000 Horseware Ireland Welcome Stake with a time of 38.117. "We came up to Tryon last-minute on a whim, and it worked out well," said Shumann of her ride on Allyson and Andrew Lamb 2008 Australian Warmblood gelding (Clinton H x Weinzuber).
Securing both second and fourth for Fox View Farm was Christina Webb (Raleigh, NC) who is a familiar face on the TIEC podium. She came in second place on FVF Sailor Man, a 2006 Dutch Warmblood gelding (Popeye K x Shareff), with a score of 38.242, and placed fourth with Caillou VL, the 2013 Oldenburg gelding (Cellestial x Lord Z). Third place went to Collin Reynolds (Oxford, PA) aboard Chicco W, Edith Rameika's 2007 Holsteiner gelding (Cabardino x Rio Grande).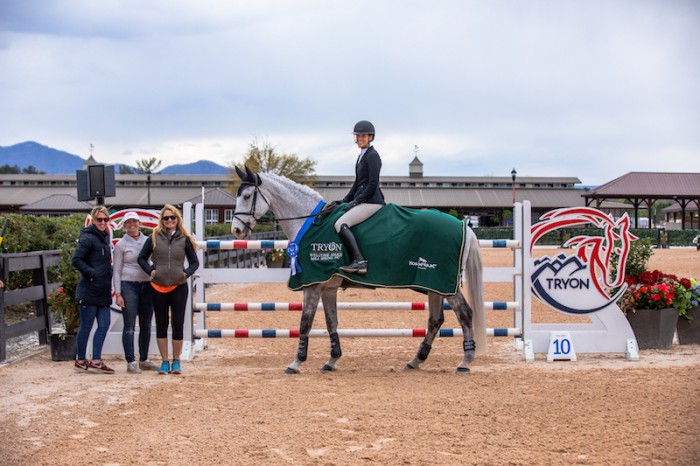 Elizabeth Schumann and Denison Park Combat in their presentation photo.
©TIEC
Schumann and Denison Park Combat topped the field of eight other riders, sharing a favorable review of the course designed by Dean Rheinheimer (Sheridan, IN). "The course was great. It's a little hard in the smaller ring, but the course designer did a great job. It was really nice," commented Schumann. 
Prior to partnering with Schumann, her mount was previously paired with Brian Murphy. "I took the ride over about six months ago. He's a good horse who's won some big Grand Prix classes. I wanted to put in a nice clear [round] because I was the first one to go. I definitely didn't want to have a rail, but I didn't need to go crazy fast. He [Denison Park Combat] is naturally pretty fast," she added. 
Schumann was thrilled to earn the win in the Show Jumping ring after recently making the switch from Eventing. 
"Last time I was here [at TIEC], I was competing in the four-star Eventing. I recently made the switch to Show Jumping because I like doing one thing meticulously well, and it was hard for me to do three things sort of well. Plus, I honestly lost my nerve on Cross-Country. The jumps were getting pretty big and scary, so, I made the switch to Show Jumping, and still have a client who does Eventing. I can't say there's any part of me that wants to be doing it. I'm good with these jumps!" 
Schumann will continue her competition circuit in Ocala, then Chicago where the Milwaukee native will be closer to family. Of her time competing at TIEC, Schumann concluded, "Tryon is a beautiful place to show. You can't beat it! It's wonderful."
For full results from the $25,000 Jumper Classic, click here.
For full results from the $5,000 Horseware Ireland Welcome Stake, click here.
For all division results from Tryon Welcome 3, click here.
The Tryon Welcome Series continues with Tryon Welcome 4 hosted April 13-17 with competition free and open to the public. The weekend also includes the 74th annual Tryon Block House Races steeplechase on April 16 at TIEC's Green Creek Race Course. For steeplechase tailgate tickets and more information, visit Tryon.com/steeplechase.
Photos ©TIEC. These photos may only be used once, in relation to this press release. Official show photos and photo request forms can be found at Tryon.com/photos. All photographers distributing or selling photos must be credentialed. With questions, contact media@tryon.com.