74th Tryon Block House Races
TIEC's Green Creek Race Course 
6881 S. NC Hwy 9, Columbus, NC 28722
The Ultimate Tailgate Experience Awaits You at the Tryon Block House Races Steeplechase!
Load up your vehicle with your friends and family and head out for a day at the races – the 74th Tryon Block House Races – the historic steeplechase of Tryon Riding & Hunt Club. Purchase a tailgate space along the 1.16-mile track and watch the jockeys and horses races to the finish line. Plus, entertain the kids with our MASSIVE Easter egg hunt!

Box Office: 828-278-8088 or tickets@tryon.com
Types of Tickets
A tailgate parking space accommodates 1 vehicle with 6 people.
Children are admitted free.
Additional passenger tickets are available for $50 per person.
Rail Spaces (Assigned)
Non-Rail Spaces (Unassigned)
Sponsored Spaces (Assigned with benefits)
Gates Open: 10:00am
Box Office: 828-278-8088 or tickets@tryon.com
Tailgate Tips
While you can set up your tailgate space however basic or deluxe you like, you'll find many tailgaters who come loaded with a buffet of food and desserts, custom cocktails and a fully-stocked cooler, tables with tablecloths, plenty of chairs plus a tent for shade.
Some tailgaters even break out the fine silver for this special occasion! Check out these tailgate setups from previous years for a little inspiration, especially if you want to win the "Best Tailgate" contest: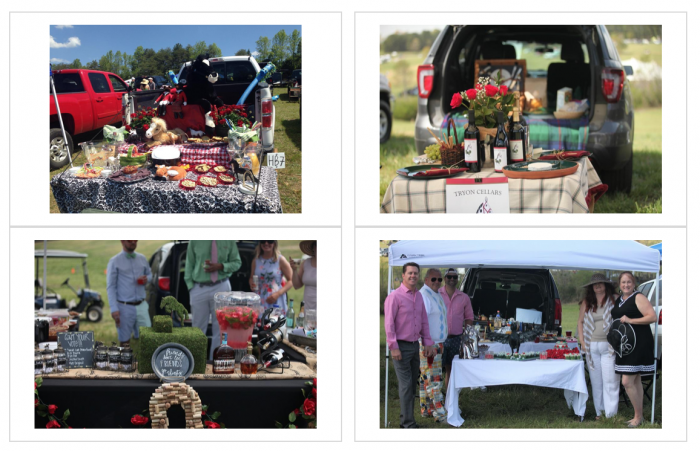 It's All About the Outfits
In addition to an impressive tailgate setup, remember to breakout your fancy hats, sundresses or crazy pants to join the traditional garb worn by many attendees to the Tryon Block House Races.
Proudly Sponsored by: