For Immediate Release
Mill Spring, NC – November 14, 2020 – Elisabeth Halliday-Sharp (USA) and Deniro Z cleared the White Oak Cross-Country Course with just 1.60 penalties for time to rise to the lead position in the highlight division of the MARS Tryon International Three-Day Event. Heading into the final phase of the BUCKEYE™ Nutrition USEF Eventing CCI 4*-L National Championship, Halliday-Sharp sits on a score of 26.10, just two points ahead of Boyd Martin (USA) and Tsetserleg, holding a score of 28.10 with the 2007 Trakehner gelding (Windfall *PG* x Buddenbrock) owned by Christine, Thomas and Tommie Turner. Phillip Dutton (USA) and Z, the 2008 Zangersheide gelding (Asca x Babouche VH Gehucht Z) owned by T. Tierney, S. Roosevelt, S. Lacy, A. Jones, and C. Moran, rounded out the top three carrying a score of 28.80 after their double-clear Cross-Country performance. Show Jumping kicks off in Tryon Stadium at 10:30am EST, with live streaming available at www.Tryon.com/streaming or on the USEF Network with promo code usefeventing20.
Elisabeth Halliday-Sharp and Deniro Z
©Shannon Brinkman Photography
Halliday-Sharp and the 2008 Dutch Warmblood gelding (Zapatero x French Buffet XX) owned by Ocala Horse Properties and the Deniro Syndicate haven't challenged a long-format competition since Burghley last year, she revealed, so she was thrilled with the day's results, taking over the lead from Marilyn Little after she and RF Scandalous retired. "Deniro is amazing and I have a great partnership with him, which makes a big difference," she emphasized. "We haven't run for eight weeks because Chatahoochee got canceled, which is a little bit longer than I'd like before an important four-star event, but he's such a professional. I am a little mad at myself that I didn't make the time, but that's not his fault!"
In fact, Halliday-Sharp continued, Deniro Z has proven himself to be stronger and more responsive in the tack than ever before, she detailed. "He's actually just been so incredibly polite this year. I nearly pulled him up a little bit too much in front of two combinations, and he just came back so fast. Honestly, I think every fence and combination rode how I planned it, and the horse was phenomenal and he didn't make it feel hard. He finished very fresh. I feel like it was a great day because he finished with the attitude of 'Oh, that was easy!'"
The pair put in a clean Dressage test to earn a 24.50 the day prior to Cross-Country, and Halliday-Sharp said that Deniro Z was full of try:
"He tries so hard, in all phases. Sometimes, maybe a little too hard, so you have to manage him in the ring sometimes. I had a really good warmup and I felt like we got where we wanted to be, which is so important. The lead changes have been his struggle, and contrary to what the live stream said, he actually had clean changes. That's a big step for him to be able to have two clean changes. It took him years to be able to do that because of the way he's built. We went for it; I was pleased with him. I knew we wouldn't beat Marilyn's score, but I didn't want to be far behind. I was really thrilled."
Looking forward, Halliday-Sharp noted that Deniro Z is "more than capable" of a clear Show Jumping round tomorrow, pointing to the strength he's gained in the last year. "He's a phenomenal horse, and a very good jumper. He feels ten times stronger this year and like a different horse compared to what he was before Burghley last year. I think it taught him a lot. I'm hoping for a clear round tomorrow, and he's more than capable of that. If I ride him the right way, I know that's possible. I just need to look after him tonight, put our plan in place, and then execute said plan!"
Boyd Martin and Tsetserleg
©Shannon Brinkman Photography
Martin and Tsetserleg improved their third-place rank to second, one of three "warriors" Martin piloted through the Captain Mark Phillips course designs, he reported. "I had a great day. I had some of my favorite horses: Blackfoot Mystery, On Cue, and Tsetserleg. To be quite honest, they were all a bit short of a run due to the fact that I've been out of action a lot this year, and also Chattahoochee got canceled. All three of them are warriors, and I was really pleased to get them around unscathed."
By the time Martin swung a leg over "Thomas" to contest the CCI 4*-L division, "I sort of knew the spots that were deep and muddy, so I chose to slow down in those areas. He's such a seasoned veteran now, and actually did the course quite easily. It was great to be back at a big event," he admitted. "We've improved him a lot, but haven't had any of our key events to go to, so it was fantastic coming to Tryon and giving it a good prep yesterday in the Dressage and a nice run today. He's a joy to ride on cross-country, and has a serious engine."
For Martin, tomorrow's Show Jumping round – and the entire weekend – is more about preparations for next year than about the National Championship result, he explained. "I think this weekend is more about preparing them for next year. When I say next year, [I want to] improve them in all three areas. When we go to a five-star next year, they'll be better than if we just sat around and drank beer on a couch!"
Martin concluded that "I'd just like to absolutely take my hat off and thank the 20 or 30 guys and girls who've been out on the cross-country for the last couple of days. The amount of money, time, effort and energy that's gone into making this course rideable today is unbelievable," he emphasized. "I think all of the riders should buy them beer! They've been working like dogs out there. From a rider's point of view, I cannot say how much I appreciate the hard work, effort and energy that went into trying to make this course as safe and rideable as possible. It's greatly appreciated. It's nice to win these competitions, but it's more important that the horses are healthy afterwards."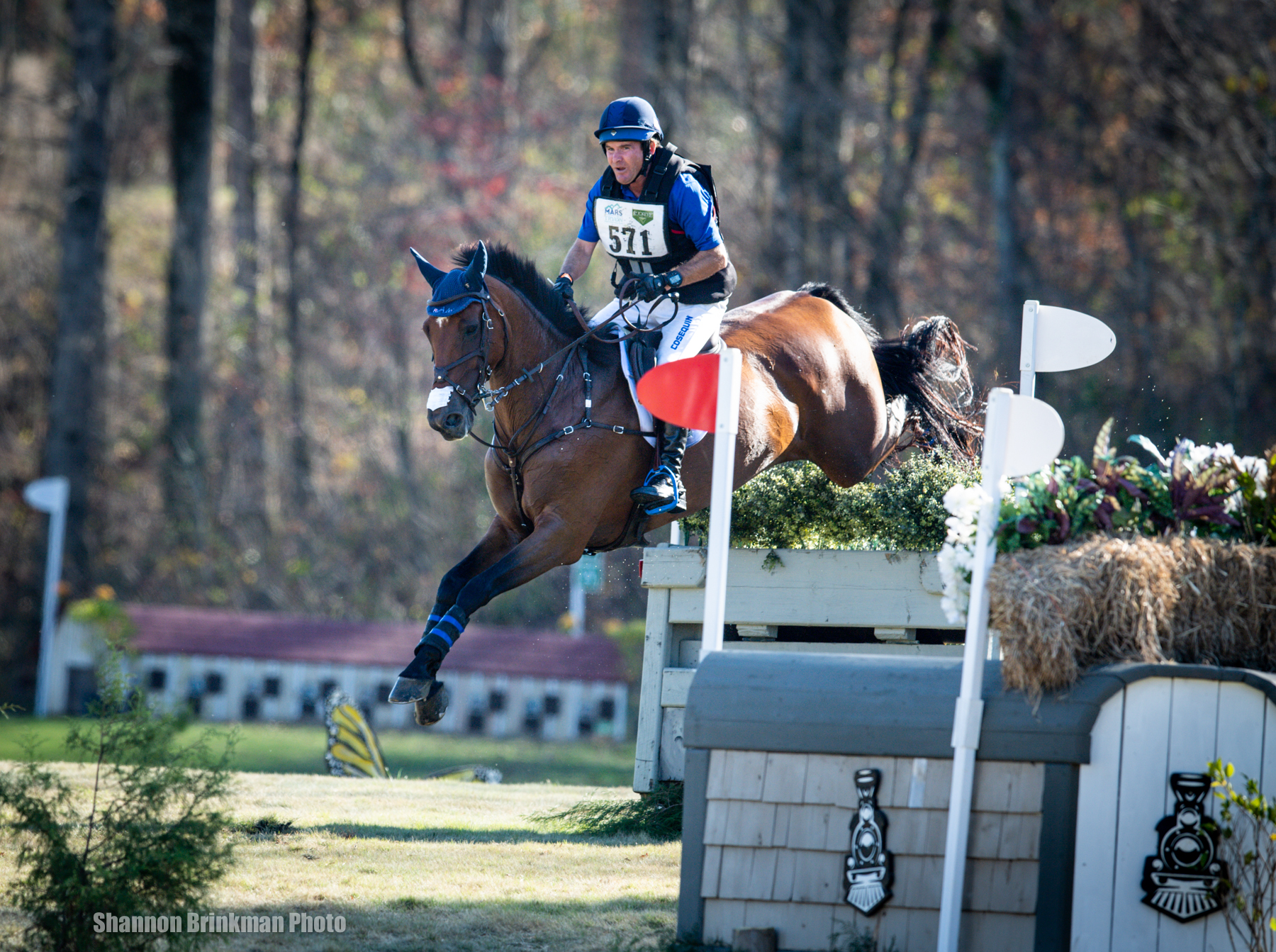 Phillip Dutton and Z
©Shannon Brinkman Photography
Dutton shared that Z was "an absolute superstar" on course, particularly on a day where "nobody was quite sure how it was going to ride until your horse was out there. He jumped it all pretty easily, which was exciting. He was able to get in the time when the conditions were not ideal in the end.
The pair contested the 2018 FEI World Equestrian Games™ at the venue and are a familiar duo at TIEC Eventing competitions, but noted that today's course felt like a new venue. "At every course you go, any time you come back it's a new course," he explained. "Z is a very good and athletic horse, and he loves the Cross-Country. Galloping lanes usually slow things up, but the idea was not having them today so that the horses could spread out and get better footing," he concluded, alluding to the event run without spectators and also without ropes defining the galloping lanes. "We weren't all on one track, so I think that was a good move to do that."
Will Coleman and Chin Tonic HS Coast to Continued CCI 3*-L Lead
Will Coleman (USA) and Chin Tonic HS cleared the White Oak Course to hold their CCI 3*-L lead, and he called Chin Tonic's run "the best of the day for me" despite challenging his first 3*-L with the 2012 Holsteiner gelding (Chin Champ x Quinar) owned by Hyperion Stud LLC. The duo sits on a score of 25.70 heading into the final phase. The remainder of the podium also remains unchanged: with a score of 25.90, Boyd Martin (USA) and Contessa, the 2009 Holsteiner mare (Contender x Esteban) owned by Club Contessa, hold second, while third place currently rests with Jonathan Holling (USA) and Prophet, the 2012 Trakehner gelding (Tatendrang x Pennant) owned in partnership with Chuck McGrath, on a score of 26.90.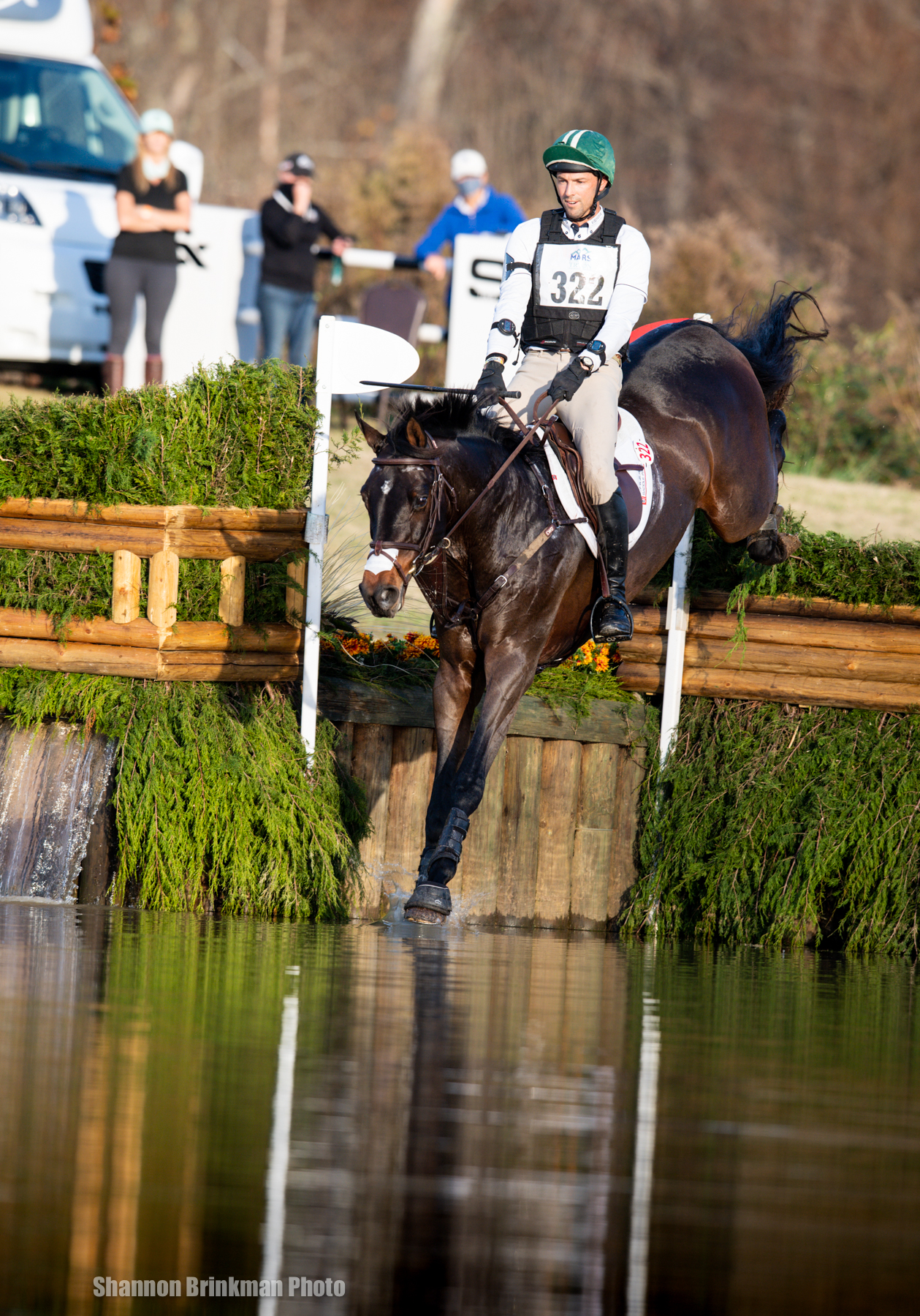 Will Coleman and Chin Tonic HS
©Shannon Brinkman Photography
"This was his first 3*-L. He's just an eight-year-old, but he's a really magic horse. You know, the light was a bit funny [by the afternoon] – he came out of the box a little looky and he felt almost green, but he's just so honest and got better and better as he went. I was thrilled with him; his conditioning felt great, and he really jumped the jumps all very easily.
"I thought the courses rode well," Coleman continued. "The Cross-Country course here is not just about how the lines walk or how the jumps present themselves. The terrain itself is one of the biggest challenges – it's all the little dips and nuances. Mark set a really nice track, but those little intricacies are really what make it kind of hard. I think that's why the time is so hard to get, but my horses performed great, and I'm very lucky to have them. And, I have a great team behind me led by my wife."
Coleman admitted that while he and his team are happy to have an Olympic qualifier to attend, he laughed that he "never want[s] to be Eventing in November again! Obviously, it was amazing for Tryon to host this. There was really no opportunity otherwise [for qualification], so we're all hugely appreciative of that. It's just a very long year for the horses, and really difficult for a lot of us because with COVID, you never really knew where your target is."
Coleman elaborated that he had originally aimed his horses to peak for Morven Park's national championship and qualifier divisions, "so six weeks later with an Event horse is a very big deal. So for me, I felt like my horses, and maybe my team in general, were all a bit weary by the time we got here and we're just glad that hopefully we can finish the weekend strong and get the year behind us."
Sara Kozumplik Murphy and Otta B Quality Hold Guardian Horse Bedding CCI 2*-L Division Lead
Sara Kozumplik Murphy and Otta B Quality, the 2013 Dutch Warmblood gelding owned by Edith Rameika, maintained their hold on the Guardian Horse Bedding CCI 2*-L Division after their double-clear Cross-Country round, carrying forward their score of 25.20. Dani Sussman (USA) and Jos Bravio, the self-owned 2011 Argentinian Warmblood gelding (Jos Fapillon x Remonta Guinea), improved from fourth to second and sit on a score of 27.30 after a clear Cross-Country round, with third belonging to Tik Maynard and Galileo, the 2011 Dutch Warmblood gelding owned by Richard Maynard, who added 2.00 penalties for time to hold a score of 28.10.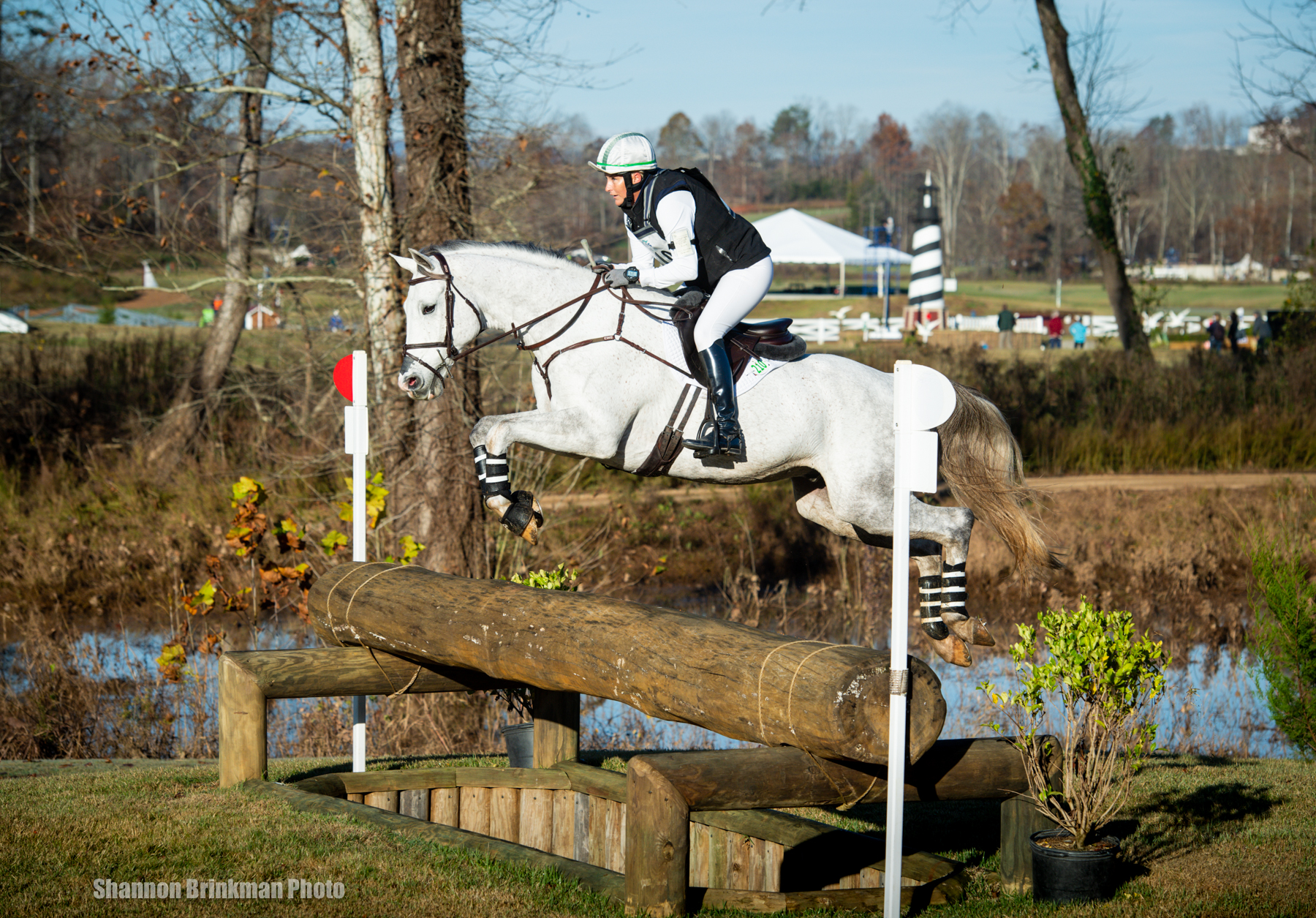 Sara Kozumplik Murphy and Otta B Quality
©Shannon Brinkman Photography
"The course rode super well," Murphy shared. "The footing was really good, and they worked so hard on it. Otter went out at 8:20am, so I went out and walked [the course] as soon as it was light out, and I was really happy with the ground. I was curious as to how it was going to ride going down the hill and things like that, but it was all lovely," she reported. "There was a good balance going down there. As I said yesterday, the course was really appropriate for the level. It was all exceptionally well built with good designing. You had all of the questions that you needed, but it was appropriate for the level, so it encouraged the young horses or younger riders with older horses."
For Murphy, she knew in advance that her young jumper tends to have more hang time in the air, and chose to be cognisant of her time as much as possible on course. " I knew I was going to have to go a little bit more on these courses that are a bit winding. He's a good jumper so he has quite a bit of airtime, so I just wanted to make sure that we weren't going to give points away because all of our Dressage scores were so close. He cruised across the ground, and still had plenty of play left at the end. He's very proud of himself!"
"Otter" has jumped up to 1.20m at the venue this summer, so the 1.15m height shouldn't be a problem, Murphy shared, but she's interested to see how he will take to jumping in the stadium following the cross-country phase:
"He's a very nice quality horse and good show jumper, so I just need to make sure I ride properly. At the two-star level they jump 1.15m on the final day, and it's always different after riding a horse it's on cross-country versus the Horse Trials, where we do the Show Jumping before. Since he's a young horse, we haven't done it a lot, so we'll have to play it by ear, but he's fit, happy, and jogged really well just now," she concluded. "I'll still have to ride properly and not be silly!"
Jenny Caras and Trendy Fernhill Keep Their CCI 4*-S Lead After Two Phases
Jenny Caras (USA) and Trendy Fernhill, the 2011 Irish Sport Horse gelding (Ars Vivendi x Cruising) owned by Elyse Eisenberg, jumped clear to maintain their lead on a score of 27.00. Lillian Heard (USA) and CharmKing, the 2011 Holsteiner gelding (Cassito x Heraldik XX) owned by CharmKing LLC, still hold a score of 27.40 to keep second place, with Will Faudree (USA) and Caeleste, the 2007 Holsteiner mare (Contender x Lucky Lionell) owned by Jennifer Mosing and Sterling Silver Stables, sitting on a score of 30.60 for third. The division will contest Cross-Country beginning at 10:00am EST on Sunday to round out the weekend. While live streaming will be unavailable, live scores can be found at www.Tryon.com/eventing.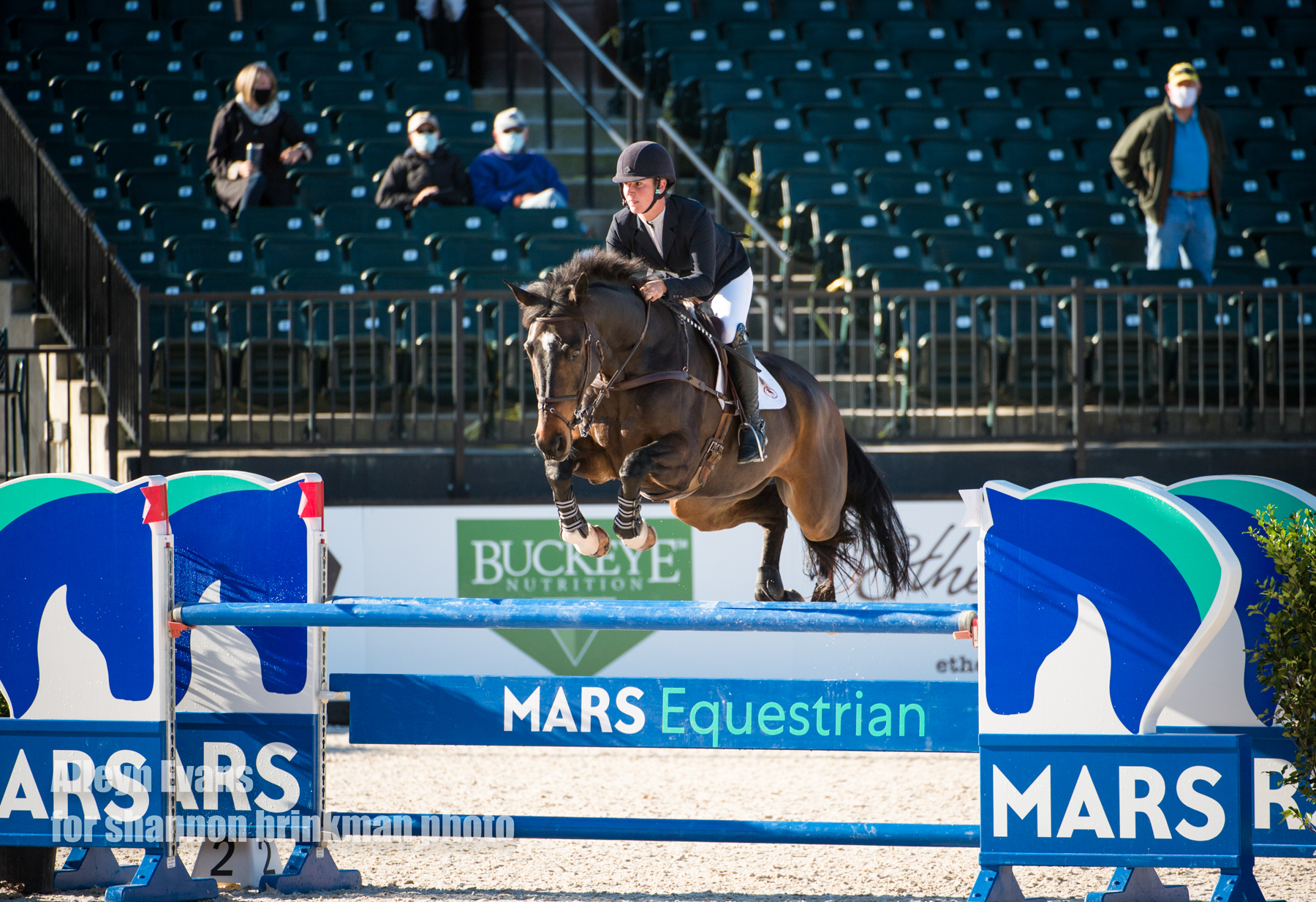 Jenny Caras and Trendy Fernhill
©Shannon Brinkman Photography
To view full results thus far from the MARS Tryon International Three-Day Event, click here.
Schedule Update:
Due to weather, CCI 4*-S and HT divisions will run Cross-Country on Sunday, November 15. Live streaming for Sunday will include all Show Jumping divisions in Tryon Stadium. To learn more about the revised schedule, click here.
To view Orders of Go, Live Streaming Schedules, and more, click here. 
Photos ©Shannon Brinkman Photography. These photos may only be used once in relation to this press release with proper credit. With questions, contact media@tryon.com.
Tags:
Boyd Martin
,
BUCKEYE Nutrition
,
Caeleste
,
CharmKing
,
Chin Tonic HS
,
Contessa
,
Dani Sussman
,
Deniro Z
,
Elisabeth Halliday-Sharp
,
Galileo
,
Guardian Horse Bedding
,
Jenny Caras
,
Jonathan Holling
,
Jos Bravio
,
Lillian Heard
,
Mars Equestrian
,
MARS Tryon International Three-Day Event
,
Otta B Quality
,
Phillip Dutton
,
Prophet
,
Sara Kozumplik Murphy
,
Tik Maynard
,
Trendy Fernhill
,
Tsetserleg
,
Will Coleman
,
Will Faudree
,
Z